Handel's Agrippina: Nice Romans Finish Last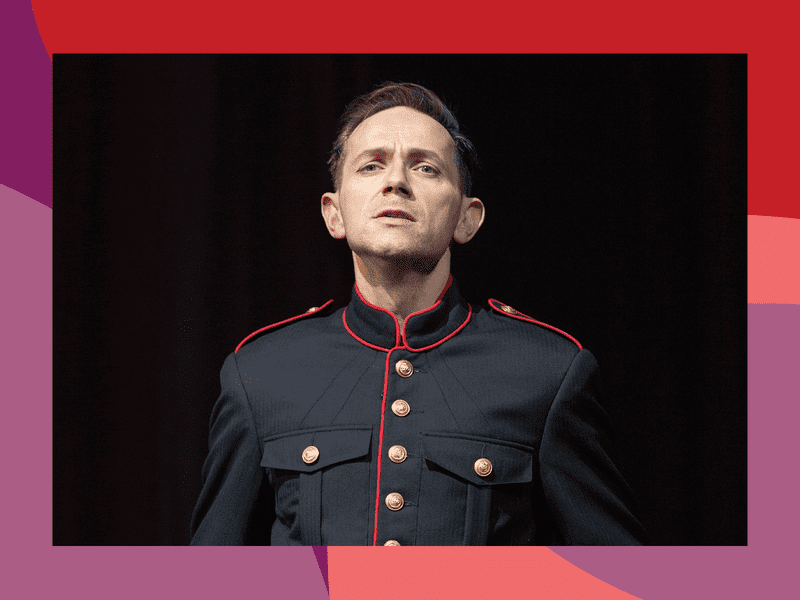 Transcript
Aria Code S3 Ep 6
"Voi che udite il mio lamento"
from Handel's Agrippina
BILLBOARD
Theme music
SOUTHON: In order to be a Roman emperor, you have to be entirely cold-blooded, and you have to be willing to throw a lot of life away for your own political advancement.
GIDDENS: From WQXR and the Metropolitan Opera, this is Aria Code. I'm Rhiannon Giddens.
DESIMONE: He is just sad, and he's pleading for a release from his grief. "Where do I go? What do I do? Who will help me?"
GIDDENS: Every episode we unlock a single aria so we can see what's inside. Today, it's "Voi che udite il mio lamento" from Agrippina by George Frideric Handel.
DAVIES: It's not about politics, it's not about power. It's, "I'm going to die without completing that love story."
GIDDENS INTRO
So it should come as a surprise to exactly no one that I listen to history podcasts. I've been binging them this entire lockdown, and I've run across quite a few obsessed with ancient Rome. And let me tell you -- however bonkers you might think politics are today, the Romans were way worse -- especially at the time when emperors like Augustus, Julius Caesar and Claudius were on the throne. You simply cannot imagine the in-fighting, the mud-slinging -- not to mention the violence, the torture and the fact that all of these guys seem to be trying to poison each other. And they were all related! So that's the Game of Thrones setting that Handel chose for his opera Agrippina.
Agrippina is named after the real-life Empress Agrippina the Younger, and she's capital "T" Trouble. She's married to the Emperor, Claudius, but the man she really wants to see in power is her son Nero, from a different father. She manipulates and back-stabs to get her way, which frankly seems fine because that's what all of them are doing.
Well, all except one -- Otho, or Ottone in Handel's opera. He's the only noble character in the whole show. And even though he's been promised the throne, he would rather just cuddle up with his love, Poppea.
Agrippina uses her wits and wiles to turn everyone against Ottone, even Poppea. And that's what inspires this lament, "Voi che udite il mio lamento," which translates as, "You who hear my lament." It's basically Ottone asking, "How did this happen?!"
Now Handel's opera doesn't perfectly follow the events and timelines laid out by historians, but it does capture a few truths about some very power-hungry Romans at that time. So to tell you what's what, here are three guests who could geek out on this stuff all day long.
First, Iestyn Davies, who sang the role of Ottone at the Met back in 2019 and will sing it again later this year. And as you'll hear, Iestyn is a countertenor.
DAVIES: That's a man who is using his falsetto voice all the time, so that's just the voice which you would flip into if you wanted to speak like that, as opposed to using his speaking voice. That's really what a countertenor is.
Next, Alison DeSimone, assistant professor of musicology at the University of Missouri, Kansas City. She fell in love with Handel in grad school.
DESIMONE: Every time I listened to one of his operas, I just felt like I knew these characters as if they were my friends, and as if I could emotionally relate to all of these various situations that they were going through, whether they were angry or grieving, or just joyful.
And finally, Emma Southon, a historian of the Roman world who wrote a book about Agrippina.
SOUTHON: I got interested in the Romans because they are presented as paragons of civilization and culture and white togas and civilized men walking around being civilized, but the things that they do to one another and other people, which are horrifically brutal and horrible, seem to be the antithesis of what we would now consider to be civilization.
Well, we're off to ancient Rome to decode "Voi che udite il mio lamento" from Handel's Agrippina. So fasten your togas, because the Aria Code time machine is going into overdrive!
DECODE
Prologue - A brief history of Rome
SOUTHON: This is the history of Rome in less than two minutes from 753 BC to 69 AD.
Rome is founded by Romulus and Remus, and from that point they have kings for a couple of hundred years who are considered to be too powerful. So the aristocrats of Rome overthrow them and institute the Republic, a system designed to not ever allow one person to have power, which they consider to be their greatest and most perfect achievement. The Republic lasts very well for a few hundred years. Meanwhile, the Romans are spending all of their time beating up all of their neighbors until they reach the ends of Italy, at which point they start looking at Sicily and then North Africa and start beating up everybody there, too. They find that they have such a huge amount of money and enslaved people coming into Rome that people within it are becoming far too rich. And that massively unbalances the Republic that they have set up which then devolves into about a hundred years worth of civil wars because people start buying themselves armies. That culminates in Julius Caesar versus Pompey, big generals, who've become incredibly rich and both want to be the sole ruler. Julius Caesar wins because he's more ruthless. And because everybody is afraid of him and his total lack of scruples and morals, they kill him, unaware that he has a nephew who is Julius Caesar times 100, and is much more terrifying, who is 19 years old, raises his own army, and then goes around killing everybody until there's nobody left but him. He then calls himself Augustus, and everybody by that time is so tired of civil war that they agree that he can be the emperor. Within a couple of generations, it devolves into being a military dictatorship, and that is the point at which the opera is set.
DESIMONE: So in the opera of Agrippina, we have two characters who are both vying for the throne. That is Nerone on the one hand and Ottone on the other.
DAVIES: The very essence of it is this sort of political satire, and the sort of bitchiness that comes with that and the backstabbing,
DESIMONE: Agrippina is the wife of Emperor Claudio. And she hears that Claudio has supposedly died in a shipwreck. And so right away, she jumps into action, scheming to get her son Nerone on the throne. But Claudio of course is not dead. He arrives back in Rome and he brings with him Ottone, who has rescued him from the shipwreck. And so Claudio says, "Ottone, you are going to be the next emperor of Rome." And Ottone loves this idea, but only if that also allows him to be with his love, Poppea.
DAVIES: Ottone wants to be with beautiful young Poppea, but Claudio, the alleged dead husband, also wants to be with Poppea. And so Agrippina starts to manipulate Poppea, telling Poppea that Ottone doesn't love her, he just wants the throne.
[singing]
SOUTHON: Agrippina is the center of the opera and she is the center of Claudius's reign. In the historical sources everything revolves around her and everything is done at her behest.
And in the Roman system, women are legally perpetually minors, they're never allowed to sign a contract or buy a lottery ticket or buy a cigarette, because they are always considered to be children, unless they have three or more children in which case they are rewarded with the ability to become a legal adult.
As a result, whenever there is a woman who is close to power, she will always be viewed with an enormous amount of suspicion. So Agrippina is using the only kind of power that a woman has in the Roman world, which is influence. She's very flirtatious when it comes to Claudius, and she is very sisterly when it comes to Poppea, and she is persuading them to do what she needs them to do with lies and flattery. She has no active power of her own.
DESIMONE: The opera also centers on this character of Ottone, who is really struggling between his love for Poppea, but also his desire to have the throne. Ottone is the real tragic hero of this story. He's torn between the sense of love and duty throughout the opera.
DAVIES: He's really the only honest person. He kind of represents maybe the way in for the audience. They kind of connect with him because really this is a kind of brutal comedy where everybody is just despicable, but Ottone somehow has this moral spine.
DESIMONE: He never strays from his love for Poppea. And he also never strays from his true moral compass, from his sense of duty to the throne.
DAVIES: And that's a really nice thing to play on stage because, you know, everyone likes you.
SOUTHON: So the opera opens with fake news, with Agrippina telling Nero that Claudius has died in a shipwreck, and that he is now going to definitely be emperor, both of which are lies told to gain the upper hand in some way. Then the whole opera really depends on people telling one another gossip and trying to manipulate one another's feelings so that people can get their own way. This is emblematic of how Roman politics worked to a large extent, which was that it was based on who you could get on your side by talking to them with a really good speech. And this is still the way it is now, if you can present information in a way that is pleasing enough or entertaining enough or convincing enough, then you can manipulate the world into seeing your point of view and destroy someone's reputation. That is the wonderful thing about gossip: if you do it right, you can change history.
[singing]
DAVIES: This aria comes at a point in the opera where everything starts to flip and unravel.
DESIMONE: Ottone is subject to torment throughout the opera because Agrippina is so driven to get him away from the throne that she is doing all she can to discredit him in the eyes of his friends, and of course, in the eyes of the emperor.
DAVIES: So this big scene happens, more like a courtroom scene, where each character denounces him.
DESIMONE: Ottone has been accused of betraying almost everybody.
DAVIES: Each character has a very short little aria just to sort of throw like a dart at Ottone and just wound him one bit.
DESIMONE: Each of them rejects him completely, including his love, Poppea, who he is just desperate to be with.
DAVIES: His real heart has been cracked there. And at this moment, everyone leaves the stage and Ottone is left completely on his own.
DESIMONE: Ottone is just grieving the loss of all of his friends, just all at once.
DAVIES: And then he sings this lament.
SOUTHON: This is the only example really of Otho being in a modern piece of drama or art about the Romans. He is so overlooked. He only rules for 91 days, and he is, before that, the governor of the world's smallest province. And so he doesn't have that much of an impact on anything that other people take seriously. So this is the only place where he gets to show off both his weaknesses in his total love for Poppea and his strengths as one of the few heroic noble Romans. And for that, I appreciate Handel for giving Otho his one day in the sun.


DESIMONE: Ottone sings the aria "Voi che udite il mio lamento" in the midst of Act Two. And the scene opens actually not with the aria itself, but with this very dramatic and very poignant accompanied recitative.
DAVIES: Which is the recited text, almost -- kind of broken up in speech patterns, but set to the orchestra playing instead of just the dry bassline of harpsichord and a cello.
[singing]
DESIMONE: The orchestra accompanies the speech-like singing and almost comments on Ottone's emotional anguish.
DAVIES: When Handel does this, it's like a big red flag and everyone says, "Stop a minute. This is really important."
DESIMONE: On the one hand, he's just so upset and angry, and on the other hand he's so sad and dejected. And so in these moments of sadness, we have the accompaniment kind of holding their notes out as he sings. And then in the moments where he gets himself emotionally worked up, we get more agitated music coming from the string section.
DAVIES: When the rug is pulled from under his feet, Handel gives him this opportunity to really express himself.
DESIMONE: So he asks questions. "What, what is going on? What, what is happening? Why are all my friends turning away from me?" He calls them unjust and unfaithful. And so his anger comes out at certain points. And he also rails against Poppea, who he says has also betrayed him. Of course, that is just the most deeply hurtful moment for him, is when Poppea rejects him -- his love, Poppea. And then he starts questioning himself and he says, "Am I a traitor? Am I a monster? Am I a horrible person?" And then he finally ends this accompanied recitative by just diving into his grief: "Can any suffering be worse than what I'm experiencing now?"
And it's just such a perfect setup to this lament.
Aria - A Section
DAVIES: The first part of the aria begins with just this pulse, which, you know, it's classic Handel, it's this, the heartbeat, the human heartbeat. You have the [sings].
You imagine you're lying there by a patient with that monitor on go. Beep beep beep. You think, "Oh, and this guy has actually got a heart." He's saying straight away with this kind of music: he's a lover, not a fighter.
DESIMONE: When the voice comes in, it slides into this texture of the upper strings. And so what Handel gives us is this kind of wandering sound without a bass, so it's almost as if the bottom has dropped out completely from this aria, just as the bottom has figuratively dropped out of Ottone's life.
DAVIES: You can imagine him sort of lying there on the shrink's couch in regression kind of screaming out, saying, "I'm about to jump off the cliff, I need somebody to help me," because every layer of the onion has been peeled away here.
DESIMONE: Ottone is pleading with the heavens. He's asking them to release him from his suffering. you know, "Take pity on me, please. What have I done? What have I done?" He is just sad and he's pleading for some release from his grief.
[singing]
SOUTHON: In this aria, we see that Otho has power as a man to be emperor. If he is made the successor, he has the power to lead armies and be the ruler of the world, but he has no power within that small, intimate circle to change people's minds, to convince people. He has none of that influence that Agrippina has. She has that feminine power that men are so afraid of in all of the historical sources -- that no matter how much legal and military power you have, there can always be a woman whispering in someone's ear, manipulating and shaping the world.
DAVIES: It's significantly in the key signature of F minor, which in Baroque music, key signatures were really, really important. And it's the key signature of the Passion story, really, of the Crucifixion. Handel understands this, the audience understands this -- immediately, you're kind of brought into the world of, this is a sort of martyr figure. There's somebody here being strung up to die.
DESIMONE: This aria is accompanied not just by strings, which would have been pretty typical for Handel operas at the time, but Handel also adds a solo oboe, as almost an instrumental symbol of lament. The voice and the oboe have this poignant duet together, just the two of them, this long passage on the word "dolor," or sadness.
DAVIES: I used to be an oboist so I know what it is to play the oboe, and in some ways it's quite a tense experience. You've got quite a tight embouchure on the reed, you know, you're making reeds, it's all about cutting and sharpening. It's an instrument which when played well is incredibly beautiful and incredibly plangent, but it's a thin line between that and it sounding quite harsh. It reminds me of learning to sing countertenor actually, it's quite a lot of tension, which you have to dissipate. But it just goes to show that the sound of those voices, both the oboe and the countertenor, it just adds to the story that Handel's trying to tell here.
[singing]
The very fact that this is a lament immediately appeals to our compassion.
DESIMONE: The accompaniment and the voice almost never end thoughts together, which is so beautiful and so interesting. When the strings cadence, the voice continues. And when the voice cadences, the strings continue. And that really gives us the sense of aimless wandering: "Where do I go? What do I do? Who will help me?"
SOUTHON: He was just not cut out to be an emperor. In order to be a Roman emperor, you have to be entirely cold-blooded and you have to think that it is okay for thousands of Roman citizens and civilians to die for the cause of you being emperor and nothing else. You have to be willing to throw a lot of life away for your own political advancement. And a lot of Romans were very willing to do that. That is their greatest strength, that's Julius Caesar's greatest strength -- that he will kill a million people and enslave a million more if it means that he can be the only person who was in charge of the empire, and Otho's great moral strength, but great weakness as a ruler, is that he doesn't want that and he can't handle that.
Aria - B Section
DESIMONE: In the A section of "Voi che udite," Ottone is questioning why he's been rejected by all his friends. In the B section, the emotion shifts a little bit, because Ottone starts thinking about his love Poppea, who has also rejected him.
The solo oboe drops out completely. There are no strings except for the basso continuo, so the harpsichord and often a cello -- a bowed string instrument, which gives it a very bare texture, as if Ottone is just very vulnerable at this moment. He starts to sing about Poppea, and the strings come in and just sort of pulse along with the voice. He gets more worked up in his sadness because he realizes he's lost his true love.
DAVIES: He reflects on what's happened. He says, "I lose a throne," and yet his heart being wounded is more important than his political ambition. It's not about politics. It's not about power, it's, "I'm going to die without completing that, that love story."
Through all this, the sort of sweetest loss is Poppea.
SOUTHON: I really liked looking at the way that Roman history is retold because the bits that we choose to emphasize, the characters that we choose to pick out of it, always tell us more about ourselves or about the period in which that piece of art was created than it does about anything else.
And I think that telling the story of Otho and Poppea as a great love story always jumps out to me because they have such a tragic story. In the historical sources, Otho loves her very much, but he is forced to divorce her so that Nero can marry her, and then Otho is effectively exiled to Lusitania (which is a very tiny, tiny province) by himself, where he is left there for ten years to rot. And so it feels almost like a little bit of an in-joke that Handel would choose to put those two characters as having a great love affair.
Aria - Da Capo
DAVIES: So most arias in Handel operas are set as what we call da capo arias, which basically means that two-thirds of the way through, the aria goes back to the beginning, goes back to the capo, goes back to the top, the head. And this essentially means that the first third and the third third, the final part, are the same music. So the challenge for the singer, especially the challenge for the modern sing of the 21st century, is to try and get into the aesthetic of the style. And so it's a choice of the singer and the director and the conductor of what you're going to do to sort of keep the intention going, whether you choose to revisit the emotion from the first time you sing it through, or whether you choose to develop the emotion. And in this aria Handel's not letting the character actually run away with himself. He's really stuck. And so for that reason, the ornamentation you can add has to, in a way, not divert attention. It just needs to be done in such a way that it kind of augments the core emotion here, just make you think the character is now feeling this even more than he did before, rather than he's having a completely new perspective on it.
DESIMONE: So with the return of the A section, Ottone feels even more dejected and sad and hopeless because he's just realized and reflected on the fact that he's lost Poppea, his true love. The singer should and does add ornaments that make the music sound even sadder -- the change, the tone of the music from its first exploration of grief into something that's even more despairing and tormented.
Singers could use a lot of different vocal ornaments to achieve this kind of effect, such as adding melismas or extra notes per syllable, possibly rewriting the melody to start on a higher note in order to bring the melody downwards, which drags the emotion down with it.
DAVIES: Handel, what he does well is he manages to capture the character of Ottone, capture the mood of Ottone, capture the sort of temperature of the opera at this point and give it to the audience in just a few notes.
[applause]
SOUTHON: After 10 years in Lusitania, Otho takes the throne and discovers that there is actually a very, very bad rebellion happening against him. And so after 91 days of ruling, he decides that his life and his reign is not worth the lives of thousands of Romans, and that he does not want a civil war and he only wants to be emperor if it doesn't involve lots of people dying for him. So, he has a nice dinner, he has a nice sleep, and then he wakes up in the morning and falls on his own sword in order to end the war.
He is the only emperor in the whole of Roman history to decide that reigning and the power that comes with being emperor is not worth the bloodshed and the ruthlessness that you have to have in order to maintain it, and he would rather not be alive than see other people dying for him.
Reflections
DESIMONE: I love this aria because it encapsulates an emotional state that I, and probably lots of us, can relate to. And that is the state of just being lost and alone and grieving and not knowing where to turn. It's so cathartic, in a way, to listen to it because it's one of those moments that just is designed to make you cry... to make you cry along with Ottone.
DAVIES: And I'm pretty sure when I come back to sing Agrippina, which I'll be doing later on in the year and in Hamburg and then Munich again, I'll come to it with fresh ears and perhaps, you know, having been influenced by the horrendous year we've had. I really know what it feels like to be alone now, you know, to be powerless and be at the mercy of governments telling you what to do. It's not quite death, but we do have that on our doorstep all the time and it really is much more real. So it will be interesting to see how that, that might change the interpretation when I come back to it.
END OF DECODE
GIDDENS: And with this opera, as with so many others we've explored on the show, it's clear that history is never past.
Countertenor Iestyn Davies, musicologist Alison DeSimone, and historian Emma Southon decoding Handel's "Voi che udite il mio lamento" from Handel's Agrippina. Iestyn will be back to sing it for you after the break.
MIDROLL
Ottone's been having a pretty bad day. Thanks to Agrippina's scheming, everyone has turned against him, including his love Poppea. And now, he's going to sing about it. Here's Iestyn Davies in his 2019 performance at the Met, looking the part of an army commander and singing "Voi che udite il mio lamento."
"Voi che udite il mio lamento"
You can add that to your playlist of music to cry to! "Voi che udite il mio lamento" from Handel's Agrippina, sung by countertenor Iestyn Davies.
And that brings us to the end of this episode of Aria Code! We'll be taking an extra week off, but will see you back here in three weeks with another heartbreaker: "E lucevan le stelle" from Puccini's Tosca.
Aria Code is a co-production of WQXR and The Metropolitan Opera. The show is produced and scored by Merrin Lazyan. Max Fine is our assistant producer, Helena de Groot is our editor, and Matt Abramovitz is our Executive Producer. Mixing and sound design by Matt Boynton and Ania Grzesik from Ultraviolet Audio, and original music by Hannis Brown.
If you want to show the team some love, go ahead and leave a rating. It makes us feel great, and it helps other people find the show.
I'm Rhiannon Giddens. See you next time!
EASTER EGG
GIDDENS: Yeah… okay… doo doo doo doo doo doo.
Copyright © 2021 New York Public Radio. All rights reserved. Visit our website terms of use at www.wnyc.org for further information.
New York Public Radio transcripts are created on a rush deadline, often by contractors. This text may not be in its final form and may be updated or revised in the future. Accuracy and availability may vary. The authoritative record of New York Public Radio's programming is the audio record.