Breaking Mad: Donizetti's Lucia di Lammermoor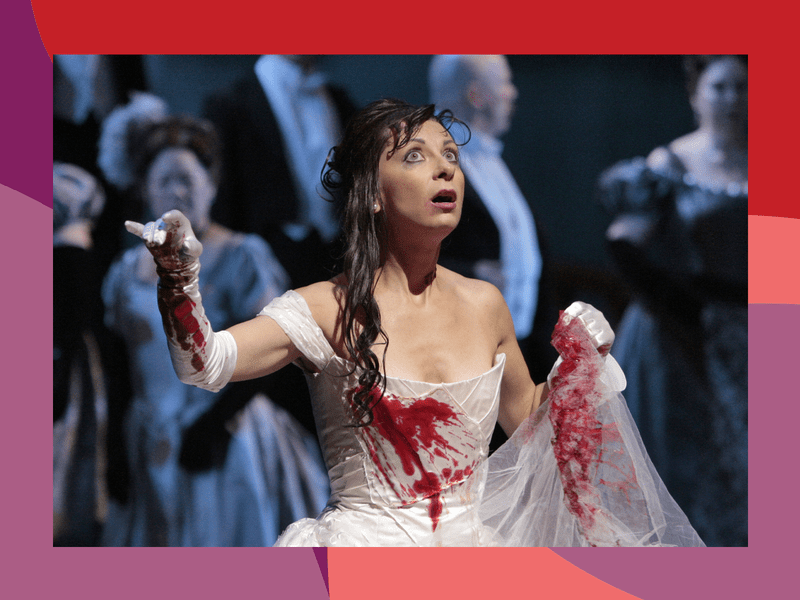 Transcript
Aria Code S3 Ep 12
"The Mad Scene"
from Donizetti's Lucia di Lammermoor
BILLBOARD
Theme music
DESSAY: There's just one way to escape all this horror. She goes in a place where nobody can touch her anymore, which is the madness.
GIDDENS: From WQXR and the Metropolitan Opera, this is Aria Code. I'm Rhiannon Giddens.
MOEZZI: I thought my cat was possessed by the devil. So I was acutely manic and floridly psychotic.
GIDDENS: Every episode, we look at the inner workings of a single aria so we can understand it inside and out. Today, it's the famous Mad Scene from Lucia di Lammermoor by Gaetano Donizetti.
CHESLER: She's cold, she's like marble, she's like a stone, she's living in the land of the shades.
GIDDENS INTRO
Somewhere in the bottom of a box, in the bottom of a storage unit, in a small town just north of Nashville are all of the note cards I wrote when I was doing my thesis research on the Mad Scene from Lucia di Lammermoor. It's a super famous scene where you watch a young woman, Lucia, completely lose touch with reality, but you never really learn what exactly is going on in her head. So, I became obsessed with figuring it out -- like, how could we diagnose Lucia from the vantage point of modern psychiatry?
And let me tell you, I went deep. I read books and journals... I turned to the Diagnostic and Statistical Manual, which is basically the bible of psychiatry in the United States, and it's enormous. But I got kind of sidetracked when I started reading all about the actual women from the 19th century who were called mad or hysterical, and were locked up in asylums even though they showed no signs of mental illness whatsoever. Because back in the day, a man could have his wife locked away -- for the rest of her life -- for basically no reason at all.
OPT 1: Now, in this story, we never see Lucia di Lammermoor actually hauled off to an asylum, but Donizetti does show her spiralling. And this scene, y'all… it is a doozy. For starters, the whole thing is about 15 minutes long -- so the soprano really doesn't have any time to rest.
But even more than all that, this scene is a moment in opera makes us ask, what is madness? Who is mad? And who gets to decide?
Well, I never did finish that thesis. Everything I read about the history of women and madness was just too freaking depressing! But it's been more than two decades and I'm ready to dive back into the deep end -- this time, with four fantastic women to guide us through it.
First, soprano Natalie Dessay. She performed the role of Lucia at the Met back in 2011, but you didn't have to be sitting in the opera house to see her.
DESSAY: They put some big signs on the buses with me. And I remember when I was in the street, seeing all those buses with my big picture on them… it was great. I had the impression to be, um, a Broadway star. And I loved it. [laughter]
Next, Mary Ann Smart, a professor of music at the University of California, Berkeley.
SMART: I remember when I first heard Lucia di Lammermoor, it was actually on a cassette tape, which was given to me by somebody who knew that I played the flute and wanted to make me like opera. And, all I remember from that tape was this crazy cadenza... I didn't like it!
Fortunately, that didn't stop Mary Ann from eventually writing… and finishing... her dissertation on mad scenes in 19th-century Italian opera (I'm only just a little bit jealous).
Next up, Phyllis Chesler.
She's a writer and activist whose work deals with freedom of speech and freedom of thought. She's written 20 books, including the groundbreaking work, Women and Madness.
CHESLER: Writing is a form of madness because you have a hope that you will communicate the truth and then it will change the world and you will be appreciated for it. This is a complete form of madness.
And finally, Melody Moezzi, an author, attorney, activist and a professor of creative writing. Melody's book Haldol and Hyacinths is a memoir about living with a mental health condition.
MOEZZI: When I was diagnosed with bipolar disorder, there was no book that i could relate to as an Iranian American Muslim. So basically for me, Haldol and Hyacinths is the book I wish existed when I was diagnosed, and it's my hope that other people who read it are able to see their own stories in it and feel less alone.
Here we go, into the farthest reaches of a woman's psyche in the Mad Scene from Donizetti's Lucia di Lammermoor.
DECODE
SMART: Lucia is based on sir Walter Scott's novel, The Bride of Lammermoor, written sometime in the 18-teens. What Donizetti takes away from Scott is mostly the central love triangle, and the heroine, the sort of repressed, disempowered, young woman of marriageable age, Lucia.
MOEZZI: I grew up mostly in Dayton, Ohio, as the daughter of two Iranian immigrants, both of them were physicians. So in a lot of ways we had plenty of privileges, but there were moments where I felt out of place. Simple things. "Where are you from? No, where were you originally from?" like those kinds of questions. What my parents taught me is to expect more of myself, that I was capable of more, even when the rest of the world expected less of me.
SMART: Lucia is a young woman.
DESSAY: Who is in love and with a young guy,
SMART: This young man is the tenor Edgardo
DESSAY: And they want to marry.
SMART: They have secretly met and they exchange rings and promise their loyalty to each other.
DESSAY: But it's a bit like Romeo and Juliet. There is a problem between her fiance and her brother.
SMART: Her older brother Enrico
DESSAY: She's forced by her brother to marry another man,
SMART: Arturo Ravenswood, because an alliance with the Ravenswood family will strengthen their power, but also their landholdings.
DESSAY: So she knows it won't be that easy.
CHESLER: Her role is to marry a prince as in a fairy tale, and to keep her mouth shut. And if the husband does not please her, too bad. No expectation of love. That's not the deal. The deal is property and power. So it would have been a restricted life and she would have had to keep her girlish longings to herself.
SMART: She has no choices at all. It's understood that she will do what her brother wants. Enrico is not going to be swayed from his sort of empire-building intention to unite her with Arturo.
DESSAY: She's just a product, an object. They have no love for her.
CHESLER: She was like a bird caught in a cage, pretty little bird who could sing so beautifully and could never leave. Couldn't leave the cage until blood was her exit and her demise.
SMART: By the time Donizetti composed Lucia di Lammermoor in 1835, mad scenes were fairly common on the Italian opera stage. And it was almost becoming expected that an opera with a strong central female character would end with some sort of burst into hallucination or dissociation. But Lucia di Lammermoor is different from some of the other mad scenes that were popular around this time in setting up a lot of clues earlier on that Lucia is at least unusual, highly impressionable, highly emotional.
CHESLER: And very ethereal. I mean, she talks to ghosts. She sees ghosts. She's not quite of this earth.
MOEZZI: I had hallucinations pretty early on and for years didn't tell anyone about them. My first hallucination had to do with a spider which was spinning web out of, out of grape bubblegum. And I knew what that meant -- that there was a level of stigma and discrimintation attached to this kind of thing that I didn't want, I didn't want a label that included hallucinations because to me that was really crazy.
SMART: At the beginning of act two Enrico presents her with what he claims is a letter from Edgardo proving that he no longer loves her, doesn't want to marry her. This is Enrico's deception. His way of forcing Lucia into marrying the man that he has chosen, Arturo.
CHESLER: Women were so restricted -- physically, psychologically, intellectually, politically. So what does this do to a human soul? To be discounted your whole life? Well, you may not have high hopes. You may not be happy at all. And you may begin to have nightmares. You may become recalcitrant. You may not be obedient. You get yourself in trouble but inside you begin to have ideas of suicide and of worthlessness, oppression has severe psychological consequences and they're often invisible and therefore discounted and not understood.
MOEZZI: I have struggled with suicidality on and off since I was a teenager. The only time that I've ever attempted suicide was when I had been severely depressed for months. And I went to get help for it. And because I was misdiagnosed with unipolar depression, I was given medications that actually exacerbated my condition. I was still just as depressed as I'd ever been, but I suddenly had a sense of motivation to act on it. which ended up landing me in the hospital.
SMART: We move from there into this big public festive wedding scene where Lucia is, against her will, being forced to go through with her brothers' plan in front of the whole assembled court and families, but we can see that she's doing it very reluctantly. She's walking in with halting steps and she's described as unsteady and kind of off-balance.
CHESLER: When she signs the marriage agreement against her will, tricked, forced, she feels chills and fevers. She says, "This is my death warrant. This is my grave."
Her tears have abandoned her. She's cold. She's like marble she's like a stone, she's dissociated is the psychiatric phrase. So in a way she's not there. Her life has sent her to ghost world. She's living in the land of the shades.
DESSAY: So it's horrible because she's lost.
MOEZZI: I went into into a all-women's unit and what happened to me is something that happens with a lot of people with bipolar after a suicide attempt is I sort of leapt into a hypomanic or mildly manic state. Suddenly I felt like I was sort of the guru of this ward and I could help everyone get out. I didn't think I needed help. I just thought I could help everyone else and was told by some of the patients because of the way I was acting, "We think you might have bipolar," which was formerly known as manic depression.
SMART: So the marriage of Lucia with Arturo has been concluded, They have retired to some kind of wedding chamber.
DESSAY: And during the night, we suppose that this guy rapes her and she murders him.
SMART: She stabs him with his own dagger in the bed chamber.
DESSAY: And then of course there's just one way to escape all this horror. She goes in a place where nobody can touch her anymore, which is the madness.
CHESLER: Madness traditionally was always tied to women and the word hysteria came from the word, hysteros "womb" in Greek. We were seen as our endocrine systems -- menstruation, childbirth, postpartum depression, Menopause. It was in our blood, our blood was dirty. We had to be kept under control. And we were likely to go crazy, to be vicious, to be jealous, to be depressed.
This is a normal response, to that kind of violation, this is a deep trauma, being trapped, being physically and sexually violated. The body remembers, and how much violence can a woman take? How much scorn, how much terror can she absorb without, like a soldier on a battlefield, exhibiting all of these symptoms that are then diagnosed as crazy.
MOEZZI: It quickly became obvious to me that I was the only one on this ward who had not been raped. Most of them by the people who were supposed to be protecting them. Often like their fathers, their grandfathers, their uncles, whatever, who had really, really hurt them. I also experienced trauma, but it was at the hands of the American healthcare system. where I was treated as a body without a mind. So getting into that hospital and seeing how trauma connected all of us and how frequently that trauma was gender-based, incensed me.
SMART: When act three begins, the first thing we hear is a chorus celebrating this successful wedding, which is going to be so good for these families, politically, and then the news arrives that Lucia has actually stabbed her husband in the wedding chamber.
DESSAY: And then of course there is this mad scene, which is a scene that everybody knows and wants to have as beautiful and horrible as possible.
SMART: Lucia herself enters, she has all of the characteristics of the classic scary, mad woman. She's clad in white, splattered with some blood or a lot of blood, and her hair is loose.
And the chorus exclaims in a kind of somber, funereal voice, "It seems as if she's emerged from the tomb."
SMART: Then the flute begins to play. The flute is going to be extremely prominent throughout the scene. but Donizetti's initial conception was not to use the flute, but to use the glass harmonica.
DESSAY: The legend says that the day of the premiere, he had a fight with the glass harmonica player. So to punish him, he fired him and then replaced him by a flute player.
SMART: The glass harmonica involves the friction of fingers touching very thin disks or bowls of glass that have been lightly moistened. So the sound is, it's often described as ethereal.
DESSAY: It gives a very, ghosty mood to the scene.
SMART: All the notes would have been the same, but the impact the atmosphere, the mood would have been completely different.
DESSAY: And it helps to create this weird sensation that something is really wrong with this woman.
CHESLER: There was no such thing as mental health for a woman. She was mentally ill, no matter how you measured it, the standard for mental health was being male. So if women are feminine and passive and accept their fate, they're seen still as pathetic, as failures, as not role models, they're nothings. If a woman becomes aggressive, if she's ambitious, if she wants a career, if she wants to wage a revolutionary struggle, she's insane, wildly unrealistic. So women are cursed and are maligned as prostitutes as whores as witches, as mad women, as witches from hell.
MOEZZI: Any label related to madness even the diagnostic ones, a lot of them are still labeled around disorder. They're not labeled around neurodiversity or neurodivergence, which is the way I prefer to think of my mind. But what happens to you within a system where everything is pathologized, is you end up losing all of your credibility because if your mind is damaged, then nothing you say is of value. It's not just a matter of being locked into a ward. You're being locked out of the rest of the world. And ultimately right now, the way that our system works is it's not treatment, it's trauma.
SMART: So the flute is carrying the tune very much emphasizing the minor key, and I think you can kind of hear this melody as a little bit like a funeral procession or a dirge. The singer comes in adding disjointed, speech-like little fragments. Her first words are, "The sweet sound of his voice strikes me." So maybe she's hearing the flute is her hallucination of Edgardo.
DESSAY: She hears the voice of her fiancé, but of course it's not true. She hears it in her head. But for her, she's not mad. She's in pain. When you play a character, you don't play the madness, you play something else. You play the pain.
SMART: As the flute continues and Lucia's recitative-like fragments continue, they also become more disturbed and more broken and Lucia goes off into a big, fast scale and flourish. The first of what will be many short sudden outbursts of ornamentation, which keeps the listener off-balance.
CHESLER: Before feminism arose, clinicians would diagnose women incorrectly and medicate them incorrectly, and either lock them up or keep them straitjacketed chemically, not having other ideas or better ideas.
MOEZZI: So one of the hardest things about my treatment was the use of five-point physical restraints, so the hands, the feet, and the waist, tied down. We would say that's incredibly cruel to do to an animal. And yet doing that to a human being behind closed doors is still protocol for treatment of somebody who is dealing with a psychotic break. I think all of this is a way to humiliate people and to suffocate their souls.
SMART: So she begins to imagine that she's back at this fountain, where she pledged her vow of marriage to Edgardo.
DESSAY: She imagines in front of everybody that her fiancee is here and that they kind of make love because she thinks she's alone and everybody's horrified, they don't know how to react.
SMART: And at one point she says, "il fantasma," "the ghost." So the ghost that she had seen on previous occasions is coming back to her.
MOEZZI: In my case, when I went psychotic, I thought my cat was possessed by the devil. And, you know, some people think all cats are possessed by the devil, but mine is not. And another delusion I had is that I could fly, not like on an airplane, but like with my hands, jump off a building and start flying. So I was acutely manic and floridly psychotic.
SMART: She first imagines roses strewn across the altar on which they're going to be married. And the flute comes in with a different kind of music, something more mechanical and meaningless. This is just little bits of arpeggios. The flute is kind of jumping around doing short, ultra-clear notes that are very detached and very cold and icy sounding. And this has now become for her a positive scene. She's beginning to construct a kind of imaginary version of the wedding that she wanted to have, the wedding with Edgardo. She imagines music. She says, There's celestial harmony, do you hear it? Now I hear the sound of our wedding hymn." The music box-like flute figures are maybe ushering her into this other state of consciousness.
MOEZZI: I was watching the sunrise over our balcony in Atlanta where we lived, and I could feel and sort of see the sun entering my body. Like, all of the rays of the sun were entering my body. And I, I had this insight of, I was connected to that. I came from something a lot bigger than me and all of us came from that thing, So for me, mania exists as both a clinical state in a spiritual state, something that began as a mystical experience, accompanied by intense euphoria and an intense sense of connection with every living thing on the planet. And that got to the point of being in a clinical state that needed treatment.
CHESLER: Madness has been seen as both an act of rebellion and an act toward freedom. But if you're ever talking to a person who's having hallucinations, they're suffering. Real schizophrenia, for example, or bipolar disorder, or depression… this is not freedom.
SMART: She says, "Let's light the incense burners. I can see the sacred torches illuminated, and here's the minister ready to marry us."
This time a pair of flutes come in with a new lyrical melody, harmonizing in the sort of most luscious way that instruments can harmonize, moving in parallel, and playing this slow melody that's very voluptuous. And it's in a major key now, so we've finally arrived at some sort of resolution and peace.
DESSAY: What was interesting was, um, to play something, uh, really erratic, while you sing these beautiful, happy lines. And that's the contrast between something which is really bizarre in your body, in your gesture, and the beautiful line of the singing.
SMART: What she sings is [Italian], "Finally, I am yours. Finally, you are mine." It's a very, very simple text in which Lucia expresses and imagines this union and kind of blending between her and the man that she believes she's being connected to.
CHESLER: So poor Lucia, is she too muddled in her imagination? Maybe vulnerable due to trauma, maybe vulnerable due to genetics, maybe vulnerable due to isolation and no company. Lucia was alone!
DESSAY: She has not one single soul around her who can help her.
CHESLER: She didn't have a band of sisters with her who was supporting her. She didn't have winged horses in flight to make a getaway, she was just by herself alone the way so many women are and feel that we are.
MOEZZI: I was put in a room alone. In the United States we use solitary confinement more than any other country on the planet. We use it for treatment and we use it for punishment despite the fact that it has been proven to make matters worse. It's been proven to induce symptoms of mental illness in people who do not already have mental illness. And I think what you need in a moment of crisis is human connection. We're social creatures. So the idea that isolating someone is the best way to treat someone who is in what I would call both psychiatric and spiritual crisis, is incredibly cruel.
SMART: Lucia's ornament amps up and then kind of settles down again to a closing gesture, and what Donizetti expected that the singer would do was to make something up -- a mini Cadenza that could be inserted at this point. But when we hear and see Lucia di Lammermoor now, it is nearly always with a cadenza that's become a kind of a canonical part of the score.
DESSAY: For the Cadenza. I used to invent my little details and put my little marks here and there. Little things just to, to sign it, in a way.
SMART: One of the challenges of a cadenza like this, which is very extended, is the need to keep an anchor pitch in mind. even more so if the flute is absent and it's really just the singer moving through those remembered melodies and those bits of sort of hysterical, deranged ornamentation. When the Cadenza ends, the singer is going to have to come back to that, that home key, that anchoring tone, without any kind of support from the instruments or the conductor.
DESSAY: It's always, uh, difficult to go through an a capella cadenza. But it's very rare when you don't, um, arrive on the right note, but it may happen. Yeah it may. If you're, um, not, um, any good in a good shape or if you're, yeah, if you're a little bit tired, it may happen, but it's, it's rare because it's like printed in your voice and in your body. plus when you go there, um, you are so concentrated, and focused.
And that's also the pleasure of doing big scenes like that, that forces you to be focused and to live the present, like no other moment in your life. It's like a big, um, uh, yoga, uh, exercise [laughs] Ashtanga yoga exercise, you know, that they're real, uh, real good one.
SMART: Her brother and Enrico enters. He knows that Arturo has been killed, and he's extremely angry.
DESSAY: It doesn't help at all. She falls deeper into her nightmare.
SMART: She imagines that Edgardo is cursing her and she says, "I was the victim of my cruel brother." She wants her imaginary Edgardo to know that she continued to love him. And the orchestra has also come back into remind us that there's a busy, external social world here.
We've had six or seven minutes of Lucia's hallucination with nobody else speaking, but the whole time, the chorus, the family, and the sort of social frame have always been there, staring at her. And often in productions, we see them literally sort of encircling her and, you know, staring in a way that kind of denotes a certain amount of ownership and disapproval, or certainly shock.
CHESLER: The men look sympathetic, a bit horrified, sympathetic. But the women look disgusted with her and frightened for themselves because when any woman steps out of line, goes against the rules, rebels, other women will be held accountable, and they might be held on an even tighter leash, which is an ongoing fear when women step out of line and call for freedom.
MOEZZI: I have never been ashamed of any part of my identity. I've never been ashamed to be Iranian. I've never been ashamed to be Muslim. I've never been ashamed to be a woman, but suddenly for the first time in my life, I was actually ashamed of something that was a part of me. The doctors were very insistent on letting me know that this was something I would have to deal with and manage for the rest of my life. They said, "this is never going to go away, you need to lower your expectations for your life" but also that it might benefit me to be quiet about it. but the thing about silence is that it breeds shame. And when people tell me to be quiet about something, it's often because I have something important to say.
CHESLER: When someone who's supposed to serve a certain role fails the role because their suffering has led them to become rebellious or dysfunctional, then you either whip them into line or get them out of sight. "If they're getting on our nerves, we'll put them away!"
DESSAY: The most important thing for me in life is actually freedom. So, when I imagine people, and especially women, not able to have this freedom to choose with who they want to go, with who they want to sleep, with who they want to marry, it's really, really horrible for someone like me. And I can easily imagine what that causes to a mind and to a body to be forced to do something that you don't want.
SMART: Then we get the final segment of the scene, the fast closing number that is often referred to as the cabaletta. At this point she is even more out of touch with the physical concrete surroundings that she's in. She only has a few lines. The text here is extremely economical, she's singing really about death, it's basically, "My earthly reality is, is full of tears, but I will be in heaven praying for you, you being still again Edgardo. I won't be happy in heaven until you join me there." So just these few ideas, which really are about a kind of reunion beyond the earthly world, which is usually all that operatic lovers have to look forward to.They can't be together in the earthly world because of some horrible authority figure like Enrico or some set of social expectations that make it impossible, but they nearly always sing something about being reunited in heaven. Lucia does this here and the melody that she sings and the orchestration create this kind of, high, tremulous, irrationally exuberant sense, of existing in heaven, or are being translated to some other sort of plateau of being.
MOEZZI: There's a wide range of human experiences and some of them are spiritual. Some of them are clinical. Some of them are quotidian, you know, like just an ordinary routine. But the point is there's going to be overlap. And the overlap of the clinical and the spiritual makes a whole lot of people uncomfortable. And my hope is that one day that we can past, because to to pretend that these states of mind are all liability and no asset does no one any good.those of us living with mental health conditions will certainly have problems that other people don't have, but we'll also be able to see solutions where other people cannot see them. So we are innovators. We are entrepreneurs. We are people who change the world, if we're able to not be so ashamed of the conditions that we have, that we don't get the help we need.
SMART: So the final segment of the cabaletta intensifies the ornamentation,of the sort of free embellishments, very sort of intense, buzzing, little trill effects.
DESSAY: There are many difficulties in this role. First of all, it's quite a big orchestra, especially for a voice like mine, who was not that big. And who had to struggle to be heard and still to stay beautiful. When we train, it's always beautiful. And when you go on stage with the pressure and with the fear and after such a long scene, sometimes you're tired.
I used to like to challenge myself with difficult positions or running sometimes or climbing sometimes on, uh,elements of the set, and see til what point I could go, with the risk of falling down, of course.
But it's, uh, it's the end. So you're so happy to have survived to there that it's like a freedom scream. [screams] It's finished! I've done it! Once again!
Reflections
MOEZZI: In someone like Lucia, I really don't see so much mental illness. , as I see a rational response to a wildly irrational world. And I think being pushed to the edge can lead someone to act irrationally.
CHESLER: Is Lucia really mad, or is this Donizetti and his librettists view of how a woman would have to feel when she found a way to reject a bridegroom in an arranged marriage? Maybe, maybe this is all a male fantasy, it's possible. And yet they gave us such a beautiful aria. It's a real sobfest and we're weeping for ourselves. We don't get to sing so beautifully though.
DESSAY: I have wonderful memories, with this role, for Lucia di Lammermoor because it's a big, first role of a woman who is a victim at the beginning, but then who succeeds to escape this state of prisoner in a way going to the madness. That's her only way, but that's the way to escape. And for that, it's a great challenge and a great pleasure to embody this character.
END OF DECODE
Soprano Natalie Dessay, music professor Mary Ann Smart, activist Phyllis Chesler, and author Melody Moezzi...
...decoding the mad scene from Lucia di Lammermoor by Gaetano Donizetti. Natalie will be back to sing it for you after the break.
MIDROLL
What happens to a woman who has no say in her own life? What happens if she's betrayed and alone? Well, in Lucia's case, she finds the only escape possible -- first in murder, and then in madness.
Here's soprano Natalie Dessay, in her iconic blood-covered wedding gown, on stage at the Metropolitan Opera.
The Mad Scene
Opera has this way of turning the deepest, darkest moments of human existence into breathtaking works of beauty, and that was one of them. Soprano Natalie Dessay sang the tragic title role in the Mad Scene from Donizetti's Lucia di Lammermoor.
We'll be taking a little mental health break here at Aria Code HQ, but we'll be back in three weeks with a somewhat cheerier number: the composer's aria from Ariadne auf Naxos by Richard Strauss.
Aria Code is a co-production of WQXR and The Metropolitan Opera. The show is produced and scored by Merrin Lazyan. Max Fine is our assistant producer, Helena de Groot is our editor, and Matt Abramovitz is our Executive Producer. Mixing and sound design by Matt Boynton and Ania Grzesik from Ultraviolet Audio, and original music by Hannis Brown. This project is supported in part by the National Endowment for the Arts. On the web at arts.gov.
And I want you to know that those ratings and reviews? They really do make a difference. So go ahead and leave us some over the break!
I'm Rhiannon Giddens. See you next time.
EASTER EGG
CHESLER: When I had surgery, I had them play the marriage of Figaro, I said to keep me on earth, you know, less my soul wished to wander. [laughter]
Copyright © 2021 New York Public Radio. All rights reserved. Visit our website terms of use at www.wnyc.org for further information.
New York Public Radio transcripts are created on a rush deadline, often by contractors. This text may not be in its final form and may be updated or revised in the future. Accuracy and availability may vary. The authoritative record of New York Public Radio's programming is the audio record.