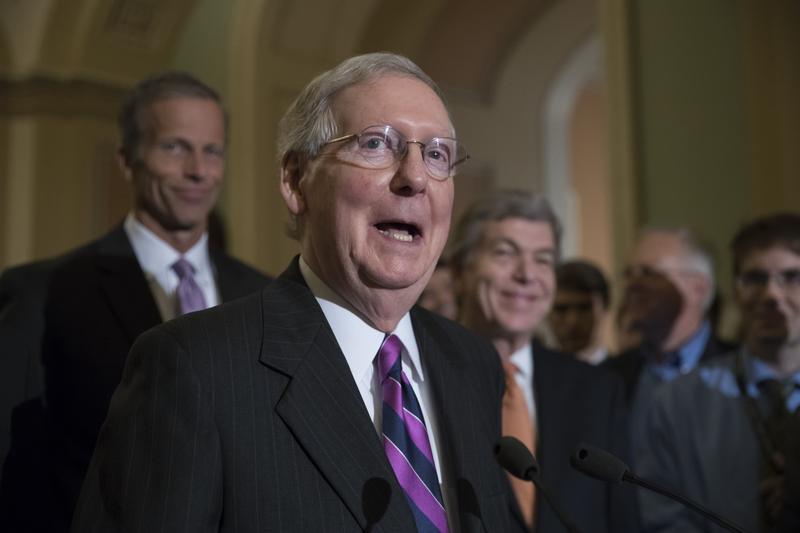 Transcript
BROOKE GLADSTONE: This is On the Media. I'm Brooke Gladstone. So the time has come to bid farewell to a turbulent August.
[CLIP]:
MARK PRESTON/CNN: And I know we said this time and time again, but I'll say it again. There was a turning point in the last couple of weeks for Donald Trump about his support for the American people.
[SOUND OF CROWD]
He did cross that red line when it came to race.
MALE CORRESPONDENT: The breaking point for most came when Trump said blame for the violence fell on both sides.
MALE CORRESPONDENT: And I think yesterday's very angry press conference by the President of the United States here at Trump Tower was the breaking point for many of these CEOs.
FEMALE CORRESPONDENT: See, this honestly to me feels like where we've see the biggest breaking point —
FEMALE CORRESPONDENT: I agree.
FEMALE CORRESPONDENT: — between members of Congress and the Trump administration,
[END CLIP]
BROOKE GLADSTONE: But don't unbuckle that seatbelt. There's more rough road ahead.
MALE CORRESPONDENT: Before leaving the payroll, Steve Bannon, quote, "repeatedly warned Mr. Trump and John F. Kelly, the White House chief of staff, that September could be the breaking point for the Trump presidency — a total meat grinder."
BROOKE GLADSTONE: The former White House chief strategist foretold a month crammed with tight deadlines for tough legislative priorities, like the debt ceiling, the budget, rewriting the tax code, even as Trump, the punk president, gleefully and repeatedly hurls himself from the podium into a mosh pit roiling with traditional conservatives, freedom partiers and his own politically-ambiguous base.
Noah Rothman, a traditional conservative at the durably neoconservative Commentary Magazine, told us a few months back that time running out for the President to enact key parts of the conservative agenda. We checked back with him this week and he doesn't hold out much hope for a tax code rewrite in September, either.
NOAH ROTHMAN: I'm not alone in thinking that this thing is just not gonna happen. I don't really think that there is enough time in the calendar before we get into a really dense political season with a lot of pitfalls and landmines. Republicans and Democrats alike are going to be posturing and not interested in pursuing votes that could backfire on them.
BROOKE GLADSTONE: Back when you were on the show in May, you said this.
[CLIP]:
NOAH ROTHMAN: No one is happy right now who's honest, on the right. People who are, say, on my side are very frustrated. The alt-right is miserable! They are beside themselves.
[END CLIP]
BROOKE GLADSTONE: Has anything changed then?
NOAH ROTHMAN: Ah, things have changed, actually. The defenestration of virtually everyone who represents the nationalist populist wing of the party, with the exception of former Jeff Sessions staffer Stephen Miller, is a welcome development for the traditional conservative wing of the party, the wing of the party that was skeptical of Donald Trump, to begin with.
BROOKE GLADSTONE: We're talking Sebastian Gorka and Steve Bannon being shown the door.
NOAH ROTHMAN: Right.
BROOKE GLADSTONE: This, you think, is a positive sign for people. Others on the left suggest that the President doesn't need those guys because he embodies those things.
NOAH ROTHMAN: Yeah, I don't think that's unfair criticism because the removal of Steve Bannon from his position as chief strategist for this White House hasn't affected any real policy changes or personality changes on the part of the President. It's always going to be his administration. But it also suggests we were purging all of the old Bolsheviks.
BROOKE GLADSTONE: Bolsheviks, you mean extremists.
NOAH ROTHMAN: The really prominent figures. And this was a group of individuals that had come to terms with Donald Trump early. The Republican Party was not really on board with Donald Trump until he became a nominee, so anybody who was on board before he became a nominee was the B team.
BROOKE GLADSTONE: What's changed then? There's no indication that there's going to be a change in policy or behavior in the White House because of these departures.
NOAH ROTHMAN: Well, there is. I'll give you an anecdote.
BROOKE GLADSTONE: Okay.
NOAH ROTHMAN: Axios reported the other day, very well sourced, that the President had something of a tantrum when he was assessing the landscape of his policies on trade.
BROOKE GLADSTONE: He said he wanted tariffs, he wanted tariffs.
[BOTH SPEAK/OVERLAP]
NOAH ROTHMAN: I want tariffs, give me — where are my tariffs? The President isn't getting what he wants because the Republican Party doesn't want that. The President issues a tweet in the middle of the morning, a scandal-plagued morning, in which he says, you know what, we're going to stop the transgender enrollments in the military. There was no DOD memo. There was nothing to back that up. A month later, he issues a guideline and his secretary of defense says, no, we're going to keep doing the review that we've been doing for the last six months.
BROOKE GLADSTONE: Mm-hmm.
NOAH ROTHMAN: This President is a weak president. He doesn't have control of his own party. He barely has control of his own administration. And the people who do have control of the administration are of a more responsible sort.
BROOKE GLADSTONE: You're saying people should be happier now.
NOAH ROTHMAN: Well, I'm happier now.
BROOKE GLADSTONE: But your agenda isn't going to be enacted.
NOAH ROTHMAN: Well, I, I resigned myself to that some time ago.
BROOKE GLADSTONE: You did?
NOAH ROTHMAN: [LAUGHS] Yes.
BROOKE GLADSTONE: You wrote recently that the pardoning of former Maricopa County Sheriff Joe Arpaio has the potential to reverberate in ways few Republicans are able to envision. Why do you think that decision is bigger than the Republicans realize?
NOAH ROTHMAN: Well, because I was among many Republicans, many conservatives on the right, who spent the majority of the Obama administration castigating the liberal commentariat for seeing racism in shadows. Institutional racism was pervasive. Racists spoke to one another in code, a code that only they could decipher. And yet, the only people who were deciphering it were the people criticizing it. It was a hard case for the left to make and it was one I thought was overblown.
Now, with the President wrapping his arms around somebody who legitimately presided over what courts and Republican-appointed judges say represents institutional racial discrimination among law enforcement, Republicans are now compelled to own that. They've spent the last 30 years walking away from this and now they have to defend it.
BROOKE GLADSTONE: You charged that it was long the Democrats' view that the rule of law is invalid if it doesn't reflect the policy goals they want. Now you're saying Republicans have also embraced this very idea.
NOAH ROTHMAN: Yeah, this was the conservative objection to Donald Trump during the primaries, that his relatively poor understanding of conservatism, of the system, in general, [LAUGHS] the Constitution, the rule of law, would tarnish the brand, an already poorly understood brand, and that the demands of tribalism are forcing Republicans, who know better, to be muted in their criticisms of those divergences from orthodoxy.
BROOKE GLADSTONE: And you fear it might tar the Republican Party for a long time, and yet, the Republican leaders didn't flinch that much when the pardon came down. Paul Ryan did put out a statement that he doesn't agree. Trump antagonist, Jeff Flake, said that he would have preferred the President honor the judicial process. It seems a little weak tea to me.
NOAH ROTHMAN: Well, it is no small thing for the speaker of the house, for members of the Senate, for members of his own administration to be sort of tepid about the nature of this decision. And it is a terrible decision. But the nature of their antipathy towards this President is, itself, extraordinary, and I frankly don't think Republicans get nearly enough credit for the amount of effort they put into boxing in the head of their own party, who's only seven months into his administration.
BROOKE GLADSTONE: Well, that leads inevitably to this question, then: You've said that the Republican leadership would stay behind Trump, or at least bear with him, as long as they could see him as expedient in getting their legislative priorities through, like rewriting the tax code. But he hasn't. And September doesn't look promising. And, of course, there is a drumbeat of stories about presidential self-dealing and contacts with Russia, wearing hats that he's selling on his website to Texas ravaged by Harvey and, and all these other things. This is an unprecedented presidency, wouldn't you say?
NOAH ROTHMAN: Surely.
BROOKE GLADSTONE: Do you think that it's going to take a bad midterm election for the Republicans to finally open themselves up to impeachment possibilities?
NOAH ROTHMAN: Oh yeah, and I, I don't even know if that'll do it. You have to reach the point of diminishing returns. I don't believe we're anywhere near that point for conservatives.
BROOKE GLADSTONE: That's the question. What is that point?
NOAH ROTHMAN: When they realize that the agenda will not be fulfilled. And hope springs eternal, so we are considering now that there is always an opportunity, as long as the majorities are in place, to secure some sort of a conservative victory out of the 2016 election. Until that point comes, there will be no abandoning Donald Trump, no matter how much he offends norms and typical behavior expected of a president.
BROOKE GLADSTONE: The mainstream media keep calling every event a turning point. I'm wondering whether or not they're consulting Republicans enough [LAUGHS] to know what that turning point might be.
NOAH ROTHMAN: I honestly don't know, and perhaps the press should stop calling things a turning point, when they're continually [LAUGHS] discovering that they aren't. To make predictions would be a fool's errand. I won't do it. But I will say that we've seen quite a bit of erosion among the President's support, among Republicans. And I'm not just talking about members of the Congress who are, by the way, conducting four committee-level investigations into the President's campaign, which he is very frustrated by.
And we had Donald Trump's own pollster, Tony Fabrizio, send out a tweet in which he ostensibly was trying to prove that the president's support is solid and Republicans have no interest in a primary challenge in 2020. Those set of tweets demonstrated two things, one, that the President's base was softer than even a lot of public policy polling had demonstrated and two, that among a set of five challengers, mostly drawn from the Senate and including Governor Kasich among those five and the President, Donald Trump drew only 50 percent support among the universe of Republican primary voters. That's remarkable for Month 7 of a president's administration, and it demonstrated the precise opposite of what Tony Fabrizio set out to prove.
BROOKE GLADSTONE: What did you think of the Wall Street Journal editorial board's recent call for Republicans to think of Trump as a political independent, basically to ignore him and his tweets in order to move forward on priorities like the budget and rewriting the tax code?
NOAH ROTHMAN: A lovely daydream to think you can ignore the President of the United States.
[BROOKE LAUGHS]
You cannot. But, at the same time, Donald Trump, his instincts politically are not conservative. They're barely even Republican. They move with the wind, and if the wind moves in the direction of, for example, single-payer health care, that's the direction in which the President will move, and he will work with Democrats to achieve that victory because all he cares about are victories, not policy agendas. That's what the Wall Street Journal was warning of, that, that he has no principle and, as a result, he will pursue whatever policy objective is right immediately before him, and that could be a liberal victory.
BROOKE GLADSTONE: So then, what will be the breaking point when the Republicans decide to walk away?
NOAH ROTHMAN: Well, the point of diminishing returns occurs when the agenda is no longer achievable, and that would mean losing control of the House, 'cause the Senate's probably out of reach in 2018. That would be the earliest point at which we reach diminishing returns.
BROOKE GLADSTONE: So who are you for in 2020?
[BOTH LAUGH]
NOAH ROTHMAN: I see so much 2020 naval gazing.
BROOKE GLADSTONE: Noah, thank you very much.
NOAH ROTHMAN: Thank you for having me.
BROOKE GLADSTONE: Noah Rothman is associate editor of Commentary Magazine.
[MUSIC UP & UNDER]
That's it for this week's show. On the Media is produced by Alana Casanova—Burgess, Jesse Brenneman, Micah Loewinger and Leah Feder. We had more help from Jon Hanrahan. And our show was edited by me. Our technical director is Jennifer Munson. Our engineer this week was Sam Bair.
Katya Rogers is our executive producer. Jim Schachter is WNYC's vice president for news. Bassist composer Ben Allison wrote our theme. Thanks also to Andy Lancet from the WNYC Archives. On the Media is a production of WNYC Studios. Bob Garfield will be back next week. I'm Brooke Gladstone.
*** [FUNDING CREDITS] ***