Steve Bannon's Jekyll and Hyde Strategies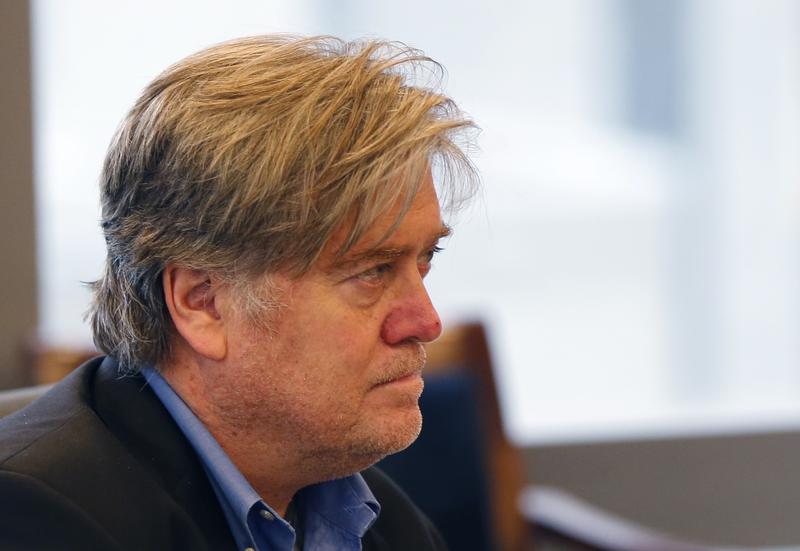 Transcript
BOB GARFIELD: From WNYC in New York, this is On the Media. I'm Bob Garfield.
BROOKE GLADSTONE: And I'm Brooke Gladstone. Meet the guy with Trump's ear.
[CLIP/MUSIC UP & UNDER]:
FEMALE CORRESPONDENT: Steven Bannon, a former Goldman Sachs banker who served on the Trump campaign, will serve as chief strategist and senior counselor to the president.
[END CLIP]
BROOKE GLADSTONE: Wait a minute! Goldman Sachs isn't the part of Steve Bannon's resume that sparked the rage petitions and protests over his appointment this week. No, not that!
[CLIPS]:
FEMALE CORRESPONDENT: Bannon's Breitbart News website is a favorite of extremists and white nationalists.
MALE CORRESPONDENT: A platform for the alt-right movement, an amalgam of white nationalism, misogyny and anti-Semitism.
MALE CORRESPONDENT: With such headlines as this, "Hoisted high and proud, the Confederate flag proclaims a glorious heritage" "Gabby Giffords, the gun control movement's human shield." "Data: Young Muslims in the West are a ticking time bomb."
[END CLIP]
BROOKE GLADSTONE: And don't forget the headline, "Birth control makes women unattractive and crazy." Bannon himself has called Breitbart News a platform for the so-called "alt-right." But he and other Breitbart staffers claim there's a distinction between providing a venue for them and personally harboring their views. Here's Breitbart Editor-at-Large Joel Pollak.
[CLIP]:
JOEL POLLAK: Breitbart is not a white nationalist site, Steve Bannon's not an anti-Semite. Just the usual smears and the left, of course, is still in tantrum mode after losing the election.
[END CLIP]
JOSHUA GREEN: Well, I think Breitbart sees itself fundamentally differently than the outside world sees it.
BROOKE GLADSTONE: Joshua Green is senior national correspondent for Bloomberg Businessweek. He profiled Steve Bannon last year. JOSHUA GREEN: Breitbart fancies itself as being this kind of rogue operation that is political but it is also on a cultural mission to point out double standards and hypocrisies in the media, the different sorts of language we use to talk about black culture, Muslim religion, women and gender issues, as distinct from how we talk about white people and white ethnicity, that it's broadly accepted to say "black lives matter" but it's not okay to celebrate, you know, what they perceive to be a white cultural heritage and raise the Confederate flag.
But there's another part of what they're doing too and that is intentionally trying to provoke and upset and offend people in order to stoke grassroots anger at the government, at the broader culture and funnel them behind Donald Trump's candidacy-
BROOKE GLADSTONE: Mm-hmm.
JOSHUA GREEN: - which helped him knock off everybody else in the Republican field and got him elected president of the United States.
BROOKE GLADSTONE: In your piece in 2015 about Bannon, you describe him as a sort of Jekyll and Hyde character. And he had a two-pronged approach to influencing the media and politics, one, the Mr. Hyde route, and then there was another route which reflects the Dr. Jekyll side. But start with Mr. Hyde.
JOSHUA GREEN: Well, Hyde basically was Breitbart News, which became Bannon's avenue to reach angry populist conservatives and kind of whip them into a frenzy in opposition to Hillary Clinton and also on a specific issue set to drive right-wing talk radio coverage and to influence Republicans in Congress. What Breitbart does that is really interesting is write about the news in a way that to me recalled the early 20th century press barons. They used to cover the news almost as a drama, as this ongoing rolling story with heroes and villains, and that's the way that Breitbart covers things. They pick certain issues, and one of those issues was Hillary Clinton. They were priming the conservative audience to be upset and paranoid and frightened and angry about Hillary Clinton.
BROOKE GLADSTONE: What's the Dr. Jekyll side?
JOSHUA GREEN: Well, so the Dr. Jekyll side is interesting because it stems from a Bannon theory that the reason conservatives failed in the 1990s is that people stopped listening to them. If you remember, there were all these wild conspiracy theories that the Clintons were murderers and drug runners, and it actually filtered up into Congress and into the House of Representatives. It actually went out and did an investigation to determine whether or not Vince Foster, the deputy White House counsel who tragically committed suicide, had, in fact, been murdered by the Clintons. And they did this by taking – I can't remember if it was a pumpkin or a watermelon - into the backyard and shooting it with a pistol, which was intended to provide something.
[BROOKE LAUGHS]
And that was kind of the moment when the whole anti-Clinton conspiracy stuff in the '90s jumped the shark, and any mainstream media outlet and news organization essentially at that point tuned them out.
BROOKE GLADSTONE: Right.
JOSHUA GREEN: And so, Bannon's diagnosis was that, well, if we're gonna stop the next Clinton from getting to the White House, we're going to have to arm ourselves with actual facts and research and not just nutty conspiracy theories. And Bannon's great insight was that if you could produce this stuff, you could hand it off to mainstream media investigative reporters and they would take what you'd given them and go report it out and produce stories that would then appear on the front pages of papers like The New York Times and like the Washington Post.
His Dr. Jekyll side is he is the head of a nonprofit research organization based in Tallahassee, Florida called the Government Accountability Institute, which publishes books and reports that essentially shed light on what it considers to be cronyism in politics and business.
BROOKE GLADSTONE: The Government Accountability Institute is responsible for the book, Clinton Cash, which investigated donations made by foreign governments to the Clinton Foundation and paid speeches made by the Clintons, and you wrote that it probably did more to shape public perception of Hillary Clinton than any of the barbs from her Republican detractors.
JOSHUA GREEN: Oh, absolutely. So the book appeared in the spring of 2015, just as Clinton was getting ready to run for president, and what it did was it essentially seized the media narrative. There was kind of an iconic front-page New York Times investigation by Jo Becker that looked at Clinton's connection to - I believe it was like a –
BROOKE GLADSTONE: A Canadian mining magnate who gave tens of millions to the Foundation and then flew Bill to Kazakhstan on his plane.
JOSHUA GREEN: Exactly. And it all looked very odd and shady and just not the kind of behavior you'd expect Clinton to be involved in. And then there were other stories popping up in other news outlets. I don't think Clinton knew quite how to react because it didn't fit the profile of the type of scandal and attack that the Clintons were used to dealing with because there was real research and reporting undergirding these stories. And if you look at Clinton's approval ratings over that spring, what you see is her unfavorable ratings startrf to climb up, up, up, up, up.
You know, down at the Government Accountability Institute, he essentially had this group of researchers, of investigators digging for this stuff, but he also had a fascinating guy named Wynton Hall who is a former Donald Trump ghost writer. He would storyboard the anti-Clinton articles he was hoping to place in various outlets, almost the way you would pitch a Hollywood movie.
BROOKE GLADSTONE: [LAUGHS] You quote Wynton Hall saying, "Anchor left, pivot right."
JOSHUA GREEN: Exactly, and that comes straight from Bannon's belief that it is a waste of time to take this good reporting and put in a right-wing media outlet like Breitbart News. There's much more value in placing the story in what they call "the left," in what you and I would call the mainstream media –
[LAUGHTER]
- like The New York Times, the Washington Post. And then the way that the two sides of Bannon worked in synergy was well, now you have these stories on the front page, on the evening news and Breitbart can pick up its rolling narrative about how terrible and nefarious Hillary Clinton is, but instead of just making these claims they're pointing to, look, The New York Times says so, look, 60 Minutes has a package on this. And, lo and behold, Bannon basically orchestrated an elaborate plan to deny Hillary Clinton the presidency that succeeded.
BROOKE GLADSTONE: You spoke to him recently, right?
JOSHUA GREEN: To Bannon?
BROOKE GLADSTONE: Yeah.
JOSHUA GREEN: Yeah, I spoke to him the morning after the election. I was interested in what is Trump gonna do as president and what is Trumpism gonna look like. His answer, which I thought was sort of interesting and revealing, he said, this is not the French Revolution. The French destroyed the basic institutions [LAUGHS] of their society, beheaded all the leaders. You know, what Trump represents is a restoration, a restoration of true American capitalism.
BROOKE GLADSTONE: He said at one point, "I'm a Leninist. Lenin wanted to destroy the state and that's my goal too." So –
JOSHUA GREEN: Yeah.
BROOKE GLADSTONE: - if he says it isn't the French Revolution, does he wish it were?
JOSHUA GREEN: When Bannon talks about being a Leninist wanting to tear things down, what he's speaking of specifically is the political establishment. He talks a lot about cronyism and about how Republican ideals have been corrupted, the same bogeyman described by people like Bernie Sanders and Elizabeth Warren, the fact that, you know, politicians and banks have become too complicit and corrupt and the elites get all the upside; working and middle-class Americans get none of it. You know, we want to restore that balance. We want to drain the swamp.
BROOKE GLADSTONE: If you have Reince Priebus whispering in your ear to get along with Paul Ryan and those establishment ideas and then, in the other ear, you have Steve Bannon saying, this is the biggest problem, you got to blow this stuff up?
JOSHUA GREEN: You know just in my own reporting in the month or so before the election, I'm told that internally Bannon was one of the voices telling Trump, you know, don't go out on the stump and pick these fights with Paul Ryan. And the people who were encouraging Trump in those pursuits were actually members of Trump's extended family who were kind of resentful that Ryan was behaving as condescendingly, I think, as they thought he was toward Trump.
BROOKE GLADSTONE: Hmm!
JOSHUA GREEN: You know, it doesn't automatically hold that just because he was a bomb thrower on the outside that Bannon will be a bomb thrower on the inside too. But, you know, that being said, that, that is certainly his, his M.O. and his personality.
BROOKE GLADSTONE: Apparently, one of his mantras is facts get shares, opinions get shrugs. Since Bannon's going to have a lot of facts at his disposal when he's in the White House, do you think that the strategies that he's used thus far to influence the media and politics will play out in this new role?
JOSHUA GREEN: Well, potentially they could. And when you step back and think about all the information that Trump and Bannon will have access to with their security clearances, that's a bit of a scary thought.
[BROOKE LAUGHS]
But certainly, the lesson of Trump's plot to take down Hillary is that facts can succeed in tearing down enemies and achieving political goals, and you have to expect, on some level, that would be a lesson they would try to apply to governing, as well.
BROOKE GLADSTONE: Josh, thank you very much.
JOSHUA GREEN: No, it was a pleasure, thanks so much.
BROOKE GLADSTONE: Joshua Green is senior national correspondent for Bloomberg Businessweek. His profile of Steve Bannon is called, "This Man is the Most Dangerous Political Operative in America."
[MUSIC/MUSIC UP & UNDER]
BOB GARFIELD: Coming up, like it not, the alt-right now has a seat at the table.
BROOKE GLADSTONE: This is On the Media.