Before They Had Shows: Jon Stewart and Brooke Gladstone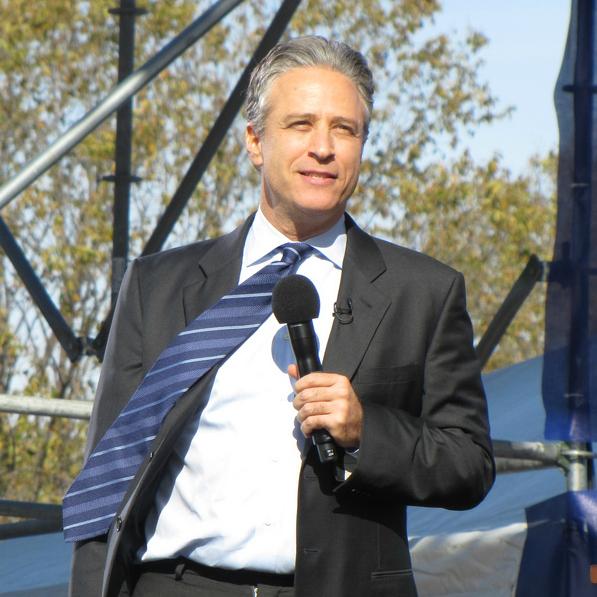 Transcript
BROOKE: This has been quite a week for comings and goings in the media, occasioned by death, or dishonor, or simply...being...done. It's not our job to mark all of them, but we will address two. First, Jon Stewart. We've spent much time on, and stolen much tape from, the crucially important programs pioneered by Stewart and his merry band of pranksters, you know who they are. And we've all heard year after year how The Daily Show (quote) "makes me feel like I'm not crazy!" But Stewart's Daily Show did much more than create a corner of painfully hilarious rationality: it gave our craven and inconsistent leaders no place to hide from their own self-incriminating statements.
STEWART: I mean the only obstacle to Mitt Romney winning next year's Republican nomination is that up until very very recently, he was the antithesis of everything Republicans stand for.
ROMNEY CLIP: Look, I was an independent during the time of Reagan and Bush, I'm not trying to return to Reagan-Bush.
ROMNEY CLIP: I do not take the position of a pro life candidate. I am in favor of preserving and protecting a woman's right to choose.
STEWART: But now it's 2011. He's not an irresponsible kid in his mid 50s anymore. He's matured and learned an important lesson. About wanting to be elected president. Yes, Mitt Romney has a little bit of a problem. And that to win the Republican nomination he has to convince Republican voters he's not actually Mitt Romney.
ROMNEY CLIP: I am pro life.
STEWART: Yeah, I'm pro life as in, "Hey, I lied before, that's life."
BROOKE: We at On The Media always jealously imagined scores of well-educated Daily Show interns trolling through hours of tape to produce all those horrifyingly delicious proofs of hypocrisy. Nightly we got a cleared eyed lesson in integrity and the lack thereof. Let's hope the lesson sticks, because at some unspecified time, but soon, he'll leave us, like Mary Poppins, sailing away on the wind. Also like Poppins (I wonder how he'd feel about this analogy) he arrived as something of mystery. I happened to be present at that moment. Back in 1998, neither of us had a show. But I was filling in for NPR"s Scott Simon and got to interview Stewart as he was just about to slip into his fake anchor chair. Here's that interview:
BROOKE: Jon Stewart is a comedian who's been teetering on the brink of success for about three years now. He had a talk show on MTV, it was briefly syndicated. David Letterman's Worldwide Pants signed him to do a show following Tom Snyder's Late Late show on CBS. That didn't pan out. Instead Stewart guest hosted Snyder's show, amid speculation that he would eventually take it over. At the same time, he played a fictional character who was guest hosting the fictional Larry Sanders show on HBO amid speculation that he would eventually take it over. That didn't pan out either. But, finally, things are panning out and Mr Stewart is in our New York bureau. Hey! It looks like you have a real job!
STEWART: Huh? That thing with Bennigan's came through? Woo hoo, I'm a night manager again!
BROOKE: Tell me about Comedy Central.
STEWART: The Comedy Central gig is the Daily Show. A fine and satirical look at the way the media has turned the country upside down. It starts in January, I'll be taking over for Mr. Kilborne at that point.
BROOKE: And at that point Kilborne will be going over to the Tom Snyder show. Where you were for a while heir apparent. What happened there?
STEWART: Kilbourne will go over to Snyder, Snyder will be taking over for Rosie, Rosie will be hosting Hollywood Squares, and Tom Bergeron will be -- it's like musical chairs.
BROOKE: So, why on earth would you want to be a talk show host?
STEWART: I really am interested in what Tia and Tamera Mowry think about, and what goes into the making of Sister Sister. And I think until I can find that out, i'm just going to have to interview everyone else until I can get to them.
BROOKE: Which brings us to your new book of essays, called "Naked Pictures of Famous People," another example of blatantly false advertising.
STEWART: That's the most downloaded phrase, I think, on the internet, the most searched for phrase. So I figure if you want your porn backdoor action, you're going to also have to deal with my book.
BROOKE: How long did it take you to write the book?
STEWART: Uh, like a day. That's not true. It took me about 8 months.
BROOKE: Well there's no naked pictures in the book, but there are a lot of famous people, who are all viciously sent up.
STEWART: Hey hey hey - all with love, all with respect.
BROOKE: The characters range from Martha Stewart to Mother Teresa, Leonardo da Vinci to Lenny Bruce, JFK is shown as a sadistic inbred anti-Semite...
STEWART: But in a positive...he's funny. Boy, that's right. I hadn't strung all the adjectives together; when you put it that way I think, "Oh my god, I'm a bastard."
BROOKE: Gerald Ford is portrayed as a kind of lobotomized Pee Wee Herman.
STEWART: [Laughs]
BROOKE: So the question that leaps to mind is: are you trying to be offensive?
STEWART: [Laughs] No! I'm trying to be funny! Hopefully you don't take the book as just a slam on these people. It's really - I'm using them as absurd examples of the kinds of situations I'm talking about, but i'm not really slamming these people in particular.
BROOKE: Right.
STEWART: I don't think it's a mean - I feel like it's not a mean book. I don't feel like I'm a mean person.,
BROOKE: Yeah. So when, you know..
STEWART: OH man...well, my little cynical friend...
BROOKE: So John F Kennedy stands by while his Choate roommate is literally amputated by his inbred and deformed cousins and...
STEWART: It's absurd! Who would believe that there's a bunker underneath Hyannisport filled with miscreants and carnie rejects that are genetically related to the Kennedys? It's absurd! It's a joke!
BROOKE: One of my favorite sections is your comparative chart of Orthodox, Conservative, and Reform Judaism.
STEWART: Yes, that was years of study.
BROOKE: And on the matter of homosexuality, the Orthodox say it's a sin
STEWART: Yes they do
BROOKE: The conservatives say it's a sin, but oh, what they've done for Broadway theater!
STEWART: Yes, that's true.
BROOKE: And the reform call it something that happened at camp.
STEWART: Yeah. See, that's funny.
BROOKE: The funny thing is, when I saw you on Larry Sanders, I never would have guessed you were Jewish.
STEWART: You've gotta be kidding me! My god, they had a nostril cam hooked up on that show! Never been to Brooklyn, my friend.
BROOKE: I live in Brooklyn.
STEWART: Is that true?
BROOKE: Yes.
STEWART: You live in Brooklyn, and I don't look Jewish?
BROOKE: What about the business that I started with: fame. Has this been a fun ride for you, or has it been frustrating or both?
STEWART: Oh I think fun. You know, somebody asked me the other day, they said, "Do you feel like you've done anything great?" I said no. And then I thought, no I have. And the one thing I did that was great, was that I moved from Trenton, New Jersey to New York to try and become a comedian. That's the one thing I've done in this business that's great. Because I gave myself the opportunity to express whatever it was that I thought i needed to express.
BROOKE: And you're from Jersey.
STEWART: Yep. From Jersey.
BROOKE: From Trenton.
STEWART: Yeah.
BROOKE: Trenton makes, the world takes --
STEWART: Don't start slammin, don't start slammin. Let me tell you something. You ever drank champale? Or seen Trojan rubbers?
BROOKE: Sure, I've seen Trojan rubbers.
STEWART: If you do - Exactly, there you go. Your weekend is sponsored by Trenton. We used to make steel, but now we just make weekends. I'm just kidding.
BROOKE: Actually the funniest essay in this book involves a talk show host, Larry King, up close and personal with Adolf Hitler. Now we actually asked Larry King to read the Larry King part, but for some reason he said no.
STEWART: Yeah, he can't read. No, he's a very nice man. I've actually met him. And he's actually a pretty interesting and funny guy.
BROOKE: We asked Mike O'Mara who is the host of the syndicated Don and Mike show to play Larry King, which he was very happy to do. You played Hitler, and here we go.
**********************
MIKE O'MARA: Good evening ladies and gentleman. Tonight we bring you perhaps the most controversial show in the history of Larry King Live. He began his career as president of the fledgling National Socialist party, the Nazi party, in Germany. After a failed coup, some prison time, and a bestselling book, he reestablished himself in the German hierarchy, first as chancellor, and then as Fuhrer. The next 10 years under his watch saw Germany's return to power, shame at the Munich Olympics, a failed marriage, and finally, one hell of a World War. Complete with what was thought to be a cowardly demise by his own hand. Tonight, risen from the proverbial dead, we welcome Adolf Hitler!
STEWART (AS HITLER): First of all Larry, I don't know what I was so afraid of. These bagels in the green room are delicious!
MIKE: Well, chancellor Hitler...
STEWART: Please, please. Call me Adolf.
MIKE: Adolph, yes. Well, first of all, I have to say quite frankly, we were very reluctant to have you on.
STEWART: Well I can't say I blame you for that, I mean you hear the name "Hitler"..
MIKE: Well in the end we decided this show is about newsmakers. That's been my motto through forty years of broadcasting and critics be damned! I'm not about to stop now.
STEWART: I don't what you're talking about.
MIKE: What do you say to all those people out there, the people who view you as a demon, the perpetrator of the most vicious and...
STEWART: Guilty as charged. Larry, look, I was a bad guy. No question. I hate that Hitler.
MIKE: And this new Hitler?
STEWART: I get up at 7, have half a melon, do the jumble in the morning paper, and then let the day take me where it will. The other day I spent 7 hours in the park, watching ants cart off part of a sandwich. Me! The inventor of the Blitzkrieg. You know when you stop having to control everything, it's very freeing.
MIKE: Why did you do it?
STEWART: Ooh boy. The 64,000 dollar question, eh? I wasn't a happy kid. I mean I'm not trying to make excuses, but you go through high school with one testicle and the nickname Shitler. I'm sorry, they can bleep that, right?
MIKE: Did you ever see the despicable nature of your actions? Was there any remorse?
STEWART: Oh sure. But denial is a powerful thing. I always thought i could stop anytime I wanted. If I could just Czechoslovakia, that'll be the end of it. I'll be happy then. And I'd get and think, well, jeez, Poland's just up the road apiece. And you know the rest. I think admitting to myself that there was a problem was the toughest part.
MIKE: Tell us about those final days in the Berlin bunker, where until now we had assumed you had killed yourself.
STEWART: Mmmm. Yes, yes, right. Funny story. Everyone thought I went into the bunker to escape.
MIKE: Not the case?
STEWART: No. Actually, as the Allied forces are closing in, I was still in denial. I really thought we were gonna rally. You know, make an end run around Switzerland and flank em. So i'm planning furiously, and snapping at people. You know, as my therapist says, "playing the dictator." So Eva calls me down to the bunker for some "emergency" with the generators. So anyway I go down and there's Eva and Himmler and two of my other closest friends. And I'll never forget it. I walk in and say "I've just lost." And Eva takes my face in her hands, looks me in the eyes and says, "Adolf, we all love you very much, but if you don't stop with this conquer and purify thing, no one in this room will ever talk to you again!"
MIKE: Well, what happened?
STEWART: I shot them.
MIKE: After all these years, why resurface and open yourself up to the incredible tumult that your return has created?
STEWART: Stay off the radar. No that's a good question. See, I'd been talking good game for many years now; what a changed man I was, how I found real peace. But I was still playing the blame game. My therapist challenged me to put up or shut up. To prove to myself that I could take responsibility for my life. So, here I am.
MIKE: We've been talking with Adolf Hitler. The book is --
STEWART: Ah, is it over already??
MIKE: I'm afraid so.
STEWART: That was fast! I thought I was the one who had ways of making you talk!
[Both Laugh]
STEWART: Oh but seriously. "Mein Kampf-fortable shoes!" You get it?
MIKE: I do!
STEWART: Yes yes, it's about an angry man who learns to appreciate the little things in life. It's about acceptance.
MIKE: And what's next for Adolf Hitler?
STEWART: Well, I'll be doing Politically Incorrect next Thursday, and as always, you can see my old work on the A&E network, and in two weeks I will be appearing on Court TV as I stand trial for crimes against humanity.
MIKE: What kind of defense would you be offering?
STEWART: Not much. I fully expect that by this time next year, I'll have been convicted, possibly put to death. But I'm going to represent myself, though, because from now on, the blame goes here. The only one to blame for Hitler, is Hitler. And besides, who wants to get involved with a bunch of phoney baloney defense lawyers! I mean, talk about evil!
[Both laugh]
MIKE: Well, Adolf, thanks so much for coming by.
STEWART: Danke Schon.
********************
BROOKE: I think that's all we need to say. The once and future Jon Stewart is the upcoming host of the Daily Show on the Comedy Central cable channel that starts in January. And he's the author of Naked Pictures of Famous People.