It's Time to Choose New Sources of Inspiration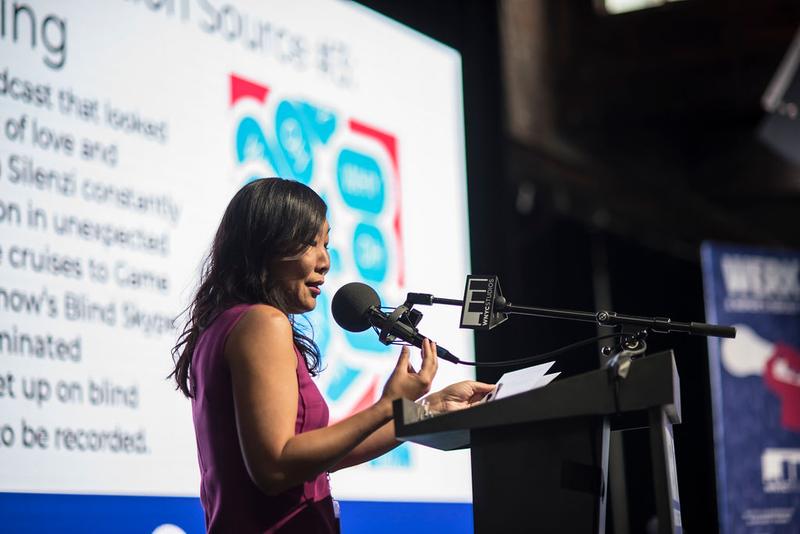 Transcript
There are so many parts of our lives that happen to you every single day that other people are not looking at as inspiration for a podcast. And I'm daring all of you here to try to put all of those other places of inspiration into your shows.
Kristen Meinzer is a co-host of By the Book, a podcast that takes its inspiration from self-help books. She's also adapted reality TV and exercise apps into podcasts.
I'm Tanzina Vega, and this is Werk It: the Podcast, a compilation of some of the best moments from the live event.
In this episode, Kristen talks about why looking for new sources of inspiration leads to unique audio…and new audiences.
Kristen Meinzer: Oh my god. Hey everybody. Thank you so much for being here.
I'm so excited to see all of you brilliant beautiful people out here. My name is Kristen Meinzer and I host a podcast called By The Book. It is a reality show in podcast form. My cohost and good friend Jolenta Greenberg and I live by a different self-help book and each episode of the show. Where we eat what they tell us to eat. Dress as they tell us to dress. Take on the sexual habits with our husbands that they tell us we have to take on. We do everything. That these horrible books tell us to do and record ourselves along the way so you can hear how they're destroying our lives. So she was called By the Book. That's my introduction of myself. And next slide please.
I just want to preface all of this by making clear that I love public radio. I love WNYC which is sponsoring this wonderful event. I got my start my audio start of my career was at WNYC. I love public radio. Look at this guy up there: American treasure Ira Glass. Who doesn't love him? I love him and Jad Abumrad and I. We've had great talks in the elevator back when I worked at WNYC. He was the nicest guy. Public radio is fantastic. It tells great stories it teaches us wonderful things about structure about humanity about how to relate intimate parts of people's lives in a wonderful way. I have nothing negative to say about public radio. All right now that that's out of the way let's move on to the next slide. All right.
Let's talk a little bit about public radio. So yes. Public radio is great but it's not all things to all people. You may know this. You may not know this but 30 million average weekly listeners tune in to NPR. But. Let's look at the competitors here in TV. Americans watch more than seven hours and 50 minutes of TV per household every single day. Netflix I'm willing to bet almost everybody in this room if I said Do you have a Netflix account probably. You can yeah you probably all watch Netflix, right? And then YouTube just to give you an example of how many people are watching YouTube. Just this one channel alone which I've never heard of PewDiePie I think is how it's pronounced. Sixty eight million people subscribed just to that channel alone. There are a lot of other things going on in the world that are not public radio. So next slide please. Here's the big question. Only 26 percent of Americans have listened to a podcast in the past month. And the question is: how do we meet the other 74 percent of the listeners where they are? These 74 percent of potential podcast listeners. And my suggestion based on what we just saw on the last slide is to stop trying to imitate public radio. Next slide please. So I'm going to walk you through some ideas that are of shows that actually exist that draw inspiration from places that are not public radio.
Just to give you an idea of some of the other places we can be looking the first of course is my show that I co-hosted By the Book and we're going to play you a clip of an episode when we were living by "French Women Don't Get Fat." Now that book begins with what's called the 'tough weekend' where you have to live for three days only on the water that comes off of boiled leaks so you boil a bunch of leaks and then you're allowed to eat the water which is called leek soup. Even though it's just water that came off of leaks and if you get so famished that you're about to faint you're allowed to have little bits of those leaks out of the boiled water. And there is actually a place you can go to if you get even more desperate and those little bits of leaks aren't helping you. You can put a little bit of olive oil on those leaks if things get very very bad. Now my co-host Jolenta did not realize that portion where you could move forward to where you can actually have olive oil on the leaks. So here she is. In this episode of the show at the point when she realizes you can put olive oil on the leak. This is I think day three for her living on this. We'll play this clip.
[audio clip] Brad did make me revisit the book to see if I had any other options other than just starving myself and protest. And it turns out I did not see the part where Mireille [Guiliano] says you can drizzle a little bit of olive oil over your boiled leaks and I flipped the fuck out when I found this out. Oh my God. It's so much better. Oh my God. what have i been doing? Why am I crying? What? Not sure you're doing so hot. You doing ok? You're like crying. Because I have olive oil on my tongue and it tastes so good. This is supposed to make you reset your palate and you know what I am really appreciating that olive oil. [end audio clip]
That book was horrible don't live by that block please don't live by that book. Now when Jolenta went down I set out to make the show reality TV was our inspiration. Both she and I love reality TV. I love a show we are being forced to marry a stranger. I love a show where you are being forced to do obstacle courses that might kill you. We both love reality TV but at the time when we launched the show it seemed that there were no other podcasts out there that were taking their inspiration from reality TV even though that's the most watched genre on TV. Think about the seven hours and 50 minutes that a household is watching TV a day. How many of those folks are watching reality TV? How few podcasts are actually trying to take that model and turn them into a show. Think about that.
Let's move on to another show that is taking an unusual source of inspiration for how it's made. So this show called The Walk was it's an immersive fiction podcast by Naomi Alderman. I don't know if any of you have read The Power. Please read The Power that's that book that she wrote. She's fantastic. So this show began as a fitness app by the game company Six to Start. It was funded by the British National Health Service and originally it was just a game. It was an app that was supposed to make you exercise you would walk and you'd hear more of the story you'd walk and you hear more of the story. And then at Panoply we remade it so that it would be one singular podcast and you would become the main character in the story just by listening to it. So here's a clip from the first episode of The Walk.
[audio clip] C'mon walk this way don't run. If they hear it will just draw attention. I should be able to get you know the city at least. Trains have gone down. There man reading a paper 4 o'clock don't look now he has followed us up the platform now he's following us back down. He's the bird. Woman at 9:00. Taking a long time over her croissant. Could be bad. It's only going to get worse from here. Damn, the police already. I didn't think they would get here this quickly. I heard about that trouble you had in Shanghai last year. Don't want to repeat it. Come with me. Side exit. Don't look back. Just ignore him. Keep walking. [end of audio clip]
So that's a very tense show. The more you walk the more the story is given to you. The fact is that you just stumbled according to the story into a situation where you got handed files that you have to walk to another country and you are given the code name "Walker" which is cute and you just walk and walk and walk and listen to the story. And it actually does, I find, give you the same sort of service as the original exercise at planned to make you walk to hear a story because the more you listen. I found the brisker and brisker my walk gets as you go along and things get more and more insane around you. All right let's move on to the next slide here.
So Why Oh Why is a show that I absolutely love. I'm sure a lot of people here have heard it and Andrea Silenzi the great Andrea Silenzi, took inspiration from so many places when she was making this show. Everything from fictional elements were included in her show to eavesdropping on other people's dates. She would put herself in first person situations; she would do confessionals. But one thing that I thought was fantastic that she did toward the final months of her show existing were blind Skype dates. So it was opened up to listeners around the country. Do you want to be set up on a blind date with somebody else? It will all take place over Skype. We will record it and then play it back for our listeners so they can hear all of the awkwardness all the sparks everything as they happen. And so let's play a clip of one of those blind's Skype dates.
[audio clip] Now it's time for another line Skype date. This week we have Travis and Zamira. He's 25 she's 23 and they both live in Austin, Texas. They spoke late at night on a Friday and right from the moment they first met. You can hear them smiling at each other through the screen. Hello. Hi. Hi I'm Travis. I was Zamira. Nice to meet you. Likewise.
Yeah pretty sure they like each other. My first question. It's a little like a dive-in like really deep is. Have you ever doubted your career choice and how did you deal with that doubt? Yes I don't have a career and the general sense of the place that makes me money is my job. Music is the thing I'm really passionate about and there's definitely been times when I was like man, I have maybe made some decisions that made my life harder or you know for that. Right that's why I moved to Austin was from music which is hard. Yeah I know another Austin band person. Go figure. No there's no judgment. I'm a big supporter of the arts. OK. [audio clip]
That actually sounds like a real date that I've been on. I've been on like millions of real dates in my life like that. I met my husband on Tinder and I just loved that Andrea decided to capture a little bit of what happens to all of us who choose to go out in the world and put our hearts out there in some of the most realistic and awkward ways. Taking inspiration from all over the parts of life that aren't normally featured on a public radio show.
So next slide please.
So this is my challenge to all of you here. Where else can you look for inspiration? There are so many places out there to look YouTube, Snapchat, video games Netflix, game shows, professional sports, more. There are so many parts of our lives that happen to you every single day that other people are not looking at as inspiration for a podcast. And I'm daring all of you here to try to put all of those other places of inspiration into your shows. Next slide please.
So here's the fact of the matter. I have received hundreds of pitches over the years while I worked at Panoply. When I was at WNYC before all of that when I made TV for VH1 and have when I've been consulting companies on the podcast they want to make and so on and nearly half of the people who pitch shows to me list This American Life, Radiolab or Serial as either the inspiration for their show or what they aspire to make. They constantly list these three shows nearly half. But will creating another This American Life or Radiolab actually capture all of those people who everyday when they come home choose to turn on the tv instead? They choose to go on Netflix instead they choose to go on Snapchat instead. That's the vast majority of Americans out there that is 74 percent of people. Those are the people who aren't listening to podcasts right now so I am challenging you to be more expansive in what inspires you. I know that everybody in this room all of you are full of brilliant ideas. You're full of exciting stories. You have unique parts of you that only you are an expert in. You are all experts in yourselves. You are all experts in great stories that aren't being told right now. You don't have to emulate public radio even though public radio is great. You have other amazing things inside of you that the world is waiting for. So please tap into those other inspirational parts of yourself and bring those to the world.