How Trayvon Shapes Us Still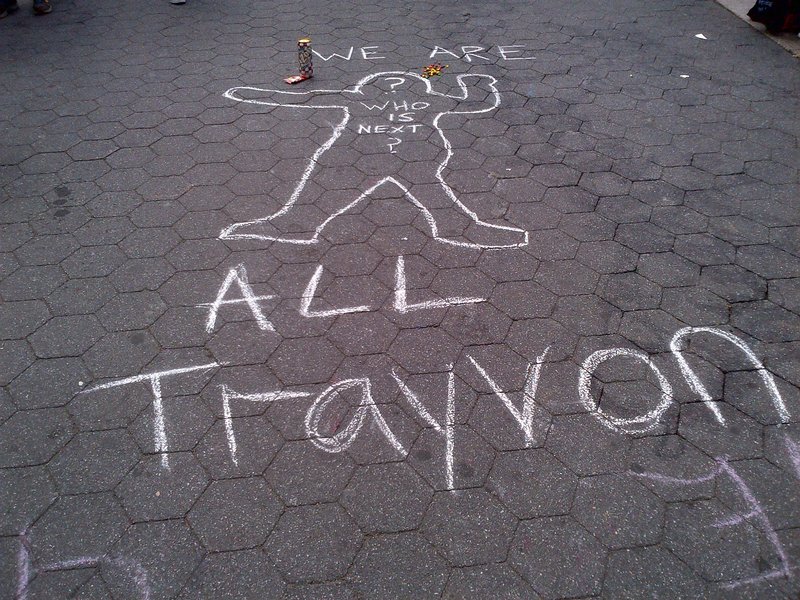 Transcript
BROOKE GLADSTONE: This is On the Media. I'm Brooke Gladstone.
BOB GARFIELD: And I'm Bob Garfield. It was five years ago this summer that George Zimmerman was acquitted in the shooting death of Trayvon Martin. Zimmerman, a neighborhood watch volunteer with a pattern of calling the cops on people of color, shot the 17-year-old unarmed Trayvon in the chest and said he, under Florida's "stand your ground" law, was legally defending himself because he feared for his life. A Florida jury agreed.
[OTM 2015 CLIP]:
PATRISSE CULLORS: I paused in shock and probably 30 seconds later just started crying.
BOB GARFIELD: Patrisse Cullors, one of the founders of the Black Lives Matter movement spoke to Brooke a few years ago about her reaction to the acquittal.
PATRISSE CULLORS: If this person, who was just a regular person, could kill a young black boy and get away with it, who else could do this and what did this actually mean? It was this moment where I understood that this was an urgent matter and if we didn't deal with it, if we didn't respond, it would be a missed opportunity.
BROOKE GLADSTONE: And how did Black Lives Matter emerge from that?
PATRISSE CULLORS: A lot of black folks went to social media just trying to vent and make sense of what we just witnessed. Alicia Garza wrote a love note to black people that affirmed our lives and our value. She closed off with "our lives matter, we matter, black lives matter." I right underneath it hashtagged #BlackLivesMatter. The words "Black Lives Matter" just continued to reverberate within me and I sent her a Facebook status and I said "twin," 'cause that's what we call each other, I think we're onto something, we should create a Black Lives Matter platform, both online and offline.
[END CLIP]
BOB GARFIELD: The result was a national conversation that's still going on -- and on and on and on.
SYBRINA FULTON: This is not about a black and white thing, this is about a right and wrong thing!
[SOUND OF PEOPLE CHANTING]
WOMAN: This woke up a nation.
WOMAN SHOUTING: I'm angry!
TRACY MARTIN: Trayvon became the face of our community. We had to go to war for him.
BOB GARFIELD: That tape is from the six-part docu-series Rest in Power: The Trayvon Martin Story airing now on the Paramount Network and BET and executive produced by Jay-Z. Trayvon's parents, Sybrina Fulton and Tracy Martin, are also executive producers of the series, which is loosely based on their book. Their passion, their grief set the tone.
[CLIP]:
SYBRINA FULTON: I always wanted Trayvon to be famous but -- not in this manner.
TRACY MARTIN: At a point you ask yourself, how can I get out of this news story. But there's no getting out of the news story.
BOB GARFIELD: Also featured prominently is the returning Benjamin Crump. Crump spoke to us this week while on the road in Ohio. He's also represented the families of Michael Brown and Tamir Rice, as well as the girlfriend of Markeis McGlockton who was killed last month in Florida in another "stand your ground" case. Jenner Furst is one of the filmmakers, with Julia Willoughby Nason, of Rest in Power. The six episodes chart the arc leading to the 2013 acquittal but the story also goes much deeper.
BENJAMIN CRUMP: With a story like Trayvon's, you want to do two things. You want to make sure you make Trayvon a human being, a young man who's growing up in the world, who, you know, is charismatic, loved by his family and who was also facing the struggles that all young men face.
SYBRINA FULTON: He was 17 years old, transforming from a boy to a young man. There were more showers. Now you want to put on cologne and now I don't have to take you to get a haircut.
BENJAMIN CRUMP: But beyond that, so much of this story has to do with institutional racism, not only in what happened in the investigation but in what happened to him when he was in school and how his suspension was two weeks when there's many white Americans that wouldn't be penalized that way for such a small infraction. Or so much of the stories has to do with the binary nature of the media where you have a left and a right cable news 24-hour cycle in which everybody is in a feeding frenzy.
[CLIPS]:
FEMALE CORRESPONDENT: At last check, there were 20,000 plus signatures --
MALE CORRESPONDENT: More than 100,000 --
MALE CORRESPONDENT: Two-hundred thousand people signed an online petition.
MALE CORRESPONDENT: That is the fastest-growing internet petition in the history of the internet.
MALE CORRESPONDENT: A single petition calling for his arrest has 400,000 signatures.
[END CLIP]
BENJAMIN CRUMP: So much of that played into how this story evolved.
BOB GARFIELD: Then over a few days in 2012, Trayvon went from being an anonymous teenager to a victim to a literal poster child for racism and injustice. When did you learn of his death and what happened in the days and weeks before you were actually representing his parents?
BENJAMIN CRUMP: I found out about his death two days after the tragedy, and certainly when Tracy Martin first called me I had no idea that it would become this historical reference point. I had no idea that what was going to happen when Tracy Martin was talking to me on the phone that first time with such despair in his voice, with such hopelessness. And he asked would I help him, and at first I, I turned him down, I told him he didn't need my help. I told him, give it a couple of days because I really believed in my heart of hearts that the system would work for Trayvon, because you had a teenager who was lying dead on the ground and you had the self-confessed killer with the proverbial smoking gun in his hand. You had to arrest him. So I told Mr. Martin, give it a couple of days, they're going to arrest him.
A couple of days went by. He called me back with that same sense of hopelessness, and it was at that point, you know, I had to make a decision would we take a case that we knew going in it was a racist system and that the police probably wouldn't arrest him no matter how much time, energy, money, resources we spent. We stepped up to do the right thing and then I took over from there.
BOB GARFIELD: We, we see you in the film in the process of turning him from the stereotype, a threatening young black male, into a flesh-and-blood person --
BENJAMIN CRUMP: Yes.
BOB GARFIELD: -- for the media and their audiences, to generate some sympathy. For instance, the cover photos of him that soon were on almost every magazine in the country were almost always of this beautiful angelic 10-year-old boy. Now, [LAUGHS] that is a kind of manipulation that should be unnecessary and you could argue kind of a surrender to stereotyping, but you did that? Why?
BENJAMIN CRUMP: Two things I, I want to say: People can't even fathom how difficult it is to have mainstream media cover people of color in a positive light. It's almost like pulling teeth. But Sybrina and Tracy, they gave all the pictures of Trayvon as he was growing up, as, you know, they were trying to expose their child. And we used all those pictures. Now, when people choose pictures we can't control that, and that picture of him on the horseback was taken literally two weeks before the tragedy because it was Sabrina's birthday party and all the family had went horseback riding because they were trying to expose Trayvon and Jahvaris, their children, to other things and culture. And that's what resonated with me so much.
And what I tried to do when I was talking to the media was say, you know, their child is a lot like your child. Now, he's not perfect but do you take your children horseback riding? Well, this black family does as well. Do you take your children skiing? Well, guess what? This black family does as well. Do you take your children to Broadway? Well, guess what? This black family does as well because we wanted people in suburbia America to see Trayvon not as a black child but as a child. And if this can happen to this child and be swept under the rug, well, shame on America!
BOB GARFIELD: It's no surprise, Jenner, that considering the embarrassment of TV riches that this case provided that the film is heavily punctuated by and I would say propelled by the news coverage. And you note that even the right-wing media expressed some degree of sympathy for Trayvon and his parents.
[CLIPS]:
FEMALE CORRESPONDENT: The way the police handled this stinks to high heaven.
MALE CORRESPONDENT: Every decent American should want justice in this case.
DONALD TRUMP: Well, it has to be looked into. It's terrible what happened, 17 years old and now there are all sorts of stories coming out which just don't sound right.
[END CLIP]
BOB GARFIELD: And then, as your film documents, President Barack Obama weighed in.
PRESIDENT BARACK OBAMA: You know, if I had a son he'd look like Trayvon.
WOMAN: Just immediately polarized the country. Black America hears it as a eureka moment, finally having what we've known our entire lives affirmed. White American hears it as this black president accusing every single one of them of being a racist.
MAN: That's just nonsense.
WOMAN: I don't like when politics gets in the way of the facts or when people come to criminal investigations with political agendas.
JENNER FURST: That's where you see the story splitting, and it was our thesis that that split, that coverage that sort of propelled a chain reaction in this country and we theorize in the series that that chain reaction led to the presidency of Donald Trump and that although there were a lot of amazing things that came out of the case, like activism and Black Lives Matter and awareness and a fight for social justice in this country that we haven't seen since the '60s, there was also this vitriolic defensive whitelash that propelled some horrible actors in this country. And it's documented. People like Dylann Roof cite Trayvon Martin's case as impetus for what they did.
BOB GARFIELD: Which was to go into a black church and start shooting people to death.
JENNER FURST: Yeah, and in Charlottesville many of the actors there cite Trayvon Martin's case as, as their inspiration. And so, this really has to do with how these stories get chopped up and chewed up in the media and how two different sides weaponize them. And, you know, of course I don't feel like there is any way you can equivocate these two sides.
BOB GARFIELD: One of the recurring storylines is Florida's "stand your ground" law that gives citizens the right to defend themselves if they assert that their lives were in danger, even with lethal means.
[CLIP]:
MALE CORRESPONDENT: Jeb Bush signed the "stand your ground" law with an NRA lobbyist by his side.
MARION HAMMER: Now the law is on the side of law-abiding people and victims, rather than on the side of criminals.
FEMALE CORRESPONDENT: Marion Hammer is a longtime NRA queen of the State of Florida.
FEMALE CORRESPONDENT: Marion Hammer is one of the most influential gun lobbyists in history. In 2005, she changed self-defense laws in this country to help the industry sell more guns.
[AUDIENCE APPLAUSE]
MAN: Go ahead, write about our paranoia.
MAN: But there is no greater freedom than the right to protect our families with all the rifles and shotguns and handguns we want!
JENNER FURST: In doing a film like this, we always want to follow the money. We want to understand how the profit of certain individuals or certain companies or certain lobbying groups affects legislation, affects our overall perception of issues. So we wanted to show the way in which a lobbying entity could gain so much power in our country and essentially how, as Lisa Graves says in our documentary series, that the NRA was able to put its hand on the scale of justice. They were able to change the definition of murder in this country. And I think what really enraged a lot of people was not only can law enforcement kill African Americans but civilians can kill African Americans and deputize themselves as law enforcement and they can use this law, stand your ground, to get away with it. And we are literally seeing this play out right now in Clearwater, Florida with the Markeis McGlockton case.
[CLIPS]:
FEMALE CORRESPONDENT: Demonstrators have been demanding justice for the death of Markeis McGlockton who was killed in Clearwater during a confrontation over a parking spot. Surveillance video shows McGlockton pushed Michael Drejka over as Drejka was arguing with McGlockton's girlfriend for parking in a handicapped spot.
MALE CORRESPONDENT: Drejka then pulls out a gun and shoots McGlockton square in the chest.
FEMALE CORRESPONDENT: He stumbled back in the store and collapsed in front of his son.
FEMALE CORRESPONDENT: A day later, the Pinellas county sheriff declared he could not charge Drejka.
JENNER FURST: And I think that's a perfect example of how little has changed and how asinine this law is. What you see now is you see the NRA, Marion Hammer and others saying that the Clearwater case with Markeis McGlockton, well, hey wait a second, that's not "stand your ground," the sheriff is misinterpreting it. And that's a flailing last attempt to save the law because right now, with the 2018 midterm elections ahead of us, there's a chance, there's a glimmering hope and a chance that we can get this law abolished, and I think we have to use the case of Trayvon Martin. We have to honor his legacy and we have to look at what his case symbolized for America. And now we have to look at Markeis McGlockton and we have to realize that not only has nothing changed, conditions have intensified.
We will be there in Clearwater and we will be documenting it, and this is a case that is equally as haunting as the case of Trayvon Martin,
BOB GARFIELD: The question I kept asking is the one that the police and the prosecutors never seem to ask George Zimmerman or in the McGlockton case, as well, oh really, your ground? How did it get to be your ground?
[CRUMP LAUGHS]
You were the aggressor!
BENJAMIN CRUMP: [LAUGHS] My, my sentiments exactly, Bob. And that's what they're telling us over and over again with these "stand your ground" laws. We're gonna relegate you to a certain corner, a certain space and that's where you're gonna be allowed to exist. And if you do anything further, we can shoot you, kill you and we can go home and sleep in our bed at night as if your life never mattered.
BOB GARFIELD: And there is this moment -- it's described in the first episode -- when Trayvon's mom, Sybrina Fulton, says that she was just beyond overcome with grief.
[CLIP/MUSIC UP & UNDER]:
SYBRINA FULTON: I remember just not wanting to get up in the morning, not wanting to comb my hair or brush my teeth or shower or anything. Tracy called me and said that I needed to come to Sanford and I said, I'm never coming there.
WOMAN: She was kind of like getting withdrawn. You had to push her to get her to keep going.
BENJAMIN CRUMP: I had not met Sybrina at that time. I had only met Tracy, and so, it got to the point where people were starting to ask, where is the mother? Attorney Crump, you know, we've talked to the father, is the mother around? Is -- what's going on? By the time Sybrina and I talked for the third or fourth time, I just put all the cards on the table and I was very honest with her in a, in a sensitive way.
[CLIP]:
BENJAMIN CRUMP: Either you choose to grieve or you choose to fight but you got to choose one or the other because if you choose to grieve, it's over. Nothing happens to the killer of your child.
SYBRINA FULTON: That's a hard pill to swallow. I'm like -- I'll be there.
BOB GARFIELD: The series, Jenner, is a gut punch in six parts but for Sybrina and Trayvon's father, Tracy Martin, they had to sit there under the movie lights and relive the tragedy moment by moment. Now, they were executive producers of the project and, and the series is loosely based on their own book, but it's just hard to imagine the process of interviewing them.
JENNER FURST: Well, what we said was that we know this journey is going to be traumatic, we know this journey is gonna be hard, we know that there's gonna be times where you're not gonna want to go in front of the camera and we respect that. And what we're going to try to do is do this as sensitively as possible so that you can somehow have the slightest sense of peace in telling this story, even though there really is no peace for Tracy and Sabrina. Their son is gone. Their son's never coming back. So even five years later, six years later, these incidents still invoke the same amount of pain, the same amount of rage, the same amount of confusion.
And so, we wanted to allow the viewer to even have a glimpse into that, and that's why Julia and I chose to put them in such a large studio and show the set lights, the framing, so that people can understand it's not just a pretty interview, it's a process. And these people have to sit in that chair and live through these emotions in a very real way. They are dedicated people that fight every day for awareness and justice in this country.
BOB GARFIELD: Hence, I suppose, the title of the series, Rest in Power, not in Peace.
JENNER FURST: We have to look at this and understand that it's not a passive situation, that Trayvon Martin's legacy is enduring, that his life continues to go on, even though he's no longer here and that what this young man at 17 was robbed from this planet, what he was able to accomplish after his death is truly remarkable. And he continues to be an inspiration for people around this country, that enough is enough and we have to stand up.
BOB GARFIELD: Jenner, thank you very much.
JENNER FURST: Thank you so much for having me.
BOB GARFIELD: Ben Crump, thank you very much.
BENJAMIN CRUMP: Thank you all.
BOB GARFIELD: Jenner Furst is one of the filmmakers, with Julia Willoughby Nason, of the six-part docu-series Rest in Power: The Trayvon Martin Story. Benjamin Crump is a lawyer who represented Trayvon Martin's family.
[MUSIC/MUSIC UP & UNDER]
That's it for this week's show. On the Media is produced by Alana Casanova-Burgess, Micah Loewinger, Leah Feder and Jon Hanrahan. We had more help from Meg Harney and Asthaa Chaturvedi. And our show was edited -- by Brooke. Our technical director is Jennifer Munson. Our engineers this week were Sam Bair and Josh Hahn. [?]
BROOKE GLADSTONE: Katya Rogers is our executive producer. Jim Schachter is WNYC's vice-president for news. Bassist composer Ben Allison wrote our theme. On the Media is a production of WNYC Studios. I'm Brooke Gladstone.
BOB GARFIELD: And I'm Bob Garfield.
* [FUNDING CREDITS] *