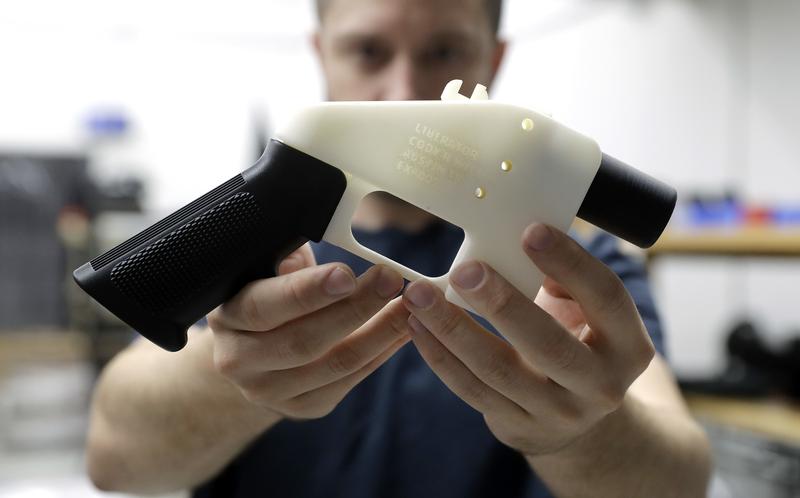 Transcript
BROOKE GLADSTONE: This is On the Media. I'm Brooke Gladstone.
BOB GARFIELD: And I'm Bob Garfield. For more than five years, Cody Wilson, through his company Defense Distributed, has been working to disseminate the means of gun production to the masses.
MALE CORRESPONDENT: He believes that everyone in America has a right to build their own gun arsenal at home. In 2013, he built the world's first working plastic firearm.
BOB GARFIELD: Wilson's vision, a library, both physical and digital, of firearm info, complete with technical manuals, gun data and schematics for building your own weapons. Since 2013, Wilson has been battling with the federal government to get the downloadable blueprints for his 3-D printed gun up on the web. And just this week, it looks like a protracted lawsuit was finally going his way.
[CLIPS]:
MALE CORRESPONDENT: Initially, starting August 1st, after the State Department's decision to settle a five-year lawsuit with Texas-based nonprofit Defense Distributed, that company was going to be legally allowed to make blueprints for 3-D printed guns available online.
BOB GARFIELD: Quickly, however, state attorneys general stepped in to object to that decision.
MALE CORRESPONDENT: Washington State's Bob Ferguson who led the lawsuit by eight attorneys general argued that 3-D printed plastic weapons are dangerous because they're untraceable, often undetectable and require no background check.
BOB GARFIELD: On Tuesday, a federal judge issued an injunction in the attorney general's favor blocking the gun plans from being published before a Wilson-set August 1st deadline.
MALE CORRESPONDENT: Here's what happened today. A federal judge stepped in with a temporary injunction, okay, and that's what it sounds like. This is not over. But for now, there will be no more blueprints to make 3-D printable weapons online.
BOB GARFIELD: And yet, according to Cody Wilson, the decision does little to change a reality that's already barreling our way.
CODY WILSON: The debate is over. The guns are downloadable. The files are in the public domain. You cannot take them back. You can adjust your politics to this reality.
BOB GARFIELD: An ominous vision of reality and one that seemed terrifying when first predicted back in 2012. And yet?
ANDY GREENBERG: When no one was actually killed with a 3-D printed gun and nobody seemed to be toting these around in cities or threatening people with them, the media and politicians largely just forgot about this.
BOB GARFIELD: Andy Greenberg writes for Wired magazine, where he originally broke the Cody Wilson story six years ago. He says that out of the media glare, Wilson has thrived.
ANDY GREENBERG: Defense Distributed, the company that Cody Wilson started, has been evolving their idea of homemade weapons, not always about 3-D printing. So often that kind of easy news peg of talking about these cool gadgets, 3D printers, hasn't been there and, as a result of the progress they've made has, I think, slipped under the radar.
BOB GARFIELD: Now, there's a couple of things here. It's not all about 3-D printing. There are other technologies that enable people to manufacture firearms, and they're doing so and people have died.
ANDY GREENBERG: That's right. There have been two mass shootings, both in California, that used homemade AR-15 style semiautomatic rifles. And those shooters, in fact, didn't make the whole rifle, they just made the lower receiver of those rifles, which is the only part under American gun control laws that is regulated. If you can make that one part at home, then you can essentially just buy all these other peripherals. And those peripherals would include the barrel and the stock and all the trigger components, these things that are core to what we think of as a gun but there are no regulations around them. So you can assemble around this thing you've built an entire fully functioning gun that to the untrained eye looks like any old AR-15.
BOB GARFIELD: Now, one of the reasons that people freak out about 3-D printing is that the guns are, for the most part, plastic. It's the undetectability of them through ordinary security precautions that seems particularly alarming. There's at least one relevant statute on the books forbidding manufacturing, also distribution, of undetectable firearms. Why doesn't that get invoked?
ANDY GREENBERG: When Cody Wilson created the first 3-D printed gun -- he called it the Liberator -- he very carefully put this chunk of metal inside of it so that he wouldn't be violating that Undetectable Firearms Act. Of course, anyone else could print that same gun and that metal wasn't required for any kind of technical reasons, so you could leave it out and then you'd have this undetectable plastic weapon.
But I think the, the whole detectability thing has been kind of a distraction. Lawmakers have pushed for a renewal of the Undetectable Firearms Act as a way to try to control 3-D printed guns but they've ignored the fact that these other similar technologies, like computer-controlled milling machines, can also help people make guns at home out of metal. Those are not undetectable guns but they're far more reliable than plastic guns and they exploit a loophole in our gun control laws.
BOB GARFIELD: Now I'm going to turn the conversation, obviously, towards tax law. [LAUGHS]
[GREENBERG LAUGHS]
You know, there are lots of statutes on the books that you can have your client adhere to, to shelter income. But under American tax law, the IRS is allowed to say, nope, sorry, that's an abuse of statutes for a clearly unlawful tax avoidance intent and we are disallowing it. Can you tell me how Cody Wilson putting a metal component in the supposed design of a 3-D gun, which no single [LAUGHS] home manufacturer will ever install doesn't lead to a kind of IRS sort of reaction to the overall intent?
ANDY GREENBERG: When you're the IRS of the gun world, as the Bureau of Alcohol, Tobacco and Firearms, and there is this kind of dance that's happening all the time between gun owners, it's almost Talmudic, the way that they interpret these rules and then try to find the exact edges of them. So, for instance, for years people have been selling these 80 percent lower receivers for AR-15s. You just basically get this block of aluminum that's almost a lower receiver of an AR-15, then you finish the last 20 percent at home. And nobody has sold you that piece, so there was no gun control involved. The ATF has been okay with that sort of thing for years, you know, for whatever reason. So Cody Wilson, very skilled at navigating these kinds of edges of gun control laws and finding, in fact, cracks where you can drive a wedge and, as he sees it, advance the First Amendment in, in America.
BOB GARFIELD: It seems to me that these loopholes are pretty easily closed. Where is the US Congress in all of this?
ANDY GREENBERG: Well, you can see that at least this Republican Congress simply doesn't pass gun control laws. The attorneys general of all these states that are suing Defense Distributed and the State Department to try to undo their settlement, they're focused on the proliferation of all these gun files that Defense Distributed now wants to put online. But I agree that that's kind of a futile gesture. It's almost like trying to stop music or movie piracy online. There are certainly other sorts of laws that could be passed. We've seen, in California for instance, that the state has passed a law that if you create the lower receiver of an AR-15 at home you have to tell the government, you have to get a serial number and engrave it on your homemade rifle. That essentially makes it impossible to create these so-called "ghost guns," these guns that you assemble at home in full privacy with no regulation whatsoever. We could see something like that at the national level but then there's the question of whether those sorts of laws matter. If you can make a gun at home, who is going to catch you? It may, in fact, not matter that that ghost gun you made has been outlawed in your state.
BOB GARFIELD: Now, Cody Wilson and Defense Distributed have argued from the beginning that they have First Amendment protection, that this is free speech.
CODY WILSON: I'm talking about files, I'm not talking about the guns. I'm not a licensed gun manufacturer. I don't make guns at this location. I have data. I can share the data.
BOB GARFIELD: But, obviously, free speech is not absolute. There's kiddie porn, for instance, that's illegal, there's piracy, which is illegal speech. And then there's public safety. Undetectable guns or home-milled unregulated weapons seem to be the equivalent at least of shouting "fire" in a crowded theater. How does the First Amendment argument hold up?
ANDY GREENBERG: Well, you know, we haven't actually seen that argument play out to its conclusion. When the state departments in 2013 tried to prevent Defense Distributed from putting their files online, they accused them of exporting a weapon and violating these export controls, as if they had shipped a plastic gun to Mexico, rather than putting just the file for that gun on the internet. It took him two years but he assembled a legal team and sued the state departments under this First Amendment claim, saying that he has the right of share any information, including these essentially digital gun files.
BOB GARFIELD: But that claim was never litigated because the State Department --
ANDY GREENBERG: The State Department fought this and fought it for years and then stopped fighting it -- we don't know why -- and simply rolled over and conceded to Defense Distributed everything that they wanted in a settlement, not only gave them the right to publish practically any commercially available gun file on the internet but agreed to change the rules, to move the regulation of these kinds of export controls of technical data on guns over to the Commerce Department, which won't try to prevent people from sharing stuff on the internet.
So Defense Distributed won this battle. It has changed the way that the federal government tries to police digital stuff about guns on the internet.
BOB GARFIELD: Was any rationale ever put forward for this decision?
ANDY GREENBERG: Not only have we not heard any rationale for why the State Department offered the settlement, we saw the State Department and the Department of Justice make arguments against Defense Distributed for years, including under Trump, saying that these files presented a public safety risk and a national security risk, and then suddenly they change their stance entirely. And that is part of the case now of all of these attorneys general around the country who are suing the State Department and Defense Distributed to try to overturn the settlement because they're saying, you didn't even follow the procedures you're supposed to follow when you change these federal rules. You didn't give anybody a chance to comment, you didn't explain yourself. That's illegal and this settlement has to evaporate.
BOB GARFIELD: Now, underneath all of this conversation is the central fact that the cat is out of the bag. Lawsuits or no lawsuits, these files are available online and they can't be unsent.
ANDY GREENBERG: Well, the cat is out of the bag in two important ways [LAUGHS] and one very immediate, which is that, as everyone focused on his August 1st deadline, including attorneys general and lawmakers, they were all talking about August 1st as the date that Defense Distributed had said it was going to release all these files, Cody Wilson just quietly put everything up on July 27th, ten collections of gun components. Here's an AR-15, every component of it, here's an AR-10, every component of it. Those files were being downloaded thousands of times.
But there's also this larger sense in which this kind of can't-put-the-toothpaste-back-into-the-tube idea that you're getting out is true, which is that some form of these files have been online for years. The Liberator single-shot plastic pistol that Defense Distributed first released in 2013 was downloaded 100,000 times before the State Department managed to pull it offline. And other 3-D printable file have been spreading on underground forums. So trying to control the spread of these files, that does seem like probably the most backward-facing way to deal with this gun control issue.
BOB GARFIELD: You know, whenever -- [LAUGHS] in this conversation I've wanted to talk about 3-D printing, you've really wanted to talk about home-milling technology. It, it seems to me that you think that the media have been equally focusing on the wrong thing. It's not the gee-whiz technology of plastic guns but the use of technology to keep the government in the dark of all DIY manufacture, completely in the privacy of her own homes.
ANDY GREENBERG: So there's kind of these two things happening. There's this very current practical gun control issue and then there is this kind of science fictional one, this notion that anyone can download and click and 3-D print a reliable and durable working lethal weapon in their home; that's still kind of something that lies in the future.
BOB GARFIELD: Andy, thank you.
ANDY GREENBERG: Thanks, Bob.
BOB GARFIELD: Andy Greenberg is a senior writer for Wired, covering security, privacy, information freedom and hacker culture.
I spoke with Cody Wilson back in 2012. At the time, he downplayed the destruction that could arise from his creations.
[2012 OTM CLIP]:
CODY WILSON: Criminals and gangs already have access to the most lethal weapons out there, the military grade weapons. I'm not concerned about this flimsy technology anytime soon, you know, opening some new era of open violence on the streets or anything. It's just not there. I am optimistic that, really, 3-D manufacturing is here to stay. Yes, a great number of terrible things would be possible in this future but also a great number of extraordinary things.
BOB GARFIELD: To take the question to the extreme, if you can do, in your home using technology, the kinds of things for which there is no legitimate consumer use, let's just say weapons-grade anthrax, you'd, nonetheless, have no objection to it?
CODY WILSON: I think a civil libertarian would say, why criminalize the possession of something or the creation of something in itself? It isn't that weapons-grade anthrax is, is evil, in and of itself, it's what you could do with that weapons-grade anthrax. And so, the educated civil libertarian would say, you can only punish the use of that anthrax for criminal purposes, not its creation or possession. You know, and you use the word "legitimate." "Legitimate" is a scary word. Legitimate to whom? Who makes the rules of legitimacy?
BOB GARFIELD: That's a fetching argument but I wouldn't present it to somebody who has lost a loved one to a burglarized gun. The very existence of dangerous things is, in and of itself, dangerous, is it not?
CODY WILSON: I'm not sure that you can say there are, quote, unquote, "dangerous things." I don't know. It seems to me a gun is very safe, very low rates of failure, designed to do what they're intended to do, you know? I would never walk up to some victim or some family member of someone slain by a gun and say, well, you know, better that we have these rights. But, at the same time, we all recognize the respect of civil liberties, even though we must suffer some social cost, and gun rights are no exception to that.
BOB GARFIELD: Do you not run a very high risk of seeing them distributed in exactly the place where you, as a citizen, do not wish to see them?
CODY WILSON: I mean, liberty is risky, right? But let's take your extreme case. Let's imagine a future where I can immediately print out a TEC-9 unserialized and it works like a charm. Yes, you risk some very scary things happening but, I don't know, I just do not see the argument that this is something that must be stopped. And, in fact, how could you stop it?
BOB GARFIELD: A lot of people, in discussing Distributed Weapons, will immediately go to the terrorism possibility, right, that terrorists get ahold of this capacity and start smuggling plastic guns onto airplanes with God knows what consequences. It's not a difficult scenario to envision. But you can one-up that scenario. Tell me about your Islamic banking project.
CODY WILSON: Well, right now I'm studying just the principles of retail Islamic banking. You know, there's a rich history, a multi-century history of not charging interest. How could we use the principles of virtual communities online, like Reputation and these other things, to enable pseudonymous or anonymous parties to engage in commerce with each other and borrow and lend interest-free bitcoins in a way that would be sustainable? Basically bitcoin banking, right, a People's Bank of Bitcoin, but it's interest free; it's designed to compete with the financial capitalists.
BOB GARFIELD: If this were to come to pass, it would arguably be an enabler on a grand scale for financing terrorism.
CODY WILSON: Right, it's just like the gun argument: well, you're allowing terrorists to print guns. Well yes, but you're also allowing people the disintermediate possibility of, of manufacturing things for themselves and planning their own futures and doing what they will.
Again, are we going to say, well, because this right can be abused we should take it away? No, I think, I think no one is a consequentialist when it comes to things like the First Amendment, you know, the Fourth Amendment, the Ninth Amendment, the Tenth Amendment. You know, so why is the Second Amendment an exception? We all believe in, I think, better ten guilty men go free than one innocent man be punished, but we must honor certain liberties and allow certain bad things to happen in the interest of protecting the innocent and respecting and honoring civil liberties.
BOB GARFIELD: You know how Jim Fixx, the runner and cardiovascular guru, died of a heart attack and the owner of Seque segued himself right over right over a cliff?
[WILSON LAUGHS]
Do you worry about the irony of the universe leading you to be shot by a plastic gun?
CODY WILSON: I don't worry about it but I think it's a strong possibility. And Nick Bilton at the New York Times asked me the very same thing, aren't you worried that someone's gonna, you know, print one of these out and shoot you to make some point? Well, yeah, it's probably gonna happen, right, but it'll be some progressive, some frustrated progressive who thinks that I ruined the world by, you know, disabling his nanny state. So, well, fine, perhaps I have to suffer a death but it only makes their cause look more futile.
BOB GARFIELD: Well, I'm just saying that I was at the movies the whole evening, and that's my story and I'm, I'm stickin' with it.
[WILSON LAUGHING]
Cody, thank you very, very much.
CODY WILSON: Oh, it's a pleasure. Thank you so much.
BOB GARFIELD: Cody Wilson is the founder of Defense Distributed, creator of Wiki Weapons Project.
BROOKE GLADSTONE: Coming up, a new documentary traces the national trauma that launched the movement called Black Lives Matter.
BENJAMIN CRUMP: [LAUGHS] My, my sentiments exactly, Bob. And that's what they're telling us over and over again with these "stand your ground" laws. We're gonna relegate you to a certain corner, a certain space and that's where you're gonna be allowed to exist. And if you do anything further, we can shoot you, kill you and we can go home and sleep in our best at night as if your life never mattered.
BOB GARFIELD: This is On the Media.