Confessions of a Google Employee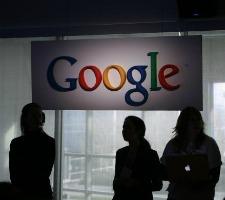 Transcript
BROOKE GLADSTONE:
We'll conclude the hour by flashing back to before Google was a verb, before it employed 28,000 employees worldwide, before its inventors, fellow Stanford University grad students Larry Page and Sergey Brin, who joined forces on a research project in 1996, were billionaires.
Google's first office was located in a friend's garage in Menlo Park, California. By 1999, it had several dozen employees and a bright but uncertain future. That's when Doug Edwards joined on as director of consumer marketing and brand management at Google, from 1999 to 2005. His new book is called I'm Feeling Lucky: Confessions of Google Employee Number 59. Doug, welcome to the show.
DOUG EDWARDS:
Well, thank you for having me on.
BROOKE GLADSTONE:
So if we can liken the maturation of a company to that of a person, what was the developmental age of Google when you joined as employee number 59? Was it nine? Was it sweet 16?
DOUG EDWARDS:
I'd go back to toddler stage. [BROOKE LAUGHS] Yeah, maybe the terrible twos, actually.
BROOKE GLADSTONE:
[LAUGHS] And, as you noted, before you started at Google you'd never heard any of the following said on the job, and I'll read a few of them. "Sorry, did I get the printer?" "Super-soakers are really inaccurate at more than five feet." And, "Is there any way to set the sauna for more than half an hour?" And, "Oh, didn't realize anyone was napping in here." And, my personal favorite, "Who do I ask if I have a question about Windows? No one?" [LAUGHS]
DOUG EDWARDS:
Well, you know, it was very different from the company I left behind, which was part of a large corporate chain. Everything was very structured. I knew exactly what my job was, who I reported to and the things that I was expected to do and the things that I was not allowed to do.
I got to Google and all that went out the window. It was a completely open environment, very non-hierarchical, and the assumption was that if you found a problem, you would just go ahead and fix it.
BROOKE GLADSTONE:
Google had grandiose dreams of saving the world. It wanted to build a company, you wrote, to fix large-scale problems affecting millions of people and terraform the entire landscape of human knowledge. They wanted to speed medical breakthroughs, accelerate the exploration of space, break down language barriers.
DOUG EDWARDS:
All of those things came from conversations I had with Larry Page, who's the CEO of the company. He knew that the search engine was not the end state of what Google would be as an entity. It was the first step.
BROOKE GLADSTONE:
Is he where the "Don't be evil" mantra came from?
DOUG EDWARDS:
That actually came out of one of those corporate culture feel-good meetings where a bunch of employees were gathered together to discuss mutually shared values in the company. And one of the attendees was Paul Buchheit, an engineer, and, you know, he was somebody who wrote a lot of code.
And as people started coming up with all these individual rules, like respect other people's time, and show up to meetings when you're supposed to be there, he said, we only need one rule instead of all these little ones, and that rule should be "Don't be evil." It just covers everything. Much more efficient.
So it was originally intended as an internal guideline for people in their interactions with other Googlers, but it slipped out and, and became associated with the company at large.
BROOKE GLADSTONE:
Give me a characteristic interaction with the two founders of the company, Larry Page and Sergey Brin.
DOUG EDWARDS:
I went into a meeting to discuss some marketing on the home page of Google and I said, you know, here are some promotional lines that we could put on the home page and we could track and see if people came back more often when they saw these lines, or how often they clicked on them. And, and they looked at each other and, and Sergey said, no, no, I don't think this is the way to go. What we should really do is turn the home page of Google hot pink [BROOKE LAUGHS] and see what effect that has on traffic.
A lot of times, the things that I thought were patently ridiculous turned out to be pretty good ideas. And I'll give the example of playing with the, the logo on the home page. Sergey proposed that we toy with the logo. We put up some cartoon aliens on it. And I said, you've gotta be kidding. From a branding standpoint, you don't mess with your logo. The logo is sacrosanct. And he insisted, and people actually loved having the logos change on, on Google.
BROOKE GLADSTONE:
You said that he once suggested that Google use its whole marketing budget to, quote, "inoculate Chechen referees against cholera." He said it would, quote, "help our brand awareness, and we'll get more new people to use [LAUGHS] Google."
DOUG EDWARDS:
Yeah, he was not a believer in traditional advertising. [BROOKE LAUGHS] You know, he, he didn't want to go the route that everybody else did. So his idea was we'll do something that generates some great public relations for Google, it'll do some public good, and everybody comes out ahead.
What I came to realize is that the product really was the marketing. Google worked so much better than its competitors. So I started focusing my efforts on creating a more human face for Google's products. And that came through the language we used to talk to our users, the April Fools' jokes, and so forth.
BROOKE GLADSTONE:
You mention a desktop search engine developed by Google that indexed the hard drive of a personal computer and searched its contents. It was originally called "Total Recall," but you say that that was deemed too scary. As a result, they decided to call it "Fluffy Bunnies."
DOUG EDWARDS:
That was the internal code name, and we were fined, actually, if we called it Total Recall. We had to pay a dollar each time we did that.
BROOKE GLADSTONE:
Uh-huh.
DOUG EDWARDS:
We'd already gone through a couple of instances where people had been very concerned about the privacy implications of products Google had launched, and we really wanted to make sure that we addressed those concerns before we launched the product.
There was the example of the Google Toolbar, which also had the capability of scaring people because one of the features was it allowed you to see the page rank any time you visited a new site on the Internet. But to do that, Google had to look at every site you visited, which is kind of scary.
So we could easily have, have buried notification of that feature in the licensing agreement that nobody ever reads. You know, everybody just scrolls down to the end of it and then clicks "I accept." But instead, we put in this big warning message in bright red text that said, "Read this. It's not the usual yada-yada." And then below that, it explained exactly what the feature did.
So we were very cognizant of the fact that people had privacy concerns and that we needed to be up front with them.
BROOKE GLADSTONE:
It's still the place where Google is most likely to be regarded as evil.
DOUG EDWARDS:
Yeah, you know, they've had some missteps, I mean, and I think the way we handled the launch of Gmail exacerbated that. People stopped trusting us so much when they felt like we were reading their email to put targeted advertising in, which was not, in fact, the case. And I think there was a real disconnect there between the founders and the engineers and the public.
I talk about in the book an incident where I went to Sergey and I said, we're getting all these emails about how upset people are with the privacy issue. We need to address that. And he said, "There is no privacy issue," [BROOKE LAUGHS] because in his mind we weren't doing anything wrong. He knew that we were not reading people's emails to put in these targeted ads. So if we weren't doing it, there was no issue.
And we had a little bit of a discussion around perception and reality. He didn't quite get that the fact people were upset meant that it was an issue for us.
BROOKE GLADSTONE:
The fact that everything you do online can be cataloged by Google and used to enable advertisers to serve us better is not a reality?
DOUG EDWARDS:
It's not something Google tries to hide. But when you go online, everything you do is tracked by machines. I mean, that's how they function. That's how they're able to give you the things that you want. So you're giving up something to get something you want.
And, you know, there are some companies that are devious about how much information they collect, so you should always be careful. I mean, the example Google engineers would always give me when people complained about privacy was, they think we're tracking them. What about their Internet service provider? We only look at what they're doing on Google. Their Internet service provider knows everything they do, every site they visit.
BROOKE GLADSTONE:
Yeah, but that's a deflection more than an actual addressing of the issue. It's true that the Internet service providers may even more intrusive, but that doesn't mean that what you do on Google and the fact that it can be tracked, cataloged, and utilized isn't potentially a problem.
DOUG EDWARDS:
From Google's standpoint, though, the information that's collected is used to improve the products that they're giving you. I'll give you an example. The spellchecker that everybody sees on Google that says, "Did you mean" when you misspell something -
BROOKE GLADSTONE:
Mm-hmm.
DOUG EDWARDS:
- that uses technology that is based on what people search for. So it knows that if people search for something and then search again with an alternate spelling, and then search again with yet another spelling, they probably view all those spellings as related and that the last one is probably the correct one. So if they don't track the history of those searches, they're not able to use that technology to improve the spellchecker.
My argument was always, we should tell people we're doing this. We should let people know this is the tradeoff that they're making. And Larry's answer at the time was, we don't want our competitors to know that we're using this data to improve our products. So we can't talk about it. We can't talk about the benefit people get in exchange for the privacy that they're giving up.
BROOKE GLADSTONE:
Mm-hmm.
DOUG EDWARDS:
And so this, this was an ongoing debate within the company, and I think probably still is.
BROOKE GLADSTONE:
Google came closest to being accused of evil when it enabled the Chinese to dictate how it functioned in that space.
DOUG EDWARDS:
In the early days, Google was able to work through problems by developing better technology. They got to China and they tried that, and they tried moving the servers to Hong Kong and, and doing different things. But the problem was much larger and intractable.
And I think this is where Google is now as a company. They're facing much bigger, more complex problems than can be solved simply by the way engineers like to solve problems, which is, oh, let's build a new technology that will do something different.
So, you know, I look at that and I see them brushing up against the real world, and I think this is going to be the future of Google. They're always gonna have to deal with questions like monopolies, censorship, when often there is no perfect solution to the problem.
BROOKE GLADSTONE:
Doug, thank you very much.
DOUG EDWARDS:
Thank you for having me on.
BROOKE GLADSTONE:
Doug Edwards was director of consumer marketing and brand management at Google from 1999 to 2005. His new book is I'm Feeling Lucky: The Confessions of Google Employee Number 59.
Google cofounder Sergey Brin appeared on an episode of the game show To Tell the Truth eleven years ago. On the show, Brin and two Brin imposters were presented to a panel of celebrities who tried to figure out which one was the real one. Host John O'Hurley began by reading a statement by the real Sergey.
[CLIP]:
[MUSIC UP AND UNDER]
JOHN O'HURLEY:
I, Sergey Brin, cofounded the Internet's largest search engine, Google. Not only is our site one of the hippest on the Web, but our work environment at the Googleplex is heaven for employees.
[APPLAUSE]
All right, panel and audience, these three young gentlemen all claim to be the real Google guru. Which one [LAUGHS] is it?
MALE PANELIST:
Number two, why is your search engine so much better than everyone else's?
CONTESTANT NUMBER TWO:
Well, we return the best things first.
FEMALE PANELIST:
Number three, what's a search engine?
CONTESTANT NUMBER THREE:
It's a tool used by the Internet community to find other websites.
[BUZZER/APPLAUSE]
JOHN O'HURLEY:
All right, time is up. Time for our celebrity panel to lock in their votes.
MALE PANELIST:
I voted for number three.
MALE PANELIST:
And I was pretty darn impressed with his technical answers, so I think it's number three.
FEMALE PANELIST:
I went with number three because I think he looks like Sergey.
JOHN O'HURLEY:
Will the real Sergey Brin please stand up?
[MUSIC/APPLAUSE/LAUGHTER]
BROOKE GLADSTONE:
To everybody's surprise, number two stands up.
JOHN O'HURLEY:
Number three, who are you and what do you do?
R.D. MILLER, JR.
My name is R.D. Miller, Jr., and I'm a professional bowler.
JOHN O'HURLEY:
You stumped everybody. Five thousand dollars will be split –
[APPLAUSE AND CHEERS]
- among the three of you. Thank you very much for playing.
[END CLIP]
[MUSIC UP AND UNDER]
NASHVILLE TEENS SING:
Oh, goodbye google eye
Eat him up a-google eye a-google eye a-google eye
Eat him up a-google eye a-google eye a-google eye
Goodbye google eye.
[GOOGLE EYE SONG/UP AND UNDER]
BOB GARFIELD:
That's it for this week's show. On the Media was produced by Jamie York, Nazanin Rafsanjani, Alex Goldman, P.J. Vogt, Sarah Abdurrahman and Chris Neary, with more help from Emily Chin and Joe Rosenberg, and edited – by Brooke. Our technical director is Jennifer Munson. Our engineer this week was Rob Granniss.
BROOKE GLADSTONE:
Katya Rogers is our senior producer. Ellen Horne is WNYC's senior director of National Programs. Bassist/composer Ben Allison wrote our theme. You can listen to the program and find transcripts at Onthemedia.org. You can also post comments there. You can find us on Facebook or follow us on Twitter, and you can email us at Onthemedia@wnyc.org. On the Media is produced by WNYC and distributed by NPR. I'm Brooke Gladstone.
BOB GARFIELD:
And I'm Bob Garfield.
[FUNDING CREDITS]
Music Credits:
"Google Eyes" by The Nashville Teens