Brooke, Clive and Ethan at Aspen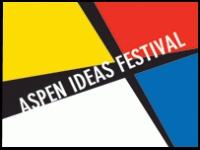 Transcript
BOB GARFIELD: This is On the Media. I'm Bob Garfield.

BROOKE GLADSTONE: And I'm Brooke Gladstone. So I was away most of the summer, indulging some of my more debilitating obsessions, especially the Internet echo chamber. The Internet makes it easy for us to seal ourselves into little impermeable spheres, where we never have to encounter ideas we don't like or issues we don't care about. Is that where we're all headed? This year's so-called Twitter revolutions in Moldova and Iran seem to say no. Even if neither revolution succeeded, didn't the newest new media draw the attention of thousands who might otherwise have tuned out, and didn't those governments have to reckon with the fact that the world was watching? I raised that question at the Aspen Ideas Festival in July, and here's what Ethan Zuckerman, a researcher at Harvard's Berkman Center and founder of Global Voices, which translates and circulates blogs in dozens of languages, said about Moldova's Twitter revolution.

ETHAN ZUCKERMAN: It was an example of how technology was going to change politics forever. It was allowing people who were far away from Eastern Europe to be live participants in a real, genuine anti-Communist revolution. That enthusiasm lasted for about four days. Some of us started putting data out demonstrating that fewer than 2,000 people had actually talked about Moldova on Twitter. We were just really loud.

[LAUGHTER] And, therefore, people paid a lot more attention to it. What happened with Iran on Twitter was much, much broader. It looks like it was about 400,000 people. But as we drill down and actually look at it, it looks like it mostly wasn't people in Iran. So for me, these go a long way towards sort of challenging, yes, this is a way to get around the censors, this is a new form of reporting. Based on what I'm seeing from the numbers, that's just not what happened. What did happen is that people felt like they were part of this movement.

CLIVE THOMPSON: It's funny, Twitter, you know, was sort of regarded over and over again as this engine for reporting what was going on in Iran, but Twitter is used by an extraordinarily small sliver of society. You know, one in 10 adults use it, and it's mostly well-educated men, by and large, when you look at the statistics, and almost no young people at all, certainly not college age.

BROOKE GLADSTONE: That's Clive Thompson, who writes about the impact and evolution of new media for The New York Times Magazine and Wired. Clive and Ethan were my panelists at the Aspen Ideas Festival. My subject, homophily, the natural tendency of humans to behave like birds in the sense that those of a feather flock together. Law professor and author Cass Sunstein cites studies that show homophily's darkest side emerging on the Net, expressed in roiling echo chambers that marginalize moderate voices and amplify extremist ones. And studies suggest that even when political bloggers do go to the sites of their opponents, their minds are not open. In fact, they may become even more partisan. So how do we engineer our digital lives so that we'll accidentally encounter information that we might not seek out but that we will still consider? Clive observed that people who live online usually have a wide circle of relatively shallow relationships, and that may offer one path out of the echo chamber.

CLIVE THOMPSON: If you read Malcolm Gladwell's A Tipping Point, he talks about the small number of people who were extremely social. Most of us only knew, you know, a couple of dozen people. Scientifically it's referred to as the Dunbar number. Above 150 people, a group can be said to not really know who anyone else is; they're strangers outside that. Malcolm, in The Tipping Point, was fascinated by these people that managed to go way beyond that. They had – they had 500, 600 people that they sort of knew something about, or more. And he wrote that before the Internet, before social networking and all these tools that basically sort of exist to sort of bring you information from other people -- here's what they're thinking, here's what they're doing, here's a link they've followed, here's a video they've seen. And so, one of the things that's sort of been interesting to me, looking at my own use of things like Facebook and Twitter, is that even though I sort myself along with, you know, other nerds and geeks looking at science and geek stuff all day long, an amazing amount of stuff sort of about what's happening in the world trickles in through the periphery of all these weak links, because I've got, you know, three or four hundred people on Facebook, way above my Dunbar number, and I've got, you know, several hundred people above my Dunbar number on Twitter. And I'm shocked at how much more I know about things that I wouldn't have known about. For example, I mean, some people's homophily problem might mean they don't know anything about international relations. My homophily problem is I don't know anything about pop culture. I don't watch any TV. I don't watch any movies. I don't listen to much music. And this becomes a real social deficit. I'll go a party and people like will mention a major A-list star and I have no idea who the hell they're talking about. And so, what happens is that in the periphery of my large number of weak links, something will sort of begin to move. Like I'll see a bunch of people say, wow, Christian Bale is a total badass, and someone else will go, go Christian Bale, go. And I'll be like I sense a disturbance in the Force.

[BROOKE LAUGHS] Christian Bale, who I infer is a famous person, has done something of note that makes him seem like a badass. And so, I've begun to know a lot more about pop culture because of the way that the weak links draw things in towards me.

BROOKE GLADSTONE: Now, the phenomenon of bumping into accidental information is called serendipity.

ETHAN ZUCKERMAN: Here's the trick with serendipity: Anecdotally, I can tell you my sphere of Facebook friends and Twitter friends includes a lot of Africans and a lot of Middle Easterners and, sure, I find stuff from those folks that I wouldn't otherwise find. But like everybody else, if you actually look at the sphere of people that I'm getting information from, it's mostly Americans, mostly from roughly my same socioeconomic class, mostly from the same general professions that I'm in. I'm not convinced that these mechanisms are actually going to interject serendipity from a radically different perspective.

BROOKE GLADSTONE: All right, so let's say that they don't work? What's the harm, especially with the introduction of new media, as long as we're, you know, honest and open to the world?

ETHAN ZUCKERMAN: Two harms or two cautions, at least. We're living in a world that's more connected than it has been previously. It's one thing to flock with your neighbors when most of the news that's going to affect you is local or national. That's just not the case any more. Whether it's swine flu, whether it's terrorism [LAUGHS], whether it's international financial collapse, you need to be aware of issues anywhere in the globe. And to solve these sorts of problems, you need to be in dialogue with people across the globe. We know that it's theoretically possible to be reading a blogger in Mongolia or a message board in Iran. I think we have this tendency to sort of pat ourselves on the backs and say that we're cosmopolitan to an extent that we've never been before. I'm not actually sure that there's evidence to support that.

BROOKE GLADSTONE: Let's stipulate that there still is a problem, a problem that we have to address. And if we started with one cliché, birds of a feather flock together, let's move on to another one, Clive, and I'm going to ask you about this: you can lead a horse to water but you can't make him drink.

[CLIVE LAUGHS] And in this case, you know, all that information is out there but how do you break through one's natural reluctance to wander off? In other words, how do you engineer serendipity?

CLIVE THOMPSON: Yeah, yeah. Some of the things that I've thought about with this had to do with you look at other domains where, where tribalism also runs amok and people hate each other's guts and write incredibly, unbelievably nasty things about each other in the service of defending their position, and that's music.

[BROOKE LAUGHS] People feel extremely tribal and passionate about their music. And once they've figured out what they like, they don't go very far outside it. The music industry is worried about this form of homophily because they'd sell more music if they can expose people to a slightly larger array of music than they would listen to. And so they've worked really hard on collaborative filtering technologies which basically look at bouquets of people and say, well, you know, Clive, you are like this and you listen to these 10 things. And if we look at it, we can find some patterns and we can find things that other people are interested in that are like you, but they're still a little different than what you're currently listening to.

BROOKE GLADSTONE: The iTunes "Genius" function.

CLIVE THOMPSON: iTunes Genius, Rhapsody does this. And it's really interesting, when you talk to them you realize that like algorithmically they are quite different flavors. Microsoft tries a little harder to drag stuff in from off the field. They're actually trying to get people exposed to different types of music. So, I've started wondering a little bit about whether or not this could be applied to an attentive news model, to Google News, to things like that, that I'd love to sit down with the people at Google a little bit about this because Google, when it sits down and gets a search, they get someone who wants to find something, and they try and find stuff that's right in that wheelhouse. But they also try and find stuff that's a little serendipitous, and I'll bet they know a lot about this.

ETHAN ZUCKERMAN: Well, first, let's look at some of these tools, right? They're all based around a model called collaborative filtering, and collaborative filtering essentially says if I enjoy listening to these five punk bands, it's going to find 10 other people out there who like these five punk bands and it's going to recommend some other musicians I've never heard of. So even though I say I really like the Ramones, someone in there likes John Coltrane, and I'm going to get a John Coltrane recommendation. And the thought is that it'll be a better recommendation than randomly picking something out of the universe, 'cause I've already established that I've got something in common with this person. So what this really comes down to is it's absolutely about weak ties. It's absolutely about broadening the universe of people who are giving you information. But we're not thinking nearly broad enough. When we think about this problem, we tend to think about, how do I bridge the huge gap between punk and jazz or the huge gap between left and right in U.S. politics? There's much, much bigger gaps we need to be thinking about. The world, as far as what's news and what's important, looks very, very different from my perspective sitting here in the United States and from my friend's in Ghana. How do you build those weak ties for people who haven't had the benefit of an educational system that builds that interest, haven't had the chance to travel all over the world?

CLIVE THOMPSON: I can make it worse than that. I'm Canadian. We're right next door [LAUGHS] and people in Canada are baffled by what people in America find important, [LAUGHS] and vice versa. You're right that those gaps are enormous.

ETHAN ZUCKERMAN: I mean, you know, other than dealing with some sort of peculiarities of accent –

CLIVE THOMPSON: Yeah! [LAUGHS]

ETHAN ZUCKERMAN: -- that one isn't all that –

[CLIVE LAUGHS] – all that tricky.

CLIVE THOMPSON: Sure, yeah, yeah.

ETHAN ZUCKERMAN: But trying to get things from the perspective of Chinese Internet users, for instance, this gets enormous. But there's bound to be perspectives out there and views of the world that I would get if we could find ways to start building those loose ties. But it's got to focus around translation. It's got to focus around finding bridge figures, people who have feet in different cultures so they can say, hey, I know you don't understand Japanese politics. Let me explain a little bit of it to you, so you can understand what's going on in this conversation.

BROOKE GLADSTONE: You know, that sounds a little like journalism to me.

ETHAN ZUCKERMAN: It sounds a lot like journalism to me!

[CLIVE LAUGHS] Of all the different things that we're fearing and mourning with the death of journalism or the danger that journalism is going through, one of the ones that I am most terrified of is the death of the foreign correspondent. It's very, very hard simply to pick up a newspaper from another country, even in a language you speak. I recommend this experiment with The Daily Nation from Kenya. It's a fine newspaper, in English, comes out every day, available online. You'll find it incomprehensible. If you don't follow Kenyan politics, if you don't know who the people are, if you don't have any context behind it, you can't understand Kenya just by reading a Kenyan newspaper. Someone needs to do some bridging work, for you. It used to be foreign correspondents. Now, to a very limited extent, it's bridge bloggers. It's people who know enough about the U.S., know enough about Kenya that they can do some translation.

CLIVE THOMPSON: Mm-hmm [AFFIRMATIVE], yeah.

ETHAN ZUCKERMAN: But we need thousands and thousands more of these people.

BROOKE GLADSTONE: Like Pax or Riverbend, were they bridge bloggers during the beginning of the Iraq War?

[OVERTALK/BOTH AT ONCE]

ETHAN ZUCKERMAN: Well this -- people got personally involved with Salam Pax's blog during the Iraq War, or Riverbend. That bridging impetus – Salam Pax's blog, you know, a Iraqi trained as an architect in Austria, that was an impetus to get the rest of the world to understand what Baghdad looked like from an Iraqi perspective during that war. That's a very fundamental impetus.

CLIVE THOMPSON: It's actually getting, I think, easier technically to get the information from the rest of the world to other parts of the world. The really harder thing is desire. How do you change people's desire?

BROOKE GLADSTONE: This is the fundamental question: How do you make people want to do something that seems to be against our very nature, which is to reach out beyond what we think we know, what we're comfortable with, to something utterly foreign and unfamiliar?

ETHAN ZUCKERMAN: I spent 20 minutes this morning researching Kenyan wedding rituals.

BROOKE GLADSTONE: But you're weird!

[LAUGHTER]

ETHAN ZUCKERMAN: Wait, let me explain how I got there. And I'll agree that I'm weird, but, but there really is a path that gets us there, Brooke. I got an email from a guy that I know from his blog, because at the end of 2007, when Kenyan elections went ass-up and the country went into flames, a couple of bloggers emerged as the main people talking about what was going on in Kenya. And tens of thousands of people around the world paid attention to them, mostly because mainstream news professionals said, hey, this is Kenya, this is actually sort of important. Let's pay attention to this. So people started building relationships with these bloggers. And I've emailed this guy. I've gotten interested in his life. He sent me, on Flickr, the photos of his engagement party from this weekend, and they ended up being radically different from anything I'd ever encountered in the U.S., and I found myself spending 20 minutes learning more about Kenyan wedding rituals. Personal connection matters. People felt like they got personally involved with Iran during this most recent Twitter revolution. If you can build that personal tie, if you can put a human face on this, and then taking advantage of this brilliant new technology we have to make it possible to actually have a one-one-on interaction is one of the more powerful tools we've got. So your question really is, how do you diversify that circle, how do you fight the natural tendencies to associate with people who you've got a lot in common with? How do you eat the broccoli and make yourself into a globalist, by finding ways to diversify that network in some fashion?

CLIVE THOMPSON: All right, at what point in time in your life did you start paying attention to the news of the rest of the world? I don't think I did it 'til quite late in life, probably in my mid-20s. I think I went through high school and college not paying any attention to what was going on in the rest of the world. And I don't think I'm that unusual, actually. In fact, one of the things that always sort of makes me want to slap people who talk about how dumb young people are is that there are no longitudinal studies to say how dumb they were when they were young.

[LAUGHTER] And, you know, I mean, how many teenagers in 1951 were parsing, you know, the foreign affairs section of The New York Times every day, you know?

BROOKE GLADSTONE: So the question of building will, how do you do that?

CLIVE THOMPSON: Pop culture is actually an interesting contact point. One little area I know a lot about is video games, and there is an enormous amount of very weird dialogue between Japan and America via video games, 'cause Japanese companies have been the progenitors of several absolutely fantastic, compelling styles of video game playing that have become very popular in the U.S. And so, you get this small chunk of players who actually get obsessed enough that they will hack their XBoxes to play the original Japanese versions because they're substantially different and stuff like that. I'm not talking about a lot of people, but the people that do, do this get extraordinarily [LAUGHS] deep into Japanese culture to the point of learning how to read Japanese so they can play the games.

ETHAN ZUCKERMAN: For me, again, what it really comes down to is whether it's a project, whether it's connecting with a person, I think sometimes it's just brilliant narrative, whether encountering brilliant narrative suddenly gets you to feel that someone in another country is real. I think it would be very, very hard to get most people to read most of the pieces in The New Yorker if you said -- now we're going to talk about Palau for the next eight pages. Instead, what you're implicitly saying is, here's a really, really gorgeous piece of narrative. You know that it's going to be great narrative because of where it's being put. Ignore for the moment what it's about. As you read through it, you're going to find yourself connecting to a place and a set of ideas. You become more receptive to news from those places in the future.

BROOKE GLADSTONE: We can identify, no matter how remote we are from the situation, with a story because they're constructed so that we can place ourselves in them.

ETHAN ZUCKERMAN: It beats the heck out of some of the other tools we have, right? So I work on Africa, West Africa, primarily, and generally speaking, the way we get people to pay attention to West Africa is we fly in Angelina Jolie, right? Because no matter where you put her, people will put a TV camera on her and, therefore, we can get someone to pay attention to the refugee situation of Liberian refugees in Ghana for some brief period of time. And that's a terrible way to do these things. Whether it's Bono or Angelina or so on and so forth, it's a terrible way to direct the attention. If we can direct it by making a mini-celebrity out of someone in that Liberia camp in Ghana, even for a brief period of time through good narrative, we've gotten much, much closer. I don't buy it in the least that we simply have to get back to, you know, feeding people straight broccoli. It, it doesn't work. People aren't choosing it. It might have worked when all people had was a local newspaper and The New York Times, but now we're an incredibly competitive media environment. If I want to read nothing but speculation on whether Tim Wakefield will be named to the All-Star Game, I can, and, in fact, I know because I spent yesterday doing it.

[LAUGHTER] So, if you're going to get me into paying attention to news that I need to have to live in a global world, it's not sugarcoating, it's simply finding a way to make it accessible.

BROOKE GLADSTONE: Ethan Zuckerman of the Berkman Center and of Global Voices, thank you very, very much.

ETHAN ZUCKERMAN: Thanks for having me.

[APPLAUSE]

BROOKE GLADSTONE: And Clive Thompson of Wired and The New York Times Magazine, thank you so very much.

[APPLAUSE]

[MUSIC UP AND UNDER]

BOB GARFIELD: That's it for this week's show. On the Media was produced by Jamie York, Mike Vuolo, Mark Phillips, Nazanin Rafsanjani, Michael Bernstein and P.J. Vogt, with more help from Dan Mauzy and Kasia Gladki, who leaves us this week. Kasia, thanks so much for all your help. And the show, once again, edited by Brooke. We had technical direction from Jennifer Munson and more engineering help from Zach Marsh.

BROOKE GLADSTONE: Katya Rogers is our senior producer and John Keefe our executive producer. Bassist/composer Ben Allison wrote our theme. This is On the Media from WNYC. I'm Brooke Gladstone.

BOB GARFIELD: And I'm Bob Garfield.