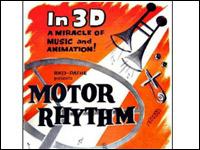 Transcript
BOB GARFIELD:
Three‑D images aren't new to 2008 and they weren't new to the 1950s, either. In fact, it was in the 1830s that British scientist Sir Charles Wheatstone invented the stereoscope, a device that created the illusion of depth in two‑dimensional images.

Nearly a century later, a couple of enterprising Americans figured out a way to adapt that technology to moving pictures, and so they did. Frederic Ives and Jacob Leventhal directed a series of silent films, Ouch, Luna‑cy, Zowie, and A Run‑Away Taxi, in 3‑D. They weren't exactly the runaway blockbusters of the Roaring '20s, but they did give moviegoers a hint of what was possible.

Ray Zone is the author of 3‑D Filmmakers: Conversations with Creators of Stereoscopic Motion Pictures. He says that 1939, the year of Gone with the Wind and The Wizard of Oz, was also a landmark year in 3‑D.
[MUSIC UP AND UNDER ‑ SOUNDTRACK FROM MOTOR RHYTHM]
At the New York World's Fair, the Chrysler Pavilion featured a film later retitled Motor Rhythm, billed as, quote, "a miracle of music and animation". Zone says that millions got to see that 3‑D movie, a stop‑motion short of a Chrysler assembling itself.
RAY ZONE:
Motor Rhythm marked the beginning of the classical twin‑strip 3‑D movie process. That is, two cameras shoot the movie and two projectors project it onto a silver screen through polarizing filters, which are the same filters that the audience uses to view the film in 3‑D.
BOB GARFIELD:
Now, in the '50s, the 1950s, when television had found its way into almost every American living room, Hollywood was undergoing a slump much like the slump it's undergoing today, and the studios were desperate to get people back into the movie houses. And along comes a film titled [LAUGHS] Bwana Devil.
RAY ZONE:
Bwana Devil was an African adventure originally titled The Lions of Gulu. It was based on a true historic occurrence in the 1980s in Africa where lions persisted in consuming workers who were onsite to build a railroad. Bob Stack played the lead and the romantic female counterpart was Barbara Britton.

They shot Bwana Devil with the Natural Vision twin camera system in the Malibu Hills, which stood in for Africa. It actually did that very well. Nigel Bruce, famous for his work in the Sherlock Holmes mysteries, also had a part in the film.
BOB GARFIELD:
So Robert Stack, Elliot Ness and Nigel Bruce who was Dr. Watson.
RAY ZONE:
That's correct.
BOB GARFIELD:
These were the stars of Bwana Devil. Now, these guys were not in current parlance, known for being able to open a movie. They weren't big superstars. And yet Bwana Devil was a phenomenal success.
RAY ZONE:
Life Magazine actually characterized the film as cheap and preposterous, but the 3‑D effects just knocked people out. There were lines around the block. And two days after Bwana Devil opened at the Paramount Theaters, Jack Warner, of Warner Brothers, licensed the Natural Vision process so that he could go into immediate production with the first Warner Brothers 3‑D release, House of Wax.
[MUSIC UP AND UNDER ‑ SOUNDTRACK TO
HOUSE OF WAX]
House of Wax tells the story of a frustrated artist, Vincent Price, who creates wax figures of scenes from history and famous characters.
[CLIP]
VINCENT PRICE:
This is where I recreated my Joan of Arc. It's an interesting process. If you have patience with me, my dear, I'll show you how it's done.
[END CLIP]
RAY ZONE:
When they are destroyed in a fire, and Price himself horribly disfigured, he decides to capitalize on the public's appetite for thrills and creates a Chamber of Horrors, featuring famous murderers from history.
[CLIP]
VINCENT PRICE:
I am rebuilding my exhibition from the ground up. I'm going to give the people what they want ‑ sensation, horror, shock. Send them out in the streets to tell their friends how wonderful it is to be [LAUGHS] scared to death.
[END CLIP]

RAY ZONE:
Still a gold standard for 3‑D moviemaking. Ironically, it was directed by Andre De Toth, who only had one eye.
BOB GARFIELD:
[LAUGHS]
RAY ZONE:
That's correct. He had monocular vision.
BOB GARFIELD:
[LAUGHS] I was so not expecting you to say that.
RAY ZONE:
Well, he just simply had a great understanding of how depth is depicted, both in 2‑D and 3‑D. So some of the scenes in House of Wax make a great use of the effect to have objects emerge from the audience and walk into the screen.
BOB GARFIELD:
Now, as much as a phenomenon as 3‑D films were in the '50s and early '60s, they kind of came and went and were scarcely heard from for decades, except for one brief interlude in 1969 with a movie called The Stewardesses, which [LAUGHS] was a soft‑core porn 3‑D movie.
RAY ZONE:
The Stewardesses marked the beginnings of single‑strip 3‑D movie technology both for the camera and projection in the theater, where the left‑ and right‑eye views were either stacked on top of each other or squeezed and put side by side on a single 35‑millimeter frame.

And it came out at a time when there were no 3‑D films in the feature film marketplace, so it did very well. It opened in 1969 in two theaters, one in Los Angeles, one in San Francisco, and then in subsequently different versions, had an increasingly wide release.
It has grossed, in today's dollars, over 100 million dollars.
BOB GARFIELD:
Well, grossed would seem to be the key word. It's hard for me to imagine, and I'm not sure I even want to know the answer, but in exactly what part of the porn storytelling was the 3‑D invoked?
RAY ZONE:
In The Stewardesses, there is surprisingly little aviation.
[LAUGHTER]
[LAUGHS] Shots of aviation, airplanes taking off and so forth are expensive to shoot.
[CLIP]
STEWARDESS:
Ladies and gentlemen, we have just completed the over‑water portion of our flight and are now entering the traffic pattern of Los Angeles International Airport. Please fasten your seatbelts and raise your seats to the full upright position.
[END CLIP]
RAY ZONE:
Most of The Stewardesses takes place on the ground and depicts the dalliances of the title characters. One strong section in the film —
[SOUNDTRACK UP AND UNDER – STEWARDESSES]
— has a amusement park where they visit some of the traditional attractions, like a ride in a funhouse.
[FUNHOUSE HUBBUB]
It's thin on story, but its strength was, there were no other 3‑D movies out there.
BOB GARFIELD:
Another fallow period into the '80s, and then Friday the 13th Part III.
[SOUNDTRACK FROM FRIDAY THE 13th III UP
AND UNDER]
Was that different technologically than previous attempts at 3‑D?
RAY ZONE:
It was also single‑strip 3‑D, but Friday the 13th ‑
[CLIP]
WOMAN:
What's going on?
[END CLIP]
‑ Part III in 3‑D ‑
[CLIP]
WOMAN:
Get up!
[END CLIP]
RAY ZONE:
— marked a landmark date in the history of 3‑D movies in that it was the first day and date release.
[CLIP]
[MUSIC SWELLS]
WOMAN:
Oh, my God! [SCREAMS]
[END CLIP]
RAY ZONE:
August 12th, 1982, it opened in 1200 theaters in North America.
[CLIP]
WOMAN:
[YELLING] [ ? ]
[SOUNDTRACK AND CLIP CONTINUES UP AND UNDER]
RAY ZONE:
For that release, the theaters had to install silver screens, and Paramount built projection lenses in serially‑numbered cases with instructions for the projectionist and a test loop, as to how to mount the lens on the projector and project it properly in 3‑D.
BOB GARFIELD:
Now, one thing that struck me when I saw a 3‑D short film, the effect in modern days is just truly stunning. I mean, it is really [LAUGHING] remarkable how the images on the screen just jump out at you. But they're so stunning, so arresting, that it's almost impossible to follow the story because every three seconds you're being wowed practically out of your seat.
RAY ZONE:
Absolutely. It's one of the artistic problems of the 3‑D movie, and that is using the 3‑D for storytelling, and not in a way that it calls attention to itself and destroys the suspension of disbelief.

In fact, when Andre De Toth directed House of Wax, the producer compelled him to put the famous paddleball sequence in there, which is irrelevant to the story.
[CLIP]
[SOUND OF PADDLEBALL BEING PLAYED]
MAN:
Hold steady now. Don't move your head or you'll lose the powder off your nose.
[CLIP CONTINUES UP AND UNDER]
RAY ZONE:
There's a guy who's basically a pitchman, a barker out in front of the museum, who's shilling to the crowd to have them come in and see the new Chamber of Horrors, and he's got a paddleball.
MAN:
See the lovely centers of ancient times, ladies and gentlemen. Beauties who died in torture and on the block. Visit our Chamber of Horrors —-
[CLIP CONTINUES UP AND UNDER]
RAY ZONE:
And then he makes it go right out at the camera ‑
[END CLIP]
— so it's out in the audience. It is so prominent and so gratuitous, and that's a historic problem that is still a problem for 3‑D movies to become a mature storytelling art, where the 3‑D is used in a narrative way. It needs to be done.
BOB GARFIELD:
Ray, thank you very much for joining us.
RAY ZONE:
Oh, it's my pleasure. Thank you for visiting with me.
BOB GARFIELD:
Ray Zone is the author of Stereoscopic Cinema and the Origins of 3‑D Film, 1838‑1952. His website is Ray3dzone.com.
[CLIP]
WOMAN:
Who are you? What are you doing? Hey, now cut that out right now. That's not funny!
[CRASHING, SPLASHING AND EERIE SOUNDS]
[MUSIC UP AND UNDER]
BOB GARFIELD:
Last week we launched Project OTM T‑Shirt in which we give you the information and you design an On the Media t‑shirt. This week, in order to demonstrate my personal commitment and enthusiasm for Project OTM T‑Shirt, I'm announcing that I will be doing this show topless from now until August 25th, when we select the winning design.

So go to onthemedia.org, where you can find all the rules and regs for submitting your original On the Media T‑Shirt design, and thanks for all the fabulous submissions we've received so far.
[MUSIC UP AND UNDER]
BOB GARFIELD:
That's it for this week's show. On the Media was produced by Megan Ryan, Jamie York, Mike Vuolo, Mark Phillips and Nazanin Rafsanjani and edited — oh, by all of the above. We had help from Michael Bernstein, technical direction from Jennifer Munson and more engineering help from Zach Marsh. Our webmaster is Amy Pearl.
KERRY NOLAN:
Katya Rogers is our senior producer and John Keefe our executive producer. Bassist/composer Ben Allison wrote our theme. This is On the Media from WNYC. Brooke will be back next week. I'm Kerry Nolan.
BOB GARFIELD:
And I'm Bob Garfield.