Taking Up Your Space: Real Talk About Hosting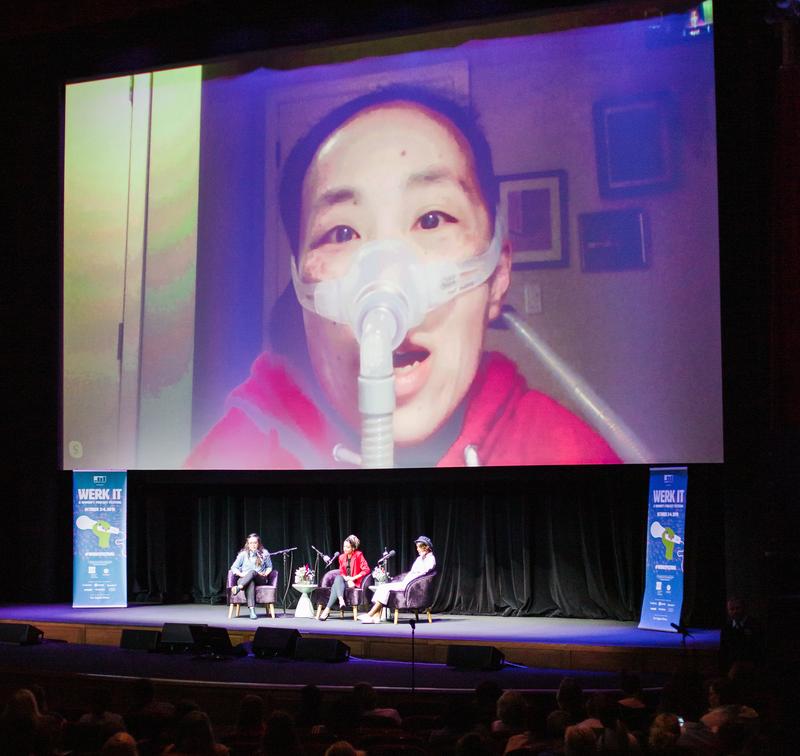 Transcript
Misha Euceph: As much as we tried to be representative of American Muslims, we also had to remind our listeners and ourselves at times that we just have to be honest and vulnerable. And maybe our greater responsibility is for me as a host to be vulnerable, for my team to be vulnerable, and for our guests to allow them the space to be vulnerable and put it all out there and all of our flaws. And then let our listeners decide whether this was representative.
Dessa: For all you aspiring or seasoned hosts out there, you know that taking the mic comes with responsibility to your guests and listeners. This year at Werk It we had four hosts take the stage to pass on some candid advice for navigating challenges from balancing air time with male co-hosts, creating an accessible and welcoming experience for guests, and handling expectations specific to being a woman of color.

I'm Dessa, and this is Werk It: the Podcast, a compilation of some of the best moments from the live event. And here's our moderator, Shereen Marisol Meraji introducing our panelists…
Shereen Marisol Meraji: Hello. How's everybody feeling? I can't see you. I wish I could see you. Ah, it's weird. There's like all these bright lights just shining in our face. I'm Shereen Marisol Meraji and welcome to Taking Up Your Space: Real Talk about Hosting. I feel like the name pretty much speaks for itself. We're going to talk about hosting what has worked for us, what hasn't worked for us, what we're still working through. Um, I'm the cohost of the Code Switch podcast. Clap if you've heard. I cohost the podcast with Gene Demby,
we talk about race and identity and culture through multiple lenses. So we talk about the news, we talk about sports sometimes that's Gene's thing. I'm not that into sports. But, um, we talk about art and we talk about pop culture. So I started in this business as a producer. I was a producer for many, many years. I was a field producer. Then I became a reporter and I became a reluctant host in 2016 when Code Switch launched. And that's me. And I'm going to have all of our panelists introduce themselves. Go for it Rund.
Rund Abdelfatah: Hey, my name is Rund Abdelfatah. I'm uh, one of the hosts of Throughline, which is a history podcast, Oh, thank you. Thank you. Um, yeah, it's a pretty new show launched earlier this year. It's a history podcast where we, um, our tagline is "Where we go back in time to understand the present." It took us a long time to come up with that tagline so I'm gonna use that.
Shereen: I love that.
Rund: Um, yeah. And, and uh, you know, I started at NPR as an intern seven years ago. Um, and then I kind of produced on all different shows, including Code Switch at a certain point, um, and just kind of made my way around, um, NPR until I landed eventually on How I Built This and TED Radio Hour. I met the other host of Throughline, uh, Ramtin Arablouei on that show. Um, and then we just kind of had this idea for Throughline that slowly but surely we eventually managed to get, um, onto, um, onto NPR. And uh, you mentioned reluctant hosts. I was also a reluctant host and would never have imagined seven years ago that I would be hosting today.
Shereen: Alice!
Alice Wong: Hey everyone!
Shereen: Hey Alice.
Alice: Hey! Isn't the internet awesome? I just want to say -- give a shout out to Werk It for including me this way. My name is Alice Wong. I'm the founder of the Disability Visibility Project which is an online community and I'm also the host and co-producer of Disability Visibility, an independent podcast with the goal of centering voices of disabled people in podcasting as a creator and with guests.
Shereen: Misha?
Misha Euceph: Hi, I'm Misha Euceph. Oh! That's Arwen, she's my boss. I guess it's better if they're cheering for you then. Um, I got my start as an independent podcast host and producer. I started a show called Beginner in early 2017, um, right about the time that Trump got elected, which for me ended up being a very lucky time because my podcast was about being an immigrant and not knowing how to do anything. And uh, although quality-wise it wasn't the most amazing thing in the world, there was a hunger for that type of content. Um, and then from there I freelanced for a while, um, and then eventually landed at KPCC with Arwen, um, where I ended up working as a producer on The Big One: Your Survival Guide and uh, became the host of Tell Them I Am, which came out this May, which is a podcast about the small moments that define who we are and who we are not and the guests were all Muslim.
Shereen: Since we are talking about what we did in our previous lives a little bit before we started becoming podcast hosts, I want to talk about transferable skills. And were there things in your previous jobs that you feel like have really helped you become a strong podcast host or are helping you evolve into being a better podcast host? Rund?
Rund: Oh, absolutely. Um, yeah, I mean, I, I love production. That's sort of the, my original passion when I came to audio and, um, and I think thinking as a producer, um, when you're a host is incredibly valuable. Um, and I recommend it to everyone actually. I mean, whether you're a producer now or you're already a host, you know, just like try and, um, get a little bit more acquainted with the production side of things. Um, for a few reasons. I think first, um, I think you understand tape and sound just in a different way, um, when you've had to sit with it for hours yourself --
Shereen: I agree.
Rund: And figure out like, how to piece it together. Right? I mean, you both, you both have that experience, right? Um, and then the other thing is I think you have a real respect for the process. Um, so that when you're hosting, if other people are now producing you, um, or even if you're still producing as in I think all of our cases, um, you have a real, uh, sense of, um, how much labor it takes to put something together. Um, and, and I think it can really, really help in both the shaping of the product, the way you treat your teammates and the care they're putting into the product. Um, and I think it just makes it stronger.
Shereen: Alice, before you were podcast host of the Disability Visibility podcast, what were you doing in your other life that you think helped you become a host?
Alice: Yeah, in a previous life I was in academia, and I had you know training as a qualitative researcher. So I feel like I have got a really good sense of how to ask, you know open ended questions.
Shereen: Yes, so important.
Alice: That'll hopefully draw out thoughtful responses from guests, and you know, I'm involved in a lot of you know, online communities, especially on Twitter. And I feel like this helps me a lot because I'm connecting with all kinds of interesting people, engaging in different conversations, which really feeds me ideas for my podcast. And I think, you know being online, while it's a dumpster fire, it does give me a sense of the emerging issues that are important to the disability community and also following people that have really strong voices that should be included, so that's kind of the way I've done my hosting.
Shereen: That idea of, uh, asking open ended questions is something that I, even though I was a producer, I have to say, I'm still trying to figure that out as a host. I find myself, I catch myself asking yes or no questions all the time. I am always rewriting to make sure my question is open-ended in some way. You know, how did you feel when this happened? Tell me about this thing, you know, rather than, did you feel good? Did you feel bad, anyway. Um, so I'm still working on that. Bravo to you, Alice. Um, Misha, what about you? What were you doing?

Misha: I mean, it's going to say, my answer actually relates to what you're saying about open ended questions. And I didn't piece this together until very recently. Um, when I was in high school, I was, uh, doing a community service or part of the community service organization called A Community Hotline. Um, and it was not a suicide hotline but essentially like a pre suicide hotline for people within the community to call anonymously whether they were depressed or struggling with anxiety. And I did this purely because people said if you do it for a hundred or 120 hours or something, you'll go to college or you'll, it'll look great on your college resume. And uh, the prerequisite for that -- I was one of the youngest people in that whole program -- and the prerequisite for that was a 45-hour listening training. And one of the things that they taught is ask open ended questions or use verbal nods, but give people space to be silent because you don't know what might come after silence. And I keep thinking back to it recently for some reason,
but being trained as a listener is probably the most valuable skill that you will have as a host, especially if you're doing your own reporting and interviewing people.
Shereen: I taught after school, I taught it two afterschool programs, one in East Oakland where I taught Capoeira and one in Richmond, California called Making Waves. And I was working with kids often who did not trust me and were like, "who are you and why are you here?" And so I learned a skill that I learned that I think I definitely utilize as a host, is trying to be relatable and relate to the people that I'm interviewing or relate to the audience in some way by being vulnerable, by showing who I am a little bit. Um, and I think that goes against what we've been taught as journalists actually, to stay sort of quiet, um, and not have a personality and not let yourself be out there and be vulnerable. So was one thing that I learned from my past life that I think has helped me a lot being a host.
Uh, the next things -- We've been talking a lot about producers and producing and how that helps you in hosting. And one thing as a producer that I loved was that I wasn't in front of the mic. I find this I'm very self critical and I find this very nerve wracking being on the mic and then having my voice out there for other people to listen to you. Um, so I want to talk about how as producers your voice has evolved, how you've been more comfortable behind the mic. And before I do that, I want to actually play some tape from Misha. Uh, we're going to hear a piece of tape from Misha when she first started hosting your independent podcast and then something from The Big One, which you are doing at KPCC. So let's hear that tape.
[Audio clip]: 13 years ago, around this time, my parents came to Los Angeles, California from Karachi, Pakistan. In Karachi, my dad owned a number of restaurants with French names. My mom was a professor. And me, I was the oldest of two daughters with a little brother on the way and I was popular in school. I was only 10 but everyone knew I was going places. Maybe I'd be prime minister of Pakistan or a famous chef. I didn't know that place would be a whole other country. [End audio clip]
Shereen: Okay, that was the first one.
[Audio clip]: Hey listener, I'm back. So, this episode's even scarier. So I'm here to help. I'm Misha Euceph in case you forgot my name and I have three practical tips for you that are going to help you survive the big one. The first tip, get water. [End audio clip].
Shereen: Okay. Could you hear the difference? I could hear the difference.
Misha: I could hear the difference.
Shereen: What's different?
Misha: Cringingly so.
Shereen: What's different, no!
Misha: I mean I think you can literally hear it in like the timbre and the cadence than my voice where I sound a lot more like this in the second clip and the first one I'm like, "This is my podcast voice. And I came here from um, you know, Pakistan." Um, I think you learn over time to write to your own voice. And I think what helped me a lot is actually working with other hosts and realizing how they sometimes struggle to write to their own voices and helping them sound more natural as the producer in the room, who's voice coaching them. That when it was my turn to host, um, either the tips at the end of The Big One or Tell Them I Am, I kind of understood a little bit better. And I also had an incredible team that included Arwen, and Mary Noff and James, who constantly pushed me to speak first. And then sometimes they would be the ones writing it down. So then I was writing totally differently than I had ever written before.
Shereen: That's a good tip.
Rund: Yeah. I feel like, um, that applies to interviews too, because I know when I first started, I mean, when you're producing an interview, it's so much easier to be like, "Well, you forgot to ask this. Like, why didn't you ask this follow up?" You know, it's very, it's like, it seems so intuitive. And then when you're sitting there, you're doing the dual thing of like listening, but also trying to like plan ahead. Like, "Okay, where, where do we want to go next?" And I think something that, um, one of the producers on my team now really like helped me with in the interviews is, is he was like, you know, um, I, I tend to be a more of an introverted person. So that's sort of where I'm naturally more comfortable. But he was like, "You know, you have, you're curious. Right? So when you're in the interview, let that lead. But then, in terms of like, your energy, your like pumped up level, do like 30% what's comfortable, more than what's comfortable," you know? He's like, "Because when, when it's being recorded, it comes off a little bit sounding almost like either timid or uninterested if if like you're not maybe naturally as like, you know, like amped up or whatever it is."
Um, and so that I have that in my head when I go into an interview, "I'm like, okay, me being me but be a little bit more like me when I'm like, I don't know, like hyped up on---
Shereen: On Sudafed.
Rud: Or something. Right. So, um, that's been helpful to think about if you are, if you are introverted, which I actually think a lot of journalists are and, and some hosts are, you know, um, they, it isn't as natural of a, of a fit particularly, um, you know, for us, I think we, when we started putting this show together, we didn't have hosts in mind. We didn't initially think like, "Oh, we would be the host." We just had a, an idea that we thought was cool, that we really wanted to do. And then at a certain point where we're like, "You know what, we're gonna need to find hosts for this." And then the more we thought about it, the more we were like, "You know what? There aren't enough people who look like us who are hosts, so let's do it." And so it was not a comfortable, um, necessarily transition in my mind. Um, but I felt like, you know what? Like other people can do it, I can do it. Right. And so you kind of, I think you find workarounds to your own anxieties about it.
Shereen: I like to be funny in my real life. I think I'm funny, I'm goofy, eh, but when I was hosting and when I was first starting to host, I felt uncomfortable being myself and having that kind of personality. I also tend to talk very loud. There are things about my personality and then paired with Gene's that can feel very extra. Uh, so what I did was I really did want to incorporate more of who I was. So it was really important to me to get my material down really, really well before I got into the studio so that I could riff and be funny and try things. And I'm just gonna play a little bit of tape from one of those experiences if we have it.
[Audio clip]: Kanye deviated from the expected norm. Kanye got called out by everybody and dragged by everybody. People came to collect him. Kanye fell back in line. Ish. Ish, yeah ish.
And Kanye is exactly the kind of person who can deviate from the norm. Right? He's a very rich rapper with a wife who is not black, in-laws who are not black. He lives in a city called Calabasas. If you've ever seen the Kardashians, you know this city. It's out here in LA County. It is 1% black. Wow. Just like the Republican party. Yeah. And the only black people in Calabasas I would bet are dating or married to the Kardashians or the Jenners in some way. No, I'm just kidding. So yeah, not a lot of black folks put direct and consistent face to face pressure on Mr. Kanye West. Yeah I guess it's like, Kanye, Travis, Scott, Black China? All the other black people in Calabasas are going to be so mad right now. We're going to get so many letters, like five. [End audio clip].
Shereen: So that was a genuine interaction that was not written down. It was genuine and that was real laughter from Gene. So we are trying to incorporate more of that and the way to do that is to be really familiar with your material so that you can go in and try things and many, many times I try things that the editors like, "That was dumb." Like or, "That was not funny. We're not putting that in," but this one worked out okay.
Alice, how did you evolve when it comes to being a host? How has your voice changed or has it changed?
Alice: Well I think first of all, just to follow up what you said, I think humor is really important and being able to really show my personality. I try to do that in my intros and outros and really just kind of, you know, let my personality really come out and uh, I think that's what makes a podcast unique. So I really hope that people embrace, you know, all of who they are, whether they're quirky, you know, weird or whatever, just let it shine. And as you all can see. You know, I'm wearing a mask over my nose that's attached to a ventilator, which helps me breathe. And I clearly have an atypical voice, you know, one that you barely hear on radio and podcasts, and as a, you know, host, I really had to get over my own self-consciousness about how I sound and how I speak, and my own preconceptions of what, you know, I think a host should sound like. Because, I'm not necessarily smooth or, you know, articulate. There are times when I, you know, pause when a breath comes in, or you know, there are times in the episode people can hear the whooshing of my machine. But you know, you have to really embrace that this is who I am, and you know, I want to bring all that realness, even if it may force the listener to concentrate a little more and maybe make them uncomfortable, because it's not a quote unquote clean or polished sound, or you know a super produced, polished out. And since I started a podcast in 2017, you know it's clear to me that, you know we need a diversity of voices in podcasting, whether that includes people like me, or you know, voices of people who stutter, people who are deaf, people who use technology to speak. And you know, especially to be a podcast host, you know, not just a guest, who sounds like Darth Vader, it just kind of, you know, delights me because that's the diversity in media that we need.
Shereen: I agree. Punto. Punto. So when we all, we all had like, a brief discussion over the phone and one thing that came up that we wanted to talk about was this idea of responsibility and the responsibility that you have as a host to your listeners. The responsibility that you have to the people that you're interviewing and who you're telling their stories. And so I did want to talk, um, about what responsibility means for each of us as hosts. And I want to start with Alice, Alice, actually. Alice, you had some really good things to say about the role responsibility plays in hosting.
Alice: Yeah. So, you know with my podcast, I'm both the interviewer, co-producer and writer, so I have a lot of creative control over who I cover, and what I cover, and who I invite. And you know, I want to hear all kinds of stories and I feel really responsible to make an effort to interview multiple marginalized disabled people. Because they will usually bring a completely unique perspective on a topic and there's the fact that you know, overall representation of disability in media is still you know very white, and very male. So, um, you know that's a thing.
You know I think about, our role as hosts, we have a lot of power in how we frame the conversation and how we actually frame the guests. And it's my responsibility, personally, to accurately represent the guests in the introduction and in the show notes as much as possible. And you know, I really want to preserve their authentic voice. You know I don't want to over, really, polish them or edit them for the sake of listeners. Just as a short example, I recently interviewed Nina G, who's a comedian who stutters, and in that episode you hear her stuttering you know, throughout, and I don't edit those sounds out, because that's a big part of who she is and how she presents to the world. You know, the message I would just say to everyone in the audience is that, it's ok to embrace the realness and messiness that comes with podcasting, because I think that it'll make your podcast stand out in a good way. And I just wanted to give a quick shoutout to my co-producer Cheryl Green, Sarika D. Mehta and Geraldine Ah-Sue who are all co-producers on my show.
Shereen: It, that goes against so much of what we're taught as producers, right? We are taught to polish, polish, polish, make it sound as perfect as possible. So that is making me think, you know, maybe my responsibility isn't necessarily to do that. Um, so I appreciate that point. I definitely have to say that I've been called out. I need to take responsibility for my ableism. There are things that I say in the podcast that I've said and been called out for, for example, I, you know, colloquially, I always like, say, "That's crazy." That's, you know, and people are like, "No, you're not saying that's crazy anymore." I've been called out on Twitter for that. Um, recently I said something about, uh, reading books versus listening to books. Actually, I think we should listen, just listen to what I said so you can hear me.
[Audio clip]: We asked our listeners to suggest books that they think people might read over the summer. Or maybe listen to, because Karen firmly believes that listening to a book counts as reading a book. I'm on the fence about that. [End audio clip].
Shereen: So that was very ableist. Um, I got called out on Twitter because there are people who can't read books that have to listen to books. And um, so one thing as a podcast host that my audience has definitely, um, made me very aware of is the tendency to be ableist. And I'm on a podcast about race and identity and we talk a lot about social justice. And so I just want to sit here and say that, you know, I take this responsibility really seriously, and it's something that I've been working on. Um, Rund when, when you're a host and I dunno, what does responsibility mean for you?
Rund: Yeah, no, I mean honestly, like, um. One, I appreciate you sharing that because I think like we've all sort of, when you step into the host chair, you don't, you don't realize that maybe you have some of these blind spots. Right? And I think it's important to be open as you're presenting yourself, um, in a more public light to, you know, to criticism to a point, um, of course, because I think sometimes it's also just as healthy to block it out. Um, but I, I do think, you know, particularly from the people around you that you respect, you care about really, you know, taking that into account. And I, you know, I respect that you like, um, that you recognize that. Because like, yeah, I've been guilty of that as well.
Um, and, and I also see for history podcasts, which is, you know, what Throughline is, um, a huge responsibility in the way we frame the narratives. Um, and the way often times we're challenging narratives. Um, who we're talking to in order to represent a history. Um, we, you know, go out of our way to tell these histories, um, and as nuanced a way as possible. And that includes not just talking to white male historians, which I think often is, um, the default when, when historical stories are being told. There are, you know, surprise, surprise, a ton of people, um, who are not white and male, um, telling a historical stories, particularly about their own histories.
Um, and I'm, you know, recently we did an episode about Puerto Rico and half the guests were, you know, Puerto Rican themselves. And, um, you know, that is pretty much like what we aspire to in every episode is at least half to be, um, not, uh, you know, not white, maybe not an American perspective if it applies. Um, not, uh, -- yeah, just, just from all different backgrounds.
Um, and I think it, it helps us to meet that responsibility, which we've set out for ourselves, which is to tell historical narratives as truthfully and honestly as possible. Um, and um, and allow people from, you know, the backgrounds in which we're kind of sharing the histories to, to speak on their own history, which I think is, it's surprisingly happens not often enough. Um, and, uh, and I think it just makes it makes the show better. I think it makes the listening experience better. I think people take notice of that.
Um, and it's hard, it's something Alice said that that really resonated was, you know, you're, you're editing people, right? Like when you're interviewing someone, there's a lot you're leaving on the cutting room floor and there's just as much responsibility in terms of what you leave out as what you leave in. And I think it's really important to, um, one thing we do sometimes if we're, you know, we did an episode on the history of Evangelicals in America and we're like, you know, not nobody on the team really had much with that topic or with anyone from that background. And so we were like, you know what, let's like, let's make sure that the reporter at NPR who covers, you know, this issue listens to this episode. And we started doing that for every episode. We're like, you know what, someone who's an expert in this or who themselves is from that background should take a listen and be like, you guys are totally missing this thing. You know? And I think that really helps us stay accountable.
Shereen: We do that too. Yeah, I like that. Misha?
Misha: Um, there was kind of a strange balancing act with Tell Them I Am because we had to both take the responsibility of representing Muslims but also shirk that responsibility. I don't know if shirk is the right word, but also kind of like put that responsibility to the side. Because even though we had 22 episodes and we tried to balance, you know, gender identity and ethnic backgrounds and types of stories and careers, we still couldn't possibly represent 1.7 billion Muslims in the world.
And so, as much as we tried to be representative of American Muslims, we also had to remind our listeners and ourselves at times that we just have to be honest and vulnerable. And maybe our greater responsibility is for me as a host to be vulnerable, for my team to be vulnerable, and for our guests to allow them the space to be vulnerable and put it all out there and all of our flaws. And then let our listeners decide whether this was representative. Um, because ultimately we couldn't possibly bear that burden of saying like, "Yes, this podcast represents every Muslim that has ever existed." Um, and one of the things that I had to keep doing over and over -- sometimes on Twitter, sometimes in person to people -- um, just in talking about the podcast is this is not a podcast about the Muslim experience. This is a podcast about small moments and the guests are all Muslim. And so that kind of changes the way that you perceive the whole thing, right? Where you're not expecting it to represent the entire Muslim experience.
Shereen: You solo hosted that?
Misha: Yeah.
Shereen: Uh, Alice is a solo host. There are two people up on this stage who have co-hosts. And I do want to talk a little bit about taking up your space when you have a co host that you're working with. In both of our cases who happens to be male, a man. Um, this gon' get fun and interesting. No, I'm kidding.
Um, Rund do you want to, do you want to start us off or like do you, how have you taken up your space when it comes to Throughline? Because I know, I know you and I know Ramtin. You've already said it, you're a little bit introverted, he's a big personality. Um, there's a gender difference. I just, there's a lot I think you could say -- if you felt comfortable saying.
Rund: No, I mean, Oh, to start off. I think, I mean, Ramtin's a great co-host because I think he is so receptive to feedback. Um, and so it's not that it, he always gets it right or that like the, you know, the dynamic is always perfect, but it's that, um, that's the first thing is whoever you're coasting with needs to be open. It's sort of like a work, like I don't know, like work marriage. Honestly. It's like you are investing so much of yourself in it. Um, and, and you know, as are they. And you know, you're in it together, you're trying to like, build this thing together and it's really important to have open communication.
So, um, you know, early on, we had times where we would be in an interview and the guests would just not look at me. They would only direct their attention to Ramtin and it's nothing he did, it's just he's the man in the room and it was like the attention would automatically gravitate, um, to him. And one way we started kind of counteracting that is I always start the interviews now. Where I'll lay out the show, what the show's about, like all those sort of like nice setup stuff. I'll do that because it forces the guests to recognize you're in the room. Which I know it sounds kind of ridiculous. I mean, I would have thought that was ridiculous hearing it before. Um, but then, you know, sitting in that room, I mean literally they just won't look at, they wouldn't have, some guests would not look at me. They would only direct their attention to Ramtin. So that really helped. And again, like having a, um, a collaborative partner who's an ally was important. Someone who was, you know, he recognized, yeah, that is an issue and we're going to take steps to try and counteract that.
And even within the team, right? I mean there are times -- I mean we've talked about this -- but there are times when, you know, you ended up taking on so much of the labor and it's not being recognized maybe. And um, even within the team then there becomes, um, this like, weird imbalance and it can make you resentful, frankly. Right? And so I think it's really important to address that. And so one of the things that we did was I started leading the team meetings. Because again, even to the team, it would make it feel like -- there was a weird assumption of, um, authority that was given to him that was not immediately given to me. And so by doing that, it sort of like counteracted that as well, you know.
Shereen: That's great. We, um, I am a producer so I have a lot of production skills. And when it comes to doing the labor, I do a lot of producing behind the scenes. Uh, and Gene came from print, so we just have very different skills. I find that I was getting very resentful because I was cutting a lot of tape, I was pulling interviews, I was doing all of this work that doesn't get recognized when, you know, we're 50-50, splitting things up on, on air. And so, yeah, having open communication about that has been really wonderful. I also pushed to get a title change. I, my title was co host, um, and reporter for NPR and I was like, "You know what, I'm a senior producer of this show. I'm senior producing this show." So I, so I finally, yeah. So I pushed to get a title change, although we don't say that in the credits. We don't say Shereen Marisol Meraji Senior Producer, but it will be on my new cards and that will, that will make me feel good.
Misha: You know, Shereen, it's actually something that we had to do is like, change the credits, credits of our shows because we realized that some of the assumptions that come with someone hosting a show were not necessarily true of all the shows that we were making. Um, and so for us, it started early this year and we started specifically writing out who, you know, who are the writers on this episode, who are the sound designers on this episode, who are the producers, who are the editors. And that, I think, put a little bit more pressure on the hosts that we were working with, but also just made us feel better about the labor that we were putting in as producers. So I think as co-hosts, too, that would be effective.
Shereen: I like this. Um, another thing is, you know, my therapist always says, and what's your role in all this? Um, so listening back, because I do feel like even though I find it very torturous to listen back to myself, listening back has helped me become a better host. And one thing that I did notice listening back was I was often playing the role of the listener in the interviews or in the hosting. Like I was playing the role of the person who, who didn't know things. So please explain them to me. And even though I did know things, I knew all the things or maybe you know many of the things. But I was always the one taking on that role of like, "Oh yes, please enlighten me." And Gene was taking on the role of "yes, I will enlighten you."
And so, um, one example of where I decided I'm going to put my foot down on this or I'm going to change the way that I'm doing this is oftentimes you write a question because it'll get you from point A to point B. And so often the question is, "Oh, I didn't know about that. Tell me about that thing." I mean, obviously it's a more articulate question than that. And we were working on the Black Republicans episode, which you just heard a clip from. And Gene had written some, a question in my script that was like, "Oh, I've never heard of Mia Love, tell me who she is." And we were in the edit and I was like, "Gene Demby, I told you to book Mia Love for this episode. I am not going to ask this question this way." And so he was like, "Oh my bad, my bad, let's work, you know, I was just doing that so we could get from point A to point B." True. We do this all the time, but I was like, "Okay, how about we do it like this? I can say the things I know about Mia and then I can say a thing I don't know about Mia yet. And then that's the transition."
So the thing I didn't know was how she got to Utah. So if you listened to the episode, I'm like, "Oh yeah, Mia Love. Um, uh, her parents were Haitian immigrants. She grew up in New York. I think I said that. And uh, but I don't know how she got to Utah, how'd she get to Utah?" And that worked out. But I am putting my foot down for always being the person that doesn't know the thing, especially as a woman, you know. I know. I know a lot.
And just the call myself out one last time quickly, I just did this on the podcast episode this week actually with um, with Hansi. I was like, "Oh, I've never thought of this. Tell me about it." And my husband was like, "what are you talking about? We had a conversation for hours about prison gerrymandering. Of course you've thought about it." And so, yeah. You know, it's a work in progress.
Rund: I mean actually to that point, I think -- so early on when we were trying to figure out like, how do you banter on tape. Right? And, um, can, we didn't always get that right. Um, and, and the thing is, I think people could hear when we didn't get it right. And that also applied to questions that seemed like we were pretending to not know something that we knew and we realized, we were like, "okay, there's plenty of stuff we don't know." I mean it's definitely with the definite, with a like a historical, I mean there's some topics that I just don't know much about and so yeah, there are a lot of, there's a lot more than, you know, questions that are maybe like seem a little more basic. But they're just, you know, that's where my, maybe my knowledge like ends on something. Right.
And I think we started telling ourselves like we should only write in a question, um, that feels sincere or like, authentic, something like we would actually like, think about at even even if like, you know, sometimes an interview almost stage something so that the interviewer can like, really break something down. Like, as if you are like an alien coming into it and like you don't know. Right? Like you know, you've literally landed from outer space. Like explain this to me. Right. That's like a, a go to thing. I mean, even when we were framing questions like that, we were making sure that it still sounded like it was framed in research. Like you had done your research to get to a point where like you were asking that question in some way because, because yeah, the it -- for a woman especially, I think it really is easy for people to write you off, unfortunately. Right? Um, particularly if you're a younger woman. Right? And like, it really, it like there's, um, something about just the tone of your voice that, that makes people think, "Oh, you must not know as much." And um, and so, you know, with that in mind, it sucks and it's unfortunate that that's the, the reality you're up against. But finding these workarounds is so important.
Shereen: Um, a really easy one: "For people who may not know.." you know? You could just do that instead of, I may not know or I don't know, you know? So that's a quick trick.
Um, okay, so time is running out. I'm going to, um, obviously we have some aspiring hosts in the audience. I, I would actually like to hear you clap or yell or something if you are an aspiring host. Yes. Good! Exciting times. Um, I was hoping that we could all share some advice for you all out there. Something that you wished someone had told to you that maybe they didn't. And Alice, I'd love to start with you. Some advice for aspiring hosts.
Alice: Yeah, I love that we all talked about the kind of labor it takes, because I do think a lot of people who are getting into podcasting or just our listeners have no idea the amount of care and effort it takes to produce one episode, much less an entire season. So, you know, for all the aspiring hosts out there, you know, just know that there's a lot of work that happens even before the interview, or you know afterwards during the editing process. You know, I think, what it takes is to make the guests comfortable ahead of time. Because sometimes they need information on you know, what to expect, and you know, reassuring them that they're going to do great. You know, especially if it's their first time on a podcast. Because I think we should always remember that it can be really intimidating and, you know, they're putting their trust in you. So you know back to the whole responsibility thing, it's a big you know risk they're taking, spending their time and energy. I guess my other bit of advice is that, you know for hosts is to kind of resist centering yourself, by inserting your thoughts or opinions constantly, you know, during an interview. Because -- this is just my philosophy -- but you know, I want to let the guests shine and you know, just be, as a host, to really act as a facilitator and guide and to always show gratitude to the guests at the end, so those would be my bits of advice.
Shereen: Misha?
Misha: So when I started hosting, I definitely was imitating other people and it took me a while to unlearn that. So I highly recommend that you don't imitate anybody. I know it's a natural instinct and it's okay if you do, but do anything it takes to sound like yourself. Like if you need to record yourself while you're in the bathroom because that's where you're most comfortable, do that. If you need your partner or your parent or your best friend in the room with you and just have a conversation and have them ask you questions that prompt you to say the lines of your script, do that. Like literally whatever it takes for you to feel like, and to assume your natural tone of voice and your natural humor and your natural physical demeanor. Um, I think that's the place to start. And if I could go back, that's where I would've started instead of trying to sound like Ira Glass because I don't look like Ira Glass.
Rund: Um, yeah, that's good advice. Um, yeah, I think the first piece of advice would be like, don't be afraid to like, just fail. Like honestly just try things and a bunch of stuff isn't gonna work out, but that's how you're going to find the things that do work out. Um, and I mean that in terms of interviewing, in terms of when you're tracking, in terms of like stand up, sit down, like, you know, see what works. Like, you know, maybe write it out, maybe don't write it out. Maybe like have someone write it out for you. Like, you know, everybody's going to have a different style. So, um, I think you need to just try things and going along with that, be open to criticism and try not to be defensive about it.
I think I struggled with that um, initially especially it's an ongoing struggle, but I think especially at the beginning, all of a sudden, especially if you're a producer and you're coming from that, you're not used to having you yourself be the part of the package, right? All of a sudden you're part of this thing that you're putting out in the world. Um, it's very vulnerable. Like you have to be vulnerable. You have to be open to feedback because that's the only way you're going to get better. It's the only way you're going to realize what works or doesn't work. Um, and, and then, um, you know, in terms of the creative process of it, just, um, one thing we tell ourselves on, on, you know, on my team is like if we listen to an episode a year from now, we hope that it sounds so much better than it does right now. Like we want to keep growing.
Shereen: Yes, and it will.
Rund: I mean yeah, I hope it does. That's, that's our goal. Like, we want to listen back and be like, that was okay, that was good. But, but like we've gotten better and the only way to keep getting better is to be like really honest with yourselves as a team, to have a lot of space as a team, to be like open with each other. Um, and final note on that note, if you end up as a host, um, I think it's so important to foster an atmosphere of like kind of an egalitarian atmosphere. There's a lot of top-down approaches and maybe that works for some teams, but I know for, for our team it was super important to Ramtin and I from the beginning to make sure that everyone felt like they had a voice. And I think the product is getting better as a result. And so yeah, that's my piece of advice.

Shereen: Trust your team. Yes. I love that. Uh, I, be nice to yourself. It's hard. And one thing that I have to say is I cringe every time I listen to myself. Um, but the more reps you put in, the better you become. That definitely happens. You will sound better a year from now. Um, so just remember that and try to be gentle and kind to yourself. That's it. Um, go forth and host. Thank you, Alice.
Alice: Thank you everyone.
Dessa: That was Shereen Marisol Meraji, Alice Wong, Misha Euceph, and Rund Abdelfatah, speaking at the 2019 Werk It festival.
Both the festival and the podcast are produced by WNYC Studios and are made possible by major funding from the Corporation for Public Broadcasting with additional support from the Annenberg Foundation.
Event sponsors include Luminary, Spotify, Spreaker, Acast, Himalaya, and the Women's Foundation of California.