The Present and Future of Podcasting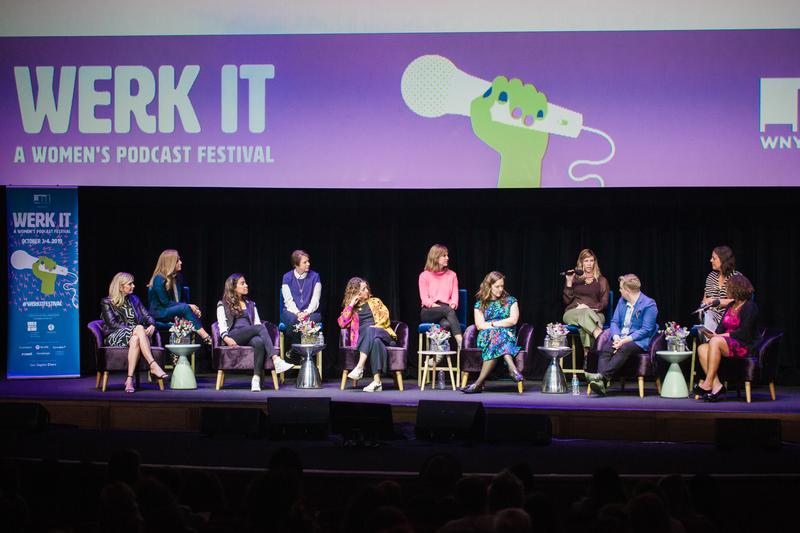 Transcript
Kerri Hoffman: "... but I've seen lots of creativity and you have to apply the same amount of creativity that you do in making your show as to thinking about growing audience and revenue. And the most important thing is audience first, money second."
Dessa: We kicked off Werk It 2019 with a summit featuring some of the most accomplished and innovative leaders in podcasting share what they see as the biggest challenges, opportunities, and trends happening right now.

I'm Dessa, and this is Werk It: the Podcast, a compilation of some of the best moments from the live event. Here to introduce you to our panel is moderator Depelsha McGruder, COO of New York Public Radio.
Depelsha McGruder: This year the Werk It team decided to bring together 10 of the most powerful women in podcasting to have a conversation about all types of things that we're going to be talking about throughout the conference. So let's get started. When I call your name, please come out and take a seat. Jennifer Ferro, she's the president of KCRW Public Radio here in Los Angeles. Liz Gately, she's the head of creative development for Spotify. Kerri Hoffman, CEO of PRX. Amanda Lund, co-founder of Earios.
Kristen Muller, Chief Content Officer of Southern California Public Radio. Christa Scharfenberg is the CEO of the Center for Investigative Reporting. Tanya Somanader is the Chief Content Officer at Crooked Media. Paula Szuchman is the VP of New Show Development for WNYC Studios. Julia Turner is the Deputy Managing Editor at the LA Times, overseeing audio projects there. It's a complicated seating arrangement we have here, and Jenna Weiss Berman is the co-founder of Pineapple Street Media.
So the first question, do you think we have enough people? Anybody from the audience want to come join the panel? No kidding. So as I said, this is a very, I would describe this as a sneak peek. We only have an hour and we have like a powerhouse lineup. So this is a sneak peek of some of the topics we're going to cover throughout the festival just to give you a little snack. So we won't be able to go too in depth, but we'll get through as much as we can. Think of it as a very expensive snack. This is like, with all these people it's like caviar in the morning, right? So there are 10 of you, we only have an hour and I'm going to focus on five big questions covering what you're making, who you're making it for, how you work, and of course, how you're paying for it.
So first up, you know the most important thing, the content itself, programming. I want to talk to you about what type of shows get a green light from you these days. Are you placing your bets on acquisitions, original content, celebrity base? You know, there's a stat that says that 48% of the top 25 most downloaded shows are hosted by celebrities, which is really interesting. So I want to start with Liz and I have to say, I was at MTV at the same time when Liz was Head of Development. In my opinion, she reigned over the golden age of MTV. My favorite MTV shows ever were Laguna Beach and the Hills, any Laguna Beach and the Hills fans? She did that. So I think it's a good place to start because those were unknown, you know, people, you groom talent. But now that you're in this new role at Spotify, how are you thinking about the choices you make for content and balancing all of these things?
Liz Gateley: Sure. Thank you. I'm so excited to be here. That's a fun question, because we are investing a lot in original podcasts at Spotify. We look for, obviously something that appeals to our audience and we serve Gen Z and millennials. So we look at that first. Is it culturally relevant to them? And, is there talent or an event-like story up to at the center? So talent doesn't need to be known talent. We have invested in Higher Ground and the Obamas, and as well as people like Kevin Bacon. But our number one podcast in Mexico are two women that just talk about relevant cultural questions of life. So I think it's exciting to see how quickly we're expanding globally, but it's really about trying to find innovative formats as well. Parcast just launched The Daily Horoscope, and we just launched something with Bill Simmons called The Hottest Take, which is seven minutes every day. So we're trying to innovate. But people follow people in this space. So I think we're excited about what we can do to innovate and find those same type of talent that are out there just waiting to be discovered.
Depelsha: So it sounds like quite a mix. I would bet on the Obama's doing pretty well. I don't know. Tanya, what about you? How are you thinking about this at Crooked Media? I know you have more of a specific lens in terms of the type of content you do.
Tanya Somander: Yeah, that's true.
Depelsha: But how do you make choices?

Tanya: We at Crooked Media would also bet on the Obamas. So, good for you. Can't wait to compete. Yeah, I think we, it's true, Crooked Media has a pretty specific lens about the kind of content we pursue, but we try to broaden what we are a political media company, but we try to broaden what political means. We don't, there aren't a lot of huge celebrities in the political space, and in fact, I think a lot of people like it that way. You know,
so we rely a lot on compelling stories in the space that people might not have heard or chemistry, chemistry between hosts, chemistry or just passion for the topic that you're talking about can often overcome a lot of what you think people are looking for. That's what's so great about the podcasting medium. I think people are looking for a compelling story, especially about something they don't know about. And that's not always true in other mediums. Like they do follow people that they know. So we've been really fortunate to find people who match our mission at Crooked Media, which is to take on heavy topics or take on political issues, but do it with a sense of humor and hope, or at least dedication to figuring out what people can do about it, even if that's just educating yourself. So for example, you know, we have our biggest podcast is Pod Save America and before Pod Save America, nobody really knew who Jon Favreau, Jon Lovett and Tommy Vietor and Dan Pfeiffer were. There are a lot of people who still don't know who they are, but in the podcasting space, they found their chemistry and their approach to politics was really compelling to a lot of people.
At the same time, we also got into docu-series and found activists and a journalist who was working in Oklahoma for her tribe. She's a member of the Cherokee Nation and she had been telling this story over and over and over again about how the loss of land for Native Americans and how the US history's relationship to that, and we found it really compelling. I found her story, she had written an Op Ed and I found it on Twitter and I was like, this is an incredibly compelling story and why don't we let the people whose history this is tell it. And it ended up being, that podcast is This Land, subscribe now. And it ended up being a really compelling story and nobody knew who she was, but now she gets a platform to tell that history that's really personal and she's really passionate about it. And her chemistry around that story is really, is really what sells it. So that's what, that's what we look for.
Depelsha: Great. Paula, without giving away any strategic secrets, how are you thinking about this for WNYC Studios? And Paula is the, has a new title, but that's always been a part of her job, but she is the Head of New Show Development for WNYC, so she's the person to pitch your podcast to. Go ahead.
Paula Szuchman: Oh, I was going to say what are we, no, I would say we're building on the sort of original DNA of WNYC and we're, you know, mission-driven journalistic public media organization. And so we're looking for shows that are a natural extension of what we do best. And so that's reported pieces, it's journalism, conversations and stories that matter. It's always interesting to hear like the trends about celebrity driven podcasts, cause that's not what we're doing. And it's not to say that we would never work with a celebrity necessarily, but we do tend to work with people who have stories to tell and particular kinds of chemistry as well. And then, oftentimes that becomes their platform and then they become household names. And so that's basically what we're focusing on.
I think, you know, I'm also super interested in people who are doing something a little bit different than their natural, you know, what they do in their daily lives.
We have our first podcast coming out, which is a memoir essentially, it's an audio memoir coming out later this month. And it's something that we developed with one of our first Two Dope Queens stars. He was on one of the early, I think in the second season. His name is Chris Garcia and he had a really interesting story to tell about his father. So there will be things to, I mean it's, it's funny, it's about his dead father, but yet it is funny. But it's not a comedy and it's not stand-up comedy and it's pushing him in a new direction that he hasn't necessarily done before. So it sort of takes our strengths as storytellers and brings it to people who have stories to tell but haven't necessarily done that directly, intentionally in their own artistic lives.
And meanwhile we're building on the strengths of our own newsroom, working with some of our investigative reporters on stories that we feel we can bring to life. And, like I said, docu-series as well. And I'm also continuing to look at sort of the weird and wacky, we did a show with a five-minute episodes earlier this year called 10 Things That Scare Me, which was very different and was sort of just short episodes and narrated pieces and also allowed us to bring a huge variety of voices to one single show. We had a 101 episodes and 101 different people talking about their fears. So we continue to really focus on different voices and giving them platforms to speak. And then through that we can develop new shows and new offshoots with them. We're already working with some of the people who've been on that show as well.
Depelsha: Thank you. And Christa, what about you?
Christa Scharfenberg: Yeah, so the Center For Investigative Reporting is a fairly small nonprofit and Reveal, our radio show and podcast is an hour every week of deeply reported investigative reporting, which is incredibly expensive. So we are placing all of our bets on one show.Really can't do anymore. But within that show I, I think we are trying to be as experimental as we can and to try as many things as we can. One of the ways that we managed to pull this off, everyone in public media said we'd never be able to do a whole hour of investigative reporting every week and so the magic of how we've done it is through tons and tons of collaboration. So about half of the stories come from our newsroom and half come through partnerships with other newsrooms and freelancers around the country and around the world. And that really helps us just kind of blow open, you know, the potential for the show, it helps us with audience development and helps us bring new voices to the air. We care very much, especially for this kind of work that the voices that you hear on the radio show are not sort of typical white men who have done investigative reporting traditionally. And, and so being able to go outside of our newsroom and develop new voices from other organizations around the country has been a big part of our model.
And we're also, within our newsroom, for 2020, we're in the process of developing two serialized stories that will be in the Reveal feed. So we don't really have the resources to do spin-off stories. So kind of within the format of the show, we're experimenting with other ways of telling stories over time next year. So two of those are coming in the first half of next year. And in terms of celebrities we have, we've invested in Al Letson as the host of the show who likes to think of himself as a celebrity. I don't know, I think we're turning him into one.
Depelsha: Great. Thank you. So now I want to shift to talking about the audience a little bit.
So a few stats, the stats show that 22% of Americans are now listening to podcasts on a weekly basis, that's a lot of people, but there are more than 700,000 podcasts available, 29 million episodes in 2019. So that's a lot of stuff to choose from, right? So I want to ask you like, how are we solving, I'm gonna start with Kristen, how are we solving the discovery problem and, you know, how do you think about audience when you're making stuff? Like how do you think about who you're trying to reach, you know, audience segmentation, acquisition, how much do you leverage, you know, your main radio platform to attract audiences? Are you going after new audiences? Just where does the audience fit into your calculation of what you're doing?
Kristen Muller: Well I'll just say we were all in the green room before and this, I think this was the question everyone was hoping they wouldn't get, because we're all like, "I don't know, who knows? I mean, God, why would we know that?" Discovery? I mean it's, you know, it's like in the stone ages, right? It's still like me calling my mom and saying, have you heard? And then of course just trying to find placement with like-minded shows and get some kind of trade going. In terms of using our broadcast signal to get audience, it's, you know, it is a great thing to have a, you know, blasting out to tens of thousands of people that you've got a new show for people who already, you know, listen to or accustomed to listening is great, but it's a different kind of listening. Like the radio listening is very different than podcasts listening. And I don't know that there's any data to support that a big radio promotion contributes to downloads. It certainly helps build awareness and branding.
I think for public media, I mean this is a really a fortuitous time for this conference. We launched a studio earlier this summer, it's called LAist Studios and we're going to be investing heavily over the next three to four years in podcasts. And just yesterday we had our first kind of little mini in-house upfront where we greenlit a bunch of projects and all the projects really had to speak to several different criteria. One was the audience, like how does this, how does this project put us in a new place with the audience? And we're aiming of course for younger, diverse and in LA, we're really trying to also double down, not just on the specificity of this place, but also who lives here. So 40, this is a, for those of you who are new to LA, this is a majority minority city. 44% of residents are Latina or Latino. It's, you know, really we are 'home of the resistance'. We are a progressive, diverse, future-facing and we want to embody that in the work, and that means including and providing a space for Latinx creators. So we are committing to 50% of our development over the next two years will be, involve Latina, Latino, host, producers, some kind of talent. And that's, you know, that's us committing to ourselves to get away from ourselves really in public media, which as I'm finding is incredibly hard to do. And my pod team out here is, I'm sure they're out there and they know how hard it is for me to get away from myself. So, that's the goal and it's really hard to do.
Depelsha: Wow, I didn't realize how perfect you were to answer that question but I actually got chills when you said that because the thing when people talk about reaching new audiences and diversifying audiences, rarely will they take a bold, you know, they won't usually put a stake in the ground like that, that's that clear and that bold. So I just applaud you all for doing that. That's amazing.
Kristen: Well, we haven't done it yet.
Depelsha: Well, to say, I know--
Kristen: But I'm saying it. This is like public accountability right here.
Depelsha: Right, but to say that's the aspiration, I think is really bold.
Kristen: Yep, that's the aspiration for sure.
Depelsha: --and admirable. So I want to ask the same question to Julia, where's Julia? How are you all thinking about this at the LA Times and how much do you leverage, you know, the paper versus going after whole new audiences?
Julia Turner: Yeah, so I just joined the LA Times nine months ago and it's an incredible newsroom of investigative journalists, columnists of all kinds of skills and talents and you know, with shows like Dirty John, we've had incredible luck with turning investigative reporting into really fascinating, true crime narrative that helps illuminate really interesting stories. I think, as I think about growing our audience here in Los Angeles, the paper is at this really interesting moment and what you said really resonated where the media entities in Los Angeles have not necessarily been produced by or really for the entirety of this city. And I think we see Los Angeles as our greatest strength because the issues that are important here, the stories that are important here, the people that are doing the journalism and that we're doing the journalism for reflect where this country is headed and where the world is headed. So if we are authoritatively covering immigration, climate, Asia, Latin America, a more diverse American populace, you know, who is enfranchised and disenfranchised by our current political structure, for example, those are all issues that matter a lot here in Southern California, but they also matter everywhere. And I think we feel we have the opportunity to build a national news outlet by really focusing on the issues that matter here regionally.
In terms of podcasts discovery, I think the paper gives us license to produce work that helps people discover that podcasting exists, because we can do an entire special print section and say, "Hey, here's thousands of words and fascinating photographs that are a story, but if you want to experience the story in another format in a different way, maybe you should try this thing called podcasting." And we've seen significant pickup from both print and digital iterations of stories that we're also doing in audio.
I also think, I'm excited about cultivating talents within the newsroom and using podcasting to help build the relationship of people in the city with the newspaper. The LA Times has been through a lot over the last 20 years, you can Google it if you want to read all about it, but, you know, I think we, we feel a real urgency around taking the opportunity we have with new ownership and new investment to be a resource for people who live here, for people who want to understand the issues here and people around the country in the world who by understanding the currents of this place can understand everything. And I think bringing the talents within the newsroom to life is something that podcasting is really good at. It can create that intimate relationship with a broader institution that has a broader civic purpose. So in a way, the newspaper is marketing for podcasting, but also podcasts are marketing for the newspaper. And we're planning to work both of those angles.
Depelsha: That's great. Amanda, where's Amanda? How do you--
Amanda Lund: I can't believe it's my turn!
Depelsha: --think about this? You have a very clear positioning in terms of who you, you know, who you are for. So how do you think about audience segmentation and reaching that audience and breaking through the clutter?
Amanda: So Earios is a women-run network. We just launched in July, and all of our podcasts are hosted by women. And I have to say just real quick, if five years ago I could see myself on this panel, I would just go, "Dear God, what have I done? There's been a mistake!" So this is very cool. But yeah, we say at Earios that our shows are by women, but they're for everyone. So we're not, when we're creating content, we're not sort of thinking, "Oh, what will women want to listen to?" We're just trying to make shows that we like and hope that a lot of people will like.
But that is something that because we've only been out for a couple of months, that we're, that's sort of our next hurdle is to focus on -- we have about 10 shows -- just trying to build those shows out and get an audience for them. But, I will say that I am a creative person and I've been podcasting for 10 years and my co-founder, Maria and I, we had a podcast, or we have one called The Big Ones, and -- did I hear a little whistle? Thank you. But anyways, so, and we were struggling with the same thing of building an audience for it and cutting through the noise. And I think there's like a number of downloads we were just plateauing at. And that's part of the reason, to be honest, why we created a network. We were like, "Oh, we can't really get this show on a network. We thought that that support would really help us grow. And so we'll just create our own damn network." And turns out, it's still a struggle, even when you have the resources. So I'm definitely taking in what all of these other women are saying about ways to sort of build that out.
Depelsha: That's wonderful. Congratulations to you.
Amanda: Thank you!
Depelsha: And just one stat shows you're, you know, heading in the right direction. We have stats on new podcast listeners, like people who just started listening to podcasts in the last six months and 53% of them are women. So, you have the right audience.
Amanda: Right, yeah. That's great! Cool.
Depelsha: Thank you. So now I want to shift to talking about what makes all of this possible, which is money and how we monetize podcasts so we make a business of it. And you know, how are you doing it currently? What are some other opportunities to monetize better? What's the next frontier? And I'd like to start with Jenna. When I told her I was going to ask her about monetization, she was like, "Oh, I don't know." Meanwhile, she just sold a company that was created less than three years ago to Entercom for an undisclosed amount of a lot of money. So I think you're doing okay on monetization and I think you're the right person to start with. So I want you to talk about that journey. Like, was that intentional? Did you plan to create this asset that will one day be, you know, acquired by someone else? And I also know before that, you had a unique business model in which you were doing both creative projects and commercial projects. So just tell us how you have thought about monetization and what you're going to do with your new found earnings.
Jenna Weiss-Berman: Money? Oh my god, So embarrassing. I do love money, it's true. Also, I'm so happy to be here. This is the only conference that I really love for podcasts and I'm embarrassed that my feet don't totally touch the ground, but it's great to be here. Wow. This is weird. Okay, I'll just move up a little, power pose.
We did not set out to create something that was going to be valuable. I mean, I didn't even, I'm like, that's a terrible thing to say. I mean, it just wasn't like, it wasn't the goal to like sell a company in three years. And honestly, like, I never thought of myself as an entrepreneur, actually. We had so many people coming to us who were interesting, cool institutions and people like the New York Times and Hillary Clinton and asking, like, how do we make a podcast? And we saw sort of a space in the industry for something that we could do, which was be like a production house, which there were plenty of networks, but there weren't really like companies that were doing high level production. And so we got off to a good start. We started with the New York Times, Hillary Clinton, Lena Dunham and a bunch of brands, controversial women actually is who we were doing a lot of things for. But yeah, we definitely mean to do this whole thing. And I'm excited about it and it's been really fun. And mostly we have like a wonderful staff who I think are happy and that's very important to me.
So, but in terms of monetization, I know a lot of people talk about like podcast discoverability being so broken and I actually think podcast sales are more broken than discoverability. It's still like, people are almost always selling ads based on these like CPMs and it's a lot of these sort of like direct response things that don't bring in a ton of money unless you're doing really, really, unless you have like a massive audience. I think I've heard that 1% of podcasts make money and that's like, that's a bummer, I think. And so I would really like to see the industry move in a direction of like finding sort of like more presenting sponsors and doing, you know, exciting, interesting ads that are better than some of the things that we're hearing. And some people are already like, Gimlet's doing a beautiful job at that, we're trying to do some of that. But I think in terms of like the way that we look at monetization -- and if you're a freelancer, I think that this really like also applies to to whatever you're, to like the way that you should be looking at money, too -- is like we try to balance things so that like we're doing a bunch of stuff for brands that's paying really well and then we're using that money to make things like, you know, the Janet Mock show, which we did a few years ago and you know, to make things like The Clearing and Missing Richard Simmons, those also did pretty well financially. So we got lucky on those in the end. But I think just like thinking about business in terms of like these are the things that are going, like these are the things that will make money, this is the art, and finding a combination that works and that like, you know, keeps the business going. And it worked for us. Like we never, we never took any venture capital or anything like that. We just kind of figured out a good balance. And I think that that's really possible right now. That's all I have to say.
Depelsha: That's an amazing story. That's more than enough.
Jenna: Oh, thanks!
Depelsha: Jennifer, how are you thinking about this at KCRW? I know you have lots of events, for example. Is that part of the monetization strategy or when you think about monetizing podcasts?
Jennifer Ferro: Yeah. Thinking about monetizing podcasts, ugh. Well, we try to look at it holistically. So we are a public radio station based here in Los Angeles. We are really focused on being a brand that represents, I don't want to say we're focused on being a brand, we're an organization that really focuses on reflecting Los Angeles. And that takes many forms, both podcasts digital content, in-person content and over the air. So, you know, we have not found the magic formula that means we can all go like, to Hawaii because we've made so much money on our podcasts. But if you look at podcasts as part of another way to serve an audience or a new audience that's coming in and that allows you to stretch it, that's the right way for us to look at it. I mean, we'd love for those things to be able to stand alone. We do a combination of originally created, you know, kind of eight episode series. We do weekly shows. Our most popular ones are political shows right now, Left, Right and Center and All The President's Lawyers. Those have really, very engaged audiences as you can imagine at this time of, that we find ourselves in. And then we have other shows like Good Food, which has this devoted following of people who are totally into food. And then we have a pie contest every year that brings out 5,000 people that bakes, people bake like 400 different pies and we have celebrity judges and it's just a big community experience. So, when we look at it holistically, all of this makes sense. If we were going to start out and just like, okay, all of our fortunes are going to be focused on podcasts, we'd be really poor.
You know, I think we're all trying to figure it out. I feel like we're in this kind of this ebb and flow of this environment where there's, you know, like when blogs first started, everybody had a blog, everybody has a podcast, and it's like, how do you, how do you stand out and, and get noticed? And I think we'll, we're approaching a period of consolidation in some point in the next five years. And, you know, there's a lot of money floating around in this space, that's going to purchasing things and stuff like that. But, you know, I don't know. I talk, there's people you can talk to in this industry, you'll have millions and millions of millions of downloads and they haven't really made any significant money off of that through ad sales. So, I don't know. I'm interested to see how it goes. I mean we have the luxury of having, you know, a large community of people that really care about what we do, and so we can, we're just trying to serve that community.
Depelsha: And Kerri. How is PRX thinking about this? You've been very innovative in your approaches to business models and creating a whole separate brand for your podcast studio. What do you --
Kerri Hoffman: I mean, I actually spend my day and most of my nights thinking and worrying about money. So I have a lot to, I've been sitting here listening and thinking a lot about our approach and you know, just to pick up some threads that you've heard here this morning, I mean, podcasting actually is a very entrepreneurial endeavor. And so just by show of hands, how many people in the audience consider yourselves to work for yourself? It's a lot. So you worry about money too. And, as the industry grows, there's greater and greater consolidation. And there will be a day when individuals who used to be able to knock on the door of agencies to sell their podcasts, they won't talk to individuals anymore because that's what consolidation does. There's been about a 1.2, 1.3 billion dollars worth of investment in the podcast industry in the last two years. That's largely fueling acquisitions and ad tech and all of this kind of stuff. So I have a couple of, I guess tips for you to take away that I hope are helpful to you.
One is, one of the most predictive things about either raising money or growing audience, they're in parallel, is frequency. Media is habit, and it's one of the hardest things for people who work for themselves to tackle. But in order to grow an audience, doesn't mean you have to kill yourself to get a weekly podcast, but you do have to have something that's regular and that people can predict and count on because they have other choices and their habits move on and it's very hard to get them back. So you really have to think about frequency. You have to think about your length. We like to, we like to think about revenue in all kinds of ways. I sometimes, I used to say, there was a time when I used to say, "we think about revenue is a three legged stool," and you need all three. You need some licensing, you need some, you know, listeners support and then you need some ad support. I don't say that anymore because it's not true. There's so many creative ways that people are earning revenue and there's so many ways that you should be thinking about it, some that haven't been tackled yet. So you have to think of yourself as an entrepreneur. You have to think of yourself as like way beyond just having audio skills. And I'm so sorry if that sounds like bad news to many people, but it's just not enough to be excellent at audio making. You actually have to really understand and have a greater fluency around metrics and around what works for other people. And you have to really improve your network abilities on who can help you and who can trade, like Kristen said, what are the like shows that you can trade with?
I'm very excited about the entrepreneurial, about podcasting. I think it creates opportunities for women, for people of color, for underrepresented voices all around the world. So I'm kind of bullish on the fact that it's not as consolidated yet as it could be. So I think that there are things that we can all do to help pioneer new ways of thinking about revenue. But it does take old risks and it does take getting back up and resiliency for things that don't work. My other last piece of advice is try not to have epic fails. Try to really create, I know that's so obvious. But we have a lot of shows that, we have a lot of shows that are super successful, some of the most successful in the world, and we have shows that are big and not successful. We have a whole range, but I've seen lots of creativity and you have to apply the same amount of creativity that you do in making your show as to thinking about growing audience and revenue. And the most important thing is audience first, money second. And that's just the way it goes. You just have to have enough of an audience first.
Depelsha: Thank you. Just one question for the audience, like how many people pay to listen to podcasts through subscription paywall type service? Okay. It looks like about 10 to 15% ish. I think maybe, it's interesting. Do any of you have thoughts on the new subscription models and do you have a philosophy on whether podcasts should be free for all.
Kerri: I think about this a lot too because I just said that we have to be creative and we have to figure out how to find audience and deepen that engagement. But I do think that podcasting is still in the toddler stage even though it's been around for about 15 years, the timeframe that most people know and talk about is really in the last five basically. And as I just said, there's been a lot of activity in the last two. So I think that we want to be mindful of introducing friction. And it's just that simple. If we introduce a lot of friction, it will be hard to grow audience and audience first, money second. So like, that's just a mantra to keep saying.
Paula: I agree with you 100% and also disagree. Well I don't know, I mean I grew up in news and in newspapers and then, you know, news websites where you know, a lot of things were being given away for free. And so I, philosophically like I think it's totally good to pay for things that you want to consume or watch or read. And so, and I also think, I work in public media, so there's my sort of personal and my professional, like we, at WNYC we make things for the public, and so that's one thing. But the other thing, I think just for the industry writ large, you know, the more Luminary can put billboards around New York City, the better it is for anyone who's in podcasting. So there might, it might be that, you know, you don't want to spend $7.99 a month and that's fine, but it means like a lot more people have heard the word "podcast" and that is good for me. So I feel very excited about the subscription services and, um, I should probably subscribe to one. And I will when, soon.
Kerri: Well, we need more experiments. I mean that's your point. We need more experiments, we need marketing dollars--
Paula: All that, yeah.
Kerri: Like it's all good. It's all additive and we need excellent content and we need to, you know, grow the on demand audience for sure.
Paula: Yeah, I mean, if there are some shows that, you know, they can exist because Luminary is going to, you know, buy them for zillions of dollars, then that's great. But if it doesn't work out, they can take their show elsewhere. But yeah, I mean, experimenting is exciting for me.
Depelsha: Yeah, it's early. The market is still shaking out. I just want to shift to another topic on diversity in podcasting. So in some ways this, this group is very diverse in terms of backgrounds, types of organizations. And in some ways it's not, I mean, we know that in the upper ranks of podcasting as a whole, women are still underrepresented and people of color and transgender people, non binary people even, you know, less well-represented. So I just want to know how are you thinking about that in your organizations and are you seeing shifts in that regard in terms of the type of people who are in decision-making positions? As I said in my opening remarks, I think it matters a lot who gets to decide--who gets to decide what's made, who gets to decide what perspective is told from, what talent will be uplifted, what voices will be uplifted. So how are you all thinking about that in terms of your organizations?
Julia: I will say being out here, you know, we read Variety and the Hollywood Reporter and all those those places and there was an amazing Variety cover earlier this year that did seem to suggest that Conan O'Brien had invented podcasting. I was like, "uh?" I mean it's a good show, but. No, I mean I think because podcasting has been such a grassroots, ground-up medium, it is actually a place where more types of people have been able to make a name for themselves than traditional media where you have to get greenlit by, you know, some, a couple of us were talking backstage about a room full of literally 20 white men that they had to go through on the way to getting their job.
So there is a diverse talent pool, but as podcasting consolidates, professionalizes you know, has to attract the attention of venture capitalists who are suddenly like, "there's a pile of money over there? Oh, hello. We'd like to come there too." There's a lot of responsibility I think on all of us and leaders across the industry to make sure that the dynamics that can arise when a more traditional and money-oriented and finance-oriented and guys in suits, sets of pressures apply to the industry. And I think, you know, we're really thinking about that and we're sort of building an in-house podcast team from scratch at the LA Times because we've done a lot with partnership in our early experiments in the medium, and I think it's just essential that as we grow, we represent the city, we represent the broadest possible perspective of voices. Because I think that's part of why podcasting has been successful is that people hear in podcasts stuff that did not come to them necessarily over the air waves.
Tanya: I just wanna say that it could not, I have to say this. It's so, can I swear? I'm not gonna swear, but just know, it's so fucking important that you have people who are not represented behind the scenes making decisions from top all the way down. Because when you, it's so important and yes, that room, the 20 white men room was my room. But it was, it's you can see it every day at Crooked where, you know, the founders of Crooked Media are three white guys and when they started Crooked Media, they made, they told themselves that this company had to be what they weren't. And they had no idea what that meant, but they put it out there and they were like, we have to make this true. And so they hired myself and my counterpart, our COO, Sarah Wick, two women running the company, and we proceeded to change their ideas and change, just define for them what that actually meant. You can put out the mission statement that you want to have, like you want to have diverse storytelling. You want to have you know, representative voices on your network. But unless you put the people in power who understand what that means to make that real, it's not going to happen. The gap of experiences too wide. And so I'm constantly learning from the people that we hire and we push ourselves really hard to make sure that that mission is really, really real because it's about learning from each other, in order to open the aperture of what experiences and stories you're telling. And you can't do that if you don't have people at the table who can tell you how to do that and what stories you should be telling. And so that's as much something I'm telling myself every day, as I'm telling my bosses every day, as like the people who work at our company are telling me, so yeah, you gotta do it.
Liz: Well said. I completely agree with that and I know that firsthand from actually working at Lifetime where we made the decision to hire more women and I hired my head of unscripted was Brie Bryant and I would not have been, the R. Kelly doc would not have surfaced if she wasn't my head of unscripted development. And we're doing the same at Spotify. And one thing I'm really proud of that we've started is Sound Up Bootcamp, which is a program to surface diverse women's voices. It's -- 18,000 women applied the first time we did it. We picked 10 winners, flew them all to New York, gave them the training, many partnerships here supported that training, and three finalists got $10,000 to make their podcasts. And then we chose one of them to, Titi and Zakiya, who are two amazing Duke grads that are now a podcast. We're taking that global, so we're taking it to Germany with LGBTQ and to Australia. So there are things you can do within your company, too, just -- but ultimately it just comes down to saying we're going to hire more women as decision-makers. And I'm lucky to work at a company where I'm a senior woman, but our Chief Content Officer is also a woman, so.
Depelsha: Great. So I want to go to Christa, but I just have to say I discovered Titi and Zakiya on my flight here, they're available on Delta Airlines, Dope Labs. And it was, I didn't want to get off the flight, like I was on episode two and it's just really compelling. So kudos on that one. Christa?
Christa: Yes to what everyone else has said. And I just wanted to pick up on Tanya for a minute that it's one thing to build a new organization. You also, sometimes organizations like mine that had been around for a long time, you have to actually reinvent and you have to be willing to make hard decisions and sort of change the leadership from the top. And I was very aware this morning of what this panel looks like and, and I think about my role running my organization a lot. And I think my job, frankly, is to rebuild the leadership of the organization and then get out of the way, so panels like this look different in the future. I think you just have to make that kind of commitment to it. And also I know at least in the journalism world and I assume and kind of every sector, there's been a lot of focus in recent years about better hiring practices. And I think frankly that's the easy part and I'm really tired of people talking about it cause if you haven't figured that out, forget it. It's really about what you do once you have a diverse organization to make it inclusive and equitable. And that's the really, really hard, painful work that is like messy and, but I think you have to, you have to do it or it's not going to sort of be infused through everything you do and the audiences that you're reaching and the stories that you're telling and who's telling them and how you're telling them.
Jenna: Yeah, I've been thinking about podcasting, and I haven't verbalized this yet and I've been taking notes right here because I'm not so good on stages. But I have been thinking a lot of podcasting in like these kinds of phases over the past 10 years, I guess. I feel like 10 years ago, a lot of us know, like it sort of started as kind of like an art bro medium and like a lot of great shows came out of that. I have no problem with those guys. But, it was very, like kind of like, like cool white guy-dominated, and then I feel like maybe about five years ago it started to become more democratized and there were a lot of good people coming into the space who were really investing in new voices. And that was when we had like Two Dope Queens and Another Round, and like Code Switch.
And now, I'm eternally optimistic about podcasting, so I don't want to sound negative right now, but we are kind of in a phase that started maybe a year ago where it's becoming more and more run by business bros who are coming into it, seeing this as like a big kind of like financial opportunity. They know like the word podcast is hot. They don't really know that much about it, but they know that they have to get in, you know, right now. And I'm in more rooms with like white businessmen now than I ever have been in this industry. And that's why I think like conferences like this are so important. Like we all need to be talking to each other. We, I want to talk to you all about like hiring you and I think a lot of us want to talk about that. And I think it's like more important now than ever before to work together and get like, you know, more women and non-binary people, and people of color into more positions of power, which you know, is, it's like an easy thing to say, but it's a thing that we all have to work on more than ever. So that the business bros don't take us all down.
Depelsha: Thank you. Just quickly, one more then we're going to move.
Kristen: I'll make it very quick. Actually, I was inspired by a conversation that Jenna had on this stage two years ago about this very topic, when you were forming your company, you talked about the values that were gonna underlie basically the infrastructure, the scaffolding was all values. And I think as talent becomes more in demand and the money and the pay gets higher, that conversation about being a place that is equitable, like that is a place where smaller companies and public media can really thrive. Because we have that ability to really elevate those values and drive them through the workplace in a place, you know, not that Spotify and Crooked because they're so big or you know, don't have that. It's just that it's a mandate in some part, and you know, I also think as someone who is older than the people, much older than the people I supervise, there is on the part of managers, you have to lean in, in a totally different way to the younger staff so that they are empowered and that they can make decisions and like, you know, Arwen, I'm sure you're in the audience, like she's, you know, she'll just say you're wrong on this and you know, it's like I have to actually sit back and think, am I wrong? And I'm usually wrong actually. So I'm very lucky that I have a team that is always right, so.
Depelsha: That's a very, very big point. Empowering your team, but also just have to say to all of you like, don't be afraid to take on a leadership position or a management role because what I've seen far too often is like, there's a lot of complaining about lack of diversity, you know, in terms of gender identity, people of color in leadership roles, but often we would go to people who would be great managers more often than you would think, we get the response, "well I just want to be a reporter. I just want to do, I just want to do my editing. I don't want to manage people." And you know, you kind of have to for this to change. So I just want to encourage you to take the challenge because we need you. And often the people who would be the best managers don't want to be managers. So I want to shift gears to a big picture question. What do you all see, we can have a number of people answer this as the biggest challenge in podcasting in 2020?
Jennifer: Well I'll just jump in cause the mic's closest to me, I think it's, I do think its discoverability and money. I think the advertising situation is, I don't know, I don't like the way it is. People have mentioned it up here. So I think that's the biggest challenge. It's really finding an audience. And I think the path forward is to find a network that makes sense and building our own consolidation before we get consolidated out of existence.
Paula: This is actually going back to agree with what Kerri said, but I think there is a little bit, I mean in my job, you know my job is to come up, is to find people and ideas that will lead to really powerful, impactful, immersive shows. And it's easy for me to get distracted by the audience question, you know, this needs to be financially sustainable, audience sustainable, all that. And it can really, I think for creative people and for makers when there is so many new shows flooding the space and so much money flooding it, it can be very distracting to actually what is the work that you're making. And so it's a little bit of like, I mean it's a little bit of a hippie answer, but I just feel like all of this can be very distracting for the work that you're trying to do. And it's really important. I mean, that to me is the biggest risk that some of the best work won't get done because we'll all be thinking about all these other things we have to do, which are really important as we're all saying. And I totally, and I get it, so I don't want to undermine that. But I do think if you're a maker, you have to go out there and expose yourself to different interesting things that are going to get your brain firing so that you can end up making the really special work that will sort of rise through and not get distracted by all of this important but distracting stuff.
Tanya: I was just gonna say like, y'all next year is 2020. It's the 2020 election. So if y'all got something to say, I agree with you, say it. Find a way to say it. Like Crooked Media is here. Like if you've got a show and you have something to say, like, truly, I mean, that's all I'm thinking about. Sorry. When you said what's the biggest challenge in 2020? The big orange-haired Donald Trump just like came in front of my face. But, so podcasting is an intimate medium, It's a place where persuasion and convincing and just storytelling can actually change people's minds. So to me it's like if one of your challenges is "I've got something to say, I have a story to share and I don't know where to do it." That to me, podcasting is a great place to start. But you probably have a better, more better advice.
Kerri: No, I'm going to tag team on that--
Tanya: Oh, sweet!
Kerri: --because I like that. I am so glad somebody said the election and I don't have to say that, so thank you. If I could just widen the aperture a little bit and think a little bit beyond 2020 and maybe even borrow from the rear view mirror a little bit. But the piece that I really pay a lot of attention to is how do we keep opening things up in terms of who's participating, who's telling stories The thing about podcasting that's so unusual is that there aren't a lot of gatekeepers and intermediaries right now. And so it's really important that we, and I am, the role that I play for the company, that I am a part of. You know, I kind of talk about sharpening my elbows a little bit and standing up straight to leave some of that room for new entries to come in. Whether we put a lot of money into training and podcast garages and like how do we just keep opening that up, much like what Spotify is doing as well. So I'm a champion of the values of the open web and openness in terms of who gets to say what and how.
So I tag team on that, but I also just want to leave you with one piece of inspiration around this building. I've been thinking about this because I've been at the Ace Theatre a lot, and in 1919, Mary Pickford, who was a silent film star, was one of the four people, and was the first female to do this, who started United Artists and they did it because they wanted to control their own destiny, both creatively and from a business standpoint. And United Artists, you know, is still a company today and she was active up until the 1950s and they built this theater. She designed it. She did -- there's murals on the wall when the lights were up, you should check them out because they are really about artists owning their stuff, telling the stories they want to tell and like really taking charge. This is 1919, so Mary Pickford is like somebody you should be thinking about over these next two days. So she's inspirational.
Depelsha: Okay, so we're down to almost five minutes, so this is likely to be the last question so I want everyone to answer it. This is kind of a lightning round, but you, you know, you have like, what is it, 30 seconds? Okay, so we can just go down the line or however people want to answer. But I want you to share either your favorite podcast, which is hard. I hate when people ask me that. Or you know, the biggest podcasting trend of this year that you think is impacting the marketplace. Who wants to start?
Christa: Want to go in order?
Depelsha: Sure, let's go in order.
Christa: I don't know if they're my favorite, but two that I've been listening to just in the last week that are, I've found some connections between them that have just been interesting. So one is The Realness from WNYC and one is Threshold, and The Realness is about the rapper Prodigy and like goes deep into a slice of hip hop history, and Threshold is about a barrier island in the Arctic that is being threatened by climate change and it also goes into the deep history of that place and colonialism and it's really rich, but both of them are also about science and they've done a beautiful job of weaving climate change science into Threshold and the history of sickle cell into The Realness. And I think a lot about how you present deep and complicated information to audiences and compelling ways and they both, I think just do a beautiful job of it. So, recommend those two.
Jenna: Okay. A trend in podcasting?
Depelsha: A trend or your favorite podcast?
Jenna: A trend is that it's doing incredibly well right now and it's a wonderful industry to be in and don't give up. And if you need like moral support, I'm jenna@pineapple.fm and I'll just keep telling you that it's a great place to be. And I love a podcast called A Woman's Smile, which is a really weird show that only had like seven episodes and was from FOREVER DOG and it's very creepy and weird and great and I recommend it.
Kristen: I'll do favorite because I don't think I can trend cast like Jenna, and I'm also going to be kind of a corporate stooge-y here because I love the show that Misha Euceph produced and that Arwen Nicks oversaw called The Big One about what's going to happen to California when a big earthquake hits. We actually did play a little bit of it on our radio and someone had a panic attack and pulled over. So we had like a real life War of the Worlds situation where everyone was fretting and I was like, "Yes! It's working!" They did a fantastic job on that. And then also just because I'm a news junkie, In The Dark. I mean that was, I think the best piece of journalism I've heard in years. So those are my two.
Julia: I'm afraid to listen to The Big One. I just moved here from New York, like I'm not, I just don't want to know. I've got a total head-in-the-sand about earthquakes. For trend, I just want to stick up briefly for subscription, the subscription model in podcasting, there is a lot of friction in how do you pay and what do you pay for and what's the feed and what are the big yellow billboards. But before I was at the LA Times, I was at Slate and Slate Plus, which is the membership model that really has helped that institution thrive, is very much driven by the connection that Slate's audience has with its podcasters. And I think as we expand our subscription model at the LA Times, it's something I'm going to be looking at closely. But if you can find a way to hook people with the free stuff, then you can sometimes get them to pay for extra stuff. And it's, I think that can be a way to get around some of the barriers. And so I just, it's a medium that is so about forging an intimate connection with people, that I think it's actually really ripe for that model and I'm excited to see further experimentation with that. And my favorite podcast I've heard this year is one forthcoming later this year from the LA Times. So stay tuned.
Amanda: Hi again. So, just real quick on trends I'm starting to see in podcasts there's almost like a template, like a lot of podcasts sound the same or there's a way to do them, or a podcast should be about this or about that. And that can be a really good thing. But I'm also hoping that, you know, to me it's such a playful art form and as a creator, I just, it's so freeing. And I hope that there are other creators out there who are continued, or are going to continue to like push and crack open and do different things, and just be, you know, silly with what a podcast is and what it should sound like. I mean, speaking of A Woman's Smile, that one is just so absurd and wonderful and you couldn't think of it yourself. So I just hope that we're going to be seeing more things that are kind of pushing the boundaries of what a podcast is and it's supposed to be. And if you have an idea like that, Earios would love to hear it, and then -- is it okay to plug your own podcast? Yes. It's not The Big One about the earthquake, but if you add an "s", it's a wonderful podcast, The Big Ones about moral dilemmas, so check it out.
Paula: I'll just say that the podcast that I had just listened to, like all the episodes in a row nonstop that I couldn't stop listening to, it's called The Thing About Pam, it's not like anything I've done and I just loved it. It was just very absorbing. And then Caliphate was another one this year that I just like completely ate up. So recommend them both.
Kerri: I do a lot of listening and I really, I'm gonna pick up some new ones that you've all said, so I appreciate the curation here we're getting. In terms of trends, I feel like what Jenna said, I mean, I feel very bullish on podcasting. I'm very excited about the global wave that's happening. More and more people are getting into it and more and more people are expanding what it means and what it does. So I'm just very optimistic and excited. My, even though I do a lot of listening, the podcasts that I'm the most proud to be part of and I'm proud of our organization for taking such a strong risk on and I can't get enough of, is really Ear Hustle and I just keep going back to it. They do an amazing job and it's a privilege to be working with that team.
Tanya: Yeah, Ear Hustle is awesome. Very good. I really like The Read because it's the best, so I listen to that and occasionally, sometimes I'll dip into Lore cause I like to scare the crap out of myself. So those are two that I listen to.
Jennifer: So I gotta plug, I mean, I really spend most of my time just listening to stuff that we produce because we produce so much. And so I love The Business, which is a weekly show about the business of Hollywood. Excellent journalists -- Kim Masters who hosts that show and it's so engaging every single week. And then I will not give you a trend forecast because I do not know.
Liz: So, well I think Jenna already knows this, but I was obsessed with The Clearing. I just love the found footage, the way the story was told in the intimacy of, and how much I fell in love with April, the main character. And I would say I would like to make a prediction and a challenge for this room. We just, in terms of the discovery question and how we can surface each other's podcasts. So we announced this week that you can make your own playlist for podcasting on Spotify. So if everyone in this room who subscribes to Spotify or doesn't, you can subscribe free, make a playlist, put 10 women's podcasts on the site, and you will discover, you will help hundreds of great podcasts get discovered. We've found your daily drive and playlists to be a tremendous way to surface. And we want to get new podcasts out there so you can post a new one every day.

Depelsha: Wonderful. Thank you all so much.
Dessa: That was Depelsha McGruder moderating this panel of accomplished leaders in the pod biz: Liz Gateley, Julia Turner, Kristen Muller, Jennifer Ferro, Jenna Weiss-Berman, Kerri Hoffman, Christa Scharfenberg, Amanda Lund, Paula Szuchman, Tanya Somanader.

Both the festival and the podcast are produced by WNYC Studios and are made possible by major funding from the Corporation for Public Broadcasting with additional support from the Annenberg Foundation.
Event sponsors include Luminary, Spotify, Spreaker, Acast, Himalaya, and the Women's Foundation of California.