Podcasting for Disability Justice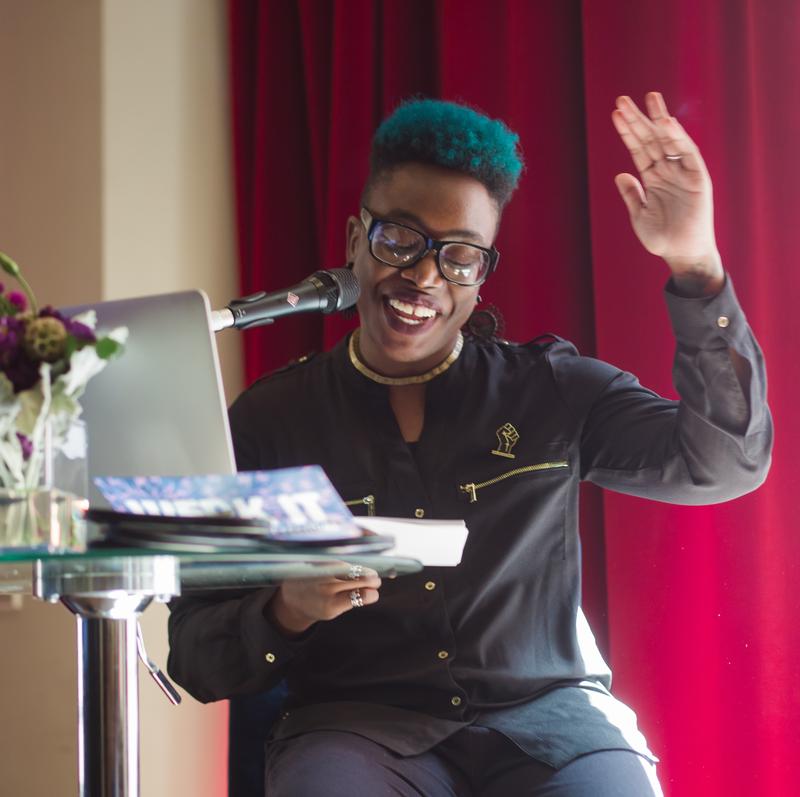 Transcript
So one in four people in the US are disabled, so that means 25% of the population is overlooked and underserved.
Dessa: What we can do as podcasters to serve this large community, making our content more accessible and telling stories where those with disabilities aren't reduced to just being one-dimensional sources of inspiration? Bri M., the host and executive producer of Power Not Pity, has some ideas on how we can make our podcasts accessible and inclusive.
I'm Dessa, the host of Werk It, the podcast -- a compilation of some of the best moments from the live event. This session was part of the Womxnifestos series. They're moments of distilled wisdom presented by people with lived experience and real conviction.
Bri M.: All right, so this is Podcasting for Disability Justice, how you can make your podcast more accessible. So before I begin, I'd like to call in the fact that we are on unceded land. Land that belonged to the Tongva people going back centuries. Land that we now know as California. Um, I want to call in all of the disabled people throughout history who have helped shape a more accessible world.
So I'm Bri M., I'm the executive producer-host of Power Not Pity. It's a show all about the lived experiences of disabled people of color. Um, what a wonderful opportunity it is to be here. Werk It is so special to me. Uh, so I want to give you a chance to invite the stories of the disability community into your mind and your heart because we deserve it.
So who am I? Why am I here to talk about disability justice and podcasting? Uh, I'll tell you a little bit about me. I'm a black Jamaican-American disabled, queer, non-binary alien prince from the Bronx. That's right. That's right. B-X all day. I did three years of music radio in college. I went around interviewing tattoo artists and piercers about gender, class, and race. I worked in the music industry for a little while until I received a surprise in the spring of 2014. So five years ago I was diagnosed with multiple sclerosis and it actually happened only four days after my birthday. Um, so I came to podcasting while I was living in bed. So I started to, um, ask myself all of these different questions about, um, where I was and where I was in life. And I realized that I found a safe getaway space in podcasts. Like How to Survive the End of the World and LeVar Burton Reads. And Levar, if you're listening, I love you.
But yeah. Um, you know, podcasts have the power to expand my worldview and change up how I thought about all these different subjects, but they weren't without their shortcomings. Unfortunately, I started to realize that my safe space wasn't so safe after all. Um, I was gaining more friends. I was learning about the disability justice community and you know, I realized that the voices of disabled people of color were missing from podcasting altogether. So I wanted to do something about it. I started to ask myself all these, all these different questions.
Uh, so some of the questions that I started to ask myself around what was missing was that: Where are the voices of the people of my community? Where were the stories of black and brown disabled people? Or the voices of people of queer, trans and non-binary experience, or the stories that reflected the amazing breath of a multiply marginalized life?
So within such an intimate medium, I just think there's so much change as possible in podcasting. Uh, so why not try changing things up a bit? Um, so that, that's, that's pretty much what I did. I created Power Not Pity in 2017 on the back of a Greyhound bus going back from Philly to New York. And I remember when I made the logo, I felt like I was stepping into something bigger than me. So, um, I believe that podcasting can actually, it actually tweaked my perception of disability from a first person issue, meaning the person and their individual condition. It tweaked my perception from that to a greater societal issue, meaning the systems at play that cause oppression. Um, so I think it's time to start thinking about those things and start thinking about the stories that we turn our minds away from and why, why we do this.
So I think, uh, it sort of comes down to these questions, what can we do to tell more authentic and inclusive stories? What can we do as women and non-binary people to foster a more equitable world? So, I think it comes down to tangible and intangible ideas. So when we start to think about what makes an accessible podcast, it takes some radical reframing of your mind.
So, uh, can I offer you a quote? All right. All right. Um, so it basically says disability is more than the deficit of diagnosis. It is an aesthetic, a series of intersecting cultures and a creative force. Now, this was spoken by Alice Shepherd, the founder of Kinetic Light, a dance troupe that is so amazing, like two, um, wheelchair dancers they flip and they twirl and they like balance off of each other. I don't know if you can see the image, but it's basically her and her partner. And her partner literally holding her up in the air while she's in her wheelchair. I just, I saw them and it was absolutely amazing. So, if you get a chance to see Kinetic Light, please do.
So whenever I find a new podcast, I always assume that there won't be transcripts and, uh, I think that shouldn't be the norm. It should be the exception. Right? Uh, so one thing I want to offer you is, um, the idea of including every word in your transcripts that said and edit for cultural competence. Because that is something that is always missing from transcripts. It's always about like every standard language. So think about vernacular and different ways of, um, dialects, different ways of speaking. Um, there are so many things that we could lose in translation.
I think, um, another tangible thing that you can do to make your podcast more accessible is to include image descriptions. Those of us who are unable to see deserve to visualize what's happening as well. So when you're doing image descriptions, make sure that every detail is described. And I often find that creative image descriptions, like ones that really go deeply into what, what the image is portraying, it can really put me into a different state of mind.
All right. So can I drop some knowledge on you? All right. All right. I'm so glad you're ready. So one in four people in the US are disabled, so that means 25% of the population is overlooked and underserved, and media invisible. We fall victim to invisible, uh, being invisibilized. And we also fall victim to tropes of overcoming adversity and inspiration. And unfortunately, these stories are so common that people actually have a term for it. It's called inspiration trash.
Yeah. So I would challenge you to make more dynamic and authentic stories about disabled people, especially disabled people of color. And we're not inspiration trash made to make you feel better about your, uh, your life.
Um, so I think, uh, another thing that we could do, um, in terms of making your podcasts more accessible is to have an accessible workplace. Meaning not only your episodes, but where you work and where you basically produce your content. It's not just about episodes, but about where you work. I want to challenge you to be an advocate of, uh, an accessible, uh, space to work. Uh, uh, disabled people are entitled to accommodations so that they can create the best content that they can. This means advocating for good benefits. This means advocating for good health care. This means advocating for spaces where people are, uh, receiving, uh, adequate accommodations. I want to see the end of drug testing and background checks. It's too often that background checks and drug testing are part of the cycle that keeps disabled people, especially black disabled people underemployed. I was almost denied a job because I tested positive for marijuana. Um, even though I had a medical marijuana card and it's like illegal to discriminate against a person from New York State, uh, I had to go back and forth with HR and I had to like really try to prove my case about why I deserve to be there. It was ridiculous. Um, so I wanna offer you -- now that we've talked about that, I want to offer you the effect, an effective way of, um, telling a story, centering a disabled person in your story.
So this is Haben Girma, she's the first deaf-blind woman to graduate from Harvard Law School. So you could say she's impactful. You could say she's inventive, you could say she's intersectional, but just don't call her an inspiration.
So now I want to offer you a couple of ways to tell an effective story about Haben, let's talk about the wrong way. So Haben is often portrayed as a millennial Helen Keller, and this is just completely wrong because we're not monoliths. We're actually multiplicitous and a myriad of voices. So I think, um, another way to think of, uh, creating a correct and more authentic version of an effective story is to try to use words that are, um, more reflective of a genuine experience. You know, I want to dare you to not use the word inspiration. I want to dare you to use words that are not one dimensional to describe a person and this is the best way to center a disabled person in your story.
Uh, so like I said, the word inspiration has lost its impact because it's been so overused. I think when you want to talk about impact versus intent, when you're talking about your stories, I know that there are good intention, well intentioned people. But the words that you use, the ways that you put your, your portrayed disabled people, they actually have an impact. And good intentions don't always lead to positive impact, right?
So Haben also offers, uh, quotes and um, techniques on her website. And one of the things that she says is we respect and admire disabled leaders just as we respect and admire our nondisabled leaders. So it's just a, something to think about, you know?
So remember my show Power Not Pity? All right. Um, so the last thing I usually ask people on the show is a pretty cheesy question. It goes, what's your disabled power? What is the thing that gives you the most power and agency in your disability? And usually 9 times out of 10 people talk about adaptation. My friends and I, we want to see the end of injustice and systemic inequality.
I'd like to offer you four tangible ways that you can, um, you can make your podcast more accessible. So it goes, this is the acronym. It goes R-E-A-P. What does that spell? That's right. Reap. R as for Recognize, E is for Educate, A is for Amplify, and P is for Politicize.
So let's start with R. Recognize. I'll tell you that ableism is a systemic discrimination that keeps disabled people on the margins of society. It's time that we recognize that discrimination that happens. So I'd like to challenge you to begin to locate ableism and all its forms. Begin to recognize how ableism causes harm to disabled people of color.
Here we go with E: Educate to find ways to learn about the disability community. Um, you know there's, there's articles and and opinion -- op-eds and like all these different ways. It was Twitter and Instagram and you know, all the other platforms that exist. TikTok, I dunno, Snapchat, who knows. So disabled people of color also organize for other social justice issues. So I would suggest becoming familiar with those as well and take time to get to know disabled people. It would actually really cause you to make fewer assumptions, I think.
A is for Amplify. So get out there and floss that knowledge that you have cultivated. Reach out to organizations and get involved with all the social media platforms that exist. Give disabled people more chances to reflect, to create reflections of themselves in mass media. Amplifying is all about passing the mic.
P for Politicize is my favorite. Organize and conquer, y'all. Get involved with organizations and groups that are doing the work. Find creative ways to financially support disabled people of color. That's a really important. Feature disabled activists on your podcasts.
So now that I've talked about tangible things and intangible things that you can do to make your podcast more accessible, um, let's talk about, uh, what it means to actually do this and create culture. You know? Because it's not, we don't do this in a vacuum. And I think that all of our work, all of our content is so important that we can shape culture. So what's more possible in an accessible podcasting culture? Um, I think one thing that I like to say is representation matters.
Say it with me. Representation matters. Oh, you sound so good. So this, this kind of means stories that show the community in a more authentic light, giving people the chance to feel seen and heard. Another thing that would be possible is intersectionality. We would cultivate a politic of realizing that all of our stories are tied up in one another. We don't live this life alone. So give everyone a chance to be liberated. Another thing that's possible is more listeners. We all love that, right? We would be catering to the 25% of the population that's looking for reflections of themselves in mass media. Disabled people are hungry for more media.
So I've talked about accessibility, right? This pod, this presentation is called Podcasting for Disability Justice. How to make your podcast more accessible, right? I've talked about the accessibility part, but what's disability justice? I would like to offer you another quote. Uh, this is written by Patty Berne: "Disability justice is a vision and practice of a yet to be. A map that we create with our ancestors and our great grandchildren onward in the width and depth of our multiplicities and histories. A movement towards a world in which every body and mind is known as beautiful." Isn't that amazing? She's an amazing writer and she's the founder of Sins Invalid. Uh, it's, um, a dance troop of disabled people of color and it's also a creative collective and it's all about advocacy as well. She's an amazing person. Look her up, Patty Berne. So finally, I want to offer you my last slide. Hire more disabled people of color. Thanks for listening.
Dessa: That was Bri M., speaking at the 2019 Werk It festival.
Both the festival and the podcast are produced by WNYC Studios and are made possible by major funding from the Corporation for Public Broadcasting with additional support from the Annenberg Foundation.
Event sponsors include Luminary, Spotify, Spreaker, Acast, Himalaya, and the Women's Foundation of California.