This Is How We Mobilize: Building a Coalition of Womxn and Nonbinary Podcasters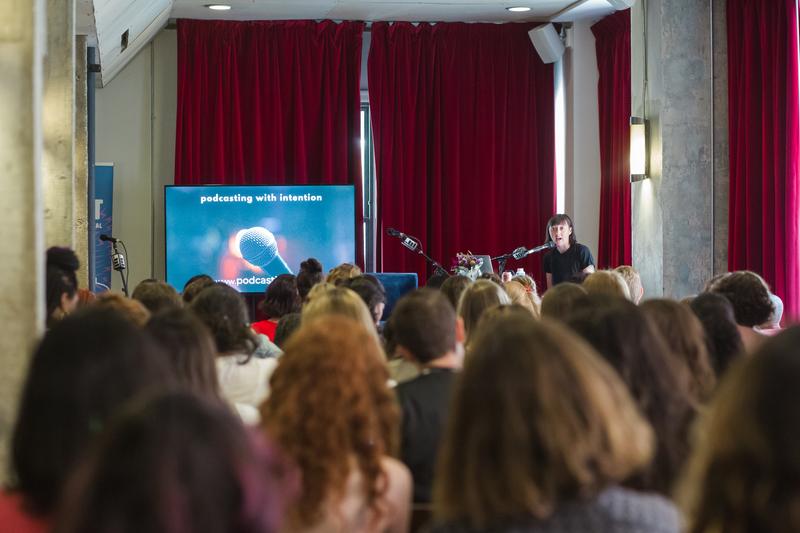 Transcript
Lynn Casper: How can we create larger impacts with our podcasts by engaging more people? So to answer that question, we also need to ask: What is the impact that we're trying to achieve? Do we want our audience to take action on an individual, community, or network level? And how do we mobilize our listeners at various levels of engagement?
Dessa: That was Lynn Casper speaking at Werk It 2019. And this wasn't just any presentation — it was a strategy session for podcasters looking to use their podcasts to do greater good.
I'm Dessa, the host of Werk It, the podcast -- a compilation of some of the best moments from the live event. I should also mention that this session was part of the Womxnifesto series. They're distilled wisdom, drawn from experience and spiced with the power of conviction.
Lynn Casper: Welcome. Uh, the session is called, "this is how we mobilize building a coalition of women and non-binary podcasters."
My name is Lynn Casper. I also go by Scantron or RiZ if you listen to the Homoground Podcast, I use they/them pronouns. Identify as a queer, Philippinex American. I am an activist and an independent podcaster. I'm, this is my third year attending Werk It. My second time as a speaker. Um, I spoke back in 2015 at the very first Werk It, on a panel, um, about getting started as an independent podcaster. So I run a podcast called Homoground and it spotlights music by LGBTQIA identified musicians. When I first started Homoground in 2011, there weren't that many podcasts out there that were focused on queer content. And before I launched the podcast, I did a bunch of research just Googling the internet, trying to find anything that anyone was doing that was queer podcast or radio-related.
And I reached out to them. I invited them to make music playlists so that I could share it with my audience and to not only build my audience that way, but also to spread the word about different projects that people were doing that were working towards a similar mission. From the start, I always thought that it was very important to support other podcasts and I just always wanted to embed that in the work that I was doing with Homoground. So before I got started in podcasting, I was working for a small nonprofit organization in North Carolina called Working Films. We help documentary filmmakers create audience engagement campaigns around their films. Many of the documentaries that I worked with were story-driven narratives that tackled important social justice, environmental, and human rights issues. We linked to filmmakers with organizations and grassroots groups that were doing on the ground work on the issues that were being addressed in the films.
During my time at Working Films, I organized residencies, workshops, and trained filmmakers to think about the intentionality of their films and how to integrate these tactics into their film campaigns. We created intentional screenings so that people could see how different issues affect real life people, while also providing a direct action that people could take when the lights came up and use that as an opportunity to harness the energy that was present in the room. So when the lights came up, we can get people to take action. For example, we would host intentional screenings at town halls with actions that people could take to contact local and state policymakers. So we use the formula content plus intent equals impact because we believe that media and story-driven narratives have the power to reach people, create awareness and change hearts and minds. Meaningful stories can lead to meaningful actions.
So over the years, you know, I've wondered how can the same model be applied to podcasting? Today there's tons of podcasts out there, tons about queer issues made by queer people. People who never felt represented by mainstream media can now have access to technology to create sources of their own representation for others to relate with. And this is great, but now there's just so many podcasts out there and you know, one person can listen to one podcast and not know that another exists that's about a similar topic or something that they might be equally interested in. Um, and sometimes us as podcasters, you know, we kind of get into this little bubble and we don't know who else is out there doing similar work that could complement the work that we're doing. So this is where we get stuck in a vacuum and the community organizer in me wants to figure out how to bridge all of these isolated communities.
So the question that I ask is: How can we create larger impacts with our podcasts by engaging more people? So to answer that question, we also need to ask: What is the impact that we're trying to achieve? Do we want our audience to take action on an individual, community, or network level? And how do we mobilize our listeners at various levels of engagement?
So these are the three levels of audience engagement that, you know, I've been thinking about and how to engage our listeners at each level.
For the individual level: What are we asking our listeners to do personally and how can we support the needs of our listeners on an individual level? With the community model: What are we asking our listeners to do together as a community? How can our listeners take action in the places that they live and how can this model be replicated for other communities to use? And then at a mass network level: How do we mobilize our collective audiences to take action on a larger scale? Examples like voting, boycotts. And how do we take all of our individual podcasts that are doing great work and network them collectively to take mass actions? So I'm going to share a few examples of each of these levels of audience engagement and I'm going to highlight some of the common strategies that were used in order to create a larger impact.
So over the years -- I've been doing Homoground for over eight years now. And throughout that I've gotten to speak to a lot of the people who listen to the podcast and a lot of the people that I feature. It's mostly musicians and music lovers. And one of the issues that kept coming up over and over again was that a lot of musicians that were performing in venue spaces and music lovers going to see their favorite bands oftentimes they didn't feel safe in these spaces. They were experiencing everything from sexual harassment, assault, homophobia, racism, sexism. And you know, I wanted to do something about that. And I'm like, well what can I do? I'm not an expert in this topic. I'm, I don't really know what to say to people when they tell me these stories.
Um, so earlier this year, Homoground launched a webinar called Safety in Venues. And we wanted to talk about this issue because it was very important. Lots of our community was experiencing this. So we partnered with an organization called Calling All Crows, which is a nonprofit based in Boston, Massachusetts. And they work specifically on this issue by working with venues, musicians, and fans to prevent sexual violence at shows and festivals. So by inviting, Calling All Crows and we're able to create a dialogue around this important issue while also providing additional resources that you know, I wouldn't have been able to give to people on my own.
So this was a way that I was able to use Homoground as a platform to, you know, kind of hear the needs of my community and use Homoground as a platform to provide something and resources to start talking about this on a larger level. We also invited listeners and anyone else interested on the topic to attend the webinar so that they could share their own experiences and strategies that they use in their communities, which was great because you know, something that works for one community might not necessarily work for another. So this was a way that we could learn from each other and see what works and what doesn't work.
So another example, is anyone familiar with the Healing Justice podcast? All right, cool. So if you're not familiar, they're more than just a podcast. They're a community of practice and collective healing and social change. In 2018 they launched a podcast mini series around surviving the midterm elections. Their audience consists of healers, community organizers, activists, campaign workers and movement builders. Each episode in the series brought on various perspectives from people doing on-the-ground work on the campaign trails and included tips on self care during the election cycle, how to prevent burnout and navigating trauma. By featuring members of their community who work at different organizations, they were able to shed light on the work that their community is doing on a network level. They did this series in conjunction with the Groundswell Action Fund, which supports electorial organizing and power building efforts, led by black women, women of color, low income women and transgender leaders of color across the United States.
Through this partnership, they were also able to highlight the work of Groundswell grantees. Um, so at the beginning of every episode they spoke with one of the grantees about the work that they were doing in addition with the guests that they were featuring on that episode. So this was a great example of how to mobilize an audience on a network level to advance a collective goal with the collective goal being, you know, the midterm elections.
So thinking about this and you know, looking at that partnership with Groundswell and then the webinar partnering with Calling All Crows, you know, I think having intentional partnerships is another opportunity where, you know, sometimes we get so focused on, "Oh, I got to get a sponsor. Who's gonna pay for this episode?" Um, but thinking about, okay, well what exactly does my audience need? Do they need to know about another email list software that they can join or do they actually need services that they might not know about?
And so another topic that came up time and time again was that, and in conversations with a lot of the musicians we talked to, mental health came up a lot. So, and a lot of the interviews would just focus around, you know, depression, anxiety, struggling with your identity. And it's even something personal, too, that I experienced. And I'm like, man, my community is really suffering and what can I do about it? So having intentional partnerships, we partnered with Pride Counseling, which is an online talk therapy website. And then also Lambda Legal, which is an, a civil rights organization that focuses on LGBTQ communities as well as people living with HIV AIDS. And they do impact litigation, societal education, and public policy work. And then we also partnered with the Third Wave Fund, which supports youth lead gen gender justice activism to advance the political power, wellbeing and self determination of communities of color and low income communities.
And by working with these, um, you know, partners, we're able to talk about the work that they were doing, with the Third Wave Fund. We've worked with them a couple of years to help them promote, um, you know, their fundraising efforts and their benefit events that they do. And having the organizers at those organizations come on the podcast and talk about the work they're doing. And you know, cause my podcast is mostly music. So the focus is always music and trying to figure out, "Okay, well how can I make this a little bit more intentional and talk about things that matter to the community that are outside of music?" So these are the ways that I was able to integrate some of those things into the podcast that, um, you know, I'm working on. So these examples all did a few things. So these are the strategies that I've pulled from those examples:
One is just listening to your audience. And as much as we like to talk as podcasters, it is very important for us to listen and to hear about the challenges that our listeners are facing on a collective and individual level. And to notice these threads. And in both of those examples, you know, it was listening: What does my audience need right now?
The other theme that came up was using your podcast as a platform for your community. And so by hosting that webinar, which, you know, we could have done that as a podcast, too, but just using the platform that you have to, you know, create dialogues and to provide resources to your audience that way.
The next one is collaborate and create with your audience. The Healing Justice podcast did a really great, um, collaboration with not only an organization but with the people in their community by featuring them on the podcast and also talking about topics that you know, helped people, um, that were working on the campaign trails to prevent burnout.
And, you know, they were also able to -- the fourth one -- provide and share resources. So by highlighting all of these different organizations and groups that the people that, um, they were featuring on the podcast, we were able to learn about different organizations that we never might've heard of, different work that people were doing. So, you know, it's just kind of connecting with each other and, um, just sharing and highlighting the work that other people are doing.
So if you came to the session and you read the description, it said, um, to come with a specific issue that you need a signal boost. So this is the opportunity now and we have some time. So turn to the person next to you and for about a minute and a half, two minutes each, just talk about what issues are most important to you and your community and how can you support each and what kind of support do you need. And this is, you know, just the beginnings of starting to build a coalition. And you know, that just happens right here talking to one another and yeah, so just take a few minutes, two minutes, I'll call you guys back in. Um, and we'll see what came out of those conversations.
So yeah, so for the sake of time, I'm sure lots of amazing conversations just happened. I would love to hear about all of them, but I only have like five more minutes and we are going to open it up to a Q and A. But yeah, I hope that you were able to make some really good connections and I would love to hear about them. Um, so you can head over to podcastivist dot com and there's a form if you click on and you can tell me about some of the conversations that you had or maybe you, if you weren't able to think of some concrete things today.
Um, you can always go back there and fill it out ways that you need support and you know, I'm gonna try to match people with others and get this coalition started.
And like I said, this is just the beginning. Um, I know there's so many other podcasts out there outside of this room that we can all bring in together. And I just wanted to get the momentum started for people to, you know, kind of think about this, how can we support each other?
I mean, just think about like right wing media and how like powerful they are. We can be equally as powerful and we can do things to like change things and make a difference. Um, and I'm not going to go into activist rants right now. Um, so we'll go into a Q and A. So yeah, thank you again for giving me the opportunity to share my thoughts and ideas with you. And if anyone has any questions, we'll do that now or comments, anything insightful that came out of the conversations. Alright. There's a hand right there.
Audience member: Hi. So, um, I have a podcast that essentially, um, anticapitalist about like building collective care. The problem is that, uh, my audience I think is still very entrenched in like neoliberal feminism and this idea of entrepreneurship and like we have to do it by herself for herself. And I'm still, um, you know, we haven't gotten to the last episode. It's a documentary series, but, um, I haven't gotten feedback yet on the conclusion, which is essentially that we need to be forming more like social groups and working at the network level as opposed to the individual level. Um, especially around bodies, which is what my podcast is about. Um, so my question is how do you, how do you communicate that to an audience that isn't necessarily, likethey're still operating at the individual level when you know that in order for us to truly make change, we need to be working at the community and the network level. Does that, does that make sense?
Lynn Casper: Yes. So they're right now thinking more individually how, okay. So I mean one thing is just using your podcast as a platform to talk about that and to, you know, kind of show examples of, you know, what happens at that individual level and then how, you know, joining efforts on a network level can really make a difference in change. So yeah, I think just starting the dialogue and talking about that, maybe collaborating with other podcasts, too. And just kind of building that network together and I guess leading by example. So with your audiences seeing that in action, then maybe they'll start to think more. Oh, okay. Actually I can see how this makes sense. I don't know if that helps.There's a question in the back.
Audience Member: So my question is around, uh, bringing audience in as contributors and collaborators with the podcast, especially in regards to, um, like working with Counting Crows for Safety in Venues, um, the issues surrounding sexual assault and threats there of, and, um, for the project I'm working on at Present, which deals a lot with, uh, non-binary people's experiences of transness and dysphoria as a portion of that. These are deeply personal and often deeply painful issues and there can be issues of safety in sharing that with a broader community. So when you're asking something like that of your audience, when you are opening this opportunity for them to share these stories that can be painful to share and um, possibly unsafe to share, uh, what advice do you have for assuring or helping them feel safe and feel open in contributing in this way?
Lynn Casper: Yeah, that's a great question and definitely something to be very conscious and considerate of when you are asking your audience to participate. When I invite people to collaborate, you know, I asked them if they would like to be a part of it and like not to feel pressured at all by contributing. What would make them feel more most comfortable? If remaining anonymous is how they would feel the best way to share their story. Sometimes it is too painful for people to share their story and that's okay but for some people it's healing. So if they want to share their story and re, remain anonymous, um, we can do that. Especially with audio, you know, with a webinar, uh, for that one, we had the option to have your video on or off, to have your name displayed. So yeah, there are definitely a lot of things that you could incorporate, but thank you so much for bringing that up because that's something we should all be thinking about -- is, you know, not only how to make our communities safe, but how to keep our listeners and our platforms as a safe space as well. And thank you so much.
Dessa: That was Lynn Casper, speaking at the 2019 Werk It festival.
Both the festival and the podcast are produced by WNYC Studios and are made possible by major funding from the Corporation for Public Broadcasting with additional support from the Annenberg Foundation.
Event sponsors include Luminary, Spotify, Spreaker, Acast, Himalaya, and the Women's Foundation of California.