How They Made It: Death, Sex & Money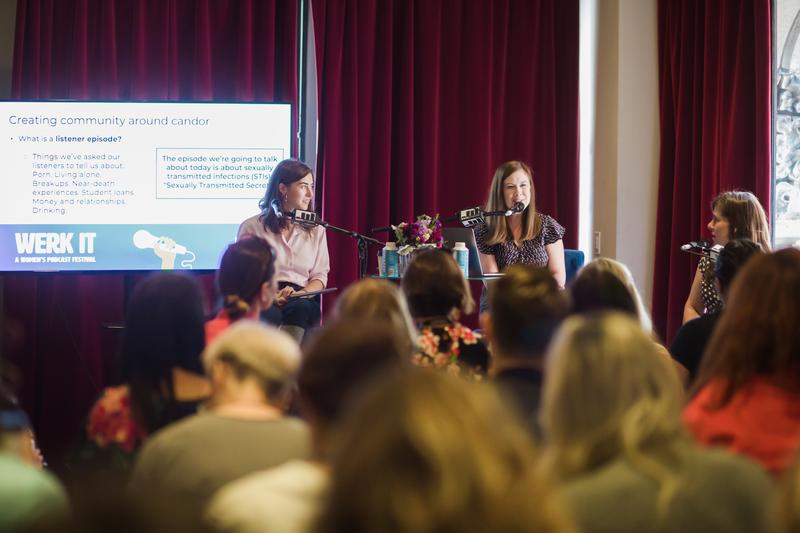 Transcript
Anna Sale: One thing just strategically about when you're doing episodes that feature your listener base back to your audience, what you are really doing is you're sort of making sure your audience, like I think of it as like pushing it the walls and the ceiling and the floor so that your audience is continually like rethinking who is part of this community.
Dessa: That's Anna Sale, host and managing editor of Death, Sex & Money, a podcast that delves into the things that people rarely want to talk about. I'm Dessa, the host of Werk It, the podcast — a compilation of some of the best moments from the live event. In this episode, find out how the Death, Sex & Money team gets their audience to open up about these tricky topics and how those listener-driven episodes strengthen the community they've built. Anna was joined by two of her producers, Anabel Bacon and Katie Bishop. Here's Katie to start things off.
Katie Bishop: Uh, thank you guys for coming. We thought there might be like three of you, so, wow. Thank you so much for being here. Um, can I introduce you to my amazing colleagues? I'm Katie Bishop. I am the executive producer of Death, Sex & Money. To my right is Anabel Bacon, development producer for Death, Sex & Money. Woo. Anna Sale, host and managing editor of Death, Sex & Money. Yay! Thank you for coming.
Katie Bishop: Um, so thanks for coming to our, "How We Make It". Um, let me skip ahead here. Today we are talking about a certain type of episode that we make at Death, Sex & Money. We call them listener episodes. Um, so at the show we basically say that we make kind of three types of episodes. One is long form profiles of well-known people, another other type is topic-based interviews, things, you know, we sort of go deep on a certain subject with people well-known and not well-known. And then we make listener episodes. So we uh, put out a call to our listeners about a topic and the floodgates open. Um, and we have asked them about things like living alone, about porn, about breakups, near death experiences, um, a whole range of topics. And this started kind of right at the beginning of the show in 2014 you started making these?
Anna Sale: Yes. Um, we started the show in spring of 2014 and I don't -- I wasn't really conscious when you make a show called Death, Sex & Money, and then you put out some stories that people will write back with their own stories of death, sex and money. And really want to get in on the conversation. And so pretty early on, I remember talking to bosses at WNYC and they were like, what's your engagement strategy? And I was like, that sounds boring. Um, and then I always just like, Oh wait, that just means listening to who your audience is and inviting them repeatedly in an ongoing conversation into your show and into the production process. And so one of the very first experiments we did with the show early on was we just asked in that we do a mid-show message where we can talk directly to our audience. And we said, what have you learned about money and your, and relationships? Like what have you learned about how you manage your money in relationship? In this case it was romantic relationships. I wanted to know whether people shared their bank accounts, whether they didn't, how they figured that out, what they did when there was conflict. Um, and we just asked that question. And then in came the stories and it was, I remember being in my apartment in Brooklyn and I was talking to this woman who had found the show early on and she's like, here's how my wife and I dealt with it. It was really, really hard. She's like telling me her story and I'm like realizing like, holy shit, like you've listened to this podcast and now we're having this conversation three weeks later about money in your marriage. And it ended up, I interviewed both of them and it was an incredible conversation about the ways in which how they shared money had shifted over time as one of them got more comfortable, um, with interdependence in a relationship. Um, so that was the first try at that and was before Katie joined the team.
Katie Bishop: Yeah. And I have very vivid memories. You know, sometimes you have those memories of like where exactly you were when you heard a podcast episode. And I remember hearing that episode while bagging bulked goods in the basement of the Park Slope Food Co-op and thinking to myself like, Oh my God, I have to work on this show. Uh, and then, you know, months later I think saw job openings. So and the idea that people would record themselves on their phones. Um, this was sort of like pre-voice memos being a thing that everyone was using. And so I just remember being really struck by that, that people would be, um, brave enough to do that and to email those stories in. So today we are talking about a more recent listener episode we did about sexually transmitted infections. And this came out last or no, in January.
Anabel Bacon: In January. Yeah. So this was part of a series that we did that we called Our Sex Miseducations. Um, so it was a whole month. We had an interview with a woman who talked about growing up in purity culture. Uh, we also, um, put out this episode as part of that and this, uh, I want to just give a heads up before we get going. Um, we had another producer on our staff at that point who really was the lead producer on this. Her name is Stephanie Joyce. Um, and so all the credit to Stephanie for producing a really beautiful episode that we're going to tell you about today. Um, and one other caveat, um, you know, Katie was just talking about how great it is that we get these voice memos from our listeners and people really feel compelled to respond to us when we put these calls out. Uh, we are lucky because we have a really big listener base that is ready to do that. So when we put these calls out, we do get flooded. This is harder to do if you don't already have that, but you totally can. And hopefully some of the things that we share today will help you do that on your own projects.
Okay. So where do these episodes start? When we're like, okay, it's time to do a listener episode. We haven't done one in awhile. Uh, where do we get the idea? Um, there's kind of three big places. The first one is the magical Death, Sex & Money inbox. Um, so that is the place, uh, it's deathsexmoney@wnyc.org. Send us your story ideas. Uh, that is where people just talk to us and they say, this is something that I'm going through in my life. I wonder if other people are too. Um, and so we kind of keep tabs on that all the time. We look for patterns, we look for people asking questions about the same topics. That's often how we get the idea, uh, for our next listener episode.
The next one is our brains. What are we interested in? What's on our minds? What do we think would be interesting to tackle as a team because these projects do you take a long time. And so it's something that we want to be excited about spending a lot of time with. And then the third place is the news. So what are the big stories that are sort of out there in the world right now and how can Death, Sex and Money attack those topics rrom a really personal angle? I think we think of the show is something, um, that enables us to sort of get at big trend questions from the personal angle. So how do people actually live? Questions of housing, of homelessness in their real lives.
Katie Bishop: And sometimes all three of those things collide.
Anabel Bacon: And that is exactly what happened on this episode to. So we had gotten several emails from listeners saying that they wanted to talk about STis. Um, and at the same time we were seeing a lot of news pieces about climbing rates of STIs, particularly, uh, in certain states, um, and particularly with certain types of in --
Anna Sale: California.
Anabel Bacon: California and among us. Yeah. And so we decided let's do it. Let's talk about STIs and we decided to put a call out in the mid show portion of our episode, which Anna mentioned, and we're gonna play that for you so you can hear what it sounds like.
[AUDIO CUE] Speaking of sex, one thing a lot of you have been emailing us about lately is sexually transmitted infections. I just remember laying on the table with my legs up in the stirrups and hearing him say, herpes, many of you told us that it's easy to feel alone after a diagnosis, but the stat say, you're not. In California where I live, rates have gonorrhea, chlamydia, and syphilis at an all time high last year and nationwide, STI diagnosis rates have been climbing for the last five years. Of course, behind those numbers are a lot of very private experiences and those can often involve shame, surprise, and awkwardness. You should always disclose when everyone has all of their clothes on because that definitely leads to some interesting and negative reactions. Do you want to hear more of these stories? Tell us about learning to live with an STI or disclosing one to new sexual partners. We also want to hear how STEs have affected other parts of your life, like how you talk to your kids about sex, the ways you feel about your body or how diagnosis has impacted your finances. Send an email or voice memo to us at deathsexmoney@wnyc.org. [AUDIO CUE]
Anabel Bacon: Okay. So that goes out in an episode for reference. This was in August of last year. We put this call out. Um, and so if you do the timeline August to January, that's actually a pretty long lead time for us to work on one of these episodes. Um, it was a very busy fall and Anna was about to go on maternity leave. So this was not--
Anna Sale: Katie was returning from maternity leave.
Anabel Bacon: Crazy time. [inaudible]
Anna Sale: Babies everywhere!
Anabel Bacon: So that's not totally representative of a normal timeline. Um, but that's what we did this time around. Um, and so what you hear in the ask, and this is really important for when we are first shaping our question is we want to get a broad range of stories, but we also really want to model what we're looking for to our listeners and we want to really hone in and give them examples of specific things we might be curious to hear about.
So we always try to use some tape, uh, from listeners so that people know that there are actually other people out there who want to talk about this. It's not gonna be just them. And you heard that we gave a couple of examples of the kind of topics, the intersection of STIs and relationships, finances, all other parts of people's lives that STIs might affect. Um, so that is the first ask that goes out. What usually happens is we get a really big wave of first responses. We sort of take those, we think about the big, uh, sort of areas that we're already hearing from people in. And then we put another ask out usually in the next few weeks. So we'll say, "Hey, we put this ask out, we heard back from a lot of you," we'll play some more tape for listeners and we'll refine the ask at that point.
We are also continually upping the ads. We have a weekly newsletter, we put it on social. Um, we make little audiograms for Instagram and we just sort of bombard people with a reminder that this is a project we're doing. And that we want to hear from them.
Katie Bishop: Yeah. One other thing I would add, too, is we do spend quite a bit of time talking about the actual question that we want to put out to people. And, and that question sometimes shifts over time. So, um, sometimes it's really broad, just tell us your stories about student loan debt and how it's affecting your life. But other times we're really looking for people to talk about a particular moment or story. And so it makes it just like a more concrete ask. And the things that we get back then are, um, often just richer, you know, we sort of hear about a really specific thing that happened in someone's life.
Um, that sort of brings to mind. We did a call it about class and we sort of said like, what was a moment in your life when you felt your class status the most? Um, and that became like one of our most successful call outs. Um, and then sometimes we also will pivot the ask. So if we hear from a ton of women and no men, we might say, "Hey men, we haven't heard from you, like knock, knock, please answer." And that usually sometimes prods people a little bit to, to send in a response.
Anna Sale: Fun fact behind the scenes of Death, Sex & Money. Uh, our listener base is according to surveys, actually a little more male than female. It's just two genders. When we ask, I think. That's the stats we have. Um, but then overwhelming the answers we get are from women. So women are primed to share, to like join around the table, share their stories and men need a little more of a nudge.
Katie Bishop: So as these responses start to come in and we start to read them, we love reading people's emails. We often start our day being like, did you see the five emails in our inbox from last night? They usually come in around like 11:00 PM.
Anna Sale: Like at nighttime emails.
Katie Bishop: When people are feeling share-y. Um, so yeah. Uh, so we, uh, we've done this a couple of different ways. We do often ask people, just send an a voice memo, send in an email. We also sometimes we'll make like a Google Form, um, which sends people's responses right into a spreadsheet. No matter what they generally end up in a spreadsheet on the backend. Um, and so I want to just tab forward here so you can see an example. This is our STI spreadsheet. Um, and the types of things that we track, you know, we track them by name, email. Um, we also in this case tracked the STI that they talked about. Um, we summarize their story, maybe put some good quotes in there and then we sort of track like, do we think we want to interview them? Is this just a really amazing voice memo we want to use? Where are these people writing in from? Um, and this just helps us to kind of visually track everybody. Um, and then, you know, as we're thinking about, okay, what do we do with all these amazing stories? Um, we, uh, are really trained to look for a range. Um, we want to be representing all types of stories from around the country, sometimes from around the world. We want to be representing people across race, gender, class. Like we're, we're just trying to sort of uh, make this, make these things seem as universal as possible. Um, and so doing a spreadsheet like this can sort of help us.
And also I think, um, sort of informally we're tracking the tone of the emails and voice memos that we're getting. So, you know, is this person feeling really stuck? Is this person feeling like they've kind of gotten over a hurdle? Um, are they feeling positive about their experience? Um, and so how do each of these stories, um, sort of serve the arc of what we think an episode might sound like at the end? And that does change quite a lot as we do our interviews. But in the beginning, what are we sort of imagining.
Anna Sale: One, one thing just strategically about when you're doing episodes that feature your listener base back to your audience, what you are really doing is you're sort of making sure your audience, like I think of it as like pushing it the walls and the ceiling and the floor so that your audience is continually like rethinking who is part of this community and you are signaling to people who might not know if this is their place that they are part of this community. So that's part of when we're saying like what are the range of voices that we have in this episode? Like let's make sure it really is representing how we think of the Death, Sex & Money audience. So they're going to feel that when they're listening.
Anabel Bacon: Yeah. And I would say for this episode in particular is something that we were super conscious about was age, too. Like we wanted a really wide range of ages to say like, this affects people from their teens all the way into their sixties and seventies. Cause I think that's not often represented in stories about STIs.
Katie Bishop: Yeah. One other thing I wanted to mention to you is that sometimes the stories that we hear back, we realized like rather than making one episode out of these stories, we actually think it might be more successful to do, um, several different episodes that each feature one story rather than kind of mushing them all into one episode. Um, and so we ended up feeling that way about our class series that we did a couple of years ago. So we just did five totally separate episodes, kind of each featuring a different story. So sometimes our ideas about what these episodes will look like, do shift.
Anabel Bacon: Alright. So we'll, you have your spreadsheet, you've gotten all these great listener responses and now it's actually time to produce the darn thing. So where do you start? Um, when we go through this spreadsheet, you saw one of those lines had sort of like a green highlight on it that somebody that we might be curious to sit down with for an interview. Um, so either Katie or I will go through and in consult with Anna, we'll sort of say here are our top contenders. Um, and Katie and I will get on the phone with these people and we'll do short pre-interviews. The pre-interview is a really important part of this process because it allows us to sort of get a sense of how the person is as a talker. Um, especially if they've only sent an email, not a voice memo. We want to make sure that we're going to be excited to hear them in a podcast.
Um, and then we're also just going to gauge their comfort with being a part of this
project. You know, they, we obviously need them to be on board and excited to talk to us. Um, so after we do that first round of pre-interviews, we will book usually I would say eight to ten people for the first round. Um, and we will either get them in a studio if that's convenient or we'll do it over the phone. Um, and we will tape with them for slightly shorter than we would for a normal Death, Sex & Money episode. So to, to compare and contrast when we do a sit-down interview with someone for one episode of Death, Sex & Money, we tape for 90 minutes and then cut to a 22 to 25 minute episode. Um, we will usually tape for about a half hour to 45 minutes with listeners for these listener episodes. Um, and that's because, as Katie said, we're sort of looking for people who can tell one slice of this story. We don't need them to tell everything about their lives, but we need them to hone in on one thing so we can sort of have these interviews be a little bit shorter. Um, and then also sort of just tracking timeline, uh, in your heads. We put the call out in August, we did these tapings in October. Um, so it's sort of, you know, there's a long lead time there.
Um, Oh and yes, leave room for surprises. Uh, it's really important to sort of go in and having an idea of what you want the person to talk about. But we have had some incredible interviews where halfway through something totally unexpected came out and we just decided to follow that person down that storyline instead. Um, so always, never sort of pigeon yourself -- pigeonhole yourself into thinking, this is what I need this person to say. Like, let yourself be excited and surprised.
Anna Sale: As like as a host, something that Katie and Anabel are both quite skilled at when they're doing pre-interviews is that they'll sorta be marking like, Oh, that's the followup question that Anna can ask for the first time. So it'll sound fresh. So when they're sort of, I talked to them about this, this, this, I didn't, I heard this. I think there's some we, you should ask about this, but they don't do the full interview in the pre-interview so that the tape is not going to sound like, like I told Anabel. Or like I told Katie, blah, blah, blah, blah, blah, blah, blah.
Katie Bishop: Right.
Anabel Bacon: And that's hard sometimes because you really want to know the answer, but you know it's going to be better on tape. Yeah. Um, so after we tape these interviews, we sort of sit down as a team and we sketch out the rough structure of what we think this episode might look like. So we'll say, oh, this person felt like an intro person. I think I want this person in the second half. The ender is definitely here. This will always change. This is never what it ends up being. But we'll do that first pass on a structure together. Um, and the lead producer will go away and cut what is usually, I would say, a very long version of what the final episode will end up being. Um, and uh, that is a very long process. We'll usually do, I would say three to four edits on a listener episode.
Um, a full sort of sit down, listen, rewriting, re-cutting, moving things around. Um, so it's very involved. You're keeping track of a lot of tape in your head. Um, that's the challenging part of all of this. Um, and then you get to your final episode and we're gonna sort of shift now into talking about what you hear in our final STI episode and sort of some of the challenges that we faced in making it. Um, so we're going to start by playing you some tape from the top of the episode. Um, you're going to hear a montage, which is something that we use a lot and this is usually drawn from the voice memos that we get in the first round of our call out. Um, and it's a really important way for us to include a lot of voices that may end up not making the final cut for a full interview, but it's a way of reflecting, as Anna said, this sort of diversity of the audience, the size of the listenership who wrote in for this particular call out. Um, and it's also just really fun to make montages. So we like doing it a lot. Yeah, let's, let's hear it.
[AUDIO CUE] Mary's STI is rare, but STS in general are very common in the US one in eight people has genital herpes, 40% of adults have HPV. And while the number of new HIV cases has been steady in recent years, rates of gonorrhea, syphilis, and chlamydia for all climbing. So a lot of you have been through the experience of finding out you have an STI. When I first found out I had it I was so embarrassed, it was very much, this is, this is the end. And I felt like I was being punished by God in a way. I didn't really want to talk to anybody about it. I felt like this was this big secret that I was hiding. It just kind of puts a damper on things for a minute. And outbreak now is a lot more mentally draining than physically. I did a lot of crazy things after my diagnoses. I went online, I did a lot of research, actually not discussed it ever again with another health professional. I think people get a lot more scared than they need to when they do internet research, either before or after they see me. [END AUDIO CUE]
Anna Sale: That last voice is a woman named Debbie. And I want to tell you a little bit about Debbie. Um, because she, the experience of, of interviewing her and then her voice in this episode I think is really speaks to the larger mission of our show, which is, um, you heard her say when you know, they do this internet search before they come to me. She's a nurse practitioner in her daily life. She's diagnosing STIs. Um, and she has had herpes since she was in her twenties and she's now in her fifties. Um, and she, we talked at first about what's it like when you are diagnosing someone and she talked through that experience. You'll hear that on the tape in just a moment. Um, and then alongside that she has is holding and has held quite tightly the emotions of being someone with herpes and the deep shame that she carries with that, even as she is saying to her patients day after day after day, don't be ashamed. Like, this -- there are so many people with this. Um, and so, uh, I, I, we didn't quite realize when she came and did this interview in person, um, how few people in her life, she had told that she had herpes. Um, her husband knew she had not yet told her teenage kids. Um, and in the course of the interview she was sort of thinking about whether she wanted, you know, how she wanted to be identified. Um, and she came to the, you know, she was ready to like be Debbie with herpes publicly. Um, so it was just a lot of layers to this conversation. So I just to, I want you to hear a little bit more of that tape.
[AUDIO CUE] They come in to see me because they think they have a yeast infection or a bladder infection, but they say I'm in so much pain that I can't sit down or I'm in so much pain that I can't pee. And I know already that it's a primary herpes outbreak. Does diagnosing someone with herpes feel different than diagnosing someone with chlamydia, gonorrhea, another STI? Yes, significantly. Hugely different. I mean, I diagnose people with chlamydia all the time and gonorrhea all the time and syphilis all the time, but they're all bacterial infections that you take a pill or get a shot and you're done. This is forever. What do you say specifically? It's, it really depends on who you're talking about, but I just tried to make people know how many people have it and that people in their life probably have it, but they just don't know because no one talks about it. And I want people to talk about it because I want people to know that they're not alone. And most of the time people feel really alone when they get that diagnosis. They think they're the only one and they're disgusting. Disgusting. Yeah. I'm also feeling the feelings, like I get retriggered when I diagnose somebody for the first time. You still feel the negative emotions that came with your diagnosis when you're giving that. I definitely do. It's not something that has lifted as you've given that speech over and over again about normalizing it. No, isn't that sad? [END AUDIO CUE]
Anabel Bacon: Yeah, so that is Debbie. Um, she is a great interview. So go listen to the entire thing. Um, and the, and we sort of want to talk a little bit now about, um, another -- so Debbie came to us. She was a first time writer. She was a longtime listener. Um, but another way that we often interact with listeners for these episodes is over the course of a long stretch of time. So we want to talk now a little bit about a listener named Lauren who was also featured in this episode. We'll play some tape from her in a minute. Um, but we had actually heard from her about her STI way earlier in the life of Death, Sex, and Money. She wrote us originally for an episode that we did, a series that we did about dating and she wrote in to talk about how hard it was to date with herpes. She said, this is something that is really affecting my romantic life and I feel like I don't have anybody to talk to about it. Um, and we really loved her voice memo that she sent in. We couldn't end up using her in the final dating series, but we sort of had a little flag in our heads if this is somebody that we might want to talk to if we ever do talk about STIs. And so then when we started working on this episode, um, we decided to get in touch with her. Um, so let's go ahead and just hear a little bit of Lauren's tape.
[AUDIO CUE] Um, so three years after being diagnosed, I met someone and he was amazing and not just not just post diagnosis, amazing, but all my dating life. Amazing. Oh, and I disclose to him on Friday. This is Lauren who sent in that voice memo about being afraid to date with herpes. She followed up a few months later with this message. Unfortunately he let me know today that he couldn't handle the risk of transmission and I completely get it, but I feel un-dateable, and I'm so young, I'm only 29. Can I feel like I have so many years of loneliness ahead. That voice memo was the saddest thing I've ever done. [END AUDIO CUE]
Katie Bishop: You'll have to listen to see what happens. Don't worry. We're going to make it really easy for you to find it. Okay. But I'm listening to Lauren just made me think about is um, one of the things that we just, I find this to be really incredible is a lot of people, and I think this might be the case for Lauren. A lot of people record their voice memos while they're driving in their cars, um, or just sitting in their cars. And, uh, sometimes you can even like hear the sound of the road like underneath people's tires as they're recording. I just -- fun fact, but I just find that to be like really amazing. I don't know, living in New York, I don't have a car, but I just, I wish I did cause I think I would have a safe space to talk in there.
Um, so after we put this episode out, um, you know, we were sort of doing a month long look at our sex miseducations as we called it. Um, we, we sort, this sort of happens every time we do a listener episode. You know, we ask for feedback or we ask for stories from people. They send in a bunch of stuff, we make an episode and then like a second wave of things come in from our audience. So people here, uh, this listener episode and then they're like, oh, I have a story to share too, um, or they just respond to the episode. So, um, in this case we got an email from somebody who said, you know, I really appreciated this, this episode about STIs, but what I really missed from it and I wish you guys had included is like how an actual, um, conversation where someone discloses their STI to someone. Like, what does that actually sound like? I need a model for that in my life.
And, um, at the time Anna was on maternity leave, so we couldn't have Anna sort of do this episode. So Anabel and I, um, did we make an actual episode where we did a call out or was it?
Anabel Bacon: Yeah we did, we put it down the feed.
Katie Bishop: Yeah. So we just sort of like went into studio and talked about this email that had come in and we also had gotten, it was an email or voicemail.
Anabel Bacon: It was an email from someone in the initial call out. Yeah, we'd gotten an email from a woman, um, when we first asked for STI stories, who had been recently diagnosed. And, um, she sent us this great email and it was about two pages long and she said, I haven't actually sent this to any of my partners yet, but I wrote up a whole like, you know, how to explainer on what my STI is and what it would mean for me in a partner going forward and I want to have it in case I ever need to send it to somebody.
And so she sent it to us, which was really cool to be trusted with that. Um, so when Katie and I were thinking about doing this follow up about what a disclosure conversation would sound like, um, we actually wrote this woman back and we said, uh, would you record a voice memo for us and read this email? Um, so back to that idea of modeling what we want listeners to send us, that was the tape that we included in this second call out. Um, so we already had that sitting in the inbox and it was just sort of constant communication with listeners about what we're doing and asking for their help. Um, and she was totally game.
Katie Bishop: Yeah. So we said like if you've had this conversation or you are thinking about having this conversation, like just record it, like you're literally talking to somebody and disclosing like what does this actually sound like? And um, we decided to make a video out of it. Um, that Planned Parenthood then ended up sharing. Um, which was pretty cool. So this is what it looked like and what it sounds like.
[AUDIO CUE] So when I disclose this, I just bite the bullet. I'm pretty much, it goes a little something like this, like this, like this. Hi there. Hey. Hey. So I wanted to share something with you that's very personal. Have you ever gotten tested before for any sexually transmitted infections? It's something I really need to tell you. Usually there's a pause and I really like you. I'm really nervous about doing that and I follow up with, I got diagnosed with this thing, I need to tell you that I have HPV, chlamydia, gonorrhea. I tested positive for trich, HSV-1, genital herpes, herpes, herpes simplex virus two. You might want to get yourself tested. I don't know when or who I got it from, but it is incurable so I can pass it to you and you can pass it to other partners. We should use condoms. I take daily medication. It's really not a big deal. It's like your vagina just gets a cold. [inaudible] But I shouldn't go without telling you. This is a sensitive subject for me too and I am more than this one thing, so please don't make me feel like I am only this one thing. So with that in mind let's have another drink and yeah, we can go from there. [END AUDIO CUE]
In unison: Yay!
Anabel Bacon: I have to say something that I am reminded of in watching this video.
So when I did the first cut of this audio, it was six minutes long. And the great thing about Instagram and doing things specifically for Instagram is you really have to hit 60 seconds. So if you are ever like trying to edit yourself and having a hard time, make an Instagram video, thanks, big tech, thanks to Facebook
Katie Bishop: And shout out to a WNYCs graphics team Billy made that beautiful video for us. Um, and so this happens a lot. We do these listener episodes, people sort of want more. Um, and so we have done some really cool creative projects out of these listener episodes. We did this video, we did, um, a spreadsheet after we did our breakups episode, um, where we said if you've gone through a breakup and like you found ways to get through it, we made this really low fi Google spreadsheet where you can just like talk about the things that you read that helped you or listen to that helped you get through a breakup.
Anna Sale: Um, it's brilliant. It's amazing. Even if you're not going through breakup code and look at it, yeah.
Katie Bishop: Yeah. People really leaving, just jumped in there. I love how you can see the little anonymous Google, like, uh, animals up at the top who are adding to it. Um, and someone way more technically sophisticated than us discovered it. Um, Emily Theis and she made like a random generator out of it. So if you go to, what does it break up at?
Anabel Bacon: Survival.guide.
Katie Bishop: Yeah
Anabel Bacon: Breakup survival dot guide.
Katie Bishop: just randomly generates ideas from people for you. It's very cool. Um, so should we talk about the things that are hard about these episodes?
Anna Sale: Yeah, we're going to tell you all the things that are hard.
Katie Bishop: Um, so one thing that we've found is that, um, it can be a really hard to cut people from these episodes, especially people that we've done interviews with. Um, and so we, you know, we tried to stay in touch with people after we record with them, um, and sort of let them know how their tape will be used or not used. Um, and I always sort of dread going back to someone saying like, thank you so much for your time, but I'm really sorry. Like you're, you're not going to be in this episode. The one thing that I have found is that a lot of people are actually kind of relieved when we go back to them and say like, you know, thank you so much. We're gonna use like a little piece of your tape. We're not gonna use the full episode. And people are like, that's cool. I'm fine. I'm just happy to have like had the conversation and actually just talking about it was nice and like, that's, that's fine.
Um, so I always sort of built it up in my head that it's going to be a harder letdown than it really is. Yeah.
Anna Sale: Another really hard thing about when you're asking your audience, uh, to tell really personal difficult things to you. For one, they're your audience so you don't want to alienate them. Um, uh, as Katie got to. And the second thing is like these interviews are talking about things that people have held quite, quite close. Um, and so, uh, we take a lot of time thinking about the aftercare of, uh, after an interview and it's both, it's kind of like a tag team, um, between the producers and me. Like Katie and Anabel do a lot of explaining about the process and what's gonna happen before we do the, the interview. Um, when I'm in the studio and sitting down with them, I will say, here's how this will work. If I ask something that you don't want to talk about, know that all this is edited. You don't have to answer. We will be in touch with you afterwards to let you know how this tape is going to be used. It's not just going to show up in the feed and surprise you. Um, and then, you know, when there are interviews where you really can hear like, oh, this is really, um, I'm, I don't know what this person is going to do after we hang up the phone. Um, I, we'll, we'll end the conversation by saying, well, what, what are you doing this evening? Who are you gonna be with? Um, what are your plans? And I just learned from Anabell that she has this, um, it's very loving. I didn't know this, that she does this. Do you want to say what you do?
Anabel Bacon: Uh, so oftentimes, um, a lot of times, you know, people will come in and they'll share very personal things and, um, I will have an impression after the fact that, you know, maybe it'd be good if we gave them some resources to talk to somebody else if they need to because you know, as hopefully good as these interviews are for people, they're not therapy. Um, but there's a really amazing group called the Open Path Collective, um, that specifically makes therapy available, um, on a sliding scale. So it's affordable therapy. A lot of people will come to us and say, this is something I need, but I can't afford it. Um, so I will often send that link as a follow up. Um, and you can do it wherever you are in the country. It's not based in a certain place. Um, but it's a good resource.
Anna Sale: It's a great resource. And I also think it's a nice reminder, like you just talked to your podcast friends, but we are not professionals. And so here's, here's where to go if you feel like you want to follow up with professional help.
Katie Bishop: We've also done call outs that we just haven't ended up making an episode. I have, we did a call out about money and death, um, a couple of years ago. Got some really great responses. We actually even did an interview and then I think we kind of got distracted and also maybe just didn't feel like there was quite enough there to make an episode out of it. I still in my mind, I'm like, I gotta go back through.
Anna Sale: We love the guy who has the guy who owns a pool company, like a swimming pool company, residential swimming pool company in Indiana that he inherited and he was a musician before, and like a touring musician. Love him.
Katie Bishop: Yeah, we got a great interview. We have one great interview for this listener episode. We're going to go back to it someday. Um, but yeah, I mean that's, you know another thing that sometimes happens but most of the time I would say we get a lot of really incredible responses and ended up making these episodes. Yeah.
Katie Bishop: Well thank you all so much for coming. Hope you really enjoy the rest of the conference. And I do have a bit of an announcement about the next, uh, oh first of all, before we do that, one quick thing. If you want to listen to our STI episode, just text STI to 70101 go right to your phone.
Anabel Bacon: You can find out what happens to Lauren, it's a good ending.
Anna Sale: It'll put you in a good mood.
Dessa: That was Anna Sale, Katie Bishop, and Anabel Bacon speaking at the 2019 Werk It festival.
Both the festival and the podcast are produced by WNYC Studios and are made possible by major funding from the Corporation for Public Broadcasting with additional support from the Annenberg Foundation.
Event sponsors include Luminary, Spotify, Spreaker, Acast, Himalaya, and the Women's Foundation of California.