Failure Is The Pits: An Anti-TED Talk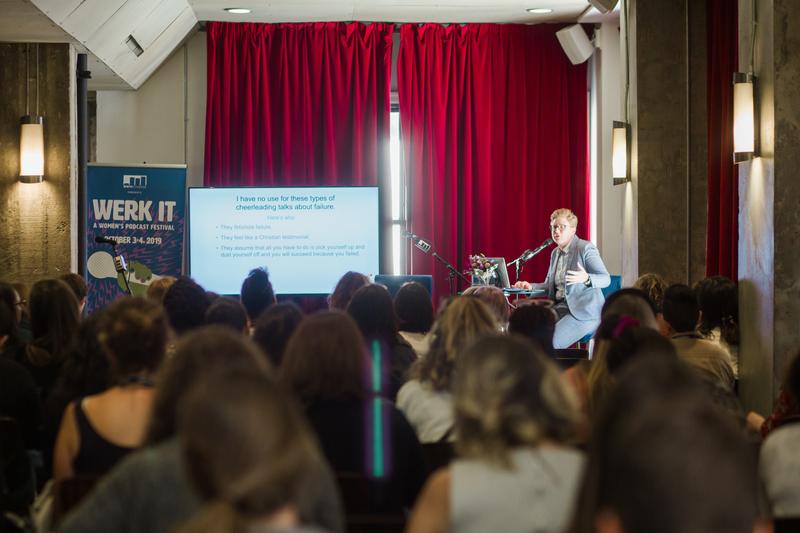 Transcript
Lauren Ober: Failure is not going to kill you. It doesn't have to make you stronger, but I promise you it will not kill you. Right? You will not die from falling on your face. You will not wither away from shame. You will not evaporate into the ether. You will just note the thing that didn't work and see it for what it is. Just a thing that didn't work.
Dessa: Failing is super hot these days (just look at the inventory of TED Talks for proof). Everyone is trying to tease out some a lesson or moral from their flops. But what if there is no upside to failure? What if crashing and burning is just an unavoidable part of the creative process?

I'm Dessa, the host of Werk It, the podcast -- a compilation of some of the best moments from the live event. This session was part of the Womxnifestos series. They're distilled wisdom, drawn from experience and spiced with the power of conviction.

Rather than glorify failure or run screaming from it, Spectacular Failures host Lauren Ober will help you just accept it. Here's Lauren.
Lauren Ober: My name is Lauren Ober. I'm the host of Spectacular Failures from American Public Media. Welcome to my "Womxnifesto." It is, yes, thank you for clapping for me. You can do that if you want. It's called "Failing Is The Pits: An Anti- Ted Talk." No shade to Ted. I'm just saying it's not a Ted talk.
So I feel like I am uniquely qualified to talk about failure. Not only because I host a podcast about it, but also because I have failed at many things in my life. I have failed at being a pizza waitress. I have failed at my previous show. I have failed at heterosexuality. That is not a surprise to anyone looking at me right now. So I wanted to do a little talk on failure because I feel like it's, it's uh, it isn't talked about by enough people who aren't men. Right. Or at least it's not talked about in a way that I want it to be talked about. I think when we talk about failure, we get it all wrong. And I think that you only need to look at the vast, vast inventory of Ted talks about failure to know that that's true.
Honestly, there are like 900 of them and I watched all of them so that you didn't have to. Um, and so yeah, this is not a Ted talk, but I'm going to play for you some of the highlights or low lights depending on how you feel about Ted talks.
[AUDIO MONTAGE] The one thing I do so well is I fail well, we'll have those different points of failure they gave me knowledge, we managed to change the world, but we failed in our objective. You don't just fail, you're happy about it. What would you do if you could not fail? I have found that failure and innovation are kissing cousins. Why don't most of us have the courage to fail? I failed over and over and over again in my life. Wouldn't it be ironic if I were to fail at my failure talk. Failure is an intricate part of chasing your dream failure, failure, failure, failure, failure, failure, failure, failure, failure, failure will happen to you. [END AUDIO MONTAGE]
Lauren Ober: Failure will happen to you. Also, I just put that super cut together to prove that some hosts can produce. Okay. I made that myself. Everybody. Just kidding. My producer helped me.
Okay, so I feel like it's now, we're now overdue for a "jif gif". Um, so thanks. World champion Carli Lloyd. Um, you learn more from failure than you do from success. Like how did she ever come up with that? No shade Carli Lloyd. But like, how many times have you heard this? A lot.
I personally have no use for this type of cheerleading about failure. Here's why:
One, I think that it fetishize is failure, right? It's a very Silicon Valley vibe. Like you had to fail because you ultimately have to lead, you know, the world-- you have to dominate the world. Right? Um, I, I talked to this guy for one of our stories, his name was Antonio Garcia Martinez and he wrote this book called "Chaos Monkeys" and he used to work at Facebook and he told me that at Facebook there all of these posters, these motivational posters and one of them is "fail harder."
And I'm like, no woman or no, no, no person who is not a man made that. Like, it's embarrassing, like fail harder. Like, anyway, okay. So I also have no use for those types of cheerleading talks because I feel like they're like a Christian testimonial, like no shade to any Christians, like whatever. But it's like this redemption story, right? It's like this sinner who was risen again, like hallelujah. And I just, it kind of makes me feel queasy and I'm sorry to my Sunday school teachers, but I honestly, I just, I sort of don't buy it.
Um, another reason why I'm not really into it is because these talks assume that all you have to do is pick yourself up and dust yourself off and you're going to be totally fine. It's like the bootstrapping idea, right? But this is contingent on resources and your station in life. It's a privilege, right? I mean, for a lot of people, the story picking up and dusting off, it doesn't lead to a better path. So I reject this idea because it doesn't take into a fact all of our, our external factors. Right. And it assumes that we all have the same access to things.
My last reason for not being into these talks is they're mostly done by men. This is the biggest issue I have with these talks. Yes. You heard a woman in there, a Barbara Corcoran who is on Shark Tank, which is my favorite show. But I think that women are, excuse me, men are given license to fail and they're given room to fail and they are endlessly, endlessly forgiven and allowed second chances. And I think that people who are not men are rarely afforded that same leeway. And I could go on and on and on about this because I have many thoughts, but I love men, so don't @ me.
So here is my thesis for you all: Failure doesn't need an upside. And I'm going to try to defend it. I'm not sure and I'm not entirely sure I can. I don't even know if this is like scientific method or it's sound or anything like that. But I feel like failure is just a thing that exists. It is just like any other noun. It's like delight, sadness, anger, elation. It is not special. It's just a thing. Okay? Failure is just a necessary part of creative work, right? So if you take risks, you will fail. Creative work is risky. All of us are doing something like that. It's risky. So you're going to fail. If you're not failing, I do not trust you. Get out of here with your constant success. Failure is a totally normal, if annoying part, of being a human, right.
So it doesn't need to be fetishized or dreaded. It's just basically like eating or sleeping or laughing or crying. It's just like a basic ass part of existence. And I'm sorry to tell you that, but it's true. Because failure is normal it doesn't need a qualifier or a cheerleading squad. Um, so you know, unless you have issues with things like eating or sleeping, you don't think too much about those. Right? And we take them for granted and I think that failure should be that way, too. No one is doing a Ted talk about eating breakfast or sleeping in bed. Although I don't know -- there probably is. But I could only go through the failure talks and that took me days. So who knows? If there is a Ted talk on eating breakfast, I would like to hear it because I love breakfast.
And finally, failure doesn't mean upside because it doesn't need to be a catalyst for anything that is bigger or better. It doesn't need to lead you to the next thing. I think that if you feel like that's what failure is going to do for you, you're giving too much weight to failure, right? You're putting too much pressure on yourself to make something of your failure and it's just okay, and I'm giving you license. So if you feel like you need to explain this to somebody, you just say, Lauren told me it's okay if failure just exists on its own as its own discrete thing. And it does not have to be a propellant for something or a catalyst for the next dope thing. It just gets to be this shitty thing that you have to deal with. Okay.
So storytime kids, I just did that to prove to you that I knew how to do a PowerPoint. So you're welcome for that. Okay. So a little bit about me if you don't know anything about me. I worked in a public radio news magazine for a long time and then it ended and that's okay. Shows end and it's no problem. Um, but I was essentially jobless and so my boss at the time asked me like, Hey, do you want to try something new? They had some room in there in their schedule for possibly a new show. And I was like, yeah, why not? So I created this whole new show. It was called The Big Listen. It was first a local show. And I had no clue how to be a host. And if, if any of you feel that way, like I want to be host, but I don't know how there's a talk, I think it's later this afternoon or maybe it's tomorrow, but check your schedules, about how to step into a hosting role because it's like a totally different thing and you have to have a different mindset and it doesn't mean you're better or you're worse or whatever, just like a different thing.
And so I just stepped into that and I had no clue how to do it. And it was a lot of learning on the job and then NPR was like, cool, we're into the show, let's acquire it. Um, and I was like, great, like, look at me. I'm so cool. I have a national NPR show. Like what? Like who's the best? It's me. Um, and I super hustled and we did a lot of press on it and I worked like my little fanny off and the stations were like, cause it was a, it was a radio show and a podcast and the stations were like, "Um, yeah, we're not putting podcasts on their radio. Like you're insane." And um, and so after about 50 episodes, we only had carriage of about 40 stations, which if you work in public radio, you know that that is not good. And it is not enough to make any money. Um, and so after so much hemming and hawing and consternation, the show got canceled. Right? Now here I was, I'm like, I'm a national hosts. Like there are so few women who are national hosts, I'm important. And then in a second is like, nope, who are you? You're nobody. Like you're a person with an apartment and a dog and a car payment. That is who you are. And so for months I had no job and I applied to every single possible job out there. Like I probably applied to some of you to like, I was like, can I be your intern? Do you need a production assistant? I'm like a dog wash or a dog washer. Do you want me to wash your dog? I was like, a dog catcher, a dog walker. I'll do your laundry. Like I'll do all of the things. I'm seriously, I mean, every kind of, I was like prostrating myself to people, like, please hire me for something. I need green in my pocket.
And finally, I got this job, with American Public Media and I auditioned to host this show, which is totally bizarre. Um, because I'm a journalist, like we don't audition for things, but anyway, apparently I did. But it was fitting because it was about failure. Right? And, and I was like, okay, I can do this. Like, I know something about it. But what was important to me about that moment, and that was just a year ago, like I came here, I did a talk last year and I had no job and I had to get up in front of people and be like, listen to me. I know what I'm talking about. I'm so important. And everyone was like, you're unemployed. And I was like, it's so true. It's so true, but I will be employed again.
So I feel like I had to think a lot about this failure and I was like, you know, it didn't teach me anything meaningful. It just sucked. It just sucked. I learned about the industry, right. But it wasn't like, "This is what I'm going to use to catapult myself to the next level." It was like, Nope. It's just a thing you got to deal with because especially in this industry that is, that is new and growing, emerging. It's in this sort of infancy, like we're all gonna lose jobs and we're, I mean, I think somebody, it, I'm at a, This Is Uncomfortable, mentioned it on stage, like you're going to get laid off, like you probably will. And then you're probably going to get another job and then you might get laid off again and then you might get fired. And then like, you know who I hope you don't get fired. Um, but if you do like, who cares? Cause like I've been fired twice and it's not a big deal. So, but I feel like, you know, it wasn't like this made me more resilient or like better able to like deal with everything. It was just like, Fuck, now what?
So now I host a show that is all about big business failure. And I've learned a few things. So I wanted to share a couple of things that I learned from hosting this show. I mean, I've spent like, I've spent the last 10 months thinking about failure -- other people's failure, particularly white men's failure. It is very hard. You know, we all want to have like diverse shows. We all want to have lots of different voices because that's appropriate because we live in America and America is full of lots of people who are different. There are so many white men who fail in business and very few other people. And that, that says a lot. Like there aren't a lot of women and people of color in business also. Maybe women and people of color aren't failing. Because we're better than that.
So anyway, so here are a couple of things that I've learned. Everyone fails. Thank you for coming to my Ted talk. No, seriously, everyone fails. So just get over it.
I mentioned this before, but um, you know, it's just a part of the creative process. Like it doesn't need to be a bad part or a good part. It's just a part. Who cares? Big whoop, um, and being good doesn't inoculate you from failure because there are many things and we know this from TV particularly like how many of our favorite shows or like critically acclaimed. You were like, Ooh, I love this show so much. And then it was just like, it made no money. So went away, that's going to happen in podcasting and it's going to be heartbreaking, but we're all gonna move on from it.
So risk breeds failure and you can fail at the status quo too who cares. Um, I knew, I keep saying I know I'm being very flip about this, but I think that it's an important place to get to where you're just like, it's just a thing. Like it just happens. Whatever. Now this is for the millennials in here of which I am not one.
Failure is not going to kill you. It doesn't have to make you stronger, but I promise you it will not kill you. Right? You will not die from falling on your face. You will not wither away from shame. You will not evaporate into the ether. You will just note the thing that didn't work and see it for what it is. Just a thing that didn't work. Now, if you truly want to inoculate yourself from failure, just like make a lot of money and be really powerful because powerful people and people with a lot of money are never taken down by failures.
Please see president number 45, that it was not a partisan statement. That was just, that is the truth. Um, okay, so it's a "jif gif" time. Again, this is my favorite -- model fail videos are one of my favorites. Now she's fine, everyone. She's fine. Look at that. Like she fell right through the floor. Where did she go? Where is she? Oh there she goes again. I'm telling you, if you're ever feeling like you have a down day, just like Google model fail videos followed very closely by CrossFit fail videos. Okay?
Now if you don't believe me, that failure doesn't need an upside. I have a couple of cultural references for you. One of them is our favorite show Broad City. Now, okay. I don't know if quotidian-ness is a word. I don't care. I'm using it anyway cause I couldn't think of a more elegant synonym. No contemporary media portrays the absolute quotidian-nessas a failure, like Broad City. Um, so we're just gonna watch a little clip, you know.
[AUDIO CLIP] These ain't valid. You girls gotta move along. I've got them on Craigslist. You hoes aint never ever heard of StubHub? These are for sure fake. Get out of my line. Go. How old are y'all anyway? I can't tell cause outfits aren't matching the faces. [END AUDIO CLIP]
Lauren Ober: Also, like after I watched this video I was like, wait, you're not supposed to buy tickets on Craigslist? Oops. "You hoes ain't never heard of StubHub?" I'm like, that's me. I'm all right.
But seriously, I'd be like, no one fee fails quite as well as Abbi and Ilana. And that's why we love them, right? Because they feel so relatable. Then there's Girls. I want to read you this quote because I loved it. Right?
"Failure is the bread and butter of HBO's Girls. Other TV programs about women in friendship, Broad City, Sex in The City, even Orange Is The New Black tend toward cheer and optimism even when the subject matter is painful. But Girls had a bleak world view." That's from Anya Jaremko-Greenwold of Vice magazine, uh, Vice, whatever. Who knows what Vice is, I don't know. What do I know? All right, so she goes on to write. "Failure is important because it destroys our childish notions of what life will be. This hurts for sure, but it also leads to other things, not necessarily bigger or better, but other. Girls celebrates that unknown other." Now we have to watch a clip.
[AUDIO CLIP] It's okay. Maybe think about it. Like, we were all just doing our best. Our best as awful. The worst best. [END AUDIO CLIP]
Okay. Um, I, I was like, Oh, this is about the failure of their friendship, which is kind of intense. But I also just wanted to nominate Lena Dunham for the Claire Danes ugliest crier of the year award. And I say that as a notoriously ugly crier myself, but like, that is some ugly ass crying.
So I feel like I want to give you a little bit of permission to fail, to fail in whatever creative endeavor you're doing. Um, I feel like, um, you know, people who are not men need to be allowed to fail without feeling like they have to bounce back from it or learn from it. So this is going to be, uh, your license. These lovely faces are Alix Spiegel and Hanna Rosin from NPR's Invisibilia. Um, now when I was putting this talk together, I, I looked all around, uh, I asked a bunch of friends, you know, can we, can you share some of your professional failures with me? And not surprisingly, I did not get a lot responses. And so I went to these guys cause I know that, you know, you can loosen them up with, you know, a beer or two. And they will tell you about all of their failures and they have some really, really good ones. Um, so a few years ago they came up with a story they wanted to do.
[AUDIO CLIP] So we have this totally brilliant idea, which was a partnership with Breitbart... [END AUDIO CLIP]
Lauren Ober: which you obviously know is already going to end very badly.
[AUDIO CLIP] I was like, Oh my God, such a good idea. We're going to do a joint project with Breitbart. And then remember we brought the NPR brass in the room and they were like, literally we didn't finish talking and they were like, no. [END AUDIO CLIP]
Lauren Ober: So naturally they scrap the partnership part of the story idea, but they forged ahead with the rest of the concept.
[AUDIO CLIP] The story totally revolved around this one person. Um, but the person was not calling me back. The person's sister was not calling me back. The mother was not calling back. Nobody was calling me back. Well, originally they said yes. [END AUDIO CLIP]
Lauren Ober: So the sources had said yes, right? But then they changed their mind. It happens to all of us. No big deal. However, the SuperDuo would not be deterred.
[AUDIO CLIP] I couldn't understand that. It didn't seem real to me. So we were like, I'm not going to pay attention to that. We're going to go anyway. [END AUDIO CLIP]
Lauren Ober: Okay. Now I would say that's a mistake. But they pushed on, they bought very expensive tickets to South Dakota. They booked themselves into a hotel for a week. They interviewed a bunch of folks for the story. Then they went to the main sources house. The person who initially said yes and then said no to talking with him. So they went to this person's house.
[AUDIO CLIP] We get in the car and we drive to their house and then Hanna won't get out of the damn car. [END AUDIO CLIP]
Lauren Ober: Okay, so that's not how reporting is supposed to go.
[AUDIO CLIP] Hanna is just shaking her head back and forth and like in a no gesture and I'm like perhaps it would be a good idea for you to get out of the car and she just wouldn't do it for like, I don't know how long, like 30 minutes, 40 minutes. And I think at one point I even like offered to go for you. It was a total failure. It happens to me like once every eight years. Just my mind collapsed and my body froze. Why did your mind collapse? I don't know, I just couldn't get out. I just, I just got totally overwhelmed and I just shut down and I couldn't get out of the car. [END AUDIO CLIP]
Lauren Ober: Okay. Now you might be moved to empathy because of this whole situation cause that's a really, really shitty thing to happen. It was like a Diving Bell Butterflies scenario. Hannah was just totally frozen.
[AUDIO CLIP] But then did I get out of the car? Yes. You pretended to be me. Yeah. I hope I was completely frozen. So you got out of the car and you were like, I'm on Hanna Rosin. [END AUDIO CLIP]
Lauren Ober: Okay, so Alix pretended she was Hanna. That is not advisable. Do not do that.
[AUDIO CLIP] You got out of the car and you went to talk to the woman. No memory of that. You know, you in the back, you did what a reporter does. You snuck in the back door, you got into the house and the woman was like, no. Oh my god. [END AUDIO CLIP]
Lauren Ober: Okay. Now if this middle aged white lady came strolling through your back door with loads of recording gear, I would probably do more than politely declined an interview. But I digress. Okay, so even though the trip didn't yield a story and costs NPR thousands of dollars and Hanna had a meltdown, the trip wasn't a total bust.
[AUDIO CLIP] I bought a pair of mittens. [END AUDIO CLIP]
Lauren Ober: but in the end, that's all that came from the experience. It was a pair of mittens, not great, paralyzing shame, not a deeper understanding of self, not a resurrection or redemption story, not a catapult into success, not a book deal, not a Ted talk.
[AUDIO CLIP] We did so much for work recording for nothing, no reason. We got nothing out of a total failure. [END AUDIO CLIP]
Lauren Ober: Total failure. Every single one of you is going to have a failure like this one. Maybe it doesn't cost your company thousands of dollars. Maybe it doesn't cause a huge amount of embarrassment for you. Maybe it doesn't take place in South Dakota, but it will happen and when it does, you're going to shake it off like a little dog that got spooked and if you can't shake it off, then there's this: that is Elizabeth Gilbert of "Eat. Pray, Love" fame. Now "Eat. Pray, Love" goes against literally everything I just said up until this point: that failure doesn't need an upside and it sure as hell doesn't need a feature film starring Julia Roberts. But I'm going to tell you this lady's Ted talk is really brilliant and we are going to listen together:
[AUDIO CLIP] And if you should someday somehow get vaulted out of your home by either great failure or great success, then your job is to fight your way back to that home. The only way that it has ever been done by putting your head down and performing with diligence and devotion and respect and reverence, whatever the task is that love is calling forth from yo next. You just do that and keep doing that again and again and again and I can absolutely promise you from long personal experience in every direction, I can assure you that it's all going
to be okay. Thank you. [END AUDIO CLIP]
Lauren Ober: So what she said. Um, thank you guys. Thank you to WNYC Studios, Corporation for Public Broadcasting, the Annenberg Foundation and all of you for supporting women and non binary people in podcasting. Also super things to my boy producer, Whitney Jones. And all my bosses in American Public Media. You can check me out @Oberandout my show tweets @FailureShow. You can listen to our show. So if you want to talk or you want to ask questions, we can do that or you can go, Oh yes. My friend in the front here you have a question.
Audience Member: I have a question about the definition of failure. I mean some people's failure might not be someone else's.
Lauren Ober: True.
Audience Member (continued): What can you say about how we define failure?

Lauren Ober: Right. No, I think it is a deeply personal thing. I think that's a really good point to make. I think failure is deeply personal. However, in the work that I do in this sort of looking at big companies like those are very, very specific and discernable failures, right? We know the contours of those. They're very, you know, they're, they're very clearly defined, but I think an interpreter like a personal failure. Are you sure? I mean I think a lot of it is how you frame it for yourself and is this a failure? But I think I want to just try and say like, it's okay if we call something a failure because that doesn't necessarily have to carry any weight and we can just say like, I mean, you can say whatever. I messed up, I, you know, I screwed up like it's a failure or whatever. And I just, I think my point is like, we do, it doesn't need to have any more power than we imbue it with. At the back.
Audience Member:
Well, first of all, I'm a huge fan of your show.
Lauren Ober: Thank you.
Audience Member: Um, my question is for like, before the success comes, when you're in that like failing place in your like dog walking and whatever, like how do you frame the failure and you're like, where you're at for like other people. Like if you're at something like this and you've just been laid off, like how do you make that not sound terrible?
Lauren Ober: Honesty, honesty. I mean, I truly, truly like, I think it's just important to own it and be like, yeah, you know what, that sucks. I lost my job. I used to, early, early in my career, I was a print reporter and I had to a job under really bad circumstances. I had an abusive boss and I had to leave and I had to leave with no job and no opportunity. And I felt truly like I evaporated into the ether, right? Like I'm never going to get hired again. And I was like, I'm a writer, but what am I now a writer is someone who writes and I'm not writing, so what am I? I'm nothing. And then it's like, boy, I gave a lot of weight to that job, you know? And it's like, you know what? I still have friends and I still have family. I still have people who will take care of me and hold me up. And even if I don't, all those people like don't do it. I can do it myself. Um, but part of this is muscle memory, I think because I've had the experience of, you know, getting fired, losing jobs, whatever, there's a part of you that's like, I know how this plays out. It's not gonna have the exact, um, it's not gonna have the exact contours, but it's going to be kind of similar. And I know, I mean it's experience, right? And it builds these muscles where it's like, okay, like, yeah, this sucks, but I will, you know, I'll end up okay. Or, um, and it isn't like it's gonna lead to the next greatest thing. Like it might lead to you to go bag groceries and there's no shame in that. I mean, I left a job and I truly did go. I worked at, I left my newspaper job that I like had a master's degree for and then I went and go and I worked at a, like a store that sells like dented cans that came off the back of the truck, you know, and it was like people trying to get a deal on like discount wine and cheese that was like pass, sell date and all of this stuff. And I would see my coworkers come in and it was humiliating. But then I was like, what? There's no shame in like bagging your groceries. Like I get a sweet ass discount and if you're nice to me, I'll give you a discount, too. Um, and not that that was advised by anybody at my company, but I mean, and I'm not saying like, ooh, like I, it didn't hurt cause it did, but it's just like, well you know what, I'd like to eat more than I'd like to complain, you know, so any other at the people in the back?
Audience Member: So I want to know if you can accept, uh, the failure as just a thing that happens that's just part of it but you're in that really sucky part where you're like trying to accept the failure and you're trying to figure out like what comes next and you're embracing that. Like, even if you're able to like theoretically embrace the suck, like how do you, how do you avoid crippling depression from setting it? Like at what point can you really say here's how I figured out what's next and this is not going to be this defining moment. It's just going to be a thing. What, what now?
Lauren Ober: Good question. Okay. Thank you for that question. That's very important. And I do think, you know, sort of, I, I, I rolled right over that because our mental health, um, and how it is tied to how we feel about ourselves in our workplace is like a really big thing. And I hate that they're sort of, they're linked. Um, because your value just not necessarily come from you as a worker. It's part of it, but it is not the sum total of, of who you are. And so I think that that's part of it to learn. Like, like, you know what, when I'm like, when I'm like 85 years old, you know, I'm not going to be like, I was the best worker. You know, I'm going to be like, where are my teeth? You know? Um, no, but, but, but like I, you know, I have a dog, I have a dog. Honestly, I have a dog. I pet the dog a lot. I go on a lot of dog walks. Like it's, it's how do you self-sooth, how do you take care of yourself?
Like what are the things that you can do that you still find value in or where you feel like you can put your energy? Like have a hobby, you know. I'm like, honestly, if any of you have a podcast that is a hobby, like please allow me to preach to you for a second. Like, let it be that. Like let it be a beautiful creative thing that you can put your energy into and you don't feel like it has to be the thing that earns you money and all of this. Like, I say this and sometimes it sounds like real asshole ish, but I'm like, Oh, you play tennis for fun? Are you trying to play Serena Williams? Like are you trying to be in the US Open? No. Then why are you trying to monetize your podcast and make like big bucks out of it if it's something that brings you joy and is fun? Um, but, but, but you know, we're backing up, like I do think having, having outlets that aren't work or the, it doesn't matter if you fail, right? Like you're learning to play the guitar, who cares if you're fucking it up, you're learning. Right? And so I think having those things that you can fall back on or like I remember I cooked a lot, um, because it was a thing that I could have my hands busy doing and it's like I'm only making it for me. So who cares? Like, I'm not going to be like, this is gross. Or if it is, I'm not going to be like, you're the worst cook ever. You'll never make it on Top Chef. It's like, great, I didn't want to be on there anyway.Um, yeah. I don't know. I mean there's no, there's no good answer to this. Just like, do you have to figure out where you're like, how we take care of ourselves? And I think that that's, you know, we talk about that a lot in spaces like this, like self care and how are you, you know, where's your community? Are you drinking enough water? Like all of those things. But truly it is like go take a walk. You know, if you can't take a walk, like go outside. If you can't go outside, like, like watch a TV show, like do any little thing. I don't know. I mean, what do I know about any of these things? Like I'm probably gonna get fired tomorrow so I'll be back in this same situation and I'll be like, guys, what did I say at my anti-TED talk? Can you help me cause I failed again. And anything else?
Thanks for all of your questions. I appreciate this. This was like an impromptu little Q and a sesh. It's so cute.
Dessa: That was Lauren Ober, speaking at the 2019 Werk It festival.
Both the festival and the podcast are produced by WNYC Studios and are made possible by major funding from the Corporation for Public Broadcasting with additional support from the Annenberg Foundation.
Event sponsors include Luminary, Spotify, Spreaker, Acast, Himalaya, and the Women's Foundation of California.