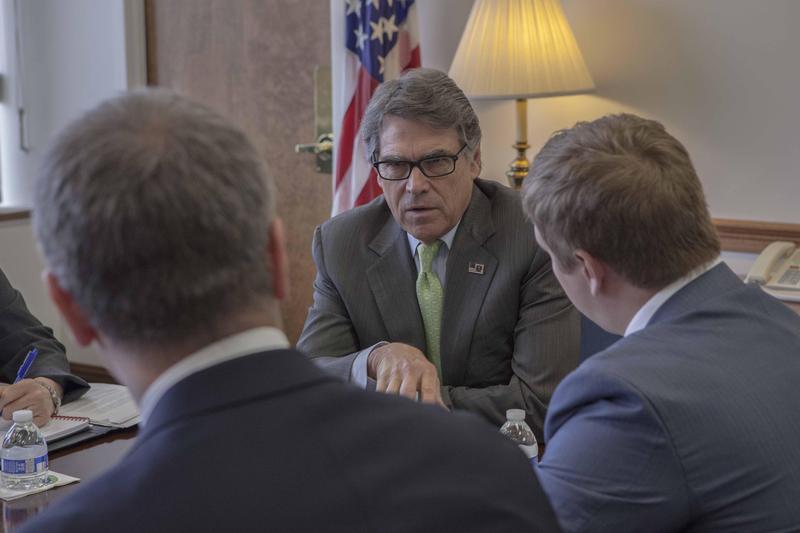 Transcript
DARIA KALENIUK: Tanya, did you read the transcript? Yes? You just read it? [IN UKRAINIAN] Yes? [IN ENGLISH] So what's the — what's the most interesting one?
ILYA MARRITZ: Do you remember the day last September, when the White House released a partial transcript of President Trump's phone call with Ukrainian President Volodymyr Zelensky?
KALENIUK: No, it's not a verbatim transcript of the discussion [FADES UNDER]
MARRITZ: I remember it clearly. I happened to be in Kyiv, Ukraine's capital, for another story, and I'd just arrived at an office to interview one of that country's best known anti-corruption activists: Daria Kaleniuk. She started to read out loud.
KALENIUK: … can affect the accuracy of the record ...
[SOFT MUSIC PLAYS UP SLOWLY]
MARRITZ: The words on the screen were stunning to both of us. The American President, in his unmistakable pattern of speech, is urging another world leader to investigate Joe Biden's son, Hunter Biden, and the DNC server he thought was hidden in Ukraine — investigations that would benefit him politically. Trump said Zelensky should talk with his lawyer, Rudy Giuliani, and his Attorney General, Bill Barr.
[KALENIUK SIGHS]
MARRITZ: Quote, "I would like you to do us a favor, though, because our country has been through a lot, and Ukraine knows a lot about it."
KALENIUK: It is actually very astonishing to me to see that [BEAT] something like that is happening in the United States, from which we are trying to learn how to make democracy.
MARRITZ: Kaleniuk knows American governance and American law. A few years ago, she was a Fulbright scholar in Chicago. Her project in America was researching how our legal system could be used to go after kleptocrats and crooks in Ukraine. When she got home, she founded an anti-corruption group.
KALENIUK: And we are inspired a lot with success of the United States. The development which is happening now is disappointing for us. But we hope that American institutions, you know, which were set up by the Founding Fathers at the end will win. And we really hope that Ukraine and the United States will be allies for a long-term period, because we really have similar values, similar goals.
MARRITZ: You know what happened next. After that July 25, 2019, phone call, President Trump put a hold on military aid to Ukraine. It was exposed in a declassified whistleblower complaint. Trump was impeached by the House for abuse of power and obstruction. He was acquitted in the Senate.
But this probably slipped by you, in the onslaught of news: According to an account in Axios citing three people on a call with the President, Trump said something to the effect of: "The only reason I made the call was because Rick" — that's Energy Secretary Rick Perry — "asked me to. Something about an LNG plant."
[MUSIC BECOMES MORE TECHNO-HEAVY]
MARRITZ: LNG: Liquefied Natural Gas. It's a form of gas that can be shipped around the world. Like, from America to Ukraine.
There is no mention of LNG in the readout of the call.
But here is a curious thing — shortly after impeachment ended, the Ukrainian government signed a preliminary agreement with an American company to import American LNG. It would be a no-bid, 20-year deal.
The company wasn't Exxon or Chevron or any name you might have heard of. It's a tiny Louisiana outfit that has never done a major deal.
And we learned from documents and interviews that, all through 2019, Rick Perry and his Department of Energy promoted this obscure company — and one of its advisors — to the Ukrainians, saying, in essence, "These guys. You should make a deal with these guys."
[TRUMP, INC. THEME MUSIC PLAYS]
MARRITZ: Hello, and welcome to Trump, Inc., a journey into the business of Trump from WNYC and ProPublica. I'm Ilya Marritz.
All through the Ukraine pressure campaign and the impeachment, the United States was pushing the Ukrainians to make an energy deal with an American company — a deal that didn't make much business sense to the Ukrainians. The cabinet secretary pushing this deal, Rick Perry, ended up in a position where he could have profited from it.
Today on the show, we're going to tell the story of how a little, no-name company found a powerful advocate in Rick Perry. At that same time, Perry was becoming known as one of the Three Amigos, working with Rudy Giuliani on his campaign for dirt on the Bidens in Ukraine.
We reported this story with a friend of the show, Simon Shuster.
SIMON SHUSTER: I'm a correspondent with Time Magazine.
MARRITZ: Simon has spent years reporting on money and power in the former Soviet Union. It's where he was born.
SHUSTER: Yeah, about 15 years now, I've been reporting on Russia and Ukraine. And this particular story got my attention around the time of the impeachment hearings — actually, around October — when these two associates of Rudy Giuliani were indicted in the Southern District of New York.
And that's when we were first in touch, and we started looking into what Giuliani was doing in Ukraine, especially on the business side.
ILYA: But instead of Giuilani, we found Rick Perry. Over the months, we spoke with many people — in the US, Ukraine, and elsewhere — with firsthand knowledge of this deal, potentially worth billions of dollars, that was promoted by Perry.
[HARMONICA MUSIC PLAYS]
SHUSTER: He's a really successful politician. He was the longest-serving governor of Texas. He ran for president twice.
MARRITZ: And like the President, he's done a bit of reality TV.
RICK PERRY: I'm really excited about doing Dancing with the Stars. My daughter's wedding is coming up, so I need to be ready to look really good on the dance floor for her. [FADES DOWN]
SHUSTER: He was also in the private sector for about two years, in between the Texas statehouse and the Department of Energy. He served on the board of an oil and gas pipeline company.
EMMA SLATER: [FADING UP] We're gonna do what's called a butt roll.
PERRY: My wife is gonna love that move, she's gonna be like, "Where has that been?"
MARRITZ: A few months after Perry was cut from the show, Trump picked him to be his Energy Secretary.
SHUSTER: Perry takes a particular view of this role. He says, and these are his words, "My job is to go sell American product."
MARIA BARTIROMO: Joining me right now with an exclusive look at the new facility is Energy Secretary Rick Perry. Mr. Secretary, it's good to see you this morning. Thanks so much for joining us.
PERRY: You're welcome, Maria. It's a beautiful place out here.
SHUSTER: So, thanks to fracking, America is producing huge amounts of gas. Perry says we should be putting it on ships and selling it to our allies around the world — especially in Europe, where most countries buy a lot of Russian gas.
So, Perry starts talking about all this in terms of "energy dominance," and his Department of Energy refers to LNG as "freedom gas" or "molecules of freedom."
PERRY: This isn't just about an economic, uh, thing for the United States. It's about the supply and the security of our allies in the European theater. They don't have to sit there and be held hostage with just one supply of gas. The United States, whether it's going to be going into Poland … [FADES DOWN]
MARRITZ: So Rick Perry is a proud salesman of American gas. He's already doing this — he's already taken an interest in Ukraine — when Rudy Giuliani starts his quest in Ukraine for dirt on the Bidens. Eventually, Perry is pulled into it.
CONGRESSPERSON ADAM SCHIFF: That inauguration was attended by three who've become known as the "Three Amigos" — Ambassador Sondland, Volker, and Perry, was it?
FORMER AMBASSADOR MARIE YOVANOVITCH: Yes.
MARRITZ: This is California Congressman Adam Schiff, questioning former Ambassador Marie Yovanovitch, at impeachment.
CONGRESSPERSON SCHIFF: And three days after that inauguration, in a meeting with President Trump, are you aware that the President designated these "Three Amigos" to coordinate Ukraine policy with Rudy Giuliani?
AMBASSADOR YOVANOVITCH: Since then, I have become aware of that.
MARRITZ: Perry refused to testify at impeachment. He did deny knowing about the campaign to pressure Ukraine for dirt, and he said his work was always focused on making sure Ukraine wasn't held "hostage" by Russian gas. He didn't speak to us for this story, and he didn't respond to many of our questions.
[QUIET MUSIC PLAYS]
MARRITZ: While we were reporting the story on the gas deal, we came to learn that federal prosecutors in New York have been taking an interest in Perry.
SHUSTER: So we spoke to five people with knowledge of this, and they say prosecutors have been talking with prospective witnesses and asking them about Perry's interests in Ukraine. It began in the fall of last year, October, November —
MARRITZ: — and continued till sometime this spring. Two sources indicated to us that prosecutors have since moved on, and Perry is not a target.
Prosecutors' starting point, as best as we can tell, is another group that also wanted to sell American gas to Ukraine: Rudy Giuliani's friends, Lev Parnas and Igor Fruman. [THE SOUNDS OF A DINNER] At an intimate dinner with President Trump, Parnas and Fruman bragged about their ambitions for their business.
LEV PARNAS: We're in the process of purchasing an energy company in Ukraine right now that should help cut off Russia's …
PRESIDENT DONALD TRUMP: How's Ukraine doing? [BEAT] Don't ask.
PARNAS: They love you, though. I can tell you that much. They love you.
PRESIDENT TRUMP: They're great —
PARNAS: They're great.
PRESIDENT TRUMP: They're great fighters.
MARRITZ: Parnas and Fruman were arrested last year on campaign finance charges. They've pleaded "Not Guilty" and are awaiting trial. As far as we know, there is no connection here.
[PLUNKY MUSIC PLAYS]
MARRITZ: In March, just as lockdowns were going into effect around the world, an article about a gas deal appeared on a Ukrainian news site.
SHUSTER: So this is from March 13, 2020. And the headline in Interfax Ukraine is "Ukraine, U.S. agree on annual supplies of 6-8 billion cubic meters of liquified natural gas for hub creation."
Now I may be one of the very few nerds who looks at that and says, "What? Wow! That's so exciting!"
MARRITZ: [LAUGHING] So translate it for me. What does it mean?
SHUSTER: So, basically, what it says is Ukraine has agreed to buy a whole lot of American gas, on a sort of a long-term basis. And the first thing I thought was, "Wait a minute! This is the deal that Parnas and Fruman were pursuing. It's almost identical to — to the deal they wanted, but they don't seem to be a part of it."
[JAZZY MONTAGE MUSIC PLAYS]
SHUSTER: The idea's the same. So the idea is to, uh, take natural gas from the United States, super-cool it, uh, then put it on tankers, ship it to Poland, and pipe it through Poland to Ukraine, and then store it underground in Ukraine until prices rise, and then sell it westward to the European Union, potentially at an enormous profit.
[MUSIC OUT]
MARRITZ: And this article names a company that's supposed to be the supplier for all this gas: Louisiana Natural Gas Exports, Inc. Also known as LNGEx.
LNGEx was registered in 2018. Other than that, there was almost no public information about the company. But their website had contact details, and when I wrote to them, I heard back right away from the CEO.
MARRITZ: And you pronounce your last name, uh, the French way? [PRONOUNCED "BON-SHAY"] Blanchet?
BEN BLANCHET: Well, actually, I use the "t" — [PRONOUNCED "BLANCH-ET"] Blanchet.
MARRITZ: [REPEATING CORRECTLY] Blanchet. Okay.
MARRITZ: His name is Ben Blanchet. Very quickly, we got into logistics.
BLANCHET: The gas itself will come from, um, in all likelihood, Louisiana or Texas, you know. Are you familiar with the Henry Hub?
MARRITZ: Uh, no.
BLANCHET: Okay. Are you familiar with — with the NYMEX quote for natural gas?
I didn't know any of this stuff. [BEAT] But it's a part of Blanchet's plan for the company. He said LNGEx has about 15 people who all have experience in different parts of the energy industry. They believe Ukraine is a great place to sell gas, even if others see it as risky.
I asked whether they own any of the specialized, refrigerated ships you need to move LNG. Blanchet said no. But, he said, LNGEx could rent or buy any infrastructure it needed.
BLANCHET: None of this is rocket science. None of this is stuff that isn't done all over the world every day.
SHUSTER: So yes, in theory, you and I can go tomorrow and — I don't know — rent a tanker and try to buy a bunch of gas and drive it to Ukraine, and we might even be able to sell it on the so-called "spot market" there, as kind of a one-time deal. But what Blanchet is trying to secure in Ukraine is a 20-year agreement. And, of course, you know, Ukraine wants to be dealing with a serious partner, not a company that has no business record, essentially.
MARRITZ: Before Blanchet and I spoke, Simon and I researched the people involved in the company.
SHUSTER: So two things caught our attention. First, When I Googled the name of the founder — a guy called Marsden Miller — one of the first results was a news story from 1987 about his sentencing on charges of corruption in Louisiana's oil industry. This was back when he was working with a different company, and he was actually sentenced to eight years in prison in that case.
BLANCHET: I — I — I'm happy to respond to that.
MARRITZ: Blanchet said — and we confirmed this — that Miller's conviction was later overturned. It happened after the Supreme Court narrowed the mail fraud statute in an unrelated case.
BLANCHET: … his conviction was overturned on appeal ...
[TECHY MUSIC PLAYS]
MARRITZ: The second guy who caught our attention is a man named Robert Bensh. Back in March was named on the LNGEx website as an executive responsible for Europe.
SHUSTER: I've been hearing his name on and off for many years. He has a really long track record and reputation in Ukraine, especially in the oil industry. And he's known as someone who has really close ties to the government of former President Viktor Yanukovych.
[DRAMATIC MUSIC PLAYS IN THE BACKGROUND]
MARRITZ: Yanukovych is the strongman who hired Paul Manafort — who stole millions from his country, built himself a gaudy palace outside of Kyiv, and fled to Russia during an uprising in 2014. To Blanchet, Robert Bensh's connection is not a red flag.
BLANCHET: Certainly the Ukrainian government is very familiar with Rob, and they're very comfortable dealing with him.
YARYNA: Excuse me, just a quick note.
MARRITZ: At this point, LNGEx's press contact, a woman named Yaryna, broke in
YARNYA: Uh, Ilya would be — would you like to talk to them?
MARRITZ: Obviously I said yes. And a couple weeks later, I got connected with ...
ROBERT BENSH: Robert Bensh, and I advise companies on oil and gas investments, energy investments.
MARRITZ: I found Robert Bensh to be charming, a natural storyteller, and self-assured. More than once, Bensh described himself to me as
BENSH: … highly arrogant and overconfident.
MARRITZ: But he's also not too proud to admit that the energy business in Ukraine is not a path to glory. He's been working with companies there for about 20 years.
BENSH: The business model I followed was take $1, generate a return. And when you hit that return, sell it for cash to somebody. That's how I …
MARRITZ: It sounds a lot like — like house-flipping.
BENSH: That's exactly — that's really all you can do.
[DRAMATIC CHORAL MUSIC PLAYS]
MARRITZ: I asked Bensh about his connection to the government of Viktor Yanukovych — that's the strongman who was overthrown in 2014. One securities filing for a company where Bensh was a director states — almost like it's a brag — that Bensh was an advisor to a man named Yuriy Boyko, who served as both Yanukoych's Vice Prime Minister and his Energy Minister.
MARRITZ: Uh, is it correct that you were an advisor to him and to his government?
BENSH: So, I've asked that question: "Was I an advisor, or was I just talking to him a lot?" And no one has produced an edict that I was an advisor to Boyko. [BEAT] I haven't done anything in Ukraine that I'm embarrassed about.
MARRITZ: Bensh says he had pulled back from Ukraine business when one day, in or around December 2018, his phone rang.
[MUSIC BECOMES TECHY MUSIC]
BENSH: I got called by an investment banker friend who was looking for — Rick Perry was looking for an expert on Ukraine in the energy sector. And he asked — he called me and said, "Would you speak to him?" And, you know, who wouldn't want to speak to the Energy Secretary?
MARRITZ: Some days passed. And by the time a call came in from an unidentified number, Bensh had forgotten all about it.
BENSH: And I was in the car, and I'm talking to this guy for, like, ten minutes. I'm like, "Who the fuck is this?" Finally, I said, "Who is this?" 'Cause we were talking about Texas and you know, the traffic on I-10, you know — the road that I was driving on. My daughter was in the back, screaming her head off. She was a two year-old at that point, having one of her classic meltdowns. And I finally said, "Who is this?" And he said, "Oh, hey, sorry. It's Rick Perry." I'm like, "Oh my God, Mr. Secretary!"
[MUSIC CALMS DOWN]
MARRITZ: Bensh says, on President's Day weekend 2019, he drove out to an airport where Perry was passing through. They discussed Ukrainian politics, and energy.
BENSH: He was very focused on how to get LNG into the country, resolving the pipeline. He had some very good knowledge, but he was also, uh — he had been misinformed by some people and — and he listened, and we set that straight.
MARRITZ: All through 2019, Rick Perry and the Department of Energy went to bat for Bensh and LNGEx, again and again.
We spoke to a half dozen current and former government officials about this. They all told us the same thing: Sometimes, the US government helps American companies doing business overseas, but it's unusual for it to consistently advocate for a specific private party in this way. One of the people we spoke with, Theo LeCompte, was the deputy chief of staff in the Commerce Department under President Obama.
THEO LECOMPTE: If we were to advocate for anyone without vetting them, you know, we'd inevitably advocate for some company that wasn't qualified. If that happens, you know, imagine they get the contract and then they mess it up. Um, you know, every contract in the future — the Germans, the Japanese, all these other companies that we're competing with around the world — are going to say, "You can't believe the American government. They're not doing their due diligence on these companies."
MARRITZ: LNGEx had not undergone this kind of vetting when Perry and the Department of Energy started urging the Ukrainians to work with them and with Robert Bensh.
[THE MUSIC FROM AN INAUGURATION PLAYS]
MARRITZ: So I'm going to walk you through it now.
[DRAMATIC CHORAL MUSIC]
MARRITZ: Point one in our timeline: In May 2019, Secretary Perry flies to Kyiv for the inauguration of Ukraine's new president, Volodymyr Zelensky.
[CHEERING, AND AN ANNOUNCER SPEAKING UKRAINIAN]
MARRITZ: While he's there, Perry hands Zelensky a short list of names of people he thinks should be added to the board of the state energy company, Naftogaz. It's a body that will review any possible gas deals. One of the names is Robert Bensh.
SECRETARY PERRY: You know, we gave them names — we gave them names from the private sector that we know, names that are … [FADES UNDER]
MARRITZ: Rick Perry later said at a press conference the names were just suggestions for energy advisors, not for the Naftogaz board.
SECRETARY PERRY: … people who are considered to be some of the really [PAUSE] best knowledgeable folks in the oil and gas industry … [FADES UNDER]
MARRITZ: The next point in the timeline is July 10th, 2019. It's a day that really stands out in the Ukraine scandal.
On that day, two top officials in the new government of Ukraine are in Washington. Part of their mission is to score an invite to the White House for President Zelensky to show that America is Ukraine's ally.
There's a meeting. Rick Perry is there. So is Ambassador Gordon Sondland, National Security Advisor John Bolton, and National Security Director Fiona Hill.
NATIONAL SECURITY DIRECTOR FIONA HILL: We'd also wanted to go through a discussion about how important it was for Ukraine to get its energy sector reform underway. And, clearly, Secretary Perry had some talking points to this. [FADES UNDER]
MARRITZ: As Hill recounted to a House committee, Ambassador Sondland tells the Ukrainians that President Zelensky will be invited to the White House, quote, "if specific investigations are put underway." She said, "That's when I saw Ambassador Bolton stiffen."
A few minutes later, Bolton pulls Hill aside.
HILL: Ambassador Bolton told me that I am not part of the — this — whatever drug deal that Mulvaney and Sondland are cooking up.
[SLOW, CONTEMPLATIVE MUSIC PLAYS]
MARRITZ: That evening, the visiting Ukrainians are invited to a restaurant about a block from the White House. Their dining companions are two of Perry's top Energy Department aides. And there's one more person at this private dinner — a Texan who's introduced to the Ukrainians, one of them told us, as an advisor to Rick Perry — Robert Bensh.
BENSH: Actually, I don't know why this can't be on the record. It was a very social dinner and Yermak was extremely distracted.
MARRITZ: Andriy Yermak, a Zelensky advisor.
BENSH: I thought it was because he was incredibly jet-lagged. He and I didn't — we — he — I asked him — 'cause he'd just come from the White House — I said, "How'd everything go there?" He's like, "It went fine." And he — that was it. He didn't tell me another thing.
Bensh says he had no idea about the search for dirt on Biden.
BENSH: I realized, once I started reading the paper along with everybody else, why he was so distracted. And he was so distracted because he had that meeting at the White House.
MARRITZ: We don't quite know what to make of this. Neither did the Ukrainians.
SHUSTER: So I spoke with one of the Ukrainians who was at that dinner, Ukraine's former National Security Advisor Oleksandr Danylyuk, and he could not understand why Rob Bensh was at the dinner. What he told me was, "I had no idea who this guy was, but smells like trouble."
MARRITZ: Bensh says it was shortly after the dinner that he was approached by LNGEx about selling gas to Ukraine. He signed on with them as a point man to clinch the deal with the Ukrainians.
So now Robert Bensh is back in the energy game in Ukraine. He has the ear of the Secretary of Energy, Rick Perry, and a project to promote.
[AN ANNOUNCER SPEAKS IN POLISH]
MARRITZ: The next entry in the timeline takes place in Warsaw, Poland. At the end of August, 2019. This is the first place we see Perry and the Department of Energy directly promote LNGEx to the Ukrainians.
SECRETARY PERRY: This is an amazing win for the energy security, for the economic security, for the national security of all three of our countries.
MARRITZ: Perry is here to sign a memorandum of cooperation with Poland and Ukraine to send American gas to Europe.
That same day, Perry co-hosts a small energy industry roundtable. There's a photo. And you can see Ben Blanchet, the CEO of LNGEx, standing just a few feet from Rick Perry. Perry tweeted it out.
SHUSTER: So, essentially, on the sidelines in the — in the Warsaw summit, in the midst of all their political conversations with the Ukrainians, Perry holds a kind of side meeting with some of the senior Ukrainian officials to talk about this potential LNG deal, uh, with the Louisiana company. At least that's one of the things they talked about.
And we have this from people who were at the summit, and people who were briefed about it afterward.
And Perry and his staff were really encouraging the Ukrainians to do this deal. One of the Ukrainians remembers the Americans basically saying, "If you want us as friends, you've got to do this."
MARRITZ: And "Do this," meaning … ?
SHUSTER: Sign the deal. Do the deal with this Louisiana company.
MARRITZ: You have to work with this company.
SHUSTER: Correct.
MARRITZ: Uh, tell me how the Ukrainians responded.
SHUSTER: I mean, they were a bit shocked. They'd sort of run the checks on this company, and they found very much the same thing we found. You know, they found references online to the conviction of one of the people involved in this company.
And, in any case, they just didn't think this was how Westerners — Americans — did deals, with these kind of backroom discussions. And the state energy company in Ukraine pretty quickly said, "We don't want anything to do with this."
[SLOW CHIMING MUSIC PLAYS]
MARRITZ: So now the American government has made it clear who they think the Ukrainians should work with on gas: LNGEx. A few weeks later, according to emails, LNGEx executives fly to Washington for meetings with a Perry advisor at the Department of Energy.
By now, news is piling up fast. The whistleblower complaint about the Ukraine pressure campaign becomes public in September. Then comes the readout of the Trump-Zelensky phone call, also in September.
Trump is impeached by the House in December and acquitted in the Senate on February 5th of this year.
You might think that the white hot glare of the TV cameras would put LNGEx's proposal on hold — all that talk of corruption, and quid pro quo.
[QUIET, A LONG PAUSE]
MARRITZ: Wrong.
[WIND-CHIME-ESQUE MUSIC PLAYS]
MARRITZ: After Trump is acquitted, he declares "Victory!", and the Ukrainians, who were once reluctant, are now interested in doing business with Rick Perry's preferred natural gas supplier.
That month, Ben Blanchet, CEO of LNGEx, has a meeting with President Zelensky in his office in Kyiv. Blanchet told me it lasted about 45 minutes.
In March, the Ukrainians announce they're working with LNGEx on a deal to import American gas. The outline is for a 20-year deal — which several observers told me is an unusually long time for this kind of agreement. It's a no-bid contract. So, non-competitive.
[MUSIC RISES, THEN QUIETS]
MARRITZ: Within days of this announcement, Robert Bensh is nominated to the board of Ukraine's gas company Naftogaz — just like Secretary Perry had suggested, months earlier.
Adding Bensh to the Naftogaz board opens up a potential conflict of interest. As a director, he could have input on the LNGEx deal — a deal from which he also stands to benefit. Bensh says he'd recuse himself from any decisions about LNGEX.
I asked Bensh why he thought the US government was so keen to support him and LNGEx.
MARRITZ: And I'm just trying to understand how that came about. I mean, it looks — it's — it somehow feels very unlikely. Uh, is there an explanation for it? How do you explain it?
BENSH: Why — why would it be unlikely, based on my experience?
MARRITZ: It …
BENSH: It would be unlikely — I apologize, I'm not trying to be rude — it would be unlikely if I had never been to Ukraine before, and if I was a big political donor to Trump, or Perry, or any of those things.
MARRITZ: Which you're not, and I checked. Yeah.
BENSH: The reason I got a phone call from Perry, and the reason that I got a phone call from LNGEx, and had operated in Ukraine, and had lived to tell the tale. And I'm that guy. There's just no other way. Again, I'm not trying to come off as arrogant, but that's really — really what it is.
[CONTEMPLATIVE MUSIC PLAYS]
MARRITZ: Rick Perry left the DOE at the end of 2019. He didn't answer our questions about his role in the LNGEx deal.
The Department of Energy called our reporting "inaccurate."
A spokeswoman said the current Secretary who replaced Rick Perry has also met with LNGEx. He, quote, "meets with stakeholders from across the energy industry, as was the common practice of his predecessors across multiple Administrations." The meeting with LNGEx was, quote, "purely introductory and informational." The spokeswoman said the Department "did not advance the financial interests of this company or support any "deal."
The White House did not comment.
We'll be right back.
[MIDROLL]
MARRITZ: We're back.
Louisiana Natural Gas Exports, Inc. — this little no-name company — has struck a preliminary deal to export American gas to Ukraine.
But there's a problem. They don't own any ships or ports or gas.
They see a potential solution to the problem. And they start a conversation with a company called —
SHUSTER: — Energy Transfer, which is now building an LNG port in Louisiana, and is looking for customers for its gas. You might have heard of Energy Transfer. They operate the Dakota Access pipeline.
ENERGY TRANSFER AD: [OVER INSPIRING MUSIC] … 2.5 million miles of pipeline transport this energy across the country. This is the most environmentally sensitive, safest, and least expensive … [FADES UNDER]
MARRITZ: This is from an Energy Transfer promotional video.
ENERGY TRANSFER AD: [FADES UP] At Energy Transfer Partners, our more than 10,000 employees monitor … [FADES DOWN]
[SLOW, PLUNKY MUSIC PLAYS]
MARRITZ: Energy Transfer has one more potential asset: Rick Perry. They have a relationship that goes back years.
The Energy Transfer CEO once donated $6 million to a super PAC supporting Perry for President. One of Energy Transfer's lobbyists is a former Perry fundraiser and advisor.
Perry's tenure at the Department of Energy was the meat in the middle of an Energy Transfer sandwich. He was on the board before and after working for the government.
After he rejoined the Energy Transfer board in January, Senator Elizabeth Warren wrote to Perry. Quote, "This is exactly the kind of unethical, revolving-door corruption that has made Americans cynical and distrustful of the federal government."
[MUSIC CHANGES TONE]
SHUSTER: This is also the kind of corruption Ukraine has been known for, for a long time. And US administrations, of both parties, spent decades trying to fight it in Ukraine.
[A MUSIC MOMENTS]
SHUSTER: We learned from our sources that, in 2018, Energy Transfer started talking with Ukrainian officials, talking with Naftogaz, about buying a stake in that country's gas pipelines. These are the same pipelines that currently run Russian gas into Europe.
They got as far as running the numbers. It would be a multi-billion dollar deal. It could also earn Energy Transfer as much as a billion dollars a year, if they took a stake in this pipeline network.
And the way this came about is significant.
The Department of Energy made that introduction. And they did this not long after Secretary Perry had his first meeting with Naftogaz.
MARRITZ: This is one part of our reporting Rick Perry did comment on, through a spokesman. Quote, "This is a continuing effort to create a story that doesn't exist. Former Secretary Perry never connected or facilitated discussions between Naftogaz and Energy Transfer. This outrageous accusation is just another failed attempt to rewrite history — this time, two months out from a Presidential election." They also said that Time Magazine, our partner on this reporting, "should be ashamed of publishing this ridiculous story."
MARRITZ: Energy Transfer confirmed it was interested in the pipeline but says Rick Perry played no role. Quote, "Energy Transfer abandoned its due diligence after it was unable to obtain sufficient information from Naftogaz to analyze the potential investment."
[NOTE: The Department of Energy did not comment on this part of the story.]
[MUSIC PLAYS OUT]
MARRITZ: Over the months we were reporting this story, we checked in regularly. And what we kept hearing was, "This deal is really close. We just have to iron out the details so it's ready to sign."
And then, at the end of July, LNGEx withdrew its bid.
The letter they released seemed to blame Naftogaz, the state energy company, for some, quote, "strongly worded negative statements."
SHUSTER: Now that's true, but it's only part of the story.
When I started calling people in Ukraine to figure out why this deal was on the rocks, uh, they told me a couple of things. First, there had never been much of a business case for the Ukrainians. This deal just didn't make a lot of commercial sense for them. But more to the point, what they were saying is, politically, it didn't make a lot of sense either.
MARRITZ: This is where our story catches up with the present moment: coronavirus, a recession, growing civil unrest. The Ukrainians were taking in President Trump's response to all of this.
SHUSTER: They were looking at the opinion polls in the United States. They saw that President Trump's chances of winning re-election were looking less and less likely, and they understood that, "Look, if we do this deal that is meant — in many ways — to win favor with the Trump administration, what's the point if that administration isn't going to be around in a few months' time?"
[HEAVY, LOW MUSIC PLAYS UP]
SHUSTER: Moreover, they were concerned that if Biden wins and his administration takes office, they might have some tough questions for the Ukrainians about how this deal came together and why. One of them even said, flat-out, "In terms of relationships, that would be very damaging."
MARRITZ: Time Magazine's Simon Shuster.
This episode was reported by me and Simon Shuster and produced by Katherine Sullivan. Our editors were Massimo Calabresi, Nick Varchaver, and Eric Umansky. Jared Paul does our sound design and original scoring. Hannis Brown wrote our theme and additional music.
Thanks to Mollie Simon, Katie Zavadski, Kristen Berg, and Doris Burke from ProPublica, and to WNYC's George Joseph and Alice Wilder.
Thanks also to American Oversight, Andrew Keith, Nick Schwellenbach, Simon Edelman, and Jonathan Elkind.
Matt Collette is the Executive Producer of Trump, Inc. Emily Botein is the Vice President of Original Programming for WNYC. And Steve Engelberg is the Editor-in-Chief of ProPublica.
I'm Ilya Marritz. Thank you for listening.
Copyright © 2020 ProPublica and New York Public Radio. All rights reserved. Visit our website terms of use at www.wnyc.org for further information.
New York Public Radio transcripts are created on a rush deadline, often by contractors. This text may not be in its final form and may be updated or revised in the future. Accuracy and availability may vary. The authoritative record of New York Public Radio's programming is the audio record.