Son-in-Law Inc: The (Other) Secretive Real Estate Scion in the White House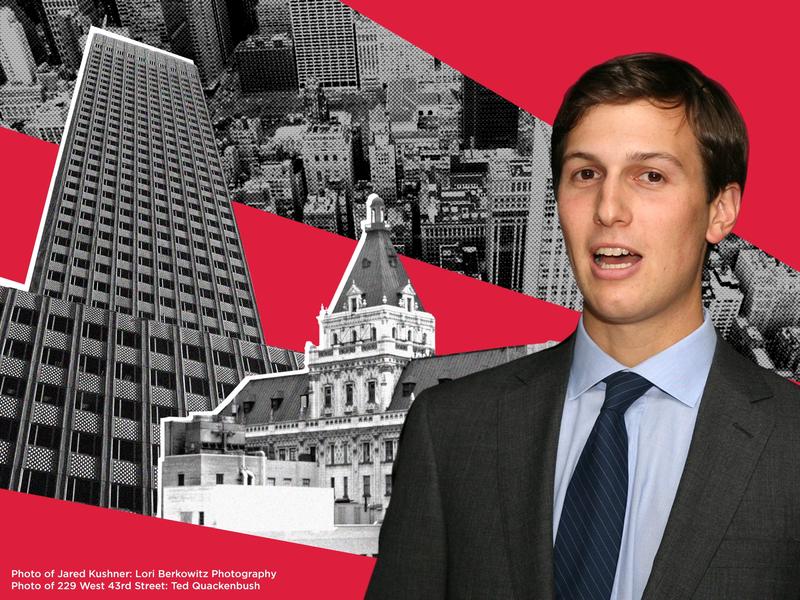 Transcript
[THE SOUNDS OF TIMES SQUARE PLAY IN THE BACKGROUND: HONKING, STREET PERFORMERS, MUSIC]
ANDREA BERNSTEIN: Not too long ago, I decided to take a tour or some high-end properties in Midtown Manhattan.
CALEB MELBY: We're at the former New York Times Building at 229 West 43rd Street here in New York's Times Square. Uh, specifically, we're standing in front of an empty storefront. Um, this is one that was supposed to house a food hall branded for Todd English, the celebrity chef. It was scheduled to open in April, but, as you can see, the windows are papered over. And if you take a peek over the paper, there's nothing going on there right now.
BERNSTEIN: I'm here with two journalists who've been digging up an astonishing series of stories on President Donald Trump's son-in-law, Jared Kushner, and his family business' global search for cash.
DAVID KOCIENIEWSKI: I'm David Kocieniewski from Bloomberg News. I cover the Kushners.
BERNSTEIN: Is that all you cover?
KOCIENIEWSKI: No. Uh, hang on. Can we start over? [LAUGHTER] I'm a little pre-caffeinated. I'm nervous. I'm David Kocieniewski from Bloomberg News. I cover, um, financial [BEAT] shenanigans, um, and I've been writing about the Kushners. I'm actually on the Financial Enforcement Team.
MELBY: I'm Caleb Melby. I'm a reporter with Bloomberg's Financial Investigations Team.
[JAZZY MUSIC PLAYS]
BERNSTEIN: We're in front of one of the marquee properties of the Kushner real estate empire. It's on West 43rd Street, just down the block from where Harry Potter and the Cursed Child is playing, around the corner from the tower where the ball drops on New Year's Eve.
BERNSTEIN: Why do they want to be in this building?
KOCIENIEWSKI: People close to the family have told us that they bought this to be, um, an iconic property, that they had certain, uh, it's more — as much an emotional thing as anything, that they want to have a presence in New York and what more New York place than to have a presence in Times Square? So, you know, they pay a little emotional bonus for it.
MELBY: Guy Fieri used to be here, but his restaurant closed at the end of 2017.
BERNSTEIN: It was pretty poorly reviewed, right?
MELBY: Yeah. That one was, uh, infamously bad food.
BERNSTEIN: It was maybe the worst review that was ever in the New York Times.
KOCIENIEWSKI: Yeah.
MELBY: Something about, like, nuclear blue cocktails and sushi that tasted like nachos and all sorts of fun stuff. Yeah.
BERNSTEIN: So they're gone.
KOCIENIEWSKI: I mean, the point is, there are fewer tenants here than people thought, and than people were led to believe when the building was refinanced.
BERNSTEIN: Lightning history of the building. They bought it in what year?
KOCIENIEWSKI AND MELBY: [IN UNISON] 2015.
BERNSTEIN: They bought it in 2015. For … ?
MELBY: $296 million.
BERNSTEIN: They buy it for $296 million in 2015, when Jared Kushner is CEO of his family business, as Donald Trump is running for president and Kushner is playing a larger and larger role in the campaign.
[THE TIMES SQUARE AMBIENT NOISE FADES DOWN AS THE THEME MUSIC STRINGS BEGIN TO PLAY AND A SIREN CAN BE HEARD]
BERNSTEIN: Then something interesting happens. A year later, in October 2016, right before Trump gets elected, the Kushners get a big new loan. They get a bank to agree the building is worth hundreds of millions of dollars more than they paid, and they walk away with $60 million in cash. They do this even though they don't have a big, stable tenant, like a bank. Now, tenants like Guy Fieri are gone, and the Kushners need more money. And Jared Kushner is in the White House where he meets with hundreds of business and foreign leaders — some of whom are negotiating with his family business, the Kushner Companies.
[TRUMP, INC. THEME MUSIC PLAYS UP]
BERNSTEIN: Hello, and welcome to Trump, Inc., a podcast from WNYC and ProPublica that digs deeply into the secrets of the Trump family business. I'm Andrea Bernstein. Today, we're going to look at one member of the family: Jared Kushner.
[MUSIC OUT]
HAIM SABIN: Tell us how you met Ivanka.
JARED KUSHNER: We could go through that, as well. We actually got introduced by two business colleagues and I got very, very lucky in that one. But —
SABIN: Yes, you did.
KUSHNER: Very, very lucky.
SABIN: Yes, you did.
BERNSTEIN: At a Washington D.C. forum last December, Kushner said he'd resign from his company to pursue the people's business.
KUSHNER: We made the decision to — to leave our lives and to do this. And look, it's definitely been … We've probably been working harder than we've ever worked before. I mean … [FADES OUT]
BERNSTEIN: Kushner hasn't fully divested from his company. He still owns $761 million in assets. At the White House, he's in charge of innovation, infrastructure, China, Mexico, brokering Mid-East peace. [KUSHNER CAN BE FAINTLY HEARD TALKING ABOUT THESE THINGS IN THE BACKGROUND]
[MEANDERING MUSIC PLAYS]
BERNSTEIN: As a real estate developer, one of the Kushner companies selling points is "discretion." That's the style Jared Kushner has brought to the White House. Most of what he's doing and who he's meeting with? We don't know. He made one major statement at the White House last July.
KUSHNER: I have not sought the spotlight, first in business, and now in public service.
BERNSTEIN: And the meetings he takes, the policies he pushes? They often overlap with the family business. Here's an example: At the beginning of March, The Intercept reported that Kushner's family business quote made a direct pitch to Qatar's Minister of Finance in April 2017. The Kushners were looking for a big investment. [A VOICEOVER CAN BE HEARD SAYING "666 5th Ave in New York" IN THE BACKGROUND]
They didn't get it. Not too long after, the story said, Jared Kushner and the White House provided, quote, "critical support" for a blockade of Qatar by its neighbors. Whose interest was he acting in — the country's interest, or his company's interest? A spokesman for Kushner's attorney calls it, quote, "a fantasy that Mr. Kushner took any action with respect to Qatar or any other country based on whether anyone in that country did or did not do business with his former company, from which he disengaged before coming into the government."
But the Qatar story is just one of many that have come out recently. There was the New York Times story about the two giant loans his family company got from two lenders — [A VOICEOVER INTERRUPTS, SAYING, "Kushner's family got loans after White House meetings"] — after officials from those companies met separately with Jared in the White House.
His spokesman says the meetings were, quote, "to hear ideas about improving the American economy." As for his family company, a spokeswoman says, "There's no financial pressure on the company. The company has done billions of dollars in transactions and is financially very strong." Yet the stories keep coming. The Washington Post reported some countries are seeking to take advantage. [A VOICEOVER FROM THE WASHINGTON POST STORY PLAYS CONCURRENTLY WITH NARRATION]
Four of them — China, Mexico, Israel, and the United Arab Emirates — believe they could manipulate Jared Kushner in his White House role by, quote, "taking advantage of his complex business arrangements," [VOICEOVER ADDS, "… and lack of foreign policy experience."] This is a historically unprecedented situation.
[MUSIC PLAYS UP, THEN OUT, TO BE REPLACED BY STREET SOUNDS]
BERNSTEIN: The most complicated and financially stressed piece of the Kushner real estate empire is in the heart of New York's most coveted real estate strip, just a few blocks from Trump Tower. After we visit the old New York Times Building at Times Square, Bloomberg's David Kocieniewski and Caleb Melby walk with me to the corner of Fifth Avenue and 52nd Street.
BERNSTEIN: So, this area, like, this is really fancy. Like this is high-end.
KOCIENIEWSKI: Like, Cartier and Ferragamo and Versace. And this is all the very highest end of fashion.
MELBY: This block right here, because of all of this foot traffic — and everybody knows to come here to shop — does command the highest retail rents in the whole city.
BERNSTEIN: Where we are? This is it, where it says Hollister?
MELBY: Yeah.
BERNSTEIN: The Kushner companies with Jared Kushner and CEO bought this building — 666 Fifth Avenue — in 2007 at the height of the market. Just like with the former New York Times Building, its prime Manhattan location was a key part of its appeal.
KOCIENIEWSKI: This was a trophy. I mean, they wanted to be in New York. This — they bought this building, um, just as Charlie Kushner was finishing his prison sentence.
BERNSTEIN: Jared's father, Charlie Kushner, served two years in jail for tax evasion and witness tampering for hiring a prostitute to entrap his brother-in-law.
KOCIENIEWSKI: In addition to this being some of the prime real estate in the world, I think they wanted to announce that their arrival in New York and their — that New Jersey was diminishing in importance in the company and in their lives. So, too bad for you, New Jersey.
MELBY: So this is, uh, 41 stories. I believe aluminum clod. Uh, there's stipple on the building side — kind of has a braille feel to it.
KOCIENIEWSKI: Um, it's like dimples — like — like pregnant chads from the 2000 election.
MELBY: [LAUGHS] Yes. And one thing you'll notice that's different from newer office buildings that go up today is it's a bit darker.
KOCIENIEWSKI: And the ceilings are not particularly high in a lot of the buildings. So it would be difficult to kind of remake into the kind of open air office space that's all in vogue now.
BERNSTEIN: So they arrived here, and what are they paying for this building?
MELBY: They paid $1.8 billion. Almost all of that was debt. They put about $50 million down, cash.
KOCIENIEWSKI: It was the highest price ever paid for a single office building at the time.
BERNSTEIN: And then the market tanked. The Kushners scrambled. They agreed to sell off almost half the building for a tenth of what they paid, and the company said they'd pay off the rest of the debt by raising even more money. They said they would tear down the building and put up a giant new one.
KOCIENIEWSKI: We call it the Mega-Development Plan, or the Oz Plan, because when they eventually put out drawings of it, it was this big, glittering tower. It was twice as big — 80 stories. It looked like something that belongs either in Dubai or the Emerald City.
BERNSTEIN: So they have a huge, huge debt. It's due in February, 2019.
MELBY: So they need to find out a plan before then.
BERNSTEIN: The clock is ticking. They need to find the money.
MELBY: Tensions are high, um, people are stressed.
BERNSTEIN: And then the Trump campaign starts getting traction and the Kushners start getting meetings with investors around the globe.
[MUSICAL FLOURISH AS STREET SOUNDS MELT AWAY]
BERNSTEIN: David Kocieniewski, Caleb Melby, and I finish our conversation back at the Bloomberg Studios. Here's David.
KOCIENIEWSKI: It was only as the campaign heated up that all of a sudden, some of the billionaires, some of the sovereign wealth funds were starting to at least sit down and meet with the Kushners and …
BERNSTEIN: So, who did they seek money from?
KOCIENIEWSKI: Well, uh, the South Korean sovereign wealth fund. Um, who else? They — they went everywhere.
MELBY: Anbang insurance in China. You had Bernard Arnault, the billionaire chairman of LVMH in France.
KOCIENIEWSKI: Saudi Arabia. They pitched it to every wealthy fund they could.
BERNSTEIN: Why were they going around the world? Why weren't they getting U.S. investors?
MELBY: The building was in so much financial trouble that to salvage it meant not just paying for the building or a renovation or a knock-down of the building, but also the debt that was already sitting on it. So, if you were an investor looking for returns, this is not going to be of interest to you. And very early on in our reporting, we were told that much more likely candidates were going to be in China and the Middle East. In China you had a whole host of companies, including Anbang, that were buying up all sorts of luxury U.S. real estate. They were making money in China and they were trying to get it out as fast as possible. And then the Chinese government clamped down on that. And, uh, Chinese money became a lot harder to find in New York real estate. And then that left the Middle East.
BERNSTEIN: These investors are not necessarily looking to make money, but, for other reasons, they want to get their money to the United States, and-or, they want the cache?
MELBY: Yeah. So, when you're looking at Chinese companies, a lot of people would tell you that they had overpaid for stuff like The Waldorf, or were willing to pay — overpay for stuff like the Hotel Del Coronado in San Diego, before the U.S. government said, "It's too close to our Naval base. You can't do that." And the idea was that, it was of such high value to get money out of the country that, for them, it was worth the price.
BERNSTEIN: We've talked about this before on the podcast, the idea that the real estate market is one way people move huge amounts of money around the world discreetly. That's because, in the real estate business, it's easy to hide where that money is coming from.
[SLOW, SOMEWHAT INTENSE MUSIC PLAYS]
MELBY: Back in December, we published a story that looked at buildings that are commonly understood to be Kushner buildings. And what we find when we really drill down into them is, oftentimes, they're shepherding money either through development or construction or management, for other people.
KOCIENIEWSKI: And to be fair to them, it's not uncommon for real estate people to have partners who are not disclosed.
[MUSIC FADES OUT]
BERNSTEIN: Not disclosed. The discretion Kushner provided to partners gave them access to the New York real estate market while shielding them from the spotlight. A Kushner spokesperson says, "Jared Kushner is not in any way involved in the company" — that he has, quote, "a government ethics agreement." To our knowledge, no one has ever claimed that he violated that agreement. The White House, says Jared Kushner, is not talking about business."
MELBY: And you can believe all of that — and believe that both the company and Jared have the best of intentions — and yet you see that, through these financial vulnerabilities, that, say the New York Times Building or 666 Fifth Avenue — that, even if they have the best of intentions, other countries — foreign actors — still see an opportunity. And, uh, that kind of gets to the heart of what it means to have a conflict of interest.
KOCIENIEWSKI: And I think one of the areas where, you know, the — the Kushner family has left themselves open to this is that Jared didn't put his things in a blind trust or sell them. He — he turned most of the assets over to family members. And if someone, you know, um, and a classic way — ethicists will say that a classic way of trying to get influence with someone is to give money to their kids or to their parents.
[DRIVING, INTENSE MUSIC PLAYS]
BERNSTEIN: And all of this is happening with a company that keeps its financial dealings under the radar, its investment deals private, and some of its partners secret. We'll be right back.
[MIDROLL]
[STRING PLUCK FOR A MUSICAL FLOURISH]
BERNSTEIN: Hey, it's Andrea Bernstein. I'm back with a journalist who's covered a whole different part of the Kushner real estate empire.
ALEC MACGILLIS: I'm Alec MacGillis, a reporter at ProPublica.
BERNSTEIN: We're going to take you to some more properties — some modest apartment complexes outside of Baltimore. Around the election, Alec learned the Kushner Companies owned these properties.
MACGILLIS: And this startled me, because I live in Baltimore — was a reporter in Baltimore for five years. And I just — I didn't really know about this. At first, I assumed that these properties were in the inner city of Baltimore, but, in fact, it turns out that these properties were the — in these huge apartment complexes that are out on the edge of town.
MACGILLIS: [DRIVING] Sort of semi-industrial area.
MACGILLIS: These are kind of tucked away, off these sort of inner suburban strips.
MACGILLIS: [DRIVING] It's a swelter of, uh, highways down here. I-95, I-895.
MACGILLIS: They're huge. They're worlds into their own. I never really noticed them. And I certainly was not aware that — that so many of them were owned by Jared Kushner.
MACGILLIS: [DRIVING] Check Cashing Outlet. [FADES UNDER]
[INTRIGUE-LADEN MUSIC PLAYS]
MACGILLIS: I — I went into the Maryland court system and I ran the name of the entity that Kushner used as the sort of legal entity owning these properties, which was something called JK2 Westminster. And I ran that corporate name in the Maryland court system, and it basically blew up the computer.
BERNSTEIN: JK2 Westminster, Jared Kushner's LLC, was suing low- and moderate-income tenants. A lot of them for back rent and unpaid fees it wasn't even clear they actually owed.
MACGILLIS: For one thing, a lot of the people who he was going after were people who had left these complexes — moved out a year or two or three years before he purchased them.
BERNSTEIN: Many of these people had paid their rent and followed the rules, but they had trouble finding the paperwork they needed to prove it. Kushner was unusually aggressive in pursuing them. On top of that, the tenants said their landlord wasn't responsive to their complaints.
MACGILLIS: One of the things I found in talking to people was just real issues with leaks, water damage, mold, and mice — a lot of issues with mice.
TENANT: The mices is terrible.
MACGILLIS: Have you seen them?
TENANT: Yeah. I seen 'em.
MACGILLIS: How about roaches?
TENANT: I ain't seen no roaches, but they got bedbugs too, in it.
BERNSTEIN: You knew going in that this LLC, JK2 Westminster, was Kushner Companies. That wasn't a secret to you, right?
MACGILLIS: Right, right.
BERNSTEIN: But how do the tenants react to the news that the President's son-in-law owned their properties?
MACGILLIS: They were astonished. I mean, virtually nobody knew this.
BERNSTEIN: One woman that you spoke to that doesn't want her name used — because she's worried about possible retaliation from the management — had a particularly striking reaction. Can you walk us through that?
MACGILLIS: Yes. This was in, uh, one of the complexes that's actually just inside the city lines. And she welcomed me into her home. There were some new, fresh cookies that had just come out of the oven just sitting on the kitchen table. And we — we got talking.
And she said that she, too, had — had all sorts of issues with the management coming after her with very threatening summons from court for alleged late rent. Um, she described that to me, and we're just talking about all of these hassles she was having with them. And then I finally just asked her — as I did a lot of these tenants — you know, "Do you know who your landlord is?" And she said, "No, I don't." And I told her. And she just exploded.
TENANT: You gotta be — wait a minute! Hold up! Wait a minute. Hold up! What?
MACGILLIS: Yeah.
TENANT: He owns the place?
MACGILLIS: He owns this place.
TENANT: He owns this place?
MACGILLIS: Yeah.
MACGILLIS: [EMPHATICALLY] She just could not believe it. [SPEAKING AT A NORMAL RHYTHM] And she even rushed to go call — in the middle of our conversation, she broke off to go try to call her sister and her nephew to share the news with them. Um, it just completely blew her mind.
TENANT: I can't believe what that landlord — let me call my niece and tell that. She goin' be … Ohh! [GASPING]
MACGILLIS: Yeah, yeah. Your landlord is the president's son-in-law.
[HEAVY, PIANO-DRIVEN MUSIC PLAYS]
BERNSTEIN: The Kushner Companies bought these complexes in 2012 and 2013. They say they have a fiduciary obligation to their ownership partners to collect as much revenue as they can.
MACGILLIS: For more of a financial perspective, the way that these apartment complexes fit into the picture for the Kushners is that they are what provides the cash flow, in a sense. When you have these complexes that are providing you a very, very steady, reliable cash flow of these rent checks that are coming in every month, and then, of course, on top of that, the money they were able to squeeze out of people in court.
[MUSIC OUT]
BERNSTEIN: So while the Kushner's company has sued tenants for late fees, the tenants have turned around and sued back. They say the late fees are unfounded and that they've set in motion a vicious cycle that traps them in more and more debt.
MACGILLIS: It's been quite remarkable what's happened here, just the last few weeks. In response to that lawsuit, the Kushners, um, sought to have the lawsuit moved from state court into federal court.
BERNSTEIN: The assumption is they'll get a better jury if they go outside of Baltimore. But to be allowed to do that, they need to prove that no one involved in the shell company that owns the buildings lives in Maryland. And they don't want to do that.
MACGILLIS: The Kushners then decided that they, in fact, were so opposed to revealing who their partners were in these complexes that they wouldn't — decided they're better off just going back to the state court, even if it meant having to face a Baltimore city jury. And it's really quite a commentary on how resistant they are to transparency in their investment partners, that they were willing to pick a tough jury over that.
BERNSTEIN: What do you think there is still to learn about the Kushners and these Maryland complexes?
MACGILLIS: I — I really would still like to learn who the other partners are, who — who've been behind this all along. I mean, it's just becoming very clear to us that these complexes — as sort of mundane and sort of humble as they are — were, in fact, part of this, like, vast, vast network, with all sorts of investments and interest swirling around. And I really would like to learn more about who was behind that curtain.
[CREDITS MUSIC BEGINS TO PLAY]
BERNSTEIN: I did a little more sleuthing about how common a thing it was, to do what the Kushner family did in this lawsuit — that is, to try to move a case out of Baltimore and into the federal system, but then refuse to disclose their partners and move the case back to Baltimore, as risky as that is. And some Maryland lawyers told me they only knew of one other time it happened and it was with the Kushner's — the same LLC.
So I dug up the court papers. In them, the Kushner's lawyers described the LLC as "complex, with several layers of ownership." They add, "There are hundreds of persons who are members, partners, and investors of the LLC. However, without further research, defendants cannot easily determine each member's state of domicile."
If you take the papers at face value, they're saying this one LLC — just this one — is so complex, they can't figure out where all the partners and investors live. If you're a little more skeptical, you might conclude they know, but don't want us to know. And you might ask, "Why?"
If you know anything about Kushner's business partners or financial transactions or Jared Kushner's White House meetings, be in touch. You can send us tips or documents securely. Find out how TrumpIncPodcast.org.
Coming up on Trump, Inc.: President Trump's inaugural committee raised and spent over $100 million — twice as much as the cost of President Obama's party.
UNIDENTIFIED VOICE: There's the obvious question: "Where did it go?" I dunno.
ILYA MARRITZ: No ideas?
UNIDENTIFIED VOICE: No ideas.
BERNSTEIN: We go looking for answers.
Trump, Inc. is produced by Meg Cramer. The associate producer is Alice Wilder. The engineers are Wayne Schulmeister and Bill Moss. The editors are Eric Umansky and Charlie Herman. Terry Parris Jr. is ProPublica's Editor for Engagement, Jim Schachter is WNYC's Vice President for News, and Steve Engelberg is ProPublica's Editor-in-Chief.
Our original music is by Hannis Brown. Thanks so much to Alec MacGillis of ProPublica and to Caleb Melby and David Kocieniewski and Bloomberg for their tours of the New York Times Building and 666 Fifth Avenue.
[OVER THE SOUND OF STREET CONSTRUCTION]
MELBY: The top floor.
KOCIENIEWSKI: But, you know, that's where Kilimnik and Manafort had one of their meetings.
BERNSTEIN: [INCREDULOUS] Wait, what?
KOCIENIEWSKI: Kil— Kilimnik, you know, who is Deripaska's assistant, had a meeting there with Paul Manafort —
MELBY: — in August 2016.
KOCIENIEWSKI: They had it at this cigar bar.
BERNSTEIN: I had missed that detail.
KOCIENIEWSKI: Yes. The Kushers say Jared wasn't there. They said it was just — you know, they like to smoke cigars. Yup.
BERNSTEIN: So we're talking about Kilimnik — the people that Russian — that Mueller believes is a Russian spy.
Copyright © 2018 ProPublica and New York Public Radio. All rights reserved. Visit our website terms of use at www.wnyc.org for further information.
New York Public Radio transcripts are created on a rush deadline, often by contractors. This text may not be in its final form and may be updated or revised in the future. Accuracy and availability may vary. The authoritative record of New York Public Radio's programming is the audio record.