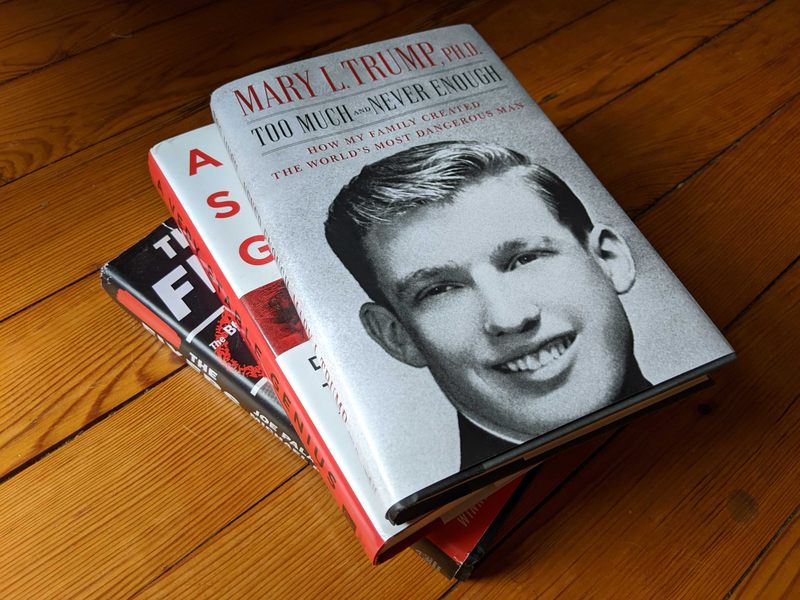 Transcript
ANDREA BERNSTEIN: Hello! It's Andrea Bernstein, here in your podcast feed with a bonus episode of Trump, Inc.
This is a conversation I had on WNYC's airwaves the day after President Trump's Republican National Convention speech at the White House. I talked with his niece, Mary Trump, author of the new book Too Much and Never Enough: How My Family Created the World's Most Dangerous Man.
We talked about her uncle's RNC speech and her insights into President Trump and his family business. Take a listen.
[90S-ESQUE TECHY MUSIC PLAYS]
BERNSTEIN: Good afternoon. I'm Andrea Bernstein, and this is special coverage of the Republican National Convention from WNYC. As cohost of the podcast Trump, Inc., I've spent a lot of time digging into the Trump family business records and speaking to scores of former Trump employees, business partners, and associates.
Almost to a person, they were afraid to speak on the record for fear of retaliation. Until now I've never interviewed someone with the last name Trump on the record about the Trump family business. But that changes right now.
My guest is Mary Trump, niece of the President and author of the book Too Much and Never Enough: How My Family Created the World's Most Dangerous Man. Mary Trump holds a degree in advanced psychological studies and teaches graduate courses in trauma, psychopathology, and developmental pathology.
She's the daughter of the late Freddie Trump, Donald Trump's older brother. Mary Trump, welcome.
MARY TRUMP: Thank you so much for having me. It's great to be here.
BERNSTEIN: It's really great to talk to you. So, before we talk about your uncle's speech last night, the Trump family business, and your book — Mary Trump, why weren't you afraid to speak out?
MARY TRUMP: Well, I know these people and I don't find them frightening. [PAUSE] Don't get me wrong, I know what they're capable of doing, but [PAUSE] telling the truth, uh, gives you a certain amount of, um, invulnerability. I don't mean that to sound naive. But I — I think it does to some degree, um, especially when, you know, you never have to worry about, uh, contradicting yourself, right?
So I knew that if I could get my message out effectively, um, or — I shouldn't say "I knew." I hoped that, uh, enough people would hear it to give me some degree of safety. Um, also, I don't subscribe to their idea of family loyalty. You know, they — they've not been loyal to me. Um, I'd like to think that I would have done what I did anyway, quite honestly, because there's way too much at stake, but I'm just not — I'm not bound to them in the way they seem to be bound to each other.
And, um, you know, something's got to change here and if — if my speaking out encourages other people to do so, it will have been worth it.
BERNSTEIN: The title of your book Too Much Is Never Enough. Seemed a pretty good description of the spectacle we saw at the White House on the last night of the convention: the White House and cabinet secretaries used as a campaign prop, thousands of people attending a rally in the middle of a pandemic, defying health rules. How did you interpret what you saw?
MARY TRUMP: Well, once I got past the horror of it, [CHUCKLES WRYLY] um, I think in — in some sense, it was just another way to infuriate the opposition. Um, first of all, you know, as somebody in New York who lived through the most — March and April here were just horrific and terrifying. Um, so to see 2,000 people jammed in like that, um, in total disregard for their safety, the safety of other people there, and the safety of all the people that are going to come in contact with afterwards [PAUSE] was really debilitating, uh, in some ways.
That aside, it was also an exercise, I think, in pushing the envelope, which is one of Donald's specialties. You know, he does something egregious, he gets out absolutely no pushback, so he realizes that he can — with impunity — not just do the same level of egregious thing, but something even more egregious.
So here we have The People's House being co-opted by one political party for their own political advantage. It's an absolute disgrace. And I see people minimizing it. And that's the other reason we were where we are. You know, small transgressions get overlooked because they're allegedly and consequential. They're not. They lead to much greater transgressions.
So, uh, like, you know, the fact that hundreds — and sometimes over a thousand Americans — keep dying every day, because of all the transgressions that have been allowed to let slide.
BERNSTEIN: Your uncle Donald Trump said at one point in his speech, "We are here and they are not." And that seemed to apply as well to your own family situation. Is that how you experienced it?
MARY TRUMP: Oh, interesting. No. Um, I mean, I've been outside of this family for a really long time, so I — I don't feel excluded at all. I took it simply as a very clear statement that, in his mind, it's not The People's House, it's his house, and it's for the people who are loyal to him and, um, support him. And that was so contemptuous. Um, it was kind of, uh, breathtaking.
BERNSTEIN: You've spoken, uh, recently about how, uh, you know, you sort of going back and researching your book, you sort of learned new things about your family. And you just mentioned this issue of sort of Donald Trump getting away with transgressions. Is there a particular anecdote you are thinking about from earlier in his life where he just sort of got away with something and it encouraged him?
MARY TRUMP: Probably, um, the first thing I can think of is how he treated my father. You know, Donald was a lot younger. He was seven and a half years younger.
So when he was still in college, my dad was … No, before, when he was still in high school! My dad was a married man with a child. Um, and yet Donald felt emboldened by my grandfather to treat my — my dad with contempt and, um, pile on when my father was at a particularly vulnerable time, and essentially not only made it impossible for my father to continue independently in his chosen career as a pilot, but to be an effective employee when he had to go back to my grandfather's company.
Um, and by undermining my father in the way he did, and because my grandfather allowed him to do that and then rewarded for it by making him President of Trump Management at the age of 24, when my dad had been working there for 11 years already, uh, was a green light for him to continue to be, uh, somebody who treated other people (he considered) more weak with contempt and, uh, to get away with whatever he felt he needed to do in order to be quote-unquote "a winner."
BERNSTEIN: So you're saying that, uh, his treatment of your father, Freddy was one of his original sins.
MARY TRUMP: Yeah. Yes. Again, with the encouragement and support of my grandfather.
BERNSTEIN: I want to talk about an anecdote that Ivanka Trump told last night about Legos.
IVANKA TRUMP: When Jared and I moved with our three young children to Washington, we didn't exactly know what we were in for, but our kids? Our kids loved it from the start. My son, Joseph promptly built grandpa a Lego replica of the White House. The President still displays it on the mantle in the Oval Office — right over there — so that he could show world leaders, just so they know he has the greatest grandchildren on Earth.
BERNSTEIN: So when I heard this story, I — my ears really perked up, because in my own book, American Oligarchs, which is about your family and the Kushner family, I wrote about how Ivanka Trump had falsely claimed for years that she had built a Trump Tower out of Lego using her mom's superglue and her brother Eric's Legos, and that her tower, which had a number of setbacks, won a lot of praise from her father.
But it turned out that the story was made up. And she later admitted it, and was, in fact, copied from The Art of the Deal, where your uncle Donald describes gluing together your uncle Robert's blocks to make a tower. And even that story was likely false. Tony Schwartz, who is the coauthor of The Art of the Deal, told me it was very likely not true.
For the record, I emailed the White House this morning and they said the story about Joseph was true, that he did build the Lego White House at three years old on his own initiative and without assistance. But what I'm wondering is, how, as a child, did you experience the family myth-making. Were you aware that it was going on?
MARY TRUMP: First of all, I'm just fascinated that gluing together children's blocks seems to be genetic. [CHUCKLES] I mean, who knew? Um, this is fascinating thing to lie about, isn't it? Um, and I — I — I say, you know, consider the source. If the White House is confirming it, I'd take it with a grain of salt. But, uh, that having been said, uh, no. You grow up in a family and it's — that's normal for you.
Um, I, like everybody else — including my father — bought into the myths about Donald as this brilliant, incredibly wealthy real estate developer. I mean, literally, we — I thought as a kid that he was rich on his own when the truth of the matter is he was rich because he was using my grandfather's money in a way his siblings were not allowed to.
I also bought into the myths about my dad as — as did he, that he was nothing but an alcoholic loser who had never accomplished anything in his life, despite having been a professional pilot for TWA at the dawn of the Jet Age. So all of that was just … The racism, the antisemitism, the misogyny: it was all normal.
BERNSTEIN: And in fact, you talk about how, in your late twenties, you went to work for Donald Trump for a brief period as the coauthor of, uh, The Art of the Comeback, even though you had experienced your family at that point, you — you still were also bought into the myth.
MARY TRUMP: [PAUSE] Yeah.
BERNSTEIN: Yeah. Why do you think that — why do you think that is?
MARY TRUMP: As an adult, why did I continue to?
BERNSTEIN: Yeah. I mean, let me say that — I feel like it's a pattern with … I mean, a lot of people have had experiences with Donald Trump where they felt like they sort of bought into it and then realized afterwards that they had made a big mistake.
MARY TRUMP: Mhm.
BERNSTEIN: Michael Cohen is a very public example of that, of someone who said, "I," you know, "did a lot of terrible things for Donald Trump because I was bought into it, until I came to my senses."
But I'm just sort of wondering as someone who, you know, lived that, what do you think accounts for that? How do you think that works?
MARY TRUMP: Well, I mean, for me, it was, um … You know, I've lived in Boston for six or seven years when Donald was really starting to, uh, become known outside of New York. But, you know, pre-internet, pre-cell phones, I did not pay any attention. I had no idea what he was doing. Thankfully. Uh, so there was nothing to challenge my preconceptions.
And then when I moved back to New York, he was such an established figure that there was no reason for me to question anything. So, by the time I started writing his book, although on a personal level I clearly, you know, knew that he wasn't nearly as smart as he claimed to be. And, you know, pretty much everybody in the family thought, you know, "He's a jerk, but he's our jerk," kind of. Um, but in terms of the business stuff, yeah, I — I still bought into it until after a few months of — of working in the office. I had no idea what he did all day long. Like, there was no evidence to suggest that he was any of the things that — that either he or my grandfather claimed to be, or that the — the New York newspapers said he was.
BERNSTEIN: So, in the book in your book, Too Much Is Never Enough, you describe how Suzanne Craig of The New York Times — who is somebody that we've spoken to on WNYC, and in our Trump, Inc. podcast — how she kept coming to you, and, finally, after some consideration, you decide to speak to her, and you end up providing boxes of documents that they take. And she and her colleagues examine them and they do forensic accounting.
And they conclude that your grandfather, Fred Trump and his family, had committed outright fraud. Was that when you understood that this was going on? When — when The New York Times wrote about it?
MARY TRUMP: Yeah, I had no idea. Um, I had suspected that, um, you know, my grandfather was wealthier than they claimed, but I didn't know that there was any criminality involved. I didn't know anything about the fraud or the shell corporations or the money laundering. I knew none of that. Uh, so that was … And not only did I — did I not know that, I had no idea that anybody other than Donald or my grandfather was involved. So that was a bit of a shock.
BERNSTEIN: How did you feel about it?
MARY TRUMP: It was shocking. And it was, uh, you know — it added another level of betrayal to the mix. Um, or actually [PAUSE] it added betrayal to the mix, because 20 years earlier, it's not that I felt betrayed, as much as I felt unprotected.
You know, these people were not just my aunts and uncles, but my trustees, and they clearly didn't have my best interest at heart when, you know, they refused to do anything about my grandfather's estate. Um, but I didn't know — beyond that, I didn't know that there was any financial, uh, there were any financial indiscretions going on that affected my bottom line when they, um, bought me out of certain properties I had a share in. So yeah, that was a — that was, uh, an unpleasant surprise, shall we say?
BERNSTEIN: So you, really, in your book — which I think I misspoke Too Much and Never Enough is the title, Too Much and Never Enough by Mary Trump. You really talk in heartbreaking detail about the story of how you and your brother, Fred Trump the Third, were basically pressured to accept a legal settlement that effectively disinherited you or disinherited or disconnected you for much — from much potential wealth when your grandfather died. And, in that legal settlement, to pressure you to go along, Donald Trump took away your health insurance while your nephew was suffering a rare disorder. Can you walk us through what happened?
MARY TRUMP: Yeah. First of all, credit where credit is due. It wasn't just Donald. It was Donald, my aunt, my uncle Robert, and my grandmother, um, which makes it worse. So what's stunning to me — I mean, beyond the fact of it, the cruelty of it — is how quickly they did it. Uh, I think it was a matter of weeks, if not days after we filed the lawsuit challenging my grandfather's will, um, that they came up with this scheme of taking away our health insurance, um, which, you know, would have been a not particularly, um, kind strategy [LAUGHS WRYLY] if it had just been me and my brother, but given my nephew's circumstances, it was just inhumane and, uh, despicable.
So … And it also added a level of stress to an already stressful situation that was unimaginable. Um …
BERNSTEIN: So you — you — you settled. I mean, Donald Trump, at the time, said that, you know, "They should have come to me. If they'd come to me, maybe we could have talked, but they sued. So we had to take away this health insurance."
MARY TRUMP: Yeah. Well, it won't surprise you to know that that's a lie. Um, Donald and Maryanne just refused to speak to us about it. They made Robert their point man. And we had conversations with Robert for about five or six months before we brought the lawsuit. So we tried really hard to work things out, but the answer was always, "Sorry. That's just — it is what it is." Well, the family motto, I guess.
BERNSTEIN: And just to sort of tie it together. I mean, your conclusion now, based on what the sort of New York Times put together, is that they actually cheated you, that they actually undervalued assets when they were drawing up the legal agreement with you.
MARY TRUMP: That's right. They committed outright fraud.
BERNSTEIN: And how is your nephew now? Is he all right?
MARY TRUMP: Um, I — [LONG PAUSE] you know, he's — he's doing as well as he can be. And he's a really beautiful boy.
BERNSTEIN: I've been speaking to Mary Trump, Donald Trump's niece, and author of the book Too Much is Never Enough: How My Family Created the World's Most Dangerous Man. Mary Trump, we will be back to speak to you after a break. And we will also take some phone calls at 646-435-7280, 646-436-7280. I'll take your calls in a minute.
[MIDROLL]
[90S-ESQUE TECHY MUSIC PLAYS]
BERNSTEIN: You're listening to special coverage of the RNC on WNYC. I'm Andrea Bernstein, cohost of the Trump, Inc. podcast, and I've been speaking to Mary Trump, Donald Trump's niece and author of the book Too Much and Never Enough: How My Family Created the World's Most Dangerous Man. Mary Trump, you recently released some tapes of your aunt Maryanne Trump Barry saying that her younger brother had gotten someone to take his SATs and criticizing her brother's lack of empathy.
MARYANNE TRUMP BARRY: [CLIP 1] All he wants to do is appeal to his base. He has no principles. Um, none. None. And his base. I mean, my god! If you are a religious person, you want to help people!
MARYANNE TRUMP BARRY: [CLIP 2] Change of stories, a lack of preparation, the lying, the holy [BLEEP].
BERNSTEIN: So, that's Donald Trump's older sister, Maryanne Trump Barry, and that audio comes courtesy of The Washington Post, who got the tape from you after, uh, doing some reporting legwork and asking you some questions. But what are we to make of the fact that, here's his older sister — his close family member — saying this behind closed doors, and you're saying what we've heard you say today. While his children and his staff members all week kept repeating during the convention some version of, "If you knew Donald Trump as I knew Donald Trump, you'd see how secretly warm and caring he is." How do you interpret that disjunction?
MARY TRUMP: It's simply a testament to how willing people in Donald's or— orbit are to lie for him and on his behalf. Uh, you know, [CHUCKLES] I — I've known him my entire life and there's not one thing I heard said about him during the entire convention that had any ring of authenticity to it. Uh, so, I think Maryanne's comments in private are a lot more to be trusted than anybody else's comments about him in public, uh, in the context of an event that was designed to elevate him.
BERNSTEIN: I'm sort of just kind of trying to get my mind around this, 'cause this is his older sister. We just talked about how he effectively disinherited the heirs of his older brother. And, you know, here is someone who talks about the importance of family and obviously privileges his own children, Ivanka, Don Jr., and Eric, and their spouses and partners. How do you sew those two pieces together?
MARY TRUMP: Yeah, well, first of all, he's preferencing his own children for his benefit, not for theirs. So we need to be clear about that.
Um, it's — it's quite mystifying to me, honestly, that people look at Donald and — and see somebody to admire or believe for a second that he would be a great family man. Uh, there's so much objective reporting that's been done about his — his life, his lifestyle, his relationships, that it's — it's a — it's a bit of alchemy that's up there with, you know, turning him into a successful, brilliant businessman. But, you know, I don't understand it.
BERNSTEIN: You're saying that it's because it reflects back on him. That is the way he treats his children.
MARY TRUMP: Yes.
BERNSTEIN: Now we were just talking before the break about how, you know, I mean, we, in our reporting, uh, that we do with ProPublica for the podcast Trump, Inc., have uncovered all kinds of variations of Donald Trump overvaluing something when he wants to, say, get a loan, and undervaluing it when he wants to, say, not pay taxes. And I'm wondering if you interpret your own experience as sort of being part of the family business model.
MARY TRUMP: [LAUGHS] That's a really interesting way of putting it. [ENTHUSIASTICALLY] Yes, of course. And he, you know, he does it with everybody. You know, not just family members. Um, although I know that Maryanne, who used to be touted by him as a great federal judge, has been thrown under the — under the bus by a bunch of his surrogates recently.
Um, but he also does it with people he hires and then, uh, ends up firing. He does it with absolutely everybody. And it's, you know — that's a trick that he got from my grandfather. My grandfather started doing that, probably, in the '40s.
BERNSTEIN: I'm going to ask you a question that people ask me a lot, which is: How does he do this repeatedly and keep getting away with it?
MARY TRUMP: That is the great mystery, um, that we desperately need to solve. Um, I think, in a really weird way, it's [LAUGHS] — it's sort of a reductive answer, which is: Because he always has. Um, and one of the reasons he has has to do with how people buy into a particular narrative, uh, that — that set sets in, you know? Um, it started with my grandfather and, uh, the myth that he created about Donald, that he desperately needed to maintain — as did the New York media in the '80s and the banks in the '80s and '90s.
But, um, beyond that, I think part of it, too, is that Donald has, uh, the ability to flood the zones so effectively, that it keeps people from focusing on any one thing he does. So, we're constantly losing our focus and I think when people are distracted, uh, he continues to just keep the — the narrative, his preferred narrative out there. Um …
BERNSTEIN: We have about 30 seconds left, but I wanted to ask you, since this is all about a potential Trump second term, what do you think would be the consequences for the nation of a second term of President Donald Trump? We've got 30 seconds.
MARY TRUMP: Uh, it's simple and dire. Uh, the American experiment will be over and it will likely be the end of American democracy.
BERNSTEIN: Well, that is an unequivocally dark note.
MARY TRUMP: Sorry!
BERNSTEIN: Um, Mary Trump's book, Too Much and Never Enough: How My Family Created the World's Most Dangerous Man, is a great read. I highly recommend it. Uh, thank you so much for joining us today. It's been an honor.
MARY TRUMP: Thank you. I really appreciate it.
[TRUMP, INC. CREDITS MUSIC ENTERS]
BERNSTEIN: Thanks for listening to this bonus episode of Trump, Inc. This conversation was produced by Zach Gottehrer-Cohen and the team from All of It. We had podcast engineering help from Bill Moss.
I'm Andrea Bernstein. Thank you for listening.
[MUSIC FADES OUT]
Copyright © 2020 ProPublica and New York Public Radio. All rights reserved. Visit our website terms of use at www.wnyc.org for further information.
New York Public Radio transcripts are created on a rush deadline, often by contractors. This text may not be in its final form and may be updated or revised in the future. Accuracy and availability may vary. The authoritative record of New York Public Radio's programming is the audio record.