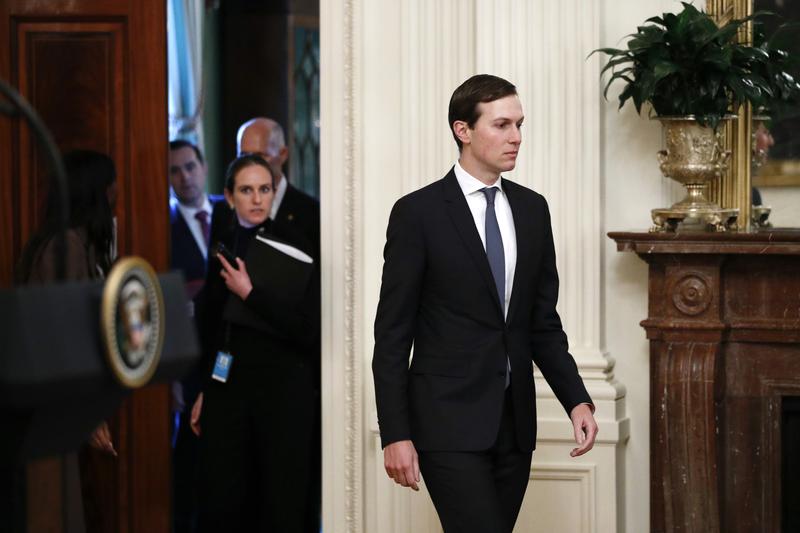 Transcript
[THE SOUND OF AN ELEVATOR DOOR OPENING]
JARED KUSHNER: Hi.
SWAN: Hi, Jared.
JARED KUSHNER: Nice to see you.
SWAN: Good to see you. Thanks for having me.
[INTERVIEW CONTINUES UNDER NARRATION]
BERNSTEIN: In the Spring of 2019, Jared Kushner sat for an interview with Jonathan Swan of Axios on HBO. [INTERVIEW BYTE PLAYS]
Swan went to meet Kushner at the home in Washington, D.C. he shares with his wife, Ivanka Trump, and their three children.
SWAN: It's very clear to me you hate doing this.
JARED KUSHNER: It's not my natural thing.
SWAN: No. You hate it.
BERNSTEIN: They sat on a white couch. There was tasteful artwork on the wall. Jared Kushner was wearing a white oxford shirt, open at the neck.
SWAN: Do you ever think about what you would have become if you had a different upbringing? Y'know, if you didn't have some of the advantages that you had?
JARED KUSHNER: No, I mean, I think that I've definitely — I feel blessed to have had great, great parents; great, great life; great opportunities.
BERNSTEIN: Jared Kushner's grandparents arrived in New York harbor in 1949 with two dollars to their name.
JARED KUSHNER: This is an amazing country. My grandparents came here as refugees and they were able to build a great life for themselves. You know, my father worked hard. I was able to be successful.
[SUBTLE THEME MUSIC STARTS TO PLAY]
SWAN: How has that experience changed the way you think about things. Have they shared what it was like being a refugee?
JARED KUSHNER: It was more, they would share what was like being persecuted. I mean, my grandparents survived the Nazis, and my grandfather came here on a Tuesday, got a job on a Thursday, and he just worked very, very hard and he was able to create the American dream. When I came to Washington, the only thing I brought to my office was a picture of them. It's a great reminder of how great this country is — where my grandparents can be on the on the precipice of life or death and then come to this country and, you know, 70 years later, you know, their — their grandson's working in the White House.
BERNSTEIN: The story of Jared Kushner's grandparents is one of tenacity and bravery and ingenuity.
It is also a story of a family willing to break rules and to elide the truth where necessary. Including misrepresenting their family relationships to ease their immigration into the United States.
[FULL THEME MUSIC PLAYS]
BERNSTEIN: Hello and welcome to Trump Inc., a podcast from WNYC and ProPublica. I'm Andrea Bernstein. Today on the show: I wrote a book, American Oligarchs: The Kushners, the Trumps, and the Marriage of Money and Power. It's a multigenerational saga of the two families. It's also about the rise of a new class of Americans with extraordinary wealth, and increasingly, an unfettered ability to change the direction of our democracy.
This episode is drawn from the book. There's an excerpt of the book in on the NewYorker.com.
Jared Kushner, Presidential son-in-law, is one of the longest-lasting and most powerful White House advisors. In three years, he's outlasted Reince Priebus, John Kelly, Steve Bannon, Mike Flynn, H.R. McMaster, John Bolton, Jim Mattis, Dan Coats, Jeff Sessions, Don McGahn, Rex Tillerson, and others — too many to name.
Kushner has been handed an unusually broad array of responsibilities, from reforming the criminal justice system to overseeing trade relationships with Mexico and China to attempting to broker peace in the Middle East.
[MUSIC FADES TO ALMOST NOTHING]
But even that doesn't give you a full picture of Kushner's role. As a loyal family member of a President who values loyalty and family above almost everything, Jared Kushner may just be the second most powerful man in America.
Today we tell you about Jared. And to understand Jared, you need to understand his family story. It begins in Nazi-occupied Poland.
Act 1: The Escape.
SIDNEY LANGER: My name is Dr. Sidney Langer, and I am the Director of the Oral History Project of the Holocaust Center at Kean College.
BERNSTEIN: In 1982, when Jared was a toddler, his grandmother Rae Kushner sat down for an interview.
Her testimony was taken as part of the Holocaust Remembrance movement. One of its central functions was to record the words of Holocaust survivors.
LANGER: Mrs. Kushner, thank you very much for coming. [AUDIO FADES UNDER] Can you tell me a little bit about …
BERNSTEIN: Her interviewer begins by asking her about where she was born — a town called Novogrudek, in Poland. It's now Belarus.
RAE KUSHNER: We lived a comfortable life. A quiet life.
LANGER: How large was, uh, your family?
RAE KUSHNER: Our family was a father, mother, and four kids.
BERNSTEIN: Rae's family name — Kushner — means "furrier." Her parents ran two shops where they made and sold fur coats and hats.
Rae recalls that when she was a teenager, travelers brought reports of German violence in Southern Poland.
RAE KUSHNER: They told us stories. They told us, "They're killing Jews." We didn't believe them. We said, "What kind of people, was he telling?" He told a story that the Jews open a grave, they put them in a grave alive, and they killed them.
BERNSTEIN: In 1941, the Germans marched into to Novogrudek. For a while, things weren't too bad. Then, on a freezing day in December, thousands of Jews were rounded up and taken to a courthouse.
RAE KUSHNER: Like the courthouse in Elizabeth. A big courthouse.
BERNSTEIN: Like the courthouse in Elizabeth, New Jersey, she says.
INTERVIEWER: Were you together with your family?
RAE KUSHNER: Together with my family, with my father, mother, the two sisters and a brother. And then they came into the building, and they surrounded us.
BERNSTEIN: White-gloved Nazis gave directions.
RAE KUSHNER: And they made, "You to the right and you to the left." The right is to live. And the left is to die.
BERNSTEIN: The Kushners were sent to die.
RAE KUSHNER: I went over to the German and I said, "I'm young! I want to live, I want to work. Leave us on the other side!"
BERNSTEIN: He refused. The Kushners were put in line to board trucks.
Then they were pulled out the line. The Nazis were looking for furriers to clothe the German army in its push towards Moscow.
Rae's mother didn't know what to believe. She told her older daughter, Esther, to run.
RAE KUSHNER: To my older sister, she says, "Run, run! We're going to be killed, all. Maybe one from you is going to be alive."
BERNSTEIN: Esther ran. But a boy she knew from the town caught her, and forced her into the line for the trucks.
RAE KUSHNER: And we saw her walking on the truck through the window.
BERNSTEIN: She was driven, along with 5,000 Jews, to the outskirts of town, where they were forced to dig a trench, then stand beside it as they were shot, falling into their own mass grave. Jared Kushner's grandmother's sister, Esther Kushner, was killed that day.
The Germans put a barbed wire fence around the courthouse and some other buildings and turned them into the Novogrudek ghetto. One morning Rae's mother was taken and shot. The Nazis came and removed all the youngest children and killed them. That's what Rae Kushner described in her testimony.
By the summer of 1943, only a few hundred survivors remained in the ghetto. They developed a plan — to escape to the forest. They had heard there was a band of Jewish partisans, a combat unit camped not far from Novogrudok, who would protect them. A message came: if the people in the ghetto could escape, the partisans would shelter them. So they smuggled digging tools past the Nazis: bits of wood, spoons.
RAE KUSHNER: And 70 boys started to dig the tunnel.
BERNSTEIN: 70 boys start to dig a tunnel, Rae says.
RAE KUSHNER: And we couldn't put away the dirt. No place. We couldn't get a move with one shovel of dirt outside.
BERNSTEIN: They needed to hide the dirt. They could not let the Nazis see even one shovel of it.
RAE KUSHNER: So what we did. We piled up between the walls and under the bed.
BERNSTEIN: They piled it between the walls and under the bed.
RAE KUSHNER: And we dug this tunnel for three months.
BERNSTEIN: It was two feet wide and 1,000 feet long. Enough to get them past the barbed wire fence and the searchlights.
On a rainy night, on the eve of the Jewish High Holy Days, they made their move.
Every one of the 250 or so Jews got to the other side. But the boys at the front, Rae's brother Chonon among them, became disoriented in the rain, in the dark. They ran away from the forest. The next day Chanon Kushner was killed by the Nazis.
[QUIET, SUBTLE MUSIC PLAYS]
But Rae, her father, and her younger sister Lisa made it to the partisan camp. They lived in the forest through the brutally cold winter and into 1944, when Soviet soldiers, on the march, pushed the Nazis back.
Rae and her family returned to Novogrudek. It was a wasteland. None of the Jews wanted to stay. But they had nowhere to go. And the Russians wouldn't let them leave.
RAE KUSHNER: We were all afraid to move. You couldn't, you need to have passports and you needed to have the papers. It's not so easy.
BERNSTEIN: They needed passports. They needed papers.
RAE KUSHNER: Nobody opened the door for us. Nobody wanted to take us in.
BERNSTEIN: In May of 1945, the Germans surrendered. The war in Europe was over. Not long after, the surviving Kushners boarded a train for Budapest. They told the Russian soldiers they were Greeks.
In Budapest, Rae reunited with a fellow survivor she'd known from her childhood, Yossel Berkowitz. He had escaped a Nazi labor camp, and spent much of the war hiding in a dug-out shelter.
The war had devastated both of their families. They wanted to start a new one.
In a ceremony in Budapest, along with 20 other couples, Rae Kushner and Yossel Berkowitz were married by a rabbi.
[BIG BREAK HERE]
LILLIAN GORDON: I'm Lillian Gordon doing an interview with Rae Kushner on July 25th … [INTERVIEW CONTINUES UNDER NARRATION]
BERNSTEIN: In 1996, Rae sat down to give another testimony, this one collected by the USC Shoah Foundation. Jared was in high school then.
GORDON: What is your name?
RAE KUSHNER: My name is Rae Kushner.
BERNSTEIN: The interviewer begins with a series of basic questions: name, date of birth ...
RAE KUSHNER: I was born February 27, 1923.
BERNSTEIN: And then gets to this one.
GORDON: And what was your maiden name?
RAE KUSHNER: My maiden name was Kushner.
GORDON: Your maiden name and your married name are the same names?
RAE KUSHNER: Same name. We are relatives.
BERNSTEIN: But Rae's husband's name was Berkowitz. Not Kushner. [PAUSE] There's a reason Rae kept her maiden name.
After they fled Poland, Rae and her family made their way southwest, sometimes by foot, hundreds of miles.
RAE KUSHNER: We went from border to border —
BERNSTEIN: We went from border to border, she says.
RAE KUSHNER: — from Austria to Hungary.
BERNSTEIN: From Austria to Hungary.
GORDON: You came right to the United States?
RAE KUSHNER: No.
GORDON: How did you get from Hungary to —
RAE KUSHNER: Oy oy oy, we were three and a half years in Italy in the displacement camp.
BERNSTEIN: A displaced persons camp, a refugee camp.
GORDON: How did you get across the border into Italy?
BERNSTEIN: A group of Jews helped them cross the Alps, illegally. Into Italy.
GORDON: Did you have to sneak across?
RAE KUSHNER: Sneak across, they showed us the way. They had ready, people you know, but they knew what to do. They took us around the border.
BERNSTEIN: In Italy, they stayed in the refugee camp. They weren't citizens. They couldn't work. Yossel bought and sold things on the black market, like tobacco. He was arrested and put in jail. Rae had to bribe a guard to get him out.
RAE KUSHNER: So we were three and a half years in Italy. Nobody wanted to open the borders for us.
BERNSTEIN: They tried Australia, South Africa, Israel, United States.
RAE KUSHNER: We were waiting for the quota.
BERNSTEIN: "We were waiting for the quota," Rae says. The US was still tightly restricting Jewish immigration. In 1948, aid organizations were only able to resettle 847 Jews in the U.S.
Rae's family had five people — her father, Naum Kushner, her sister, her husband, and their new baby daughter.
As the Kushners understood it, U.S. visa rules at the time favored fathers and sons. That meant it would have been easier to get into the U.S. if Yossel had been Naum Kushner's son, rather than his son-in-law.
The Kushners did what they had to do for their family to survive. In their paperwork, Yossel and Rae switched places. He changed his first name too, and became Joseph Kushner, Naum's son. Rae became the daughter-in-law.
In the same documents, their country of origin was incorrectly listed as Germany, which was also more favorable for immigration purposes.
I saw those documents. They're part of a 23-page case file that's been buried for 70 years. It was maintained by the Hebrew Immigrant Aid Society, HIAS. It lists the family relationships, and interview notes, and tracks the family's progress from Italy to New York.
[DRONING MUSIC IN, THEN BECOMES MORE ACOUSTIC]
In March 1949, the Kushners arrived in America.
Workers from HIAS greeted them at the dock, took them in, helped them to find a home, helped them to find work. According to notes by the aid workers, they had two dollars in their pockets.
Joseph became a carpenter, commuting from Brooklyn to New Jersey, often saving the $1 round-trip bus fare by sleeping in framed-out houses. By the mid 1950's, Joe and Rae had saved up enough money to go in on the purchase of three lots of land in northern New Jersey. The Kushner family real estate business was born.
Joe and Rae had three more children, Murray, and Charles, who'd been named for Rae's brother Chanon, who had been shot escaping the Nazis. The youngest was Esther, named for Rae's older sister, who was killed in the courthouse massacre.
The story of Rae's escape, and of her family's illegal border crossing, and of how Yossel Berkowitz became Joe Kushner — all of it was written about, many years later, in a book Rae's children wrote for her 75th birthday.
Right before the family split, forever.
We'll be right back.
[MIDROLL]
We're back.
Act 2: The Kushners in America.
[HOPEFUL, MORE ACOUSTIC MUSIC PLAYS]
Beginning in the 1950s, a thousand homes a week were built in New Jersey, for a thousand straight weeks. Government programs fueled this boom.
New types of federal loans regularized mortgage lending and made home-buying possible for many Americans. The $25 billion Federal-Aid Interstate Highway Act made it possible to get to all those new homes — the largest infrastructure program in American history.
Joe Kushner built and built. By the time of his death in 1985, he was a millionaire, many times over. Still doing calculations in his native Yiddish, Joe had built four thousand homes, including four large houses for his children.
In 1985, Joe Kushner's son, Charles — Jared Kushner's father — set up a real estate business of his own. Jared Kushner was four years old.
Unlike his father, Charlie was comfortable with debt, and with risk. He became a generous and public philanthropist and major political donor.
At home, Charlie hosted large family gatherings. Jared and his cousins spent shabbats together. The cousins went to a school named after their grandfather, the Joseph Kushner Hebrew Academy.
In the 1990s, Charlie began to blur the lines between his family business and his own interests. This drew the attention of his brother Murray, who had his own real estate business, but was partners with Charlie in certain companies.
Murray sued Charlie for misappropriating company funds for entertainment, and for campaign donations and entertainment. Among donations that Charlie made in the name of others: $2,000 came from his 11-year old son, Jared Kushner.
[MUSIC MOSTLY OUT]
Charlie Kushner gave over $3 million to Democrats, which made him the biggest donor to Democrats in New Jersey. He was the biggest donor to New Jersey's governor. He was nominated to lead the Port Authority of New York and New Jersey, a bi-state agency with a budget larger than those of many states.
Then everything imploded.
CHRISTIE: Good afternoon. My name's Christopher J. Christie, I'm the US attorney for the district of New Jersey.
BERNSTEIN: In 2004, Chris Christie, New Jersey's top prosecutor, gathered a group of journalists in a conference room in Newark.
CHRISTIE: We're here today to announce filing a criminal complaint against Mr. Charles Kushner. [CONTINUES UNDER NARRATION]
BERNSTEIN: Christie's team of prosecutors had been investigating Charlie Kushner for years, running down tax and campaign finance violations.
[INTRIGUE MUSIC PLAYS]
Charlie had hired expensive lawyers to fight the case. But it wasn't going away. He suspected his sister and brother-in-law were helping the prosecution.
So Charlie took matters into his own hands. The details were sordid.
CHRISTIE: Specifically, Mr. Kushner engaged in a conspiracy with co-conspirators to hire prostitutes, to entice witnesses who were cooperating with the federal investigation into engaging in sex acts with those prostitutes, and to have those sex acts then videotaped.
BERNSTEIN: Charlie paid an off-duty cop to hire a prostitute, who approached Charlie's brother-in-law Billy at the Time to Eat Diner in Bridgewater, New Jersey. Billy was married to Charlie's younger sister, Esther.
Billy met with the prostitute again at the Red Bull Motel — where a video camera secretly recorded their encounter.
CHRISTIE: One of our cooperating witnesses — did in fact engage in sexual conduct with a prostitute hired by Mr. Kushner and his co-conspirators and his sexual conduct was captured on video tape.
BERNSTEIN: The encounter happened in December. At the time, the video was Charlie's secret.
[MUSIC CHANGES ABRUPTLY]
BERNSTEIN: Then his mother, Rae Kushner, died in March. In May, Chris Christie's office notified people who were under investigation in the Charlie Kushner tax case.
That's when Charlie sent a copy of the recording to his sister Esther, who he thought might testify against him.
Charlie timed it so the tape would arrive on the eve of her son Jacob's engagement party.
Charlie wanted to send the tape to Esther's children, too. He was talked out of it — by the police officer he paid to hire the prostitute.
At Christie's press conference, a reporter asked if the tape would ever be made public.
REPORTER: Will the tape ever be made public? [LAUGHTER]
CHRISTIE I have no idea. I assume — I have no idea. I assume that if — if — if there were a trial on this case, that that might be something that would be considered.
BERNSTEIN: There was no trial. Charlie Kushner pleaded guilty to tax evasion, making illegal campaign donations, and witness tampering. Over six hundred people wrote to the judge, speaking of Charlie's care for sick children, and his generosity to Israeli and Jewish and Holocaust Remembrance causes.
He served a year in prison. Associates in New Jersey refer to this period as "When Charlie went away."
Jared Kushner, then studying both law and business at New York University, flew down to visit his father most weekends at the Federal Prison camp near Montgomery, Alabama. During these trips, Jared developed a narrative of resentment.
He later told New York Magazine that his father's siblings, quote, "stole every piece of paper from his office, and they took it to the government. Siblings that he literally made wealthy for doing nothing. He gave them interests in the business for nothing. All he did was put the tape together and send it. Was it the right thing to do? At the end of the day, it was a function of saying, 'You're trying to make my life miserable? Well, I'm doing the same.'" End quote.
[MUSIC OUT]
JARED KUSHNER: As the great poet Mike Tyson said, one of my favorite quotes is, "Everybody's got a plan until they get hit."
BERNSTEIN: At a Hofstra University commencement in 2014, Jared reflected on the sudden change his life had taken.
JARED KUSHNER: My first year in law school had a little bit of a setback, which forced me at that point to get into the family business ...
BERNSTEIN: When Charlie went to prison, Jared stepped into a leadership role at the family company.
By the time he was twenty-six, he had bought a skyscraper, 666 Fifth Avenue, for $1.8 billion dollars — the highest price anyone had paid for an office building in Manhattan. Charlie, a convicted felon, couldn't sign the mortgage documents. Jared did.
As the years went on, Jared's sense of victimization solidified. During the 2016 campaign, Jared said Christie "tried to destroy my father," as described by Christie in his book Let Me Finish. Jared said: "This was a family matter, a matter to be handled by the family, or by the rabbis" — not prosecutors.
Around the time he bought 666 5th Ave, Jared also bought a weekly newspaper, The New York Observer. He saw himself as a disrupter.
JARED KUSHNER: When I was 25 years old and I bought a newspaper with no experience in media, I came into a group of people who were very ingrained in the ways that they did their business. And I noticed that the industry was changing very rapidly, and for me it was very important to try to drive change and get us to a different place.
BERNSTEIN: Almost immediately after Jared purchased it, the New York Observer did change. Its editor, Peter Kaplan, told people that Jared pushed him to assign a "hit job" on Chris Christie. Kaplan refused.
Jared denies targeting Christie but multiple former employees recalled him boasting about upcoming "hit jobs" in the paper. One was Kyle Pope, who is now the Editor-in-Chief and Publisher of the Columbia Journalism Review. In a 2017 interview with the Vanity Fair Podcast Inside The Hive, Pope said at first, Jared seemed polite and hands-off.
POPE: But then he started to, like … He would get pissed off at people and he would come in, say, "We need to take a look at them." Or, you know, these — "You really had to look at this, because this guy, everybody knows he's a bad guy."
BERNSTEIN: Then, Pope says, Jared Kushner ratcheted it up.
POPE: He called me in and said, "We've got to do a hit job on this guy." And it was like some random, uh, commercial banker at Bank of America [IPHONE NOTIFICATION SOUND PLAYS] that nobody in their right mind had ever heard of.
BERNSTEIN: Pope told Jared, "We'll see."
POPE: And he kept pushing it. I remember at — at some point, I just said, "You know, we can't use this word, 'hit job,'" um, "It's not appropriate. You can't say," uh, "it's like a prelude to a libel case," um, "And anyway, we're not gonna do this story because nobody cares about this guy."
BERNSTEIN: Pope says he came to believe that Kushner wanted the Observer to be a bullhorn for his business interests. Pope asked the Kushners about this. They did not respond.
[PAUSE, MUSIC IN]
BERNSTEIN: In 2009, Jared Kushner married Ivanka Trump. He leveraged the Observer for her family interests too. At one point, Jared ordered up a favorable profile of a private banker from Deutsche Bank — Rosemary Vrablic — who gave huge loans to both the Trump and Kushner family businesses.
And when the New York Attorney general sued the Trumps for fraud at Trump University, Donald Trump tweeted there would be an article to, quote, "get even."
Months later, there was indeed such an article in the Jared Kushner's New York Observer. It was widely understood to be a hit job.
[MUSIC OUT]
Jared Kushner published a newspaper in an era where newspapers were cratering.
He purchased 666 Fifth Avenue on the eve of the Great Recession.
The building had nearly failed in 2011 when the Kushners managed, barely, to refinance it. According to someone familiar with the deal, the lesson Jared took from this was not, "Holy shit, I almost lost everything!" It was, "I should take on as much risk as I can."
[PAUSE]
[CHEERING]
DONALD TRUMP: And her husband, Jared. Come on up, Jared!
BERNSTEIN: Act 3: The Campaign.
In January of 2016, Jared Kushner, who had always been a more or less behind-the-scenes guy, stepped onto the national stage at a rally in Council Bluffs, Iowa.
DONALD TRUMP: And Jared is a great young man, went to Harvard, very smart, great, doing a fantastic job in business. He's in the real estate business, done an amazing job in his own right, just incredible.
[MUSIC IN]
BERNSTEIN: Jared threw himself into his father-in-law's campaign. And Trump's political momentum opened doors for Jared's business. The Kushners had a billion dollars of debt coming due on their Manhattan skyscraper. As Trump racked up primary victories, Jared knocked on doors, asking for financing.
He was "utilizing his position," one financier said. With each primary victory, he said, "Jared felt more power."
Then, Trump won enough delegates to secure the Republican nomination.
[APPLAUSE]
TRUMP: Tonight we close one chapter in history and we begin another.
BERNSTEIN: At this press conference at the end of the primary season, Jared was standing by his father-in-law.
There was, of course, dissonance between Trump's campaign and Jared's personal story.
In the summer of 2016, Dana Schwartz, who was an entertainment writer at Jared's paper, published an article on the Observer's website. Trump had retweeted an image of Hillary Clinton and a six-sided star, both superimposed on piles of cash. Schwartz gave an interview to Inside Edition.
DANA SCHWARTZ: The symbolism was … I mean, hit you over the head with a hammer. It was raining money, a star of David … I mean, to me, there was undeniably — there was an antisemitic subtext to it.
BERNSTEIN: In her article, Schwartz asked Kushner how he could countenance such behavior.
She wrote, "You went to Harvard, and hold two graduate degrees, I'm asking you, not as a 'gotcha' journalist or as a liberal, but as a human being: how do you allow this?"
Jared published his own response: "This is not idle philosophy to me. I am the grandson of Holocaust survivors," he wrote. "I know the difference between actual, dangerous intolerance versus these labels that get tossed around in an effort to score political points. The difference between me and the journalists and the Twitter throngs who find it so convenient to dismiss my father-in-law is simple. I know him and they don't."
[TONAL CHANGE IN THE MUSIC]
By the time of this exchange, Jared had already attended a fateful meeting at Trump Tower. Donald Trump Jr. and Paul Manafort were there too. They met with five emissaries of a Russian oligarch that Trumps had worked with. The meeting was to discuss "some official documents and information that would incriminate Hillary and her dealings with Russia," according to an email.
What started as a business relationship, was now pivoting to politics. No one in the room questioned it. The Russians were offering dirt on Hillary Clinton. By that time, though it wasn't discussed at the meeting, the Russians had already stolen her emails.
Months later, the Russians were back. Once again, offering dirt. Literal dirt. I'll explain.
[LOTS OF CAMERA CLICKS]
JARED KUSHNER: My name is Jared Kushner. I am senior advisor to President Donald J. Trump.
BERNSTEIN: In the summer of 2017, Jared Kushner made a statement in front of the White House. Donald Trump Jr. had just released the emails about the Trump Tower meeting.
JARED KUSHNER: I have not relied on Russian funds for my businesses, and I have been fully transparent in providing all requested information.
BERNSTEIN: In addition to this public statement, Kushner testified behind closed doors to Congress that day. He disclosed another meeting he'd had with a Russian. This one was in December 2016, after Trump was elected. It was with a banker, named Sergey Gorkov, the head of a major bank that had been the subject of U.S. sanctions.
According to Kushner, Gorkov had a direct line to Putin, and was there to discuss US-Russia relations. According to a statement the bank gave to the Washington Post, it was a business meeting. According to the Mueller report, Vladimir Putin had directed Gorkov and other oligarchs to meet with senior Trump officials.
When Mueller's investigators questioned Kushner, he went out of his way to convey that he thought little of this meeting. He said, he "did not engage in any preparation for the meeting and that no one on the Transition Team even did a Google search for Gorkov's name."
But Gorkov had prepared. The Russians had researched Jared Kushner's family history so thoroughly, they understood the importance of his grandparent's hometown.
[SOFT MUSIC]
According to Kushner's statement to Congress, quote:
"The meeting with Mr. Gorkov lasted twenty to twenty-five minutes. He introduced himself and gave me two gifts — one was a piece of art from Novogrudek, the village where my grandparents were from in Belarus, and the other was a bag of dirt from that same village."
The bag of dirt had a particular resonance. It recalled Jared Kushner's grandmother's daring escape from a Nazi ghetto, and the bags of dirt from excavating the tunnel that they hid under the beds and in the walls.
[MUSIC OUT]
Normally, after a new President is elected, there's a careful transition process. There's a protocol for who gets to meet with the administration, and when. Foreign actors are vetted. There had been a person responsible for this in the Trump campaign — Chris Christie. Over Jared's objections, Trump had named Chris Christie transition chief. But after Trump was elected, Jared had Christie fired.
In his book, Christie wrote Jared "was exacting a plot of revenge against me, a hit job."
After Christie was fired, thirty binders full of vetting that Christie had had prepared were tossed into the dumpsters at Trump Tower.
After that is when Jared Kushner had his meeting with Sergei Gorkov.
[A MOMENT OF QUIET]
BERNSTEIN: Act 4: The White House.
After he was appointed Senior White House Advisor, Jared Kushner announced that, like his father-in-law, he would not fully divest from his family business. Instead, he kept some parts and divested others to close relatives.
He began to draw scrutiny.
[DRIVING MUSIC PLAYS]
BERNSTEIN: It was reported that he tried to set up a back-channel at the Russian embassy. He omitted foreign contacts on his disclosure forms. He had to update the forms forty times.
Then the New York Times reported that Jared's family business got huge loans from two banks whose representatives had met with him at the White House.
JESSE DRUCKER: So, he has a number of meetings with Josh Harris, who is one of the founders of Apollo, a giant private equity firm. And the two of them are discussing a number of things, including a possible job for Mr. Harris.
BERNSTEIN: This is Jesse Drucker of the New York Times, speaking to Rachel Maddow.
DRUCKER: And the job doesn't materialize, it turns out. But something else does — which is, a few months after a series of meetings with Mr. Kushner, Mr. Harris's firm Apollo makes this sizable loan to Kushner companies to refinance this building.
MADDOW: $184 million.
DRUCKER: $184 million, a very large loan by the standards of Kushner companies and an enormous loan by the standards of Apollo.
BERNSTEIN: Kushner and the banks denied any improper mix of business and government. Apollo said the loan "went through the firm's standard approval process."
Then there was this:
A whistleblower, Tricia Newbold, a longtime White House official, came forward to report her concerns that dozens of White House officials, including Jared Kushner, had been given security clearances over the objections of career staff. She warned security clearances were being issued contrary to national security.
The late Member of Congress, Elijah Cummings, pressed the White House for details.
CUMMINGS: She's crying out. She's begging us to do something. Because she simply wants her government to work the way it's supposed to work.
BERNSTEIN: Cummings did not get the records he sought.
[DRIVING MUSIC OUT]
BERNSTEIN: Every time the tangle with his family business came up, Jared Kushner dismissed complaints. He said he followed all applicable rules and recused himself from situations where there would be conflict.
JARED KUSHNER: Over the last two years that I have been here, I've been accused of all different types of things, and all of those things have turned out to be false.
BERNSTEIN: This is Kushner, speaking to Fox News Host Laura Ingraham in the Spring of 2019.
JARED KUSHNER: When I came to Washington, I had a very successful business career. I had extensive holdings. I disclosed all my holdings to the, uh, Office of Government Ethics and what I did with that is they told me what to divest, what to keep, what rules to follow.
[SLOWLY DRIVING MUSIC PLAYS]
BERNSTEIN: In the White House, Jared continues to be assigned some of the most important work. He's been put in charge of overseeing Trump's reelection campaign, and overseeing the construction of a wall at the southern border. According to reports, Jared has vowed to install a Wall-Cam, to monitor its construction in real time.
[MUSIC OUT]
BERNSTEIN: We began this episode with a clip from an interview with Jonathan Swan of Axios. In that interview, Swan pushed Kushner to address the contradictions of his family story.
SWAN: You know, you guys have dramatically reduced the number of refugees — uh, intake into this country. I think the lowest level in 40 years.
JARED KUSHNER: Yeah, I think — look, the world right now is in — we inherited a crazy world. I think what we have done is, last year —
SWAN: But isn't it … ? It's always a crazy world. It isn't a coincidence —
JARED KUSHNER: — I think right now you've got 65 million refugees in the world. You can't have all of them come into your country.
SWAN: Well, I know. But what's the rationale for cutting so dramatically?
JARED KUSHNER: Yeah. I think that the amount of money you can spend to help refugees resettle in their countries and deal with aid is very impactful. And whether —
SWAN: So you agree with the policy of cutting it to that level.
JARED KUSHNER: It doesn't make a difference one way or the other, the number —
SWAN: It does. It means people are either living here, or they're not.
JARED KUSHNER: Yeah, but in the scheme of the magnitude of the problem we have, I think that we're doing our best to try to make as much impact to allow refugees to be able to go back to their places. End conflicts in places like Syria, and find ways to make sure that you're funding these situations so that the people who are immediately becoming refugees can have as much care as possible. But we have a lot of tragedies all over the world and that — again, one of the reasons why as Americans we're very lucky to be where we are.
[PAUSE, THEN MUSIC]
BERNSTEIN: I tried to ask Jared Kushner more about his family's immigration experience and current White House policies. For my book, I sent him 83 questions, including whether he sees see any inconsistencies between the president's current policies and his own family history of crossing borders illegally, and fudging their relationships to get a chance at the American dream. He did not answer this question.
[MUSIC BEAT]
BERNSTEIN: In the testimony Rae Kushner gave in 1982, she was asked why she wanted tell her story.
LANGER: Can you, uh, explain why there's more of a desire now to relate the experiences that the people went through during the Holocaust?
BERNSTEIN: It was so hard at first, she said. It was too shocking.
RAE KUSHNER: If we're not going to tell now, in 20 years I don't know who's going to be to tell. And now we have still the strength and we have the power to do this and to warn the rest of the world to be careful who is coming up on top of your government.
[MUSIC OUT, THEN CHANGES TO CREDITS MUSIC]
BERNSTEIN: You can read a lot more about all of this in an article on NewYorker.com, or in my book, American Oligarchs: The Kushners, The Trumps, and the Marriage of Money and Power. You can find it wherever books are sold, or by going to AndreaBernsteinBook.com.
This episode was produced by Meg Cramer, Alice Wilder, and Katherine Sullivan. The sound designer is Jared Paul. Matt Collette is the executive producer of Trump Inc. The editors were Eric Umansky and Nick Varchaver. Emily Botein is the Vice President for Original Programming at WNYC and Stephen Engelberg is the Editor-in-Chief of ProPublica.
Special thanks to Tom Mayer at W.W. Norton and to David Rohde and Fergus McIntosh at The New Yorker. Also to Jonathan Swan at Axios HBO, Matt Katz at WNYC, Vanity Fair's Inside the Hive podcast, the Holocaust Research Center at Kean University and the USC Shoah foundation.
The original music is by Jared Paul and Hannis Brown.
[MUSIC FADES OUT]
Copyright © 2020 ProPublica and New York Public Radio. All rights reserved. Visit our website terms of use at www.wnyc.org for further information.
New York Public Radio transcripts are created on a rush deadline, often by contractors. This text may not be in its final form and may be updated or revised in the future. Accuracy and availability may vary. The authoritative record of New York Public Radio's programming is the audio record.