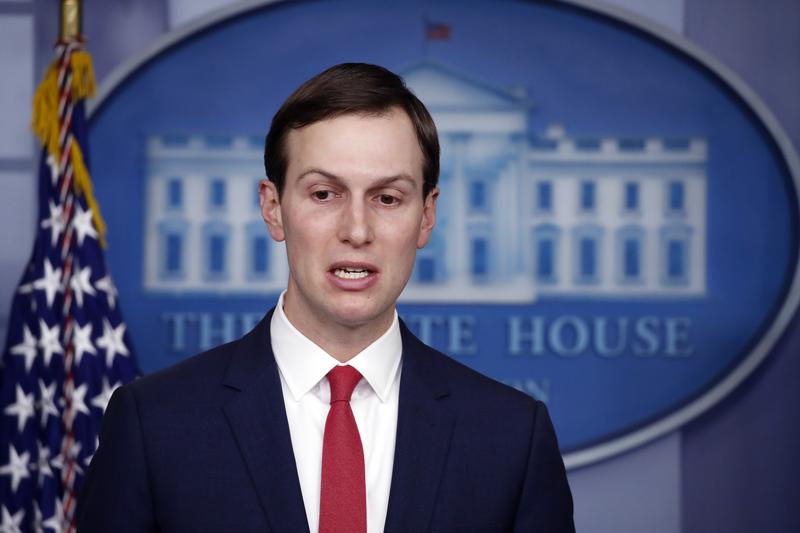 Transcript
MIKE PENCE: [OVER THE SOUND OF CAMERAS CLICKING] Jared …
BERNSTEIN: On April 2nd, Jared Kushner made a rare public appearance at the White House daily coronavirus briefing.
JARED KUSHNER: Thank you, Mr. Vice President. [AUDIO FADES UNDER NARRATION]
BERNSTEIN: Jared Kushner: Presidential son-in-law, previously CEO of Kushner Companies, previously owner of the The New York Observer newspaper, previously a top aide during Trump's 2016 campaign —
KUSHNER: … how I can best serve him and the task force ...
BERNSTEIN: — currently senior White House advisor with a portfolio that runs from peace in the Middle East to heading the Office of American Innovation. Currently principal White House liaison to the Trump-Pence 2020 campaign. Currently helping lead the administration's response to a public health threat [BEAT] unseen in any of our lifetimes.
KUSHNER: What the President asked is that all of the recommendations that we make be based on data. He wanted us to be very rigorous to make sure that we were studying the data, collecting data. [AUDIO FADES UNDER NARRATION]
BERNSTEIN: Like all of his White House assignments, Kushner's coronavirus task force's mission has been nebulous, non-transparent, and multi-pronged. His work has been described as a "running point" with the private sector. One of his early assignments was to enlist the tech industry to create a website to facilitate testing.
[LIGHT MUSIC PLAYS FOR A MOMENT]
BERNSTEIN: That did not happen. Another was to advise on the President's March 11 speech from the White House, which was followed by a stock market plunge. A third was to put together a list of advisors on reopening the economy. Some executives say they only learned of their selection when the President announced it from the Rose Garden.
[MUSIC OUT, PRESS CONFERENCE AMBIENCE PLAYS SOFTLY UNDERNEATH]
In early April, Kushner told the nation he was reaching out to the private sector to source masks and gowns and necessary supplies to sell to places that need them most.
KUSHNER: Uh, the President wants to make sure that we had the best people doing the best jobs and making sure that we had the right people focused on all of the things that needed to happen to make sure that we can deliver in these unusual times for the American people.
BERNSTEIN: Kushner, in a navy suit with a red tie, tall, and looking even slimmer than usual, articulated his working philosophy.
KUSHNER: Uh, the President also wanted us to make sure we think outside the box, make sure we're finding all the best thinkers in the country, making sure we're getting all the best ideas.
BERNSTEIN: Breaking through old systems, acting as a disrupter.
KUSHNER: Uh, just this morning, very early this morning, I got a call from the President. Uh, he told me he was hearing from friends of his in New York that the New York public hospital system, uh, was running low on — on critical supply. He instructed me this morning. I called Dr. Katz, who runs the system … [AUDIO FADES UNDER]
BERNSTEIN: Kushner asked Dr. Mitchell Katz which supply he was most nervous about.
KUSHNER: … he told me it was the N95 masks. I asked what his daily burn was. And, um, I basically got that number, uh, called up Admiral Polowczyk, uh, made sure we had the inventory. Uh, we went to the President today and earlier today the President called, uh, Mayor de Blasio to inform him that we were going to send a month of supply to the New York public hospital system to make sure that the workers on the front line can rest assured that they have the N95 masks that they need to get through the next month.
[BEAT]
BERNSTEIN: So I wondered if, in fact, Jared Kushner had seen to it that New York City's public hospital system had received a month's worth of personal protective equipment.
[TRUMP INC. STRINGS START TO PLAY]
BERNSTEIN: Mayor Bill de Blasio's press secretary, Freddi Goldstein, confirmed to me in an email that he had. She wrote, "To date, Jared has personally helped us secure over one million N95 masks direct to NYC hospitals, including month's supply for all public and independent hospitals. 530,000 Tyvex suits direct to NYC." She added, "We're also still in contact with him about additional needs. He's been very responsive and helpful thus far."
[TRUMP INC. THEME PLAYS]
BERNSTEIN: Hello, and welcome to Trump Inc., a podcast from WNYC and ProPublica that digs deep into the business of Trump. I'm Andrea Bernstein.
Today on the show: Jared Kushner. As a member of Trump's family, Kushner has unparalleled access to the President. His office is closest to the Oval office. He has family time with the President, too. Access to the West Wing and the East Wing.
Kushner's power also derives from his longevity: he has outlasted three chiefs of staff, three national security advisors, a secretary of state, an attorney general, a defense secretary — on and on.
In January, we called Kushner the second-most powerful man in the administration, and his portfolio has only grown since then. He's never been as powerful and as central to the nation's future as he is at this moment.
We asked the White House about Kushner's central role in the crisis, and whether it was appropriate, given his background. The White House did not respond.
[A SOFT MUSIC MOMENT BEGINS]
Jared Kushner sees himself as a disrupter. We reported on this back in January, in our episode called "Dirt." His grandparents had, improbably, survived Nazi-occupied Poland, escaped, and immigrated to America, against all odds. His father, in contrast to other New Jersey Jewish developers at the time, aggressively raised his profile and his family fortune. And Kushner built his career by taking what others saw as impossible, foolhardy risks: becoming, in his mid-twenties, the publisher of a weekly newspaper in an era when newspapers were cratering, purchasing an expensive office building, 666 Fifth Avenue, on the eve of the Great Recession. The building had nearly failed when the Kushners managed, barely, to refinance it. The lesson he took from this, according to someone familiar with the deal, "was not 'Holy shit, I almost lost everything,' it was 'I should take on as much risk as I can.'"
At the New York Observer, Kushner pushed his editors in chief — five of them, in as many years — to pay writers less, focus more on clicks. Several said he told them to focus less on substantive articles and more on helping his friends and punishing his enemies.
The thing Jared Kushner is disrupting now is the federal government's response to the coronavirus. By some measures, this is working — the Governors of New York and New Jersey and the Mayor of New York City have said publicly, and their aides have confirmed privately, that Jared Kushner has been in frequent contact and has helped open supply bottlenecks.
That sounds like it could help.
MIKE HARVEY: But if any of them are not on the same page on priorities, are on how to deliver against those priorities or even offering competing messages, then you'll start to see a system break down and people spend more time trying to coordinate with each other than actually delivering solutions.
BERNSTEIN: We spoke to Mike Harvey, who worked as special advisor to President Trump in the National Security Council until January. We'll hear more from him later in the episode.
Kushner's new emergency supply sourcing operation comes in the context of a White House that has undergone unprecedented 85% turnover, proclaimed war on "the deep state," and aggressively downsized the administration, including disbanding the White House team that was supposed to prepare for a pandemic. Some 1,600 scientists have been forced out.
The government has been made so small, having one person's cell phone number has become a bridge between death and life.
[A MUSICAL BEAT]
BERNSTEIN: Trump is often outright adversarial to governors, Republican and Democrat. He said Maryland governor Larry Hogan "didn't really understand what was going on" after Governor Hogan criticized testing efforts. Trump called Jay Inslee, the Governor of Washington, "a snake." He called and told Vice President Pence —
TRUMP: Don't call the woman in Michigan.
BERNSTEIN: — Governor Gretchen Whitmer. And by not acting more quickly to get supplies, Trump forced governors to go their own way. Governor Andrew Cuomo of New York called this process "like being on eBay."
GOVERNOR CUOMO: It's like being on eBay with fifty other states.
BERNSTEIN: It was in this context that Jared Kushner was appointed to the head of his own task force. He brought in friends and allies from the private sector. From the White House perspective, this group would cut through red tape and bureaucratic hurdles.
It sowed confusion.
"Jared and his friends decided they were going to do their thing," one senior government official involved in the response effort told NBC News. "It cost weeks."
But for the Governors of New York and New Jersey, Kushner proved to be a help.
Both Governor Murphy of New Jersey and Governor Cuomo of New York had, earlier this year — before the national emergency — rekindled relationships with Jared Kushner in the hopes of getting renewed federal commitment to building a train tunnel under the Hudson River, according to a Kushner family friend. When the virus exploded in New York and New Jersey, Cuomo and Murphy had Jared Kushner's cell phone number. So did New York City Mayor Bill de Blasio, who, like most New York politicians, had frequently interacted with Kushner when he was a developer and publisher. All three officials have alternately praised and excoriated Trump. But they've been fulsome when speaking about Kushner.
Here's Cuomo.
GOVERNOR ANDREW CUOMO: The federal government is a partner in this, obviously. I spoke to the President again yesterday about, uh, this situation, I spoke to the Vice President, and I spoke to Jared Kushner. Uh, the White House has been very helpful.
BERNSTEIN: And New York Mayor Bill de Blasio, on April 2.
MAYOR BILL DE BLASIO: The President's Senior Advisor, Jared Kushner, who's obviously a New Yorker and knows a lot about the city and cares about this city …
BERNSTEIN: Here's de Blasio, April 3.
MAYOR DE BLASIO: But I want to give a special thanks to the President and to Jared Kushner.
BERNSTEIN: De Blasio ran to be the Democratic nominee against Trump last year.
MAYOR DE BLASIO: I was on a call with the President and Jared Kushner yesterday, they said they would produce these things immediately and lo and behold, Dr. Mitch Katz sent me a photo, uh, a couple hours ago that they had been delivered to health and hospitals, so that's going to really help us get through a lot of the month of April. I'm very thankful for that.
BERNSTEIN: Governor Phil Murphy, of New Jersey, on April 3.
GOVERNOR PHIL MURPHY: We're in a regular back-and-forth with Jared Kushner, who's a Jersey guy.
BERNSTEIN: De Blasio again.
MAYOR DE BLASIO: My thanks to President Trump and to Jared Kushner for the role that he played as well.
BERNSTEIN: Murphy.
GOVERNOR MURPHY: We spoke about in these conversations also with Jared Kushner.
BERNSTEIN: Murphy again.
GOVERNOR MURPHY: Themes again repeated with Jared as it relates.
BERNSTEIN: And Senator Cory Booker, who also ran to be the nominee against Trump.
SENATOR CORY BOOKER: Again, Governor, I was proud with Secretary Treasurer, with Jared Kushner, with the Vice President, to watch our command teams work together, uh, uh, like they are.
BERNSTEIN: For this story I spoke to over a dozen people who have worked with Jared Kushner in New York and New Jersey. "So much of Jared's business was relationships. In order to be able to get deals done you have to be able to call somebody," one associate told me. Another one said, "He has a huge Rolodex. He was always in the meetings. He would be like, 'I will just make a call, I will call so and so.' He was young and rich and powerful and he got along with people. That was a big part of his M.O., to make a call, to make something happen."
Through this emergency, as one de Blasio advisor said of Jared Kushner, quote, "My sense is, in general, he's been a rational contact. The whole thing is you have to pay public fealty."
[MUSICAL BEAT, TONE CHANGE]
BERNSTEIN: There's a flip side to this access, which is that Kushner doesn't — can't possibly — return everyone's calls. And the informal "Better Call Jared" approach can conflict with the system that has long been set up to help.
When he spoke at the White House briefing, Kushner — while claiming credit for help — put the responsibility for gathering supplies squarely on the states.
KUSHNER: And the notion of the federal stockpile was it's supposed to be our stockpile; it's not supposed to be state stockpiles that they then use.
[BEAT]
GOVERNOR LAURA KELLY: That's exactly what it's meant for, and always has been, and has to continue to be.
BERNSTEIN: This is Kansas Governor Laura Kelly.
GOVERNOR KELLY: The federal government actually has a responsibility to gather that stuff together and then to distribute it.
BERNSTEIN: Governor Kelly spoke on the public radio show "Here and Now."
GOVERNOR KELLY: So I would dismiss what Mr. Kushner said. That is absolutely not the way it is supposed to work.
BERNSTEIN: The day after Kushner's press briefing, the Strategic National Stockpile quietly changed its website to reflect Kushner's view that the stockpile is a supplement. Rather than fix the system, the federal government rewrote the description to lower the bar.
Governor Kelly, a Democrat, said she did not have a line to Jared Kushner or into the White House. So to get her state's needs met, she goes through Kansas's Republican Congressional delegation.
GOVERNOR KELLY: Senator Moran, Senator Roberts, because they've got channels to the folks who need to be alerted to what Kansas needs.
BERNSTEIN: Previously, there were protocols. State emergency management and public health officials knew they could interact with FEMA, or HHS, or the CDC. But now, Kelly was saying, she was waiting to see if backchannel entreaties by Kansas Republicans would produce results.
As of April 21, Governor Kelly said her state had received some, but not all of the supplies it needed from the federal government..
At the end of March, Michigan Governor Gretchen Whitmer, also a Democrat, told local radio station WWJ the White House was preventing her state from getting aid.
WHITMER: What I've gotten back is that vendors with whom we've had contracts, are now being told not to send stuff to Michigan.
BERNSTEIN: Whitmer, who is seen as a possible Vice Presidential candidate with Joe Biden, is a frequent target of right wing ire.
WHITMER: The fact of the matter remains, we need help, and at the very least we don't need people to stand in our way from getting it.
BERNSTEIN: By the third week of April, Whitmer was still expressing concerns about getting help from the federal government. Trump was openly supporting protests against her.
Whitmer has made no reference to Kushner's task force. Her office did not respond to our inquiries about whether she'd tried to get help from him directly.
Then there's Maryland Republican Governor Larry Hogan. He's been tangling with Trump during the whole emergency, and in late April, his wife, who was born in South Korea, arranged to get a planeload of tests from that country.
TRUMP: Governor Hogan, he didn't really know. He really — it was very obvious to any of those listening to the call today, even though you weren't supposed to be on it, I'm sure that some of you were — or, representatives were — he really didn't know about the federal laboratories. Would you say that's correct, Mike? He didn't know.
BERNSTEIN: Hogan is the head of the National Governors Association, and a very good friend of former New Jersey Governor Chris Christie, who is entangled in a long-running dispute with the Kushner family. Hogan's office did not respond to requests for comment, but according to reporting by Luke Broadwater, statehouse reporter for the Baltimore Sun, Hogan has spoken to Kushner only once during the crisis, about ventilators.
Maryland has received a fraction of the supplies it has asked for.
[MUSIC BECOMES A LITTLE LOUDER]
PETER RAGONE: The systematic approach that had been developed over many, many decades for the federal government to respond with states and localities to crises — it seems to me to be — either to have been dismantled, or just not being used.
BERNSTEIN: This is Peter Ragone, Mayor de Blasio's former senior advisor, and a former aide to Andrew Cuomo. Ragone's now a Democratic political strategist, and has served at times as an advisor California Governor Gavin Newsom, and San Francisco Mayor London Breed.
RAGONE: In the absence of a system, public officials are doing whatever they need to do in very desperate times. And if that means making phone calls, if that means finding the right person to talk to, if that means calling a CEO directly, if that means calling a White House advisor directly: they'll just do whatever they need to do.
BERNSTEIN: In the absence of a system, governors and mayors have had to improvise. They have to make sure their phone calls are answered by the President's son-in-law.
RAGONE: He's a player, and if you are a chief executive who needs resources to save your constituents' lives, you will go to any player you need to go to. And if that player delivers, you say "thank you." Publicly.
BERNSTEIN: This dynamic has produced comments that regularly jolt from rapturous praise to acerbic criticism and back.
REPORTER: But what I'm asking is, what more, specifically, do you want the governor of Washington, uh, the governor of Michigan —
TRUMP: All I want them to do — very simple — I want them to be appreciative. I don't want them to say things that aren't true. I want them to be appreciative. We've done a great job,
[MUSIC RAMPS UP]
BERNSTEIN: Trump at one point claimed "total authority" over states. This prompted Cuomo to point out that, in the United States, "we don't have a king." This prompted more opprobrium from the White House, and then Trump told states they were on their own.
Jared Kushner has helped New York and New Jersey, the global epicenter of the coronavirus pandemic, get needed supplies. But the longer-term help that the states need — more testing, more planning, a coordinated national response — that has not come from the administration, despite the official relationship with Jared Kushner. And there's little sign Kushner or anyone at the White House will help them get the financial aid they need from Congress to plug their yawning budget gaps. We'll be right back.
[MUSIC PLAYS OUT, THEN MIDROLL]
BERNSTEIN: We're back. We've been talking about the officials who are at the epicenter of the pandemic, and how Jared Kushner has placed himself in a central role in getting them things they need to combat the virus.
JULIETTE KAYYEM: That reflects a transactional approach to disaster management supply-chain needs. In other words, if you can reach Jared — if you can applaud Jared, if you can convince him that you're the most needy — he will deliver for you.
BERNSTEIN: This is Juliette Kayyem. She is a former Assistant Secretary of Homeland Security under Obama. She now writes about crisis management and teaches it at Harvard. In January, she said, she realized the coronavirus crisis was going to be too large to contain. She wrote about it then.
KAYYEM: Um, I started to get very nervous and then thought by late January … by late January, my class I teach in crisis management — everything I ever talked about was this.
BERNSTEIN: She got through a couple of months like this.
KAYYEM: And then Harvard closed on a Thursday. But the weekend before, they knew they were going to close it on a Thursday they said, "Anyone who's teaching Monday, Tuesday, or Wednesday, we need you to test your systems." So I walked into — I walked into school that Monday, and all of a sudden my class was virtual. So I never really got to say goodbye to my class.
BERNSTEIN: Kayyem recorded her end of our interview in her home in Cambridge. She talks with her hands. Sometimes you can hear the microphone moving around.
Kayyem says, in her experience — which included Ebola, Zika, and the BP oil spill — there was an incident command set up with clear lines of authority. She said the system was designed to be broad and overarching, not subject to phone calls from friends and family of the President.
KAYYEM: Literally that's — the system is designed not to work that way, because in any disaster in particular, one: that's fifty states, right? In other words, there's demands everywhere, and there's demands today, and there will be demands tomorrow. You need a centralized repository — more than a single guy on a phone — uh, to determine what your needs are and where you're going to deliver, and you can't do that by transactional relationships.
BERNSTEIN: Well in this case, as it happens, the epicenter of the crisis coincides with the personal connections with Jared Kushner. Is there any scenario in which you could view it as, "Okay, in those cases, they are sort of getting the federal government to snap to, and also they really need it."
KAYYEM: There's no question that they need it, but you're assuming it wouldn't have happened but for Jared's presence. I mean, in other words, it may have been that the usual process could have worked. But his insertion ends up making it about Kushner and Trump, and that's exactly what you don't want. His insertion disempowers the bureaucracy that exists to plan for a fifty-state disaster.
[MUSIC BEAT PLAYS]
KAYYEM: There's no reason for an emergency management apparatus to deny need. And in fact, the scary thing is, is by inserting Jared, who has no transparency of need except for the friends he has in New York City, that you are more likely to distribute supplies unfairly because he has such a myopic view of what need is, right?
BERNSTEIN: So one of the arguments that Jared Kushner's made is that the existing system needs to be disrupted, and that's what he's doing. And he's going to make things work better and faster, and that's what the moment is demanding.
KAYYEM: No, no. This is the outrage, first of all, because, they don't understand the system. So basic disaster management is a unity of effort agenda, because we don't have chains of command, essentially, in Homeland Security.
Right. The governors don't report to a president. Mayors often don't report to governors, and so the way that we think about crisis management is, the locals execute, right? They're the front lines. Think of NYPD or New York Fire Department. The states coordinate so if something gets too big, right, then you have a state sort of driving resources throughout the state to where the locals need it. And then you have the federal government supporting.
Like, it's so boring, but it works. And it's worked for a very long time. And not without flaws or disasters, we get that. But that process is what every, uh, responder agency trains and exercises to.
So there's an expectation that that process will work. And the reason why you don't change midstream and — and, you know, Kushner's think-outside-the-box analogy, is … What's outside the box? What process is outside the box?
It can't possibly be Kushner's cell phone number, right? But that's what it appears to be. That's what it actually appears to be is that — that I'm gonna, you know — he says, "I'm going to disrupt the system. Call me if you need anything." Do — do you realize the numbers that we're talking about? 30, 60, 90, 200 million masks, right?
From my perspective, how Jared Kushner could say his system is better is shocking. What he's done is he set up a separate, parallel federal response effort.
BERNSTEIN: Two separate responses, sometimes working across purposes, sometimes working together — laced with politics.
Kayyem described how the incident command worked when she was in government.
KAYYEM: Working to, you know — once the disaster strikes, we set up what's called — I used the term before — incident command structure, where everyone has a seat at the table. Decisions are being made based on supply and demand, based on resources.
BERNSTEIN: It sounds like what you're describing is a — like, a military operation.
KAYYEM: Yeah, it is. It's — we just — it just doesn't have the chain-of-command feel. Yeah.
BERNSTEIN: So continuing with that analogy, are we saying, "Okay, so then the White House is sort of getting on the battlefield —"
KAYYEM: Yeah.
BERNSTEIN: "— and start, you know, making …"?
KAYYEM: Such a great analogy, right? It's, uh, "Invade Normandy," right? And, you know, "My best friend has these great boats. I want you to use those boats."
[MUSICAL BEAT PLAYS FOR A MOMENT]
BERNSTEIN: After I spoke to former Assistant Homeland Security Secretary Juliette Kayyem, I went to another expert who also teaches at Harvard.
MARK HARVEY: My name is Mark Harvey. I'm a resident fellow at the Harvard Institute of Politics, and until January, I was the Special Assistant to the President and Senior Director for Resilience on the National Security Council staff at the White House.
BERNSTEIN: So your — your colleague, Juliette Kayyem, has said, "Look, the old systems were imperfect, but shaking up the systems and having unclear lines of authority in the middle of an emergency is compounding the problem." How — what do you think about that?
HARVEY: I absolutely agree with Juliette, that you need very clear lines of authority. You need very clear guidance and instructions that everybody is following, and very clear priorities that everybody is agreeing to in the midst of crisis. That's what allows the system to work.
So if there are extreme challenges, that's the time to — to really double down on your existing capability and find ways to expand its capacity to address those challenges, rather than trying to come up with a new way of doing business on the fly. That will only lead to confusion.
BERNSTEIN: And is that what you see happening now? A new way of doing business on the fly?
HARVEY: I think we've seen a mix of the old way of doing business together with the new way of doing business.
BERNSTEIN: What is your understanding of Jared Kushner's role in all of this?
HARVEY: Frankly, I do not have a good understanding of his role based on the role of his office. The Office of American Innovation within the White House is looked [sic] for ways to, uh, change, uh, government procedures, or make government work a little bit faster, or partner better with the private sector in a number of areas. And he seems to be trying to leverage that work, uh, to bring private sector capabilities into the fold, responding to the crisis faster than they could have done before. Doing that on his own, though, poses a challenge.
One of the great, successful practices that we had in the White House across administrations was that, whenever there was a domestic crisis, we had one single point of coordination within the White House that would then work with all of the various partners across the federal government. And it didn't matter where information came into the White House, it all came to that central point. And having that one central point allowed for consistency in how everything was dealt with, allowed for it to be tracked very well and made sure that efforts weren't overlapping with each other.
But if any of them are not on the same page on priorities or on how to deliver against those priorities or even offering competing messages, then you'll start to see a system break down and people spend more time trying to coordinate with each other than actually delivering solutions.
BERNSTEIN: Well, what is your evaluation of the situation? Is there such a unified [BEAT] message?
HARVEY: I haven't seen it happen yet. I think, uh — again, one of the biggest challenges is that we are working without a lot of context. We are talking about a lot of numerators without a denominator here. And so we see the federal government talking about the number of airbridge missions it's been able to accomplish, and the number of test kits that it's able to send out, but that's not being done with an understanding of how they're meeting the overall demand: where the urgency is happening right now versus where it will happen in the future.
[GENTLE MUSIC PLAYS UNDER NARRATION]
BERNSTEIN: Mark Harvey, who worked as special advisor to President Trump in the National Security Council until January 2020.
On April 15, Senators Elizabeth Warren, Richard Blumenthal, and Tom Carper wrote a letter to the White House expressing concerns about Jared Kushner's task force.
They wrote: "Mr. Kushner's task force reportedly includes 'a suite of McKinsey consultants,' a private equity executive, and a host of other representatives from private industries. Though they have purportedly signed 'voluntary service agreements' and have avoided participating in procurement processes, questions remain as to who exactly comprises this task force, the vetting process for its members, and what role the members play in addressing issues related to the pandemic.
Reports indicate that Mr. Kushner's task force has been 'attract[ing] companies seeking to entrench themselves in hopes of winning lucrative government contracts down the line,' underscoring the need for robust ethics oversight. Mr. Kushner and his task force appear to have substantial, and often disruptive, influence over White House policy initiatives related to the COVID-19 pandemic."
To date, the White House has not responded to this letter.
Kushner's lawyer has said he's followed ethics advice on conflicts of interest. At the same time Kushner has met with bankers and lenders who have also done business with his family company. He's met and corresponded with foreign officials outside of White House channels. He's rebuffed Congressional efforts to determine if he's complying with public records laws. And he's encouraged his father-in-law in proclaiming extraordinary powers for the Executive Branch. And he's done all this while overseeing Trump's 2020 campaign from the White House.
[MUSICAL BEAT PLAYS FOR A MOMENT]
BERNSTEIN: When I asked one Kushner family friend if Kushner still had an eye on Trump's reelection campaign while running his coronavirus task force, the friend texted me his answer: "100%."
When we asked the White House about Kushner's contact with the campaign, we did not get a response.
[MUSIC PLAYS OUT, THEN SILENCE]
BERNSTEIN: Do you have information on Jared Kushner's coronavirus task force and its interactions with the private sector? Are you a private sector businessperson or government official who has heard from Kushner's task force? Do you have information to share about how private interests are interacting with government interests during this crisis?
[TECH-Y ELECTRONIC MUSIC PLAYS]
BERNSTEIN: If you do, we want to hear from you. Contact us with your tips at TrumpIncPodcast.org.
This episode was produced by Katherine Sullivan and Alice Wilder. It was edited by Nick Varchaver and Eric Umansky. Jared Paul does our sound design and original scoring. Hannis Brown wrote our theme and additional music.
Matt Collette is the Executive Producer of Trump Inc. Emily Botein is the Vice President for Original Programming at WNYC and Stephen Engelberg is the Editor-in-Chief of ProPublica.
I'm Andrea Bernstein. Thanks for listening.
[MUSIC PLAYS OUT]
Copyright © 2020 ProPublica and New York Public Radio. All rights reserved. Visit our website terms of use at www.wnyc.org for further information.
New York Public Radio transcripts are created on a rush deadline, often by contractors. This text may not be in its final form and may be updated or revised in the future. Accuracy and availability may vary. The authoritative record of New York Public Radio's programming is the audio record.