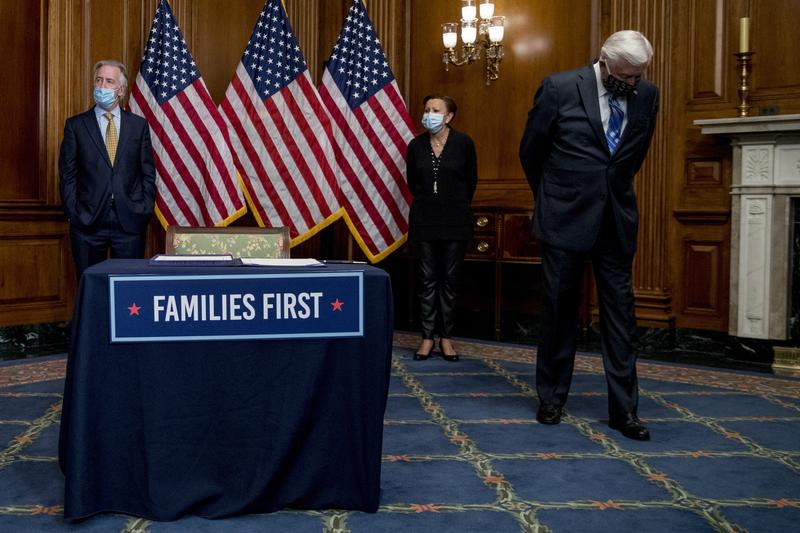 Transcript
PRESIDENT DONALD TRUMP: Well, thank you all very much. This is a very important day. I'll sign the single biggest economic relief package in American history, and I must say, and — or any other package, anyway. It's twice as large … [FADES UNDER]
[ESOTERIC ELECTRONIC MUSIC PLAYS]
PRESIDENT TRUMP: And Steve Mnuchin, you know how hard he's been working. Steve, say a few words, please.
SECRETARY STEVE MNUCHIN: Mr. President, thank you very much for your leadership and the Vice President's leadership. You made it very clear to us last week that we should think big, that this was a war on the virus, and that we should have the resources to protect American workers and American business. And, uh, I'd like to thank the Senate — it was a great honor, Mitch, to work with you and everyone on a bipartisan basis to get this done. [FADES UNDER]
ILYA MARRITZ: President Trump signed the Coronavirus Aid, Relief, and Economic Security Act, or CARES Act, at the end of March.
The law designates four groups to do oversight, and ensure the money is spent properly. There's a Congressional Commission, a group of independent Inspectors General, a Special Inspector General, and additional money for the Government Accountability Office to do audits.
This law commits to over $2 trillion in new spending.
PRESIDENT TRUMP: I've never signed anything with a "T" on it. [LAUGHTER] I don't know if I can handle this one, Mitch. [MORE LAUGHTER] We can't chicken out at this point, can we? [LAUGHTER AGAIN] I don't think so, huh? [THE SOUND OF A SHARPIE SIGNING, THEN APPLAUSE] Alright, thank you all.
MARRITZ: That day, Trump issued a signing statement. It says the President may ignore certain parts of the law — specifically, the part that says Congress should be consulted on hiring oversight staff — and another part, about sharing certain information with Congress.
Even before he signed the CARES Act, Trump made it clear he saw no need for independent oversight.
PRESIDENT TRUMP: Now, look, I'll be the oversight. I'll be the oversight. … [FADES UNDER]
MARRITZ: Shortly after signing the law, Trump removed an Inspector General who was set to become a top watchdog for the bailout. He took steps to fire or remove five IG's in six weeks. No president has ever sidelined so many IG's so quickly.
[OTHER MUSIC FADES OUT. TRUMP, INC. THEME MUSIC PLAYS]
MARRITZ: So we're left with the question: is accountability even possible for the more than $2 trillion we're spending to save the economy?
Hello, and welcome to Trump, Inc., from ProPublica and WNYC. I'm Ilya Marritz.
Today, two frank conversations with officials whose job it is, under the CARES Act, to do the oversight President Trump says is not needed. They say the task of rooting out waste, fraud, and abuse is necessary and urgent.
BHARAT RAMAMURTI: We've effectively bailed out financial firms that decided to make bad loans to extremely indebted companies. Is that a good use of taxpayer money? Is that consistent with what Congress had in mind for this program? Uh, I'd say it probably isn't.
LINDA MILLER: There are some who have wondered aloud to me why I might want to join such a tenuous [LAUGHS] community in the government right now. But I think that there's never been a more important time to join the oversight community than now.
MARRITZ: Bharat Ramamurti, a former policy advisor to Senator Elizabeth Warren, who's now on the Congressional Oversight Commission; and Linda Miller, an experienced fraud risk specialist who started this week as the Deputy Executive Director of a group of Inspectors General overseeing the CARES Act.
We'll also look at how one key decision-maker may benefit from the CARES Act.
JUSTIN ELLIOTT: It's notable that the top official at Treasury running the bailouts continues to have financial ties to an investment firm that has a huge stake in these bailout policies.
MARRITZ: Reporting from ProPublica's Justin Elliott. [A BEAT] First, Linda Miller. This week she took on a new title:
MILLER: The Deputy Executive Director of the Pandemic Response Accountability Committee.
MARRITZ: Right. People call it the PRAC?
MILLER: They do — the PRAC.
MARRITZ: The PRAC is a committee of Inspectors General from across government, including the Special Inspector General for Pandemic Recovery. It's responsible for ensuring cooperation among watchdogs overseeing the CARES Act.
To be clear, we spoke with Miller just a few days before she got her government badge.
Miller worked most recently in the private sector, in the fraud risk mitigation practice at Grant Thornton, an audit, tax, and advisory firm. Before that she spent a decade at the Government Accountability Office. And before that, she competed at the Sydney Olympics, on the U.S. rowing team. She says it was good preparation.
MILLER: I mean, obviously, rowing is the ultimate team sport. Everybody knows that. There's all kinds of inspirational posters and things like that with pictures of an eight. And that was the boat I rowed in, the eight. And that is well known to be a place where you learn the value of teamwork.
MARRITZ: You warned my producer when we booked this interview that there are a lot of things that you can't talk about or won't talk about. Just so I know, what are those things?
MILLER: Anything that would be in any way adverse to the administration is something that I won't be commenting on, um, in any way.
MARRITZ: What do you mean by "adverse to the administration"?
MILLER: Well, I — I can't speak negatively about the President or any of the decisions he's made, particularly when it comes to the IG community. That's the biggest — probably — political football around my new role. The IG community is obviously under a lot of stress and scrutiny.
So I think, you know — I know that there's a lot of politics, and people want to know — people have been asking me what it's going to be like to go work in the Inspector General community. I mean, I can speak real broadly. I just won't say anything that's in any way derogatory about the President because obviously in my role — I need to stay as neutral as possible in order to, basically, stay in my role, frankly. [LAUGHS]
MARRITZ: And that's your judgment, coming into this job.
MILLER: Right. That's my judgment.
[A MOMENT OF MUSIC]
MARRITZ: I know that your career specialty is detecting risk of fraud. You did this at the Government Accountability Office. You also did it in the private sector. What are some of the frauds that you have uncovered?
MILLER: My specialty is less in investigating fraud and more in helping organizations prevent fraud from occurring. So, often, when a big fraud event occurs, I come in afterwards and help the agency — or sometimes the private sector company — think about how they were vulnerable to that fraud occurring.
I'm not sure if you're familiar with the very large Navy scandal that — it's affectionately known as the "Fat Leonard" scandal —
[CLIPS FROM A NEWS REEL PLAYS]
REPORTER 1: [FROM OLD NEWS TAPE] A multi-million dollar international bribery scheme …
REPORTER 2: [FROM OLD NEWS TAPE]… biggest fraud scandal to hit the Navy in years …
[CLIPS END]
MILLER: — a contractor who spent years and bribed a variety of senior government officials all the way up to admirals in order to get information that would give him a competitive advantage.
That particular scandal was shocking for the scale and the scope. There were bribes involving prostitutes and —
REPORTER 3: [FROM OLD NEWS TAPE] — tickets to see Lion King —
MILLER: — and meals and —
REPORTER 4: [FROM OLD NEWS TAPE] — luxury hotel rooms —
REPORTER 5: [FROM OLD NEWS TAPE] — Lady Gaga —
MILLER: — jewelry, and all kinds of stuff that these senior officials who … and they're senior military officials. You would expect them to know better.
And I often use that fraud example when I talk about how fraud manifests itself when it becomes normalized, and especially when leadership is in any way participatory in it. And I've always found that interesting, that people who otherwise wouldn't, say, accept a bribe or participate in a collusion scheme, when they see other people doing it, and the people that they see doing it are people they respect, they tend to think it may not be so bad.
So that's one of the reasons why one of the key preventative controls that I recommend organizations think about is the ethics and the tone at the top, and making sure that you've got a very strong commitment to integrity that's communicated by leadership. Because it sounds like something that's not particularly important, but it's vitally important when you're looking at these really large systemic collusion and bribery type schemes.
MARRITZ: Right. You're saying [A BREATH] if people at the top or near the top do it, everyone else thinks it's okay.
MILLER: Yup. Exactly. And it's shocking how many fraud schemes are perpetrated by senior leadership of an organization. They've got inside information, you know. Often people below them won't question decisions they make because they're in charge. So they've got all this power and using that power — abusing that power — is a really common way that fraud shows up, both in government and in private sector.
MARRITZ: So we are talking just a few days before you start work as the Deputy Executive Director of the Pandemic Response Accountability Committee, the PRAC. By the time people hear this, you will be at the PRAC already. How are you thinking about how you're going to do that job?
MILLER: Yeah. I mean, I'm really excited about the opportunities for this new role. I mean, the PRAC was created by the CARES Act, which is the coronavirus stimulus act. As most people know, there's over $2.4 trillion of federal money that went out in that stimulus bill. And so there's obviously an enormous opportunity for fraud to occur across a variety of ways, programs, and benefit programs, different agencies.
And there's a nice budget. The Congress gave $80 million to the PRAC, and really gave the PRAC some leeway in how they best wanted to use the mandate.
There are a lot of things that have not been going well in government when it comes to managing the risk of fraud. I've been speaking about that for the last five or six years since I was at the GAO, and then beyond. So I think now getting a chance to come in and start an organization from the ground up and instill some of the lessons we've learned over the last decade.
MARRITZ: So what are the main categories of fraud that you're going to look for in a bailout like this one? Are there, like, three or four sort of buckets that you put the different kinds of fraud into? I'm looking basically sort of for a framework to help us think about where things can go wrong.
MILLER: Yeah. And I'll note, the term "bailout," when I hear "bailout," I think a little bit more about what the Special Inspector General is tasked with doing. And that's another thing that's important to note, is the CARES Act created the PRAC. It also created the Special Inspector General for Pandemic Response.
And that body is intended to look at the $500 billion that was going specifically to what I would call "bailouts" — I don't think that's the term they used — versus the PRAC is looking at the $2.4 trillion in stimulus money, which includes the IRS payments, the actual $1,200 checks that went out to folks through the IRS. It includes all of the unemployment insurance. It includes the Payroll Protection Program and the other loans and grant programs run through the Small Business Administration. So it includes pretty much all of the stimulus that's going out to the different federal agencies, versus the $500 billion that the Special Inspector General will be looking at.
I would say number one on my list of concerns is identity theft. The biggest difference between the Recovery Act back in 2009 and now is the vast number of breaches that have occurred in the last 12 years. So that's one area that we'll be looking at across the different benefit programs.
Obviously the Payroll Protection Program has gotten a lot of scrutiny, and we will be looking at a deeper dive into … The SBA IG has been doing a great job of looking at that already.
And then I think another big area that I envision the PRAC playing a role is building out some advanced data analytics capabilities that can look across the different government agencies and really identify patterns, trends, with the aspirational goal of essentially being able to provide indicators and red flags to agencies. Because, you know, most of the IG's world is what we call "pay and chase." The money's gone out, and we're trying to go back and get it back if it went out fraudulently. And that's notoriously not very efficient.
MARRITZ: Will you be looking at contracting as well?
MILLER: Yes, definitely.
MARRITZ: That seems like a ripe area for abuse, always.
MILLER: Very ripe area for abuse. I mean, government contracting fraud is an epidemic. It's been an epidemic long before we had a real pandemic here on our hands.
And, obviously, when you put this much money out, and opportunities for contractors to gain an advantage over their competitors, they start to engage in a variety of fraudulent activities, including kickbacks and bribery and — and collusion, and all these sorts of corruption schemes. And friendships between leadership and contracting companies way too often plays a role in who gets a contract, and — instead of, you know, the contractor with the best value and the best quality. And so it's a serious problem, and it will be a serious problem with the coronavirus stimulus money. And we absolutely are going to pay a lot of attention to them.
MARRITZ: So, at the beginning of this interview, I was actually kind of surprised you basically said, like, "I cannot anger the President." So, given that you have this concern about angering the President and knowing that investigations you do, or conclusions you draw, could anger the President, how do you do your job? I mean, I see a lot of potential conundrums for you that you might face very, very quickly.
MILLER: Um, you know, I think actually — I don't think we're going to get on the wrong side of the President here at the PRAC. I think that what we're really trying to do is go after unscrupulous actors who may have tried to get funding they weren't entitled to through these different benefit programs.
We're going to be looking at the bad guys outside of government. We're going to be looking at the identity — uh, you know, identity theft rings, and we're going to be looking at the every day bad actor who wants to cash in on a huge government program. And, um, and so we're, we're all on the same side here.
MARRITZ: I understand there's things that you don't want to say, and I don't want to press you too far on this point, um, so feel free to take a pass on this, I guess I'm saying. But the President has made it pretty clear that he sees government as a tool to reward allies and punish critics and enemies.
Here's this huge pile of money that's going out. It's going out through executive branch agencies. One could imagine any number of scenarios where the President would be unhappy with a bright light being shined on bad things being done in those agencies or laws being broken in those agencies or rules being bent in those agencies. So if and when it comes to that moment, what are you gonna do?
MILLER: You know, the thing I'm being hired to do, and the thing I did for ten years at GAO, which is to, um, maintain generally-accepted government auditing standards.
I'm a big believer in — my mom used to say, "Always keep your side of the street clean," which really meant, you know, focus on the things you can control. And for me, I've got a mission and I've got a job to do in this role. And I'm really excited and I feel a sense of responsibility — really, truly, a sense of awesome responsibility to American citizens and American taxpayers to carry that role out. And nothing's going to change about how I will assist and direct our organization in adhering to those standards.
And yeah, I think that's what the country was founded on. And there's a reason that the Inspectors General were created in 1978, and I think the mission is as important now — if not more than it ever has been.
[A MOMENT FOR MUSIC AND A BREATH]
MILLER: And I guess if I had one final comment, it would just be — what the country has been going through the last few months, both with the fear of the virus itself, as well as the economic uncertainty, I think that trust in government is not very high. It hasn't been very high, really, frankly, as long as I've been alive. But it's gotten worse. And the partisan politics on the Hill, and sometimes the sense of toxicity that people view government as having, can be really disheartening and dispiriting.
And my hope is that this organization, the PRAC, that I'm going to go help lead could create just a little bit more confidence among the American people that we can put really capable, really competent people into government positions of oversight, hold those accountable who would commit fraud, and do real service to the taxpayers who've entrusted the government with their money. And, for me, that's the primary mission and the primary opportunity that I see going to become the deputy executive director of the PRAC.
MARRITZ: Thank you so much, uh, Linda Miller. Pleasure talking with you. And I hope that we could check in in a couple of months, see how things are going.
MILLER: Absolutely, and thanks for having me. It's a pleasure talking to you.
MARRITZ: When we come back, we'll talk with a member of Congress' Bailout Oversight Group. He's been on the job since early April, and he's seeing signs that certain industries favored by the President are eligible for aid they may not deserve.
[MIDROLL]
MARRITZ: Shortly after the CARES Act became law, a man named Bharat Ramamurti shared an announcement with the world: "Hi — here's my unverified Twitter feed. Please follow along if you're curious about what's happening to billions of your dollars and who it might be helping (or not)."
Ramamurti had just become the first appointee to the Congressional Oversight Commission for the CARES Act. He says it's different from the PRAC, Linda Miller's group, and different from the Special Inspector General for Pandemic Recovery, because the Commission is truly independent of the President.
RAMAMURTI: Our statutory mission is to analyze how this program is affecting the financial wellbeing of American families. And so it is a — a more prescriptive role, I would say, that we have, and it requires us not just to ask, "Are these rules being followed?", but "Why do these rules exist in the first place, and are these the best rules that we could have come up with?"
MARRITZ: The Commission also includes Senator Pat Toomey, and Representative French Hill — both Republicans — and Representative Donna Shalala, a Democrat. Ramamurti has been around Congress too. He's a former advisor to Senator Elizabeth Warren on economic policy.
MARRITZ: Senator Warren, your former boss, called the CARES Act a half-trillion dollar slush fund. Do you agree with her?
RAMAMURTI: I do, in the sense that there are very few restrictions from Congress on how the money can be used. The Treasury Secretary and the Federal Reserve have enormous discretion on how to use this money.
MARRITZ: Tracing the money means internalizing specialized lingo. Much of the lending will flow through "facilities" and "special purpose vehicles." The Commission's work has begun, but slower than Ramamurti would like. We spoke at the end of May.
RAMAMURTI: There's still no chair of the Commission. Uh, we still don't have staff, uh, to support our work. The other three members of the Commission are members of Congress, so I'm a bit of an outlier there, because I'm most certainly not a member of Congress.
My typical day typically involves, uh, trying to get a sense of what new news has developed since I last checked in.
Just before, um, I got on the phone with you, the — the Fed announced some new disclosures about some purchases they had made in the corporate bond market. So, uh, after this call, I plan to sit down and take a close look at those to see what kinds of holdings the Fed has, and whether there's anything that's worth flagging to the public about them.
One of the main duties of the commission is to issue a report every 30 days that informs the public about what's going on with this program and tries to analyze what the effect of it has been on the financial wellbeing of the American people. That's the, uh, the quote from the law. And so the Commission issued its first report back on May 18th, and we're already, of course, starting to gear up for our second report, which will be due in mid-June.
MARRITZ: So let's talk about exactly what was in that first report. Um, it focuses on the lending programs for businesses and also state and local government, which flow from the CARES Act, if anyone wants to look it up — this specific section is Division A, Title Four, Subtitle A. And these are programs that are funded by a $500 billion allocation from Congress, and then they're sort of jointly developed and administered by Treasury and the Federal Reserve.
So how are these programs doing right now?
RAMAMURTI: Well, so, what's happened so far is that the Treasury and the Fed have announced the creation of these lending facilities for different entities. Like you said, there's money for state and local governments. There's money for so-called "midsize businesses," which are businesses that have between 500 and 10,000 employees, and then there's a couple of programs that are targeted at bigger businesses — the kinds that issue, uh, corporate bonds.
Uh, so far the lending facility for state and local governments and the lending facility for midsize businesses, they've announced the details of them, but they have not actually done any lending through them yet. So literally zero dollars has flown through each of these facilities, even though it's been about two months since the CARES Act passed.
MARRITZ: How do you make sense of that? I mean, uh, there are tens of millions of Americans unemployed. It seems sort of surprising that the money would flow so slowly.
RAMAMURTI: I think that's a concern that I have and that a lot of folks have too. Again, I think it goes to the strange nature of these programs. Just to take a step back for a second, this is the first time that the Federal Reserve is being asked to buy corporate bonds. This is the first time the Federal Reserve is being asked to lend money to state and local governments. This is the first time the Federal Reserve is being asked to lend money or to support the lending of money to a medium-sized businesses — you know, manufacturing firms, retail companies that have several hundred employees.
Those are tricky tasks, and I think it is taking the Federal Reserve a long time to figure out how to design those programs so that they are effective, but also consistent with the other legal restrictions that the Federal Reserve is operating under.
I still think it's important that they go as quickly as possible, because every day that we're not acting, there are companies across the country that aren't getting support, and that may be laying off workers or going out of business entirely. And so each day that we waste is a day that we're not going to get some businesses back.
But I think it's also important that the Federal Reserve design these programs correctly so that when they do come online, they provide the maximum amount of support and do so in a way that provides relief, not just for company CEOs and company shareholders, but for the workers of those companies.
[MUSIC SOFTLY ENTERS]
MARRITZ: Did you watch the Senate Banking Committee hearings that happened recently?
[CLIP FROM THE HEARING PLAYS]
POLITICIAN: We will receive testimony from the Secretary of the Treasury and the Chairman of the Federal Reserve. [FADES UNDER]
[CLIP ENDS, BACK TO INTERVIEW]
MARRITZ: Secretary Mnuchin and Jay Powell from the Fed, for the first time, were out there answering questions about their implementation of the CARES Act? I'm wondering if you watched, and what you took away from it.
RAMAMURTI: I did watch, and the parts that I missed, I read the transcript afterwards. Uh, to me, the notable takeaway was that Secretary Mnuchin was asked at one point, "There's been criticism that the program so far has been helpful for big companies, but not for smaller ones."
[AUDIO FROM SENATE HEARING IN]
SENATOR MIKE CRAPO: Could you quickly address that, Secretary Mnuchin?
SECRETARY MNUCHIN: Well, let me just comment the announcement of the corporate bond facility without putting up $1 of taxpayer money unlocked the entire primary and secondary market for corporate bonds…
[AUDIO FROM SENATE HEARING OUT, BACK TO INTERVIEW]
RAMAMURTI: And I think he was supposed to be setting him up to provide a reassurance that, in fact, it had been helpful to smaller companies. And it was funny because his response was, "Well, I was really happy to see that after we announced these facilities, Boeing was able to issue a $25 billion bond.
[AUDIO FROM SENATE HEARING IN AGAIN]
SECRETARY MNUCHIN: … companies such as Boeing that I had expected would need to borrow from us on a direct basis were able to borrow $25 billion in the primary markets. So I would say in the best-case scenario, the markets open up and we don't need to use these facilities. In the case of Main Street facility and the Municipal Facility — which we expect both to be up and running by the end of the month — we expect these to have a big impact on both those markets.
[AUDIO FROM SENATE HEARING OUT, BACK TO INTERVIEW]
RAMAMURTI: And of course, Boeing is not a small company. But I think it was a telling answer, because a lot of the money — as I said earlier — has not actually gone out the door yet. But because of the nature of our markets, the fact that the Fed and the Treasury have announced that they are willing to commit money to certain ends has allowed big companies that operate in the capital markets to raise a lot of money much more cheaply than they would have otherwise.
And that has been a huge benefit to these companies. And of course that benefit doesn't come with any restriction on how Boeing can use that $25 billion. And, in fact, they've already announced that they're going to be laying off employees after they've raised this money. And so the question is, are the tools that we are using here — are the tools that the Treasury and the Fed have been given through this program — are they inherently better-suited to helping bigger companies?
And, if so, what does that mean about what the future of our economy is going to look like? If companies like Boeing, that were poorly managed before the crisis, are able to get significant support through these programs and make it through the crisis okay, and then smaller companies that maybe were very well-managed and did everything right, uh, are not getting government relief in a timely fashion and have to go out of business.
We're going to end up with an economy where the big guys are going to get bigger and more powerful. They're going to scoop up more market share. Markets are going to be less competitive, and I think it's going to fundamentally transform the business landscape in the United States.
[A MUSICAL BEAT]
MARRITZ: I was listening to an interview you did on The Weeds Podcast from Vox, and I was kind of struck by the way you described kind of the — the interaction between the Fed and the Treasury, and it almost sounded like you see the Fed as, like, a check on the Treasury Department. Do you see it that way?
RAMAMURTI: I think it's too early to tell. You know, one thing that happened that I find deeply concerning on that front is that, on April 9th, the Treasury and the Fed announced the creation of various lending facilities, including this one called the Main Street Facility that's supposed to support lending to midsized companies.
There was a big push, a public push made by oil and gas companies and their supporters in Congress to change the terms of that lending facility, because some of the restrictions on the facilities meant that a number of oil and gas companies would not be eligible for support through the facility.
And the Fed ended up announcing several changes to the facility a few weeks after the original announcement, and a number of the changes that they announced lined up exactly with the top requests of the oil and gas industry. And in fact, you had the Energy Secretary coming out and saying shortly thereafter, "We pushed the Fed to make changes to accommodate the oil and gas industry, and we're glad that they did."
[INTERVIEW CLIP WITH U.S. ENERGY SECRETARY BROUILLETTE STARTS]
SECRETARY DANNY RAY BROUILLETTE: [ON THE PHONE] Secretary Mnuchin worked very closely with the Federal Reserve, we adjusted the program — the Main Street Lending Program — and made that program available to what we refer to as mid-size cap — uh, companies.
[INTERVIEW CLIP ENDS]
RAMAMURTI: Uh, and so, to me, that's a troubling indication about whether the Federal Reserve is, in fact, um, going to act as a check on, uh, the Administration pushing for support for politically well-connected industries and companies. So that's something that the Oversight Commission, uh, is digging into and should dig into. But on the surface, I find that very troubling.
MARRITZ: Right. So, I think the thing that's really interesting here is the program design itself can favor certain industries. And although President Trump sort of did this all out in the open, and he Tweeted, "We will never let the great U.S. oil and gas industry down. I have instructed the Secretary of Energy and the Secretary of the Treasury to formulate a plan which will make funds available so that these very important companies and jobs will be secured long into the future." That was April 21st.
Um, if he hadn't done that, and if the Energy Secretary hadn't spoken about it, as you mentioned, we might not really know or it might not be so evident that the design changes to the program seem to be made to benefit a specific industry.
RAMAMURTI: That's right, though, in this particular instance, there was a lot of other evidence too. So you had, uh, oil and gas, uh, lobbying groups, um, publishing their comments on the original version of the Fed lending facility where they spelled out in detail, "We need this change and that change and this other change in order for our members to get access to the facility."
MARRITZ: So have you actually requested documents and information around this — this change that seemed to help the oil and gas industry?
RAMAMURTI: We have. So, for example, one very basic thing is that, uh, after the initial announcement of the, uh — of that Main Street Lending Facility on April 9th, 2,200 comments were filed with the Federal Reserve. So … From individuals and experts and industry groups saying, "Here's what we think is good about your proposal, and here's what we think is bad about it."
Those comments have not been publicly released by the Federal Reserve. So a very basic, and, I think, obvious transparency measure would be for the Federal Reserve to release each of those 2,200 comments so that we can figure out who is asking for what.
And other one that we haven't talked about so far is that the original version of the Main Street Facility required a company that was looking to borrow money to attest that they required financing because of the exigent circumstances created by the coronavirus. So in other words, the reason that they needed money is because of the economic impact of coronavirus.
MARRITZ: That seems logical.
RAMAMURTI: That does. And, in fact, this is not supposed to be a program that bails out companies that were in rough financial shape for reasons totally unrelated to the coronavirus. Um, they took out that attestation requirement, uh, as part of their revisions. And so one of the questions that we're asking is, "Why did you do that? And which companies were you worried about not being able to make that attestation, uh, in the first place?" You know, the other thing that we can do is, if we get access to these 2,200 comments, we can see which companies, which industries, were asking the Fed to remove this requirement.
All of that stuff, uh, means a difference of billions and billions of dollars. And it means certain types of companies may survive and certain types of companies may not survive.
MARRITZ: I could easily imagine the oil and gas community saying, with some justification and truth on their side, "Our industry has been hammered by this crisis. We employ tens of thousands of Americans. We deserve help too."
RAMAMURTI: If you look at the oil and gas industry, a lot of these companies were in very rough shape well before the coronavirus crisis hit. They were deeply in debt. Oil prices had been relatively low for a long time, and they were really struggling. The other thing that's really concerning about the changes that were made in this new facility is that they said that the money could be used to pay off existing debts. That was a new change. And so, uh, again, when you have an oil and gas industry that was deeply in debt and had payments coming due to financial firms that had lent them money, the concern is that you have taxpayers ponying up their money to go to oil and gas firms that are going to turn around and use that to pay off existing loans to financial firms. So what does that mean? It means that we've effectively bailed out financial firms that decided to make a bad loans to extremely indebted companies.
Is that a good use of taxpayer money? Is that consistent with what Congress had in mind for this program? Uh, I'd say it probably isn't. So that's the kind of, uh, work that the Oversight Commission needs to be doing to track how this money is actually flowing through the economy.
[A MOMENT FOR MUSIC]
MARRITZ: We brought lots of questions to the decision-makers on the CARES Act. The Federal Reserve told us the changes made to the Main Street lending program were not targeted to oil and gas, or any other industry, but were intended to make credit available to a broader range of businesses. The Fed says it will release those comments on the Main Street program.
Meanwhile, Illinois just became the first state to borrow money under the programs created by the Fed and Treasury.
We did not receive responses from the Treasury Department, the Department of Energy, or the White House.
[A PAUSE]
MARRITZ: In the months ahead, Bharat Ramamurti, and Linda Miller, and the other CARES Act watchdogs will follow the money trail to see whether the companies receiving rescue and recovery funds are deserving, whether they're abiding by the law.
Our colleagues at ProPublica asked themselves a slightly different watchdog question about this massive effort to save the economy: what are the financial interests of the people designing and implementing the CARES Act?
Their latest story focuses on one key player: Deputy Treasury Secretary Justin Muzinich.
JUSTIN ELLIOTT: He's basically secretary Steve Mnuchin's right-hand man.
MARRITZ: This is Justin Elliott, who reported the story with Lydia DePillis and Robert Faturechi.
ELLIOTT: He worked at Morgan Stanley and a couple of hedge funds, but directly before joining the Trump administration he was working for his family's firm, which is called Muzinich & Co., and they are an asset manager. So, essentially, wealthy people, uh, insurance companies, hedge funds give Muzinich and company money for them to invest and, uh, they charge fees. Um, and it turns out their specialty as investors is the corporate credit markets. So that's basically, um, bonds issued by companies.
And so the heart of our story is looking at how decisions made by the Treasury Department — and Justin Muzinich— about, essentially, bailouts of that market, the corporate credit market, affected his family firm Muzinich & Co., as well as his continuing financial ties to the firm.
MARRITZ: So, all top government officials, when they join the government, have to file a financial disclosure. They have to do an ethics agreement to sort of address any conflicts of interest they may have. What's in Justin Muzinich's ethics agreement?
ELLIOTT: Justin Muzinich came into office owning a stake in this family business that is worth at least $60 million. And instead of selling the stake in the business and buying mutual funds, he entered into an unusual transaction with his own father where, we found, he transfers the stake in the family business to his father in exchange for essentially an IOU under which his father doesn't have to pay him any money upfront, and, in fact, only owes the money, uh, nine years from now, once the Trump administration is over.
MARRITZ: So you're saying in a normal situation an incoming official would sell off to some other player in the market and never be able to buy back their stocks or their bonds or whatever the asset is. In this case, because Muzinich has sold to his father and he has this promissory note, um, it's pretty easy to imagine him taking back that, uh, very large stake in his family business.
ELLIOTT: Exactly. So, I mean, once he leaves government — whenever that is — uh, there's no ethics official at the Treasury who's going to be checking in five years from now to make sure that he and his father didn't just swap [LAUGHS] — swap this transaction back again. And he has, you know — he'll get his stake back in the firm.
MARRITZ: What does Justin Muzinich have to say about this?
ELLIOTT: So, we didn't get to speak to Justin Muzinich, but a spokesperson for the Treasury told us that any suggestion that he doesn't hew to the highest ethical standards is absurd. And they also pointed out that there were career ethics attorneys at Treasury, uh, that signed off on this transaction between Justin Muzinich and his father.
They didn't engage on the questions of — of his involvement in crafting these programs that are affecting his family firm's wealth.
MARRITZ: Muzinich & Co. did not respond to requests for comment.
MARRITZ: You said that this kind of arrangement appears to be really unusual. Did you get any sense from the Office of Government Ethics, or anyplace else, why this was approved? How this came about?
ELLIOTT: So one thing about this arrangement is that it was set up before the current crisis. So Justin Muzinich, before the COVID economic crisis, obviously had a lot of power and a wide-ranging portfolio, but it wasn't until the last few months that he was making decisions that, you know, quite directly and obviously affect the fortunes of his family firm.
And I think it's an open question, whether the ethics attorneys who signed off on this at Treasury, uh, would have signed off on it, uh, you know, if — if they had known what is coming.
[A MOMENT FOR MUSIC]
MARRITZ: Justin, did you get any sense whether any of the different oversight bodies that are looking at the CARES Act and the bailout might actually take a look at public officials who are overseeing the bailout, and might look at someone like Justin Muzinich?
ELLIOTT: Bharat Ramamurti from the Congressional Oversight Commission Tweeted our story and pointed out that it seems notable that one of the only programs that the Fed managed to get underway quickly with the approval of Treasury was this program, uh, directed at the corporate credit market that helped, um, Justin Muzinich's family firm. Congress certainly could, uh, investigate this. And, uh, you know, we're looking to see if that's going to happen.
I think one of the big takeaways here is that the Trump administration was given enormous discretion by Congress on what these bailouts look like. And, you know, how they're using that discretion is still playing out.
MARRITZ: Are you looking for tips?
ELLIOTT: Uh, we're absolutely looking for tips. Um, I'm part of a team that is covering Treasury and the Fed and — and the whole economic response to the crisis. So if you know about any of that, including, uh, Justin Muzinich, please get in touch, justin@propublica.org.
MARRITZ: Okay. Uh, Justin Elliott, thank you so much.
ELLIOTT: Thanks.
[TRUMP, INC. CREDITS MUSIC PLAYS]
MARRITZ: We love tips, too. Go to TrumpIncPodcast.org to find out how to securely share documents and information.
This episode was produced by Katherine Sullivan and edited by Eric Umansky and Andrea Bernstein. Jared Paul does our sound design and original scoring. Hannis Brown wrote our theme and additional music.
Matt Collette is the Executive Producer of Trump, Inc. Emily Botein is the Vice President of Original Programming for WNYC, and Steve Engelberg is the Editor-in-Chief of ProPublica.
I'm Ilya Marritz. Thanks for listening.
ELLIOTT: It took me 3 weeks of reporting to figure out how the [BLEEP] the CARES Act worked. [LAUGHTER] You don't have to keep that in, though.
Copyright © 2020 ProPublica and New York Public Radio. All rights reserved. Visit our website terms of use at www.wnyc.org for further information.
New York Public Radio transcripts are created on a rush deadline, often by contractors. This text may not be in its final form and may be updated or revised in the future. Accuracy and availability may vary. The authoritative record of New York Public Radio's programming is the audio record.