Nobody Wants To Work With The Trumps Anymore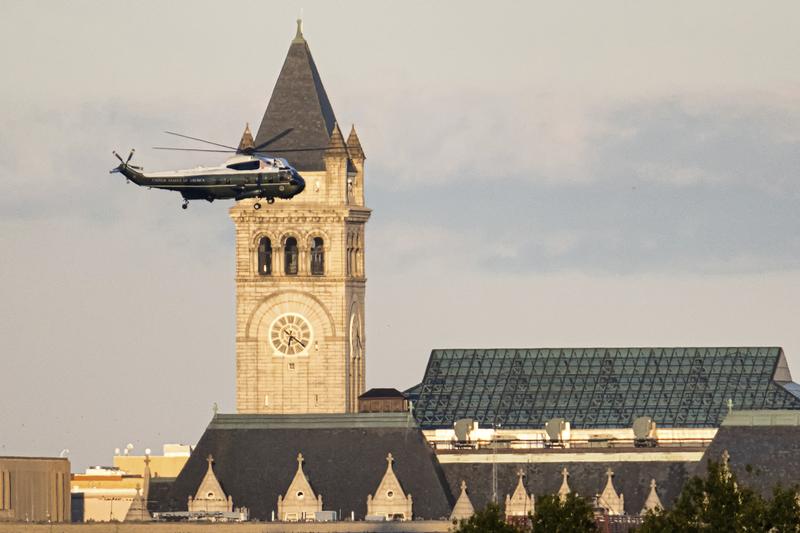 Transcript
[SOFT PIANO MUSIC PLAYS]
ANDREA BERNSTEIN: Hi, it's Andrea —
ILYA MARRITZ: — and Ilya. And before we get started, we have some news to share with you. We began Trump, Inc. early in the Trump presidency.
And now that it's ending, we wanted to let you know the series is coming to a close. We'll be releasing our final episode next week, before President-Elect Joe Biden's inauguration as president.
BERNSTEIN: We began our work reporting on Donald Trump, his family business, and his associates before this podcast began. We were journalists covering business and politics in New York and New Jersey for the WNYC newsroom. After Donald Trump was elected, Ilya and I went out for margaritas, and to brainstorm. We wanted to bring our knowledge of New York City to bear on the new president and his business, and we knew he had a good base to start. We also knew we'd need reporting partners.
MARRITZ: So we started working with our now-colleagues from ProPublica. Their office was just a few blocks away from our own, and right in between was the Trump Soho Hotel.
BERNSTEIN: Our first big collaboration with ProPublica was about Ivanka and Don Jr.'s roles in marketing that hotel. It became a story for the New Yorker — and that collaboration grew into this podcast, an open investigation into the business of Trump.
MARRITZ: And over the past few years, we've covered so much more about the conflicts that run through this presidency. We looked hard at the black box that is President Trump's taxes. We broke stories about Michael Cohen and Paul Manafort. We traveled all over the world — back when you could still do that — reporting from Trump's hotels in Washington and Florida, and from places like Panama, India, and Ukraine.
BERNSTEIN: Ilya was in Ukraine when the scandal that led to Trump's impeachment broke. We were there because we'd been studying Trump's Russia and Ukraine ties for years, and we knew Ukraine was going to be a big story, even before it was a big story.
[MUSIC CHANGES TONE, SLOWS DOWN]
MARRITZ: We're proud of the recognition we've received for our work: a duPont-Columbia award, being named a top ten podcast by the New Yorker, and one of the best political podcasts of all time by New York Magazine.
BERNSTEIN: We're going to continue to keep an eye on the legal reckonings surrounding Trump. So keep the Trump, Inc. feed in your podcast app, and don't forget to sign up for our newsletter at TrumpIncPodcast.org. We'll keep you updated about whatever comes next for us.
MARRITZ: Most importantly, though, we want to thank you, our listeners, for sticking with us these past few years — for your tips, your donations, your attention. We could not have done this without you. And we're not quite done yet.
BERNSTEIN: Today we're taking a look at the still-unresolved questions surrounding President Trump's finances. Next week, we'll look at the long-lasting impact of the Trump presidency.
[MUSIC PLAYS UP FOR A MOMENT, THEN PLUCKY STRINGS COME IN PLAYING THE THEME]
DAVID FAHRENTHOLD: He pushed the election challenge so far that it led to a mob attack on the U.S. Capitol. We thought for all — a long time that there was nothing that could drive Trump's political allies, or his close business allies, away from him. It turns out there was. It was a mob attack on the U.S. Capitol.
[THEME MUSIC PLAYS UP]
BERNSTEIN: Hello, and welcome to Trump, Inc. I'm Andrea Bernstein. Today on the show, we'll speak about the future of Trump's business with two friends of the podcast who, each in their own way, have been at the forefront of covering the conflicts of interest that surrounded a president who still can profit from his business.
[MUSIC INTENSIFIES, THEN PLAYS OUT]
BERNSTEIN: David Fahrenthold, of the Washington Post, and Zach Everson, who tracks the comings and goings to the Trump International Hotel in Washington for his must-read newsletter, 1100 Pennsylvania. We talked to them just as David was filing a story on this bit of news from New York Mayor Bill de Blasio:
MAYOR BILL DE BLASIO: The City of New York is severing all contracts with the Trump Organization. Our legal team has done the assessment, and the contracts make very clear: if a company — in the leadership of that company is engaged in criminal activity — we have the right to sever the contract.
BERNSTEIN: New York City is just one of many entities that is announcing it's severing ties with Trump. We recorded the show as the House was getting ready to vote on Trump's second impeachment.
FAHRENTHOLD: So President Trump and his company suffered pretty greatly from political backlash, from COVID-19. It was [PAUSE] not in great shape, even on — on Election Day. And so, as Trump faced his inevitable return to private life — and return to his business — there was some problems. But they were fixable problems.
The Trump Org still had a lot of the partners who had stood with it through his whole presidency: through Charlottesville, through all the low points. What's happened in the last week is that those partners — some of the key sort of supports to the Trump Organization's business — have started to leave.
Two of its banks have said that they are not going to do business with them anymore. The New York Times just reported that Deutsche Bank, who's Trump's most important lender, says it doesn't want to have any contact with Trump going forward. Two real estate brokers have left. It's lost the PGA championship, which was this huge golf tournament that would both bring Trump a lot of personal prestige, but also bring a lot of notice and attention of the golf world to his property. It's lost this chance to host another golf tournament — the British Open — that Trump had always wanted, and it's lost its e-commerce store, the — the Trump Store, which Zach and I make fun of sometimes, because they sell, like, Trump-scented candles. But it brought at least $900,000 in. So the things that had been sort of chugging along, working normally even during the chaos of the Trump administration — many of those have started to fall away, leaving this company is kind of a pariah, even among its own longtime friends.
BERNSTEIN: You start with this anecdote about Tom Barrack calling Trump and saying, "Get out gracefully for the future of your business." Tell us what happened.
FAHRENTHOLD: That was a really interesting anecdote. So, Tom Barrack — who was the chair of Trump's inaugural committee, a — a famous businessman in his own right, one of Trump's close friends — called him after the November election, when Trump was contesting the election that he had clearly lost and said, "Look. Your business is going to suffer. Get out of this." His words were: "Be elegant. Be elegant about this and get out, and concede with grace and move on. If not, you'll damage your family, you'll damage your aides, and you'll damage your business."
Obviously, Trump didn't listen to that. So, Trump not listening to Barrack, what's happened is exactly what Barrack predicted, which is ruin for his business and this pariah status it hadn't had before.
BERNSTEIN: I mean, it seems like the losing PGA 2022 at Bedminster was kind of the "Et tu Brute?" moment of the Trump presidency. That is what really seems to have felt incredibly betraying, from Trump's perspective.
FAHRENTHOLD: That's what we've been told as well. I think this is important for — for two reasons. One, Trump has spent years and years trying to get this PGA tournament. This was awarded to his course in 2014, eight years, you know, before it was going to be held. This was going to be a chance for him to sort of stand — you know, be on national TV, to hobnob with golf greats.
So it was an important opportunity for his business that he'd been working on for a long time. The other was that golf had been this world that Trump cared a lot about, that stood by him in sort of a social way even after everything that happened in his business.
Think about everything that's happened — all the other folks that have cut their ties with him. There was no world like golf that stayed by him so thoroughly. Tiger Woods, who still does business with Trump, took the Medal of Freedom from him. Gary Player and Annika Sorenstam, two golf — retired golf legends, they accepted the Medal of Freedom from him the morning after the mob attack.
You know, he still had this tie to golf. I think, for Trump, there might've been a sense that, you know, he's lost one of the most loyal constituents he has, outside of his family.
BERNSTEIN: Zach, in 2017 — and — and I've been thinking about this because, you know, there's been some recent actions regarding the investigation of the 2017 inaugural committee and what the Trump hotel was charging, and — and basically the DC Attorney General Karl Racine says that the Trump hotel in 2017 was charging what he calls "unlawfully high rates."
It was the — the Trump hotel's moment. There was Donald Trump and his family, and they owned a hotel, and he was being inaugurated, and people wanted to come to Washington, and it was just sort of the perfect recipe.
And now you've called it a ghost town. I mean, can you sort of trace for us the arc of the life of the hotel during the Trump era?
EVERSON: Sure. You know, at first it was kind of, "What's going to happen here?" You know, the President said he would separate himself from his businesses, and it was immediately clear from Inauguration that was not going to be the case. And all of a sudden there was an influx of embassies having events there, and you could find senators and a lot of political spending there, and the hangers-on would show up. It was a good place to be seen and you'd get some tourists in there.
And it seemed to be dwindling a little bit even before COVID. You know, a lot of the embassies were one-and-done customers. Kuwait had had — I think it was three — parties, three national day parties there, and did not come back for its fourth year.
So we were seeing that decline anyways. Um, you know, COVID certainly accelerated that, in that, you know, legally, people could not be there. And you're seeing the campaign spending dwindle to where it was mostly the money being spent to Trump hotels was from Trump Campaign and Trump Victory.
And now you've seen the inauguration, for a long time — I think it was back in June I first noticed — that week was all blocked off. It was X'ed off on their reservation schedule. And then all of a sudden it opened up. Like, about two or three weeks ago. And room rates were going to — I think the high was about $2,200.
And now, because of the COVID restrictions, the restaurant and bar, you can't get in there. It's room service only. Now, apparently room service is still doing well. The hotel's manager tweeted the other day that they had had record numbers on room service, uh, the week of the riot. So … Not sure why he decided to share that information, but, you know, it was an interesting data point that he gave us.
Now, when he did tweet that out, he also blurred out the pictures of the TV that were in behind him. Mostly because we're going to assume that he was — [BERNSTEIN LAUGHS] they were probably showing, you know, the insurrection that his boss caused.
BERNSTEIN: So a question of both of you. I mean, what have been the communications from the Trump Org [A BREATH] of late?
FAHRENTHOLD: [A LIGHT CHUCKLE] I have not gotten any personally. I don't know if Zach has. I've certainly asked. But there's been this — uh, Eric Trump — there was an interesting interview he did last night. He called the AP, uh, to talk about what happened, you know, all these business partners leaving, and he said, "Oh, this is cancel culture. You know, this is —" Sort of comparing it to, you know, when liberals cancel somebody for having the wrong political views online. And then the AP, to their credit, said, "Well, do you think your father incited the mob on Wednesday?", and then the line went dead and Eric Trump hung up.
So that's the sort of level at which they're processing this, which doesn't seem to be very advanced. One thing I thought was really interesting — I was looking at a lot of Trump Org's Twitter accounts last night. Eric Trump hasn't tweeted since the insurrection. Trump Org hasn't tweeted since January 1st. But Mickael Damelincourt, the guy who is the General Manager of the Trump Hotel in DC has, for some reason, been the one who's carried on as if everything is fine.
So he — he tweeted after the insurrection, they were getting great room service numbers, as Zach said. And then I notice that he's still calling the atrium, this sort of central lobby of the Trump Hotel in DC, "America's living room." "America's living room will be open." And then, "Okay, it's not going to be open because of COVID, but it'll be reopened on January 22nd." And I was just thinking, "January 22nd, it'll be a different America." You know, the living room may still be there, but the claim that they've had to sort of being the center of power in America, you know, quote-unquote, "America's living room," -- it's not going to be the same country and it's not going to be the same hotel two days after inauguration.
BERNSTEIN: In some ways the hotel is sort of a metaphor for the whole business, right? It's sort of like, at the beginning of the administration, legitimate people were staying there. David, you guys at the Washington Post covered the whole T-Mobile situation, where they booked a bunch of rooms, walked around in their bright pink t-shirts, and, you know, were trying to get approval for a merger from the U.S. Justice Department at this time.
And, you know, then it was sort of Rudy Giuliani and his now-indicted business associates, Lev Parnas and Igor Fruman. It was foreign embassies. And it seems to have slid into kind of, I don't know, conspiracy theorists. I mean, is that how you guys see it?
EVERSON: You know, in part. It's tough to tell, just because of COVID, you know, what's keeping people away from there. But, obviously, you're not going to see senators or congressmen at the hotel. You know, when Matt Gaetz was in Trump's doghouse for actually voting against him at one point, Gaetz waltzed into the lobby that night and had a very public meet-and-greet with all sorts of people. His photo was all over the internet the next day.
And, obviously, that option is gone. So it's now "Who's staying there?". You know, we've seen one congressman, I believe, is staying there. Some people who were in DC and attended the rally-slash-riot were also staying there. You know, it did appear that they were asking — room rates hit $8,000 a night, which makes it sound like they only had suites available. So there was demand there.
But no, you're not seeing foreign dignitaries there. You're not seeing, uh, foreign embassies or anything like that.
FAHRENTHOLD: One of the things that struck me was at the beginning, I think there was this hope that they could sort of serve two audiences at once. They could serve the original Trump audience, which was, like, apolitical people who love luxury, you know, want the sort of indulgent, you know, fancy, fancy hotel experience — and they could serve Trump's hardcore political fans. You know, that both of those customers could co-exist. They could get the benefits of politics without the downside.
And I think now you're getting the downside of politics without much of the benefit, uh, because there's not much of a lobby scene, because of COVID, and because the Trump name has — you know, the attempts to sort of separate Trump-the-hotel from Trump-the-man, I think, are even more futile now than they were.
EVERSON: Especially at that property. I mean, it's — it's smack dab on Pennsylvania Ave., in between the Capitol and the White House, and when you see people marching down Pennsylvania Ave., it's right there. And that's where a lot of the pictures these days of the hotel that are being posted online are coming from.
BERNSTEIN: Okay. So, let's talk about: [LAUGHS LIGHTLY] What are the options for a Trump business now? So, I mean — David, you've written about over the years how his customer base and his political base are not at all the same.
Uh, I was speaking to somebody yesterday, a golfer, who said, you know, "Private golf club members are not MAGA people, and they don't want to be seen. They want to live private lives." And that is a very big problem for Trump now, and all of his golf resorts that he's going to have to reckon with. And nobody wants their picture taken driving into Bedminster. No one wants to, you know, get excoriated on the social web for being a Trump customer.
And he's got — as we all know — more than $400 million worth of debt. He's got this huge tax dispute with the IRS. What does he do? Like, what — what are you hearing about what his next steps could be? Either one of you.
FAHRENTHOLD: What they've always said is that they would return to sort of what they had been doing in the last few years before Trump ran for office, which is doing overseas licensing deals: so setting up hotels or office buildings with the Trump name on them. You know, you remember — the ones they were doing right before the, uh — Trump ran for office were, like, in Azerbaijan, Panama … all over the world.
I don't know, given what you see about Trump's reputation in other countries, that there'll be as big of a demand as there was for the Trump name in other countries.
Um, I think what they — the most lucrative thing that is available to them is to monetize Trump's political base. There's a huge number of people out there who probably aren't going to be your $800-a-night hotel customers, but would buy a T-shirt or a book, or, a — you know, watch a Trump TV streaming TV service. So the more that they could transition to serving those customers, probably the more successful they'll be.
The problem is, the company — as of now — is set up to serve a totally different set of customers, which, as you said, are generally not big Trump fans. I mean, the people who would pay $800 a night to stay in a sleek downtown hotel in Chicago are generally not MAGA folks, but that's what Trump's got. Those are the places that he's trying to sell now.
So, to me, the key for them will be, can they get out of the places that they are in, where they're never going to have a lot of success, where they're — they've eliminated their customer base, and move into sort of a low-cost market to serve — you know, to sell things to Trump's political base.
EVERSON: With the DC hotel especially, like, the financials there never really made sense. Their breakeven point at a hotel room rate was much higher than the average for DC luxury hotels. And they were able to justify a higher rate when the hotel owner was the president. And you can see, when they opened up the hotel, the prices were high. They immediately plummeted. And then all of a sudden Trump was elected and they went back up.
And they had a very high room rate, despite having a pretty low occupancy rate. And now you're going to have people who are not willing to pay that. You know, the T-Mobile's, who dropped — What was it? $190,000? — they have no interest in booking rooms at the Trump hotel anymore.
So how they transition that hotel, especially after trying to sell the lease and wanting — I think it was like — $500 million and offers were coming into the $200s. That's — that's going to be an issue.
Back in my travel writing days, before Trump was even elected, I was talking to a publicist for another luxury hotel company. And she asked, like, knowing I was from DC, "What do you think is going to happen to that hotel?" And I said, "I wouldn't be surprised if, in five years, it has your company's name on it, or if it became a Waldorf."
And I stand by that. I mean, the route that we took to get there is not what I would have envisioned at all, but it's still — you know, the math never made sense in the first place. And it is worse now for them.
FAHRENTHOLD: And I should also say, like, that hotel — the Trump DC hotel, which is, as Zach said, they owe a huge amount of money on it. It's struggling now, even with Trump as the president — that the landlord of that hotel is about to change. It's about to become Joe Biden. [BERNSTEIN LAUGHS] That is in a federally owned building. And so the question is, you know, the GSA — which has run interference for Trump and kept Congress from learning anything about the hotel — approved Trump owning the hotel, even though there's a clause saying federal — federal officials can't have a beneficial interest.
The GSA is about to switch to the Democratic control. And so, I don't know if they will decide that the Trump — they can just revoke Trump's lease, but they will at least make Trump's life harder by releasing information that the hotel has to turn over, because it's a federal tenant.
[DISTORTED, ECHO-Y ELECTRIC GUITAR PLAYS SOFTLY IN THE BACKGROUND]
FAHRENTHOLD: That situation — Trump couldn't sell that when he was president. He couldn't get the offer he wanted when he was president. It's going to be a lot harder to get the offer he wants when he's not president and Joe Biden's his landlord.
[MUSIC PLAYS UP, BECOMES CLEARER AND LESS DISTORTED]
BERNSTEIN: We'll be right back.
[MIDROLL]
[PLUCKY GUITAR MUSIC PLAYS]
BERNSTEIN: David, I wanted to get back to something you said about foreign licensing deals, because, you know, as we all know from looking at those deals, they're — I mean, they're free money to Trump, but they're not huge amounts of money.
And, you know, he makes in the tens of millions of dollars — when he's lucky — from those deals. Not hundreds of millions, which is what he needs. So, I'm wondering, you know … The first Deutsche Bank loan comes due in 2023. And I am wondering where he comes up with, you know — it'd be hundreds of millions of dollars that he needs to pay off this bank, which has said, "We're not refinancing it." Any — any ideas on that?
FAHRENTHOLD: We've talked to a lot of folks about this. Like, you know, where will Trump find the money? I mean, and at this point it's so — it's impossible to say he can't. I mean, there's — he owns a lot of properties that he could sell. Um, there — Mar-a-Lago actually doesn't have any debt on it. It's pretty valuable property. Bedminster is the same.
He could sell a stake in 40 Wall Street, which is a — a building in lower Manhattan that has a lot of commercial tenants. The commercial real estate market is also not great. Um, but you know, he has things that he could sell and it will be easier for him to sell those things if the commercial real estate market rebounds, because those are some of his most valuable properties.
You know, he could sell those things and cut himself off from future revenue streams. Try to get out of this. He could try to convince somebody else — maybe outside the mainstream American banking system — to grant him some sort of refinancing. I mean, he has options. And, you said, he could also just sell books — write a book and sell it to everybody who was his political fan, or give speeches for a lot of money.
He has options available to him. So I think it's way too early to say, "Well, the Trump Org is doomed." I just think it's not the — the form that it exists in now, where it runs — it runs a few hotels and a few golf courses and a few commercial real estate properties, and it doesn't make a lot of money on a lot of those things.
I'm not sure that model will really work that well, especially when he, as I said, has all the downsides of his presidency, but no longer the — the advantage of having power.
BERNSTEIN: David, I mean, what then? Does he sell the golf courses? Like, can he make money from that?
FAHRENTHOLD: Well, I think his plan all along with these golf courses had been that if they didn't make money, he could sell them for houses. He hasn't really sold a golf course in a long time, but I think that was the idea. It was a real estate play. There's two problems here. One is that he's put a lot of conservation easements on these properties for a short-term tax gain — Bedminster is a good example, the LA golf course is another — that, basically, he took a short term tax gain and foreclosed his ability to — to sell them for anybody to build houses on them. So that limits the effectiveness of, uh, you know, the value he could gain in selling these lands.
I think most of the golf courses don't make a lot of money. And some of them do have outstanding loans. So I think he might like to sell them. I still don't think there's a huge market for people buying golf courses nowadays, despite the boom it's had in COVID times.
BERNSTEIN: So let's talk a little bit about the investigations. [CHUCKLES] I mean, I've been thinking about the investigations for a while, even before, you know, all of the kind of formal investigations of the insurrection, and of the rioters, and of what happened.
There is the Manhattan DA's case, there's the New York Attorney General who is looking into Trump tax schemes, there's the investigation into the inaugural fund that the District of Columbia Attorney General, Karl Racine, has mounted.
Then there were all the other sort of criminal investigations into people in Trump's business world — as of today, because he hasn't been pardoned yet, our understanding is that the Southern District of New York is looking into Rudy Giuliani. His business partners face trial. There is the Steve Bannon case. Not to mention all the civil suits: Mary Trump, E. Jean Carroll, Summer Zervos.
There are still potentially these House investigations into Trump's bankers: Deutsche Bank, his accountants, Mazars. And for a while, I thought like this was going to be the big headache for Trump Org after his presidency, is sort of dealing with this big legal cleanup from his business practices.
But I'm wondering now, sort of — are they even, you know — are they now the tenth thing on the list that people want to find out about Trump? I mean, what is your sense of sort of the importance of these investigations given recent events and — and where all that is going?
FAHRENTHOLD: I think that maybe they are not the most important thing right now, because Trump is losing all these business partners this week, but they will be one of the most important things. Trump Org has always managed to sort of skate by and evade many different investigations. The counterexample was Trump University. That was a long, long lawsuit that eventually produced a $25 million settlement. But it's never had a criminal investigation into it the way that the Manhattan D.A. is doing. Trump could also face investigations from the Fulton County D.A. in Georgia, from the DC Attorney General over incitement for this riot.
The number of — and the seriousness of — those investigations has only increased in the last couple of weeks. And it's going to take a huge amount of money to fight on all those fronts. And I think Trump has always sought to intimidate his way out of these things, either by going on the attack in the press or by, you know — as counter suing, trying to intimidate folks. He's facing folks that are less likely to be intimidated.
And it's so much harder to intimidate people on multiple fronts, right? If you have one legal enemy, it's so easy to tell people, your — "He's your enemy," and harp on him. If you've got 12 different agencies coming after you, it's harder to mount a public relations campaign or a legal intimidation campaign against any one of them.
EVERSON: The man does excel, though, at postponing rulings in court cases. I mean, we're looking at — it's been four years since that first emoluments suit was filed. It was, you know, brought the first business day after his inauguration. And never mind resolving it. Like, we don't even know who has standing, and all that's about to become moot as soon as he's out of office. So, uh, you know, I wouldn't discount his ability to save the reckoning maybe for — for Don Jr. and Eric.
BERNSTEIN: So the — the question of whether booking a hotel room is an unlawful gift to a President of the United States just remains unresolved, as it's been for four years.
EVERSON: We're never going to know. One of the biggest questions I've had the last four years, and I'm not going to get the answer. It's kind of like reading a book and the rest — you know, a mystery — and the last chapter's been torn out.
FAHRENTHOLD: if Joe Biden is listening to this, I would really like him to open his own hotel — maybe, like, a bed and breakfast, something small — so that we — and then, like, have Sweden buy a room — just so we can find out. [ALL LAUGH] I want to know. I want to know what an emolument is, and whether it — if a foreign government buys a hotel room, that counts. I'd like Joe Biden to just do it, just so we can find out.
BERNSTEIN: What do you guys expect to be able to learn in a new administration about what happened in the last four years?
FAHRENTHOLD: I'll tell you what I'd like. Uh, there's a couple of things. We spent a — the last year, uh, filing Freedom of Information Act requests, then being denied, and then suing over them, to just — to try to find out how much money Trump directed into his own pocket from the government.
So, Trump visited his own properties a number of times, brought foreign dignitaries there. We know he brought his own company at least $2.5 million in federal spending. The real number may be higher. And we are trying to get the information out of state and out of the Secret Service. And despite our lawsuits, there's still a lot we don't know. So I'm hoping that we will learn more on that front.
And — as I'm sure Zach is — I'm really hoping that GSA will finally tell Congress what's been happening with the Trump hotel. How much money has it been making? How much money is it giving the taxpayers? This is a federally-owned property, and the fact that even Congress doesn't know what's happening there is amazing, and I hope that will change.
EVERSON: And — and the chair of that committee that has oversight of the lease, Peter DeFazio of Oregon, recently, I think it was, told the AP that they do plan on pursuing the investigation, and he expects a lot more cooperation going forward from the GSA than — than what they got in the Trump administration.
BERNSTEIN: And David, those payments to Trump properties, I mean, they're going to continue, right? Because the Secret Service is going to continue protecting him as an ex-president?
FAHRENTHOLD: That's right. And the — the places where he is most likely to spend his time as ex-president — Mar-a-Lago and Bedminster — are the places where his company has charged the Secret Service the most. I mean, if you recall, they charge something like $540 a night for a cottage at Bedminster for the Secret Service to stay in.
They charged $396 a night for hotel rooms at Mar-a-Lago for the Secret Service. So, if Trump spends all his time with those places, that could be a pretty steady set of payments from the taxpayer to this ex-president. If he's impeached, evicted, and barred from further office, he may lose some of his ability to bring Secret Service with him, and that could change his cashflow, but the way it's set up now, the federal government is set to spend money at Donald Trump's properties in perpetuity.
BERNSTEIN: I wonder, David, if you think that sort of the reputational damage that Trump has undergone also extends to his daughter. And I'm thinking in particular about the video stream that Don Jr. released right before Donald Trump went out and spoke to the rally.
There is Ivanka Trump standing, you know, ramrod straight, but standing there right next to her father, right before this incredibly, you know, sort of pivotal moment in American history. And I'm wondering if any of the, you know — you've heard anything about that, if — if anybody's talking about that now.
FAHRENTHOLD: Well, I will be really interested to see what path Ivanka chooses after Joe Biden's inauguration. I don't see that she has a constituency in her father's world, and she certainly doesn't have a constituency in the world of people that don't like her father.
So I don't know what her future is, but I don't see that there's … Even compared to Don Jr., who obviously has a huge following among his father's fans, she may try to take a few years off and do some rehab for her image.
EVERSON: Her persona — her public persona on social media has moved a little bit more towards her dad, too, recently. Whereas she got as contentious about some of the lawsuits that were filed against them. And she recently referred to the people storming the Capitol as "American Patriots" in a tweet that she later deleted. It seems like everybody on the internet has a screenshot of that they're sharing, and that's not going to be easy to wash off.
BERNSTEIN: So we've all covered the hotels that are no longer Trump hotels: the Trump Soho, the Trump Toronto, Trump Panama. Those are all no longer Trump. And in these things, what has often so intrigued me is that a lot of these projects fail, and — and they're even sort of, in the way they're set up, it's sort of — certainly, ex post facto, and in many cases, in real time, people said, "That is not a business model that can succeed." And Trump sets it up so that his businesses that he associates his name with can fail, but he doesn't. He profits. And I still wrestle with myself, like, "How can you have a business model of failure where you just keep moving on from it?"
FAHRENTHOLD: To me, I think the dangerous thing for him is, that model you're describing is a pretty good model. He did that for a while after The Apprentice took off, where he would lend his name to some properties, put almost no financial investments in, and take very little risk. And so, if it did fail, whatever. He made his money on the front end.
The problem is that he broke with that in a way that really does not make a lot of sense to me, and started buying projects — like in the last couple of years before he ran for office — that he invested a huge amount of his own money in, and where he put his own neck on the line, basically: Doral, Turnberry, the DC hotel. Those are places where all the risk is his. Either Turnberry, it's all his own cash, and then Doral and the DC hotel, it's all his loans. It's all on him.
Those places he can — he can not afford to do what he did in Panama and Soho, which is, like, you know, fail and walk out with the money he got on day one. That's what I think makes the next few years so risky for him, is that he broke with what was a pretty good model, uh, out of reasons of pride or whatever. And now, has — has put himself on the line in these places where he can't afford to have these places fail.
BERNSTEIN: David, How do you see Trump's super PAC, which has raised hundreds of millions of dollars since the election, interacting with Trump's overall business model going forward?
FAHRENTHOLD: Trump's super PAC could be a help to his business in the next few years. He's gotten a huge pot of money from donors, uh, since the election, by falsely claiming the election was stolen. And a lot of that money is in something called the "leadership PAC" for which there are basically no rules. He could use that to pay himself a salary, to hold events at his own properties — which he's obviously done with campaign money in the past.
It's not going to be the total solution to his business problems, but it is a pot of sort of unrestricted money that he can use to pay legal bills or to help his business in the future. So that's an asset, and I think a sign of where the business could go if it was retooled, right? He's much better at selling things to the Republican base than he is at selling $500 hotel rooms in Chicago.
So that super PAC will help him. And it also probably points the direction where Trump's best chance at business success lies.
BERNSTEIN: Alright. What — what are you guys each going to be looking at? Like, in the next months and year?
EVERSON: Well, I, for one, I'm going to get back to filing more FOIA requests. You know, I do not have the legal muscle behind me that the Washington Post has. So I largely gave up on FOIA. Just, you know — I would even be approved for expedited processing, and it's now been over a year to get responses on some really basic stuff.
So, like Dave, I was looking at money being spent there, but also communications involving the hotel. You know, were they recommending people stay there? You know, there was some rumors early on that the State Department was recommending foreign dignitaries stay at the Trump hotel. And I want to find out about that.
FAHRENTHOLD: Yeah, I think our focus is going to shift a little bit in the next year. We will continue to focus the — on the business and try to … You know, I think it's a really interesting story to see how it — it gets out of this predicament, if it does. But I'm really going to be focused on the legal proceedings — all these different legal proceedings against Trump and his company.
You know, how does he fight those off? What do those mean? And, you know, where does he end up? You know, if he's gonna — if he, or Don Jr., or Ivanka are going to run for president again in 2024, you know, how do these legal proceedings and the fate of their business affect them in the meantime? Who are they going to be in 2023 or 2024, because of what they've had to go through?
BERNSTEIN: So I've been reflecting on, I think, the sort of last huge moment of crisis for Donald Trump: 1989, 1990, when his casinos were failing and, you know, the banks were walking away from him. You know, mainstream American banks walked away after that. It's sort of amazing to me, the number of banks that, you know, hung on for another 30 years.
And I've been reflecting on, sort of, "What are the differences between that moment and this moment?" And, uh, as one does, [CHUCKLES] I went back to the first edition of Wayne Barrett's biography, Trump: The Deals and the Downfall. And he describes this moment where Donald Trump's press agent gets wind of the title. And what Barrett writes in his introduction to that edition is that Donald Trump's life, quote, "is a tragedy that may yet require an epilogue. As Donald's new press agent called to warn me on the eve of publication, trying to persuade me to delete the use of the word 'downfall' in the title of this book, 'Trump,' he said, 'will make a comeback.'"
So, I'm wondering, what do you guys think?
EVERSON: It's possible. I mean, he's done it before, repeatedly. You know, he took his father's money and leveraged that into a whole bunch of investments that didn't work out. And he kind of bottomed out there, and then he leveraged American pop culture and was able to ride The Apprentice into things like Trump University and Trump steaks and "Trump: The Board Game." And that sort of seemed like it was going down …
BERNSTEIN: — and "Trump: The Presidency." [LAUGHS]
EVERSON: Yeah! Well, that was what I was going to say. His next host was, you know, the GOP, which he leveraged into the presidency and kept things going, and now that's winding down, and, you know, I've heard it described as a parasite looking for a host right now.
FAHRENTHOLD: I'm of two minds on this. One thing that Trump has always benefited from was, he would fail in one arena and then find a new arena in which he was not known — you know, he was known only for good things, and not for bad things. So, like, basically always looking for a new audience.
After New York City kinda got, uh — understood him, and people in New York City didn't want to deal with him, he moved to Atlantic City. After Atlantic City didn't work, then he moved to television. After, you know — and after The Apprentice's ratings started to fade, he moved into politics. So, you know, there are not many corners of the world left who don't understand Donald Trump, who don't understand how he works. So there's not much virgin territory left for him. That's one reason to — for it to sort of be pessimistic about his prospects.
But the one thing we've seen — and I think we've seen it especially in the last couple of months — is that he is most focused and energized when he is on the brink of disaster. Um, so he didn't really campaign that well for president, but then he campaigned really, really hard after he lost it.
What he's done always is to sort of probe for any weakness, anybody who will give in to his spiel. And even if he fails 99 times, he'll find the one guy who let you in. I think that — if history is any guide, he will apply that sort of approach to pulling himself out of the fire this time. And the question is, is there somebody out there with the means to help him out of this legal predicament who will fall for that?
[ESOTERIC ELECTRIC GUITAR MUSIC PLAYS]
BERNSTEIN: So, David, Zach, thank you so very much — not only for taking time today, which is an incredible day in American history — but for all of your help with the Trump, Inc. reporting project over the last several years. And make sure you stay in touch!
FAHRENTHOLD: It's been a real honor. Thank you for having us!
EVERSON: Yeah! Thank you guys so much.
BERNSTEIN: David Fahrenthold is a reporter covering the Trump family and its business for the Washington Post. Zach Everson is a journalist whose newsletter, 1100 Pennsylvania, covers Trump business and its customers.
[MUSIC PLAYS UP FOR A MOMENT]
BERNSTEIN: This episode was produced by Katherine Sullivan and edited by Nick Varchaver. Sound design by Jared Paul and Joe Plourde.
Our theme song and additional music are by Hannis Brown. Matt Collette is the executive producer of Trump, Inc. I'm Andrea Bernstein. Thanks for listening.
[MUSIC PLAYS UP FOR A MUCH LONGER MOMENT, THEN OUT]
Copyright © 2021 ProPublica and New York Public Radio. All rights reserved. Visit our website terms of use at www.wnyc.org for further information.
New York Public Radio transcripts are created on a rush deadline, often by contractors. This text may not be in its final form and may be updated or revised in the future. Accuracy and availability may vary. The authoritative record of New York Public Radio's programming is the audio record.