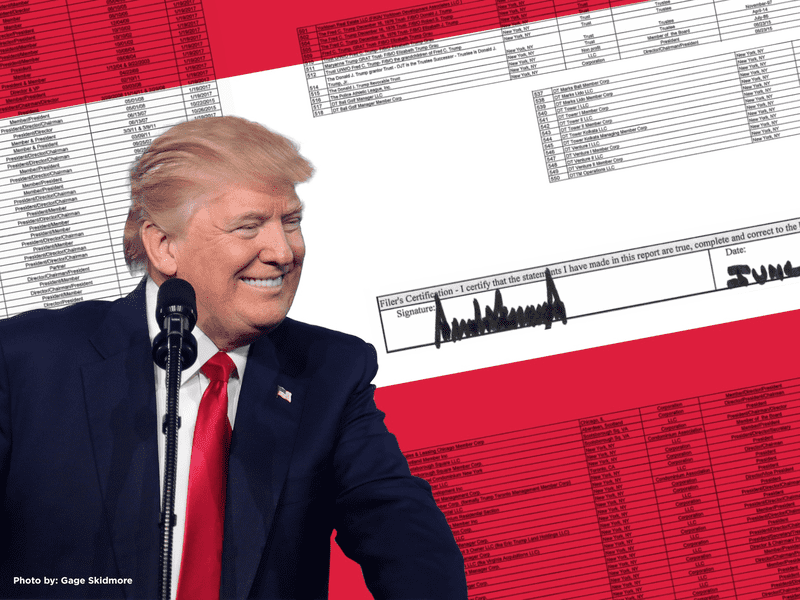 Transcript
ANDREA BERNSTEIN: Hello, and welcome to this Trump, Inc. podcast extra. I'm Andrea Bernstein.
On our first episode of the podcast, we looked at the moment back in January 2017 when Donald Trump is announcing to the world that he's retaining full ownership of his sprawling business empire, even though he's headed to the White House.
PRESIDENT-ELECT TRUMP: 'Cause, as you know, I have a no-conflict situation because I'm president.
Our friend Dan Alexander at Forbes, along with his colleague, Matt Grange, has just published a story that's helping us understand even more about the President and his conflicts. Dan, welcome to Trump, Inc.
DAN ALEXANDER: Thank you. Thanks for having me.
BERNSTEIN: Forgive me for not knowing this, but does Forbes still describe itself as "capitalist tool"?
ALEXANDER: [LAUGHING] Yeah, absolutely. We're the capitalist tool at work. We're proud champions of capitalism. We're — we're all about, uh, you know, entrepreneurs, and people doing business the right way. And we — we just think that it's important to report on one of our own, if you will — a billionaire who's been on our list for decades.
BERNSTEIN: How long have you been covering Trump's business?
ALEXANDER: So, yeah, I —
BERNSTEIN: Is this something that you did before he was president?
ALEXANDER: Before he was president, I was working on our billionaires list. Um, and so, you know, I did, you know, several hundred valuations of other billionaires. And then, once he was elected president, I narrowed the list to one.
[A LOW DRONE PLAYS]
BERNSTEIN: So Dan, along with his colleagues at Forbes, took a close look at Trump's commercial real estate business and found out the President's company is collecting $175 million in commercial rents from businesses and foreign governments. We didn't know about all that money or where it was coming from, because the President didn't disclose it. He didn't have to.
[DRONE OUT]
BERNSTEIN: Your story with the example of the Chinese bank. Now, this is a company that — the Chinese bank — that is owned by the government, but they've had a long-term lease in Trump Tower.
ALEXANDER: Right.
BERNSTEIN: So what caught your eye about them?
ALEXANDER: Well, so what was most intriguing about them was that, first of all, they're the highest-paying office tenant in Trump Tower, which is, as you know, the President's most famous asset that he owns. And so you've got this bank, which is majority-owned by the government of China, and its lease is coming due — according to this document from 2015 — in 2019.
So this is during his first term as president. So then you have to ask yourself, "Okay, so now you have — while he's serving as president — a likely negotiation between Donald Trump's family members and a bank that's majority-owned by the government of China over whether they're going to stay in his building and how many millions of dollars they're going to pay him going forward."
BERNSTEIN: And it's worth saying the President met with the Chinese premier, Xi Jinping; that there were discussions — or, obviously, huge discussions — going on with China about trademarks.
ALEXANDER: That's — that's absolutely right. And part of what's, you know, intriguing about this is that of course he met with the leaders of China. You know, that's one of the core things that he has to do in his current job description, is meeting with leaders of the world. And — and that's not to say that there was anything nefarious in the negotiations or that they're paying an above-market rate or anything like that. But what we have is a situation where people have to wonder.
[SLOW KEYBOARD MUSIC PLAYS]
ALEXANDER: And never before have we had a point where there was so much money at stake with so many different interests and people had to wonder whether the president had his own personal interests coming first or the country's interests coming first.
PRESIDENT TRUMP: President Xi and I have had several conversations about our common goals and interests. Beyond that, we talk often. It's a very good chemistry between the two of us, believe me.
BERNSTEIN: So, Dan, a year ago, the President stands next to a lawyer he's hired: Sheri Dillon. And she makes a very specific promise about what's going to happen with payments from foreign governments.
SHERI DILLON: So President-elect Trump has decided, and we are announcing today, that he is going to voluntarily donate all profits from foreign government payments made to his hotels to the United States Treasury.
BERNSTEIN: And when she's talking about this, she's making a reference to the Trump International Hotel in DC. But I realized as I'm reading your story that this is a sleight of hand, because she's asking us to think about the hotel payments — which are relatively small compared to the millions that Trump's businesses are making from government-connected entities.
ALEXANDER: Well, so I think one of the big misunderstandings about Donald Trump's business is that people think that it's basically a hotel and brand and company. It is not. The core of his business is to have commercial real estate assets in New York city and rent them out. And that's something that, you know, we've known for a long time, because for 30-some years we've been putting together his net worth estimates, and if you look at where the majority of his fortune is, it's not from licensing and his name and it's not from a couple of hotels. It's from renting out massive, valuable real estate in New York City and some in California. And so the question was, "Why — why can't we get inside that? Why can't we see what's actually going on with those businesses?"
And if you look on the disclosure forms — these are the forms that he was required to disclose, you know, while he was running for president — you can see that there's more than $5 million, for example, coming from "Trump Tower, LLC." And so we knew that people were paying rent to these entities and it was remarkably difficult to figure out where — who's paying that money and how much it actually is.
BERNSTEIN: I mean, essentially, what you've done is you've reconstructed the President's company's rent rolls.
ALEXANDER: That's right. Yeah. So. What's interesting is, actually, he doesn't have to disclose that much information to government regulators, but the banks who lend to him really want to know who the biggest tenants are. Because let's say that you're Gucci — which is his highest-paying tenant — we're estimating their Gucci pays Trump Tower, LLC. $21 million a year. If Gucci goes bankrupt next year, then that's a big deal for Donald Trump. And so his banks want to know if Gucci is going to be able to pay its bills. And so the banks have a lot of information, so that's where you start. And so that gives you not only the biggest, most important tenants, but it also gives you a sense of where the others might fall in terms of how much they might be paying.
Then you can look at past agreements. So, you know, people who were working in the real estate industry, they like to talk about when they lease large spaces. And so, uh, lots of them, you know, publish on their personal sites how much space they lease and in which buildings they are. Um, and so you can figure out who's actually inside the buildings.
[PLUNKY BASS MUSIC PLAYS]
BERNSTEIN: In addition to figuring out who was renting and Trump's buildings, Dan and his colleagues needed to figure out how much they were paying. To assess the value of all that property, they called businesses to ask how big their spaces were, and then they multiplied the cost per square foot. But, in some cases, they went out and measured the spaces for themselves.
ALEXANDER: For example, if you're in the middle of a bank — like, there was a TD Bank that's on Sixth Avenue. So I couldn't take a measuring tape and stretch it across the middle of the bank during business hours, but I could walk across and do my foot measurements. A security guy came up to me and had a couple of questions, but he was nice enough and he let me finish the exercise and then I took off.
BERNSTEIN: What size shoe do you wear?
ALEXANDER: [LAUGHING] I wear an 11.5.
BERNSTEIN: A size 11.5 — so how long is that?
ALEXANDER: Well, it was … These are — these were boots, and I was wearing big boots. So we — I had to measure then, "Okay. So if I take 20 steps on — on these boots, then, you know, how long is that?" And then you had to do a ratio.
And so look, it's all — it's all crazy. I mean, it's, you know, you — you get a rough measurement for how many square feet is in a building and you know what the rates are for a particular building. But the fact that, in order to figure out how much a company is paying the President of the United States, you have to have, you know, some guy like me wandering around getting pestered by security guards and stuff — it's all absurd.
[GUITAR FLOURISH]
ALEXANDER: in a lot of ways, it's similar to the process that we go through for our Billionaires list, where you're trying to figure out financial information about people and entities that aren't eager to give it. Um, and so — look, I'm not going to pretend that we have, you know, exact figures down to the dollar on — on every one of these companies. But we do think that we're pretty darn close on all of them, and in cases where we weren't quite sure, uh, we didn't make estimates.
BERNSTEIN: So I just want to be clear on something with the disclosure. He's disclosed — and you mentioned he disclosed during the campaign. He also disclosed in the spring. But what you're saying is that it's not like he's failing to disclose. It's just, he's not required to disclose beyond the level of these shell companies. Is that right?
ALEXANDER: Yeah, yeah. He hasn't — he hasn't broken any laws here — you know, that we're aware of. The laws are just made for somebody who has much, much smaller assets than Donald Trump.
BERNSTEIN: I think it's really interesting that we're talking about $170 million in payments to the President of the United States from private interests and foreign governments that we just [PAUSE] don't know about. I mean, I've spent a lot of time tracking — you've probably spent a lot of time tracking — campaign donations.
ALEXANDER: Yes.
BERNSTEIN: Those are in such small amounts. You know, somebody gives $25,000 to a soft money committee, or $100,000, everybody's eyebrows are raised. And in this case —
ALEXANDER: Yeah.
BERNSTEIN: — you're talking about rents of … What's the highest rent here?
ALEXANDER: The highest rent is Gucci at $21 million. But, you know, there are 30 or 40 companies that are paying over a million dollars.
BERNSTEIN: There's a story also about Dwayne Reed, the — the big pharmacy. And they have — they're the — what — the biggest tenant in — in the what's known as the Trump Building at 40 Wall Street. Is that right? They're the biggest one?
ALEXANDER: Yeah. As of 2015, when he last did his refinancing, they were the highest-paying tenant in the building.
BERNSTEIN: What was your rent?
ALEXANDER: $3.2 million.
BERNSTEIN: Or is — is their rent? They're still a tenant, right?
ALEXANDER: Yes. They are.
BERNSTEIN: $3.2 million. So they are paying $3.2 million to the President's company. At the same time, they're going before the Federal Trade Commission. So what happens with that?
ALEXANDER: Yeah, that's right. So, you know, back during President Obama's presidency, Duane Reade's parent company — which is called Walgreens Boots Alliance — makes a $9.4 billion bid for one of their rival companies, Rite Aid.
REPORTER 1: Walgreens is near a deal apparently to buy Rite Aid, according to sources quoted by sources quoted by DOW Jones … [FADES UNDER]
ALEXANDER: And, you know, it's a big, complicated deal. And so the FTC is looking at it to make sure that it's not going to violate any monopoly issues or anything like that. And then they don't get approval during the Obama administration, and so it falls to the Trump administration. And in the first quarter of 2017, which, as you know, is the first time that Donald Trump takes office, Walgreens Boots Alliance starts disclosing on its lobbying disclosures that they are lobbying directly the White House — not other parts of the government, but directly the White House — on quote-unquote "competition policy issues."
REPORTER 2: Walgreens is revising its deal to buy more than 2,000 Rite Aid stores, according to Bloomberg. The company is in a final stage of negotiations with the Federal Trade Commission, and it's trying to put antitrust concerns to rest.
ALEXANDER: The interesting thing here is that there are only two commissioners right now — of the FTC. One of them says that the deal should go through. The other one says that it shouldn't. But the one who Trump appointed as acting director, she gets sway, and so the deal goes through. And so Walgreens gets this deal. And then a couple of months later, Trump takes the FTC commissioner who had supported the deal and announces that he's going to appoint her to be a federal judge.
Again, we don't know if there was anything nefarious going on, but it doesn't look good. And we shouldn't have to wonder about whether there was a conflict that affected anyone's decision-making in the whole process. These are massive decisions, not just with billions of dollars on the line for companies and their competitors, but also with significant amounts of money at stake for people who live in small, uh, communities where there, before was, you know, one Walgreens and one Rite Aid. And now there's — and now they're combined.
So, these are big decisions and we shouldn't have to wonder whether — whether they're the right decisions or not. Look, if you look at a real estate business, you've got a handful of plots of property, and there's one person on one side of it who says, "I want to pay for that." And there's another person on the other side of it who says, "I own that."
And there are, you know, a couple of people who work for, you know, the person who owns it. But it's basically just a deal between a company and a person. And that's different from, if you look at, like, the CEO of General Motors, or the CEO of Google, or Oprah Winfrey, or almost any other type of business. Real estate is a business as a deal-by-deal-by-deal.
And so you've got, you know, a guy here who's made his whole life just striking deals one-on-one across from another entity. And here now they all are continuing, you know, while he's president, which raises all of these questions.
[SLOW PLUNKY BASS FLOURISH]
BERNSTEIN: What did the Trump Organization tell you?
ALEXANDER: Well, so, they issued a statement, and their statement was, uh, you know, "Shortly after President Trump won the election, we implemented a policy in which we have a ethics advisor review all of our deals." They said that, you know, they did not have control over deals in which they don't own 100% of a building.
BERNSTEIN: We're calling this podcast an open investigation. Is there something that you have a call-out for, that people could get to you?
[JAZZY MUSIC PLAYS]
ALEXANDER: Yes! Send me, uh, how much all these people are paying in rent. And send me if I'm missing any tenants, or if any of the people listed, in fact, have subleases. Uh, this is also an ongoing investigation, so, uh, help us figure this out. And, you know, where all of this money is coming from and how much is at stake.
BERNSTEIN: People can send their tips to TrumpIncPodcast.org. We will forward them along to you, Dan — maybe we can do a little joint reporting.
ALEXANDER: That sounds wonderful.
[TRUMP, INC. CREDITS MUSIC PLAYS]
BERNSTEIN: Thank you so much, Dan.
ALEXANDER: Yeah, sure thing. Thank you for having me.
BERNSTEIN: Thanks to all of our colleagues in investigative journalism who've been in touch with story ideas and to all of the citizen journalists who have been sending us tips, photos, and emails. If you have any questions about Trump's businesses you want us to try to answer, give us a call and leave a message at (347) 244-2134.
Trump, Inc. is a co-production of WNYC and ProPublica. The story was mixed by Wayne Schulmeister and Bill Moss. The producer is Meg Cramer. The editors are Charlie Herman and Eric Umansky. We'll be back with another episode on Wednesday.
[MUSIC OUT]