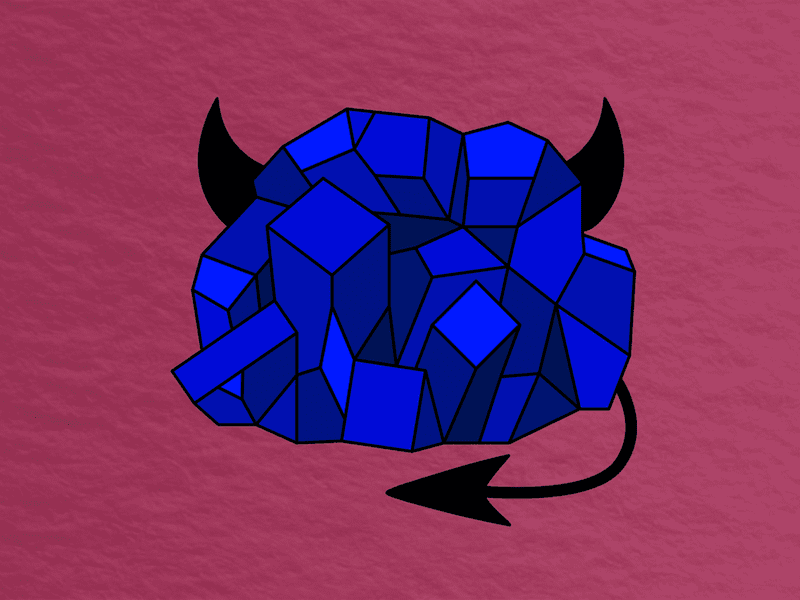 Transcript
JOHANNA MAYER: Hey, everybody, one quick thing before we get started. We want to know what you think about this series. So please, do us a favor. Fill out a quick survey at sciencefriday.com/sciencedictionsurvey. Thanks. Here is the episode.
In a storage room in the Netherlands, tucked away inside a wire cage, there is this painting. It's called Christ and the Adulterous. Jesus is cloaked in a simple deep-blue robe and he stands over a woman whose head is bent. Jesus' eyes are hooded. And he is lifting a single finger.
There was a time when it seemed like everyone was talking about this painting. If history had gone differently, it would probably be hanging in a museum right now instead of collecting dust in the storage room, but there was something about the way that the artist painted those deep-blue robes that Jesus was wearing that caused that painting to be sealed up in that wire cage. It was a particular pigment called cobalt blue. And the artist would have cobalt to thank for his downfall and his saving grace.
From Science Friday, this is Science Diction. I'm Johanna Mayer. Today we're talking about the word "cobalt."
In the 1500s, German miners encountered a particularly pesky ore. When it came out of the ground, it had this metallic sheen. It was almost glittery. And it looked kind of like silver, which seemed like excellent luck.
But when they tried to melt it down to separate out that precious metal, it wasn't working. And instead of the silver they were expecting, the miners were left with what appeared to be a worthless lump of random no-name definitely not silver metal.
And to add insult to injury, this strange ore was making the miners sick. When they tried to melt it down, nasty toxic fumes filled the air. They just could not figure out what was going on.
So the miners came up with their own explanation. The thing causing all this trouble was a goblin. And not just any old goblin, it was a kobold.
Dear listener, meet the kobold. And that's kobold with a K and a D. From German folklore, this goblin had quite a reputation for being fickle as hell. Most of the time, it was a benevolent little spirit lending a hand, pitching in with some household chores. But beware. If the kobold feels neglected or wasn't fed properly, he'll turn around and hide your farm tools or even deliver a swift kick to the booty.
And before we go any further here, if you play Dungeons & Dragons, yes, we are indeed talking about the same kobold goblin. So when those 16th century miners stumble upon this frustrating ore that's tricking them into thinking it's silver, making them sick, they decide, that's got to be a kobold messing with us. And for nearly 200 years, that was the reputation that stuck with this ore. It wasn't silver. It was just some tricky rock in disguise until a chemist named George Brandt came along.
His family owned a mine. And even as a kid, he would follow his dad around fiddling with metals and chemicals. So when he took a closer look at cobalt, he had a hunch that locked away inside this lumpy old ore was a brand new previously undiscovered element. It's atomic number would be 27. And it would fit snugly between iron and nickel on the periodic table.
When cobalt is found in nature, it's often combined with arsenic, which is what was making those miners sick. And when Brandt finally succeeded in isolating it, he stuck with the miners' name. And he called this new element cobalt.
And it's a good thing George Brandt came around, because that seemingly useless lump of not silver turned out to be extremely valuable. Cobalt's in vitamin B12, which helps keep our nerve and blood cells healthy. Radioactive cobalt is used in machines that treat cancer. It's in the batteries that our phones and laptops. It is so valuable, so aggressively sought after, that people have called cobalt the blood diamond of batteries. And another major use for cobalt is in pigment, the color blue.
KASSIA ST. CLAIR: Blue has this quite a long rarified history of being a highly desirable color.
JOHANNA MAYER: Kassia St. Clair is the author of The Secret Lives of Color. Before cobalt came around, the entire art world was captivated by a different blue, ultramarine. It was this other worldly sort of dreamy blue. Preciousness is encoded in its name. "Ultramarine" means beyond the sea. And it was nearly impossible to get your hands on it.
KASSIA ST. CLAIR: The raw ingredient was a precious stone cold lapis lazuli. And the vast majority of this precious stone was unearthed from mines in Northeastern Afghanistan and then had to travel via the silk road on caravans, and donkeys, and camels, all the way to the shore of the Mediterranean, get on boats, unload--
JOHANNA MAYER: That is a big schlep, not to mention the painstaking process of actually grinding down and turning lapis lazuli into pigments.
KASSIA ST. CLAIR: And as a result, the final, the finished pigment, ultramarine, was more expensive than gold.
JOHANNA MAYER: So there is this desperate race to find an alternative to this wildly expensive pigment, enter cobalt. At the turn of the 19th century, a French chemist named Louis-Jacques Thenard took a closer look at that cobalt ore. It had that tricky silvery look on the outside. But when they melted down the ore, it left behind this dark inky residue.
And people have been using that residue to make things blue for ages, French stained glass windows, Chinese ceramics, Middle Eastern tiles, but it was all kind of hit or miss, not really down to an exact science. What artists needed was something stable and predictable. Thenard figured out that if you mix a precise measurement of cobalt, throw in a dash of aluminum, roast it all up at fiery exact temperatures, you get blue, blue, blue, every time, not quite as dazzling as ultramarine, but close, and way cheaper, cobalt blue.
With cobalt blue, it seemed like cobalt had cleaned up its act. No longer a hot-tempered fickle goblin or a disappointment of an ore, cobalt blue made cobalt straight-up respectable. Cobalt was blue enough for Renoir, for Van Gogh, for Monet. The world's greatest artists dipped into cobalt blue again and again.
But come on, do you really think cobalt would be packing up its suitcase full of tricks so soon? Nah. Right at the end of World War II, cobalt still had one big trick up its sleeve.
It all starts with a knock on the door. Dutch police have shown up at the luxurious mansion of Han van Meegeren, who is this hot shot Amsterdam art dealer. Han was a small kind of mousy-looking guy. In every single photo, it somehow looks like he's looking down his pointy art nose at you.
The police had just come by to ask some seemingly routine questions about the sale of this painting, but then one thing led to another. And next thing he knows, Han is getting arrested. See, Han claimed to have raked in a fortune selling paintings during the Nazi occupation, more than $30 million in today's money. And look, making an art deal, not a crime. But--
KASSIA ST. CLAIR: He also sold a seemingly priceless Vermeer masterpiece called Christ and the Adulteress to Hermann Goring.
JOHANNA MAYER: Hermann Goring was a high-ranking Nazi official. And selling Dutch cultural artifacts to the Nazis, not OK. As for Christ and the Adulterous, an early work by Vermeer would be of astronomical value. And Goring traded Han 137 paintings from his personal collection for this one piece. If that isn't collaboration, tough to say what is.
KASSIA ST. CLAIR: The case seemed pretty black. However, the jurors in the case, and indeed the entire art world, were in for an incredible shock, because his defense was that he should actually be celebrated as a Dutch hero, because he had managed to hoodwink the Nazis.
JOHANNA MAYER: Han didn't come up with this crazy defense right away. When the police first interrogated him, his reaction was to just deny, deny, deny. He had nothing to do with Germany, or the Nazis, or Hermann Goring. But after six long weeks of interrogation, Han switched defense tactics. It's like this light bulb clicked in his mind, and he just blurted out--
SPEAKER 2: Idiots, you think I sold a Vermeer to that fat Goring? But it's not a Vermeer. I painted it myself.
JOHANNA MAYER: This was Han's strategy. To wriggle out of the collaboration charge, which almost definitely meant death by hanging, Han swapped it in for a different less serious charge, forgery.
OK, but I've just got to say this. That whole bit about how Han argued he should be celebrated as the Dutch hero, let's not get carried away here. There is evidence on Han actually was the Nazi sympathizer. They found a book of his drawings in Hitler's personal library with an adoring inscription. So we don't need to feel too sorry for him.
But this defense that he was a forger, pretty clever move, because it wasn't just this one painting. Han had duped a lot of people, well-respected art critics and historians. Some of his fakes were even hanging in really well-regarded museums. So a lot of people felt really, really stupid.
KASSIA ST. CLAIR: And there was this huge embarrassment. And so you know, as ridiculous as it sounds, he had to work incredibly hard to convince everyone that he was a forger, because by this time, a lot of money had been spent buying these paintings, that if he was a forger, were worthless.
JOHANNA MAYER: The problem for Han was, he was just too damn good of a forger. When he was making his fakes, he knew all of the authenticity tests that experts were going to apply to them and how to get around them. So for example, Vermeer and the Dutch masters used paint with linseed oil as a binder.
KASSIA ST. CLAIR: Linseed oil can be tested using various sort of alcohol solutions which basically give away its age. So to get around this test, he used bakelite, a very modern medium, which would respond to the tests in exactly the same way as very old linseed oil.
JOHANNA MAYER: Another conundrum, how do you make a new canvas look all old and crackled up in just the right way? Buy up some old canvases, paint right on them.
KASSIA ST. CLAIR: The other thing he was very careful to do in almost all cases was use era-appropriate pigments.
JOHANNA MAYER: Almost all cases. Han was thorough. He was meticulous. But luckily for him, he had made one mistake right on the surface of that painting he'd sold the Nazi. Vermeer was lavish, some might even say foolish in his devotion to ultramarine, that wildly expensive blue.
He even drove his family into debt paying for this pigment. But in Christ and the Adulteress, as Han brushed in Jesus' robes, he dipped into cobalt blue, which hadn't been invented by Louis-Jacques Thenard until about a century after Vermeer's death. Cobalt strikes again.
KASSIA ST. CLAIR: I mean, he seems to have taken great pride in hoodwinking people. So whether his pride got the better of him, or whether this was a mistake, or whether he just ran out of the pigment one day and thought, oh, it won't matter for this little bit, I don't know. But what we do know is that, when this blue was discovered, the game was up.
JOHANNA MAYER: Han was the trickster. Cobalt was the trickster. The trickster tricked the trickster. And they were both found out in the end.
Luckily for Han, being found out meant that he would just be charged with forgery instead of collaboration, so he would get off the hook with just a quick year in prison instead of death by hanging. Unlucky for Han, he died anyway in prison a month later still not a hero. And the painting that bamboozled the Nazi, it was relegated to that storage facility in the Netherlands, exposed as a fake, betrayed by its own pigments. And at the heart of it all was that scheming, swindling, tricky, mischievous cobalt.
Science Diction is written and produced by me, Johanna Mayer, with production and editing help from Elah Feder. Our Senior Editor is Christopher Intagliata. And we had additional story editing from Nathan Tobey, fact checking help from Michelle Harris. Our theme song and music are by Daniel Peterschmidt. We had mixing help from Kaitlyn Schwalje. Thanks this week to Kassia St. Clair. We're taking a little break, but subscribe to Science Diction wherever you get your podcasts, and you'll be the first to know when new episodes drop.
And one last thing, we want to hear what you thought about this series. It would be a huge help if you could fill out a quick survey. You can do that at sciencefriday.com/sciencedictionsurvey. As always, thank you to the entire Science Friday staff. And thank you for listening. See you soon with a bunch more words.
Copyright © 2020 Science Friday Initiative. All rights reserved. Science Friday transcripts are produced on a tight deadline by 3Play Media. Fidelity to the original aired/published audio or video file might vary, and text might be updated or amended in the future. For the authoritative record of Science Friday's programming, please visit the original aired/published recording. For terms of use and more information, visit our policies pages at http://www.sciencefriday.com/about/policies/