Rocky Road: Why It Sounds So Dang Delicious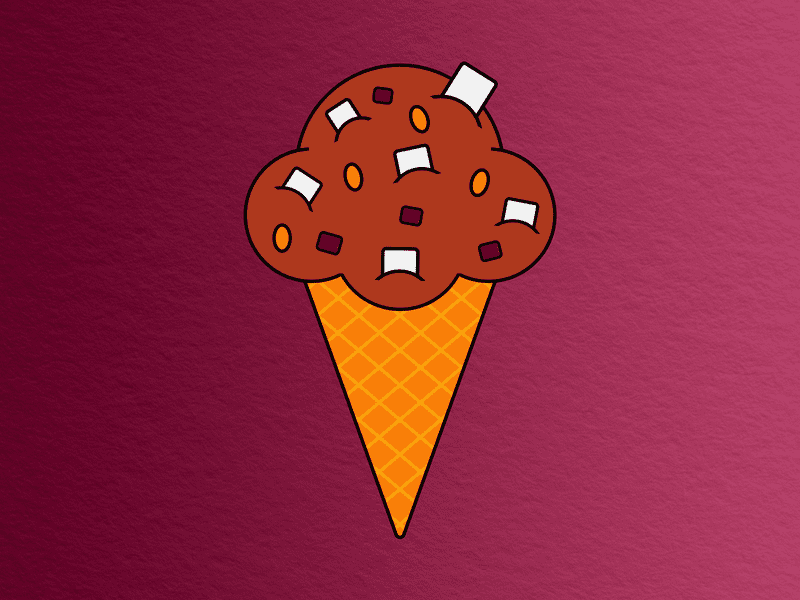 Transcript
Science Diction is produced audio first. If possible, we recommend listening to our episodes. Important things like emotion and emphasis are often lost in transcripts. Also, if you are quoting from an Science Diction episode, please check your text against the original audio as some errors may have occurred during transcription.
JOHANNA MAYER: A few years ago, Alissa Greenberg was sharing an ice cream sundae with some friends at Fentons Creamery in Oakland, California.
ALISSA GREENBERG: They have the kind of sundaes that are dripping down the sides and are covered in fudge and whipped cream and that are almost obscene.
JOHANNA MAYER: Fentons is an Oakland institution, leans really hard into the nostalgia factor-- vinyl booths, an old-fashioned soda fountain, black and white photos hanging on the wall. So Alissa picked up the menu.
ALISSA GREENBERG: And on the little blurb in the back of the menu for Fentons, it says, "The birthplace of Rocky Road. Rocky Road was invented here." And I was like, wait, what?
JOHANNA MAYER: The Rocky Road-- chocolate ice cream, nuts, mini marshmallows. Inventing this American classic? Truly a claim to fame.
ALISSA GREENBERG: And then I googled it. And Google said that Dreyer's invented Rocky Road. And I was like oh, the game is afoot.
JOHANNA MAYER: So it's Dreyer's, this major ice cream brand now owned by Nestle, versus little Fentons Creamery, both claiming that they were the ones who invented Rocky Road. And I get why companies would want to claim Rocky Road as their own. It's not just the flavor, because anyone could take nuts, chocolate, and marshmallows, throw them all together in an ice cream, and call it Muddy Street or Poorly Paved Driveway. But it probably wouldn't inspire the same devotion. There's something about that name-- Rocky Road. It is just that good. And there's science to that.
[MUSIC PLAYING]
From Science Friday, this is Science Diction. I'm Johanna Mayer. Today we're talking about Rocky Road and why it just sounds so dang delicious.
[MUSIC PLAYING]
Both Fentons and Dreyer's have pretty straightforward stories for how they invented Rocky Road. In Dreyer's' version, it was William Dreyer himself who, one day in 1929, decided to make an ice cream with nuts, chocolate, and marshmallows.
ALISSA GREENBERG: But at the time, marshmallows did not yet come in small versions.
JOHANNA MAYER: They came in sheets.
ALISSA GREENBERG: So he took his wife's pinking shears and cut the marshmallows into four pieces, and then stuffed them in the ice cream. And ta-da! Rocky Road was born.
JOHANNA MAYER: Dreyer says the name was meant to, quote, "Give folks something to smile about in the face of the Great Depression." According to Fentons, it was a candy maker on staff who came up with it. Story goes, one day he was making a candy bar with, you guessed it, nuts, chocolate, and marshmallows.
ALISSA GREENBERG: And he was like, you know what would be a great idea, is if I put this candy bar in the ice cream. And he did it and it was a hit. And the end. The rest is history.
JOHANNA MAYER: For over two years, Alissa tried to find out whose story was true. She turned up an alleged confession, a denial of that confession, just a whole lot of ice cream-fueled drama. More on that from Alissa later, because it turns out that people have a lot of feelings about Rocky Road.
[MUSIC - WEIRD AL, "I LOVE ROCKY ROAD"]
(SINGING) Baby, I love Rocky Road.
JOHANNA MAYER: Would Weird Al do a tribute to vanilla?
[MUSIC - WEIRD AL, "I LOVE ROCKY ROAD"]
(SINGING) I love Rocky Road. So have another--
JOHANNA MAYER: No, because vanilla is the definition of boring. And it has a boring name to go with it. But Rocky Road sounds fun, playful, even somehow delicious, which it shouldn't! Is a road with rocks in it.
[MUSIC PLAYING]
But when it comes to food names, it's not just what the word means. It's how it sounds. It's something that linguists and food marketing types seem to understand very well.
DAN JURAFSKY: I was at my little grocery store here in San Francisco in my little neighborhood of Bernal Heights.
JOHANNA MAYER: Dan Jurafsky is a linguist. He wrote a book called The Language of Food.
DAN JURAFSKY: And I was just scanning the cracker aisle. And I noticed that every single cracker name had an "ih" in it. And I was like, something's going on here. So I started really from the cracker side. And I thought, well, what's the opposite of crackers? Well, that would be ice cream.
JOHANNA MAYER: Dan decided to run a little experiment. He went online, downloaded 81 ice cream flavors from brands like Ben and Jerry's and Haagen-Dazs. Then he went to a diet website, downloaded 600 cracker brand names. And he noticed a pattern. It had to do with the vowels.
DAN JURAFSKY: And I just counted how many of these ice creams versus crackers, which one had more front vowels like "ee" or "ih," and which one had more back vowels like "oo" or "ah." And there was a striking difference.
JOHANNA MAYER: All right, so front vowels-- the "ee" in cheese, the "ih" in mint. Feel how your tongue moves when you make those sounds. You're kind of lifting it toward the front of your mouth. Cheese. Mint. Now say chocolate. Mousse. Those words are full of back vowels. Pay attention to your tongue again. Chocolate. Mousse. This time it's pulled more towards the back. Dan discovered that the cracker names had nearly all front vowels full of "ee"s and "ih"s.
DAN JURAFSKY: So that's your Cheez-Its and Wheat Thins and Crispy Triscuit Crisps and Chicken in a Biskit.
JOHANNA MAYER: But the ice creams--
DAN JURAFSKY: That's your back vowels. That's your Jamocha Almond Fudge, your Chocolate, your Caramel, your Cookie Dough, your Coconut, and your Rocky Road.
JOHANNA MAYER: So why would marketers choose to give back vowels to ice cream names and front vowels to crackers? Well, people seem to have these vowel-taste associations in their brains.
DAN JURAFSKY: You present people with hypothetical ice creams either named like Frish or Frosh and you see which one people like better. And they all seem to like the "o" one better than the "ih" one for ice creams.
JOHANNA MAYER: So Dan thinks we have this association. Back vowels-- rich, creamy, perfect for ice cream. Front vowels-- light and airy, just like crackers. Researchers have turned up all kinds of weird associations like this, that lemonade named Beelad sounds more bitter than one named Bolad, or that words with "z" just sound like they taste kind of bad, according to some studies, anyway.
This phenomenon, it's called sound symbolism, where particular sounds conjure up particular meanings. And it doesn't just happen with sound and taste. It can happen with sound and vision.
[MUSIC PLAYING]
The most famous case is called the Bouba-Kiki Effect, discovered by a psychologist in the '20s. So when you show people two different shapes, one blobby and amoeba-like, the other kind of spiky, sort of like the pow symbol in cartoons, and then you ask them to say which one of those two shapes is bouba and which one is kiki, upwards of 90% of people will say that the blobby one is bouba and the spiky one is kiki. The results are astonishingly consistent, even across languages.
We're not sure why our brains make these kinds of connections. Maybe we all have a little bit of synesthesia, that neurological phenomenon where the lines between our senses become kind of blurry, like some people see musical notes as colors. But whatever the reason, our brains do this kind of thing pretty often.
So do companies think about sound symbolism when coming up with enticing product names? Absolutely. They can help but.
WILL LEBEN: It has totally ruined my ability to look at names in the way that a normal person does.
JOHANNA MAYER: I talked to Will Leben. He used to teach linguistics at Stanford. He's also the former Director of Linguistics at a company called Lexicon Branding. And Will's company is responsible for some of the biggest household names-- Blackberry, Febreze, Swiffer.
WILL LEBEN: So you know what, Swiffer is a sweeping product.
JOHANNA MAYER: I am very familiar with Swiffer.
WILL LEBEN: Just think about the sounds of it.
JOHANNA MAYER: First, Swiffer sounds like sweeping. Swiff, swiff, swiff. If you swapped out the F for, say, a V?
WILL LEBEN: It doesn't work, OK? It just has the wrong sound for the name.
JOHANNA MAYER: Swivver? Yeah, no. That is not going to clean my floors. Or you know Dasani Water? Lexicon Branding named that, too. And they chose that in part because it just sounds relaxing.
WILL LEBEN: N is just totally smooth. N's one of the smoothest sounds in the language.
JOHANNA MAYER: Will and I talked about all kinds of sounds-- zippy sounds, daring sounds, sounds that are luxurious, and sounds that are somehow insecure. And I had to know, what did Will think of the name Rocky Road?
WILL LEBEN: Rocky Road's a really amazing name for a bunch of reasons.
JOHANNA MAYER: First, those creamy back vowels. Then there's the hard "k" interrupting the flow.
WILL LEBEN: It almost sounds like a bump in the road. It's rocky.
JOHANNA MAYER: And road sounds smooth. So those two words together capture that combination of crunchy nuts and smooth, creamy base.
WILL LEBEN: So it shows really well they were daring, that they made a choice that caught on very quickly and has lasted almost a century.
JOHANNA MAYER: But who was this daring genius? Alissa Greenberg was determined to get to the bottom of these two competing claims. Who invented Rocky Road? Was it Fentons, the beloved Oakland creamery? Or was it Dreyer's, the beloved corporate ice cream behemoth? Which one was the marketing genius who came up with this mouthwatering name? Well, it was neither of them.
Remember Fentons' story was that their in-house candy maker invented it by basically sticking a candy bar in ice cream? That candy bar was called Rocky Road. You can still buy it today. It's made by a company called Annabelle's. And they say that their founder invented it as early as 1918. Annabelle's, by the way, seems to be steering totally clear of this whole ice cream drama.
ALISSA GREENBERG: I think they're just like, whatever. You guys do whatever you need to do. Well we'll just be over here making delicious candy bars.
JOHANNA MAYER: And you know what? I'm not so sure they can claim the name Rocky Road either because in Australia, there's a popular dessert also called Rocky Road. It's a chocolate bark with nuts and marshmallows. And according to completely unverified internet lore, Australians invented it in 1853.
[MUSIC PLAYING]
So really, neither Fentons nor Dreyer's can claim credit for the name Rocky Road. But Rocky Road ice cream was admittedly a pretty brilliant invention. At the time, ice cream just came in three old flavors-- vanilla, chocolate, and strawberry. Might seem obvious in retrospect, but back then, throwing in crunchy, chocolaty, gooey bits? Truly a stroke of genius. And Alissa Greenberg really, really wanted to find out just whose genius it was.
The two alleged inventors were long gone, and tracking down an original, dated, forensically authenticated recipe from the '20s just didn't quite pan out. Investigative ice cream journalism is just woefully underfunded. But she forged ahead. And in her research, it seemed that all roads led to a guy named Ken Cook, who became president of Dreyer's-- pretty flashy fellow.
ALISSA GREENBERG: Italian suits, alligator shoes, a miniature golf course in his backyard that he named after Rocky Road, and a Cadillac with a vanity plate that read RCYRD.
JOHANNA MAYER: And the story goes that one day, Cook decided to share something with the guy who now owns Fentons, Scott Whidden.
ALISSA GREENBERG: Whidden says that Cook came to him and said-- again, all alleged-- Fentons invented Rocky Road. And I capitalized on it in our marketing because Fentons was not capitalizing.
JOHANNA MAYER: Which sounds like an astounding confession, that Dreyer's did steal credit for this legendary ice cream. But Whidden himself doesn't actually see it that way. He was great friends with Ken Cook. Way he sees it, Cook was just a showman telling a good story, even if that story happened to be untrue. Cook died in 1991, so he can neither confirm nor deny. But when Alissa asked some former Dreyer's employees about this, not a great reaction. When she called up one guy--
ALISSA GREENBERG: He said, "He's full of [BLEEP]." He said, "I knew Ken Cook as well as anyone in his career. And he had too much respect for Bill Dreyer to do something like that," basically. And then not long after that, he hung up the phone on me. Yeah, he was not pleased.
JOHANNA MAYER: And that was it. Alissa never got her answer. Maybe she just didn't care enough, because Rocky Road? She doesn't get it.
ALISSA GREENBERG: I mean, it is good. I guess I don't love nuts in ice cream. I think I love a good sort of ripple more than-- like, I feel like it were--
JOHANNA MAYER: What? Alissa, are you not hearing that irresistible combination of creamy back vowels, crunchy Ks, and playful alliteration? Rocky Road is scientifically, linguistically delicious.
[MUSIC - WEIRD AL, "I LOVE ROCKY ROAD"]
(SINGING) Baby, I love Rocky Road. So won't you go--
JOHANNA MAYER: See? He gets it.
[MUSIC - WEIRD AL, "I LOVE ROCKY ROAD"]
(SINGING) I love Rocky Road. So have another triple scoop with me. Ow!
[MUSIC PLAYING]
JOHANNA MAYER: Science Diction is hosted and produced by me, Johanna Mayer. Elah Feder is our editor and producer. We get story editing from Nathan Tobey. Daniel Peterschmidt wrote our music and helped edit audio. Fact checking by Michelle Harris who, by the way, questions whether the name Rocky Road truly sounds delicious. We also had fact checking help from Danya AbdelHameid. Mixing and mastering by Chris Wood. Our chief content officer is Nadja Oertelt, who encouraged us to launch this show in the first place.
ALISSA GREENBERG: And it was a hit. And the end. The rest is history.
[MUSIC PLAYING]
JOHANNA MAYER: Before we go, a little story-- at Fentons Creamery, the walls are covered in black and white photos, part of that old-timey vibe. And there's this one picture that everyone seems to notice.
ALISSA GREENBERG: It's a picture of a little boy. And he's looking with extreme sort of awe and overwhelm at a huge ice cream sundae that is as big as his head.
JOHANNA MAYER: Scott Whidden, the owner Fentons, told Alissa that all the time, without fail, people claim to recognize this kid.
ALISSA GREENBERG: And they're like oh, yeah. I know that kid. He's my son. He's my grandson. He's my neighbor. Isn't that a weird coincidence?
JOHANNA MAYER: They actually know exactly who the boy in the picture is. He's the son of one of the waitresses at Fentons. But Whidden lets it slide.
ALISSA GREENBERG: He chooses not to correct them because it's all about the nostalgia and storytelling that's inherent in ice cream. Ice cream is sort of about the stories we tell each other.
JOHANNA MAYER: The Fentons versus Dreyer's Rocky Road origin feud-- it's a pretty dang good story. Too bad it was really me who invented it. Me! Yes, one day in 1925, I was walking down the street, enjoying a chocolate ice cream cone, when I was struck by literal lightning.
[THUNDER]
Knocked me right down to the pavement, sending bits of gravel and gum into my creamy dessert. In that moment, it hit me that with a few substitutions, this thing could be downright delicious-- a Rocky Road indeed. And voila! The perfect taste sounding combination flavor was born. Sounds credible, right? I mean, who's going to correct me? Ice cream's all about the stories we tell each other.
Copyright © 2020 Science Friday Initiative. All rights reserved. Science Friday transcripts are produced on a tight deadline by 3Play Media. Fidelity to the original aired/published audio or video file might vary, and text might be updated or amended in the future. For the authoritative record of Science Friday's programming, please visit the original aired/published recording. For terms of use and more information, visit our policies pages at http://www.sciencefriday.com/about/policies/