Restaurant: How It All Began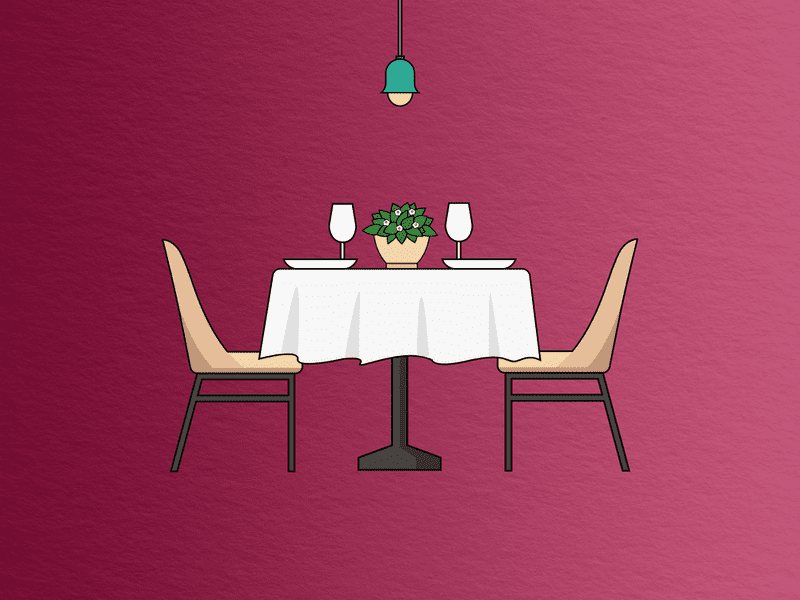 Transcript
ROMEO REGALLI: All right, so this is the bar area and the restrooms. These are the restrooms.
JOHANNA MAYER: A few weeks ago, Romeo Regalli gave us a tour of his very empty restaurant. It's called Ras Plant Based, an Ethiopian spot in Brooklyn.
ROMEO REGALLI: This is our workstation.
JOHANNA MAYER: Little teapots on it?
ROMEO REGALLI: Yeah, this is like the Ethiopian coffee pot.
JOHANNA MAYER: So along the bar, there's a row of chairs, and in the original plan there was supposed to be people on those chairs
ROMEO REGALLI: Uh, yes. We definitely thought we were going to have people sitting, but unfortunately right now it's only outdoors
JOHANNA MAYER: Romeo started the restaurant with his wife Milka, and they could not have had worse timing. Their grand opening was on March 7. Eight days later they closed, and stayed closed for two months. Now they're just doing takeout, delivery, and outdoor dining. Which means today no one gets to see all the personal touches that they put into the place-- big colorful murals, the dozens of artifacts that Romeo's parents sent over from Ethiopia. It's a special place. Which it kind of has to be. New York City is a place where people can choose from over 27,000 other restaurants. 27,000. With that kind of competition it's tricky for a restaurant to stay in business, COVID or not COVID.
Like, how do you get customers to choose you? What's the formula? Restaurants have tried it all. Some cook the food right at your table. Some turn off the lights and let you eat in the dark. Some call themselves speakeasies, yet also list themselves on Yelp. Every restaurant has its own recipe for success, but when it comes down to it they're really just two key ingredients-- ambience and food. That's what restaurants have always been. Well, almost always.
REBECCA SPANG: The first restaurants were places you went not to eat.
JOHANNA MAYER: And the very first restaurants weren't places at all. This is Science Diction I'm Johanna Mayer and today we're talking about the word restaurant.
[MUSIC PLAYING]
In the 1760s, a new kind of establishment started popping up in central Paris. These places had tables, menus, people sitting on chairs. Wall-to-wall mirrors were really trendy at the time. They looked a lot like restaurants that you'd recognize today, except for at least one key difference-- people didn't come there to eat. Well not to chew anyway.
REBECCA SPANG: So digesting is work. It's manual labor-- not necessarily something that ladies were expected to be very good at doing.
JOHANNA MAYER: Rebecca Spang is a Professor of History at Indiana University, and she says the clients of these restaurants were of an elite ilk who weren't really looking for nourishment.
REBECCA SPANG: In 17th and 18th century medical thinking, nourishment is what you need for physical exercise. And physical exercise is what was done by manual laborers. It's what's done by peasants. It's what's done by, oh, roughly 96% of the population of France on any given day. But then you've got another 4% of the population-- maybe, at most-- that's living a life more like urban life today for middle class people.
JOHANNA MAYER: A more sedentary type of life of talking, writing, opining. But they made it known that this life too could be taxing, and sometimes they needed a little soothing.
REBECCA SPANG: Because their nerves were so finely attuned to the world around them. They needed some sort of restoration after a particularly beautiful sunset, or, um, the tragedy of the death of a pet bird or something.
JOHANNA MAYER: So what do you do if you feel down, weak, but you're very sensitive? And you don't wish to chew, because that would be manual labor. You have liquid, specifically a broth. I think of this as the fancy French version of the bone broth fad. It was the broth prepared by boiling meat for a long time, tossing out the meat, and keeping the liquid. The thinking was that the boiling did the work of partially breaking down the food for you, so that you could have the nutritional boost of the meat without the challenges of digestion. And these broths were given a name acknowledging their restorative powers-- they were called restaurants.
Yeah, before the 18th century the word restaurant didn't refer to a place. It referred to this type of broth, which was thought to restore one's health. A restaurant. So you wouldn't go to a restaurant. You would sip a restaurant . And these restaurant broths have been around for centuries.
JOHANNA MAYER: There are recipes from the 16th century that suggest adding a few precious gemstones.
JOHANNA MAYER: So you have people with A, delicate constitutions, and B, money. It was only a matter of time before someone figured out how to capitalize on this. Seems like it started with a certain Mathurin Roze de Chantoiseau. We're going to call him Roze. Enterprising fellow-- had all kinds of ventures going. He ran some kind of Information Center, had a business directory, devised a new system of credit. He was convinced he would fix the French economy. And according to him, at least, and also the best available records, he opened the very first restaurant in 1766, right near where the Louvre is today.
Now, of course, Roze didn't invent the concept of selling meals, liquid or otherwise, for money. As far back as ancient Greece, the were food spots called thermopolia-- literally places where hot things are sold. And in 12th century China, the city of Kaifeng had a booming food scene-- dumpling joints, vegetarian eateries, places with servers that took your order. Clearly, restaurants in everything but name. Even in 18th century Paris, there was something called a host's table, which was almost like a restaurant except kind of stressful. Meals that happened at set times, you had to cram in with a bunch of other diners, eat whatever you were given, and possibly even witness the duck that you were about to eat being plucked right in front of you.
By contrast, Roze's establishment was almost a spa-- like a chic soup spa. It was absolutely dedicated to the comfort, health, and well-being of its clientele. You could arrive when you pleased, even sit at your very own table. Just sit back and let that quasi-medicinal broth work its magic. Within a few years, more than a dozen of these establishments open up in Paris, and they started calling themselves restaurants-- just like the broths that they served. Though pretty soon it became clear that the key to success wasn't the soups at all, but the soothing environment, the sophistication. Very quickly a lot of businesses decided to take these elements of restaurants and combine them with actual, chewable, solid food.
And if that weren't enough, they threw in one more irresistible feature-- menus with prices. This was a pretty new concept. There are stories of travelers from the countryside coming to a Parisian restaurant--
REBECCA SPANG: And they mistake the menu for a banquet menu.
JOHANNA MAYER: A menu for a banquet would list everything they were about to eat.
REBECCA SPANG: So they think that you're supposed to start at the top and just eat your way through the whole thing. And, of course, after they've ordered seven appetizers they're full.
JOHANNA MAYER: So for decades the restaurant remained mostly this local curiosity, something visitors would write home about. Like, if you go to Paris, you've got to check out this restaurant thing. And when restaurants did start popping up in the rest of Europe and the US, they tended to be trés French. French food, French words like entrees and hors d'oeuvres on the menu-- which, by the way, is also a French word.
But over time, restaurants became whatever people needed them to be. And often, the people who needed restaurants were people who didn't have kitchens. Like big city dwellers crammed into tiny New York apartments. Or travelers. By the late 1800s, we had restaurants on wheels, from classy railway dining cars with white tablecloths and soft carpets, to horse-drawn lunch wagons that served quick meals to busy working folk.
Mathurin Roze de Chantoiseau would barely have recognized what came next. Diners at the turn of the century, with booths and electric lights. White Castle in the 1920s-- the first fast food restaurant, square burgers at $0.05 a pop. And today, we've got it all-- restaurants for cheap food, restaurants for fancy food, restaurants for pho, for burgers, for tapas, for tacos. Restaurants on boats, inside ice hotels. Restaurants where your table is suspended 180 feet in the air, and you are buckled into your chair, and your server is wearing a safety harness.
So yeah, this whole concept of selling meals plus ambience for money-- massive hit. More than a million restaurants in the US alone, according to one estimate. And for customers, that's great. Endless choices. But for restaurant owners? In such a crowded market, the formula for success gets a little more complicated. Maybe in 1760s Paris you could dazzle your customers with your private tables and having menus, but today?
STEPHANI ROBSON: When I walk into a restaurant I'm looking at what's the lighting like, what's the mix of tables, who's sitting at those tables, where are those tables, what's on top of those tables?
JOHANNA MAYER: Stephani Robson is a restaurant design expert at Cornell. Can you imagine if this is what went through your brain the second that you step into a restaurant?
STEPHANI ROBSON: I'm looking how high the ceiling is. I'm looking at the dimensions of the room, how warm is--
JOHANNA MAYER: That is Stephani's life.
STEPHANI ROBSON: Is it fabric, or is it leather, or is it wood?
JOHANNA MAYER: OK, little bit of a disclaimer-- a lot of the studies that look at how restaurant or menu design affect consumer behavior should really be approached with some healthy skepticism. Some are not in peer-reviewed journals, many have not been replicated.
STEPHANI ROBSON: The restaurant studies that I've done myself, as well as ones I've read, often I-- grain of salt. Because sample sizes are usually pretty small, so many confounding variables, and many studies don't adequately control for those.
JOHANNA MAYER: And some of the claims out there? Downright questionable.
STEPHANI ROBSON: Whenever I see a study that says, oh, if you paint your wall blue, this will happen, I shake my little head, and say no.
JOHANNA MAYER: Still, that hasn't stopped people from studying the heck out of this. There are people who have dedicated their entire careers to engineering the perfect menu. They use text, color, and layout to try to nudge us to spend just a little bit more. One trick is dropping the dollar signs. Like somehow it helps us forget that numbers mean money. And that's just the menu. Stephani has obsessed over every aspect of restaurant design-- like cutlery.
STEPHANI ROBSON: Cutlery is a signal of quality. If you go to a really good steakhouse, they want a big solid fork. And when you pick it up, it's got some weight to it. And that is a psychological signal that, oh, this is a higher quality experience.
JOHANNA MAYER: There's the lighting.
STEPHANI ROBSON: You essentially want light that is all indirect.
JOHANNA MAYER: You've got to think about the music.
STEPHANI ROBSON: Speed of the music, so number of beats per minute. And the congruency between the music type and the experience.
JOHANNA MAYER: And table spacing? Stephani herself has conducted no fewer than four studies about the optimal distance between tables that are side by side. It is 16 inches. So lighting, cutlery, spacing, menus. Combine them all in the perfectly calculated combination, and you too can unlock the formula to restaurant fame and fortune.
STEPHANI ROBSON: Let's not think of it as a formula so much as it's like jazz music. There is no one formula for great jazz, but you've got to have the right players playing the right instruments, who all are paying attention to each other.
JOHANNA MAYER: Optimally spaced jazz players, of course.
Hi! Two please. Thank you.
Before COVID, one of my all time favorite things to do in New York was to take the subway all the way to the end of the line in Queens, to go to my favorite soup dumpling restaurant. I love this restaurant. I once forced somebody to go there in the middle of a nor'easter with me, because I was craving those dumplings so badly. A couple of weeks ago, I went back for the first time in-- I don't even know how long.
You're hyped.
SPEAKER 1: Oh yeah, I am.
JOHANNA MAYER: I am so hyped. And there's a table that's open.
Of course, everything was different. We ate outside, . Just a few tables on a terrace outside of a mall, right off a bus route. They put up some nice twinkling lights, but far from romantic sidewalk dining. They gave us these little paper menus with a pencil, so you could just mark what you want and hand it off quickly to the server. And yes, there were dollar signs.
SPEAKER 1: And then, we want--
JOHANNA MAYER: Did we do the scallion pancake wrap?
SPEAKER 1: We did.
JOHANNA MAYER: OK The two dumplings, the wontons, and then, what should we get--
Everything was served in those standard plastic takeout containers. So yeah, no heavy cutlery in sight.
That looks so good.
SPEAKER 1: The spoons are not quite as big.
JOHANNA MAYER: No. Yeah, the little plastic spoons do not work quite as well.
After talking to Stephani, who is acutely aware of all the minute details of my dumpling experience, and a lot of the choices seemed not recommended. It was definitely not the kind of atmosphere that Romeo Regalli from Ras Plant Based would have gone for. And there was far too much chewing going on for the tastes of Mathurin Roze de Chantoiseau. But let me tell you what. I didn't care. Those soup dumplings hit the spot. And I felt restored.
The last dumpling.
SPEAKER 1: And it's mine.
[SLURPING]
JOHANNA MAYER: Whoa, that was a good slurp. That's one that [INAUDIBLE] needs to hear.
SPEAKER 1: Oh, god.
[MUSIC PLAYING]
JOHANNA MAYER: Science Diction is hosted and produced by me, Johanna Mayer. Elah Feder is our editor and producer. We had story editing from Nathan Tobey. Daniel Peterschmidt contributed sound design and wrote all our music, except the accordion piece, which was by Dana Boulé, and the final piece by Jazz at my Mladost Club. We had research help from Cosmo Bjorkenheim. Chris Wood mastered the episode and we had fact checking by Michelle Harris. Special thanks to Greg Rapp for talking to us about menu engineering Nadja Oertelt is our chief content officer, and when we asked her if she'd had a chance to digest the soaring success of our food season, she said--
REBECCA SPANG: So digesting is work. It's manual labor.
JOHANNA MAYER: And that is a wrap on Science Diction's food extravaganza, but we will be back soon. Thank you for listening. Please take the survey. Bye.
Copyright © 2020 Science Friday Initiative. All rights reserved. Science Friday transcripts are produced on a tight deadline by 3Play Media. Fidelity to the original aired/published audio or video file might vary, and text might be updated or amended in the future. For the authoritative record of Science Friday's programming, please visit the original aired/published recording. For terms of use and more information, visit our policies pages at http://www.sciencefriday.com/about/policies/