Orphans Delivered The World's First Vaccine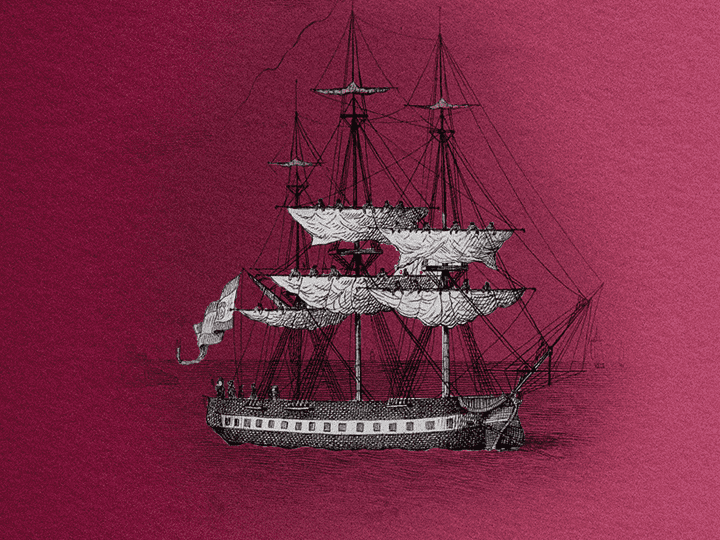 Transcript
JOHANNA MAYER: Today, science writer Sam Kean tells us about a very old, very effective and ethically dubious vaccination program.
SAM KEAN: In this case, what they chose to do is use orphan children to bring the vaccine across the ocean.
[MUSIC PLAYING]
JOHANNA MAYER: I'm Johanna Mayer. This is Science Diction.
Around this time last year, we put out an episode on a word that we have all said a lot over the past year, vaccine. It comes to us from the 18th century, when a doctor named Edward Jenner found out that you could protect people from smallpox by giving them cowpox. What he called in Latin, variole vaccine, which meant pustules of cows.
Cowpox is not pleasant. You get pus-filled sores on your arms or your face. But then, after you recover, you have immunity to smallpox, which was killing a ton of people at the time.
And Jenner had found this incredibly simple solution. All you had to do was take someone with cowpox, pop one of those pustules, take out the lymph fluid, OK, pustule juice, and stick it in someone else. And they were vaccinated. Easy.
But having a vaccine and actually getting it to people around the world? Very different problems. And if you thought getting shots in the arms was tough in 2021, try doing it in the 1800s.
SAM KEAN: Yeah. They didn't have refrigerators, dry ice, all the things that we kind of take for granted nowadays.
JOHANNA MAYER: Sam Kean, science writer, and host of The Disappearing Spoon podcast. Here to tell us that story.
SAM KEAN: Within a town, it wasn't actually that hard to spread. They would essentially take the fluid from a cowpox sore, and they would scratch it into the arm of the next person. And 9 or 10 days later, that person got a little pustule, took the fluid from that one, scratched it into the next person's arm, and so on. So that was a fairly straightforward, if a bit laborious, process. The real challenge was getting it over very long distances, over an ocean, or something like that.
JOHANNA MAYER: So when Spain decided they needed to get this vaccine to their colonies in the Americas, they had problems. First they tried just transporting it as dried pus. That had worked for shorter distances. But this trip was just way too long. The virus wouldn't make it.
SAM KEAN: So eventually, what Spain in particular decided to do was use living creatures. And in this case, what they chose to do is use orphan children to bring the vaccine across the ocean. They got 22 orphan boys. And they gave them cowpox in pairs as they sailed them across the Atlantic Ocean.
JOHANNA MAYER: What do we know about what it was like for these boys on the ship?
SAM KEAN: It was not a fun journey for them. It was November on the North Atlantic Ocean, which would have been cold, blustery, probably rainy, not a comfortable trip. There were also being taken out of the only home that they ever knew and being sent to a land that they had never seen before and that they'd probably only heard stories about.
So I'm sure it was a very scary experience for them. And on top of all that they were being given this disease, cowpox, which wasn't as deadly as smallpox, obviously, but still they were giving them a disease. And to me, sort of the most maddening part about the disease itself that they had to endure was that it's a pox. It's really itchy.
And the boys, though, were not allowed to scratch the pustules. Because they had to let them grow. Let them get nice and ripe, and build up enough fluid in order to make sure that they could transfer it to the next boy in the chain. So you had nurses snapping at them not to scratch their arms. And it must have been a really miserable experience overall.
JOHANNA MAYER: And do we know anything about any of the specific boys? Like, how old were they? Do we know any of their names, even?
SAM KEAN: I haven't seen any reference to any of their names. We do know that they ranged in age from about 3-years-old to 9-years-old. And the thing I keep going back to is, imagine trying to explain all this to a 3-year-old while you're crossing the ocean with them. I mean, I just can't fathom what was going through that kid's head while they were dealing with not being able to itch, getting snapped at. They're on a boat, suddenly, taken away from the only place they had ever known. So especially for the younger ones, this must have been a pretty traumatic experience.
JOHANNA MAYER: Besides the glaring ethical issues, there were also practical challenges with this scheme. If you infected all the boys with smallpox at once, at the beginning of the trip, they'd probably all recover by the time that you got to your destination. No pox left for vaccinating.
So they came up with the strategy of staggering the infections. They'd start with one pair of boys, infect them with cowpox, wait for them to develop pustules, then use that to infect another pair of boys in a chain, a warm chain, 22 boys in all.
SAM KEAN: They calculated that that would be just enough to get them across the Atlantic Ocean. And they cut it pretty darn close. By the time they got to-- they were going from Spain, they ended up in near modern day Caracas in Venezuela, by the time they got there, they had one sore left on the arm of one single boy. So they barely made it. But it was enough to get there and start vaccinating people in modern Venezuela.
JOHANNA MAYER: So if that last sore had popped, would it have all just been totally for nothing?
SAM KEAN: It would have been for naught, yeah, the entire voyage. And they had already run into-- Spain and other countries had run into this problem before with other failed attempts to get it across the ocean. So this could have been just one in another long series of failures.
JOHANNA MAYER: I mean, was there any discussion at the time about this being an unethical thing to do? Was there any concern about that? Or were people just, like, they're orphans. They have no ties to the society. Whatever we need to do to get rid of this disease.
SAM KEAN: I don't think-- I mean, obviously, they didn't think about medical ethics in the same terms that we do nowadays. But I do think they were weighing a couple of things, which were that there were huge apocalyptic outbreaks of smallpox in the Americas that they had to deal with. They were giving the boys cowpox which, again, is less deadly than smallpox. So they weren't giving them the disease. And in fact, they were making them immune to the disease.
And life in the orphanage, if they had stayed there, probably was not going to be very rosy. They had very few prospects. And one thing, one incentive they gave the boys in this case, I just don't think they had a lot of choice, but one thing they did to make it a little more palatable for them was they told them that when they got to Mexico, they would be adopted into a good family there. I think they figured that this, overall, would end up being a better life for them, however traumatic it might have been in the short term.
And again, that's not how we would think of things nowadays. We would think of them more as autonomous people who should be able to make their own decisions or wait until they're 18 so they can have a little bit more adult reasoning and figure things out. But those were the considerations they were dealing with at the time.
[MUSIC PLAYING]
JOHANNA MAYER: So what happened when they landed in Caracas? Can you describe the scene for me?
SAM KEAN: When they landed, they no doubt grabbed that boy, jumped off the ship, found someone immediately, talked them into it, explained what this was, and started vaccinating them. They really didn't have a moment to lose. Because if that lymph disappeared, then the entire expedition would have gone for nothing.
JOHANNA MAYER: After Venezuela and after Caracas, what happened next? Where did they go?
SAM KEAN: The expedition kind of split into two at that point. One group went South into South America. And the other group kind of went north, up through Mexico and across to the Pacific coast.
So they took the boys north through Mexico City, dropped them off, got to the Pacific coast. And then one of the groups actually sailed across the Pacific to Spanish colonies in the Philippines and even went to China after that. So really, they got this vaccine around the world in less than a decade, which for the time was really an amazing feat.
JOHANNA MAYER: And what happened to the orphan boys?
SAM KEAN: It's a little unclear. They definitely got to Mexico City. They got to their new families. And then after that, they kind of disappear. It's not really clear what happened
JOHANNA MAYER: It's really wild thinking about how there are people in the Americas today who are probably descended from these 22 young boys that were the first carriers of the vaccine over here.
SAM KEAN: Yeah. They really made a big sacrifice.
JOHANNA MAYER: Something we're talking about a lot today is vaccine hesitancy and anti-vaxxers. And I mean, thinking about when they landed in Caracas for the first time, you have to admit that it does sound somewhat suspect.
So a ship pulls up in your city. A bunch of kind of mangy little boys have just spent months at sea tumble out of the ship. And this guy that you've never met is telling you, hey, we've got this brand new, strange medical treatment for you. I just need to rub some pus from this kid's arm into yours.
Trust me. How did people react in Caracas when that ship showed up? How did they convince people that this was real?
SAM KEAN: Well, one thing they did that was actually pretty smart was they stuffed the boys with food on the voyage over for exactly the reasons that you're talking about. Because if they had stumbled off the boat looking sickly and weak, no one was going to let pus from their arms be injected into their children. So one thing they did was they really did try to keep the boys looking hale and hearty on the voyage over.
And a lot of the people there had grown up in Europe. So they were probably aware of what vaccines were, getting letters, messages, things like that from people. So they might have been aware of it. But it was still a leap of faith for them when the head of the expedition showed up and they just kind of had to trust that this would work.
The South America expedition was actually really interesting in that there was kind of a mixed reaction in some places. The villages themselves were very excited to see the people. They often had bullfights. They were ringing cathedral bells, saying masses in their honor, stuff like that.
So they were really happy because they had seen firsthand how bad smallpox could be. But there were doctors there who were actually grumbling about this and actually opposed it. Because they were making a lot of money off of giving people, probably, ineffective smallpox treatments. So the doctors in this case were actually the ones kind of opposing it.
JOHANNA MAYER: Was there any sort of public information campaign about how vaccines worked? You know, you see today all sorts of explainers and articles. How did they frame this then?
SAM KEAN: I think, basically, it was a choice between life or death. And I don't know that there was as much hesitancy considering how bad smallpox was. As I said, I think a lot of people were eager to get it.
But one thing they did that was pretty interesting was they set up vaccine boards in every place they went to keep records, to keep lymph around, basically to ensure that if another outbreak came, they could be ready and vaccinate people. If new people showed up, as the next generation came along, stuff like that. So they did think these things through. And that's why some historians say it really was a very modern vaccine campaign in that sense.
JOHANNA MAYER: Is it possible to estimate how many lives these 22 orphan boys essentially saved?
SAM KEAN: So there are different numbers in different historical documents. So these numbers come with a big grain of salt. But they vaccinated up to 12,000 people in Caracas, 200,000 people as they were moving through Colombia, Venezuela, Bolivia, and Ecuador, another 100,000 people in Mexico, and then something like 20,000 people when they sailed eventually to the Philippines.
So if you add those up, that is something like 350,000 people they vaccinated directly. And then you stopped outbreaks from spreading. So you could reasonably say at least that number and then possibly millions beyond that that they saved from outbreaks.
It's just really an amazing story of how they got it spread around the world this quickly and this effectively in less than a decade from when Edward Jenner discovered it. So I'm kind of in awe that they were able to do this, given the very limited tools that they had.
JOHANNA MAYER: Thank you so much, Sam.
SAM KEAN: Thanks for having me.
JOHANNA MAYER: Sam Kean is the science writer and the author of The Disappearing Spoon. He has an entire episode about the story on his podcast, also called Disappearing Spoon. You can find it now wherever you get your podcasts.
Science Diction is produced by me and Elah Feder. Elah's our editor and senior producer. Our composer's Daniel Peterschmidt. Nadja Oertelt is our chief content officer. See you again soon.