Ambergris: How Constipation Becomes A Luxury Product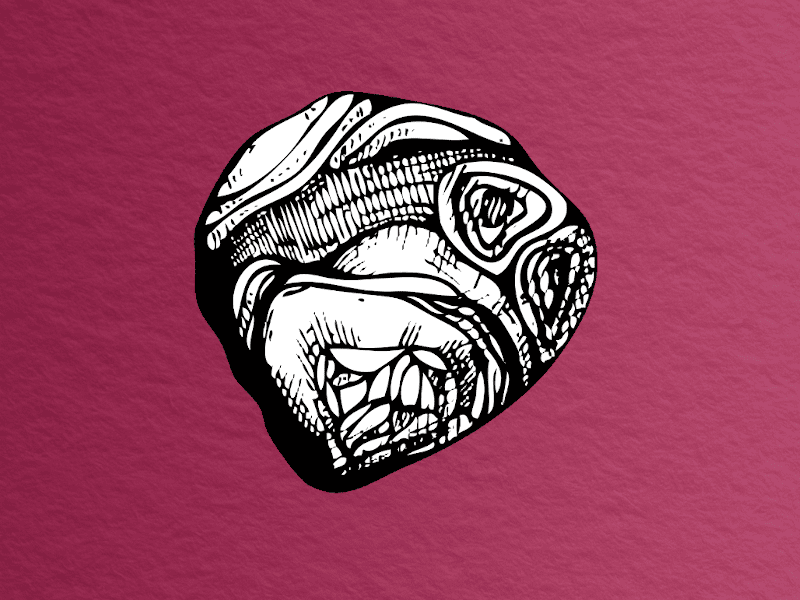 Transcript
JOHANNA MAYER: Before we start, I have news. We now have a phone number. If you have a word that you want us to cover, you can call in, leave us a message, and we might play it on the show. Call 929-499-WORD. That's 929-499-9673. Okay, onto the show
CHRISTOPHER KEMP: It didn't really taste like anything, but it just sort of coated, coated my teeth in this really unpleasant way. And in a way that I just really couldn't get rid of the sort of slimy feeling
JOHANNA MAYER: Today, we're talking about this... thing that for centuries, rich people coveted, rubbed on their necks...and ate, all without having any idea what it really was. If they had known, they might have put their forks right down.
This is Science Diction. I'm Johanna Mayer, and today, we're talking about Ambergris.
We recently got an email from a listener that we wanted to share with you. We present Letter from Ben, dramatized by Charles Bergquist, Science Friday director. Subject: Science Diction Suggestion.
CHARLES BERGQUIST (as BEN GARTNER): Hello Johanna! I've listened to almost all of the Science Diction podcasts (with plans to finish them all, of course) and I love the show. It is right up my alley, mixing an interest in linguistics, science, human nature, and the odd little corners of our collective history. It's great!
I heard in one of the episodes that you take suggestions. I have a good one, I think, and it starts like this: When I was around 11 or 12, I was flipping through the dictionary and reading about random words (yes, proud Word Nerd) and I came across the word "ambergris." The definition sparked my imagination, wonder, and it had enough of the "whaaaaa?" / gross factor that I memorized the definition and to this day (I am now over 40) can recite it as a party discussion starter, for it is loaded with Story:
JOHANNA MAYER: And then Ben gives us the definition:
CHARLES BERGQUIST (as BEN GARTNER): A grayish, waxy substance, found floating in tropical seas, believed to originate in the intestines of a sperm whale; used in perfumery as a fixative.
JOHANNA MAYER: Ben then goes on to lovingly dissect the definition for us. Note how this stuff is only found in tropical seas. What can that mean? And what is this stuff? Whale vomit? And how did people figure out that they could put whale vomit on their necks to hold a scent?
CHARLES BERGQUIST (as BEN GARTNER): Can you imagine people walking around smelling good, stylishly sporting whale reflux?
JOHANNA MAYER: Ben basically outlines an entire show we could produce inspired by just this definition he'd memorized as a kid. But that definition? It's a little off…
CHRISTOPHER KEMP: Mmm it's, you know, mostly right, but pretty wishy washy on details.
JOHANNA MAYER: To get the real story of ambergris, we called in an expert.
CHRISTOPHER KEMP: My name's Christopher Kemp.
JOHANNA MAYER: Christopher Kemp, author of floating gold: A Natural (and Unnatural) History of Ambergris. First thing's first, ambergris it DOES come from sperm whales. That part's right. But you can find ambergris in a bunch of different places, not just tropical seas.
CHRISTOPHER KEMP: So sperm whales are what's known as a cosmopolitan species, so that means they just- they travel anywhere. You know, their real needs are things like ocean that's deep enough and food that's plentiful enough, and those kinds of things, so as long as they have those conditions, they will be found in those places.
JOHANNA MAYER: People comb beaches all over the world to find ambergris - New Zealand, South Africa, Sri Lanka, even have trained dogs on the scent. Because it is incredibly valuable. A genuine lump of ambergris can be worth tens of thousands of dollars, even millions. But in the US, if you find a lump of ambergris, maybe just leave it alone. It's illegal to trade in anything that comes from endangered species.
JOHANNA MAYER: In articles about ambergris discoveries, you usually see a picture of the proud new owner, holding up this big, blotchy, honestly kind of hideous lump, and the headline will say something about how lucky they are to have found this valuable chunk of whale vomit. Except, what these people are holding? Almost certainly not whale vomit.
CHRISTOPHER KEMP: That's an idea thats's- that has been really difficult to get rid of. But it's just not- It's not vomited.
JOHANNA MAYER: For centuries, ambergris was a mystery. These grey, waxy, rock-like things would wash ashore from time to time, and by the 15th Century, they were given the name "ambergris," or if you're from the UK, like Chris, ambergris [pronounced amber-grease].
CHRISTOPHER KEMP: So it's a French word, amber gris.
JOHANNA MAYER: Ambre gris. Gray Amber
CHRISTOPHER KEMP: And it's just to distinguish it from amber, you know fossilized resin.
JOHANNA MAYER: A lump of ambergris looks pretty much like a rock, except it smells.
CHRISTOPHER KEMP: It's like compost, old churches, um, warm kind of animal smells, sometimes even like touches of vanilla and brine. It smells briney, like the ocean and like ozone, like wide open spaces. It's really- it's really, really difficult to to describe it.
JOHANNA MAYER: People have used it for many things: to hold a scent in perfumes, as medicine...
CHRISTOPHER KEMP: Casanova used to have it in chocolate as an aphrodisiac King Charles the second use to grate it on his scrambled eggs. That was one of his favorite dishes.
JOHANNA MAYER: Chris actually tried it on eggs himself.
CHRISTOPHER KEMP: it didn't really taste like anything, but it just sort of coated, coated my teeth in this really unpleasant way. Just really couldn't get rid of the sort of slimy feeling.
JOHANNA MAYER: People had plenty of theories for what they were putting in their cocoa and grating on their eggs. Like, it was a mushroom that grew at the bottom of the ocean that no one had ever seen. Or dragon spit.
JOHANNA MAYER: But in the 1700s, whalers in Nantucket finally solved the mystery. The whaling industry at the time was really ramping up in New England, churning out thousands of barrels of whale oil each year. And whalers were building these ships that took them farther and farther into the Atlantic ocean, where they started catching sperm whales. And when they cut the sperm whales open, they would sometimes discover these lumps of what looked kinda like...ambergris. Just last year, some genetic analysis was done on a lump of ambergris and confirmed what the whalers knew, that it comes from sperm whales. And even though ambergris almost certainly isn't whale vomit, It is a case of digestion gone wrong.
CHRISTOPHER KEMP: 17:58 Sperm whales, just because of their huge size, they eat enormous amounts of squid, up to a ton of squid a day. And the squid is very soft and digestible. But it has this beak that sort of almost resembles a parrot's beak and that's very hard and durable, and that isn't easily digested by the sperm whale.
JOHANNA MAYER: So if all goes well, the whale digests all the soft fleshy parts of the squid, vomits up the hard indigestible beaks.
CHRISTOPHER KEMP: That, that is upchuck. [laughs] That is vomit. And that's normal. That's business as usual.
JOHANNA MAYER: But in maybe one percent of sperm whales, those hard squid beaks make it past the stomach and find their way into the intestines of the whale, forming this ball of feces and squid beaks that just grows and grows. Robert Clarke, was a world expert on ambergris, and he believed that the whale could live like this for a while. But eventually, this boulder might completely block the rectum, and kill the whale. Which would make ambergris a case of lethal constipation.
CHRISTOPHER KEMP: Yes, that's- and that's not even a euphemism that sounds worse than what it is. It's lethal constipation. Yeah.
JOHANNA MAYER: In his book, Christopher describes how ambergris goes from compacted feces inside a dead whale to luxury product, and it's kind of...beautiful?
CHRISTOPHER KEMP: The dead whale, now adrift on the open seas, slowly begins to swell. Within hours, the stinking carcass will be surrounded by sharks, drawn to the blood in the water like iron filings to a magnet—makos and blues, mostly. From the air, gulls, storm petrels, and shearwaters will arrive in a noisy tangle and settle in the water around the bloated corpse, which has begun to trail a greasy slick of oil behind it through the waves. The smaller fish will feed on it from below, tearing the flesh into strips and fighting over it among themselves. At some point, the ruptured intestines will be torn open by scavengers, and the ambergris will fall into the ocean. The whale carcass will become a floating bounty of food in a challenging and competitive place. The feeding frenzy lasts for weeks, before the remains take one last dive down through the mesopelagic zone and into darkness. In a reversal of fortunes, the benthic crabs and the octopuses will take their turn with whatever is left, picking any remaining flesh from the sturdy white bones on the seafloor.
And miles above, set upon the lurching swell, the ambergris has begun its journey.
Freshly expelled, the black and viscous ambergris—which is slightly less dense than seawater—rises slowly, ascending through the frigid ocean currents. Eventually, it reaches the surface, where it floats in the chop, forgotten and mostly submerged, sometimes for years. It can ride the swell of the southern oceans for decades. Back on land a thousand miles away, life continues. At sea, the ambergris fl oats: it bobs and rolls through cyclones and equatorial heat, from the Tropics to the stillness of the Doldrums, where it might be stalled for months. It picks up speed in the horse latitudes. It turns poleward and then back again. It gets trapped in ocean gyres—large rotating oceanic current systems that pieces of flotsam can spend years navigating. This journey cannot be substituted. Like wine in a bottle, ambergris slowly matures at sea. Gradually, a molecule at a time, it reacts with its surroundings until—oxidized by salt water, degraded by sunlight, and eroded by wave action—it is beached somewhere along a remote and windswept coastline much like Long Beach; or dumped by a storm onto a busy and populated stretch of sand like Breaker Bay, in sight of a large metropolitan city like Wellington; or it washes up somewhere on the Somali coastline, or in the Chatham Islands, or the Philippines, or northern California, or on a wet little bay in Wales.
Okay, hope that works.
CHARLES BERGQUIST (as BEN GARTNER): And there's your show. I would definitely tune into that. But if you decide my suggestion is not worthy, that's okay. I will continue to listen to your wonderful podcast. Thanks for doing it! Cheers, Ben.
JOHANNA MAYER: Thanks for the show, Ben! If you also have a show for us, write us at podcasts@sciencefriday.com Or even better, leave us a message on our brand new phone number: 929-499-WORD. That's 929 499 9673.
JOHANNA MAYER: This episode was hosted and produced by me, Johanna Mayer, and our senior producer, Elah Feder. And Ben Gartner, thank you for the wonderful suggestion. We had fact checking help from Robin Palmer. Our music was composed by Daniel Peterschmidt. If you want to learn more about ambergris, you might want to read Christopher Kemp's book, Floating Gold. We'll have a link up on our site. Nadja Oertelt is our Chief Content Office. She recently opened the world's most hygienic and punctual splish splash water park.
CHRISTOPHER KEMP: Mmm it's, you know, mostly right, but pretty wishy washy on details.
JOHANNA MAYER: We'll be back soon with another show!