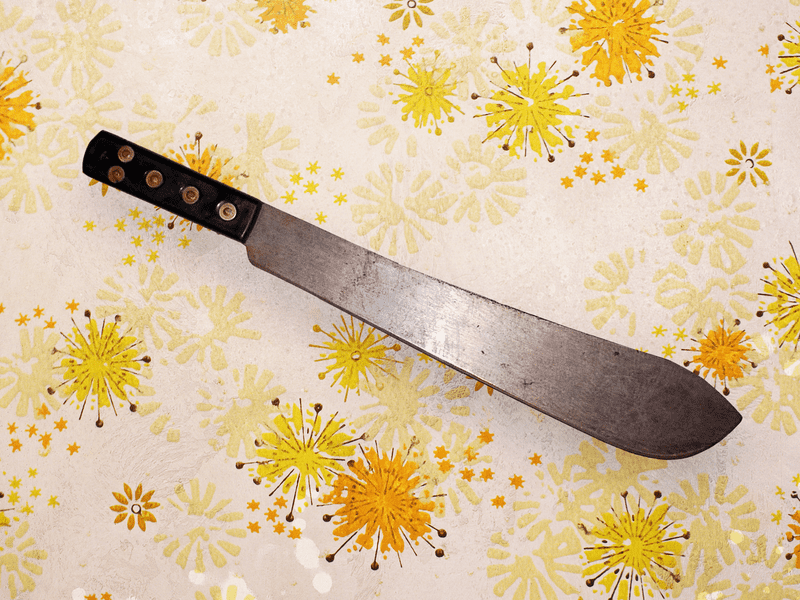 Transcript
Chris Garcia: My name is Chris Garcia and I'm a man on a mission. That mission is to figure out the truth about my dad. It won't be easy… and well, it's not like I can ask him because he's um… unavailable.
But I've seen a lot of detective shows. And I've got a college degree. Sure, it's a degree in poetry, but it gave me important skills, like how to turn in the same essay on Beowulf for three different classes. Most importantly, I know how to annoy the hell out of people until I get some answers.
Let's start with some things my mom has told me:
In 1969, my sister was four years old. She and my parents were living in Havana and barely scraping by.
Ana: Sin trabajo ni nada, imagínate tú. Entonces vendíamos perfume y líquido de cucarachas.
Chris: My dad didn't have a job. So they sold things on the black market, like counterfeit perfume and roach poison.
Ana: Manolo, el esposo de mi tía Fefa, compraba el líquido y entonces le echaban agua y vendíamos las botellas…
Chris: They'd water down perfume and pour it into bottles her uncle Manolo used to buy. Or they'd get stuff cheap from people who were about to leave the country, and they'd resell it at a higher price.
Ana: Y flan y tocinillo del cielo…
Chris: They even made homemade custard.
Ana: Ay siempre, el cubano siempre inventa.
Chris: She says, "Cubans get creative."
My folks lived in a tiny apartment -- it was so tiny they called it "el pasillo," the hallway. But keep in mind my mom is 4'8", so she might have been like, "Wow, look at all this room." And she'd lay down, drink cafe con leche out of a thimble. Ahhh. This is the life.
My mom said she worked hard to keep the place clutter-free and immaculately clean. But it was difficult.
Ana: Me acuerdo que quitaban la luz y entonces no había linterna y entonces se inventaba...
Chris: My mom remembers constant blackouts. My dad made an oil lamp so they could see at night.
Ana: Parecido a esto, haci como una mecha y le poniamos y todo el techo negro por el petróleo. Todo negro.
Chris: She says the smoke from the lamp stained the ceiling black.
That same year, 1969, my mom's parents left Cuba and moved to the U.S. They lucked out -- the US government had recently passed an immigration bill that ended restrictive quotas.
And Cubans -- the people who were living under America's enemy numero uno, Fidel Castro -- they got a special deal.
Lyndon B Johnson: "I declare this afternoon to the people of Cuba that those who seek refuge here in America will find it."
Chris: The US pledged $12 million dollars so that any Cuban that wanted to could resettle here.
Lyndon B Johnson: "The dedication of America to our traditions as an asylum for the oppressed is going to be upheld."
Chris: This is President Lyndon Johnson signing the bill at the foot of the Statue of Liberty on October 3rd, 1965.
Lyndon B Johnson: "The lesson of our times is sharp and clear in this movement of people from one land to another. Once again, it stamps the mark of failure on a regime when many of its citizens voluntarily choose to leave the land of their birth for a more hopeful home in America."
Chris: This is Scattered, episode 2.
Chris: From 1965 to 1973, a quarter million Cubans flew from Varadero to Miami on American chartered flights. Twice a day, five days a week. They were called the Freedom Flights, los Vuelos de la Libertad.
So my dad was like: Hell yeah, I'm gonna get on one of those flights! But when he requested his exit visa, known as la carta blanca, the Cuban government sent him something else instead. A letter.
Now… like so much of my family's history, the actual letter is lost. But I have here a letter I think is probably similar to the one he got. I found it in a book about the experience of another Cuban family at around the same time.
OK, here it is, it's from the Cuban Ministry of the Interior, which I'll translate for you.
"Sir: It is necessary that you comply with the following requirements:

You must contact your place of employment to inform them you've chosen to abandon the national territory, and tender your resignation by the end of the work day.

You must write the first and last names of any nuclear family member that wishes to leave the country on the back of this notice, as well as the full names of all the family members who do not wish to leave.

You must return this notice in the mail within 12 hours of having received it. Use the envelope that has been attached, as it has our address and does not need stamps."
Basically, the government is saying: you want to leave the country? OK, quit your job, pay the utilities, get your affairs in order…
Would it have killed them to add a "P.S., a little heads up, you might wanna grab a sunhat and some Cliff Bars 'cause you're gonna be outside for awhile."
Chris: Lillian, hi can you hear me?

Lillian Guerra: Yes, nice to meet you.

Chris: Como anda, as they say.

Lillian: De lo más bien!
Chris: This is Lillian Guerra. First thing to know about Lillian: She is also the child of Cubans, and like me, did not grow up in Miami.
Lillian: Um, I grew up in Kansas where I virtually had no contact with other Cubans besides my parents and my sister and my grandparents.
Chris: Also like me, her parents didn't like talking to her about their life in Cuba.
Lillian: I made the mistake of asking who Che Guevara was because at some point my father was condemning him for agrarian reform, and my mother was saying something about him that I didn't think was as bad. And I went in and asked who Che Guevara was, and I remember everyone turned to me and there was a pin drop in the room, and suddenly my father said, "Who is this communist? How do you know about that man? Who do you think you are asking about that man?" And then I was sent to my room.
Chris: So in the ultimate act of first-generation rebellion, Lillian moved to Cuba when she was in grad school.
Lillian: My father said to me, "Mira, si tu vas a Cuba, saluda a mis hermanos, pero yo no quiero saber de ti." And that means, you know, "You go to Cuba, you say hello to my brothers, but I don't want to hear anything from you."
Chris: She says her father didn't speak to her for an entire year. But in the end, she ended up closer to her family.
Lillian: I had more than 180 relatives in Cuba that I met for the first time, um, including my father's brothers. Literally hundreds. [laughs] I mean hundreds of cousins. And so, it became a lifelong kind of a commitment to tell stories about Cuba that could only really be told from within.
Chris: Now Lillian's a history professor and the director of the Cuba program at the University of Florida. She's interviewed survivors of labor camps, and dozens of other Cubans who lived through the Revolution. And she's helping me figure out what might have happened to my dad after he got that letter.
So. Flashback to the late 1960s.
Lillian: The Cuban state is really in a tailspin economically and it is in a tailspin economically not just because of the US embargo but mostly because of its own mismanagement and these sort of ridiculous arbitrary means by which Fidel was creating economic policy with no input from really any economist. [Laughs] You know, he had a council of advisors on the economy and only one guy was an actual economist.
Chris: Fidel and his advisors come up with a plan.
Lillian: They're going to create an opportunity for everybody to participate in the cutting of sugarcane.
Chris: Ten million tons of sugarcane. The idea was to reduce Cuba's dependence on foreign powers and show the world that communism works.
Lillian: And so Fidel declares that 1969 to 1970 is going to be an 18-month long year. He cancels Christmas. He closes all the bars. No more drinking. No more going to clubs. No more having fun. And in addition, every human who can should be cutting sugarcane.
Fidel Castro: "Y en este esfuerzo en que nos empeñamos de los 10 millones, duro y difícil… estamos ganando algo más que los 10 millones, que vale más que esos 10 millones, que es este salto de calidad en las conciencias…"
Chris: He's like: Cubans won't just be gaining 10 million tons of sugar, but something worth more than 10 million tons, something that would be, quote, a 'qualitative leap in the collective consciousness'.
[MUSIC: "HEY JUDE"]
Chris: When you start digging into Cuban history, you come up with some strange stuff. Like this video. It's from the 1960s, and I'm pretty sure Fidel's government didn't get the rights to use the song blaring in the background…
Anyway, in the video a rugged Che Guevara is driving a tractor in a field of sugarcane. It looks like a sea of giant grass. Each stalk maybe 10, 12 feet high, wild and endless.
Che's there to join his fellow Cubans, to roll up his sleeves for the revolution. But he can't roll up his sleeves because he's shirtless. And I won't say he's shredded, but he's looking alright.
Lillian says six hundred thousand Cubans responded to Fidel's call, volunteering to cut cane between 1969 and 1971. They were praised by the regime, and called the true children of the revolution.
Lillian: These are the socialist men that the Cuban government sees as its constituents.
Chris: But there was another group. People who didn't volunteer, who were sent to labor camps and were forced to cut cane. Political dissidents, criminals, and people like my dad -- who wanted to make better lives for themselves in a new country. In the eyes of the government, just by asking, they became apátridas -- stateless people.
Lillian: In the '60s, '70s, '80s, up until about the end of the '90s, anyone who left Cuba was considered a traitor by the Cuban government.
Chris: My dad was sent to a camp about 30 miles east of Havana. But Lillian says there were camps scattered all over the countryside. And the living quarters were kind of like military style barracks.
Lillian: So they would've been surrounded by barbed wire. Um, they would've housed, you know, anywhere from 200 to 400 to 500, um, inmates.
Chris: Imagine a room lined with dozens of bunkbeds… and instead of a cot or mattress people slept on a burlap sack tied to four posts.
Lillian: You know, the facilities would've been pretty dire so that you had a very limited number of latrines. You know, maybe one latrine for every 50, um, men. You can imagine what that's like.

And the people who were at the camps and guarding and supervising and doing the cooking and doing any kind of -- kind of staff work -- they would've been rewarded for regularly shunning, abusing, verbally and otherwise, the prisoners.

Chris: Did they use violence?

Lillian: There have been, um, oral histories done with people who were subject to particular kinds of violence. So being tied up to a pole and left out overnight so you could be eaten alive by, you know, swarms of bloodthirsty mosquitoes. So there isn't a lot of mercy.

You know, I've had people tell me stories about being in this kind of a camp environment where there are actually volunteers. And it got so hard just working, cutting cane, six out of seven days a week that they would slash their own leg with a machete in order to get out of this situation.

Chris: Do you have any sense of how many people were sent to the labor camps and forced to cut cane?

Lillian: We don't know… we won't know until we have access to their records.

Chris: Did the Cuban government keep records?

Lillian: You know, I think that they must have because they thought they were in the right. And Fidel Castro's a lawyer. And so he did everything supposedly by the books. It's just that he made up the books.
Chris: I asked Lillian to introduce me to someone who had lived through what my dad did -- someone who would have been at the camps around the same time as he was.
Ernesto: Bueno, soy Ernesto Martínez Pérez. Ya tengo 81 años, que ni yo mismo me lo creo.
Chris: Ernesto Martínez Pérez is 81 years old, just a few years older than my dad would be now. As a child, Ernesto dreamed of becoming an artist.
Ernesto: Mira, yo nací con el lápiz en la mano...

[VO: Look, I was born with a pencil in my hand. As soon as I was born, I grabbed a pencil and started to draw.]
Chris: In 1965 while my dad was a newlywed, busy with his first born, Ernesto was a 27 year old living in the small town of La Salud ... south of Havana. He worked at the Cuban Telephone Company and taught art history at the local middle school. But his dream was to move to Madrid to study painting.
So he asked to leave Cuba…and after waiting three years, the government finally responded to his request. They said that first he'd need to work for his country. So he was sent to a labor camp in a nearby town called Rincón, to dig latrines with a pick and shovel.
Ernesto: Allá habida profesores, médicos, enfermeros, empleados de banca...

[VO: There were teachers, doctors, nurses, bank employees, writers. We slept in bunk beds without mattresses or anything to cover us. At night, we'd meet up and try to plan our escape and save our lives. Because the guards considered us their worst enemy, and were willing to shoot us all.]

Chris: ¿Entendía la razón porque tenía que trabajar? o ¿Entendía el razonamiento del estado por hacerte trabajar así?
Chris: I ask Ernesto if he understood why he was being sent to do hard labor. If it made any sense at all.
Ernesto: La razón era para dejarnos como seres incapacitados de por vida... Todo esto con un odio y un desprecio pero que aquello era desbordante.

[VO: They wanted to debilitate us. They did so much physical and psychological damage to us, and they never stopped. It was inconceivable. They ruined our lives completely. Then, the threats. They constantly told us that, if we quit, they would send us home. But if our country was invaded, they were going to shoot us instead, all at once. And they said all this to us, overflowing with hatred and contempt.]
Chris: After about a year in Rincón, Ernesto was sent to cut cane in another camp, in the province of Camagüey… more than 300 miles east of Havana.
Ernesto: Aquello fue espantoso. El hambre más grande de mi vida lo pase allí en Camagüey.

[VO: It was awful. I experienced the worst hunger of my life in Camagüey.]

Mi madre me mandó una vez un conejo asado...

[VO: My mother once sent me a roasted rabbit. And because it took two days of travel in the heat to make it to the camp, the rabbit, when I opened it, was full of maggots.

Then one of my bunkmates said, "Let's see it, because we can't throw it away. We're going hungry here." Well, we picked out all the maggots and we took the pieces of meat and fried them in a pan we had there.]

Y así los trozos de carne los íbamos pasando y así lo fuimos vuelto a freírlo otra vez. Y así nos dimos tremendo banquete.

[VO: We had ourselves a tremendous feast.]

Yo no me arrepiento de nada de eso...uno no se puede imaginar.

[VO: I regret nothing I did. Because I think I would have eaten even the maggots. When we're starving, we're willing to do anything.]
Chris: Ernesto says every day was just...cut cane… throw it on a cart… wheel it away. Cut cane… throw it on a cart… wheel it away.
And I know, I know, Ernesto is not my dad, and I can't say that they experienced the exact same thing. But this is the closest I've come to knowing my dad's own story. Even Ernesto's manner of speaking -- and his expressions, like 'tremendo banquete,' reminds me of the way my dad spoke.
I see my dad under the hot Caribbean sun, his active mind idle. His hands… which had once been busy building gadgets… now raw from cutting cane. I picture him restless, sleepless. Getting skinnier and skinnier. Thinking about my mom and her legs.
Chris: ¿Y en algún momento llegó a pensar que jamás saldría del campo?
Chris: I ask Ernesto if he thought he'd be in the fields for the rest of his life.
Ernesto: Sí. Ya yo últimamente había perdido...Ya creía que aquello ya era para siempre.

[VO: Yes. I had lost all hope completely. I believed the exit visa would never come. I stopped thinking about it. I gave up. I thought I would be there forever.]
Chris: After four months cutting cane, Ernesto was moved to another camp in the province of Matanzas. It was there that, one night in 1970 -- after two years of hard labor -- Ernesto found out his exit visa went through. And he went home.
Ernesto: Bueno, yo me volví loco de contento. Mira si yo tenía tantas ganas de salir de aquel infierno...pues coger el tren que salía para La Habana.

[VO: Well, I went crazy with happiness. I was so eager to get out of that hell, that I took my heavy wooden suitcase, and carried it for about five kilometers down those rocky roads.

But it turned out, there weren't any trains until the next day and I had to sleep on the floor. And then I took the train for Havana.]

Chris: ¿Y cómo cambió la relación con su familia? ¿Eso cambió en esos dos años trabajando?
Chris: I ask him if his relationship changed with his family because of all the time that he'd been away.
Ernesto: No, no cambió para nada. Cada vez los necesitaba más. Y cada vez los quería más. [llorando] Fue muy duro. Es duro para mi contar todo esto…

[VO: No no no. That did not change at all. I needed them more and more. And I loved them more. It was very hard. It's hard for me to tell you all this… ]

Pero yo quiero que se sepa. Al cabo de 50 años, yo quiero que se sepa todo lo que nosotros pasamos allí.

[VO: But I want it to be known. After 50 years, I want everything we went through to be known.]
Chris: Ernesto moved to Spain. He studied art. He got married, bought a house and filled it with paintings. He says it looks like a museum.
Fidel Castro: "Si ustedes quieren que les diga con toda claridad la situación, es sencillamente que no haremos los 10 millones. Sencillamente. No voy a andar con rodeos para decirlo."
Chris: In May of 1970 Fidel announced that the 10 million ton goal had fallen short. He said they'd only gotten 8.5 million tons. Fidel wasn't going to sugarcoat it. They had failed.
And Lillian says, by ignoring all other industries, the whole plan actually set the Cuban economy back by about 30 years.
Chris: I need to return to something Ernesto mentioned in our conversation -- this one detail that I couldn't shake. Something the camp guards used to tell him and his fellow apátridas, the stateless men.
Ernesto: Continuamente nos decían que, si renunciamos...

[VO: They continually told us that, if we quit, they would send us home.]
Chris: "If we quit, they would send us home."
That one sentence unlocked a new question for me: Did my dad have that option, too? Like, could he have said, "Hey guys, never mind. I'm tapping out. America isn't worth it. I think I'd rather stay in Cuba the rest of my life than spend one more day in this fucked up camp." I just always assumed that "forced labor" meant that you had no choice.
I ask my mom and she doesn't remember. So I asked my dad's sister, Ada. She was my dad's best friend and is always game to talk. I ask her: Did papi have a choice?
At one point, she went to go visit him there. And she was so horrified by what she saw that she was like, "That's it, I'm taking you home."
Ada: Iba a meterlo en el carro y que se jodiera todo... Hasta cuando sea necesario.

[VO: I was going to put him in a car and say "screw everything." But he said he wouldn't go. And I was horrified, I said, "but holy mother of god, how long are you going to be here?" and he said, "as long as it's necessary."]
Chris: "As long as it's necessary."
Remember that thing my dad used to say? If you're gonna do something, do it all through the way. Fucking badass, that guy. But I guess so is his sister. She said that if he wouldn't quit, she'd get him out herself.
Ada: Yo lo que quería era sacar a mi hermano...

[VO: I wanted to get my brother out of there and put him back where he belonged, at home with his wife and daughter.]
Chris: And so she came up with a plan…
Her husband had a cousin who worked at a medical office. Ada had her write up a certificate saying that my dad was too sick to work in the fields. They had to make up a reason that was more serious than a stomachache.
So they said something about a nervous breakdown or the possibility of a nervous breakdown. She can't quite remember exactly. But the hope was that with a medical excuse, the government would let him stop working in the camps and he'd still be able to get an exit visa.
And it worked. My dad came home.
But the exit visa -- it wasn't exactly waiting for him when he walked in the door.