7. Bonus: Karen Kilgariff and the Shark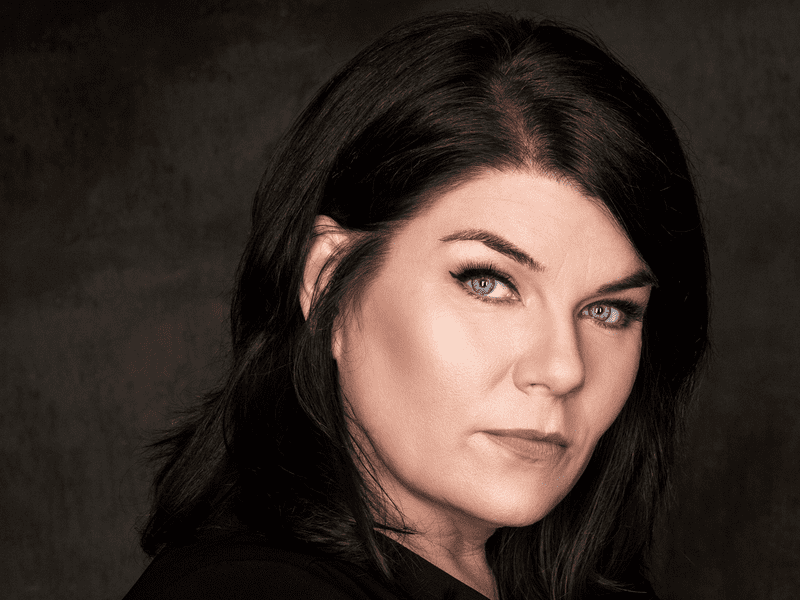 Transcript
Chris Garcia: Hey everybody, it's me again.
I know, you thought this show was over. We went to Cuba, we left my dad there, journey complete. Well, not quite.
To make this podcast, I had a ton of conversations with all sorts of people: historians, survivors, family members, friends. Inevitably, there were some great moments that didn't make it onto the show, but that really stuck with me.
And I want to share one of these conversations with you now.
Chris: Well Karen we kind of have this crazy thing in common. Um, both of our parents had Alzheimer's.

Karen: Yeah.
Chris: Karen Kilgariff is a comedian and cohost of the podcast, My Favorite Murder.
Chris: Um, what was your mom's name?

Karen: [Laughs] I thought you were going to say "What was that like?"

Chris: [Laughs]

Karen: It was easy. It was -- it was kind of light. Um, went quickly. My mom's name was Pat Kilgariff.
Chris: Pat was a head nurse at a psychiatric hospital before she got Alzheimer's. She died from the disease on January 9, 2016.
My dad died a year later. And it's made me feel connected to Karen in this weird way - because we're both in this sad club that no one ever wants to join.
So I was like, let's get in the studio and talk about our parents.
Chris: Tell me about her before she got sick. What was she like?

Karen: Um, she was -- she was always a working mom in my life. Um, and she was always kind of just large and in charge, you know? She's like head nurse style personality. Both of her parents growing up were alcoholics and she was an only child so she had this thing of like nothing is going to happen to you that happened to me when I was growing up.

Chris: That reminds me kind of my dad was like. He suffered a lot as a kid, and so for us he was like, "You guys are never going to suffer."

Karen: Yeah, right?

Chris: Just like nothing's going to happen. This is -- you're impenetrable if I am here.

Karen: Yes, like that old shit stops here.

Chris: I read that when you guys would walk down the street she would, like, diagnose people's mental disorders as you walked by them?

Karen: Yes.

Chris: When did that start?

Karen: Um, I feel like for as long as I remember she was the person who if there was like, uh, a person, you know, maybe a homeless person or whatever that was like going through the garbage talking to themselves she would just be like "Oh, he's gone full organic."

Chris: [Laughs]

Karen: You know, it was always just kind of like "[Hisses] He's a schizoid personality." It just kind of came out of her mouth automatically.

Chris: That's so funny.

Karen: Yeah.

Chris: My dad was kind of paranoid, uh, and so he would kind of do the opposite. He would tell me what people thought of him as we walked by them.

Karen: [Laughs] That sounds like me.

Chris: I know. I remember walking through Golden Gate Park with him one time when he came to visit me in San Francisco and he's like "[Spanish]" Like he said "That Russian guy thinks I'm -- he thinks I'm a jerk because I'm in-between jobs. But guess what? I'm on disability, man!"

Karen: [Laughs]

Chris: Like he even made up a whole story which is so funny. You wrote this really, um, sweet tweet on the anniversary of your mom's death that said tha she was a real bad-ass.

Karen: Yes.

Chris: What does that mean to you? What's a bad-ass to you?

Karen: My mom was the person that if somebody was yelling in public she would take care of it. She was the first person to step forward and she was a deescalator. So it wasn't like she was confrontational; she just took care of things. She made things go away and she made things stop being bad.

Chris: She just always handled it. Was it difficult to see her not handle things once, uh, dementia took hold?

Karen: I mean that was the horror of it... is that it was a different person so it was this… she, you know -- once she retired, um, my mom and my dad were happily married their whole lives and when she retired from work, um, she started kind of doing less and less. And then we could tell that it was because, uh, -- you know, she was starting to forget things and starting to get uncomfortable and not trust herself.

So she kept talking about how she was going to go volunteer here and she was going to go do this but she'd never actually do it and she ended up just kind of being in the house and sweeping a lot. And my sister and I, it made us crazy. And we kept talking about the sweeping as if it was like a funny joke or like stop doing that but really what it was is that we all knew this was this weird coping mechanism for her being afraid to leave. She kept pretending there was too much to do around the house.

Chris: She was scared -- because they know. Part of them, they don't completely know but part of them knows that something's going on.

Karen: Yes, that something's wrong.

Chris: And so they resort to something, like my father would, um, he would start taking things apart. Like, he stayed at home.

Karen: Yeah.

Chris: But he would like take a door apart. But he's a mechanically-minded person.

Karen: Yeah.

Chris: That normally would do something like that. He just had to always tinker with things. And he just kept on tinkering. Even to like -- I remember he started tinkering with silverware and making sure it was like bent properly.

Karen: [Laughs]

Chris: He's doing all this weird stuff but I was like that's my dad knowing that's how his brain works but he's trying to hide it either from us or he doesn't know what's going on.

Karen: Yeah, almost like they're using that as like a comfort, what they go to. Where it's this is the thing that soothes me. I know if I sweep up all the dog hair that's in this and then my kitchen floor is clean I can feel better and I can calm down. But, of course that wasn't it, you know? That didn't work.

Chris: Yeah. Do you remember the first time you saw her being off where you were like, "Whoa, this is not… this is serious. This isn't my mom -- 100% my mom anymore?"

Karen: Yeah, and it was really… [Laughs] It was, uh, it was very scary and it was also kind of like one of those I can remember it like a movie in my head. Um, she used to always pick me up, uh, from when I would fly up from LA // and it was nighttime and my dad would never do it if it was nighttime because he had bad night vision. Um, so she would always do it. And everything was normal and we were driving home and she did this thing where she took the exit before the exit to the San Rafael Bridge. And she did it in this way where all the -- it looked like… it seemed like all of a sudden she was waking up and then she just took this exit really fast. And it was nighttime and it was the wrong exit.

And all of a sudden we were off the freeway somewhere else and I was like, "What are you doing?" And I -- it hit me before I think I knew consciously what was really going on. It hit me like… like really emotionally, and I got really mad at her. Then she was like "I'm sorry! I just didn't realize." And it's like but we've taken this drive literally 150 times so there's no way you didn't… and I was like she can't be in charge anymore. Like she can't come pick me up anymore. And we still hadn't talked about it. It was shocking because my mother was a medical professional. My father was, you know, a first responder type.

Chris: Yeah.

Karen: It's like we all know you know and you've seen these signs. And the same thing of sunglasses in the freezer, that was one of the first. And it's bone-chilling.

Chris: Yeah.

Karen: It's like any horror movie pales in comparison to these little tiny, weird things where you're like oh, this isn't my mom anymore.

Chris: Yeah.

Karen: No one's holding down the fort.

Chris: It's -- it's… it's like watching someone slowly devolve like almost back into a child, in a way.

Karen: I had a friend who was like "How is everything with your mom? And I went, "You know what it's like?" I said, "It's like the movie Jaws except that the shark is like way far away and you just have to wait for the shark to come. So you know it's coming and you're just fucking treading water and you're freaked out and everything you see is making you flinch but it's not there and it's not there. And after a while you just want the fucking shark to come. After a while you're rooting for the shark because you can't take the real time, 24/7 horror show of life suspense anymore. You just want it to be over.

Chris: You want -- because it's like they're stripped completely of their dignity.

Karen: Yeah.

Chris: Completely of all their faculties. And you're like please, just make it stop. It's a cruel disease because there's no solution to it and it'll drag on for 10… I think the average, once you get it, I think the average lifespan is like 10 years. But sometimes it's 12. Sometimes it's 20.

Karen: My mom's was 12.

Chris: Yeah, that's such a cruel death. What was it like? Were there moments when, you know, the shark's coming . . . [Laughs] But you're like oh, there she is. That's my mom again.

We've talked about this before. It's like one of the toughest things that once they, you know, become sick they'll have these flashes of themselves when they're totally lucid. What were those moments for you and your mom?

Karen: I mean… Here's the worst one, and I'll definitely cry as I tell you this. My sister was putting her to bed one night, or like one evening… She would do these weird things. It was the sun downing thing where she would get real anxious around 7, and she would always say she wanted to take a nap. And then you'd take her upstairs to take a nap, and then she'd start fighting you like a child that doesn't want to go to bed. Which is like sickening to me with the way my mother is and was. She was just so not like that. It was like she would never even tell you if she was going to take a nap; it would just be none of your business and the door would shut. You know what I mean? Like, it wasn't a thing.

So anyway, my sister was helping her get into bed and then my mom was like, "I don't want to go to bed!" and doing this weird stuff and my sister started crying and it was like -- screamed at her and said something mean. And my mom grabbed my sister's arm and looked her in the eye and they're staring at each other and she goes, "You do know I love both of you, don't you?"

Chris: Oh my gosh.

Karen: And my sister was like -- she had been gone. She hadn't been coming back anymore. We were way past that point. So that like -- that idea that you could talk to any real part of my mom was so gone and it was like she came back to make up for all the horrible, you know, like . . . she said shit like -- she told everybody at Easter, uh, that she never wanted to have kids. [Laughs]

Chris: [Laughs]

Karen: Which is so -- it was like, as everyone's quietly talking in the kitchen.

Chris: Yeah.

Karen: So there's like 30 people in the kitchen, and it just, you know… the 20-minute conversational lull hits and it gets a little bit quiet. And you hear my mom across the room, "Well, I never even wanted kids." And she's talking to my three aunts and all my aunts start talking at once like they can cover it up, do you know what I mean?

Chris: Yeah.

Karen: Like they're going to be able to mute what just happened. So there was like -- there was so much shittiness that was unintentional and that was the disease and that was her -- her bad past, you know? It wasn't really about us. It was about her kind of old damage. But then she still fucking broke through, you know, at the eleventh hour just to grab my sister's arm. And it was like my sister told me that and I like thought I was going to have a nervous breakdown, it was so… I mean it meant so much, you know?

Chris: It's such a beautiful thing and I think that -- it's like a double-edged sword because part of it is so difficult because you see them and you're like, "Oh, there she is again. That's mom."

Karen: Yes.

Chris: And then it's like it's never going to happen again. But then you hold onto those and that'll keep you going for a week.

Karen: Yes.

Chris: Or like a month.

Karen: Yeah.

Chris: And those are the moments we really remember.

Karen: I think the thing that was harder for me than her coming back every once in a while was -- I don't know if you had this or we ever talked about this -- I used to have dreams that she was normal all the time. And we'd just be standing around and she would be totally normal. And then I'd be like, "You don't have Alzheimer's; you're fine." And she'd be like, "Quiet, quiet. Shh, shh." And like . . . [Laughs]

Chris: Like it was an inside joke? Like a long…

Karen: Yeah, she was tricking people or something. And I'd be like, "You can't do this. You've upset everyone so much." And just recurring I would say twice-weekly dreams that my mom was normal and hiding. Those were the worst to me because I would wake up just being like, "Wait, that's not real right? Okay."

Chris: And then you know -- you know what's so wild to me Karen? Is that -- okay, you . . . we're talking about death here and you constantly talk about death.

Karen: Yeah.

Chris: On your podcast.

Karen: Yeah.

Chris: My Favorite Murder -- like in grisly detail and the first episode came out four days after your mother passed away.

Karen: Is that right?

Chris: Is that right?

Karen: [Laughs]

Chris: Jinx.

Karen: Um, Jan -- my mom died, uh, January 12th, 2016 so yeah.

Chris: I tried to go back and listen to episodes around that time of My Favorite Murder to see if you were affected at all and I was like I think Karen maybe is a murderer.

Karen: [Laughs]

Chris: I cannot tell. She is not affected by this at all. She is ice-cold. She is playing it off really well. What was that like? Is that -- did that feel crazy to talk about death so much right after your mom had died?

Karen: Well it didn't for a couple reasons. One was because I got into therapy, thank fucking god, around 2003 I think it was. So I was processing. And my mom and I didn't get along great, um, in our previous relationship. So it wasn't like this thing where it was like the great . . . I mean she was a great mom but she and I had interpersonal problems that we never solved and we never got a chance to solve. Um, that's a hard thing to say. But the . . . so I was in therapy just dealing almost like with my therapist about the problems that I had with her because I knew I would never be able to deal with her, uh, or talk to her about them or apologize or any of that. [Crying] But that was so consistent, and I mean I really… I really worked on that part of the guilt and the… I think that part can really kill you if you… I think a lot of people talk about Alzheimer's and dealing with it with their parents from this like, "They were the best and now it's so sad and now they died and it was also great." But if you have any kind of an issue with that parent there is like -- There's already so much guilt and then you have even more because you're like I wasted time and I was selfish and I did what I wanted and all of these things. I try to think of the things that she was yelling at me during those fights. I was so convinced she wasn't hearing me that I never listened to anything she said. And so now I hear -- you know, she was always just trying to tell me, "Get health insurance." [Laughs] It was really basic shit. It was like call your family. Make sure they know you care about them. Like -- Show up for things. Like stop being so selfish. And I just tried to, instead of thinking of it as the problem between she and I, um, I tried to think of it as like this is -- this was advice I was refusing to acknowledge I needed and now I can acknowledge I definitely need it and I need it every day.

Chris: Yeah.

Karen: And just try to pull that back in so there's no… because I know for a fact, and I bet you this is true for your dad too, they would not want us to be sitting here like, you know, flogging ourselves for the failures of the relationship. Because that's every parent/child relationship.

Chris: Yeah.

Karen: That's the definition of, you know, nobody gets out unscathed in a parent/child relationship, and especially mother/daughters. It's tough. It's really tough. So I know that she, wherever she is, I'm positive she [Laughs] watches me. I'm positive she has an effect on my life to this day and I know that she was so not about guilt. She was like -- she would say it all the time in normal life where it'd be like nope, don't even. That's not -- that's not your problem. Or don't live like that. Life is short and you have to be the happiest you can be all the time.
Chris: We're going to take a quick break. More with Karen Kilgariff in a minute.
>>>>>MIDROLL<<<<<
Chris: Are you and your sister, um, do you guys share a lot emotionally? Have you always?

Karen: Yes. We always -- we always have. It's different now because now it's the best it's ever been. We talk to each other pretty much every day, um, and she's my best friend. And -- but during my mom being sick there was… there was just so much tension and there's so much anxiety and there was so much. // Um, there was just so much to manage at one time, and as… we lost my mom more and more we would tell each other.

Like the first time I had the experience where I was trying to put mom to bed and she fought me and I yelled at her and then I scared her and she kind of went like, "I'm sorry. I'm sorry," and apologized to me, and then I couldn't stop crying because it was so awful. [Laughs] This -- this is like gallows humor, like crazy. But, um, so one night my sister came to get me and that had happened and it was really bad and I had to tell my sister because I felt like I'd done that so badly and that was like I yelled at our sick mom and like what's wrong with me? [Laughs] And my sister goes, "Are you fucking kidding me? I do it every time." And I was like, "Wait, what?" She goes, "She drives you crazy. Of course you yell at her." And I was like oh my, like I felt -- I felt like I was like borderline elder abuse, how mad I got.

Chris: Yeah.

Karen: And she goes, "Yeah, she makes you that mad. That -- that's what we're all doing all the time." Then I go -- I said, in the middle of really bad sobbing, I just go, "I just want her to die." I said it so dramatically of like, "Can you believe I'm even saying this?" And my sister goes ,"Oh please, you don't think I don't think about spiking her shit with Abilify every time I go over there?"

Chris: [Laughs]

Karen: Because remember that Abilify commercial where they're like, "It could cause death in Alzheimer's patients."

Chris: Yeah.

Karen: It's like my sister had already made a plan of like how she could actually end this fucking horror show. In the middle of crying she said that and we both were laughing so hard where it's like this is a nightmare.

Chris: [Laughs]

Karen: We are in a fucking nightmare and we're just reacting like normal, fucked-up people that have been thrown in a nightmare with no training or preparation or anything, I think.

Chris: You know, funny thing. You know, my dad's kind of the cornerstone of my stand-up set and he always has.

Karen: Yes.

Chris: Like even when I first started 13 years ago I would talk about my dad.

Karen: Of course.

Chris: And then he died. And then I was like, "I don't want to talk about him anymore for a second."

Karen: We can't just keep on talking about it!

Chris: Come on, I know he's my thing! But like -- Did you talk about your mom in your stand-up at all?

Karen: You know what's funny? I tried -- Um, I was the head writer at the Ellen DeGeneres show from 2003 to 2008 and I did not do stand-up comedy in that time. I tried to do it a couple times in the very beginning at Largo. And I went back there one time after one of the first visits home where there was moldy bread and there was, you know, sunglasses in the freezer and all the really upsetting things and I tried to do a stand-up set about it. And my favorite joke that I wrote about it was I was like -- when I found the moldy bread I was like, "Are you guys going to make food for ghosts? Because everything in here is old and rotten." And you could've heard a pin drop. The audience was horrified. It wasn't funny enough to where… it clearly wasn't processed.

Chris: Yeah.

Karen: And it was one of the worst sets I've ever had. And at the end -- this was the thing. Greg used to, when he was on the show, he would always go last and he would do his whole set making fun of everybody else's set.

Chris: Yeah.

Karen: It was one of my favorite things. And that night he skipped me and I was so angry at him and I was so bummed out and I was like I did as bad as I thought I did. And I went up to him after the show and I was like, "Was my set really that bad that you had to skip me?" And he grabbed my arm and goes, "It was so sad." And then I was like, "Oh fuck. Like I don't even know where I am right now. I don't know what I'm saying. I don't know why I'm saying it. I'm in a complete panic and this isn't funny."

Chris: Yeah.

Karen: This is the breakdown of my family. So I just went to work and stopped performing and basically for the next five years just was a TV producer and writer essentially and got out of it. And then when I left that show I started doing all kinds of stuff again. I was doing stand-up and I was doing music and I was doing all kinds of things. And I actually wrote up a story version of that night that my mom took the wrong exit.

Chris: Yeah.

Karen: And it actually came out amazing where it was that kind of thing where I'm like, "I need to express this sadness accurately and honestly and not try to put this veneer of comedy on it because that's not how I feel about it.

Chris: Yeah.

Karen: And that's also why the first time I saw you do it I adored it and admired it so much because it was simultaneously sincere and pained but hilarious at the same time. Like you did the thing that I think I was either too close or I just didn't -- I didn't give it the kind of real thought that it needed and worked it out. But it was the thing that I could not bring myself to do.

Chris: Wow, well thank you for saying that. Um, so you're Irish. I'm Cuban. Um, is your family Catholic? My family kind of pretended to be Catholic.

Karen: My family's all the way Catholic.

Chris: Oh, okay.

Karen: Yeah.

Chris: Um, has your relationship with religion or Catholicism changed since your mom died?

Karen: I wouldn't say Catholicism. Um, but when my mom died, there was a priest who, um, did her service. I might start crying again. Because he was so great. And when we first went to meet with him after she died, my dad and I went together, and I couldn't… I was like we'll just get through this. We'll talk about the basics, who the piano player is going to be, and da, da, da. I was trying to pretend it was just going to be this, like, to-do list. I walk into the rectory, immediately start crying, and I can't stop crying.

And I'm like -- and my family is very much like crying isn't -- isn't looked well upon in my family anyway and I just couldn't stop. And it was like we had gotten to this finish line that for a long time I thought I wanted to be across. Now that I was across it was horrible. And it was just emotional.

And his name is Father Lombardi. Such a great man. Such a perfect person to talk to in this time. And I just -- I like… at one point I said all right, I just can't. Ugh, whatever. And he said "No, the crying is the unexpressed love that you still have for that person." And then I was just like, "Are you trying to make me cry more?"

Chris: [Laughs]

Karen: But it was the perfect like -- there's a reason you're having these emotional reactions.

Chris: Yeah.

Karen: And you're supposed to. They're allowed and they're good and this is an awful, terrible thing that you have to… you have to express yourself about and you have to, you know, break down and cry about. Then we had this funeral for my mom where the church was full. There were so many people there that -- people I hadn't seen in years. My friend from grammar school, Janet Nielsen, her mom Gayle showed up and I had one of those moments. Gayle used to drive us to the roller skating rink. You know what I mean? She was like a Petaluma mom.

Chris: Yeah. [Laughs]

Karen: But I hadn't seen her in 15 years probably, and we were all standing up at the front of the church and I turned around because I heard like one of my uncles or something. And there was Gayle Nielsen standing there, like all of a sudden I was eight years old again, and I lost my shit. And she just grabbed me up and held me for like ten minutes and it was one of those things of like this is… this is… these moments of life that are so hard are also really beautiful. Like the contrast comes in and it is unbelievable. You don't want to be there and then another thing comes in and it's like I've never loved Gayle Nielsen more and it was like she was my mom, you know what I mean? She was there representing mom's.

Chris: Yeah.

Karen: I got to give the eulogy, um, which meant a lot to me. And I got to remind everybody right before it was over that my mom hated Ronald Reagan.

Chris: [Laughs]

Karen: And that that was the one message she would want me to leave them with, and the entire church exploded, It truly did feel like a celebration of her life.

Chris: Oh, that's so beautiful Karen.

Karen: Yeah.

Chris: That's so great.

Karen: It was good.

Chris: Uh, thank you so much for sharing your mom with us and with me.

Karen: Love to.

Chris: What a bad-ass.

Karen: [Laughs] She lived up. She lived up. Well, also I do love that this is the way you and I kind of got to know each other.

Chris: We're part of this club that no one wants to be in.

Karen: Yeah.

Chris: And we get to talk about it. [Laughs]

Karen: Never get into this club.

Chris: Well thank you so much for sharing everything, uh, with me today. I've always looked up to you in such a -- I feel like we both, you know, are comedians that started in San Francisco and you are a Mount Rushmore comedian to me.

Karen: Thank you so much.

Chris: Yeah. You're the best.

Karen: Thanks.
Chris: Karen co-hosts My Favorite Murder, and also has another great podcast called "Do You Need a Ride."
And that's a wrap on Scattered. Again, thank you for listening.
And special thanks to Jeremy Bloom and Megan Cunnane for their help on this episode.
Our theme song is "Please Won't Please" by Helado Negro courtesy of Revenge International.