Who Killed Conscious Rap? Find Out on 'The Stakes'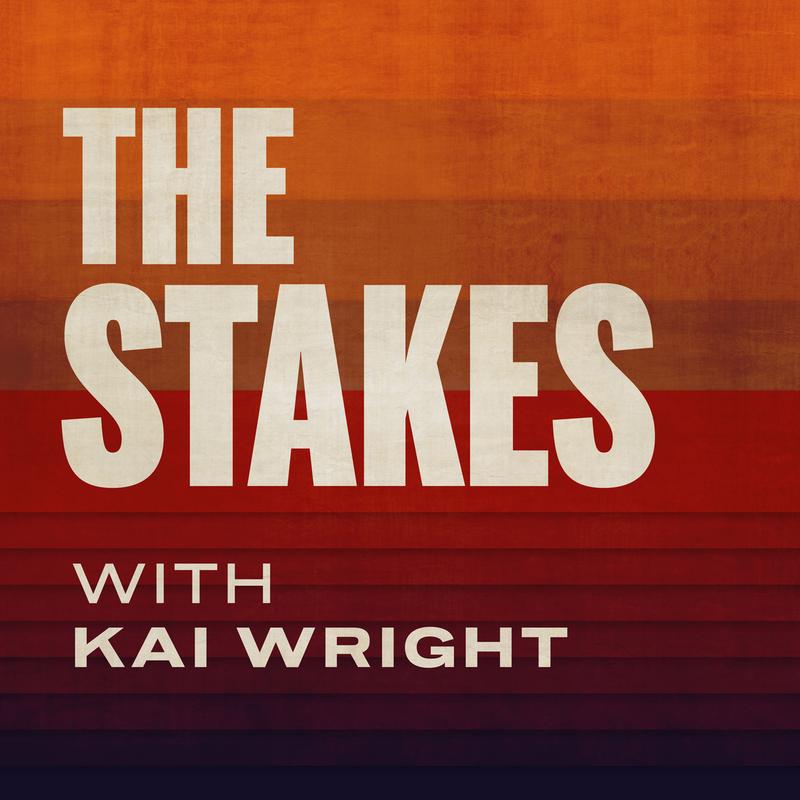 Transcript
KAI WRIGHT: Hey everybody: if you're loving this show - and I hope that you are - do us a favor. Go rate it wherever you're listening on your poDANast app. And then also sign up for the newsletter. You can go to thestakespoDANast.org, and get on the list.
I'm Kai Wright and these are The Stakes.
In this episode: Black is back.
CHRISTOPHER JOHNSON: So - Kai Wright.
KAI: Christopher Johnson.
CHRISTOPHER: Did you - where did you grow up?
KAI: I grew up in Indianapolis.
CHRISTOPHER: Did you get into hip hop when you were a kid?
KAI: I did. I mean I wasn't like one of those heads. You know? Like, I wasn't like steeped in any music. I just remember the Fat Boys. I could say that was the first like group I was like, Yeah - "Fat Boys are back!"
[MUSIC: The Fat Boys, "The Fat Boys Are Back"]
CHRISTOPHER: I've never heard anyone say Fat Boys was there like entree into hip hop. I'm not knocking it. That's just different.
KAI: That's just - it may have been because I was young, and they were silly and fun you know and like...
CHRISTOPHER: And do you remember when you started getting into hip hop that was maybe a little more serious, political...?
KAI: A little more advanced?
CHRISTOPHER: Well not advanced - just, different.
KAI: I Mean - it's Public Enemy. And you're like, whoa.
[MUSIC: Public Enemy, "Black Steel in the Hour of Chaos": "I got a letter from the government the other day. I opened and read it, it said they were suckers. They wanted me for the army or whatever. Picture me giving a damn. I said, never."]
CHRISTOPHER: What was it about - especially about Public Enemy's music, and their style or whatever - that drew you in?
KAI: I mean they had this stuff to say, you know? And I was of an age you know like - what do I have to say, what do I think of the world, you know? Like, you're sort of right at that point where, you know, your parents have shaped your worldview, you know. I was going to white schools. They had put me in these white schools to go get the resources, you know. And so I was had been experiencing this stuff around race my whole life. And here was people who were like having a conversation about it. I don't know, it hit right at the right age for me where I sucked it up.
CHRISTOPHER: Yeah, you and me both, man. And then you had A Tribe called Quest and Jungle Brothers, and De La Soul - this black bohemia, invoking black pride and Africa, aka The Motherland.
And all of these groups were part of this music movement that came to be known as "conscious rap."
KAI: Right, and looking back at that time, I wonder where it came from. Because the thing is, it really was really important to me. As a young black person trying to figure out the world, this music was a big part of how I did that, and developed this sense of being pride in blackness as a political identity. And I wonder how that happened.
CHRISTOPHER: You know, it's a good question. I was actually wondering the same thing. I mean, of course there's definitely political and social consciousness in rap music today.
And then when the rapper Nipsey Hussle was killed - his death seemed to reignite this ongoing conversation about gun violence, especially in black and brown communities.
But this era - the one that we're talking about now - this was the first big wave, right? It felt like it was from the streets, and it was dealing with what our communities were really going through.
And so what I want to know was, where did that consciousness in conscious rap come from, and where the hell did it go?
CHRISTOPHER: So you know what I did, right?
KAI: What?
CHRISTOPHER: I called up Kool Moe Dee.
KAI: Shut up!
KOOL MOE DEE: Mic check, one, two. Kool Moe Dee. I was born a Leo!
CHRISTOPHER: You hear folks talk about old school rap. Well, Kool Moe Dee started rhyming - in 1977. This is when hip hop was still this punkish, insular party and art scene in New York's underground.
KOOL MOE DEE: I come from a school of hip hop where it's literally two turntables and microphones and no routines or whatever ahead of time, so you really had to earn your audience.
CHRISTOPHER: But hip hop is street music.
KAI: Right, so rappers were bound to start talking about what was happening in their neighborhoods, on the streets.
CHRISTOPHER: Exactly, and in the early 1980s, hip hop started zooming in on social problems. Like the rest of the country, New York was crawling out of two national recessions. There was a double-digit spike in unemployment. At one point, nearly 1 in 5 black New Yorkers was jobless.
And then 1982, here comes Grandmaster Flash and The Furious Five with their classic, "The Message".
[MUSIC - Grandmaster Flash and The Furious Five, "The Message": "Got a bum education, double-digit inflation. Can't take a train to the job - there's a strike at the station."]
KOOL MOE DEE: I think that was the first time we even saw hip hop outside in a space that was just partying. So, starting to talk about things in the neighborhood was something that was bubbling, but it wasn't a lot of pop success with that.
CHRISTOPHER: And then, in 1988, Public Enemy dropped their second album, "It Takes A Nation Of Millions To Hold Us Back". This is considered one of the greatest rap records ever. Militant, pro-black, anti-crack hip hop. Peak conscious rap.
[MUSIC - Public Enemy, "Bring the Noise": "Black is back, all in, we're gonna win, check it out (yeah y'all, cmon!) - here we go again. Bring the noise!"]
KOOL MOE DEE: Once everybody saw that it could be successful, then it became the best of both worlds: you could have the pop and commercial success, and still talk something conscious. So, if you were a valid artist, you would have to have something that dealt with some kind of consciousness.
KAI: And there was a lot to be conscious about. I mean, this was the mid 1980s, crack cocaine is raging. There's all the addiction, there's all the war on drugs that's coming out of that, and death, and everything in its wake.
CHRISTOPHER: Yeah, so - I went looking for a test case. I went looking for this time when hip hop artists answered a call to action. When they used their art and their voices to push for social change. I found that moment.
So this is 1988 - Kool Moe Dee goes on this big tour.
KOOL MOE DEE: It was called the Dope Jam Tour. And it was headlined by myself, Rakim, and Doug E. Fresh.
CHRISTOPHER: Biz Markie performed at Dope Jam. So did KRS One, Ice T, Big Daddy Kane - all artists who either were or would soon become some of the biggest names in rap music.
KOOL MOE DEE: We literally were having, I could say, kid in a candy store kind of fun - laughing and telling each other what we loved about each other. So it was that kind of summer.
FAB 5 FREDDY (Yo! MTV Raps): Yo! Fab 5 Freddy. We're up in the Yo! MTV Raps. I got a mega posse chillin with me right now.
CHRISTOPHER: Dope Jam makes its last stop on Saturday, September 10. And it's booked at an arena about 25, 30 miles east of Manhattan.
FAB 5 FREDDY (Yo! MTV Raps): We're getting ready to go into Nassau Coliseum, where the Dope Jam Tour is getting ready to get cold in effect.
CHRISTOPHER: Hip hoppers came from all over New York for Dope Jam. Ann Carli was one of them. As an executive for Jive Records, Ann went to a lot of hip hop shows. She knew this crowd - mostly black and Latino, young, and mad stylish.
ANN CARLI: People dressed up. You wore your best clothes. You wore your Cazal glasses and, you know, your best coat, and your gold chain and everything like that.
CHRISTOPHER: As Ann headed into the coliseum, she started to get her first sense of what this night was about to turn into.
ANN: I saw a bunch of older guys that I was pretty sure weren't fans. And I actually said to my two colleagues, "something's off here. You guys be careful."
Ten THOUSAND heads packed this coliseum. And right when the show was really getting hot, Kool Moe Dee - who's sort of backstage, you know?, but he can still see the crowd - he sees these fights breaking out all over the coliseum.
KOOL MOE DEE: There's a posse of guys running around snatching chains, literally scoping and looking and tapping each other and saying, "there's a girl by herself right there. We're gonna go take her pocketbook," and, you know, do what they're going to do. So, that's where - the violence started very early in the night.
DEAN JONES: One guy saw me with my gold on. He reached for my bracelet, so when he grabbed me I turned around and grabbed him.
CHRISTOPHER: A fan later told a film crew about the madness that went down that night.
DEAN JONES: Once I grabbed him, a whole crowd rushed behind me. It was just bodies flying at me. And I didn't realize I was stabbed until it was all over. But by this time, my bracelet was gone, three chains were gone, my gold watch was gone. When I go to the first aid office, it's crowded - you know? - full of people who'd been stabbed, and cut.
CHRISTOPHER: Ann Carli ran for cover.
ANN: I ended up with Doug E. Fresh's mom and grandmother, and we were kind of hiding underneath some folded up bleachers, trying to to wait until things kind of calm down and cleared out.
CHRISTOPHER: By the end of the show, a dozen people had been injured. The worsT part of this: a 19 year-old Bronx kid was stabbed in the heart and killed.
KOOL MOE DEE: I did hear that someone died that night. And I'm like, wow. To go to a concert and lose your life is absolutely ridiculous.
CHRISTOPHER: Just to put this in a little bit of context: in 1988 - this is the same year as the Dope Jam Tour - nearly 1900 people were killed in the New York.
Special News Report - Neighborhoods Under Siege: 7 innocent people were injured in an August gun battle involving M16s.
KAI: And it's also the end of the Reagan era, and that means with the war on drugs you've got this hyper-militarization of black neighborhoods, and the cracking of skulls, and all of that, and people are really feeling that. And at the same time, the wealth gap that we're familiar with now - this is where it really started taking off. That we have started to see this split in the American economy, and conspicuous consumption is back, it's in because everybody tries to look like rich people.
CHRISTOPHER: Exactly. And for a group artists and industry people, that Coliseum show and the way that the press covered it - this was the last straw.
Kurt Loder, MTV News - The Week In Rock: First, let's take a look at the news. The most disturbing story of the week was actually a recurring one: the alleged cause and effect connection between rap music and concert violence.
CHRISTOPHER: One of the guys who was at Dope Jam - he's reading the coverage, and he is fuming.
NELSON GEORGE: My name is Nelson George. I'm a writer and a filmmaker.
Nelson was the black music editor for Billboard magazine.
NELSON: This particular incident really, really irked me, and I remember the coverage of it really got me. I just remember calling a few people, thinking maybe there's a way to do something about it. I remember speaking with Ann Carli.
ANN: Nelson called me up and said, "can you believe these headlines are blaming the music?" And I said, "Nelson, I was there,"And so we thought, "what can we do?" Because it's not the music. The fans didn't just erupt into violence by the music.
CHRISTOPHER: Nelson wanted to set the record straight. "It was time for rappers to define the problem," he would later write, "and defend themselves."
NELSON: How do we organize a community of hip hop to do a couple of things: you know, counteract the media narrative that rap equated to violence. Speak about the criminal element at rap shows and not to criminalize the entire audience, which is what was happening.
CHRISTOPHER: So Nelson and Ann started recruiting a small, influential group of industry people. They huddled at Ann's office in a New York City brownstone.
ANN: You know, that first meeting, we didn't have enough chairs! So people were just sitting on the floor and - you know - and talking.
CHRISTOPHER: They called themselves The Stop The Violence Movement. And their goal was to use rap's growing influence and celebrity to try to counteract some of this violence. And the group actually got inspiration from a pop song.
[MUSIC - Lionel Richie, "We Are the World": "There comes a time, when we heed a certain call…"]
CHRISTOPHER: "We Are The World" had come out just a few years earlier. It features some of the biggest artists of the era, in chorus, on a charity record.
[MUSIC - Michael Jackson, "We Are the World": "We are the world, we are the children…"]
CHRISTOPHER: Nelson, Ann Carli and the rest of their organization decided they would make a "We Are The World" for hip hop. It would be an all-star track featuring rap's leading voices sending a unified message both to fans, and to critics.
NELSON: There was no precedent really for something like this. Certainly not in hip hop. There wasn't a track record of these kind of records being made, especially one that had so many artists and different groups.
ANN: There were people that I called in the industry who said, forget about it, you're never gonna be able to get this done. It's never gonna work out. Rappers? forget about it.
CHRISTOPHER: But the skeptics were wroNELSON: this project took off. Everybody wanted in. Some of the biggest, most popular names in rap got on board. Including KRS One. He was a key member of the Stop The Violence Movement, and he laid down the song's first verse.
[MUSIC - KRS One, "Self-Destruction": "Well today's topic - self destruction. It really aint the rap audience that's buggin. It's one or 2 suckers - ignorant brothers - trying to rob and steal from one another."]
CHRISTOPHER: They called the song "Self Destruction". It was a who's who of late 80s rap. You remember Doug E. Fresh. MC Lyte, Chuck D.
[MUSIC - Kool Moe Dee, "Self-Destruction": "Took a brother's life with a knife, as his wife cried…"]
CHRISTOPHER: And, Kool Moe Dee. He dropped probably the most iconic verse on this song.
[MUSIC - Kool Moe Dee, "Self-Destruction": "Back in the 60s our brothers and sisters were hanged - How could you gangbang? I never ever ran from the Ku Klux Klan, and I shouldn't have to run for a black man."]
KOOL MOE DEE: So when I said, "back in the 60s our brothers and sisters were hanged - How can you gangbang? I never ever ran from the Ku Klux Klan. I shouldn't have to run for a black man." It seemed like it was very very poignant, in terms of the irony of having to band together - because of the Klan - to band together, and now we're running from each other is ridiculous to me.
NELSON: So when I look back on it, I think it's an amazing testament to the openness of so many artists to participate. There was a sense of - hip hop had a role in talking about what was going on. And hip hop also kind of speaking up for itself about what was going on in the community and what the role of the culture was in that.
KAI: And as I recall, this song had some critics, too, though, right? I mean, not everybody liked it.
CHRISTOPHER: Absolutely. I mean, some folks argued that it promoted the idea of "black on black crime" - basically, blaming black folks for the violence and the neglect in their communities, without a real mention of structural racism.
KAI: Which is a fair point.
CHRISTOPHER: Yeah, and Nelson accepts that point, he accepts feedback, but he still sees something bigger.
NELSON: I feel like it set a certain example for what the possibilities of hip hop were. And you know it didn't change the world. It didn't stop crack from being sold. It didn't stop guys people from trying to rob people at rap concerts. But it was a statement about intention that needed to be made about what this culture could be at its best. And I think it did that.
CHRISTOPHER: And from about this point, there's a real blossoming of conscious hip hop - from artists like KRS One, like Public Enemy.
KAI: And there was X Clan, for instance, which just was the truth. And I can remember like that being a space where I could just be like, black pride - that's what I'm doing.
[MUSIC - X Clan, "Grand Verbalizer, What Time is it": "African, very African. Come and step in Brother's temple, see what's happenin. Then taste the bass flow, comin from a zero."]
CHRISTOPHER: You know this culture just became saturated with all of these different expressions of Pan Africanism, black pride.
[MUSIC - Public Enemy, "Fight the Power": "Our freedom of speech is freedom or death…"]
CHRISTOPHER: And, black empowerment.
[MUSIC - Public Enemy, "Fight the Power": "(chorus) Fight the power! Fight the power!"]
CHRISTOPHER: All right, so - back to my question: if conscious rap was so influential it was so rich and so powerful, then how come it only lasted about six years - to like 1993?
[MUSIC - Da Lench Mob, "Rollin wit The Lench Mob": "Some say the Mob aint positive. Man, f___ that s___, cuz I gots to live."]
NELSON: Wll, you know what Ice Cube said: "'Self Destruction' doesn't pay the damn rent or f'in rent."
[MUSIC - Da Lench Mob, "Rollin wit The Lench Mob": "Some rappers are heaven sent. But 'Self Destruction' don't pay the f____ rent."]
KAI: After the break Ice Cube.
CHRISTOPHER: Unfortunately no.
KAI: Well, sort of! We can talk about Ice Cube.
CHRISTOPHER: We can. We're going to talk about Ice tea, that's for sure.
KAI: Sorry!
Get your drinks straight man.
KAI: Either way, we'll be back.
MIDROLL
CHRISTOPHER: So to figure out what happened to this first generation of conscious rap music, I called up this guy Dan Charnas.
KAI: One of the most well respected scholars of hip hop.
CMJ: Absolutely. So Dan was at the table when some important decisions about hip hop's fate were being made. And when we talked, I put the question to him point blank.
KAI: And what'd he say?
DAN CHARNAS: What happened - starting at around 93 and 94 - was the beginning of real mainstreaming of hip hop.
CHRISTOPHER: There are two MAJOR radio stations - Power 106 in L-A.
Power 106 air check: "We have a liftoff! Power 106. Oh, it's go time."
CHRISTOPHER: And Hot 97 in New York.
Hot 97 air check: "The hot 97 summer mix weekend. We're in the mix. Keep your radios locked, or listen on the where hip hop lives at."
CHRISTOPHER: Both are owned by the same company - and that company decided in the early 90s to make them "all hip hop, all the time." And at first, the music is pretty diverse.
DAN: But the stuff that succeeds is the stuff that really conforms to this kind of upwardly mobile, aspirational, capitalist theme. And because now major labels are involved, the search for the different stuff becomes sublimated to the search for the same stuff.
KAI: So what he's talking about really is - this is an example of the way space just in general is narrowing for different kinds of rap because it's getting commodified.
CHRISTOPHER: Exactly. And there's another part of this conscious rap story, too. It goes back to 1991. It's an event that most folks just refer to as "Rodney King."
KAI: Yeah.
ABC News: The 3 police officers facing felony criminal charges were among a group of 15 who stopped a 25 year-old black man last Saturday night, then beat him, kicked him, clubbed him, unaware that an amateur photographer was recording the incident on videotape.
KAI: You cannot overstate the emotion of this moment for black people. Today we're used to seeing these videos of the awful police violence. But I think this was the first. It's certainly the first in my memory.
CHRISTOPHER: Same.
KAI: It looks sadistic.
CHRISTOPHER: It's painful to watch.
KAI: It confirmed everything that people on the street have been saying about how cops were just showing up in our neighborhoods like a band of thugs. And especially the LAPD.
CHRISTOPHER: Like an occupying force.
KAI: Like an occupying force. And then they get away with it. Like, a year later, they get away with it. They're acquitted, And LA explodes.
KABC reporter: As the number swelled, they suddenly - about a half an hour ago - just got more militant, and started burning things and started advancing. And as I said they regrouped to the back, all together with that big knot of people - I would say at least a thousand people here now.
CHRISTOPHER: And then, not long after the LA riots, this big controversy erupts over a song. Not a rap song, but the fall out would have these big implications for conscious rap music.
DAN: In 1992, in the middle of the presidential election, a police union publication in Dallas, Texas - a writer there found a tape of Ice T's heavy metal group Body Count.
CHRISTOPHER: This is Ice T the rap star, from Los Angeles. He and a bunch of his friends had formed this metal band, and they put out this song called "Cop Killer".
KAI: Right!
CHRISTOPHER: "Cop Killer" mentions Rodney King. It mentions Daryl Gates, who was LA's police chief at the time. You remember this song.
KAI: Very much.
CMJ: What do you remember about it?
KAI: This blew up the world. White people were angry.
CHRISTOPHER: Especially cops.
KAI: And white people in general.
[MUSIC - Body Count, "Cop Killer": "I'm a cop killer. Better you than me."]
DAN: And this was a Warner Brothers/Time Warner product. So the editor writer listens to this song, and writes a piece about it, transcribes the lyrics. And also notes that Time Warner not only owns Warner Brothers Records and Warner Brothers Pictures, but they also own local cable companies all over the country, and Texas.
CHRISTOPHER: So police across Texas join forces, and launch a boycott of all things Time Warner.
DAN: And they're soon joined by police unions all over the country, and that leads to a nationwide outcry of these sort of more socially conservative forces against Time Warner. "How could Time Warner be encouraging this kind of violence against police?"
CHRISTOPHER: And Dan says, because of Rodney King, police across the US were on the defensive.
DAN: And so this, they saw, as a chance to sort of get the moral upper hand. You know, how police are the victims, police are being persecuted. And it puts great pressure on the new chair of Time Warner to try to defend this. But very soon it became apparent that the Warner labels were going to be asked to provide a lot more oversight. No more surprises!
CHRISTOPHER: Charnas says this had a real impact on rappers. And especially artists with political lyrics. That's because the rest of the industry is watching. And record labels in general start clamping down on songs that have these anti-policing messages.
KAI: Yeah, you know - it's just a reminder that you can't commodify something and maintain some sort of political consciousness to it. These are just incompatible things.
CHRISTOPHER: We're talking about this time when, I remember personally, when popular rap music was making this shift to a sound that was almost this grotesque materialism. It was obsessed with money, and stuff. Like Ice Cube said - "self destruction" - that is, political rap - "don't pay the f'in rent." There were definitely exceptions, especially in hip hop. That's the way it's gone - it's gone back and forth, it shifts, and especially know because hip hop is a commodity.
But looking back on this era is important because it reminds us of how hip hop can influence the way that young black youth think about themselves as black people.I remember personally, for me, one of my favorite lines was from this Tribe Called Quest song, it's one of Q-Tip's lyrics where he says, "with speed - I'm agile, plus I'm worth your while. 100% intelligent black child." And those kinds of ideas - man, that shaped. us.
KAI: The Stakes is production of WNYC Studios and the newsroom of WNYC. This episode was reported by Christopher Johnson. It was edited by Christopher Werth. Karen Frillmann is our Executive Producer. Cayce Means is our technical director. Jim Schachter is vice president for news at WNYC.
The Stakes team also includes Amanda Aronczyk, Karen Frillmann, Jonna McKone, Jessica Miller, Kaari Pitkin, and Veralyn Williams. With help from Hannis Brown, Jonathan Cabral, Michelle Harris, and you. You can join the team by signing up for our newsletter at TheStakesPodcast.org. You can also hit me up on twitter at kai_wright. Thanks for listening.
MUSIC:
"The Fat Boys Are Back", The Fat Boys Are Back, The Fat Boys
"Black Steel in the Hour of Chaos", It Takes a Nation of Millions to Hold Us Back, Public Enemy
"How Ya Like Me Now", How Ya Like Me Now, Kool Moe Dee
"The Message", The Message, Grandmaster Flash and The Furious Five
"Bring The Noise", It Takes a Nation of Millions to Hold Us Back, Public Enemy
"We Are The World", We Are The World, USA For Africa
"Self-Destruction", The Stop the Violence Movement
"Grand Verbalizer, What Time Is It?", To The East, BlacKAIards, X-Clan
"Fight the Power", Fear of a Black Planet, Public Enemy
Lench Mob
"Cop Killer", Body Count, Body Count
Music Credits:
"Aynotechesh Yererfu" by The Budos Band
,
"The Fat Boys Are Back" by The Fat Boys
,
"Black Steel in the Hour of Chaos" by Public Enemy
,
"How Ya Like Me Now" by Kool Moe Dee
,
"The Message" by Grandmaster Flash and The Furious Five
,
"Bring The Noise" by Public Enemy
,
"All Good Funk Alliance" by Take It Off (Instrumental)
,
"Take it Easy" by Druu
,
"Workin' Crew" by Druu
,
"We Are The World" by USA For Africa
,
"Self-Destruction" by The Stop the Violence Movement
,
"Grand Verbalizer, What Time Is It?" by X-Clan
,
"Fight the Power" by Public Enemy
,
"Rollin' Wit The Lench Mob" by Ice Cube
,
"Zeros" by Hannis Brown
,
"Cop Killer" by Body Count
,
"Swing It" by Paul Avgerinos
,
"Your Thing Is A Drag (Instrumental)" by Sharon Jones & The Dap-Kings