Terrestrials: The Water Walker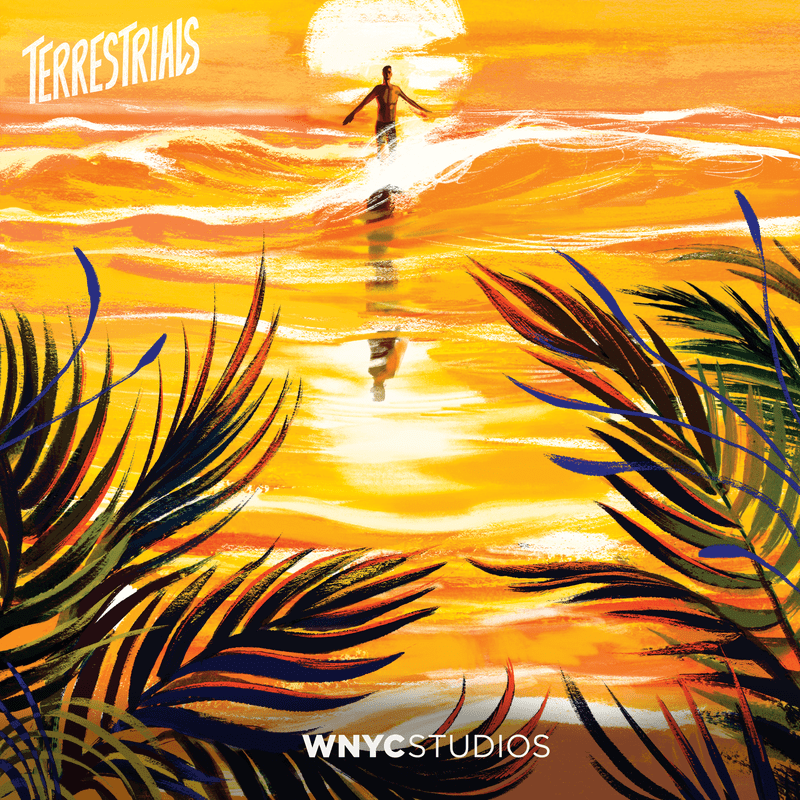 Transcript
LULU MILLER: Three, two, one!
AJ DUNGO: Imagine that you are surrounded by a tropical landscape.
LULU: And you're waist deep in the ocean.
AJ DUNGO: You dive, and you paddle through some extremely warm water.
LULU: And as you do, your biceps grow massive, and your legs start doing a kick that almost no one on the planet knows how to do. And when you come up for air ...
AJ DUNGO: In the distance, you start to see a lump form. It starts to grow bigger and bigger.
LULU: It's a huge wave!
AJ DUNGO: And you're not afraid. So you kick hard.
LULU: And you hoist yourself up onto a huge wooden board and begin paddling toward the massive wave. And at the right moment, you rise out of the water and stand.
AJ DUNGO: It's very surprising. Like, you're sort of harnessing this energy that's been sent out through a storm, like, hundreds of miles away, and you meet it at the perfect moment. And instantly you feel weightless.
LULU: There's wind in your face.
AJ DUNGO: You're just sort of flying.
LULU: You have become ...
AJ DUNGO: Duke Kahanamoku! The father of modern surfing.
LULU: Okay, now is the part where I make you sing the theme song with me.
AJ DUNGO: [laughs]
LULU: You ready?
AJ DUNGO: Okay.
LULU: [singing] "Terrestrials. Terrestrials. We are not the worst we are the ...
AJ DUNGO: Best?
LULU: "Bestrials." Yeah!
AJ DUNGO: [laughs] Perfect!
LULU: Terrestrials is a show where we uncover the strangeness waiting right here on Earth, and sometimes break out into song.
[Theme song: There's so much to discover when you listen close. Terrestrials. Terrestrials. So drop in and surf the crest-rials! Terrestrials. Terrestrials!]
LULU: Good voices not required. I am your host, Lulu Miller, joined as always by my Songbud ...
ALAN GOFFINSKI: What's up?
LULU: ... Alan.
ALAN: What is up?
LULU: [laughs] And today we are telling the story of our only human for this season, Duke Kahanamoku, the man who about a hundred years ago introduced surfing to the world, and in the process gave millions of people stuck on land a new way to escape.
LULU: And I do want to mention that there are parts of today's story that deal with something sad—including someone who died and the feelings of grief that come afterwards. If that isn't something you want to listen to today, just hang on 'til next week for our season finale. And if you are still here, let's meet today's storyteller: AJ Dungo!
AJ DUNGO: That's me.
LULU: He is a skateboarder.
AJ DUNGO: A surfer.
LULU: An illustrator. And he recently wrote a whole comic book.
AJ DUNGO: I did a ton of research.
LULU: A totally true comic book all about Duke.
LULU: Well, before we get going on Duke's story, can I just ask have you ever had any cool animal encounters while surfing?
AJ DUNGO: Oh my goodness. Every time I go out, we see something special. I've seen seals, stingrays, a baby whale.
LULU: Wow!
AJ DUNGO: Dolphins are a huge one. They will ride a wave.
LULU: Hmm.
AJ DUNGO: I've been in situations where I see a whole pod coming straight towards me. The times that it's happened I've ridden with them. And it's so cool ...
LULU: No!
AJ DUNGO: ... they, like ...
LULU: No. No. What?
AJ DUNGO: Yeah!
LULU: Wait. So, like, you're riding, and are they—I'm picturing you, like, in a posse and they're, like, on either side and you're all riding. Is it kind of like that?
AJ DUNGO: It's more like fear driven. Like, I'm trying to get away from them. Like, I don't—I'm just scared that I'll be attacked, or ...
LULU: Okay, I'll change the musical moment there. I was thinking it was like "Ahhhh," but it's like, "Uh, uh, uh, uh."
AJ DUNGO: Yeah.
LULU: Wait, and so—and are they—what do you mean they're riding?
AJ DUNGO: You see their shadow beneath the water, and they come towards you. They'll turn really quickly and exit through the back of the wave. You see them get air. And, you know, as a surfer we're thinking, like, you guys are missing the best part of the wave, and maybe they're thinking you guys are missing the best part of the wave!
LULU: [laughs] Did you grow up loving the water?
AJ DUNGO: No. No, no, not at all. I was terrified. I would just sort of sink. The feeling of starting to swallow water and trying to open your eyes in chlorinated water, and it just burns. It wasn't fun to get out of your comfort zone.
LULU: I mean, How did you finally get past that?
AJ DUNGO: That would be my late partner, Kristen.
LULU: "Late" meaning she got sick and passed away.
AJ DUNGO: We were high school sweethearts. And she was this fearless, confident, beautiful surfer.
LULU: And she didn't stop surfing, even after she had a surgery that made her lose her leg.
AJ DUNGO: I think it was seeing her pick up a board and go out and charge with a smile on her face, and ruin her prosthetic leg in the process. I was like, "Man!" When you're in the presence of someone like that you want to impress them, obviously.
LULU: So he finally put his fear of water aside, hopped onto a surfboard and wobbly tried to stand so that Kristen would think he was cool.
AJ DUNGO: Yeah! [laughs]
LULU: It worked. And when AJ thinks about how they were able to fall in love while standing on surfboards, and then later, how he was later able to get through the worst hurt of his life in losing her, he sees Duke.
AJ DUNGO: Despite time and space there is a connection.
LULU: To understand what he means, we need to go way back over a hundred years ago, to a time when there probably weren't any surfboards in Southern California. We're gonna zoom thousands of miles over the ocean to the island of Oahu in Hawaii. The year is 1890, and the island is a lot quieter than it is now. And a little baby named Duke is born into a big family.
HEATHER KINA'U' PAOA: In the morning through the windows, they'd say "Whooeee!"
LULU: [laughs]
HEATHER KINA'U' PAOA: "Anybody home? "Whooeeee!"
LULU: This ...
HEATHER KINA'U' PAOA: Let's go to the beach!
LULU: ... is Heather ...
HEATHER KINA'U' PAOA: Kin au'u Paoa. Duke Kahanamoku is a great grand uncle to me.
LULU: She grew up with a big framed portrait of Duke hanging on the wall, and hearing stories about him from people who knew him well.
LULU: Do you think Duke was ever afraid of the water?
HEATHER KINA'U' PAOA: [laughs, Ah, no!
LULU: She tells me that from the time Duke was tiny ...
HEATHER KINA'U' PAOA: They lived right on the beach.
LULU: ... his dad and uncle would paddle him out in a canoe and toss him into the waves.
HEATHER KINA'U' PAOA: You know, their playground was the ocean.
AJ DUNGO: I want to read you this passage.
LULU: AJ pulls out something that Duke himself had written.
MAKANI TABURA: "I hardly remember whether I learned how to walk or swim first."
LULU: Reading Duke's words for the rest of this episode is Hawaiian radio host, Makani Tabura.
MAKANI TABURA: "Out of the water, I am nothing."
AJ DUNGO: It's like someone who's so much more comfortable in water than land.
LULU: As a little boy, Duke would bodyboard on flattened kerosene cans.
HEATHER KINA'U' PAOA: Whooeeee! You're always gonna figure out something to do to ride the waves.
LULU: And as he got older, he started using tools to shape massive planks of wood that would help him harness the power of the wave to ride for even longer—and faster!
AJ DUNGO: He had to gather the wood and then he smoothed it out.
HEATHER KINA'U' PAOA: Whooeeee!
LULU: Now Duke by no means invented surfing—it had been around for hundreds of years in Hawaii and in other places.
AJ DUNGO: It could have originated in South America, where people would ride the waves on these little reed boats called caballitos.
LULU: Others say it started in Polynesia or Africa. It's impossible to know for sure when or where the first human realized that by slipping a board beneath them they could stand on water. But by the time Duke appeared, even though surfing was still unknown in most parts of the world, it had become a significant and even spiritual part of Hawaiian culture.
MAKANI TABURA: "Surfing is the greatest thrill of my life. Every day of the year, the water is 70 degrees, day and night. The waves roll high. I take my sled, coast down the face of the big waves that are rolled in at Waikiki."
LULU: But as Duke turned 11 and 12, this sacred part of his life came under threat. Around that time, more and more settlers and tourists were coming to the island, grabbing up land and building strange new hotels and schools. And with them came new laws and rules about how native Hawaiians should live their lives. Some of the people taking power looked down on surfing and tried to discourage it.
AJ DUNGO: They're being told their way of life is incorrect. There has to be an activity for someone to escape, and for him it was surfing and returning to the water.
MAKANI TABURA: "On a board I felt like the boss man."
LULU: Duke himself, put it this way ...
MAKANI TABURA: "I'm in charge when I make the big wave do what I want."
LULU: No one could take surfing from him. And the more he paddled away from life on the island, the bigger his muscles grew, 'til by the time he was 18 ...
AJ DUNGO: He is like six foot, super burly. Like, very athletic looking, muscular.
LULU: And one day he notices a swim race set up in Honolulu Harbor, and figures just for kicks [laughs] that he'll compete. So he hops in line next to a bunch of super burly swim team types, and ...
AJ DUNGO: He blows them away!
LULU: His time breaks a world record!
AJ DUNGO: He blew people away so much so that, like, the governing bodies on the mainland in the States wouldn't accept the record times.
LULU: Why not?
AJ DUNGO: I mean, there was a lot of racism.
HEATHER KINA'U' PAOA: Yes, they didn't believe him.
LULU: Heather and AJ explain that sports officials on the mainland doubted the ability of Hawaiian people to properly keep score. So Duke's friends and family rallied behind him and raised enough money to send him on a boat and on a train out to Pittsburgh where those sports officials could see with their own eyes what he could do.
AJ DUNGO: At first it was a disaster. They actually had to pull him out of the water. His legs cramped up and he almost drowned.
LULU: Oh my gosh!
AJ DUNGO: He was extremely jetlagged. And also, if you picture an indoor pool with everyone around smoking cigars so it's completely filled with smoke.
LULU: Eww!
AJ DUNGO: Duke said that he could taste the smoke in the water.
LULU: How gross! [laughs] What happens next?
AJ DUNGO: His friends, they started playing ukuleles that night and it sort of like lightened his spirits and sort of brought him back to a solid, stable mental state where he could sort of refocus.
LULU: So the next day, all rested up, he gives it another shot. And ...
AJ DUNGO: He wins!
LULU: He beats everyone in that pool. And then he does it in the next race and the next one and the next one, until he makes it all the way to the Olympics in Stockholm, Sweden, where ...
[Announcer: På ditt märke. Få så gå!]
LULU: He wins the gold.
[Announcer: Hurrah! Hurrah!]
LULU: It turned out that all the while he'd been surfing, escaping the crummy parts of life on the island, he had invented a new way of kicking.
AJ DUNGO: The Kahanamoku kick!
LULU: Michael Phelps uses it.
AJ DUNGO: It's like a burst.
LULU: And so he keeps swimming professionally. He goes to the next Olympics and the next one. He wins gold after gold after gold!
AJ DUNGO: Yup.
LULU: It feels to me like you don't super care about his Olympic swimming so much.
AJ DUNGO: Yeah, I mean ... [laughs]
LULU: So, like, we'll just know that's happening—splash, woo! Splash, woo! Splash, woo!
LULU: The thing that AJ cares about, the reason why Duke's story begins to have a direct effect on his life is because of what Duke does outside of that Olympic arena. What that was, after this short break.
***
LULU: Terrestrials is back. Duke Kahanamoku is starting to sound like a one-man percussion section. He's got so many gold medals hanging around his neck, clankety-clank—eh. Anyway, as he's competing as a professional swimmer, he's traveling to all these new places: San Francisco, Australia. Places with …
AJ DUNGO: Waves.
LULU: New waves. New watery hills to sled.
MAKANI TABURA: "I was fired up with a mania for improving my boards, getting the most out of the surf."
LULU: And so as soon as he was done competing, he'd run out into the ocean in front of beachgoers who'd never seen surfing.
AJ DUNGO: In Australia, I think a lot of people had seen surfing for the first time from him. There was like a story about him not having a surfboard, but someone brought him, like, an ironing board.
LULU: [laughs] Really?
AJ DUNGO: Yeah.
LULU: And word spread.
AJ DUNGO: You know, thousands of people would come to the beach to see him.
LULU: To watch this human disappear into the waves, and then suddenly start hovering above them.
AJ DUNGO: If you read the way that they describe what they're seeing, it's like seeing someone walk on the moon.
[ARCHIVE CLIP, spectator: What a picture he presented as he stood upright, the breakers curling beneath him, a smile on his face. So lightning-like was the movement that it might have been flying through space."]
LULU: Okay. And now I'm gonna turn to my scary page in my notebook where I've been scribbling things about the physics of surfing.
AJ DUNGO: Mm-hmm.
LULU: Because I'm trying to understand what's going on that allows humans to stand on water. Do you have any understanding of how the heck it is possible scientifically or how it works?
AJ DUNGO: There's a few important things to have a rideable wave. The first thing would be swell.
LULU: Swell!
AJ DUNGO: [laughs]
LULU: AJ explains there are so many factors at play: the swell of the wave, the speed of the wave, the slope of the ocean floor, the size of your surfboard.
AJ DUNGO: Your height, your weight, your body type.
LULU: How gravity is pushing down and buoyancy is pushing up and thrust is pushing forward and drag is going back.
AJ DUNGO: Another factor is wind. So if there's wind blowing out to sea, that's the sort of condition that you really hope for.
LULU: That's weird! Wouldn't wind coming from the sand slow the wave down and kill its mojo?
AJ DUNGO: Well that's kind of like what you want because if you have onshore winds, which is the wind blowing toward you, there's nothing to hold up the water to make it into that perfect curl, that crest.
LULU: And if you zoom into the crest, this is where things get really wild. Because it turns out in a wave, most of the water particles aren't really moving that much.
AJ DUNGO: The particles in the water are kind of staying in place, and this mysterious orb of energy is just passing through.
LULU: Hmm.
AJ DUNGO: Making it seem like it's undulating.
LULU: Except, AJ explains, at the crest.
AJ DUNGO: The little white part that you see, that's where the water particles are undergoing their greatest acceleration. And that makes them faster than the underlying wave. So they're shooting, like, they're flying off the top of the wave before falling under gravity's influence.
LULU: So they just get a momentary break from gravity?
AJ DUNGO: Yeah, they—they're sort of in their own moment.
LULU: That is thrilling to think that for a moment, that tip of the water, that crest, the white part where it's breaking, there is an escape—not just in a spiritual way. Not just in an emotional way but, like, physically.
AJ DUNGO: Yeah. You can see it. Like, you can visually see them rushing ahead of the rest of the wave.
LULU: So back to Duke, sea spray on his face, hurtling toward the Australian shore, looking like a wizard hovering over those waves, that knowledge, this complicated set of physics that scientists are just barely able to figure out but Duke had mastered, instead of hoarding it to himself and probably earning fame for looking like he had some magic trick, he shared it.
LULU: So many of the photos of Duke's later life show him teaching people how to surf, bringing others onto his board, sometimes onto his shoulders.
LULU: Do you have any mixed emotions about him sharing surfing?
AJ DUNGO: No, no!
HEATHER KINA'U' PAOA: Absolutely not! You can't help but to share it.
AJ DUNGO: If you can spread some happiness, that's so much more fun than trying to keep it all to yourself. So I really respect what Duke did, taking something that was sacred to his people and sharing with the world.
LULU: And fun wasn't the only thing he spread. One day at Newport Beach, Duke saw a ship go down in a storm, and he got on his surfboard, paddled out, and ended up saving eight people's lives who were drowning. He's the reason why lifeguards now use surfboards today. And AJ, even though they never walked the Earth at the same time, kind of knows what it feels like to be saved by Duke.
AJ DUNGO: He kind of changed my life, and it's all from surfing.
LULU: Without Duke, AJ may have never gotten over his fear of water, may have never been able to step on a surfboard and make Kristen fall in love with him. And then later, find a way through the pain after she died. AJ says that after losing Kristen, surfing was one of the only things he could do to feel okay.
AJ DUNGO: I think of Kristen often when I'm surfing. She's very much integrated and a part of the places that I visit.
LULU: Hmm.
AJ DUNGO: Memories sort of flood in and come bubbling up.
LULU: A song, he says, a special song that the two of them shared together, sometimes comes bubbling up too.
AJ DUNGO: It goes, "I love you for sentimental reasons. I hope you do believe me. I'll give you my heart." [laughs] It's a song that brings me a lot of comfort.
LULU: And out there, surrounded by the music of the waves, he says it's like he escapes for just an instant the world in which she isn't here.
AJ DUNGO: Yeah. It's sort of time spent together.
LULU: And he can imagine an alternate universe where Duke didn't share surfing, and he's stuck on the shore with no way to heal. But thankfully, that wasn't the choice Duke made. And today out at Waikiki Beach, there stands a larger-than-life bronze statue of Duke and his surfboard, welcoming people out into the water, out toward his true ...
MAKANI TABURA: "Home."
[ALAN: [singing] A deep breath, the swell begins to curl and crest. I am surrounded by the sunset but I'm alone in my own head. And churning like the ocean, there's an ache I can't let it go. 'Cause I've got sentimental reasons to hold on, oh.]
[ALAN: [singing] Hold on now. Sometimes I need this escape. I need this escape. Yeah, it comes in waves.]
[ALAN: [singing] A deep breath, the swell begins to curl and crest. I could sink just like a stone inside the ocean of my chest. And I'm floating in this moment, my mind swimming in the past. And I hold a deep connection to all that's lost and all that's left.]
[ALAN: [singing] For a moment I feel weightless like I'm walking on water, with the ocean there beneath me and the wind against my face. Every memory flows through me as the crest begins to break. I am plunged under the weight. Yeah, it comes in waves.]
[ALAN: [singing] Hold on now. Sometimes I need this escape, I need this escape. Yeah, it comes in waves. Hold on now. Sometimes I need this escape. Yeah it comes in waves.]
LULU: Alan "Making us feel the feels" Goffinski.
LULU: Terrestrials was created by me, Lulu Miller, with WNYC Studios. It is produced by the super gnar gnar excellent radical, Ana González and Alan Goffinski—plus me. With help from Suzie Lechtenberg, Sarah Sandbach, Natalia Ramirez, Miriam Bernard, Natalie Meade, Joe Plourde and Sarita Bhatt. With sound design and additional editorial guidance from Mira Burt-Wintonick.
LULU: Terrestrials is supported in part by Science Sandbox, an initiative of the Simons Foundation. Our advisors are: Theanne Griffith, Aliyah Elijah, Tara Welty, Liza Steinberg Demby and Dominique Shabazz.
LULU: Special thanks this episode to Siya Sharma-Gaines, Isabella Leonardo, Jacklyn Kim, Alex Neason, Makani Tabura, and the good folks at the Child Mind Institute, especially Amani Monsour and Joanna R. Stern.
LULU: And biggest cowabunga to AJ Dungo! His graphic novel about surfing and grief and Duke is one of the most gorgeous things I have ever read. It's called "In Waves." Run, don't walk, to get it. And that'll do it. Grab your boards, get outside, stop listening to radio, there's nothing else cool about to happen.
LULU: What's that?
BADGER: Excuse me, I have a question.
BADGER: Me too.
BADGER: Me three.
BADGER: Me four.
LULU: The badgers! They're listeners with badgering questions for the expert.
AJ DUNGO: Sounds excellent.
LULU: Okay, here we go.
FRANNY: My name is Franny. I'm six years old. Are the shark's teeth long?
AJ DUNGO: I think it depends on the shark. But the shark teeth that I've seen, they're pretty small. And I guess they replace them often, so ...
LULU: Really?
AJ DUNGO: You could find them in the water. Yeah, they sort of shed their teeth all the time.
LULU: Huh! I wonder if there's a shark tooth fairy.
AJ DUNGO: [laughs]
FIVEL: Hi, my name is Fivel. I'm five years old, and my question is: what's your weirdest thought you've had in the water by yourself?
AJ DUNGO: Kind of a gross side note, but ...
LULU: Yes, please. That's what we're here for.
AJ DUNGO: I would think—traveling when I was young, like, we'd go to Niagara Falls or we'd go to Yosemite and, like, I would just spit in the water and be like, it's traveling all over the world now. Like, I'm all over the world.
LULU: [laughs] Like, through the waterways because it's going out to the ocean, and then some waves will pull it over there to the continent of Africa, and some will go up to the Arctic, and AJ is now connected with everyone?
AJ DUNGO: [laughs] Yeah.
LULU: What a deep thought! You really thought that? You weren't just like "Hah! Here's a loogie!"
AJ DUNGO: No, I was an introspective four year old. I would think about where it would travel, and eventually maybe it'll come back to me after it's gone around the entire world.
LULU: You'll be taking a shower someday and you're like, "Four-year-old me is saying 'Hi!'"
AJ DUNGO: Yeah, exactly.
TERESA: Hi! My name is Teresa. Next month I will be 107 years old.
LULU: [gasps] That's over a hundred spins around the sun!
TERESA: Does the moon have an effect on surfing?
AJ DUNGO: Yeah, definitely. So the moon affects the tides, and people can go surf on a full moon out at night.
LULU: Oh!
AJ DUNGO: Like, there's enough light out there you can go surf in the moonlight, literally.
LULU: Oh, that sounds like so relaxing and surreal and incredible.
AJ DUNGO: People love it because there's no one else out. It's just you and the waves.
FYNN: Hi, my name is Fynn, and I'm 12. And I have a question: will my life be worse because I lost my dad?
AJ DUNGO: I'm really sorry to hear about that, Fynn. It'll be difficult. I think it's important to surround yourself with people that love you and you know that you can trust and share things with. So be sure to ask for help when you need it. Man, it's hard. I—I had a teacher that had lost his wife, and when I—when Kristen passed away, he said something that really—it stuck with me. He said that you may never experience closure. You just become familiar with the absence." There's gonna be a lot of good that will come in your life and, you know, you have memories you made with your father that stay with you forever. So you can kind of have some solace with that.
LULU: That'll do it for today. If you are struggling with sad feelings, don't forget to ask for help to the friends and family in your life. You can also call this 1-800-273-8255 to talk to a friendly voice at the National Suicide Prevention Lifeline free of charge. Any time. We've put that number as well as some other resources for talking about and living with grief, as well as some fun stuff: drawing prompts and animations that can get you thinking more deeply about surfing and escape. All that is on our website: TerrestrialsPodcast.org.
LULU: Thank you so much for listening. Join us next week for the grand finale of this season of Terrestrials when the Songbud and I drive down to Kentucky to come face to snout with a creature that scientists thought belonged only in the realm of fantasy.
LULU: Catch you in a couple spins of this watery old planet of ours.
Copyright © 2022 New York Public Radio. All rights reserved. Visit our website terms of use at www.wnyc.org for further information.