The Zello Tapes: The Walkie-Talkie App Used On January 6th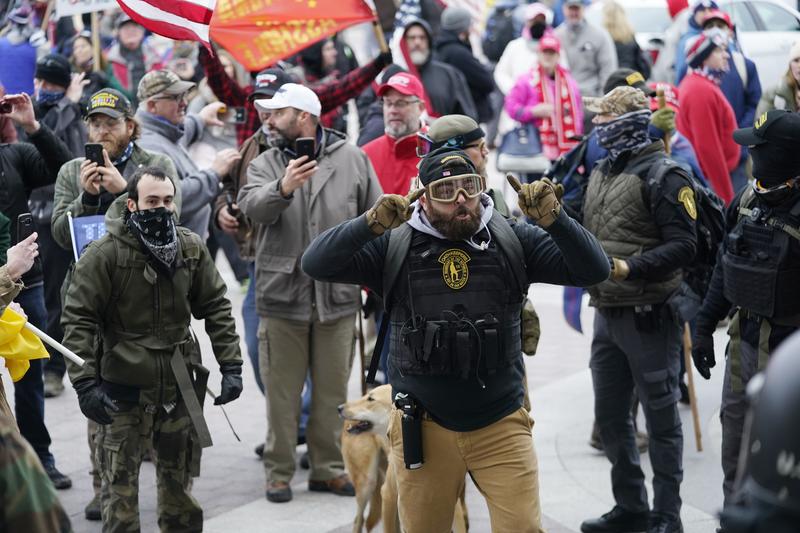 Transcript
MICAH LOEWINGER This is On the Media, I'm Micah Loewinger. So far in this hour, I've explained how I first came across Zello back in 2019 as I was watching these militia groups organize around hurricane relief. And I've laid out how the app allowed me to document the potential relationships between far-right groups and the police all across the country. It felt like the writing was on the wall, but we didn't know for what. With the events of January 6th, you can see how those pieces began to coalesce. After Zello refused to take action against militia organizing on its platform last year, this is what the app sounded like in the lead up to the insurrection.
[CLIP]
ZELLO 1 January six. Revolution or bust.
ZELLO 2 That's what the f*ck I got a problem with. How about if all of us stand the f*ck up and take this sh*t back? I got a problem with f*cking patriots not growing a f*cking set of god damn nuts.
ZELLO 3 Once we go operational, this channel will just be for intel gathering and organizing on the back side. [END CLIP]
MICAH LOEWINGER On January 5th, Hampton and I noticed that One Percent Watchdog, the guy I introduced you to at the beginning of the show, had created a channel called Stop The Steal J6 with about a hundred people in it. The next day I had it running in the background while I watched the violence unfold on TV.
[CLIP]
ONE PERCENT WATCHDOG OK, guys, we're on open channel here now.
JESSICA WATKINS Oh hey brother, we're boots on the ground here. We're moving on the Capitol now. I'll give you a boots on the ground update here in a few. [END CLIP]
MICAH LOEWINGER And that, of course, is Jessica Watkins. The Oath Keeper now indicted for breaking into the Capitol. One Percent Watchdog later told me over text that he didn't know Jessica, or that she was in the channel, though the two can be heard in conversation.
[CLIP]
ONE PERCENT WATCHDOG What percentage of the crowd is going to the Capitol?
JESSICA WATKINS One hundred percent. And everybody is marching on the Capitol. All million of us. [END CLIP]
MICAH LOEWINGER This next part is what federal investigators seem most focused on.
[CLIP]
JESSICA WATKINS We have a good group. We've got about 30-40 of us who are sticking together and sticking to the plan. [END CLIP]
MICAH LOEWINGER More on that in a moment. But first, let's follow her to the Capitol.
[CLIP]
JESSICA WATKINS And we're about two blocks away from it now, and police are doing nothing. They're not even trying to stop us at this point. [END CLIP]
MICAH LOEWINGER The wild thing about listening to an active insurrection on Zello is the group dynamic. While she's working her way through the mob outside the building, she has One Percent Watchdog and others in her ear, sharing intel from home, cheering her on in real time.
[CLIP]
ONE PERCENT WATCHDOG US military news is reporting that the national Capitol has been breached. That's right f*ckers. This is a can of whoop*ss made in America. F*ck yeah.
ZELLO 1 Witnessing history, watchdog. [END CLIP]
MICAH LOEWINGER And encouraging her to kidnap politicians.
[CLIP]
ONE PERCENT WATCHDOG You are executing citizen's arrest, arrest this assembly. We have probable cause, acts of treason, election fraud. [END CLIP]
MICAH LOEWINGER Jessica Watkins can be seen in livestream footage taken around this time showing a line of militia members very deliberately parting the crowd as they approached the doors. Hampton describes the video.
HAMPTON STALL In the footage shared by Ford Fischer of News2Share. There is a column of Oath Keepers who are very clearly part of a unit. They march up to the east entrance of the Capitol building just a few minutes before the doors are breached. Ford zooms in on one of the people involved and a patch that he has on his back that says, "I don't believe in anything, I'm just here for the violence."
MICAH LOEWINGER About three people back. We see Jessica Watkins dressed in full battle rattle. According to other footage discovered by Internet sleuths, she helped lead the crowd in pushing the east entrance door open before fighting her way into the Capitol Rotunda.
[CLIP]
JESSICA WATKINS We are in the mezzanine. We are in the main dome right now. We are rocking it. They're throwing grenades, they are freakin shooting people with paintballs. But we're in here.
MAN 1 Be safe. God bless and Godspeed and keep going.
MAN 2 Get it Jess. Do your sh*t. This is what we've f*cking lived up for. Everything we've f*cking trained for. [END CLIP]
MICAH LOEWINGER Following our report on these communications, in January, the Department of Justice began quoting these Zello chats in indictments, along with quite a bit of information about Watkins' alleged plans and motivations.
MARCY WHEELER This is a woman who had served honorably in Afghanistan and was from a place in Ohio where there really wasn't much going on.
MICAH LOEWINGER Marcy Wheeler, an independent journalist who publishes on her site Emptywheel.net, has been poring over all of the reporting and court records related to the 6th.
MARCY WHEELER She was, I think, given an identity in the Oath Keepers that probably replaced what she had in the military. It was structured. It was considered honorable. They could go out and feel like they were protectors of America.
[CLIP]
NEWS REPORT As the inauguration grew nearer, Jessica Watkins indicated that she was awaiting direction from President Trump. Specifically, they say she sent a text on November 9th saying, if Trump asked me to come, I will. [END CLIP]
MICAH LOEWINGER According to her boyfriend, Watkins had started her own militia, the Ohio State Regulars, as a storm relief group a year earlier. But after Trump lost the election, she ramped up her involvement with the Oath Keepers by recruiting militiamen to come to D.C. to act as private security for Roger Stone. A video uncovered by ABC News shows that at least three Oath Keepers did end up spending time with him in D.C., though I haven't seen anything to prove that he and Jessica Watkins interacted.
MARCY WHEELER Roger Stone doesn't need these people to defend them. I think that that was the lure to get her to get people. That function of saying, OK, you're going to be security for these VIPs who are one degree from the President of the United States. That's like glamour.
MICAH LOEWINGER Ultimately, Watkins was able to rope in enough people from Ohio that she was rewarded with an invite to the Oath Keepers leadership chat room on Signal, an encrypted messaging app, in December, which put her in touch with Oath Keepers, who had traveled from Florida and Alabama, along with the founder of the Oath Keepers, Stewart Rhodes, who was in D.C. on January 6th but hasn't been indicted yet.
MARCY WHEELER So these are these Signal chats which will form the backbone of the actual conspiracy case.
MICAH LOEWINGER In fact, the government has those chat logs because they were still on her phone when she was arrested on January 18th.
MARCY WHEELER They got to Watkins before she deleted anything and she didn't want to perjure herself. She knew enough not to do that. A bunch of other people did delete stuff.
MICAH LOEWINGER People in that chat room make up a large chunk of the 16 person conspiracy case, but remember, Watkins said,
[CLIP]
JESSICA WATKINS We have a good group. We got about 30-40 of us. We're sticking together and sticking to the plan. [END CLIP]
MICAH LOEWINGER What do we know about the 30 to 40?
MARCY WHEELER Right? I'm waiting for those other 15 people. There's a group from North Carolina we haven't seen arrested yet. Some of them stayed in Virginia, staying at the Comfort Inn and Ballston guarding the weapons that everyone had stashed there.
[CLIP]
NEWS REPORT The government claims the Oath Keepers stored a cache of weapons for a QRF, or quick reaction force, that would respond to the Capitol armed if President Trump were to, quote, declare an insurrection and to call us up as the militia. [END CLIP]
MICAH LOEWINGER This brings us to the plan, or as Marcy Wheeler says, one of the possible plans.
MARCY WHEELER They were basically talking about preventing the democratic transfer of power. Either by doing something so outrageous in Congress that the expected Biden supporters would rise up as well, or they're just presumptive notion that enough quote unquote, ANTIFA would show up in the streets and they could perform being victims again. And sow enough violence to give Trump the excuse to call in the National Guard.
MICAH LOEWINGER And then by calling in the National Guard...
JOAN DONOVAN Then you say you can't transfer power, we're in the middle of an insurrection. You can't transfer power, we're at war, you can't transfer power, D.C. has been locked down under the National Guard to protect them from those evil Antifa's.
MICAH LOEWINGER A week after January 6th, Hampton and I sent an email to Zello detailing this evidence that its app had been used by insurrectionists. Along with an updated list of over 800 far right channels. Then we reported those findings in The Guardian, and then a couple hours later...
HAMPTON STALL Zello released a statement on their site saying that they were appalled by the organizing that was happening on their app and that they were banning 2,000 channels.
MICAH LOEWINGER Maybe a third or so came from the list of 800+ channels we sent them.
HAMPTON STALL Oh, yeah, for sure. Of the 800+ , the majority of them are now offline. Either deleted by the users or removed by Zello itself.
MICAH LOEWINGER Many of the groups that we were tracking on Zello relied on that app and its network, and now that network in most cases is gone. Is it fair to say that a lot of these groups are sort of in shambles after January 6th?
HAMPTON STALL I think a lot of them are struggling to find their footing for sure. In some of the channels I heard people say pretty explicitly that Zello would never ban them, that it was the one thing that they could always depend on. Militias are just like one piece of the broader puzzle. And I think militias themselves are maybe a little bit quiet right now, because if they're smart, they're probably on the lookout for what the FBI is up to.
MEGAN SQUIRE The groups don't really disappear and the ideas that they espouse certainly don't disappear. They just might change focus, they might change platform, they might change the volume. So, they're maybe quieter at the moment.
MICAH LOEWINGER Megan Squire, a professor of computer science at Elon University.
MEGAN SQUIRE As the people start feeling more emboldened, as they feel stronger, they'll re-coalesce into groups again. I like to think of a jar of marbles. If you drop it on the floor, it shatters everywhere and the marbles are rolling all around. Right? Well, eventually they find the little dips and the circles in the floor and they kind of collect back up.
MICAH LOEWINGER I'm personally convinced that part of what motivated militias to break into the Capitol, the belief that they need to protect a mythical vision of America at all costs, is here to stay. But it's also possible that the role of national far right groups will diminish even as violence continues. January 6th and its aftermath has crystallized an idea that had been percolating among researchers. That the far right in America has entered what's called a post organizational or post group paradigm.
CYNTHIA MILLER-IDRISS Both terms really capture what we're seeing in the modern far right.
MICAH LOEWINGER Cynthia Miller-Idriss is the director of the Polarization and Extremism Research Innovation Lab at American University.
CYNTHIA MILLER-IDRISS Groups do still matter. I don't mean to say that they don't, there are a lot of groups that exist, but the vast majority of people who radicalize into these kinds of movements are encountering the propaganda and the information online, but may never actually formally join a group.
MICAH LOEWINGER While the Oath Keepers and Proud Boys contributed significantly to the violence and planning on January 6th, about 85 percent of those arrested after the insurrection had no prior involvement in a formal far right organization.
CYNTHIA MILLER-IDRISS One of my biggest concerns is that as a country that we look at January 6th as the end of something, as the culmination of something, we even hear that language a lot.
[CLIP]
NEWS REPORT January 6th was really the culmination of a months-long coordinated effort by Donald Trump.
NEWS REPORT What happened on January 6th was in many ways the culmination of all of these forces.
NEWS REPORT It was the last day of the Trump era and it ended in chaos and frankly, disgrace. [END CLIP]
CYNTHIA MILLER-IDRISS I think we should be more open to the possibility that it was a continuation, or even a beginning of something in terms of mobilization. When you look at the long arcs of history around the world and how democracies have stumbled, these aren't usually things that happen super rapidly. They are an accumulation over time of many small injuries and large injuries that chip away at people's trust in the system, at their trust in the legitimacy of information and increase their sense of betrayal and anger and their willingness to believe that violence is a legitimate solution.
MICAH LOEWINGER Miller-Idriss warns that this is not the end of the citizen militia, more like a lull before the next storm hits. But in the wake of January 6th, Zello has gone quiet. The far-right groups have been banned in the app is no longer the meeting place for all things insurrection. Rumor has it some members are going back to basics and have started using ham radio to organize. Hampton and I are looking into that, as for One Percent Watchdog...
[CLIP]
ONE PERCENT WATCHDOG Today, we're going to be talking about the January 6 Capitol protest, and what happened on Zello. [END CLIP]
MICAH LOEWINGER He sent me this clip from a podcast episode he was working on which, he said, would feature an investigation of me.
[CLIP]
ONE PERCENT WATCHDOG We'll also be talking about the infiltration and takedown of Zello by the leftist media headed by WNYC, New York Public Radio. [END CLIP]
MICAH LOEWINGER I watched his podcast feed waiting for the episode to drop, but it never did. I reached out to him for comment for this story and again, no response. Then a militia member leaked me some texts that he'd sent late one night in mid-April, quote, "No more USCF, no more podcast, no more Zello, no more hurricanes. I need my life back. 6 years was long enough to prove to me that there's nothing for us to do other than to wait for the tyrants to make a mistake and to piss off a big enough crowd to take them out."
[ONE PERCENT WATCHDOG RAPPING]
MICAH LOEWINGER One Percent Watchdog may have signed off for now, but we're here for the long haul. For On the Media, I'm Micah Loewinger.
BROOKE GLADSTONE And that's the show. On the Media is produced by Leah Feder, Micah Lowwinger, Eloise Blondiau, Rebecca Clark-Callender and Molly Schwartz with help from Ellen Li. Xandra Ellin writes our unique newsletter. Our technical director is Jennifer Munsen. Katya Rogers is our executive producer, On the Media, is a production of WNYC Studios. I'm Brooke Gladstone.
Copyright © 2021 New York Public Radio. All rights reserved. Visit our website terms of use at www.wnyc.org for further information.
New York Public Radio transcripts are created on a rush deadline, often by contractors. This text may not be in its final form and may be updated or revised in the future. Accuracy and availability may vary. The authoritative record of New York Public Radio's programming is the audio record.