The Zello Tapes: The Walkie-Talkie App Used During The Insurrection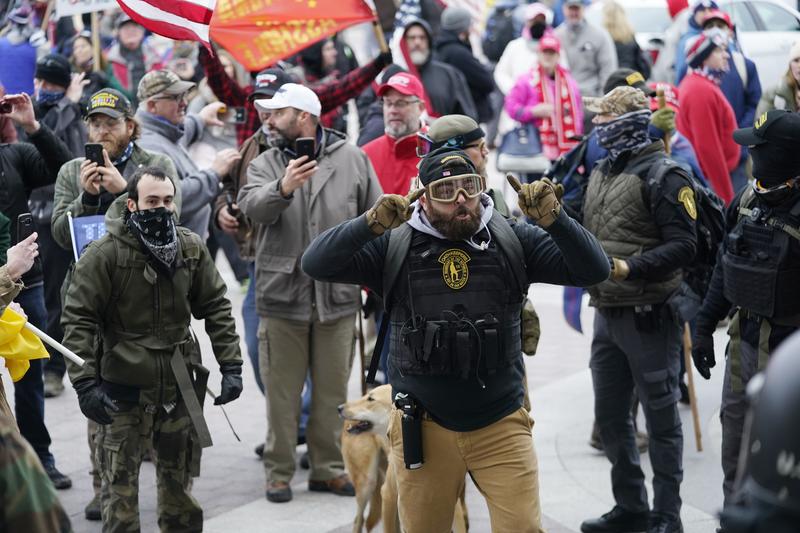 Transcript
BOB GARFIELD From WNYC in New York, this is On the Media, I'm Bob Garfield.
BROOKE GLADSTONE And I'm Brooke Gladstone. More than a week since the deadly siege on the capital, a series of revelations has shed more light on what happened. As of this writing, we know the identities of roughly 100 of the insurrectionists, including a man whose presence has become emblematic of the intent beyond the siege. His name is Eric Munchel, known mostly as "Zip Tie Guy,".
[CLIP]
NEWS REPORT The man in the press gallery with what appears to be zip tie handcuffs, leading to a reasonable conclusion that he was planning on taking hostages or making a citizen's arrests. [END CLIP]
BROOKE GLADSTONE Zip ties or more accurately, flex cuffs, hinted at the intention to take hostages, as many in the media noted. Recalling the foiled plot to kidnap Michigan Governor Gretchen Whitmer this fall. Back then, it was seen as a warning of what was to come. Shortly after that story broke, we also issued a warning of sorts; our piece about Zello, a walkie talkie app that's home to militia organizing and recruitment.
[CLIP]
MILITIA So what do you got? What kind of experience you got? Military, law enforcement, medical?
RECRUIT 3-1 Bravo, military police.I know a lot about weapons, munitions and a fair amount of gear. [END CLIP]
[CLIP]
MILITIA It's like a second job. It's us or tyranny, it's us or failure. It's us or a post-American world. Don't give two sh*ts or a flying f*ck about anybody that's less than 100 percent all the f*ck in. Are you all the f*ck in? Over.
RECRUIT I ain't got nothing holding me back. If it kills me, it kills me. [END CLIP]
BROOKE GLADSTONE These recruitment interviews took place in just one of hundreds of far right channels on Zello, where people often discussed civil war and used coded allusions to toppling the government. The signals were loud and clear, and we hoped that bringing some of these dark conversations to light would induce Zello to do something to stem the flow. To thwart the very kind of rhetoric and organizing that would take place on Zello in the days leading up to the insurrection.
[CLIP]
MILITIA January 6, revolution or bust. [END CLIP]
[CLIP]
MILITIA That's what the f*ck I got a problem with. How about if all of us stand the f*ck up and take this sh*t back? I got a problem with Patreus not growing a f*ckin set of goddamn nuts. [END CLIP]
[CLIP]
MILITIA Once we go operational, this channel will just be for intel gathering and organizing on the back side. [END CLIP]
BROOKE GLADSTONE This could have been avoided three months ago as our reporter producer Mica Loewinger was putting the story together, he heard from an employee at Zello who told him that the company already was well aware of what was taking place on its platform.
MICAH LOEWINGER The employee sent us a company wide email from June that detailed some of the militia and white nationalist activity on the app. The employee said that in a subsequent company wide meeting, Zello CEO Bill Moore said, essentially, that because the platform was not legally responsible for any harm caused by those far right groups, it would not kick them off the site. Nor would Zello implement new moderation practices to deter this type of organizing in the future. Zello responded to us, saying that, quote, The employees characterization is inaccurate and misleading. End quote.
BROOKE GLADSTONE In a written statement in October, Moore told us that Zello had implemented several changes to make these militia channels harder, at least for outsiders to find but he said he wouldn't shut them down because he believed it's not the job of a private company to censor private speech, and also because Zello couldn't possibly monitor all the content on its platform anyway. Well, Micah was monitoring the app, and this is what he heard on January 6th.
[CLIP]
MILITIA What kind of numbers do we have going into the capital? Any estimates? What percentage of the crowd is going to the capital?
WATKINS One hundred percent. Everybody's marching on the capital. All million of us. It's insane. We're about two blocks away from it now and police are doing nothing. They're not even trying to stop us at this point. [END CLIP]
MICAH LOEWINGER This is a Zello channel that I had running in the background while I was watching the capital riot unfold on TV. But it wasn't until days later that I realized I had captured something quite interesting.
[CLIP]
WATKINS Trump's been trying to drain the swamp with a straw. We just brought a shop vac. [END CLIP].
MICAH LOEWINGER That channel was called Stop the Steal, J6. That woman narrating her march towards the capital is a user calling herself "Ohio Regulars, Actual Oath keeper." I've spent the last week trying to figure out who she was and who she was with.
[CLIP]
WATKINS We have a good group. We got about 30 or 40 of us. We're sticking together and sticking to the plan.
MILITIA We'll see you soon, Jess. Airborne.
WATKINS Do that, brother. Godspeed and fair winds to us.
MILITIA Amen, sister. stay safe. [END CLIP]
MICAH LOEWINGER Hampton Stall, founder of Militia Watch and I have been in the Zello trenches together for months now, he says this woman's username, I'll say it again, "Ohio Regulars, Actual Oath Keeper", offers some important clues.
HAMPTON STALL It's interesting because Ohio Regulars is an identified militia group. Actual is a term that usually refers to a company leader. So she's referencing that she is in some level of leadership of the Ohio Regulars, and then the Oath Keepers are a pretty radical right wing national militia movement who were founded in 2009 in direct response to Barack Obama winning the 2008 election. They draw very heavily from former soldiers and former police officers and in some cases, active police officers.
MICAH LOEWINGER Oh, so she – interesting. Dude, this might be her!
HAMPTON STALL Send. Send it. Let me see it! Send it in the chat.
MICAH LOEWINGER While we were on a call, I found a profile on Parler, the right wing social media site that seems awfully similar to this woman from Zello. She describes herself as the commanding officer of the Ohio State regulars. She uploaded a picture of herself at the DC event wearing battle rattle and an Oath Keeper patch. She's white and she wears glasses beneath a big combat helmet, and according to her profile, she's a bartender and she blames Ohio Governor Mike DeWine's lock down for hurting her business, but still no name. By the time I found this profile, Parler had already been shut down. Amazon Web Services had stopped hosting the platform because so many of its users had called for the insurrection. But a group of hackers effectively scraped the entire website and uploaded tens of thousands of posts from January 6th to archive(dot)org so that researchers and journalists could sift through all the data.
[CLIP]
WATKINS Yeah, we're one block away from the Capitol now. I'm probably going to go silent when I get there because Imma be a little busy.
INFORMANT Hey, my girlfriend is at the Capitol right now and she said that cops are coming in from the right of the building. [END CLIP]
MICAH LOEWINGER The wild thing about listening to an active insurrection on Zello is the group dynamic. While she's working her way through the mob outside the building, she has people in her ear sharing intel from home, cheering her on in real time.
[CLIP]
INFORMANT US military news is reporting that the national capital has been breached. That's right, Motherf*cker. This is a can of whoop*ss made in America. Yeah!
MILITIA Witness in history watchdog. [END CLIP]
MICAH LOEWINGER And encouraging her to kidnap politicians.
[CLIP]
MILITIA You are executing citizen's arrest. Arrest this assembly. We have probable cause, acts of treason, election fraud. [END CLIP]
MICAH LOEWINGER The woman can be seen in livestream footage taken around this time, showing a line of militia members very deliberately putting the crowd as they approached the doors. Hampton describes the video.
HAMPTON STALL In footage shared by Ford Fischer of News2Share. There is a column of Oath Keepers who are very clearly part of a unit. They march up to the east entrance of the Capitol building just a few minutes before the doors are breached. Ford zooms in on one of the people involved and a patch that he has on his back that says, I don't believe in anything. I'm just here for the violence. And it's next to like an Oath Keeper patch. Like three people back, appears to be the person that we're talking about.
JAKE ZUCKERMAN There's this moment where she makes eye contact with the camera and it was just unmistakably her.
JAKE ZUCKERMAN That's Jake Zuckerman, a reporter with the Ohio Capital Journal. He recognized her face when he came across this exact same footage after receiving a tip on Twitter.
JAKE ZUCKERMAN Some random people of Twitter just started piecing together and Google image searching. And they found my pictures that I had taken from earlier in November and pieced them together.
MICAH LOEWINGER He'd taken the photographs after interviewing the woman and her militia outside the Ohio State House the day Biden's win was announced. But he never caught her name. Internet sleuths, on the other hand, had some theories.
JAKE ZUCKERMAN It just kind of became this game of finding any piece of identifying information and tracking them down. They make me nervous the way they throw these conclusions out there publicly. But, my goodness, are those people pretty good at what they do.
MICAH LOEWINGER Zuckerman eventually called the woman who candidly admitted to storming the Capitol with the Oath Keepers and members of her Ohio militia. But just before we get into that, let's listen to the last time we hear her on Zello.
[CLIP]
WATKINS And we are in the mezzanine. We are in the main dome right now. We are rocking it, they're throwing grenades. They're fricking shooting people with paintballs, but we're in here.
MILITIA 1 Be safe. God bless and Godspeed and keep going.
MILITIA 2 Get it Jess, do your sh*t. This is what we've f*ckin lived up for. Everything we f*ckin trained for. [END CLIP]
MICAH LOEWINGER Shortly after that exchange, she deleted her Zello profile, but according to a post on her Parler page, she made it into the Senate as well. So who was this woman?
JAKE ZUCKERMAN Jessica Watkins, she's thirty eight, she was a veteran, she served in Afghanistan and she's a bartender who in late twenty nineteen or early twenty twenty, just formed this Ohio State Regular militia group. They attend protests. They've been all over the place in Columbus, Cleveland, Louisville. And as we learned recently, she made it down to Washington, DC and made it inside the Capitol.
MICAH LOEWINGER Did she say why she broke into the Capitol?
JAKE ZUCKERMAN The way she described it, she wanted to protect people, was the phrase she used. And if there are injuries, tend to those injuries with her medic training. To stop the destruction of property or to stop people from fighting with police, I think it's important to take that with a grain of salt, because this is a person who drove across state lines and joined this mob break in of the Capitol or whatever language you want to use, but in her telling of events, she's almost like a police force in a way or some kind of first responder unit.
MICAH LOEWINGER So I sent you some of the Zello clips. Did the recordings that I sent you sound like the same woman that you interviewed?
JAKE ZUCKERMAN To me after speaking to her at length on the phone and meeting her once, it really did sound like a match.
MICAH LOEWINGER Jessica Watkins could not be reached for comment. And I want to clarify a couple of things really quick. Since Zuckerman hadn't heard these tapes before he interviewed her, he couldn't ask her about some of the things she'd said, like, quote, sticking to the plan or the fact that she was in a group of 30 to 40 people or that she had allegedly trained for this moment. There's a lot we still don't know about Watkins and how Zello factored into the siege. But Hampton and I found another instance of someone on Zello telling their capital break-in story.
[CLIP]
Q Hi, so I was there. Inside, for a bit there. Someone broke into the door and opened it, and we had a lot of people going inside. [END CLIP]
MICAH LOEWINGER This is a guy going by the username Q, which is probably a reference to QAnon.
[CLIP]
Q So, yeah, we were there for a bit, people were going into the two rooms, left and right that were right by the door, some sort of Congress rooms or whatever. We were going in there, looking at stuff. I made sure people didn't take anything, steal anything - I was like don't steal stuff - we're not Antifa. People were doing that. And then eventually got pushed back by the Capitol Police with tear gas. [END CLIP]
MICAH LOEWINGER The user sent this message over a private Zello channel called the MAGA Cavalry, which appears to have been used to help coordinate travel from several different states. The channel's profile picture was a map depicting rendezvous points in Massachusetts, Pennsylvania, Kentucky and South Carolina for drivers to meet and then caravan together into the city. In effect, Zello appears to have been used to help bring this guy from one of those states into the Capitol. On Tuesday, we sent Zello a huge email outlining the evidence that its app had been used by insurrectionists, along with a list of over 800 far right channels. On Wednesday evening, Hampton and I published these findings in The Guardian, and then two hours later..
HAMPTON STALL Zello released a statement on their site saying that they were appalled by the organizing that was happening on their app and that they were banning two thousand channels.
MICAH LOEWINGER Maybe a third or so came from the list of 800 plus channels we sent them.
HAMPTON STALL Oh, yeah, for sure. Of the 800 plus, the majority of them are now offline, either deleted by the users or removed by Zello itself, but they still have left up some 3 Percent and other militia associated channels. There's also some indication that they have started banning accounts. Major accounts that are associated with some of these channels. But some of the more violent individuals and organizers are still up on Zello at time of recording.
MICAH LOEWINGER As part of the evidence that we sent to Zello, we told them that some far right channels were encouraging Trump supporters to show up armed to state capitals on the 17th. I think the question is whether this purge of accounts and users will be strong enough to stop pro trump groups from using Zello to organize for that.
HAMPTON STALL There will probably be some disruption from Zello use to organize for that. But those events are there already locked in. This is too late. It's already done. It's already in people's minds.
MICAH LOEWINGER Three months after we first confronted them with this evidence, Zello says it's taking potential militia events around the inauguration very seriously and that far right groups are no longer allowed on its platform. But if or when they manage to squeeze through the cracks, we'll be listening in. For On the Media, I'm Micah Loewinger.
BOB GARFIELD Coming up, following the money, I mean – the no money.
BROOKE GLADSTONE This is On the Media.
Copyright © 2021 New York Public Radio. All rights reserved. Visit our website terms of use at www.wnyc.org for further information.
New York Public Radio transcripts are created on a rush deadline, often by contractors. This text may not be in its final form and may be updated or revised in the future. Accuracy and availability may vary. The authoritative record of programming is the audio record.