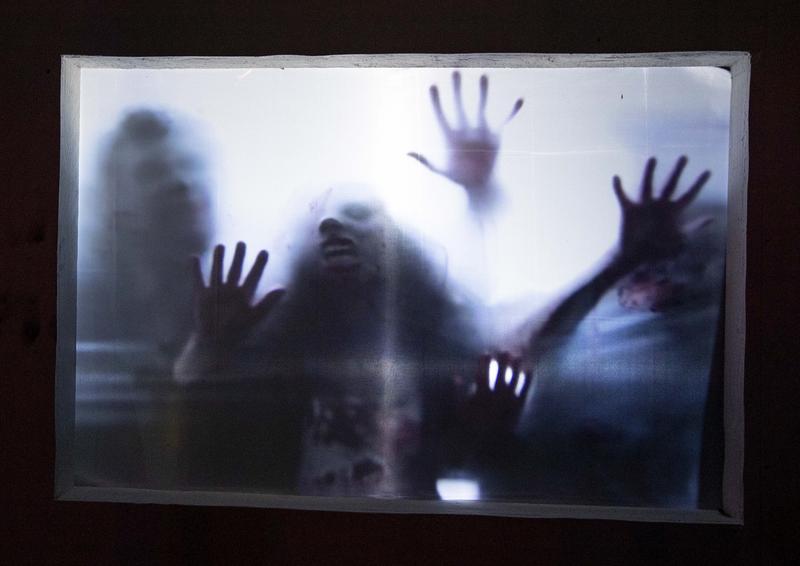 Transcript
BROOKE GLADSTONE This is On the Media, I'm Brooke Gladstone. Crime as an issue is a hardy campaign perennial and a media staple, whether or not it accords with reality. Of course, we tune in. Of course, we listen. Humans are hardwired to fear. Back when we weren't the world's reigning predators, terror enabled us to survive. We feared the dark where beasts lurked. Since our weak night-vision couldn't discern what hid in the shadows. We jumped at the snap of a twig. A flutter, a clap.
[CLIP]
SPOOKY KID Want to play hide and clap? [END CLIP]
BROOKE GLADSTONE Even now, in our everlastingly bright world. Darkness is still a menace. Still bred in the bone.
[CLIP]
SCARY CLIP [WHISPERS] Turn off the lights.
SCARY CLIP They don't like bright lights, you know.
SCARY CLIP Turn off the light. You'll see what kind of game... [END CLIP]
BROOKE GLADSTONE Do you like scary movies? Have you ever wondered why? Science writer Nina Nesseth has. Her book Nightmare Fuel: The Science of Horror Films, delved into the neuroscience of horror. Welcome to the show, Nina.
NINA NESSETH Hi, thank you for having me.
BROOKE GLADSTONE So shortly after the horror film starts rolling, there typically emerges a threat. Often it's nearly imperceptible — a glint in the eye, a flicker of a match, the faintest sigh. Next, a jump scare!
[CLIP]
RECORD STORE CUSTOMER what's in here?
RECORD STORE WORKER Record vault.
RECORD STORE CUSTOMER Oh, you keep the golden oldies and maybe, uh the new music too– [CHAINSAW!] [END CLIP]
BROOKE GLADSTONE Your body reacts even before you're aware of it. What exactly happens when you experience that physical jolt?
NINA NESSETH You want your body to react even before you're aware of what's going on, right? Because sometimes that split second can mean saving yourself from that threat. Once you get your thinking brain back in and you recognize that you're not in a real threatening situation, you're able to sort of transfer all of that energy into enjoyment. And that's known as excitation-transfer theory.
BROOKE GLADSTONE You write that the jump-scare is a relatively new innovation, that they became an expected part of the scary movie, you know, around the turn of the 21st century. There are two distinct varieties: the ones you expect and the ones you don't.
NINA NESSETH The one that you expect — we are primed with a cue. I find usually it's repetition. The example I use in my book is from the opening teaser sequence from the film Lights Out, where a person is turning lights on and off. When the lights are on, there's nothing in the space. And as soon as the light turns off, you see a shadowy figure. This happens a few times, and this figure that appears in the darkness isn't moving. But as a viewer, you know that something's got to give eventually so that either it's going to not be there when the lights turn off or it's going to be closer. And that's exactly what happens. Because we're waiting for that to happen. With each repetition, we slowly ramp up our own attention to be like, 'when's it going to happen?' And then you get that payoff.
BROOKE GLADSTONE But the second type is the jump scare that comes out of nowhere. Long stretches of mundane moments. And the longer the audience waits, the more they expect something to happen.
NINA NESSETH The perfect example that comes to mind is what's known as the "nurse station sequence" from Exorcist 3. Most of it is one long shot down a hallway in a hospital at night, and you spend time seeing, you know, this single nurse at the nurse station going back and forth. You see a security guard who kind of comes and leaves. And then there's a strange sound off-camera. The nurse comes up and goes to check on the sound in one of the patient's rooms. And the sound that she heard was ice cracking as it melted in a glass. And that's when we get our first jump scare, which is a patient sitting up and yelling at her.
[CLIP].
[BLOOD CURDLING SCREAM]
PATIENT I can't get any sleep! What the hell do you want?
[END CLIP]
NINA NESSETH We have that release of tension and we go back to our long shot down the hallway and that's where we get our second jump that is just so surprising because it's so much quieter: we see the nurse go into another room; tere doesn't seem to be anything amiss; and she closes the door behind he — and then, almost immediately and impossibly, this figure, dressed all in white with this giant pair of shears, walks through the apparently closed door to lop off the nurse's head. We thought we had already gotten their jump scare. So to get that second one right afterwards, it's just really amazing.
BROOKE GLADSTONE Distinguish between terror and horror. You said you can thank Ann Radcliffe, the mother of gothic literature, for making that distinction.
NINA NESSETH I like to think of terror, by her definition, as the fear of a bad thing that may happen, and horror is the result of that bad thing happening. There are two very, very different experiences.
BROOKE GLADSTONE And in my unscientific poll that I did of friend's prior to this interview, people much prefer horror films rather than films that lean on terror. They can find those almost too excruciating.
NINA NESSETH My friends tend to say the same thing, where they really feel uncomfortable with what we describe as psychological horror. And that often leans way more into that tension. And I think a big part of that is that there are fewer releases. So much of the film in psychological thrillers and psychological horrors tend to be following the point-of-view character through the anxiety and tension of what might happen. And sometimes nothing happens at all. Sometimes you're just carried through a story unrelenting in its tension.
BROOKE GLADSTONE Let's move on to monsters. How do filmmakers tap into the characteristics that our brains are hardwired to fear?
NINA NESSETH We've evolved so many unconscious cues for recognizing whether something is a threat. A predator will have sharp, pointy teeth. The predator will have front facing eyes, claws to rend flesh and tear things apart. Monsters, especially non-human monsters in horror films, tend to move classically like predator animals that we see on Earth. They'll stalk, ambush, make chase.
BROOKE GLADSTONE You noted that when you see a human moving on a screen with a creepy, jittery motion, filmmakers often ask actors to walk backwards and then reverse the tape to create that forward walk that just seems a little bit off. And I remember one of the most terrifying moments I saw in a horror movie was in The Exorcist when Linda Blair bent backwards with her legs and feet on the ground.
NINA NESSETH It's a lot like how spiders move.
BROOKE GLADSTONE And many of us are wired to be arachnophobes.
NINA NESSETH Absolutely. And there are a few reasons why people might be afraid of spiders. But one of them that comes up time and again in research is that they move in a way that is unexpected. Like you have this jittery movement; you're not sure what direction they're going to move in next. It makes it a lot harder to plan your next move and to keep yourself safe. So when you see a monster moving in that similar unexpected way, it's super threatening because you don't know what's going to happen.
BROOKE GLADSTONE Soundscapes are essential to horror, but you mentioned a specific kind that has become a staple for some filmmakers. It's called infrasound, and its frequency lives just below what we can actually detect. Why does a sound that we can't hear make the hairs stand up at the back of our heads?
NINA NESSETH Sound waves are vibrations, but we can perceive them as a pressure. in the case of higher frequency noises. Infrasound is sort of at the other end. It's a low frequency, and folks who do perceive infrasound tend to report that it makes them feel uneasy, uncomfortable or nauseated. Maybe they get headaches. In horror films, this is something that's a relatively recent technique. It's sort of like low hum happening under the threshold of the rest of the soundscape that you may not notice but is building your discomfort.
BROOKE GLADSTONE Those sounds are subtle. There's that sound in horror films, that staple we can't miss – the blood curdling scream, but not all screams are created equal because of a quality known as "roughness."
NINA NESSETH What it amounts to is a fast change in pitch from like high to low to high to low to high to low. If you think about how an ambulance siren tends to have that sort of tri-tone, high to low pitch and how you really notice an ambulance siren when it's going off. Screams function in much the same way. They're a warning, and that roughness is much faster. Really effective screams tend to have fast vibration between those high and low notes, and that's what makes them so attention-grabbing.
[CLIP]
[BLOOD CURDLING SCREAMS]
[END CLIP]
BROOKE GLADSTONE The study found that rougher screams, those vibrating between 30 and 150 Hertz, triggered a greater fear response.
NINA NESSETH So the amygdala is such a crucial part of the brain's fear circuitry, and that's the space in your brain that processes and sends out signals for, for example, threat responses like the fight-or-flight response. It's very sensitive to rough screams. What that basically amounts to is your brain is good at recognizing the difference between a toddler who's screaming because they're having a blast on a trampoline versus someone who is screaming because they're being attacked.
BROOKE GLADSTONE If the amygdala is sensitive to the roughness of a scream suggesting that we may be wired to hear them, can we stay with the brain? When we process fear, real or not, what structures are involved?
NINA NESSETH Oh gosh. There's so many parts of the brain involved in processing fear. So the thalamus is a processing waystation. It would take cues from other parts of the brain, integrate them, and then yes, send out signal to get that cascade of hormones. In the case of fight-or-flight, we have adrenaline, we have cortisol with the goal of activating our muscles and conserving energy to the organs that are required for this emergency situation and diverting energy away from those parts that are not strictly necessary if you're dealing with a threat.
BROOKE GLADSTONE Let's focus now on the difference between the way the brain reacts to a real horrible event and one created by filmmakers.
NINA NESSETH There are studies that show that when people are watching fictional events, different parts of their brains light up than if they're watching real horrific things that are happening. That amygdala is key to processing threat responses. But all of these other parts that light up when we're watching horror movies, such as the insula, which is involved in emotional processing, such as the dorsal medial prefrontal cortex, which is quite a mouthful, but is a very much a thinking part of the brain that's all about planning and executive function. So we've all had that moment when we've seen the heroine run up the stairs instead of out the door, and we think in our own heads, 'Oh wow, that's not what I would do.'
BROOKE GLADSTONE You noted in your introduction that audiences are eager, they're paying to be horrified, and in fact, they prefer films that shock them in very predictable ways. So explain to me how we can be scared when we know what's going to happen, and then tell me why we want to be?
NINA NESSETH Oh, gosh, that is the question that inspired the writing of this book. Horror is defined by tropes, a shared language where we expect the jump scare, we expect the fake outs, we expect something to be lurking in the shadows. And when that doesn't happen, it defangs the tension. That doesn't explain why we love to seek out horror. There are a few theories we already talked about — excitation-transfer theory and that idea that we can get that fear response and transform it into something that is enjoyment. There are other theories about seeing narratives on screen that resonate with your own experience.
There was a recent study that looked specifically at horror and grief and found that people who had recently experienced a loss often sought out horror movies because a lot of horror narratives are centered around grief and even just the act of seeing someone work through their own grief narrative and come out at the other end of it can be very healing. And then horror as a film can be very social and much more social than a lot of other movies. Watching a horror movie next to someone, you feel their reactions and they play into your reactions. This is not to say that you can't watch horror movies alone or with your cat, but there is just something special about the social element that can be embedded in the horror experience.
BROOKE GLADSTONE Nina, it's been a pleasure talking to you. Thank you so much.
NINA NESSETH Thank you so much for having me.
BROOKE GLADSTONE Nina Nesseth is a science writer and author of the book Nightmare Fuel: The Science of Horror Films.
Copyright © 2022 New York Public Radio. All rights reserved. Visit our website terms of use at www.wnyc.org for further information.
New York Public Radio transcripts are created on a rush deadline, often by contractors. This text may not be in its final form and may be updated or revised in the future. Accuracy and availability may vary. The authoritative record of New York Public Radio's programming is the audio record.