Why Are There So Many Classified Documents?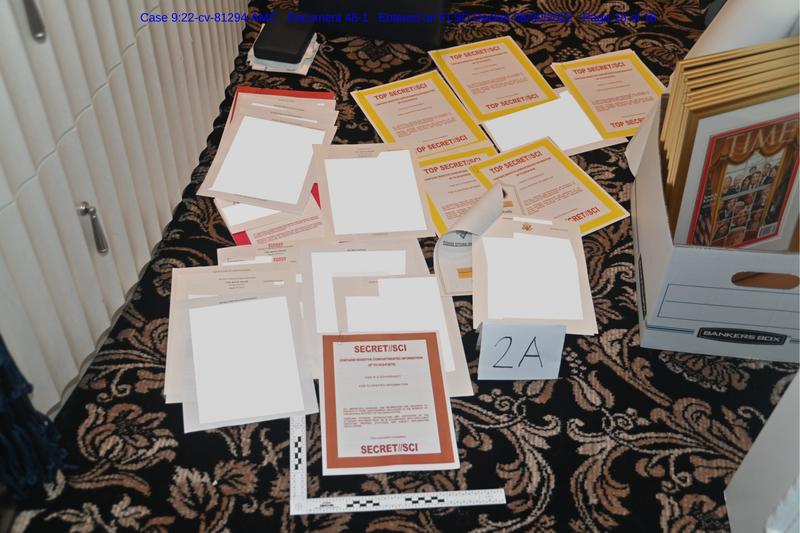 Transcript
BROOKE GLADSTONE From WNYC in New York, this is On the Media. I'm Brooke Gladstone. Ever heard the saying three may keep a secret if two of them are dead? Now multiply that by…
OONA HATHAWAY Millions of people with access to classified information. It ends up becoming self-defeating because we're keeping so many secrets that actually we really are not very good at keeping those secrets.
BROOKE GLADSTONE America's overclassification problem means more leaks, even in online games.
NOAH SMITH The tiers that these documents were classified as, they could have been available to someone who indeed was in one of these respected militaries.
BROOKE GLADSTONE Plus, the news events that defined our lives as seen over generations.
BRIAN LEHRER If the people who came of age when the Depression was first brewing had epic life challenges. So do the millennials and Gen Z today in the 2020s. I think there's been nothing like it.
BROOKE GLADSTONE It's all coming up after this.
[END OF BILLBOARD]
BROOKE GLADSTONE From WNYC in New York, this is On the Media, I'm Brooke Gladstone. Anyone can misplace their keys or forget that their glasses are on top of their heads. Or maybe, as it seems amongst presidential persons recently…
STEPHEN COLBERT CLIP Every day we learn about a new batch of classified documents showing up where they shouldn't be. And today is yet another day.
BROOKE GLADSTONE Late Show host Stephen Colbert is referring to the newest member of the Brotherhood of the meandering manila folder.
NEWS CLIP Breaking news. We have learned that classified documents have now been found in the home of former Vice President Mike Pence.
BROOKE GLADSTONE Mike Pence in an ABC interview two months ago:
DAVID MUIR Did you take any classified documents with you from the White House?
MIKE PENCE I did not.
BROOKE GLADSTONE Oops! And just last week...
NEWS CLIP FBI Investigators found more classified documents while searching President Joe Biden's Delaware home.
NEWS CLIP As well as some of Biden's handwritten notes, all of it from Mr. Biden's time as vice president and some from his time as senator.
BROOKE GLADSTONE This was the fourth time that classified documents from Biden's time as VP were found where they oughtn't be since the first batch turned up in November, when.
NEWS CLIP President's lawyers find ten classified marked documents in an office closet at the Penn Biden Center in mid-November, Attorney General Merrick Garland gives the case to Trump appointed U.S. Attorney John Lausch. Late December, the president's counsel tells Lausch there are more documents in the President's Delaware garage.
BROOKE GLADSTONE On January 5th, Lausch recommended a special counsel for the case. But all of this only became public when CBS News reported the story four days later, and over two months after the first documents were found, inviting some unsettling comparisons.
NEWS CLIP Two investigations. Two presidents, as President Biden and former President Donald Trump are being investigated for their handling of classified documents.
BROOKE GLADSTONE The FBI's raid of Trump's Mar-a-Lago home late last summer was the climax of a year long news saga that started with a subpoena. The subpoena was the first of many efforts to recover Trump's errant documents. The Biden White House actually initiated the searches. What's more...
NEWS CLIP The White House points out the two cases are different, especially since Trump had more than ten times the number of documents at Mar-a-Lago, and he refuses to fully cooperate.
BROOKE GLADSTONE So far, it's reported that between 25 and 30 classified documents were found in Biden-places, the Mar-a-Lago search revealed over 300. What was in all those documents? We won't know until government investigators release their reports. But as more folders are found at more houses, you got to wonder how much of the stuff is just lying around and why? Oona Hathaway is a professor at Yale Law School and former special counsel at the Pentagon. In her Pentagon role, she had the highest level of security clearance that the government provides and even the power to classify documents. Oona, welcome to the show.
OONA HATHAWAY Thank you so much for having me.
BROOKE GLADSTONE Last year you wrote that the vast bulk of the classified information you saw was remarkable for how unremarkable it was. Can you give us a sense of scale?
OONA HATHAWAY Well, the problem is really out of control, frankly. The last year that we have data was in 2017, and then it was around 50 million classified documents were created that year. And it means that a lot of things are classified that shouldn't be classified.
BROOKE GLADSTONE And that 2017 data say that about 4 million Americans with security clearances classified those 50 million documents at a cost of about $18 billion.
OONA HATHAWAY You know, so we bring in all these outside people to manage this information. And of course, they have to have clearances of their own. But the more people who are touching this information, the more vulnerability this information really has. And so the irony of all of that is that the more that is classified, the less well protected the information really is.
BROOKE GLADSTONE So you have these three classifications: confidential, secret and top secret. Then special compartmented information receives a special designation. This is the real deal. It has to do with human intelligence, satellite intelligence and so forth.
OONA HATHAWAY Yes, exactly. So in addition to those three levels, there's kind of a separate designation, which is sensitive compartmented information, SCI, and that's classified information that often is derived from intelligence sources or methods, compartments of information that are set up so that if that compartment is compromised, other compartments aren't compromised, but also said that you can limit access to that compartment. These are very tightly guarded programs.
BROOKE GLADSTONE Weren't some of this level of classified documents found in Mar-a-Lago?
OONA HATHAWAY Yes, they were. So the information that we have is not very extensive, but we do have this photograph that was interestingly released as part of the investigation. And from that, we can get some insight into what documents were there.
BROOKE GLADSTONE Mm hmm.
OONA HATHAWAY And we can see that very bright red letters and that photograph that shows top secret slash SCI. That's supposed to be kept in a government facility where access is extraordinarily limited.
BROOKE GLADSTONE They have to be reviewed in a skiff.
OONA HATHAWAY Yes. The skiff is a sensitive compartmented information facility. It's extremely well protected in terms of sound, in terms of access.
BROOKE GLADSTONE These designations are pretty obvious right? They're stamped at the top of the document. You said that sometimes the cover pages are even a bright color, so they can't be mixed up with other documents.
OONA HATHAWAY Yes. So the most sensitive documents that top secret SCI documents have these bright cover pages on them, bright yellow and red, that make it very clear that this is a document that is supposed to be handled in a sensitive way. And they do that precisely to make it hard to make a mistake so it doesn't get shuffled in with the other papers.
BROOKE GLADSTONE Okay. So we don't know much about what classified documents were found at Joe Biden's house from his days as vice president. One of the reasons why we don't know is because the people who found them weren't cleared to look at them and had to pass on the whole job to someone else, right?
OONA HATHAWAY As I understand it and of course, this is just from public reports, his private attorneys were going through materials that he had taken with him after he had left office as vice president and tripped across a classified document. And the minute they saw a classified document, they stopped looking and they notified the National Archives, which notified the Department of Justice. And then they had to send in people to investigate more fully who actually had access to those documents.
BROOKE GLADSTONE So President Carter signed the Presidential Records Act, which set this whole urgent need to archive in motion in a real way. Back in '78, it didn't really apply to him, though. It didn't apply until Reagan came in. And yet they found documents at Carter's house in Plains, Georgia.
OONA HATHAWAY This is not unusual. It is part of the difficulty at the very highest levels of government. How do you separate what is part of your work as a government official and what is you as a private person? Sometimes the lines between the two get pretty blurred. In the case of then Vice President Biden and Vice President Pence, they would unlikely have been the people who boxed these documents up. What would have happened is at the end of the administration, their aides would have gone through and boxed up the documents and probably should have been responsible for making determinations about what are personal papers that really should go home with them and what are documents that should be going to the National Archives.
BROOKE GLADSTONE Have you noticed any red flags in the media coverage of the Biden versus Trump classified documents events?
OONA HATHAWAY I think early on, everyone kind of threw up their hands and said oh, what Trump is being accused of. President Biden, when he was vice president, did exactly the same thing. So why are they going after Trump? Coverage has become a little bit more nuanced. There's a little bit more recognition, although still not widespread, that there is a difference between these two cases, because in one case, the National Archives was requesting over and over and over and over again access to information that they believed had been removed by the Trump administration and that needed to be returned to the National Archives. And then the other case, it was President Biden's own personal attorneys who alerted the National Archives that there might be documents that were the property of the US government, and then they invited them in to scrub the house from top to bottom.
BROOKE GLADSTONE There's a lot of weirdness in the classification system. The CIA drone program was widely covered, and yet its very existence was top secret. What are the biggest risks of overclassification?
OONA HATHAWAY Maybe the most dangerous one is that it makes it very hard for the government to disclose its activities to the American people. The drone program was one of the most highly classified government secrets, even after it was very much an open secret. Everyone knew it was happening, but President Obama couldn't even talk about it until finally he decided the whole thing was absurd, declassified the existence of the program, and started talking about it. But that's a kind of absurdity that the American people can't even be told that the American government is running a significant program of using military force abroad through these remotely piloted vehicles. And what are the consequences of that and where are they being used and who is making the decision and who are we trying to kill with these drones and why are we doing this? And how much does it cost? Like, none of those questions can be talked about with the American people because those who know about it can't even disclose the facts of it, including members of Congress. They can't talk about it with their constituents, even when it's a program everybody knows about.
BROOKE GLADSTONE What about the potential for press intimidation? Reporters at the New York Times have gotten into trouble, a fair amount reporting classified information, some of which could be argued is genuinely secret and some, like dropping bombs, is very hard to keep under wraps. What are the freedom of information implications? You know, laying aside the fact that some secrets ought to be kept.
OONA HATHAWAY Yeah. When they publish articles about these programs that could potentially put them at risk for prosecution under the Espionage Act. And in fact, when Julian Assange, who is a controversial figure but he was initially charged for hacking documents when he created the site WikiLeaks web page where you can get access to all these leaked documents. But then the Trump administration added a charge under the Espionage Act, and that made many journalists very nervous because what he was being charged for — making available to the public documents that he had received that had been leaked and putting them on the Internet — was, the exact same thing that a lot of mainstream news sites do. And the only thing standing between them and prosecution is a history of the Department of Justice deciding not to prosecute these cases. But that's where the Assange case makes everybody nervous, because that suggests maybe the Department of Justice won't stick to that forever.
BROOKE GLADSTONE But in the Assange documents, were some materials related to sources and methods, as I understand it, that could possibly affect national security.
OONA HATHAWAY I'm a big advocate of mass declassification and in fact, mandatory declassification of documents and materials that are more than ten years old. The one exception to that is for information that applies to sources and methods, and particularly human sources, human intelligence. What he did was reckless, but the decision to prosecute him under the Espionage Act makes a lot of much more mainstream journalists who would never put something online, who generally have the practice of notifying the government before they're going to place these documents online just in case there is some good reason that they shouldn't be disclosed – puts them at risk. And I think that's the danger and the concern.
BROOKE GLADSTONE Ed Snowden — he is celebrated for exposing a data collection program so sweeping it's swept Americans into its maw. But some of those leaks did arguable harm to national security, right?
OONA HATHAWAY Part of the challenge here is that the reason that those programs were kept from the American people for as long as they were was because, of course, they're extraordinarily highly classified. And so even when Congress knew about these things, if you're briefed on a intelligence program in a highly classified setting, you have a very hard time doing anything about it if you're a member of Congress, because you can't tell your constituents about it, probably can't even tell your staff about it. You may not even be able to tell your colleagues about it if they haven't been read into the program. And so part of the reason I think these programs can persist is that those who learn about them can't do anything about it.
BROOKE GLADSTONE Please fact check me. Didn't some of Ed Snowden's revelations put legitimate sources and methods at risk?
OONA HATHAWAY That is what the government says. I actually can't even look because I'm not cleared into those programs.
BROOKE GLADSTONE You can't look at stuff that was leaked.
OONA HATHAWAY If I ever want to get access to classified information again, so be read into a classification program again, I can't look at improperly leaked material that remains classified. Just because it's leaked doesn't mean it's declassified.
BROOKE GLADSTONE So as somebody with a clearance, you're not allowed to look at it. I am allowed to look at it.
OONA HATHAWAY There is a kind of absurdity about that because –.
BROOKE GLADSTONE Yeah!
OONA HATHAWAY [CHUCKLES] and it's hard for people like me who are researchers.
BROOKE GLADSTONE Thank you so much.
OONA HATHAWAY Thank you so much for having me.
BROOKE GLADSTONE Oona Hathaway is a professor at Yale Law School.
Coming up, that video game you're playing might be a danger to national security. This is On the Media.
Copyright © 2023 New York Public Radio. All rights reserved. Visit our website terms of use at www.wnyc.org for further information.
New York Public Radio transcripts are created on a rush deadline, often by contractors. This text may not be in its final form and may be updated or revised in the future. Accuracy and availability may vary. The authoritative record of New York Public Radio's programming is the audio record.