What Happens When Anti-Vaxxers Repent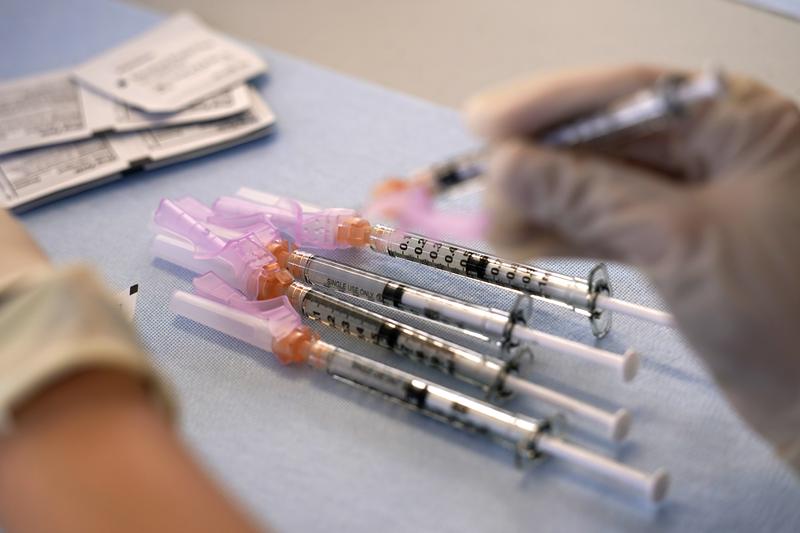 Transcript
KATYA ROGERS From WNYC in New York, this is On the Media, and I am not Brooke Gladstone. This is Katya Rogers, executive producer of the show. So Brooke is out this week on vacation, and we've asked a friend of the show to help out. The brilliant NBC senior reporter, Brandy Zadrozny, who in her day job reports on all things misinformation. Take it away. Brandy.
BRANDY ZADROZNY Thanks, Kat. You might have heard me over the last couple of years as a semi-regular guest talking about QAnon or anti-vaxxers. Actually, this week's show hits on some of those things. Let's get into it.
[CLIP]
NEWS REPORT Renewed signs that the pandemic is far from over.
[CONTINUES UNDER]
BRANDY ZADROZNY The CDC reversed course last week.
NEWS REPORT Mask mandates are returning in some places and cities, states and businesses are rolling out vaccination requirements. [END CLIP]
BRANDY ZADROZNY Director of the National Institutes of Health, Francis Collins sounded a little touchy in his response to the backlash.
[CLIP]
FRANCIS COLLINS I'm sorry if people think that that's a change in the guidance. Well, it's a change because of new data. Isn't that what you want your public health experts to do? Is to look at the evidence and then tell you what right now is the best thing to do. [END CLIP]
BRANDY ZADROZNY Meanwhile, the Delta variant continued to spread through the populace and a very specific type of story made its way through the media.
[CLIP MONTAGE]
NEWS REPORT unvaccinated Americans who got sick and regret their decision.
NEWS REPORT I spoke with a mom whose daughter is fighting for her life here in Arkansas Children's. She told me the hardest part about watching her child suffer is that this was preventable.
REGRETFUL MOM It's very hard to see her in that situation. I wish I would have made better choices.
NEWS REPORT A Carlsbad man who just tested positive for covid is speaking out about his vaccine regrets. As ABC News reporter, Michael Chen found out his painful covid battle has changed his mind about getting the vaccine. [END CLIP]
BRANDY ZADROZNY Turns out this isn't the first time we've watched these kinds of stories take over the news cycle. Rebecca Onion, historian and staff writer at Slate, calls the trope the fable of the sick anti-vaxxer. She says during the smallpox outbreak of the early 20th century, newspapers turned to the same methods, desperately trying to fight the growing resistance to inoculation.
REBECCA ONION This rash of smallpox epidemics in the late 19th and early 20th century was really the time that there started to be vocal, well they call themselves medical freedom advocates who would be publishing and speaking about avoiding the smallpox vaccine, but this is also a time when the government in various cities and towns would mandate the smallpox vaccine and also do things like sweep through cities and pull people out of tenements. It was especially poor people that they would do this to, and forcibly vaccinate or charge them with defiance of the law. It was this really bad time where there was not a lot of government control or regulation of the physical vaccine. So there was a lot of contamination of the vaccine. And it was true that a lot of people did get pretty sick from it. So there was mandates, but not regulation. So this was sort of just like a perfect storm for anti-vaxx sentiment and actually led to the government stepping in and regulating the production of vaccines, for the first time.
BRANDY ZADROZNY You relay the story of a particular anti-vaxxer, a local doctor in Boston who in 1982 intentionally exposed himself to smallpox. Tell us the story of Immanuel Pfeiffer.
REBECCA ONION So I first encountered the story in a book called Pox by a historian named Michael Willrich. And it's a really great book. I couldn't believe it when I read it. So this guy, Immanuel Pfeiffer, who was a licensed doctor, you know, he practiced medicine. He lived in Bedford, Massachusetts, but he had sort of been a problem for the more official public health establishment for a while. There's some sort of like dispute as to how he actually got his license, and this is a time when doctors were really trying to professionalize. So other doctors and public health authorities were just like constantly very annoyed by Pfeiffer because he would do things like use hypnotism in his practice or he would treat people by mail, which was a practice that they were really trying to, to crack down on at the time. And as part of this, again, this is a familiar thing, he's interested in a lot of like, alternative health practices. And one of the things that he was very sort of fixated on was arguing against the smallpox vaccine.
BRANDY ZADROZNY He was a wellness influencer.
REBECCA ONION Yeah, he was. But anyways, there's a public health official in Boston named Samuel Durgin, who was especially annoyed by him, and he challenged him publicly to go to the isolation hospital where people were being kept who had smallpox and see the patients there, and basically, like, exposed himself. Durgin thought it was going to be a beautiful publicity stunt. Sort of great for the vaccination cause, and at the time, people actually were kind of shocked at what Durgin had done because Pfeiffer did go to the hospital, visited some of the worst smallpox cases in the hospital, was like leaning over their beds and getting in their faces [CHUCKLES] and treating them. And then he left the hospital, he tried to leave without washing his hands, and then the people at the hospital stopped him and said, you should wash your hands. So he did. He left the hospital and took public transport to a big meeting. It was actually a meeting where he spoke on behalf of the anti vaccination cause.
BRANDY ZADROZNY So when Pfeiffer gets home, what happens?
REBECCA ONION Well, he got smallpox. And the media starts saying he defied the disease and now he's ill. A lot of front page headlines, "Anti Vaccinationist Gets Sick."
BRANDY ZADROZNY I saw one of the New York Times headlines was "Exposed to Smallpox: Boston Doctor Who Opposed Vaccination Now Has the Disease and Probably Will Die."
REBECCA ONION Yes, that's right. You know, Willrich points out that it wasn't just Pfeiffer that the media kind of did this with. They also did it with a couple of other cases of sort of small religious communities that were anti vaccination, that had been hit by outbreaks of the virus. And they would sort of say, well, we'll see how their Bible does for them now or, you know, that kind of thing. But they also were not super into the way the health authorities had handled the case. It wasn't as perfect of a, like a slam dunk as the Board of Health had hoped for.
BRANDY ZADROZNY And what about Pfeiffer? Did he die?
REBECCA ONION He didn't die. One thing to know about the smallpox from the early 20th century is that it was the less virulent strain than what had been predominant in the United States in around the time of the Revolutionary War, for example, when a lot of people were dying of it, which was actually part of the problem with the vaccination campaigns, because since it wasn't as terrible as it had been in years past, more people were surviving it than maybe had in the past.
BRANDY ZADROZNY Great. So I imagine Dr. Pfeiffer afflicted, but now well, he had seen the light. He learned a lesson. He became an advocate for vaccination. No?
REBECCA ONION No, he learned nothing, or so it seems. He publicly said that he had not had a problem with it at all, and that it wasn't as painful as everyone said, and his fellow anti vaccinationists had sort of a similar approach to the case. You know, they would say, you know, he is in poor health, he's been doing too much, too much public speaking, trying to advance the cause, and that's why he got hit. Which is, again, familiar in terms of like the toolkit of anti vaccinationist arguments. This idea that it wouldn't have been as bad if he had been someone else.
BRANDY ZADROZNY Well, so Dr. Pfeiffer wasn't moved, maybe his fellow anti vaccinationists weren't moved, but how did it affect others who had read these stories in the press, who had heard his story?
REBECCA ONION A couple of weeks after, because, of course, it was also reported that Pfeiffer had survived, a couple of weeks after that was reported, people were kind of back to being resistant. So it sort of seemed like it did nothing and was this weird fight for no reason.
BRANDY ZADROZNY So the cautionary tale's effectiveness weakens over time maybe, and maybe won't ever convince any of the true believers. But I've been seeing all these stories and asking who they're really for? Do they convince the unvaccinated to roll up their sleeves, or are they just for the vaccinated folks to read and nod sagely and just feel good about ourselves. I think the term that you used for how the vaccinated feel about these stories was "delicious"?
REBECCA ONION Yes, and I don't want to make anyone feel bad for [CHUCKLES] for the way they feel about reading these stories, because we're all very frustrated. I get it. I think the very striking thing to me that I realized sort of after completing this piece is that I haven't seen any of these stories yet where the person didn't get the vaccine because they had some structural impediment. And there is some polling now, recently from the Kaiser Family Foundation, I believe, saying that a lot of people who aren't getting it are getting it because they're worried they might be charged in some way. Their insurance will sort of spring a fee on them, or they don't have child care, or they're worried about missing work. The fact that all the people who seem to show up in these stories are saying something about partisan reasons why they didn't get the vaccine. It's telling to me because the glee that the vaccinated might sort of subtly feel and maybe express online on reading these stories is sort of indicative of the great frustration that people have felt on, I feel like, you know, across the political spectrum in the past four years. There is something that people who report on the QAnon movement talk about a lot, which is that QAnoners, one of their very excited feelings in the lead up to January 6th was that they hoped that not only that everything that they hoped was going to happen, that there would be like public executions of every liberal figurehead, but also that everybody who in their family or in their friend group who had mocked them or tried to convince them out of their beliefs would have to say, "hey, you were right." Like "this actually did happen, I was wrong all along," and, you know, you can look at that and say, oh, that's ridiculous. Obviously, that wasn't going to happen and it didn't happen. And, you know, this is like an alternate reality, but I think that the hunger for that definitive moment where the person who has opposed you has to say that they were wrong, existed in, maybe all of us, and that sort of this feeling that gets activated by these stories, and I think the reason why there are stories of conservatives who have to take back what they thought, is that same feeling of like "my reality came for you, and you have to acknowledge now that what I said was true, is true." And I think that accounts for some of the sort of like, uncharitableness of it. Like the clash of realities that we've been sitting with for the past little while. And it's coming out in these stories.
BRANDY ZADROZNY I appreciate that. I mean, it feels like we all have someone in our family who has not been vaccinated and politics might have something to do with that. So it's not, you refer to a meanness in some of the responses, maybe the idea is better phrased as wishful thinking? If this person can be convinced, then my person can also see the light.
REBECCA ONION Hey, I like that a lot better. That sounds nicer. You identify something which is also deep inside of it, which is this like personal concern and just feeling like you've used all your tools and like what? Like what more could you possibly say? And these stories give you one more tool in a way.
BRANDY ZADROZNY Rebecca, thanks so much.
REBECCA ONION Thanks so much for having me.
BRANDY ZADROZNY Rebecca Onion is a historian and staff writer for Slate magazine. You can read her piece, The Fable of the Sick Anti-Vaxxer on Slate.com. Coming up when online violence spills out into the streets. This is On the Media.
Copyright © 2021 New York Public Radio. All rights reserved. Visit our website terms of use at www.wnyc.org for further information.
New York Public Radio transcripts are created on a rush deadline, often by contractors. This text may not be in its final form and may be updated or revised in the future. Accuracy and availability may vary. The authoritative record of New York Public Radio's programming is the audio record.