When American Presidents Go to Trial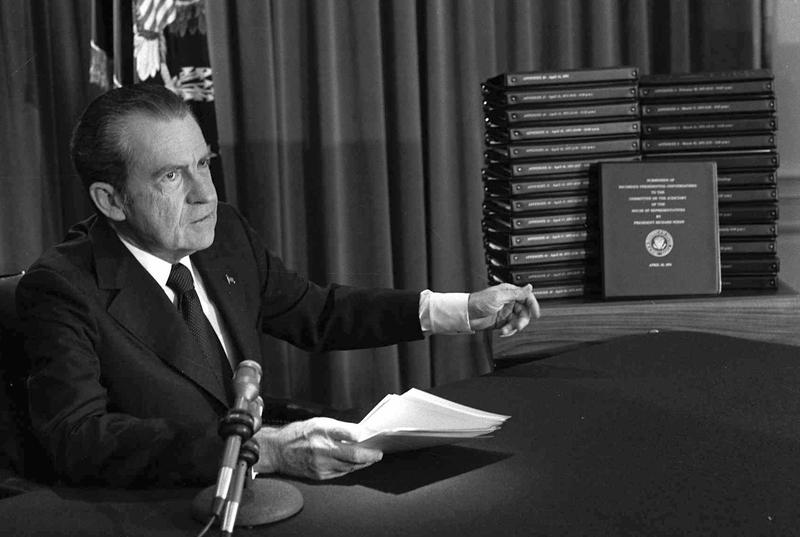 Transcript
ILYA MARRITZ Earlier we heard from political scientist James DeLong that some countries choose to prioritize continuity over accountability when it comes to prosecuting their leaders. This past Thursday marked the anniversary of a historic decision to do just that right here in the U.S.A. On September eight, 1974, President Gerald Ford pardoned his predecessor, Richard Nixon, who resigned office one month earlier. Rick Perlstein is a journalist and historian who's chronicled the post 1960s American conservative movement. He says Ford's decision to pardon Nixon still reverberates today.
RICK PERLSTEIN After he resigned for Watergate, as many of his top deputies were facing trial for which they be convicted, including the attorney general, John Mitchell. The statements that the establishment put out there was Nixon's resignation shows the system works. We had brought a president to judgment and it was clunking along towards what was likely to be an indictment. But then Gerald Ford, a month into his presidency, went on TV on a Sunday morning. He probably thought the American people were in the mood for mercy after coming back from church. And he granted Nixon a full, free and absolute pardon for all offenses against the United States, which he Richard Nixon and I'm reading from his document, committed or may have committed or taken in during the period from January 20th, 1969 through August 9th,1974. It was an extremely unpopular move by Gerald Ford. It lowered his approval ratings overnight by 20 points. And for many Americans, it really seemed to suggest that the system didn't work, that presidents were above the law. But time passed. The interpretation of for its actions really kind of made 180 degree reverse among members of the media elite. The political elite.
ILYA MARRITZ You point out in a piece you wrote for Salon in 2014, quote, After Ford died in 2006, Wall Street Journal columnist Peggy Noonan went so far as to say that President Ford, and now I'm quoting her, threw himself on a grenade to protect the country from shame. And he did it because he thought it would help America to move on. And in some sense, it did. No?
RICK PERLSTEIN Well, here we are. Is America healed? I mean, you know, kind of the proof is in the pudding, right? I think that one of the problems with that reasoning is that future bad actors in the White House realized that they could get away with crimes. The very next Republican president and his White House decided that they could break the laws with impunity. That's Iran-Contra.
ILYA MARRITZ Can you just recap for us what we know happened in Iran-Contra and what the illegal activity was?
RICK PERLSTEIN Yeah, sure. Congress passed a law it's called the Boland Amendment, and Ronald Reagan signed it that America could not pass on money to this underground army that was trying to overthrow the Nicaraguan government. And basically, a group of people led by a gentleman named Oliver North, who was a revered and respected figure on the right, now set up an operation in which they basically raised money by arranging to sell missile parts to Iran. Basically, their proxies in Lebanon, where there was a civil war going on, had taken a series of American hostages. And it was often the case that after we sold them the missiles they wanted, they would just keep the hostages anyway or take more hostages.
ILYA MARRITZ I mean, it's sort of like a breathtaking foreign policy Rube Goldberg machine. Do this thing over here to make this thing happen over there. I'm actually astonished they were able to carry it out.
RICK PERLSTEIN And Ronald Reagan actually testified that he didn't have anything to do with the planning of this, he claimed. But he said when he heard it, he thought it was a neat idea, quote unquote. Killing two birds with one stone, getting hostages out, supposedly, and fighting communism. Because, you know, his public policy was that Russia was going to use Nicaragua as a base to invade America. It was quite explicit about that.
ILYA MARRITZ So Reagan said he had nothing to do with this. Was there ever good enough evidence to really link him to Iran-Contra?
RICK PERLSTEIN Well, the real wackiness of this story, you know, people of a certain age will remember this, was that this guy, Oliver North, received immunity to testify. And in one of the most astonishing spectacles, he testified in his Marine dress uniform, made no apologies whatsoever, said he was just a loyal soldier fighting for freedom. And in fact, there was one incident where the actual Justice Department investigators went into his office while he was shredding and asked for documents. And they're like, what are you doing? We're from the Justice Department. And he said something like, Look, you're doing your job and I'm doing mine.
[CLIP]
PROSECUTOR So you shredded some documents because the attorney general's people were coming in over the weekend.
OLIVER NORTH I do not preclude that. Part of what was shredded. I do not preclude that as being a possibility. Not at all. [END CLIP]
RICK PERLSTEIN And the fascinating thing about his explanation was that he didn't think he was admitting to wrongdoing. He thought he was admitting to this great stride for freedom and dignity and liberty, you know, fighting the Soviet empire. That's kind of a cognitive pattern on the right that they're fighting for a transcendent good against a transcendent evil. We see this pattern repeating again and again. Richard Nixon saying if the president does it, it's not illegal. Or, you know, Dick Cheney saying that the vice president's office is a fourth branch of government and the Constitution doesn't quite apply to it in the same way.
ILYA MARRITZ Let's zoom in on the role of Dick Cheney. In the Ford administration, he's the chief of staff. By the time Iran-Contra rolls around, he is a member of Congress. He is part of the committee that's investigating Iran-Contra.
RICK PERLSTEIN The conclusion reached by the majority is that basically the Reagan White House was guilty, guilty, guilty. And the committee that the minority, the Republicans put together said he was innocent, innocent, innocent. Cheney basically moved along this theory that had been kind of long in the gestation that later became described by legal scholars as the unitary executive theory.
ILYA MARRITZ So here's that quote from the report that Dick Cheney helped to author. This is a quote that you sent me. Quote, Chief executives are given the responsibility for acting to respond to crises or emergencies to the extent that the Constitution and laws are read narrowly as Jefferson wished, the chief executive will on occasion feel duty bound to assert monarchical notions of prerogative that will permit him to exceed the law.
RICK PERLSTEIN You will almost expect a trumpet fanfare as the King arrives in his raiment, you know, yeah.
ILYA MARRITZ Monarchical notions of prerogative. Translate that for me.
RICK PERLSTEIN It's a bit of a gaslight because it comes from Jefferson in the most anti monarchical, most democratic of the founders. I mean, it basically means how dare you tell the president that he couldn't defy laws about who the United States could fund when it came to military aid?
ILYA MARRITZ Do you happen to remember where you were or what you were doing when you first read that quote?
RICK PERLSTEIN Yeah, I saw it a couple of years ago and I was like, How the heck did I not know that Dick Cheney was responsible for this utterance? I mean, in a way, it indicts the media for not digging up this astonishing thing. Although people know about this Minority Report and people have written at length about the evolution of Cheney's ideas about the unitary executive. The word monarchical should raise anyone's hackles when it has anything to do with the United States Constitution.
ILYA MARRITZ And we see this idea emerge again in the 2000s when Dick Cheney is the vice president. There's all kinds of questions about the conduct of the CIA around the war on terror.
RICK PERLSTEIN The National Security Agency spying on Americans, the use of what they called enhanced interrogation, which normal people call torture in order to supposedly investigate 9/11. All sorts of very clever lawyering around the idea that Congress did not have an oversight role in any of this.
ILYA MARRITZ We're talking about, at this point, about five decades of sort of building this conservative ideology surrounding the powers of the presidency. What about the Democrats? In this period, what's their view of the president and the law?
RICK PERLSTEIN And the years of Watergate and the Ford administration, the idea was that it was the responsibility of Congress, especially to effect this national housecleaning. You know, both when it came to laws like the first serious campaign finance reform or the laws requiring a judge to approve warrants from the NSA, the FISA courts, or new laws about open meetings in Congress. The Democrats held that to restore kind of the nobility of the constitutional raiment, we had to have reform and beginning kind of in the second half of 1970s was a certain failure of will around that. I think that the Democrats, after losing three presidential elections in a row by these, you know, kind of tough, swaggering guys, the Republicans began kind of losing faith in that reform impulse. This is the basic attitude.
We saw Barack Obama, who after he was elected with quite a striking mandate in 2008 by people who thought in a lot of cases that they were voting to call the Bush administration to account, said, no, we're going to be looking forward, not looking backwards. You know, there were no investigations of, for example, NSA spying by Congress. There was an investigation of torture. And it reached conclusions that were shocking. So it's it's kind of this combined an uneven development where, you know, we do have these reform energies, you know, kind of like now. How the January 6 committee represents, you know, this really kind of strong voice for accountability, whereas a lot of people are questioning how far we can push this again out of this fear that somehow justice can only be achieved at the expense of unity.
ILYA MARRITZ So for this episode of On the Media, we have been looking a lot at other countries, other democracies in particular that have charged their leaders or former leaders with crimes. And the thing that I didn't really appreciate before we started to look at this is just how common this is. South Korea, Italy, Israel, France, South Africa, Brazil. The list goes on. Some of those countries have charged their former leaders more than once. I know this is not your area. America is your thing. But do you think an aversion to holding former presidents to account is in its way, a form of American exceptionalism?
RICK PERLSTEIN I think actually this is very much in the wheelhouse of what's behind all my writing, whether it's my journalism or my history. Is that America often has this almost unique aversion to conflict, precisely because the depths of the division that are just very real in the very conception of the country, which was, of course founded, on this tarnished compromise between the forces of slavery and the forces of freedom are just so deep and people are afraid to open Pandora's box. And the fact that so many other democracies have proven themselves to be kind of more stalwart, more mature shows that maybe, you know, we're not the city on the hill that we like to imagine ourselves as. That we're just far too afraid of our own contradictions, really, to privilege justice over this false and sentimental vision of what we like to call a unity, which might be just a form of cultural repression.
ILYA MARRITZ Rick Perlstein, thank you very much.
RICK PERLSTEIN Thanks Ilya.
ILYA MARRITZ Rick Perlstein is a journalist, historian and author of The Invisible Bridge The Fall of Nixon and the Rise of Reagan. Coming up, some media outlets rediscover impartiality – whatever that is. This is On the Media.