What's So Bad About Being A Replicant?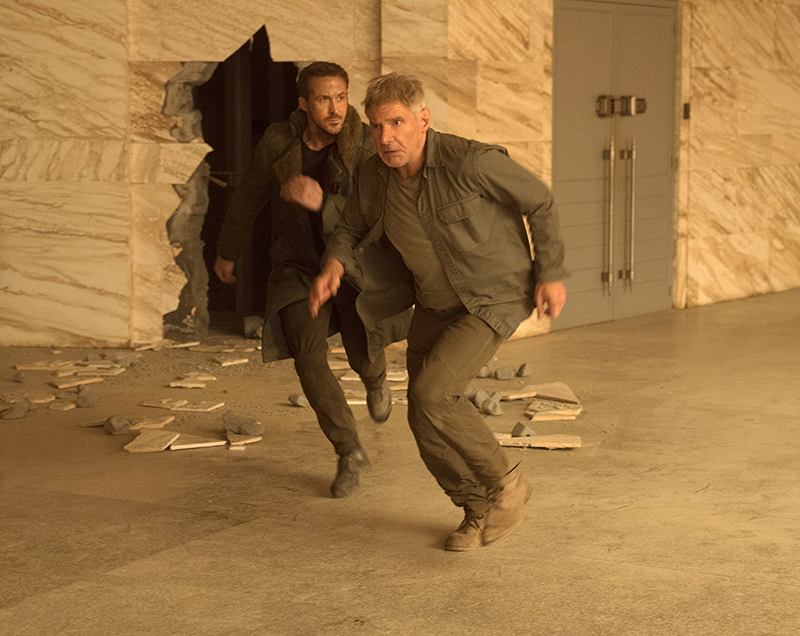 Transcript
[PROMOS]
BOB GARFIELD: This is On the Media. I'm Bob Garfield.
BROOKE GLADSTONE: And I'm Brooke Gladstone. It's been 35 years since the release of Ridley Scott's Blade Runner. Today, it's widely acknowledged as hugely influential, but in 1982 it was a box office flop. The sequel, Blade Runner 2049, comes out this weekend. It's not as good as the first. How could it be? But I liked it.
[BLADE RUNNER 2049 CLIP/PAUSE, SOUNDS IN BACKGROUND]
JARED LETO AS WALLACE: Replicants are the future, but I can only make so many. I have the lock and he has the key.
[END CLIP]
BROOKE GLADSTONE: It's a film that pays true homage to its forbear, maintaining continuity with the original's singular sights and sounds, and even its star, Harrison Ford. The first film, loosely based on Philip K. Dick's Do Androids Dream of Electric Sheep, is set in 2019 Los Angeles, swathed in smog and rain, so much rain, the streets steaming and teeming with the world's dead enders, losers. The film presented an unusually bleak vision of the future, but it has since set the template for many future-oriented movies, dark depictions of economic inequality and technology run amok, sending the world spiraling into environmental and moral decline.
Even if you haven't seen Blade Runner, you've seen its visual and thematic DNA expressed in The Matrix, Aquirra, Dark Knight, Strange Days, Ghost in the Shell, Batman Begins, so many others.
In Blade Runner, the Tyrell Corporation makes androids called replicants. Tyrell, himself, explains to Deckard, played by Ford, who's forced back into his old job of killing rogue replicants, how the company is tweaking its creations to make them more tractable.
[CLIP]:
JOE TURKEL AS DR. ELDON TYRELL: We began to recognize in them a strange obsession. After all, they are emotionally inexperienced, with only a few years in which to store up the experiences which you and I take for granted. If we gift them a past, we create a cushion or a pillow for their emotions and, consequently, we can control them better.
HARRISON FORD AS RICK DECKARD: Memories, you're talkin' about memories.
[END CLIP]
ALISON LANDSBERG: I had an abiding interest in memory and the relationship between memory and identity, and I don't think that there is a film that more directly tackles that question than Blade Runner.
BROOKE GLADSTONE: Alison Landsberg is a professor of history and cultural studies at George Mason University and the author of Prosthetic Memory: The Transformation of American Remembrance in the Age of Mass Culture. Alison, welcome to the show.
ALISON LANDSBERG: Thank you so much. It's a pleasure to be here.
BROOKE GLADSTONE: Blade Runner, obviously, was the first of Philip K. Dick's works to be adapted. Total Recall with Arnold Schwarzenegger came out in 1990. It was based on the story, "We Can Remember It for You Wholesale," in which a company called Rekall offers to implant memories.
[TV COMMERCIAL CLIP]:
NARRATOR: Have you always wanted to climb the mountains of Mars -- but now you're over the hill? Then come to Rekall, Incorporated, where you can buy the memory of your ideal vacation cheaper, safer and better than the real thing.
[END CLIP]
ALISON LANDSBERG: I was interested in both of these films because they actually seemed to be tackling the same question: Do the memories that we have need to be real for us to take them seriously? I think that both of these films end up arguing quite powerfully that authenticity is not the most important criteria for memory and that what's more important is how it is that we use those memories in our daily life, how does memory shape our worldviews?
BROOKE GLADSTONE: In the case of the Arnold Schwarzenegger film, his character Quaid signs up for the memories of a trip to Mars as a secret agent; you can pick your identity. But the procedure goes wrong because his authentic memories and personality had already been overwritten, that, in fact, he was a secret agent but he couldn't remember. And, as you wrote, it turns out that we like the fake identity better than the original one.
ALISON LANDSBERG: That's right because Quaid is the identity that wants to do the right thing, [LAUGHS] to protect the mutants on Mars from oxygen deprivation, So even though those memories weren't actually memories of events that he lived through, those memories were the ones that enabled him to engage in a progressive social mission.
[TOTAL RECALL CLIP]:
KUATO: What do you want, Mr. Quaid?
DOUGLAS QUAID: Same as you, to remember. To be myself again.
KUATO: You are what you do. A man is defined by his actions, not his memory.
[END CLIP]
BROOKE GLADSTONE: But you wrote, "A man is defined by his actions but whether those actions are made possible by prosthetic memories or memories based on lived experience makes little difference."
ALISON LANDSBERG: Right, and it's a provocative statement because we tend to put a high premium on authenticity when it comes to memory, as a society. We want to be able to count on memories and we want to be able to check their validity.
One of the things that Blade Runner does really beautifully, I think, is show it's more important how the replicants use the memories than whether or not they're real. And there's a really beautiful scene when Rachael has realized that she is a replicant and she's with Deckard, and she's starting to play the piano.
[CLIP]:
RACHAEL: I didn't know if I could play. I remember lessons. I don't know if it's me or Tyrell's niece.
DECKARD: You play beautifully.
[END CLIP]
BROOKE GLADSTONE: There again, as long as she plays the piano beautifully, it doesn't matter how she learned, right?
ALISON LANDSBERG: That's right, that these memories that might not have come from her own lived experience enable her to live a life.
BROOKE GLADSTONE: Before we get deep into the philosophy of this, let's make a brief stop at the HBO series Westworld, which I know you've seen, right?
ALISON LANDSBERG: I have.
BROOKE GLADSTONE: There is a scientist by the name of Bernard played by Jeffrey Wright who, like the character Rachael, didn't know that he was artificial. So he asks his maker, played by Anthony Hopkins, some questions.
[CLIP]:
BERNARD: … I do not understand the things that I feel. Are they real, the things I experienced? My wife? The loss of my son?
FORD: Every host needs a backstory, Bernard. You know that. The self is a kind of fiction, for hosts and humans alike. It's a story we tell ourselves.
[END CLIP]
ALISON LANDSBERG: That's something that I think is really quite important. We are bombarded with narratives about the past, images, stories of all kinds. We feel these things to be real, even if they're not authentic. I don't mean to suggest for a minute that when we watch a, a media representation of the past we're confused and believe it to be our past. What I'm trying to get out, instead, is that by engaging with these images we feel a personal connection to it so that it matters more to us, so it feels real and meaningful.
BROOKE GLADSTONE: Right. In a paper you wrote back in the '90s, you refer to the work of scholar Steven Shaviro --
ALISON LANDSBERG: Mm-hmm. [AFFIRMATIVE]
BROOKE GLADSTONE: -- who says there's something about film, in particular, that enables us to wear images prosthetically. We can experience them in a bodily fashion. And so, he argues that cinematic experiences are not representations; they are events.
ALISON LANDSBERG: I would go back even before Shaviro to Siegfried Kracauer, the very keen observer of mass culture in its early days, and film, in particular. He argued that film grabs the viewer with skin and hair. We're taken by these images and our bodies are engaged in that visceral way that has a kind of profound effect on our own memories.
BROOKE GLADSTONE: But how does that affect our values, our understanding of the world, our personalities? We're seeing the rapid development now, finally, of virtual reality, which will make those memories even more physical, and we are physical beings.
ALISON LANDSBERG: It's really daunting, isn't it? When I began working on this project, I was really responding to a body of theorists who were very critical of mass culture and film and television -- this is the 1930s and '40s -- theorists like Theodor Adorno and Max Wertheimer. They believed that viewers were being brainwashed and made passive. That skepticism about mass culture persisted. And so, what I was trying to do in my work was to think about instances where it seemed like this very powerful technology might be used to see through somebody else's eyes to develop empathy.
BROOKE GLADSTONE: Understand the world more completely.
ALISON LANDSBERG: Absolutely.
BROOKE GLADSTONE: There's a famous monologue at the end of the 1982 Blade Runner, delivered and supposedly written by Rutger Hauer, who plays the replicant Roy Batty.
ALISON LANDSBERG: Mm-hmm, mm-hmm.
BROOKE GLADSTONE: And he's finally reconciled himself to his pre-programmed death and he sits with Deckard, who's been trying to kill him and failing, and Batty saves his life in order to have him there in his final moments.
[CLIP]:
ROY BATTY: I've seen things you people wouldn't believe. Attack ships on fire off the shoulder of Orion. I watched C-beams glitter in the dark near the Tannhäuser Gate. All those moments will be lost in time, like tears in rain. Time to die.
[END CLIP]
BROOKE GLADSTONE: An inauthentic human with genuinely authentic experiences. Do you think that we can be individual without holding memories?
ALISON LANDSBERG: We rely on memories, whether they're real or whether they're borrowed or memories that we have constructed, based on what people have told us about our past. We use these memories to narrate ourselves. We call on the past to open up trajectories for us to become the kind of people that we want to be. Cultures do this all the time, that societies or nation states select particular aspects or events of the past that justify who they are in the present. Memory becomes justification for the present but also opens up possibilities for the future.
BROOKE GLADSTONE: But what we encode of the past is determined by the market. I mean, think of how many people saw Gone With the Wind and formed their views of slavery, thereby.
ALISON LANDSBERG: Oh, for sure. There are plenty of good reasons to be skeptical about the narratives about the past that circulate in the mass media. What I'm interested in is the possibility that's opened up by the medium, and is this possibility realized or not? And mostly it's not.
And what's so interesting to me about the genre of science fiction is that it explores these possibilities in ways that we haven't quite caught up to in society.
BROOKE GLADSTONE: Let me ask you, is there a scene or a moment that we haven't played, you know, that sort of sums up your principal idea, a clip that you think we should end this discussion on?
ALISON LANDSBERG: I mean, one scene that I think is really important is the scene when Deckard seems to have a memory of a unicorn, clearly a memory that he couldn't have had, right, because unicorns don't exist.
[CLIP/MUSIC, SOUND OF HORSE NEIGHING]
It's an indication to both Deckard and to us that he also is a replicant, that the memory of the unicorn had been implanted. And I think this is kind of important because there's a way in which all of our memories are implanted, right? Some of them are implanted by the stories that we're told by our parents when we're children. Some of them are from the photographs that we see of our childhood, some of them from the movies and television shows that we watch. But it's what use we make of these memories, real or not, that's most important, so that even if Deckard, himself, turns out to be a replicant, he's chosen to help Rachael, to fight for her and protect her. And he's made this ethical decision, whether or not the memories that make him up are implanted or real.
[MUSIC UP & UNDER]
BROOKE GLADSTONE: Alison, thank you very much.
ALISON LANDSBERG: My pleasure, thank you for having me.
BROOKE GLADSTONE: Alison Landsberg is a professor of history and cultural studies at George Mason University and the author of Prosthetic Memory: The Transformation of American Remembrance in the Age of Mass Culture.
BOB GARFIELD: That's it for this week's show. On the Media is produced by Alana Casanova—Burgess, Jesse Brenneman, Micah Loewinger and Leah Feder. We had more help from Monique Laborde. And our show was edited -- by Brooke. Our technical director is Jennifer Munson. Our engineers this week were Sam Bair and Terence Bernardo.
BROOKE GLADSTONE: Katya Rogers is our executive producer. On the Media is a production of WNYC Studios. I'm Brooke Gladstone.
BOB GARFIELD: And I'm Bob Garfield.
* [FUNDING CREDITS] *