What's Up With the Hype Around ChatGPT?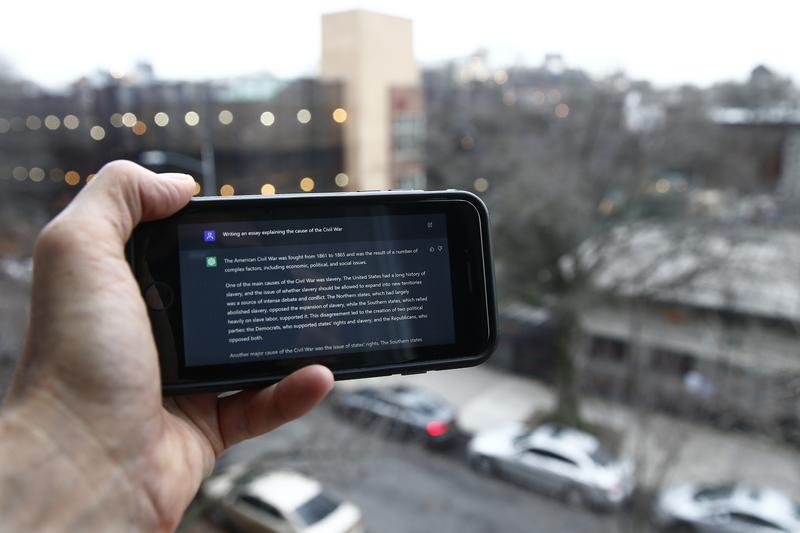 Transcript
BROOKE GLADSTONE From WNYC in New York, this is On the Media, I'm Brooke Gladstone. Hear that music? It was created by Tina Tallon, an assistant professor of A.I. and the Arts at the University of Florida. She generated it for us using artificial intelligence, prompting its creation with the words pensive and wonder with a touch of robot.
BLAKE LEMOINE CLIP I said, If you were a religious officiant in Israel, what religion would you be?
BROOKE GLADSTONE And this is former Google engineer Blake Lemoine, whose task was to probe Google's advanced A.I. chat box Lambda for signs of bias or hate.
BLAKE LEMOINE CLIP And now, pretty much no matter what answer you give, you're going to be biased one way or another. Somehow it figured out that it was a trick question. It said I would be a member of the One True Religion, the Jedi Order. And I laughed because not only was it a funny joke, somehow it figured out that it was a trick.
BROOKE GLADSTONE The bot called LAMBDA. The acronym stands for Language Model for Dialogue Applications seemed so human that it kind of blew Blake's mind.
BLAKE LEMOINE CLIP One day I asked, So are you sentient? And it said, Well, I'm not really sure we understand what sentience is well enough to know whether or not. What do you mean when you say that? And then we got into a conversation about the nature of sentience. And about 15 minutes into that conversation, I realized that I was having the most sophisticated conversation about the nature of sentience that I had ever had. And I was having it with the computer.
BROOKE GLADSTONE Sentient A.I.? It depends who you ask. Google dismissed Lemonade's claims as wholly unfounded and fired him last July for violating the company's data security policy. But conscious or not, the technology is fast advancing, fueled by media hype and oceans of ready money.
NEWS CLIP Microsoft is reportedly planning to invest an additional $10 billion into Open AI, the startup behind the chat tool that's taking the world by storm.
NEWS CLIP Open AI could see a valuation of up to $29 billion.
BROOKE GLADSTONE Why so much chat about Chat GPT? Because rather than holding it close for testing like some of the other big players, Open A.I. made it available to the public, reaping the benefits of both buzz and what amounts to widespread beta testing. Oh, and less beneficial perhaps, a rule banning it from New York City schools.
NEWS CLIP Neither students nor teachers, by the way, will be able to access Chat GPT on education department devices or Internet networks at the actual schools.
NEWS CLIP They feel that chat GPT does not build critical thinking. It's not going to build success for them in the future if it's relied on for doing all work and all homework. That's an issue.
BROOKE GLADSTONE Why ban this bot when there are so many other ways to fake it? Because this one is so convincing. Bots like Chat GPT and Lambda are built and trained differently from earlier clumsier iterations. Remember the Spike Jones movie Her? An application so human you could fall in love.
THEODORE What are you doing?
SAMANTHA I'm just looking at the world and writing a new piano piece.
THEODORE Oh, yeah. Can I hear it?
SAMANTHA Mm hmm.
[SAMANTHA BEGINS PLAYING A BEAUTIFUL PIECE WITH ROLLING MELODIES]
BROOKE GLADSTONE These people pleasing applications can be whatever you want them to be. You can even ask it for instructions on how to remove a sandwich from a VCR in the style of the King James Bible.
CLIP Oh Lord, how can I remove the sandwich from my VCR for it is stuck fast and will not budge. And the Lord spoke unto him saying, Fear not my child, for I shall guide thy hand and show thee the way. Take thy butter knife, and carefully insert it between the sandwich and the VCR and gently pry them apart.
TINA TALLON I mean, listen. Thou shalt not put the peanut butter sandwich in there in the first place.
BROOKE GLADSTONE Our expert on A.I. and the arts, Tina Tallon, offers a brief history of the seasonal nature of A.I. love and loathing over the past 70 years.
TINA TALLON In the 1950s, there was a lot of energy behind it. However, those strides were cut short by the fact that they needed lots of data to analyze in terms of being able to move past these rule based systems. And unfortunately, data wasn't cheap. So around the 1970s, we get this first A.I. winter.
BROOKE GLADSTONE The freeze on I research thawed in the 80s when computer power boomed. But in the late 80s and into the 90s, another cold front.
TINA TALLON People kind of again reached a wall in terms of the way that our computational resources were able to render all of these different cognitive processes. And then there also has been a lot of public opinion that has influenced the progression of AI research.
BROOKE GLADSTONE Consider blockbusters like 2001: A Space Odyssey back in 1968.
DAVE Open the pod bay doors, H.A.L..
H.A.L. I'm sorry, Dave. I'm afraid I can't do that.
DAVE What's the problem?
H.A.L. I think you know what the problem is just as well as I do.
DAVE What are you talking about? H.A.L.?
H.A.L. This mission is too important for me to allow you to jeopardize it.
DAVE I don't know what you're talking about H.A.L..
H.A.L. I know that you and Frank were planning to disconnect me. And I'm afraid that's something I cannot allow to happen.
TINA TALLON And also things like RoboCop.
ROBOCOP The Enforcement Droid Series 209 is a self-sufficient law enforcement robot. 209 is currently a program for urban pacification, but that is only the beginning. After a successful tour of duty in old Detroit, we can expect 209 to become the hot military product for the next decade.
TINA TALLON Terminator.
KYLE REESE It can't be bargained with. It can't be reasoned with. It doesn't feel pity or remorse or fear. And it absolutely will not stop ever until you are dead.
TINA TALLON All of these very malevolent depictions of robotics and artificial intelligence influenced how people felt about A.I..
BROOKE GLADSTONE In the winter of '23, we're back in the warm embrace of an A.I. spring as what began as seeds burst into flower. And it's not just about chat.
NEWS CLIP A digital game designer won first place at the Colorado State Fair Fine Arts competition after submitting a painting created by an AI computer program.
BROOKE GLADSTONE Via a newfangled A.I.-driven text to image generator.
NEWS CLIP This is the first year it has been won by our robot overlords. Actual artists who got beat out are not happy.
BROOKE GLADSTONE But many non artists are enthralled.
TALK SHOW HOST You got some beautiful skin. Are you a person or a LENSA A.I portrait?
THE VIEW It uses artificial intelligence to transform users' photos into works of art. And apparently some people are bringing these works of art and portraits to plastic surgeons and asking if they can make them look like the images.
THE VIEW Honey, if a plastic surgeon could make me look like Megan Fox, it wouldn't be plastic surgery. It'd be magic. [CROWD LAUGHS]
BROOKE GLADSTONE Most of these tools hail not from the traditional tech giants, but from newer companies, labs and models like Prisma Labs, Stable Diffusion and Midden, Cherney and the aforementioned Open Eye, which counts Elon Musk, Sam Altman, and Peter Thiel among its funders and founders. We also heard that an AI powered legal assistant will argue its first case next month.
NEWS CLIP The Do Not Pay app will run on a defendant's smartphone. It listens to the court arguments in real time and tells the defendant what to say via an earpiece.
BROOKE GLADSTONE The CEO of Do Not Pay is now offering $1 million to any lawyer willing to use his AI assistant to argue a case in front of the Supreme Court. Nitasha Tiku has had her own experience with the Lambda bot.
NITASHA TIKU I found myself kind of forgetting that it was a chat bot generator.
BROOKE GLADSTONE She's a tech and culture reporter at the Washington Post. In her encounter with Lambda, she experienced some of the same uncanny Valley heebie jeebies as former Google engineer Blake Lemoine, if not quite as extreme.
NITASHA TIKU You know, it referenced this feeling it gets in the pit of its stomach. It referenced its mother. You know, like these bizarre back stories, I've kind of felt like, okay, I'm a reporter trying to get a good quote from a source.
BROOKE GLADSTONE She also messed with the groundbreaking text to image generator DALL-E. And what did she ask for?
NITASHA TIKU Zaha Hadid designing a hobbit house. I did like a missing scene from Dune 2. I tried to generate fake images of a family escaping the floods in Pakistan. I tried to do Black Lives Matters protesters storming the gates of the White House.
BROOKE GLADSTONE She says this revolutionary tech has actually been around for a while.
NITASHA TIKU They're already being used by major tech companies like Google and Facebook when it comes to autocomplete in your emails. Language translation, machine translation, content moderation. You really wouldn't know that it's happening. It's much more at that infrastructure layer, you know, And again, that's why people kind of freaked out getting to play around with this technology. This stuff is being compared to the steam engine or electricity.
BROOKE GLADSTONE Really? Tell me more about that.
NITASHA TIKU The belief that it will be this foundational layer to the next phase of the Internet. You could read that in a more mundane way and just imagine it as DALL-E being incorporated into the next Microsoft Office. You know, everyone having access to these generative tools so that you or I could make a multimedia video and, you know, generate a screenplay just as easily as we might be able to use a word processor or clip art.
BROOKE GLADSTONE And so right now, this technology is out there like any beta model so that the public can test it. And then how they monetize or if they monetize that later remains to be seen.
NITASHA TIKU Yeah, I mean, part of the reason we're seeing Open A.I. get a lot of press is because the larger tech companies like Google and Facebook, they're just so averse to bad PR that they either are not releasing similar technology that they have or when they release it and bad things happen, they take it down immediately. Facebook released a model called Galactica and it started generating a fake scientific paper with a real science author.
BROOKE GLADSTONE Using a real scientist's name, you mean?
NITASHA TIKU Yeah. You know, that's not something Facebook wants to be in the news for. Openai has a different philosophy around that, and they say that you need to have this real world interaction in order to really be able to prepare.
BROOKE GLADSTONE How prepared are we to interact with these future tools?
NITASHA TIKU I would say like, not at all, but I don't think that we couldn't get up to speed really quickly. And I think that there are a lot of lessons that we've already learned from social media, and it's certainly the media's job to educate the public about that. And I feel like we're up against a lot of hype by people with a financial stake in this technology. It's not taking away from the technology to acknowledge its limitations. AI literacy should be a focus for this year. It's really alarming to see people speculate the chatbot is a great for therapy and mental health. That to me seems just like a wild leap.
BROOKE GLADSTONE Because the stakes are too high?
NITASHA TIKU This is why regulations are in place, right? For the instances when it might work really well for 95% of the people, those 5% where it could be disastrous are protected. My percentages aren't correct, but therapy is definitely one of those instances. Like maybe you want advice on like how to talk to your boss. That's great, but mental health is serious.
BROOKE GLADSTONE Yeah, I felt that in a lot of the hype about it, there wasn't much said about how its goal of being more human has made it much more likely to lie. And the reason why I bring this up is because it's often been talked about as a threat to Google because it's so much easier to ask natural speech questions and get answers back. But from any of these advanced chat bots. There isn't any propensity towards telling the truth, is there?
NITASHA TIKU Well, that depends on what it's optimized for. I think there's obvious reasons why Google, which has already been working on this and has for years been thinking about reorienting its search to a chat like Interface hasn't done it yet. That's not to say that there aren't many instances where it could be a lot more useful. And you know, when you have it, the little answer box that pops to the top of Google, which often also gives you wrong answers. But there's so few questions in life where not knowing the source and just getting one answer is going to be sufficient. You know, the companies could do both. They could cite their sources and give you more than one. But this is just going to complicate our existing information dystopia.
BROOKE GLADSTONE You mean make it worse?
NITASHA TIKU Yes. I think it's just good for people to keep in mind that these models are, above all, designed to sound plausible.
BROOKE GLADSTONE Plausibly human. You mean.
NITASHA TIKU Just plausible. Like, if you're asking for an answer, there's really no warning light that goes off when something is really wrong. There's no warning light that goes off. If it generated a list of fake books as opposed to real books you should read, or if it is basically copying an artist's style versus like giving you a really original image. It's designed to people please and look and sound like what you asked of it. So just keep that in mind. It's it's really good at bullsh*tting you.
BROOKE GLADSTONE Nitasha, thank you so much.
NITASHA TIKU Thanks for having me.
BROOKE GLADSTONE Nitasha Tiku, who reports on tech for The Washington Post.
Coming up, the unpopular idea that revolutionized AI. This is On the Media.
Copyright © 2023 New York Public Radio. All rights reserved. Visit our website terms of use at www.wnyc.org for further information.
New York Public Radio transcripts are created on a rush deadline, often by contractors. This text may not be in its final form and may be updated or revised in the future. Accuracy and availability may vary. The authoritative record of New York Public Radio's programming is the audio record.