What The Press Have And Should Have Learned From The Trump Era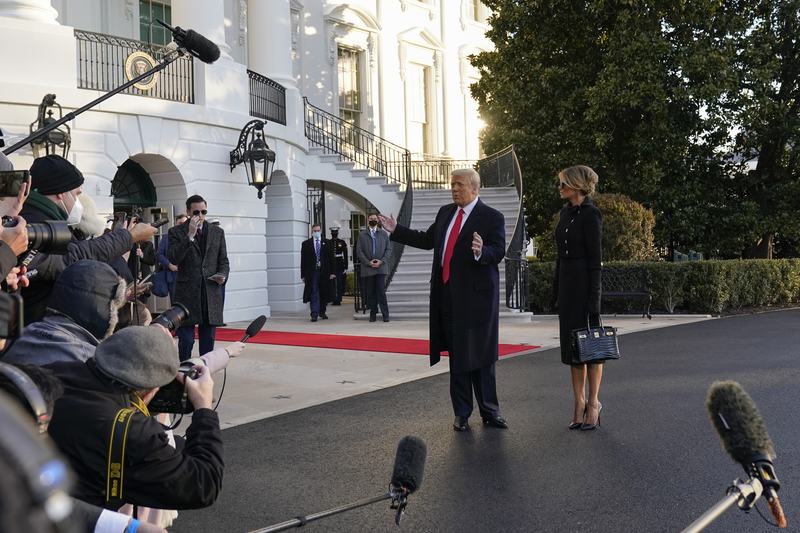 Transcript
BOB GARFIELD This is On the Media, I'm Bob Garfield.
BROOKE GLADSTONE And I'm Brooke Gladstone. Now we talk about lessons learned or to put it more accurately, lessons we should have learned. Like back before the 2016 election, it may have seemed reasonable to assume that some aspiring candidates were losers because of their standing in the party, their lack of organization, their limited appeal.
DAVID LEONHARDT It lets you, in the press, cover the real battle that's going on among Walker and Bush and Rubio and others to get the nomination.
BROOKE GLADSTONE When New York Times stalwart David Leonhardt ran the paper's data driven Upshot blog, he thought it was frankly a disservice to readers to waste their time on the fun and games afforded by a crowded field of GOP contenders. Much better to come clean and lay out what the available data and past history made manifestly clear.
DAVID LEONHARDT And I think that saying that to readers without going so far as to saying there is no scenario under any situation, no matter what, in which the nominee will be someone other than Jeb Bush, Scott Walker and Marco Rubio is a way to level with readers and to be honest with them about what we know and what we don't know.
BROOKE GLADSTONE The New Yorker's Masha Gessen, who grew up in Russia and who tracked the rise of Putin, told us shortly after Trump's election that the inability of our elite media to see him coming was a failure of the imagination.
MASHA GESSEN We need to start imagining what happens if he becomes president. There is an intricate system of checks and balances that will force him to mobilize things through rhetoric. And that basically means, I think, that we have to start imagining witch hunts. We have to start imagining kind of wars at home. We have to start imagining what kind of groups he's going to start blaming for all his problems and all our problems, whether real or imaginary.
BROOKE GLADSTONE So your advice to the news consumer?
MASHA GESSEN My advice to the news consumer is imagine the worst.
BROOKE GLADSTONE In 2016, Gessen offered rules for imagining. Among them, believe the autocrat. He means what he says, and that mountain of lies? Therein lay a larger message.
MASHA GESSEN And I think that the larger message there is, I claim, the right to say whatever the hell I please. That's a really important thing to understand. That the lying is the point, not in the sense that Trump really wants you to believe that millions of people voted illegally. The point is, I will say whatever the hell I want, and that is also a component of my power.
BROOKE GLADSTONE But you still want the media to call them out, right? I mean, you did take some comfort, for instance, in The New York Times' willingness to call a lie a lie. The headline that comes to mind is Donald Trump clung to birther lie for years and still isn't apologetic. I mean, that's a new tack altogether.
MASHA GESSEN Oh, absolutely. No, I completely agree with that. I don't mean don't call him out on his lies. I mean tell the bigger story. So that headline is brilliant because it points to the bigger story of his being consistent in lying. The attack in the normalization tendency is to say, oh, you know, all of that stuff that he said was just campaign rhetoric, it's hyperbole. And now he's going to become a normal politician, you know, wishful thinking, simple and clear. We have to believe the autocrat. He is going to be creating this cacophony of nonsense precisely to undermine our ability to exist in a fact based reality. We as journalists really need to be listening to that. The other thing is that he's actually been consistent on his sentiments, if not on the specifics. His anti-Muslim sentiment has been consistent. His racist sentiment has been consistent long before he even became a politician.
BROOKE GLADSTONE Mhm
MASHA GESSEN His anti-immigrant sentiment has been consistent. And so when...
BROOKE GLADSTONE Might as well throw in his misogyny while you're at it?
MASHA GESSEN Oh, yeah, we can we can look and go with his misogyny. His legitimation of violence in many different forms has been consistent.
BROOKE GLADSTONE Gessen told us, to resist the impulse to normalize. That institutions won't save us, that it took Putin four years to dismantle Russia's electoral system and it took less time in Turkey and Poland. Yes, said Gessen, America's institutions and its media were much stronger, but we needed to stop regarding our nation as so exceptional. It was but part of a worldwide trend. Turns out we were trying to find clues in an airbrushed picture of ourselves while blinkered. There's a lesson there: find people with clearer vision.
YAMICHE ALCINDOR As someone who's covered racial justice, I find it hard to think of an era where I didn't question official lines of how things happened or what the information is.
BROOKE GLADSTONE Yamiche Alcindor is the White House correspondent for the PBS News Hour.
YAMICHE ALCINDOR Black reporters, Latino reporters from the very moment President Trump descended into escalators and started talking about Mexicans as rapists and criminals, they were warning people, saying there is something completely different about this president. I think of Jemele Hill, who left ESPN based off of possibly the pushback that she got for calling the president a white supremacist.
[CLIP]
NEWS REPORT ESPN anchor Jemele Hill is leaving SportsCenter to head the undefeated ESPN's site about the intersection of sports, race and culture. Hill made news in September for tweets that she posted about President Trump, calling him a white supremacist. [END CLIP]
YAMICHE ALCINDOR Diversity cannot at all be something that's just like what we do after we've built our newsrooms in the core of our newsrooms together. It can't be that you think you're doing a black journalists or Latino and Asian journalists a favor by hiring them. You need that expertise, much like you need the expertise of people who live in different parts of the country. And just like you need the expertise of people who are different ages, all of that will make our newsrooms better.
[CLIP]
KEITH ELLISON Anybody from the Democratic side of the fence who's terrified of the possibility of President Trump. Better vote, better get active, better get involved. [END CLIP]
BROOKE GLADSTONE Minnesota Attorney General Keith Ellison with ABC's George Stephanopoulos in 2015.
[CLIP]
KEITH ELLISON This man has got some momentum and we better be ready for the fact that he may be leading the Republican ticket next.
STEPHANOPOULOS I know you don't believe that, but I want to go on. [END CLIP]
YAMICHE ALCINDOR I'll just say I think that another big lesson of the Trump presidency has to be diversity isn't something that you do because you think it's going to make you feel better and you think it's going to be a nice thing to put in a glossy pamphlet in H.R. Diversity is necessary to telling stories that are accurate and that are fair.
BROOKE GLADSTONE That's a big lesson in understanding that the gatekeepers of our mainstream media, often people who came of age in a cocoon of white privilege, are likely prey to failure of the imagination. Another lesson for the institutions of journalism discard traditions that no longer serve. For instance, the blanket ban on having an agenda.
JAY ROSEN American journalism has always seen itself as essential to democracy. It's going to have to grow up and draw the necessary conclusions that today requires a far more aggressive defense of the institutions of democracy than perhaps they signed up for in journalism school 20 years ago.
BROOKE GLADSTONE Jay Rosen, a media critic who teaches journalism at New York University and writes at PressThink.org thinks that's the most important lesson.
JAY ROSEN So I would like to see more news organizations, for example, declare themselves to be pro participation, pro voting, meaning that they stand for the proposition that more Americans should vote and they help that along by making it as clear as possible how you vote, but also by exposing and holding to account those forces that are trying to make it harder to vote. And I think this is a natural role for American journalism. It's an extension of its willingness to fight for freedom of information and transparency. It should also fight for voting.
BROOKE GLADSTONE Another tradition ripe for the refuse bin? The whole approach to political coverage.
JAY ROSEN Well, I just think it's interesting that the networks and major news organizations like The Washington Post and ABC and CNN announce who's going to be covering the next administration without saying a word about how they're going to cover the next administration. As if it's obvious or –
BROOKE GLADSTONE – They're just covering it! That's all.
JAY ROSEN Just covering it! Like, how are we going to cover Biden? By covering Biden. That idea that practice is stable and that we don't need to reform it. It's just like a curiosity to me that you name the team, but the game remains the same.
BROOKE GLADSTONE Reporters and their editors should resist the reflex to put the lion's share of their resources, uncovering the powerful from the perspective of the powerful.
JAY ROSEN Earlier this week, Evan Osnos of The New Yorker said something very interesting about political journalism going forward. He said now there can be space and time for it to begin from the experience of the people on whom these policies are landing. Maybe it should start with people affected by the moves of the power players, rather than begin with the maneuvers of the power players themselves.
BROOKE GLADSTONE To shift the emphasis from those who wield power...
JAY ROSEN ...To those on whom politics is landing. Do you remember in 1991 with the first Gulf War when CNN emerged on the world stage with its coverage of the invasion?
BROOKE GLADSTONE Yeah.
JAY ROSEN Well, if you recall, there were CNN reporters in hotel rooms in Baghdad when the American bombs started dropping on the city.
[CLIP]
CORRESPONDENT Why don't we see if we can make that light go out. If we have to smash it, let's do it, let's get that light. There is one light on at our room, which makes us more visible than we might like to be as we report. So, that was a bomb that came down fairly near our hotel. You could feel it shaking the building a little bit of it came down. [END CLIP].
JAY ROSEN They were reporting on the American invasion of Iraq from the position of the people on whom the bombs were landing. Maybe there's a shift like that required today in White House reporting.
BROOKE GLADSTONE Rosen says political journalism went wrong long ago, when it exalted what he's dubbed the savvy style, the insider style that flaunts proximity to power. It often creates fatuous reporting focused on spats and gaffes, irrespective of why or if any of that matters. It reduces our democracy to a petty game. Take the approach to Biden's plea for national unity; to the savvy that meant calling the innings on his efforts to woo the intractable congressional GOP. His loss was foregone. The savvy coverage assumed the new president had targeted his remarks, principally to that implacable contingent. But were they?
JAY ROSEN His notion of unity is fairly nuanced. He also says that unity is among the most elusive things in democracy. It's really hard to find it. And so if you take that seriously, then simply calling his unity campaign a failure because the Republicans didn't cooperate today is extremely superficial. But there's no doubt that we're going to see that. We probably might even see it before the end of the day. In my view, the savvy style was a wrong turn, taken in journalism decades ago, and the price for it was seen during the last four or five years of chaos. And so maybe we'll see the emergence of a new style. Possibly from the young reporters who are reporting on disinformation at the grass roots. You know, they're political reporters, but they're starting from the way at the opposite end of the story.
BROOKE GLADSTONE Now we move from the institutional to the individual, and listeners you can play at home. It's not just for journalists, it's for you and about you. What lens do you bring to the coverage and what do you see? How is it framed? What's missing, who's missing? What words are used to convey simple truths? Every journalist I spoke to raised the issue of language – specifically euphemism.
KAREN ATTIAH The R word for racism.
BROOKE GLADSTONE Karan Attiah is Global Opinions editor at The Washington Post.
KAREN ATTIAH Racially tinged or racially charged? Like no, just say it's racist.
BROOKE GLADSTONE Can you tell me about the first time you used the phrase white privilege in an opinion piece?
KAREN ATTIAH This had to have been like 2014, probably. And I remember some feedback that that's leftist term. I don't see left or right when it comes to issues of power and race and oppression. I just see issues in terms of how race operates. And now here we are and white privilege is in headlines. There's whole pieces dedicated to it. I mean, so there has been a change. I mean, things that were once in the realms of critical race theory and academic thought to understand and describe how race and power and even gender work in this society.
BROOKE GLADSTONE The biggest decision any journalist or news organization makes is what they choose to cover or not cover. Attiah says we have to reconsider the sunlight versus oxygen argument. The one that asks when confronting toxic ideas or reprehensible people, do we stand with the view that sunlight is the best disinfectant or that coverage is oxygen that feeds the cancer? Attiah is pretty clear on where she stands.
KAREN ATTIAH It wasn't only Trump that many of us watched in horror getting oxygen. I'm also thinking of profiles of white supremacists. Specifically, I'm thinking of a Mother Jones profile of Richard Spencer, one of the prominent white supremacist white nationalist, sort of saying, well, he's dressed well, he's got a cool haircut. He's very articulate. Here's a guy who wants to try to make racism cool. And there were others, you know, about profiles of kind of a white supremacist next door who, just like you, goes to the grocery store, buys pasta at a discount rate. I would see that and be horrified. And it's not to say that white supremacy or racism, white nationalism shouldn't be talked about, but it's a matter of giving oxygen to noxious ideas, because at the end of the day, white supremacy and racism is a violent ideology. It requires the silencing, the erasure, the exclusion of fellow Americans, right?
BROOKE GLADSTONE I love what you said about, you know, these white supremacists, these Nazis. They go to the store and buy cornflakes just like us, as if it were some sort of flipside of celebrity culture. So it isn't as if these white dominated news organizations didn't think that these characters were gross, but they didn't take them seriously.
KAREN ATTIAH Yeah, it's almost almost like this curious spectacle, like you're kind of covering your eye as like, OK, this is kind of terrible, but you're sort of leaving like a couple of fingers open because you kind of want to see what's going on. And it was this endless pursuit of like we just want to understand them and we can't fight them if we don't understand them. And I always thought the word we was doing a lot of work in those conversations. A little too much work. Who is needing is that really what's happening? Because in so many ways, these ideologies and these forces are as old as the country itself. But the rationale, again, was, well, clearly this was an unheard segment of the population, and the way to defeat it is through sunlight is to by exposing how they think, because the idea was if we expose what they think, it's obvious that the racism is so ridiculous. It's obvious that the xenophobia and conspiracies are so ridiculous, people will reject it outright.
BROOKE GLADSTONE You're saying that's not what's happening or that isn't what is happening, even if that is your intention when you profile a guy like Richard Spencer?
KAREN ATTIAH Well, it's very difficult. I have always likened it to handling hazardous materials. I think largely it's not understanding in so many ways how these ideologies spread, and I think for those of us who are in large mainstream media organizations with the large reach, we have to worry that by even bringing them on air and giving them a chance to air their views without, say, other experts to counterbalance, does it mean that a live interview is the right way to go? I think that in terms of the right way to handle such hazardous ideologies, there should be different protocols. But to get back to your statement about sunlight –.
BROOKE GLADSTONE That's the classic argument.
KAREN ATTIAH Yeah, but it's also like sunlight and oxygen – could we replace those words with legitimizing? With normalizing. With basically saying this is somebody whose views you should consider?
BROOKE GLADSTONE That's when these stories come in under the aegis of balance, or presenting both sides, as if each side had a point. When they don't.
KAREN ATTIAH Is there is there a point to racism?
BROOKE GLADSTONE Mainstream media have learned some of these lessons that some people are better suited than others to see round the bend in a changing world, the gatekeepers and the practitioners now have ample evidence of that. The question is, how prepared are they to acknowledge it for the sake of their audience and for democracy in general. The media, after all, are buffeted by the same tides that have so terrified those who have taken to the streets with guns to prevent the inescapable reality and the moral imperative to cede power and resources to those so long denied them. It's not just up to politicians, but to those who tell our nation's story, to prepare America to face our inevitable, more equitable future. And to teach the most important lesson: that it benefits all Americans to share.
BOB GARFIELD Coming up, On the Media considers its past. All 20 years of it.
BROOKE GLADSTONE This is On the Media.
Copyright © 2021 New York Public Radio. All rights reserved. Visit our website terms of use at www.wnyc.org for further information.
New York Public Radio transcripts are created on a rush deadline, often by contractors. This text may not be in its final form and may be updated or revised in the future. Accuracy and availability may vary. The authoritative record of programming is the audio record.