What Happens When Transparency Laws Are Used For Political Ends?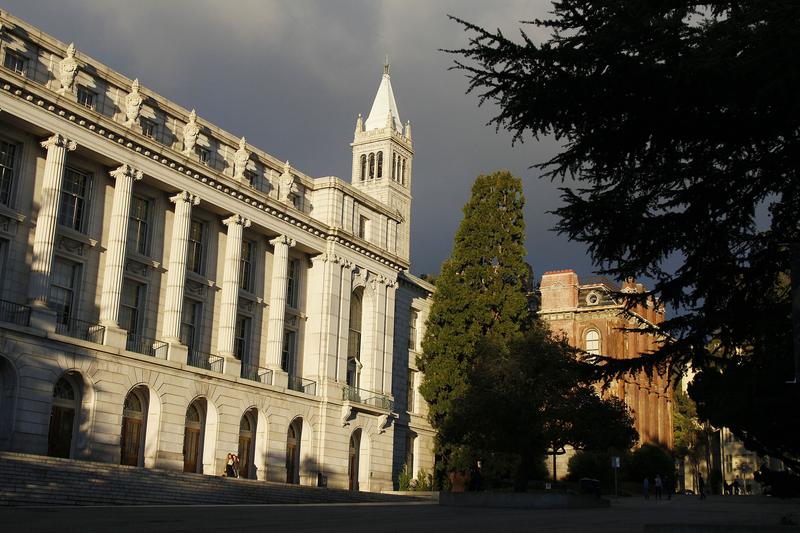 Transcript
BOB GARFIELD Ventry says he hasn't gotten any more records requests since the episode last year. The requester may have been chastened by a New York Times piece that ran with the headline Industries Turned Freedom of Information Requests on Their Critics. It's a problem that pits a good thing, public records laws, against another good thing, unfettered research at public universities. The California legislature recently tried to untangle that Gordian Knot and our producer Alana Casanova-Burgess looked into the effort.
ALANA CASANOVA-BURGER The records request for Dennis Ventry's emails came while he was in Washington D.C.
DENNIS VENTRY Well, I had received one before and so it freaked me out a little bit.
ALANA CASANOVA-BURGER He had just been at a meeting of the IRS Advisory Council in which the Free File Alliance, representing some for profit tax preparers, had given a presentation.
DENNIS VENTRY I was freaked out because then I had to hop on a plane immediately and I can really talk to anybody. I landed and spent like, you know, hours till the wee hours of the morning going through my emails just to see what was there.
ALANA CASANOVA-BURGER What would something bad have been, you know?
DENNIS VENTRY I mean, these are some of my very close colleagues at different universities that I've had relationships with for a long time so we're talking like friends talk.
MICHAEL HALPERN Scientists have long been looking for a solution to this problem of essentially fishing expeditions. You know, attempts not to seek the truth or reveal misconduct but to find something to embarrass a researcher like.
ALANA CASANOVA-BURGER Michael Halpern is with the Union of Concerned Scientists and he's been advocating for legislation to address the problem of what he calls the exploitation of public records laws.
MICHAEL HALPERN So one is talking about how they're interpreting specific data set and their colleagues says, 'you know, I don't think you're looking at the whole picture here. I think you're missing all of these critical components in your analysis.'
MICHAEL HALPERN That's healthy in science but taken out of context he says. The spin will read like this.
MICHAEL HALPERN The scientists don't even agree on what the critical components of the analysis are here.
ALANA CASANOVA-BURGESS Exhibit A of this kind of distortion is what's known as Climategate. That's when in 2009 hacked emails to and from climate researchers at the University of East Anglia were released.
[MUSIC UP & UNDER]
ALANA CASANOVA-BURGESS The haul included correspondence with U.S. scientists notably Michael Mann then at the University of Virginia. Exchanges they had about data were twisted by climate denial groups.
MICHAEL HALPERN And after a number of investigations all of the researchers and their work was found to be solid but the damage had been done.
[CLIP]
FEMALE CORRESPONDENT If you thought the toxic clouds of climate gate had lifted, well think again. It's got all sorts of polluted here in Copenhagen. [END CLIP].
MICHAEL HALPERN Scientists had been sent a message that every email, every single peer review comments would be poured over and misrepresented to put forth an agenda.
ALANA CASANOVA-BURGESS After the media maelstrom, Mann was issued a subpoena from the Virginia Attorney General, Ken Cuccinelli, and a public records request from a conservative think tank that's now called the Energy and Environment Legal Institute.
[CLIP]
MICHAEL MANN Well you know it isn't what I signed up for when I decided to get a degree and applied math and physics and go on to study climate science. [END CLIP]
ALANA CASANOVA-BURGESS Michael Mann speaking to MSNBC host Chris Hayes.
[CLIP]
MICHAEL MANN I didn't realize that I would be at the center of a widespread attack, an effort to undermine the credibility of not just me but my scientific colleagues, in a cynical effort to discredit concern for climate change. [END CLIP]
ALANA CASANOVA-BURGESS Mann fought the records request in court for years and eventually won. But the tactic of trying to use those requests to silence or embarrass public university professors took off. Eric Lipton is a New York Times investigative reporter who often uses records requests himself. He's seen the issue evolve over the past decade or so.
ERIC LIPTON This was particularly, frequently used during the Obama administration and the debate over climate change.
ALANA CASANOVA-BURGESS Conservative groups and coal industry lawyers used it.
ERIC LIPTON Then some of the liberal environmental groups began to seek emails from university professors at state institutions who questioned the reality of climate change seeking to see what correspondence they had with industry players.
ALANA CASANOVA-BURGESS From there it metastasized.
ERIC LIPTON For example where pesticide and genetically modified seed companies funding university professors? Was the organic industry funding university professors who were opponents of genetically modified foods?
ALANA CASANOVA-BURGESS There have been many examples in recent years. A gun rights group requested records from professors researching the effect of lead bullets. A conservative group requested emails from a law professor who had criticized Jeff Sessions. Pharmaceutical companies and soda companies and advocacy groups request materials–and soda reporters. Take for instance a 2016 WBEZ investigation which uncovered how a University of Illinois professor was discussing where checks should be sent for his advocacy. The financial arrangement was not disclosed.
[CLIP]
FEMALE CORRESPONDENT Emails show he traveled in the U.S. and Asia to speak about genetically modified foods. At the same time he was getting tens of thousands of dollars from GMO giant Monsanto Company to take those trips and do quote outreach. [END CLIP]
ALANA CASANOVA-BURGESS And there's the case of a child psychiatrist who enrolled kids younger than 13 in a study on lithium and then tried to cover up the misconduct. And the case of how the Koch brothers donated money to George Mason University and then were given a voice in hiring and firing professors. All investigations that used information gleaned from records requests.
CLAUDIA POLSKY I think the question is what is the cost of the current method of unearthing misconduct in that way? You know, it's it's basically suspicionless searches for everybody all the time.
ALANA CASANOVA-BURGESS Claudia Polsky is the director of the Environmental Law Clinic at UC Berkeley and author of a paper published last year called Open Records, Shuttered Labs: Ending Political Harassment of Public University Researchers. She says, yes, there are instances of wrongdoing, but--
CLAUDIA POLSKY There are huge collateral consequences to the way as public records requests are being used against researchers, many of whom have done nothing wrong but are shill in their research, pulled off task for no reason, perhaps moved to a state with more favorable records laws. That's happened. Perhaps defect from the university for private practice. That's happened. You don't see any of that. What you see as say the one scandal out of the 50 records requests that, you know, caught a fish. You know, scandal is visible–shill is not visible.
ALANA CASANOVA-BURGESS Laws regarding public university transparency vary state to state. In Pennsylvania, for instance the state's higher education systems are generally exempt from the public records law. There was recently an effort to address the issue in California, an influential state with an enormous public university system.
[MUSIC UP & UNDER]
ALANA CASANOVA-BURGESS The proposal was to carve out an exemption for public university researchers. Meaning their correspondence and their unpublished research methods would be shielded from open records requests. Polsky supported it in a hearing last month.
CLAUDIA POLSKY AB700 is a careful solution that I've endorsed along with more than 180 academics across California in every academic discipline.
ALANA CASANOVA-BURGESS Also at that hearing was Kevin Baker of the California ACLU.
KEVIN BAKER We don't believe that you can take the important tool of the California Public Records Act from the people that you don't think are using it appropriately without also taking it away from those who use it for important purposes and for that reason we remain opposed. Thank you.
ALANA CASANOVA-BURGESS The Reporters Committee for Freedom of the press has come out against the bill calling it 'well-intentioned but ill considered.' The Electronic Frontier Foundation digital rights group is also opposed as is the California News Publishers Association. Several animal rights groups say the bill would hide inhumane research methods. In California, the Public Records Act explicitly states that quote secrecy is antithetical to a democratic system. Whitney Prout is staff attorney at the California News Publishers Association. She and other opponents said they're willing to refine the bill so it works for both sides. But--
WHITNEY PROUT I mean, we're certainly not there yet and maybe you will get there, Maybe we won't.
ALANA CASANOVA-BURGESS The bill's supporters stress that disciplinary records would still be accessible as would correspondence between researchers and funders so watchdogs could still investigate financial influence. Prout doesn't buy that.
WHITNEY PROUT That's not sufficient because all it would take is creating one intermediary along the way.
ALANA CASANOVA-BURGESS A middleman in other words, who would represent the funders seeking to influence the research. And those communications could be secret. Plus there are already exemptions to address unreasonable harmful requests and researchers have had success in using them in court. It's losing that flexibility. Changing the default setting to no disclosure that makes journalists I spoke to for this piece nervous about the effort in California.
WHITNEY PROUT It completely strips away any of that flexibility or case by case analysis for a court to say, 'OK what's going on in this situation? Are there compelling interest here that might call for the disclosure of this information or that might call for the information to be protected.'
ALANA CASANOVA-BURGESS But backers of the bill like Michael Halpern of the Union of Concerned Scientists say that asking researchers to prove their work merits an exemption is too onerous. It can take years.
MICHAEL HALPERN Their choice should not be between having to go to court and spending hundreds of hours of their time and maybe even hundreds of thousands of dollars of university funds to adjudicate each and every freedom of information act request.
WHITNEY PROUT And that is an argument that could be made by every single public agency.
ALANA CASANOVA-BURGESS Whitney Prout.
WHITNEY PROUT You know, if that's the rationale then the entire public records act could be done away with and I don't think anyone thinks that's in the best interest of the public.
ALANA CASANOVA-BURGESS And then there's the slippery slope argument. The open records act as a tool to help keep our elected officials and government employees accountable. So if public university professors are exempt, who's next?
CLAUDIA POLSKY This is where we get into my basic argument which is that universities are different.
ALANA CASANOVA-BURGESS Polsky says they're not your typical government official.
CLAUDIA POLSKY They don't have coercive power over anyone in a way that undergirds public records laws. I mean the point is democratic accountability of your elected representatives. That's not what university scholars are.
ALANA CASANOVA-BURGESS But they are government employees.
CLAUDIA POLSKY They are in the sense that they get taxpayer money. And so there should be accountability that attaches there, but I think it's a different kind of accountability. And what's really important is to protect the core mission of the university which is not in governance of the public, it's generating knowledge that's useful to society.
ALANA CASANOVA-BURGESS Both sides of this debate in California can agree that harassment should not be condoned, that unfettered research is a public good and that open records laws are critical to accountability. But they're still working on what it looks like to hold those values in the right balance.
CLAUDIA POLSKY It's difficult for us as bill proponents and it's really difficult for legislators because all of the people who usually agree, at least in broad outline, are on different sides of this.
ALANA CASANOVA-BURGESS Claudia Polsky.
CLAUDIA POLSKY And you have a bunch of groups that all think they're doing, you know, what's good for inquiry in democracy. Right? We're all--we're all making the same core moral claim but it leads us to a very different perspective on records requests.
WHITNEY PROUT You know everyone loves science and everyone loves freedom and government accountability. Right?
ALANA CASANOVA-BURGESS Whitney Prout.
WHITNEY PROUT Those are all things that I think most people would agree are good and important things. And, in some ways, they're pitted against each other in this bill.
[MUSIC UP & UNDER]
ALANA CASANOVA-BURGESS That's what makes the California effort, AB700, such an interesting case study in how and even if it's possible to thread this particular needle.
[MUSIC UP & UNDER].
ALANA CASANOVA-BURGESS If you're looking for a radio story that gets to an answer, this isn't it. Just last week, the assembly member who brought forth the bill pulled it from consideration–at least for this year. In a statement posted to Facebook, Laura Friedman wrote quote, 'my goal was to find common ground that preserves transparency while guarding against harassment from corporations and profiteers. They'll keep trying,' she added. Perhaps easier said than done. For On The Media, I'm Alana Casanova-Burgess.
BOB GARFIELD Coming up, once upon a time we voted for the candidate we liked best. Oh please, that's so 2018. This is On The Media.