What to Expect from the January 6 Hearings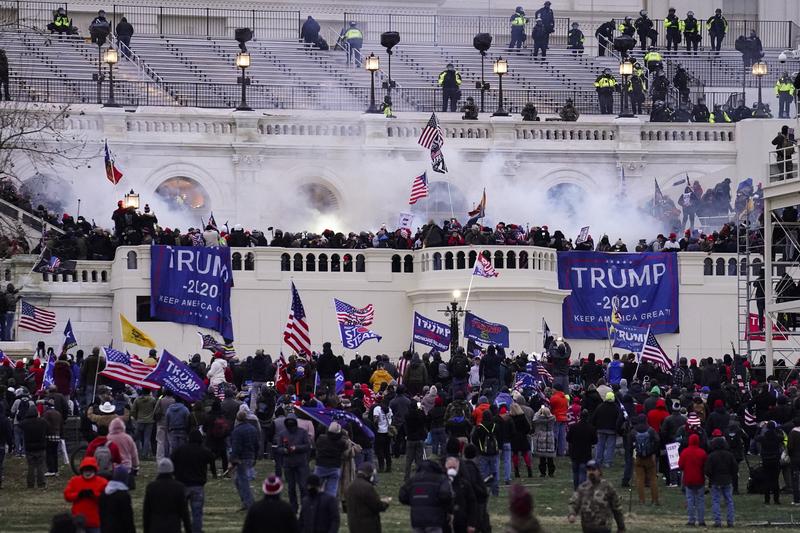 Transcript
BROOKE GLADSTONE From WNYC in New York. This is On the Media, I'm Brooke Gladstone. The former president is fond of the phrase people are saying. I can attest that people are saying that this is the case that will finally penetrate Trump's legal Teflon. Not the potential case related to what transpired on that infamous January 6th, but on a telephone call to Georgia.
[CLIP]
DONALD TRUMP I just want to find 11,780 votes. [END CLIP]
BROOKE GLADSTONE The man on the receiving end. Georgia's Secretary of State Brad Raffensperger, testified Thursday before a Fulton County special grand jury charged with investigating whether Trump pressured officials to declare him the victor of the 2020 election. People are saying this case is rock solid, but the big hurdle is proving criminal intent. And more than one indictment has foundered on the rocky shoals of what was going on inside that head. Meanwhile, the House Select Committee investigating the bloody assault on the U.S. Capitol said the public will be able to watch its proceedings at 8 p.m. on June 9th. That's Thursday. People are saying, Rep Jamie Raskin included, it'll be quite a show.
[CLIP]
REP JAMIE RASKIN They are going to blow the roof off the house in terms of explaining to America what actually happened in the attack on our democracy. [END CLIP]
BROOKE GLADSTONE I'm joined now by my beloved former NYC colleagues Andrea Bernstein and Ilya Marritz, hosts of Will Be Wild, a new eight part series about the forces that led to the January 6th insurrection and what comes next. Now we're going to talk about the hearings. Welcome, Ilya.
ILYA MARRITZ Good to be here.
BROOKE GLADSTONE And Andrea.
ANDREA BERNSTEIN Great to talk to you, Brooke.
BROOKE GLADSTONE Now, a lot of people across the country in the world watched January 6th unfold in real time. So we may already feel like we know what happened. Why do you think it's important for listeners to watch those hearings?
ANDREA BERNSTEIN People know what happened from what they saw on their TV screens that day, and that was a lot. But what they don't know is everything that we have learned in the 17 months since January 6. The planning of it, the intentions of the former president and the people around him. This is an opportunity for people to understand the full story of what happened. They've now interviewed more than a thousand witnesses, including some that were in the White House on January 6. They've looked at 100,000 documents. They've got a lot of information.
ILYA MARRITZ There are evening hearings planned for the first night and the final night of hearings. And the others are happening in the daytime. Evening,q primetime suggests they really want people to watch and they have something that networks might actually want to cut away from their regular programing to show the viewers.
BROOKE GLADSTONE Andrea, you've said that what people saw happen on that day was the cold open, not the story.
ANDREA BERNSTEIN Yeah. What happened on television was so terrifying, so upsetting that the story feels like it begins and ends there. And what we learned is that it doesn't. That things were going on inside the Trump administration, several levels down, suppressing the ability of his own law enforcement agencies to respond to this kind of attack. That kind of stuff was not apparent from having watched what was on TV that day. And I think something that Elaine and I have learned through reporting this is that what happened inside the Capitol, what happened beyond the immediate reach of the television cameras, was, in some cases even more upsetting and a desecration of the temple of democracy then than we even realized at the time.
ILYA MARRITZ Of course, there have always been supporters of extremism, people who believe in white nationalism or anti-government militia. But it really amped up under President Trump. One of our sources told us usually when there's a Republican president, you expect domestic terrorism and extremism to go down. And with Trump, they saw the exact opposite. You expect it to go down because people under a Democratic administration might be fearful for their guns or whatever rights that they think could be taken away under a Republican administration. People of that mindset would feel happier. Right. But with Trump, it was the opposite way, because Trump's M.O. as president was to inflame people. So what we saw was that many people who might be susceptible to this kind of thinking were really encouraged in this kind of thinking by the president and his allies. And then comes COVID and the stress of COVID and being locked down really ticked over a number of people into going kind of full radical.
BROOKE GLADSTONE Do we know that that's true or that's a theory?
ILYA MARRITZ We know from individual histories of people that we looked at. We also know from Elizabeth Newman, who worked in the Trump administration on counterterrorism, and she told us the beginning of COVID. She asked her staff to do an assessment of the likely effects of the pandemic. What she came back with was, this is going to be a radicalizing event. It's going to drive people online. It's going to further isolate them. And some portion of those people are going to think: I have to take action.
BROOKE GLADSTONE What do you think is missing from the picture that these hearings can provide?
ANDREA BERNSTEIN There are 7 hours of missing records from the White House during the relevant period on January 6. So I think that remains one of the biggest mysteries. What exactly went on and who they communicated with and when? Now, having said that, I want to be really clear that if, say, we learn no one from the White House spoke to the rioters in any way ever or associated with Trump, spoke to the rioters in any way ever. It doesn't diminish the responsibility of the president and the people around him for what happened.
BROOKE GLADSTONE Right. But don't we know that he was in touch? Maybe not on that day, but with some of the organizers of this event.
ILYA MARRITZ We know that the president was in touch with rally organizers, and we know that rally organizers had ties to some of the rioters. We know, for instance, from a recent court filing that Stewart Rhodes, the leader of the Oath Keepers, tried to get the president on the phone on the afternoon of the 6th through an intermediary, but that he failed to do so. So there's a lot of traces of connections, but it's not fully fleshed out. But I want to point to a little bit of a danger here, because we're going the way that we went with Robert Mueller in his Russia investigation, right? Where in time it came to seem that if Mueller failed to show collusion, active cooperation between the Russians and the Trump campaign, that he would have failed. And in fact, Robert Mueller turned up just an enormous wealth of really interesting and impressive information. However, the way that the information was released was not optimal. It was really long, really dense report.
BROOKE GLADSTONE And it was also misrepresented by the attorney general before it even hit the stands.
ILYA MARRITZ Correct. There was a prebuttal. So I think I imagine the committee is going to be mindful of that example. And what they're going to try to do with these live televised hearings is get vivid in-person accounts from eyewitnesses. I think a lot more like if you think of Trump's first impeachment, we heard from people like Marie Yovanovitch or Fiona Hill. Those were vivid, riveting moments of testimony. And I imagine that's what they're going to aim for here.
BROOKE GLADSTONE You're looking forward, in particular to the former chief of staff, Mark Meadows, aide. Right. Cassidy Hutchinson.
ANDREA BERNSTEIN Her job was to keep tabs on Mark Meadows and what he wanted to get done. So Mark Meadows, as we all know, cooperated partially, then stopped cooperating with the committee, was referred to the Justice Department. They've taken no action. But people around him, including this one aide that we know of, have testified as to the movements there has been reporting that Trump might have been approving of the cries to hang Mike Pence during the day, although we don't know what was the tone, what was the seriousness. So I do think that the sort of activities in the White House on January 6, prior to January 6, and even after January 6, are a bit of a black hole because a lot of the resistance to cooperation with the committee has come from high level people. But when you go down a level, get the people who were in the room, but not necessarily the political people to tell you the story. And I'm looking forward to a lot, lot more of that in these hearings.
BROOKE GLADSTONE To what end? Is it... You know?
ANDREA BERNSTEIN This is the big question, right? So we always get this question. One form it takes is, is Trump going to be indicted? Is he going to be charged with a crime as a result of these hearings? And the select committee has no ability to make a criminal prosecution. There may be evidence that they turn off that the Justice Department decides to use. One of the things that's so interesting to me is there was an attempt a little over a year ago to set up a nonpartisan commission, so not even politicians on the staff. And there was an agreement that was worked out, passed the House with 35 Republican votes and was killed in the Senate. As a result of that, the House speaker, Nancy Pelosi, set up this select committee, and the result is that the select committee is run by Democrats. Most Republicans chose not to participate and those who did have been all but excommunicated by their party. So what you have is a real unity of purpose in the committee members.
ILYA MARRITZ What I think is notable is that the committee has been able to do its work. The committee has interviewed Ivanka Trump. There have been people who refuse to sit down for an interview and there's litigation around that. But mostly the committee is doing its work, doing interviews. They have records from the National Archives, presidential records. So I think probably the only official story that will be told will be the final committee report. You know, there have been other inspector general reports and hearings and stuff like that, but this may be the only thing that comes close to a 9/11 style report, which, as you'll remember, was released as a book and it became a bestseller.
ANDREA BERNSTEIN I think it's a sort of an irony of history that the Republicans had a chance to have full participation on a nonpartisan committee and ended up with this select committee, which is seven Democrats, plus Adam Kinzinger and Liz Cheney, who are all devoted to getting to the bottom of what happened. So, I mean, we watched some of the oversight hearings prior to this committee. 5 hour, 7 hour migraine inducing affairs, where sort of everybody was yelling. You know, instead of asking questions of the witnesses, both parties were just sort of screaming at each other. We got kind of a whiff of this during the first impeachment trial where there were just sort of attempts to confuse people. Usually you'll see a transcript of a deposition and you'll see the majority party ask questions and then the minority party try to mess it up and confuse people and discredit the witness. And we haven't seen that. It's just all been fact finding. And from a journalistic perspective, it's been a breath of fresh air, because it's not like we have to weed through all of the grandstanding to find out the information.
BROOKE GLADSTONE June 1st, the second anniversary of Trump's infamous photo op in front of a church in Lafayette Square in D.C., where he held up a Bible after military forces violently dispersed the Black Lives Matter protesters. You say this was a turning point in the lead up to January 6?
ILYA MARRITZ Yeah, it really was. I talked to a general who was in the Pentagon that day with former Defense Secretary Mark Esper, with Joint Chiefs Chairman Mark Milley. And he watched the whole Pentagon go into overdrive to try to satisfy President Trump's desire for a show of force. They brought in National Guard from all over the country. They mobilized the 82nd Airborne and brought them up to a base outside D.C. in an effort to kind of mollify the president, because they didn't know what else he might do. The Secretary Esper has said that Trump wanted to shoot protesters in the legs. Afterwards, Secretary Esper and Joint Chiefs Chairman Mark Milley apologized for being part of it.
BROOKE GLADSTONE They were both in the photo op.
ILYA MARRITZ Yeah, they were part of this dramatic photo op walking across the square. Smoke was just still clearing. And I think that was a real moment of recognition that Trump is going to push the thing as far as it will possibly go. One thing that I hope is that that story is more fully told in these hearings and in the final select committee report, because what we really saw after a year of reporting this is that government agencies don't have a means of dealing with a lawless president.
ANDREA BERNSTEIN I think that that phenomenon that we saw was replicated in every agency that we've looked at. For example, the Department of Homeland Security. They had domestic terrorism protocols in place, but not protocols for when domestic terrorism was fomented from the Oval Office. And we saw official after official who felt they were the person who could block the worst outcome until they realized they couldn't.
BROOKE GLADSTONE We're about to hear an episode from Will Be Wild, your podcast called The War on Pineapple. Can you set us up?
ANDREA BERNSTEIN It's an episode about efforts to counter disinformation in real time, after the election and after former President Donald Trump did not concede. How the factors that led to January 6, didn't end on January 6. They didn't end when Trump got on the airplane and flew down Maro Lago on January 20th. They're going on now. Disinformation, demonizing, not having agreed on truths. And that's the environment in which this podcast lands. And it's the environment in which the select committee hearings are going to land. One of the things that we will be watching to see is how these hearings are received and what that means for the future of democracy.
ILYA MARRITZ I had a look at the enabling legislation for the select committee. And right there in the second paragraph, it cites a warning from the Department of Homeland Security issued after January 6, saying some ideologically motivated violent extremists with objections to the exercise of governmental authority could continue to mobilize or incite or commit violence. So it's pointing directly to an ongoing threat. Something that I really am curious to see is how these hearings link what happened on the 6th with what's happening in our country right now.
BROOKE GLADSTONE Thank you, Ilya.
ILYA MARRITZ Thank you.
BROOKE GLADSTONE Ilya Marritz and Andrea Bernstein. Thank you, Andrea.
ANDREA BERNSTEIN Thank you, Brooke.
BROOKE GLADSTONE Our co-hosts of the podcast Will Be Wild, which focuses on misinformation in the lead up to the January 6 insurrection. Coming up, The War on Pineapple, this is On the Media.