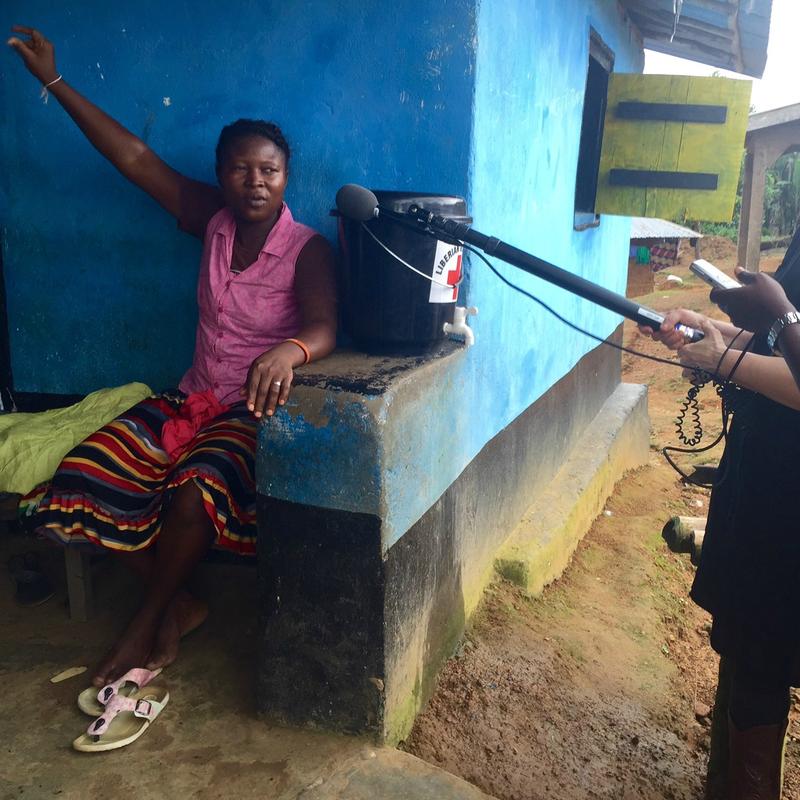 Transcript
BROOKE: From WNYC in New York this is On the Media. I'm Brooke Gladstone, reporting this hour, from Liberia. Where the spectacular beaches are closed, because of Ebola. Where people so exuberant they have a national handshake shrink from touching each other, where politics are so roiled that some fear a constitutional crisis, where memories of a bloodstained history weigh heavier now on many minds, because of Ebola.
MAE AZANGO: The Ebola had a free ride in Liberia. No road, no health, just name it. And we are such people who just don't care!
BROOKE: That's the fearless Mae Azango, who's amassed some impressive awards, and death threats, reporting for what is arguably Liberia's best newspaper, FrontPage Africa. OTM Producer Meara Sharma and I are shadowing that paper this week, to see how Liberia's story is reported...by Liberians.
AZANGO: We are always complacent and we are quick to forget so when the Ebola came we were saying government - I can tell you that a lot of people said it. Government just wanted to create an avenue to eat more money.
BROOKE: Out of western countries so they invented this...
AZANGO: There's no such thing as Ebola! They say it was government way of scaring people and ploying false alarm to get more money! Or until Ebola started to kill hundreds and hundreds and hundreds of people. You know we are the kind of people that when what we don't see? Hmm? We won't believe. When they are shooting gun, instead of you running from that you say you want to go and run and see where the bullets flying from. That's the kind of people we are. So we want to see it.
BROOKE: FrontPage Africa was the first Liberian paper to print pictures of the dead and dying. So they could see it. And we'll see it, too, but our story starts, of course, at the airport.
AIRPORT SOUND: Welcome to Liberia...wash your hands...take your temperature...you're welcome...take your temperature...wash you hands ma'am, please...welcome…

BROOKE: Next morning at the hotel, breakfast with Mae and FrontPage Editor Rodney Sieh. Lately, he says, the FrontPage Africa staff earn extra money for the paper by fixing for foreign reporters, that means guiding them, setting up interviews, and often, this was a surprise, interpreting.

SIEH: The major problem they have is the accent. I mean it's English but its colloquial. So if you're not like slow to catch on you think they're speaking Greek to you.
BROOKE: Give me some sayings.
AZANGO:. Where are you going? Yanasayniah, are you not going to sit? Wha dey wan a playa fo, Why are you all over the place?
SIEH: Like for example they go to these Ebola places and the big thing they'll have a problem catching is "Deyballi". Dead Body. "Deywomanseyo."
AZANGO: "Deywomanseyo," It means the woman is sick.
BROOKE: So, Rodney what are your plans for today?
SIEH: Well today is supposed to be the biggest holiday in Liberia. It's called Tubman's Birthday.
BROOKE: William Tubman?
SIEH: He died in 1971. But he ruled for 27 years, which makes him the longest-serving Liberian president. This day became like the biggest holiday in Liberia.
BROOKE: You said it was kind of like America's Fourth of July?
SIEH: It's even bigger than Christmas here. People leave their houses as early as seven o'clock in the morning. They set up tents on the beach. They have parties on the beaches. People look forward to it every year.
BROOKE: Mm Hmm.
SIEH: But because of the Ebola this year, the government has said no one should go on the beaches. So Mae and I will go around and see if we can find some action [laughs].
BROOKE: Miami Beach. The managers, the workers, are desperate, because the government had closed the beaches, not just for the holiday, but until Ebola leaves Liberia. Fancy hotel beach fronts aren't patrolled. Nor clubs, nor markets. Rodney's subtext is that that these public restrictions are unevenly applied on the poor.
AZANGO: What's your name again?
Beach businessman: My name is Lafe Swambati.
AZANGO: And what do you do here?
Lafe Swambati: I have a beach business.
AZANGO: And how is it affecting you?
Lafe Swambati: Very horrible. We agree to close down, but now the government is saying we should lock down for real until Ebola leaves Liberia! If you want to close down a beach, close down every activity that will cause crowds. Even a party. Even a mosque. Even a church. Even a wedding. Anything that will cause more than five persons, you should lock it down.
(MUSIC)
BROOKE: Rodney's sympathy for the men who may have lost their livelihoods is paired with a countervailing concern: That Liberians are growing cavalier about Ebola. Though the number of new cases has dropped to 50 a day, it's appeared in every county. Frontpage Africa wrestles with that. When the 14-week state of emergency was lifted last month, Monrovia seemed to be drifting into a new normal. There's chlorinated water for hand washing in front of shops and public buildings, but people again throng the markets and ride three to a motorbike. On the day we landed, Monrovia was locked in an epic traffic jam, as young people rallied in the streets for former soccer superstar, now Senate candidate George Weah. At our breakfast, Rodney said that would be Monday's lede.
BROOKE: What's the headline?
SIEH: Ebola not real in politics. [Laughter] We've all seen how people are dying from Ebola in Liberia. But we had this rally yesterday where thousands of people were in the streets celebrating.They took their shoes off, walking barefoot. They have like shirts off, holding each other. Hugging. Kissing in some places. And just the congestion, it's like for a day, Ebola was not real. So we want to illustrate that in the headline and story for our paper on Monday.
BROOKE: Front Page Africa seems to be determined to remind people that this crisis is far from over. Why do you think people think it is?
SIEH: That's how Liberians are. They're quick to forget. And the President has been saying the last couple of weeks that she wants Ebola to be over by December, by Christmas. But the American ambassador, Deborah Malac said she wasn't happy with a statement the President made.
BROOKE: So the ambassador's concern is it sets up a false sense of expectation and may actually have the impact of diminishing the safety precautions you take rather than heightening them?
SIEH: It does. It does. That's going to be a key thing going forward. Everybody wants to be over Ebola. Liberia cannot be officially declared Ebola free until our neighbors, Sierra Leone and Guinea are declared free. Someone could cross over the border into Liberia and infect somebody else. So that's why its important to have this message. It's not over.
SOUND: CAR DRIVING
BROOKE: I just want you to describe what it is we're doing today and where we're going.
WILLIAMS: We're on our way to one of the few Ebola ho tspots in Liberia, it's called Jenawinde in Grand Cape Mount county...
BROOKE: We're on a road trip with Wade Williams, FrontPage Africa's newsroom chief, following up on a piece she did last month in rural village
WILLIAMS: We might see maybe sick people being taken out of their homes, and we might also see families who are mourning their loved ones.
BROOKE: Do we know why it's still a hotspot?
WILLIAMS: People are still in denial, you know they don't believe that it is Ebola that's killing their family members. And so they do secret burials. That's where the problem is, because once you bathe a dead, you know, Ebola victim, you definitely will infect a lot of other people.
BROOKE: Why do they not believe that it's Ebola?
WILLIAMS: Probably they haven't gotten the message yet. And you know it's a remote town, you will see that it's very far from the rest of the city from the rest of the country. And you will see that when we go along the way you will not even see buckets, for hand washing. Some of the villages, there's only one bucket for everyone to wash their hands, so it's really difficult for them.
BROOKE: [Whispering into mic; no longer talking to Wade] It's so bumpy, we're being thrown around side to side in the car, and I get to ride in the front seat. The people in the back seat including Meara have no idea how close I would be to just barfing up all over them.
WILLIAMS: the road to Jenawinde is very very bad. You have to have a 4 wheel drive, a really big vehicle to get in there. You have to get on a motorbike, and then the motorbike drivers will tell you that they don't stop at Jenawinde because of what is going on. They believe that the town is cursed.
BROOKE: Mae Azango is traveling with us too, and sports reporter Macauley Sambai, who's from the area and can speak Vai, the local language.
WILLIAMS: The town chief for Jenawinde is a woman. She's one of the few women leaders in the rural areas.
AZANGO: What?! It never used to happen before. Never. WHAT. Who are you to leave your kitchen, warm your husband's bed, fetch him food for his children to go and do what, make decisions? Who are you?
WILLIAMS: She's carrying the whole town on her shoulders now.
AZANGO: Liberia is changing.
SOUND: VILLAGE, ROOSTERS
BROOKE: We've arrived. Wade talks to the young Town chief, the Mayor, following up on her last interview. Remember the accent issue? This will be a challenge.
WILLIAMS: When we came you people we met here in despair, some of you were crying, including you, you were crying. How you compare that situation to now?
CHIEF: The last time when you came here the situation we were in, we were confused totally. Because to see your loved one - we just dying - 1-2-3 days, you see somebody die, 1-2-3 days. However, the situation that we are in now we thank the almighty God, we're going two weeks, no sick person yet, and no dead body.
AZANGO: We're going to two weeks, no sick person, no dead body, we thank god for that.
BROOKE: In fact, we learned one man died of Ebola right here, just three days ago. Still, denial?
Brooke: This is a very poor village. one hand pump for 150 houses. About 2000 people, minus the 20 who were killed by Ebola. Every day they check the houses to make sure everybody's temp is what it should be. And they're prepared to call the ambulance, but because of the roads or because of the scarcity of ambulances sometimes it takes literally a couple of days for it to arrive. As far as the mayor is concerned, their elected representative needs to get them more water now, better roads now. The minute they vote someone in they'll no longer have any time for them here,
AZANGO: How you looking in the house, your husband can control, you control?
WILLIAMS: She's asking whether she's in control of the home or her husband is in control.
CHIEF Gender equality, you have to be equal in the house. Sometimes the man do mind because I lay inside you what you so I should go by - no. I will not abide by.
AZANGO: I will not abide by… I will bring my suggestions up.. because of gender equality
AZANGO/CHIEF: Yes. We got to sit and discuss...
CAR SOUNDS
BROOKE: On the ride home, I get a the lowdown on Wade.
BROOKE: Where did you grow up and how did you get into this field?
WILLIAMS: I grew up between Sierra Leone and Liberia. Because of the war, I left Liberia, I was 9 years old. I left alone, without my parents, and went to Sierra Leone and I was adopted, taken by several families that I moved in between. My foster grandfather had a radio, he would always tune to the international radio stations. And that's how I followed what happened in Liberia throughout the years. But then the war broke out in Sierra Leone and I had to come back to Liberia. And I did my high school press club and when I went to university I did a newsletter there. So I've always wanted to do journalism. Probably based on the kind of life I've had as a refugee child, without your family, and wanting to tell your story.
BROOKE: Mae had no use for journalism, she fancied the hotel biz.
AZANGO: I never wanted to be a journalist in the first place.
BROOKE: Why not.
AZANGO: I wanted to be a hotel manager, make my own money. Even in my school press club, I didn't join anything, I told I didn't want to be bothered. Because I don't want to die poor. But when the war came, the war changed everything. And I found myself in Cote d'Ivoire, living as a refugee. I had no voice. The only organization that could speak for refugees was UNHCR. And they had hundreds of cases. So mine wouldn't have made any difference. So I swallowed the bitter pill. But when I came home, I saw people lived the same life I lived in Cote d'Ivoire. Under an elected government. So I said to myself, if I didn't have a voice in Cote d'Ivoire, these people don't have voice. So they had a journalism program at ELBC, the state radio. I decided to take advantage. And then I started to enjoy it. Ok?
BROOKE: But what about dying poor?
AZANGO: OH NO!! The war made me to jump into journalism! You see. Whatever we choose in life, it does not always come to pass. What do I do? I had a different plan! But life had a different plan for me!
BROOKE: We were wondering, Meara and I, about Rodney. He was a contradiction. A young, old-time newsman. Warm, but solitary. Open, but guarded. So I probed a little.
BROOKE: We find Rodney a little elusive. We can't quite figure him out.
WILLIAMS: Working with Rodney for the past five years, almost five years, I haven't been able to figure him out. I keep learning every day, you know, what actually motivates him. You see Rodney has no wife, no kids. So his newspaper is his life. And sometimes I'm like, "Maybe if you had a family you would know what it is like to wake up in the morning you know with kids, and you have to tend to them first before you get on the field to do your job," but Rodney will be editing your stories and call you at 12 or 1 a.m. in the morning and expects that you will be up. The other day he called me - I was about to leave, you know, it's curfew - curfew is like 12 p.m. I left the office around ten. It's like an hour drive from the office ot where I live. So I have to leave an hour ahead. And he calls me on the phone and says 'Hey come.' And I go into the office and what he asks is that, 'why did you use this cliche in your story!' I'm like, why couldn't you just say it over they phone, you had to make me come into you office. He said, don't you ever use it again! [laughs] So I haven't been able to figure him out.
AZANGO: He will shout at me he says, "you are suspended for time indefinite!" Sometimes he gets so angry. And then after a week he calls: "So you see, big shot, you can't come to the office" "But you suspended me!" That's how he is. I will say Rodney's crazy like me. So, doesn't matter. He will blow the door, he will knock the desk. When Rodney's angry he will slam the door!
BROOKE: Seriously? He seems so quiet and so restrained!
AZANGO: Don't push him. Haiihh!
MUSIC
"Protect your family
Ebola is here
Protect your community
Ebola is here, it's real"


Coming up, Ebola is a stress test for Liberian democracy. This is On the Media.