Part 3: Talent, Meet Money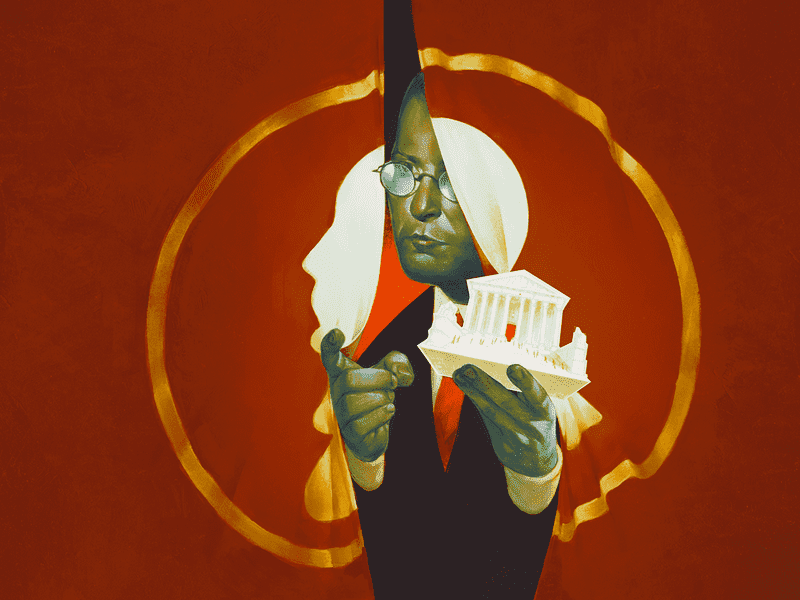 Transcript
Brooke Gladstone: This is On The Media. I'm Brooke Gladstone with more of our series, We Don't Talk About Leonard. Before the break, we learned how Leonard Leo used his closeness to some Supreme Court Justices to cultivate big donors like billionaire, Paul Singer, and how Leo promoted legal talent like Lawrence VanDyke. Those two streams, donor money and legal firepower joined forces about a decade ago. Singer was angry about policies made in Washington. Leo activated his network in the states against those policies.
Ilya Marritz: Here's how it happened, you remember the financial meltdown of 2008?
News Presenter 12: Shock and panic evident on the faces of those on the trading floor.
Ilya Marritz: In response, there was no overhaul of banking rules designed to prevent another crisis.
Barrack Obama: These reforms represent the strongest consumer financial protections in history.
Ilya Marritz: The new laws spurred a powerful, long-lasting counter-reaction.
News Presenter 13: The Tea Party forged in frustration, fed up and fighting mad.
Ilya Marritz: The Tea Party movement embodied the popular outcry, but a more targeted campaign came from people like Paul Singer.
Paul Singer: Did Dodd-Frank create a safer system? No, it created a more brittle system.
Ilya Marritz: Here he is in 2011, Singer chops and pinches the air with precision. He rarely cracks a joke. He assumes his Federalist Society audience knows exactly what he's talking about as he delivers a broadside against new powers granted to regulators, including the FDIC, to dissolve financial institutions on the brink of failure. That's called Orderly Liquidation Authority, Singer uses the acronym, OLA.
Paul Singer: The FDIC can seize companies that are in danger of default, not which have defaulted. The whole process of throwing a company into the OLA is very truncated. A day or two, it's really unreviewable because of that truncation.
Ilya Marritz: Before the financial crisis, Singer warned about the risks of subprime mortgages. Now, he says, the danger is bad regulation.
Paul Singer: What the ironically named Orderly Liquidation Authority will do is create a much more intense and powerful effect than even 2008, a black hole in the next crisis. I do not look forward to, if and when, this procedure is contemplated or thought to be on the horizon.
Ilya Marritz: That was in late 2011. Singer didn't just give speeches. In 2012, he and Leonard Leo scheduled a conference call with the then Attorney General of Texas, Greg Abbott. He's now the governor. Leo actually had three meetings on the calendar with Abbott in the space of just a few months. One of them was described as phone call Dodd-Frank issue. We know all this from records obtained by the group accountable by US. A small Texas bank sued to block the Dodd-Frank law. Their lawyers were also invited. Not long after, Texas joined this small bank's lawsuit as a co-plaintiff.
10 other Republican AGs went along as well. They also added a new argument, Orderly Liquidation Authority, Paul Singer's bugaboo. They said it violated the constitution on multiple points, including separation of powers and the Fifth Amendment, which guarantees due process. One of the states that joined the suit was Montana, which meant Solicitor General Lawrence VanDyke, became one of the lawyers on the case.
A person with knowledge told us that before Montana joined, Leonard Leo called Attorney General Tim Fox, the person who worked for Fox was emphatic that Montana would not have joined the challenge to the new banking law without Leo's push. Fox went on the radio and said it was about standing up for Main Street.
Attorney General Tim Fox: What we're seeking to do is protect Montana's interests and the little guy in all of this That Dodd-Frank Bill, came out of Congress as a reaction to the 2008 financial crisis. Many have called it an overreach of the federal government.
Ilya Marritz: Others did not see it that way. One Republican AG who didn't join the case told us it wasn't critical to his state's interests. A high-ranking person in Texas AG, Greg Abbott's office told us they didn't believe the suit was well founded and thought it would likely fail. Other parts of Leo's network did get active though. In its annual tax return, the Judicial Crisis Network reported spending money on media "surrounding the filing of a lawsuit over the Dodd-Frank law."
When Indiana's Republican Attorney General did not sign on to this lawsuit, the Washington Times ran an opinion piece by JCN's policy counsel, speculating that Indiana's AG may have been motivated by "strong alliances with Wall Street banks." In 2015, the skeptics of this lawsuit were proven right. A federal judge tossed the challenge to Orderly Liquidation Authority, and the AGs dropped out of the case.
It was a loss, but consider this, the chief legal officers of 11 states, and we know states make great plaintiffs, opposed a law that a billionaire Federalist Society donor despised. The argument against Orderly Liquidation Authority was considered by a federal appeals court the last stop before the Supreme Court. Paul Singer did not respond to our questions about this. Greg Abbott, the former Attorney General and current governor of Texas, did not respond to a request for comment. Former Montana Attorney General, Tim Fox, declined an interview.
Leonard Leo wrote in response to our questions that he favored a challenge to an agency created by the Dodd-Frank Law, the Consumer Financial Protection Bureau "because the CFPB violated the separation of powers and the checks and balances set forth in the Constitution." He told us he didn't remember a phone call with Texas AG, Greg Abbott, and Paul Singer, and he didn't remember calling Tim Fox to urge him to join the suit. I called a former aide to Fox to ask about Leo's role in setting policy in that office. He declined to go on the record, but before hanging up on me, he whispered two words, "Puppet master."
By the time the DC Court of Appeals denies 11 states' challenge to Orderly Liquidation Authority, the political winds have shifted dramatically. Donald Trump is running for president. He's well ahead in the race for the Republican nomination in February of 2016 when Justice Antonin Scalia dies of a heart attack while on a quail hunting trip in Texas. President Obama picks what he regards as a safe choice confirmable even for some Republicans.
Barrack Obama: Today, I am nominating Chief Judge Merrick Brian Garland to join the Supreme Court.
[applause]
Ilya Marritz: Leo's judicial crisis network responds by pouring money into radio and television ads attacking Garland. Like the ads to support Alito and Roberts, they ran a decade earlier, these messages are meant to define the debate before it begins.
JCN Ad: Obama and his liberal allies have been working hard to paint Garland as a moderate for the Supreme Court, but there is no painting over the truth. Garland would be the tie-breaking vote for Obama's big government liberalism. The Second Amendment right to keep and bear arms, gutted, partial-birth abortion, legalized.
Ilya Marritz: The Senate majority leader, Mitch McConnell, refuses to hold a vote.
Mitch McConnell: The next president will be making this choice. The people will decide who should be the appointing authority, so no, he will not be considered by the Senate.
Ilya Marritz: A decade earlier, Leonard Leo sharply attacked the Missouri Plan, a system for selecting state court judges in a nonpartisan way. That effort failed. This time, the strong arming, the willingness to blow up norms to achieve goals, it succeeds. The choice of the next Supreme Court. Justice will fall not to the current president, but to the next one. With his unlawyerly racist rhetoric candidate, Donald Trump makes a lot of people in the conservative legal crowd uncomfortable. Leonard Leo meets with Donald Trump and something happens. Trump emerges from that meeting with a list, a list of judges he says he will draw from in appointing the next Supreme Court Justice. He brags about it like he himself has just been credentialed. In a way, he has.
Donald Trump: I'm appointing, you saw the 11 names I gave, and we're going to have great judges, conservative, all picked by Federalist Society.
Ilya Marritz: With this list, Leonard Leo, who for so long stayed out of the spotlight, becomes a character of interest to the news media and he gives interviews.
News Presenter 14: Joining me now, Leonard Leo, attorney, judicial advisor to the president.
News Presenter 15: Leonard Leo, welcome to Firing Line. There's no pulling the wool over the American people's eyes. President Trump was quite straightforward--
News Presenter 16: Leonard Leo, can you share with us how this list came about and how you decide who should make the list?
Leonard Leo: Well, the list was the president's idea. I told him that no one had ever done it before, but it was--
Amanda Hollis-Brusky: I think Leonard Leo made a calculated choice to come out in front of this issue in 2016.
Ilya Marritz: Pomona College Law Professor Amanda Hollis-Brusky is the author of a book about the Federalist Society titled, Ideas with Consequences.
Amanda Hollis-Brusky: I think that choice reflects what he and other members on the conservative side thought was a fork in the road where if Hillary had won that election and filled that Supreme Court seat, we end up with perhaps the most progressive court since the Warren Court. This kind of catastrophic thinking led Leonard Leo to make the calculation that he would get out in front of it because it would benefit Trump to have folks who would otherwise be Never Trumpers see him standing alongside the president and know that they were voting for the courts.
Ilya Marritz: Trump himself has said the list of judges helped him win the presidency but it made some Federalist Society quizy.
Andrew Redleaf: I saw the repeated references to the Federalist Society list as a existential threat to the organization.
Ilya Marritz: Andrew Redleaf goes way back with the founders of the Federalist Society. They were his close friends in college.
Andrew Redleaf: That became my primary social circle at Yale.
Ilya Marritz: Andrew Redleaf went on to a successful career in finance. In a typical year, he might donate $100,000 to the Federalist Society with his wife Lynne. Sometimes they'd give as much as $300,000. You can see Redleaf's name right there with Paul Singers in the annual list of top donors. In 2016, Lynne and Andrew Redleaf are seriously questioning their philanthropic choices.
Andrew Redleaf: I was an original Never Trumper-
Ilya Marritz: When Trump comes out with the list, the Redleafs are horrified. Redleaf makes a dinner date to see the president of the Federalist Society, Eugene Meyer, who happens to be an old friend.
Andrew Redleaf: I suggested that they really needed to treat this as a PR crisis. I strongly suggested that Leonard couldn't really come back.
Ilya Marritz: Redleaf even offers help in hiring a crisis PR specialist to distance the Federalist Society from Leo's support of Trump. The Federalist Society do not do this.
Andrew Redleaf: I suspect that a significant portion of their support now wants them to be the organization that advocates for the confirmation of conservative judges or that that's staffing for various agencies. I think a significant portion of their base is there because of Leonard.
Ilya Marritz: Redleaf asked that his name be removed from the Federalist Society Board of Visitors. The Federalist Society did not respond to our questions. Leonard Leo told us in a statement, the Federalist Society today is larger, more well-funded, and more relied upon by the media and thought leaders than ever before adding "so much for Mr. Redleaf's existential threat." Leonard Leo did step away from the Federalist Society to advise President Trump. Amanda Hollis-Brusky calls this move a Jedi mind trick.
Amanda Hollis-Brusky: The Jedi mind trick is that we're all supposed to believe that he is on leave from the Federalist Society and that that is meaningful in some way. It means he's not acting on behalf of the Federalist Society. It means he is not making decisions that are consistent with the Federalist Society's agenda, principles, and priorities. Because we're not subject to the Jedi mind control, we can look with our eyes and see that that's exactly what he's doing.
Donald Trump: Leonard Leo, thank you for being here. We had a list that you worked on very hard.
[applause]
Ilya Marritz: Leo never takes a formal role with the Trump administration, but he makes his mark early. Even before Trump is sworn in, in December 2016, Leo sounds out a judge on the Tenth Circuit Court of Appeals, Neil Gorsuch, to fill the vacant seat on the Supreme Court. He was on candidate Trump's second list of possible justices. Gorsuch wrote in his Senate questionnaire, "On about December 2nd, 2016, I was contacted by Leonard Leo, who was working with the president-elect transition team regarding the Supreme Court vacancy. I had additional follow-up communications with Mr. Leo shortly thereafter."
After being tapped by Leo, Gorsuch is interviewed by incoming White House counsel Don McGahn, who himself is a long-time Federalist Society member. Then he's nominated and confirmed to a lifetime seat on the High Court by the Senate. The pattern repeats. Leo is influencing not only Supreme Court nominations but also the choices for federal judges at all levels. By the end of 2020, Trump has appointed 28% of all sitting federal judges. More than half of these new judges are Federalist Society members.
News Presenter 17: President Trump began his term having to fill 150 vacancies in the federal courts.
News Presenter 18: The Senate confirming its 200th judge of the Trump administration.
News Presenter 19: There has been one constant in the Trump administration, a steady stream of the president's judicial nominees to federal courts from one end of the country to the other.
Donald Trump: You know when I got in, we had over 100 federal judges that weren't appointed. I don't know why Obama left that. It was like a big, beautiful present to all of us. Why the hell did he leave that?
Ilya Marritz: In 2019, Trump makes yet another nomination to the federal bench.
Lawrence VanDyke: Thank you, Chairman Graham, Ranking Member Feinstein, and committee members. Thank you--
Ilya Marritz: The former Solicitor General of Nevada and Montana, bobblehead owner Lawrence VanDyke.
Lawrence VanDyke: I'm deeply honored and grateful to be before this committee today, and I want to thank the President for the honor of this nomination.
Ilya Marritz: His path from Montana to here looks like this. After complaining that he didn't have enough say over what cases to take, VanDyke quit his Solicitor job to run for state Supreme Court.
Lawrence VanDyke: Hi, I'm Lawrence VanDyke, and I'm running for the Montana Supreme Court. Most Montanans are understandably fed up with an overreaching federal government. As a fifth-generation--
Ilya Marritz: The Federalist Society hosted the only public forum for candidates. Dark money poured into the race. VanDyke lost. He wasn't out of work for long. Leo made at least one call to an AG. VanDyke soon became Solicitor General in Nevada. There, VanDyke gets a court injunction to block expanded overtime pay. He joins friend of the court briefs on supporting religion in the public square and against greenhouse gas regulation.
Much more than in Montana, VanDyke is simpatico with Nevada's conservative AG. One former colleague told us VanDyke could have done what he did in Nevada in any state with an attorney general who happened to want to push a Federalist Society agenda. When that job ends, VanDyke goes to the Department of Justice briefly in the Environment and Natural Resources Division, where he defends Trump policies undoing earlier efforts to limit the emissions that cause climate change. This is his job when President Trump nominates him to the federal bench. To the Senate Judiciary Committee, VanDyke presents himself as a Westerner and a bit of an outsider.
Lawrence VanDyke: I followed in my father's footsteps and got degrees in engineering and management and worked in the family business. It was only later in life, after Cheryl and I had children, that we made the momentous decision to drive a U-Haul clear across the United States to attend Harvard Law School. What a culture shock for a family from the rural West?
Ilya Marritz: He's confirmed to the Ninth Circuit Court of Appeals.
Lawrence VanDyke: Thank you all. Congratulations, and that will conclude the hearing.
Ilya Marritz: Once on the bench, VanDyke quickly gets a reputation for abrasiveness. The New Republic calls him the rude Trump judge who's writing the most bonkers opinions in America. In one COVID lockdown's case, VanDyke opines that in a crisis, access to guns can be considered a "strong moral check" on government power.
Lawrence VanDyke: I thought when I became a judge, the days of advocacy are over.
Ilya Marritz: Lawrence VanDyke on the podcast, Regulatory Oversight.
Lawrence VanDyke: There's several things in our court that I think actually means that your days of advocacy are not over when you become a judge, at least on the Ninth Circuit like if you think this case is wrong, and you're trying to convince your colleagues of that. To accept people out there are like, "You know I would try to become a judge, but I just enjoy advocacy too much." Well, come to the Ninth Circuit.
Ilya Marritz: In September of 2020, President Trump releases a new list of possible nominees for the US Supreme Court. It's his fourth.
Donald Trump: Our chairs' rights are at risk including the right to life and our great Second Amendment.
Ilya Marritz: It's now the height of the presidential race so each of these names is a campaign promise.
Donald Trump: The 20 additions I am announcing today would be jurists in the mold of Justices Antonin Scalia, Clarence Thomas, and Samuel Alito. Their names are as follows, Bridget Bade of Arizona, judge on the Ninth Circuit Court of Appeals.
Ilya Marritz: By the time Trump comes to the end of the alphabet, more than a third of the names are alumni of state attorney general offices.
Donald Trump: Lawrence VanDyke of Nevada, judge on the Ninth Circuit Court of Appeals.
Ilya Marritz: Lawrence VanDyke had been a federal judge for all of nine months. Now he was being talked about for the United States Supreme Court.
Mike Black: The first thing I thought was, I thought of the Leonard Leo of bobblehead and Leonard Leo.
Ilya Marritz: Mike Black, Leo's law school classmate and colleague of Lawrence VanDyke in the Montana attorney general's office.
Mike Black: You don't end up on that list of potential Supreme Court Justices put out by President Trump without Leonard Leo's blessing. Given the position that Lawrence is in, it's deductive reasoning. He got on that list because of Leonard.
[music]
Brooke Gladstone: Next week, Leonard Leo moves his family to an idyllic coastal village in Maine, where his vision for American society collides with American society.
Andrea Bernstein: He was writing your name on the sidewalk as you were jogging by.
Bettina Richards: Yes, again, how completely surreal is that?
Brooke Gladstone: That's next week, in the final episode of We Don't Talk About Leonard. This series is reported by Andrea Bernstein, Andy Kroll, and Ilya Marritz, and edited by OTM executive producer Katya Rogers and ProPublica's Jesse Eisinger. Molly Rosen is the lead producer with help from Shaan Merchant. Jennifer Munson is our technical director. Jared Paul wrote and recorded all the original music. Our fact-checkers are Andrea Marks and Hannah Murphy Winter.
Ilya Marritz: We'd like to say some thank yous to people who helped us to report this series. Anjeanette Damon, Lynn Dombek, Doris Burke, Justin Elliott, Josh Kaplan, Alex Meyer Jeske, Ken Schwencke, John Adams, Mara Silvers, David ArmiaK in the Center for Media and Democracy, the Campaign for Accountability, accountable.us, and many, many people from the world's Leonard Leo has moved in who didn't wish to be named. Tracy Weber is the managing editor, and Steve Engelberg is the editor-in-chief of ProPublica. I'm Ilya Maritz.
Brooke Gladstone: I'm Brooke Gladstone.
Copyright © 2023 New York Public Radio. All rights reserved. Visit our website terms of use at www.wnyc.org for further information.
New York Public Radio transcripts are created on a rush deadline, often by contractors. This text may not be in its final form and may be updated or revised in the future. Accuracy and availability may vary. The authoritative record of New York Public Radio's programming is the audio record.