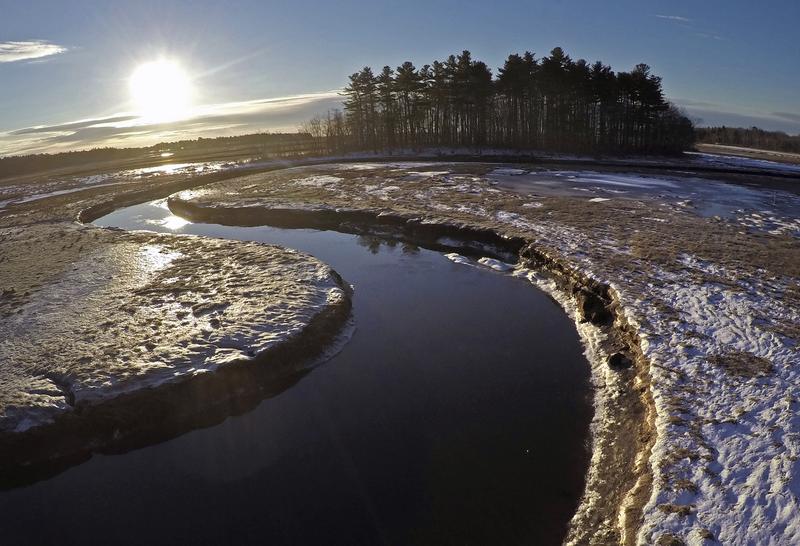 Transcript
BROOKE GLADSTONE: This is On the Media. I'm Brooke Gladstone.
Last week, the House Committee on Science, Space and Technology held a hearing titled, Climate Change: Assumptions, Policy Implications and the Scientific Method, during which scientists and Congress folk debated the question of - whether climate change exists?
[CLIPS]:
MAN: Can you explain why some would say that – with such certainty that extreme weather events will increase, given the fact that they have not?
MAN: Every time you call it "climate change" you are admitting that, yes, there was a pause, a major pause in temperature increase because before that it was global warming.
MAN: So if the scientists of that day believed that there was a possibility of a coming Ice Age and then all of a sudden it changes, is that - it seems like some of the data is being left out.
[END CLIP]
BROOKE GLADSTONE: While this scientifically illiterate conversation was taking place in Congress, more fruitful discussion has been taking place elsewhere, really, almost anywhere else. Consider the Anthropocene Working Group, which argues that given the profound evidence of human impact on the planet, it's time to officially establish an entirely different geological era. We're now technically in the Holocene, an estimated 11,700-year-old period characterized by stability. But with rapidly accelerating changes altering the nature of life on Earth, the Working Group suggests that we've left the Holocene and entered something new, an epoch in which conditions are markedly more unstable.
Last fall, the group recommended to the International Commission on Stratigraphy a proposed start date for the Anthropocene, the age of humans. It's still building its case and it may take years for the committee to approve a change to the geological timescale because, after all, geologists are not used to evaluating the present. I mean, let's face it, they live in the past, where things usually happen very slowly, though sometimes they happen really, really fast.
JAN ZALASIEWICZ: The classic example of the really rapid change, of course, is the meteorite impact that likely killed off the dinosaurs and that ushered in the Cenozoic era after the Mesozoic Era, probably the only example I know of a real, you know, a very bad Friday afternoon and the world changed.
BROOKE GLADSTONE: Jan Zalasiewicz is a stratigrapher. He studies the strata or layers of rock, which reveal the Earth's roughly 5-billion-year history. He's also chair of the Anthropocene Working Group.
JAN ZALASIEWICZ: Usually, things happen in a slower and more complicated fashion. The strata, therefore, reflects that change. And somewhere over that interval of change we have to find a marker. We say, we fix the boundary here, and we fix it not because it's the most important of the changes but because it's the best marker to give us what we call a synchronous level, the level that can be most easily traced across the world to form a time plane.
BROOKE GLADSTONE: So when, in your view, does the Anthropocene start?
JAN ZALASIEWICZ: It's really the surface atomic bomb tests of the early 1950s, and they sprinkled the world with plutonium, cesium, americium, and so on. That level that we can follow in, in ice and we can follow it in lakebeds and we can follow it on the bottom of the sea more or less coincides with these very big earth system changes of the big changes to the carbon cycle, to the nitrogen cycle. The biosphere really started changing then, a lot of the physical changes, as well, the production of huge amounts of concrete, also plastics, aluminum, you know, all of which are getting into strata.
BROOKE GLADSTONE: You wrote a book, The Earth After Us, musing over how to read the layers of rocks 100 million years from now that we're producing. So what would aliens learn from our culture 100 million years from now, assuming we were extinct?
JAN ZALASIEWICZ: Let's say we've been gone for, let's say, 99 million years, so there'd be no surface trace of us. Probably they would not hit a fossilized city first, but they would find what was once a delta or a coastal plain or something, and then I think at that stage, more likely than not, they will hit upon the remains of towns, cities, big, solid chunky things made of rock that we've built. And then the fun will really start for them.
BROOKE GLADSTONE: So subway systems might be fossilizable.
JAN ZALASIEWICZ: Yes, yes, you'd imagine they would be compressed, crumpled but, nonetheless, there's a whole lot of concrete and brick and wiring and things that will be completely unlike anything in the geology before or probably after.
BROOKE GLADSTONE: And what about landfills? Would there be meters and meters of thick fossilized garbage?
JAN ZALASIEWICZ: That would be fascinating because currently a landfill site may be 17 meters thick or something like that, so you might imagine it being highly squashed. But, nonetheless, within that there will be all kinds of things just packed together, old arm chairs and chicken bones and newspaper, bits of plastic, CDs, TV sets that have been thrown out. Most of these things are robust, hard, fossilizable in some manner.
BROOKE GLADSTONE: Chicken?
JAN ZALASIEWICZ: It is something we're currently working on, you know, the Anthropocene chicken, as it were, because it is now the world's commonest bird. It is different from its world ancestors. It's spread all around the world. And the bones tend to end up in landfill sites, whereas the bones of wild starlings and sparrows and pigeons, they will be at the surface of the ground and will be scavenged.
BROOKE GLADSTONE: Mm-hmm.
JAN ZALASIEWICZ: Most of those will not survive. Chicken bones and shoulders of lamb and beef off the bone and that kind of thing, that will also form part of the signature of this rather strange biosphere.
BROOKE GLADSTONE: Now, you mentioned aluminum. Our landfills are full of soda cans.
JAN ZALASIEWICZ: Yes, and that's an interesting one. The metal aluminum by itself is incredibly rare in nature. We've made something like 500 million tons of it, enough to cover either Europe or North America, much of it with a layer of the standard kitchen aluminum foil. The amount of plastic is something of the order of 4 to 5 billion tons, which is enough to wrap the whole earth in a layer of plastic wrap.
BROOKE GLADSTONE: Mm, preserving it!
JAN ZALASIEWICZ: Preserving it, indeed, [LAUGHS] yes, yes. The soda can, as you said, when it's buried, because it's hard, it will likely leave an impression. But aluminum underground may slowly dissolve away, like many fossil shells dissolve away, so you'll be left with the impression of the aluminum can. And you can imagine future paleontologists cracking their heads over this. [LAUGHS]
[BROOKE LAUGHS]
JAN ZALASIEWICZ: What on Earth, what was that? [LAUGHING]
BROOKE GLADSTONE: You must have been excited by the big rock layer news recently, manmade minerals identified. And yet, minerals, by definition, aren't manmade.
JAN ZALASIEWICZ: Yes, again, you know, geological bureaucracy collides with the real meaning of things.
[BROOKE LAUGHS]
But I think the big news is the scale of it, so, you know, over the last few centuries, and particularly over the last few decades, we have much, much more than doubled the number of minerals. An explosion of mineral formation has taken place, which is part of the description of the Anthropocene.
BROOKE GLADSTONE: And isn't it true that the last mineral created was 2-1/2 billion years ago, when oxygen arrived?
JAN ZALASIEWICZ: And that has been pretty well a plateau, around and about somewhere between 4 and 5,000 minerals. And suddenly humans come along and there are now more than 150,000 different types of synthetic mineral-like substances. Material scientists will take, let's say, tungsten and carbon to make tungsten carbide, which, again, is terribly rare in nature but it makes the ball of most of our ballpoint pens.
BROOKE GLADSTONE: A hundred million years in the future, what will we be able to tell about the animal extinctions that we're seeing now?
JAN ZALASIEWICZ: The animal extinctions and also the species invasions that we've, you know, encouraged or allowed or –
BROOKE GLADSTONE: That means we moved some really nice plants from Tibet to Long Island or something like that.
JAN ZALASIEWICZ: That's right, and so they take off like crazy and, you know, push out some of the, the native plants. And that is one of the big signatures. So we're really changing the course of Earth's biological history, and it's these changes that give you the big long-term signals in the strata that something happened.
So the meteor 65 million years ago reset the Earth's biology. Currently, we are the meteor. There will be winners and losers. There'll be more loses than winners but the winners will be the ones who will go on to provide future generations.
BROOKE GLADSTONE: And among the winners you think are rats and cats.
JAN ZALASIEWICZ: More than likely. That happened when the dinosaurs died out. Mammals have been around a long time but small squeaky furry things. When the dinosaurs disappeared, the mammals simply flowered into this variety of very large creatures, into the, the mammoths, the elephants, the blue whales.
BROOKE GLADSTONE: Do you envision the rats evolving to fill in some of the spaces left by the mass extinction?
JAN ZALASIEWICZ: In brief, yes, yes, they will evolve and there will be different forms of future rats, some big, some small, some fat, some thin, depending on the ecological niche.
BROOKE GLADSTONE: Super smart ones?
JAN ZALASIEWICZ: They may be super smart ones, as well. They're pretty smart at the moment.
BROOKE GLADSTONE: Like a Planet of the Apes scenario, they're, they're walking around and we say, damn you all to hell!
JAN ZALASIEWICZ: Yes, that's one possibility.
BROOKE GLADSTONE: [LAUGHS]
JAN ZALASIEWICZ: Now, my cat might dispute that. But yes, if we do reduce the biosphere to a simpler state then, left to itself, it will then become complex again.
BROOKE GLADSTONE: And we're not talking about nuclear war type extinction. We're just talking about the kind of extinction we're doing now.
JAN ZALASIEWICZ: Yes, yes, we cut down forests all over the Earth and, and so, there is no place for those creatures to live any longer. The kind of creatures that can live are the creatures that can live now pretty close to us. So the rats are, of course, a prime example of that.
BROOKE GLADSTONE: Why does it matter to you so much, Jan, that Anthropocene is designated as an official period of time?
JAN ZALASIEWICZ: I think it matters more to me that we understand what the Anthropocene is and what it's doing. The formalization case is something that we think will help because in science we use words to describe clear, distinct phenomena, and the Anthropocene is clearly a distinct phenomenon different from the Holocene and previous interglacials. So, by and large, we think it will be useful.
BROOKE GLADSTONE: So it doesn't matter if it's called the, the Plasticine or the Technocene or, or anything like that. You just want people to know that there is a big change going on.
JAN ZALASIEWICZ: That history and geological process and, and, therefore, you know, a lot of the things that we think of as environmental change is really taking place at a bigger scale and rather faster than it was, let's say, when our distant ancestors lived, you know, hundreds and thousands of years ago.
BROOKE GLADSTONE: One last question. In your book, you wrote, "We are briefly in the Golden Age of our power, our dominance, but we are destined to extinction also. The world will then go on as before. Once a geological age or two has passed, there'll be nothing but the odd bone or gold ring to say that we were ever here." Now, you're taking the really, really long view. Is that comforting? Or are you panicking, like so many others?
JAN ZALASIEWICZ: Oh, oh, geologists always panic at the drop of a hat, you know. [LAUGHS]
[BROOKE LAUGHS]
But in this case, yes, that sentence is like one alternative of a number of possible future scenarios, you know, I drew in the book. Of course, we are the wild card in biology and geology. We cannot predict the future but what we can say is that the current trajectory we're on doesn't look sustainable.
So if one is to try and develop a path that is better for our own children and grandchildren, their children and grandchildren, then it's good to be as aware as possible of both present-day events and how they fit in compared with past events and of history.
BROOKE GLADSTONE: How long did the dinosaurs last?
JAN ZALASIEWICZ: Of the order of 100 million years.
BROOKE GLADSTONE: A hundred million years.
JAN ZALASIEWICZ: Yeah.
BROOKE GLADSTONE: Some form of man has been around how long?
JAN ZALASIEWICZ: Anatomically, you know, modern humans, about 180,000 years and culturally modern humans, that is, people who did art and stuff like that in caves, about 55,000 years.
BROOKE GLADSTONE: Mm.
JAN ZALASIEWICZ: That's a flea bite –
BROOKE GLADSTONE: Right.
JAN ZALASIEWICZ: - in terms of time.
BROOKE GLADSTONE: Jan, thank you very much.
JAN ZALASIEWICZ: You're very welcome.
BROOKE GLADSTONE: Jan Zalasiewicz is the chair of the International Anthropocene Working Group and professor of Paleobiology at the University of Leicester.
The idea of the Anthropocene may have taken root in the geological community, but it hasn't stayed there. Now released into the world, the concept has made its way into fields as far-flung as political science, fiction and music, like musician Nick Cave.
[CLIP/NICK CAVE SINGING]:
The head bow children fall to their knees
Humbled in the age of the Anthrocene.
[END CLIP]
BROOKE GLADSTONE: "Anthrocene," an earlier formulation of the word, was coined by ProPublica reporter and Anthropocene Working Group member Andy Revkin, but it's the same idea. The word's also been applied to literature. Adam Trexler came up with the term "Anthropocene fictions" to chronicle the way novelists from Margaret Atwood to Ian McEwan have grappled with human-made climate change. And there's books, like Art in the Anthropocene, Adventures in the Anthropocene, A Politics for the Anthropocene. The new geological era fuels endless speculation about who we might be and how we might live.
Benjamin Kunkel, a novelist and founder of n+1 magazine, recently wrote about the Anthropocene for the London Review of Books.
BENJAMIN KUNKEL: The appeal that this concept of the Anthropocene has had outside of technical stratigraphy has to do with trying to understand, during this age that really struggles with its attention span, to think where we are in geological history and where we are in the evolution of different social forms.
BROOKE GLADSTONE: So it compels the long view.
BENJAMIN KUNKEL: It compels the long view, which is hard to take these days.
BROOKE GLADSTONE: And we've seen a lot of competing terms popping up recently. Besides "Anthropocene" you've got the "Plasticine," related to plastic, the "Pyrocene," that there's so much burning going on, even jokingly, the "Misanthropocene."
BENJAMIN KUNKEL: Yes, I've seen it jokingly referred to as the "Anglocene," as well –
[BROOKE LAUGHS]
- because there was a period during which the United Kingdom was, of course, responsible for the bulk of carbon emissions during the time where that was really the center of the world economy.
BROOKE GLADSTONE: So you focus on one term, the "Capitalocene," right? What's the argument for using it?
BENJAMIN KUNKEL: The "Capitalocene" refers to a geological period or a period in natural history that would be defined not just by the generic existence of humanity, which has been the case for 200,000 years, but by the capitalist mode of production by capitalist societies, a capitalist economy.
BROOKE GLADSTONE: You prefer it to "Anthropocene" because you see this problem as being not intrinsic to humanity.
BENJAMIN KUNKEL: The pace and the scope of ecological change over recent centuries is much greater than that prior to recent centuries. Certainly, humanity didn't just come about, nor did the use of fire come about. What did come about? Well, the capitalist mode of production. And other people who say that the Anthropocene must have begun with the Industrial Revolution, of course, alluding to what was a capitalist Industrial Revolution, it wasn't just any old industrial revolution. It happened in one particular place. The Anglo scene, which we talked about a moment ago, took place in England when it become capitalist. There have, of course, been English people around for a long time, too. And this is another reason to be wary of speaking of the Anthropocene.
The part of humanity that is responsible for the bulk of ecological change is by no means the majority or the totality of humanity. It's people from the richest countries, which are, of course, the richest capitalist countries.
BROOKE GLADSTONE: But isn't it possible that humanity really is at fault? There's a Dutch professor of psychology named Mark Van Vugt who says that we're basically wired to destroy our environment because of five reasons. Humans value their personal interests over other interests. We value the present over the future. We are obsessed by status. We copy unconsciously the behaviors of others around us. And we disregard novel environmental threats.
BENJAMIN KUNKEL: That's certainly true but its truth should not be exaggerated. I think that the law of entropy, the fact that we use energy-dense, very useful things and then they are degraded into waste and trash, this meant that as soon as civilization came into being it was clear that civilization and society were not really ultimately sustainable.
BROOKE GLADSTONE: So civilization is the problem, not capitalism.
BENJAMIN KUNKEL: I don't think so. It's hardwired into us that we're going to die. When are we gonna die and how badly are we gonna die and [LAUGHS] how disgracefully we're going to die or how honorably are we going to die. That's a very important question. It's probably clear that you're going to have a, a devastated planet at one point, but how quickly do you need to get there, and we're getting there so quickly right now, and with so little prospect of a kind of soft landing, rather than a very hard landing that I don't think we can talk about these problems in a serious way without talking about capitalism.
BROOKE GLADSTONE: Huge amounts of pollution are coming out of China, so why indict capitalism when it's just abundant human beings all struggling for comfort and a better way of life in the present, precisely that kind of hardwiring that that Dutch professor of psychology delineated?
BENJAMIN KUNKEL: But why should this hardwiring have kicked in 2, 3, 4, 500 years ago?
BROOKE GLADSTONE: Few would argue it didn't. It's simply that there are so many more of us now and so much more technology.
BENJAMIN KUNKEL: The reason there are all these people that you refer to has a great deal to do with the green revolution, among other factors, that took place certainly in a capitalist context. The revolutionization of agriculture after the Second World War didn't just happen in some void. It happened in a capitalist society. We don't know what a truly egalitarian society would do ecologically because we haven't seen one.
BROOKE GLADSTONE: Obviously, you favor "Capitalocene" over "Anthropocene" because there is a message tucked in there or perhaps a call to certain kinds of action, whereas "Anthropocene" simply describes an epoch.
BENJAMIN KUNKEL: I think that there is a danger that the Anthropocene becomes too fatalistic. Recognizing now that our species is really in control of what life as a whole looks like on this planet, I think we want to have an ideal in which not just a few capitalists or not just, you know, the 1% or something is in control of our ecological destination but people as a whole. And I don't think that socialism necessarily means that you have an ecologically-sustainable review. I just think then you have a chance.
And I think we don't really look like we have much of a chance at the moment because my entire adult life we've recognized these problems. We've got these treaties that have been signed without being ratified, ratified without being upheld, in terms of carbon emissions. And so, you know, capitalism has had now the span of a young adult's life to address these problems and has failed to do so.
BROOKE GLADSTONE: So even though you've seen so much that would make you cynical, you still believe that human beings can rise above their tendency to be shortsighted, status conscious and comfort loving and all of those things that appear to have been hardwired since the dawn of man.
BENJAMIN KUNKEL: I'm pessimistic but not despairing. Other universal political projects, whether the French Revolution, which was launched on the banner of the rights of man or our own revolution, which makes this appeal to the conscience of mankind, these projects take a very long time and by the time they're accomplished all kinds of devastation has taken place. But it seems to me that the Anthropocene as a political project where humanity itself would be in charge and no longer simply capital accumulation, that's a very worthy political project.
BROOKE GLADSTONE: Benjamin Kunkel is the founder of n+1 magazine and author of a tragicomic play about global warming, called "Buzz."
[MUSIC UP & UNDER]
The Earth creates and extinguishes life with equal equanimity. Consider the Neanderthals, a very successful line of humans for 300 to 400,000 years. The evidence suggests they arose in Europe in a climate much like ours during a warm phase of the Pleistocene, the Ice Age. But the world got colder and colder. We know that they were intelligent, adaptable, omnivorous, social and strong, but maybe the cold killed them.
Now, that's just a theory, one of many. But it offers a cautionary tale because we can't really know, as individuals or as a species, how the Earth will dispose of us, only that it will. But, for God's sake, why rush it? Evolution or extinction, the fork in the road: Say what you will about Neanderthals, they never stopped trying to survive.
On the Media is produced by Meara Sharma, Alana Casanova-Burgess, Jesse Brenneman and Micah Loewinger. We had more help from Sara Qari, Leah Feder and Kate Bakhtiyarova. And our show was edited by me. Our technical director is Jennifer Munson. Our engineer this week is Terence Bernardo. Katya Rogers is our executive producer. On the Media is a production of WNYC Studios. Bob Garfield will be back next week. I'm Brooke Gladstone.