A Syrian Journalist on Chronicling Life, Not Just War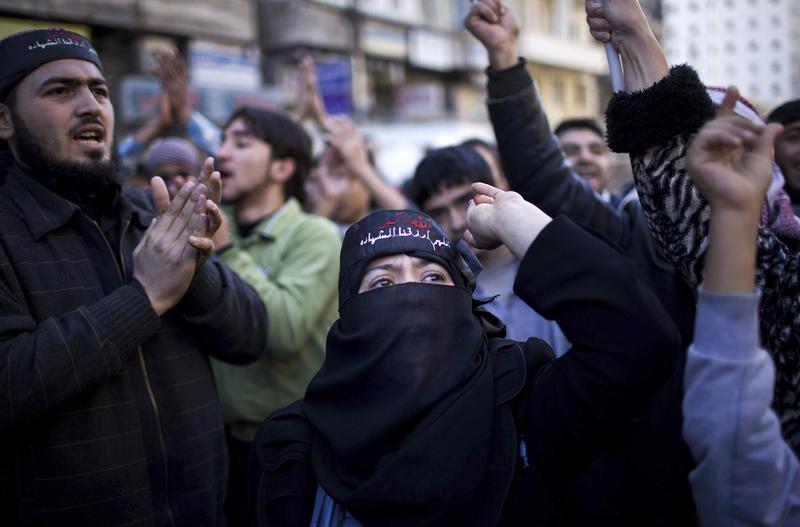 Transcript
BOB GARFIELD: This is On the Media. I'm Bob Garfield.
BROOKE GLADSTONE: And I'm Brooke Gladstone. These days, it's tempting to focus solely on the mayhem on our own shores, but we'll resist that briefly and turn to a story that seems as remote as it is confounding, Syria. This week, as yet another round of peace talks in Geneva commenced, the Assad regime denied charges from our White House that the bodies of thousands of Syrian political prisoners had been burned to destroy evidence of war crimes. Meanwhile, the six-year war rages on, with casualties mounting on all sides. Throughout, Western media have struggled to convey the enormity of it and sustain our attention because the war is relentless and complex and, even more important, too dangerous to reach and see firsthand.
Syrian journalist Zaina Erhaim is working to change that. As Syria Project Coordinator for the Institute for War and Peace Reporting, she's trained hundreds of citizen journalists to send us reports of their lives under war. Erhaim grew up in Idlib, a small conservative city in the northwest. She studied journalism in Damascus and London and worked at the BBC before she returned home. She's won several prizes, including an award for Courageous and Ethical Journalism from Reporters Without Borders. But when she started out, her mother supported her but her community belittled her.
ZAINA ERHAIM: "And you're gonna be on TV? How could you be on TV? Your voice is gonna be heard all over the place." That was pretty much a taboo. I was the first woman journalist who's coming from my hometown, and I remember my aunt saying that you're gonna be spinster for doing that -
[BROOKE CHUCKLES]
- because no one is gonna agree to marry you. Well, someone did- [BROOKE LAUGHS]
- eventually. But I remember, when I started writing about my own town, how the perspective of my community changed. It was changed from that spoiled girl who's doing journalism against our will to the journalist that we can report to and we can tell the story of our town. My aunt who said I'm going to be spinster, when I got the first award I went to her and I said, so? And she said, I'm really glad you didn't listen to me then.
BROOKE GLADSTONE: [LAUGHS] And the community?
ZAINA ERHAIM: When the uprising started, then I was one of the few professional journalists who started saying what's happening, and I started reading things about me on social media that I was really shocked because those are the same people who criticized me for doing journalism as a woman and now they're praising me for saying the truth and for being there for them.
BROOKE GLADSTONE: I've read elsewhere, it was never your intention to be a war reporter.
ZAINA ERHAIM: Yeah, but sadly the war came to my home, so I couldn't really run away from it. I was working with the BBC and I left it to go to Syria with IWPR.
BROOKE GLADSTONE: With the Institute for War and Peace Reporting.
ZAINA ERHAIM: Yeah, at that time in 2013, I was actually roaming the whole northern side of Syria. I went to Latakia suburb, to Raqqa. I spent more than two months as an Raqqan and it was one of the most amazing experiences I had.
BROOKE GLADSTONE: Why?
ZAINA ERHAIM: Now, sadly, Raqqa is the capital of ISIS but Raqqa was one of the first cities to be liberated and it has the most active civil society organizations. It has the first Syrian feminist organization there. In late 2013, there were more than 45 NGOs active in Raqqa city and half of each of them was women. So I enjoyed staying in Raqqa more than any other area because the military were not that dominant there because the women were taking the lead.
BROOKE GLADSTONE: Can you tell me about one of them?
ZAINA ERHAIM: Souad, she was a teacher and she was
protesting every single day with a poster that she writes in front of the ISIL main headquarter. Once she wrote, ISIL presence equals regime presence. And she was harassed, she was beaten. Once one of the Jihadi's fighters shoot in the air to frighten her away, and she was still demonstrating every single day. And then, I think, two years ago she won the PIN award for courageous woman, and they contacted me because I was the only one who wrote a story about her.
BROOKE GLADSTONE: So when you went back to Syria, was there a media environment? How were people getting their information?
ZAINA ERHAIM: Since the uprising started, the armed forces were second priority for the regime. The first was those who are documenting what's going on. Most of those who decided to document what's going on and become media activists were either students, carpenters, were doing other jobs. Many of them were either arrested or killed and the others ran away.
BROOKE GLADSTONE: So this is the Syria you returned to, to do reporting?
ZAINA ERHAIM: This is my Syria.
BROOKE GLADSTONE: How did you begin?
ZAINA ERHAIM: My plan was mainly to use my background as a journalist to pass the knowledge that I have to those who don't have it, who are already media activists, to give them the extra skills that might help them being taken seriously by the international media. I did more focus on the women, and many of them didn't even have their university degrees. Some of them didn't even have the ninth grade degree, but they really were eager to be heard and to tell their stories. When we ended the training, they were professional enough to be published in our website Syria stories. And then we paid the women the fees for their stories, and the Syrian pound compared to dollar, it's, it's pretty cheap, so they actually gained five times more than what their husbands gained for a whole month in one story.
So their husbands, who opposed them coming to this journalism training, they started to encourage them –
[BROOKE LAUGHS]
- to keep writing because they became [LAUGHS] the breadwinners of the house.
BROOKE GLADSTONE: What kinds of stories did they report for their final assignment?
ZAINA ERHAIM: The stories no men would have reported, maybe because they don't even think that this deserved to be reported. I'm remembering a Syrian did a story about the rise of domestic violence during the war and she was looking into the causes, like most of the men were fired from their governmental jobs and they found themselves jobless, in-house, within the whole pressure applied by the war and by the army forces and everything going on.
BROOKE GLADSTONE: I want you to talk about why these particular stories by women are important in the context of war?
ZAINA ERHAIM: For most men, for most male media activists, the news is how many barrel bombs have hit, who military fraction have captured this area, how many people are killed, how many are injured? The women are writing about life, not war, the story of Syria, not the story of the Syrian conflict.
That's why two years ago I created the woman blog on our website, where regular women without journalism background are writing their diaries, how they're dealing with their household, how they're dealing with their children, the schools, the education, the financial issues that they're facing. This is the Syrian history that's been written through the women's eyes.
BROOKE GLADSTONE: Can you recall a story that really struck you by one of the people that you've trained?
ZAINA ERHAIM: I remember Hazar wrote a story about the Sharia courts. He was pretty much conservative and he was much more older than me. I remember in the training when he entered and he saw me and I was not wearing a veil, and he was like, I'm gonna be taking that from a woman and she's not wearing a veil? He refused to look at me in the whole first day. He was always looking on the ground. I was a bit bothered but I wanted him the most because he overcome his fear, his masculine space to be actually attending a training given by a woman. The second day he started asking questions. He stayed after the training was finished and he started providing me with the stories, what do you think about this, what do you think about that?
BROOKE GLADSTONE: Was he looking at you, at that point? [LAUGHS]
ZAINA ERHAIM: He started looking at me, in the eyes. By the end of the training, he produced a great story about the Sharia courts. And then after a year, he told me then, I want to pass the training that you give to others, can you help me? So I started to establish a curriculum for him, and he trained other 30 people.
BROOKE GLADSTONE: Ah!
ZAINA ERHAIM: And those who are trained by Hazar are now writing for us and for different outlets. So it actually flourished and spread around.
BROOKE GLADSTONE: Do the correspondents you've trained do war reporting?
ZAINA ERHAIM: They live there. It's not like you are going to do a mission to report what's going on; it's happening next door, to your neighbor. So they're always there when something happened. But when these huge massacres or attacks are not happening, they focus on the people. They focus on the human side of the story.
BROOKE GLADSTONE: You know, we hear quite a lot about Western journalists who lose their lives or they're kidnapped in Syria. We don't hear anything about local journalists.
ZAINA ERHAIM: And the sad thing is that all the stories are assuming that Syrians who are living under the control of ISIL are below them and no one is actually showing how those people are suffering. And those people are the ones who are being terrorized by ISIS.
Osama was one of the brilliant guys I've met. He was running a, a local publication called thuri ana, "I am a revolutionary." He was secular. He was studying engineering when the revolution started and then he found himself doing journalism. He was writing brilliant stories and we gave them a grant to support his publication. He was in Turkey and I told him, ISIS now are more powerful in Raqqa and you shouldn't be going. And he said, this is my hometown, I wouldn't leave it for them. He went back and they raided his house and they kidnapped him and his brother. And we don't know whether they are still alive or dead. He was been kidnapped for the last four years. I google him every month hoping that someone is gonna be writing something about him.
BROOKE GLADSTONE: And never a story in the Western press.
ZAINA ERHAIM: No.
BROOKE GLADSTONE: What do you think is the biggest omission in the coverage that you're seeing here?
ZAINA ERHAIM: I think what's missing is the Syrians. Anything that's related to ISIS is too sexy and is gonna be on the news, definitely. If ISIS committed a crime and the regime committed the same exact crime, the first one is gonna be reported all over the world, the second wouldn't even have a corner in the newspaper.
BROOKE GLADSTONE: When did you leave Syria?
ZAINA ERHAIM: I left it December, 2015.
BROOKE GLADSTONE: Why?
ZAINA ERHAIM: I left it when I was pregnant. I was too scared that something might happen to the baby; I wouldn't forgive myself. And then I decided to go back but I got serious threats. I couldn't really risk going back because I knew they're gonna assassinate me then.
BROOKE GLADSTONE: Are you still doing work in Syria?
ZAINA ERHAIM: Yeah, but we had to adapt to the new situation. We recently did training of trainers on specifically conflict- sensitive journalism, and we now have five trainers who are doing these trainings inside Syria. We have woman's center where we train them about how to use internet, English, Turkish, French courses. So, most of our programs are being implemented inside, but it's pretty difficult and challenging, yeah, I have to admit.
BROOKE GLADSTONE: In an environment where there are so many competing narratives, you know, from the regime, from the rebels, ISIS, how do you suggest journalists abroad tell a more accurate story?
ZAINA ERHAIM: I believe they have a great tool. That's social media. And some sources have built their credibility through the last five, six years, so they could be sources to be taken seriously by international journalists. And I think the language barrier is very important to be overcome, so you do need to have a translator or an Arabic speaker to be able to reach to those sources.
And secondly, we have two million Syrians who are living in Turkey, one million who's living in Lebanon and the same in Jordan. Those are Syrians and they have their own stories and challenges and pretty difficult conditions in neighboring countries. Reporting those is reporting about Syrians.
BROOKE GLADSTONE: Things are shifting in Syria now. They're shifting all the time. The regime has gained ground, the rebels are in retreat. Do you see an end to this? Will you go back?
ZAINA ERHAIM: It's impossible for me to go to any area that's controlled by the regime. I know for sure I am wanted for three different security branches, including the Air Force, although I can hardly ride a bike. I know my fate. I know I will be put in jail and tortured to death. This is confirmed. When that reason for not going is removed, I would definitely go back. I know many who would also do the same, not only in neighboring countries but also in Europe and even in the US.
Our goal is gonna be starting as soon as any kind of peace treaty has been signed. Then we can start to rebuild, not only the buildings but also rebuild ourselves. But as long as the regime is still in power, we're going to still have ISIS, we're going to still have extremists who are claiming to be fighting the regime but they're actually just fighting Syrians. And we can't do anything from abroad but keep reporting what's going on for the international community to finally act.
BROOKE GLADSTONE: To finally act. What's the view of the international community?
ZAINA ERHAIM: Oh, we've lost our faith in anything. We've lost our faith in the UN, in the international system, in human rights. When I was in Damascus, I volunteered with the UN for more than a year, and now I wonder why did I waste my time? I, I thought then that the UN is actually pro-human rights and they're representing the human rights in the world. Now I think they're just - an agency that work for the sake of working. They don't work unless they get the permission from the regime. And on the political level they've done nothing.
BROOKE GLADSTONE: And the same goes for – any other of the significant international actors.
ZAINA ERHAIM: Oh [LAUGHS] well, yeah, especially the United States, especially after the previous administration. We were expecting more, especially after the redline that was crossed many times and Obama didn't act, which gave the regime a green light to go further and do whatever they want. And it invited Russia to come in and make the things much more complicated.
BROOKE GLADSTONE: And the view now?
ZAINA ERHAIM: [SIGHS] Unfortunately, all the Syrians that I spoke to are happy because President Trump decided to bomb the airbase.
BROOKE GLADSTONE: From which planes took off the very next day to continue the war against the rebels.
ZAINA ERHAIM: Yeah, but still they felt that this might make Assad think twice before using the chemical weapon again. Assad might or might not, but at least someone stood up against him. And US has been bombing Syria for the last year. They've done more than 4,000 strikes, and this is the only strike where no civilian was killed.
[MUSIC UP & UNDER]
BROOKE GLADSTONE: Thank you.
ZAINA ERHAIM: Thank you.
BROOKE GLADSTONE: Syrian journalist Zaina Erhaim is Syria Project Coordinator for the Institute for War and Peace Reporting.
BOB GARFIELD: That's it for this week's show. On the Media is produced by Meara Sharma, Alana Casanova-Burgess, Jesse Brenneman and Micah Loewinger. We had more help from Sara Qari, Leah Feder and Kate Bakhtiyarova. Kate, our intern, is leaving after this week, going back to school. She has been a wonderful addition to the show. And Kate, we wish you the best of luck. And our show was edited – by Brooke. Our technical director is Jennifer Munson. Our engineer this week was Terence Bernardo.
BROOKE GLADSTONE: We also have to say goodbye to Sara Qari who's been invaluable these past few months but she's moving to a show down the hall. See you, Sara! Katya Rogers is our executive producer. On the Media is a production of WNYC Studios. I'm Brooke Gladstone.
BOB GARFIELD: And I'm Bob Garfield.