Swedish Cowboys & Syrian Refugees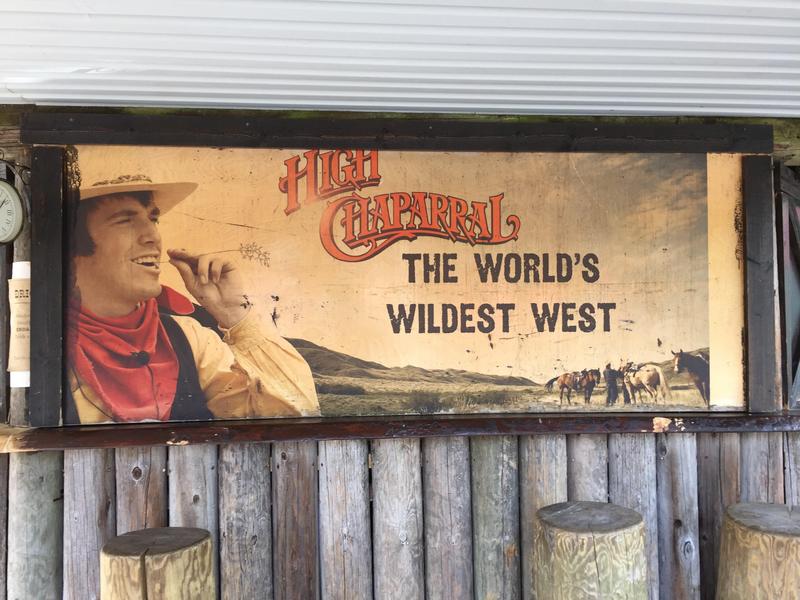 Transcript
[PROMOS]
BOB GARFIELD: In an earlier segment, you heard Economic Sociology Professor Brooke Harrington of Copenhagen Business School say this:
PROFESSOR BROOKE HARRINGTON: The big lie is that we're all sort of self-made individuals and everything that happens to us is a result of our own personal choices.
BOB GARFIELD: From her academic perch in Denmark, she was describing the myth of self-reliance, a peculiarly American concept that holds little allure in Scandinavia. Indeed, as OTM Producer Micah Loewinger recently discovered in a visit to Sweden, the very meaning of the Wild West is turned on its head in a place where what is prized is not independence but cooperation and shared responsibility for all who come there.
MICAH LOEWINGER: In the middle of nowhere southern Sweden, there's a popular Wild West theme park called High Chaparral.
[MUSIC UP & UNDER]
Blond families travel down here in the summer to act out the rough-and-tumble life they see in the old cowboy films. I met many Swedes who had never visited the United States before, and yet, they spoke of the old West with deep affection.
SWEDISH WOMAN: It's so cool. You could do so much with so little at that time that I love everything about it.
MICAH LOEWINGER: In the 1970s, when westerns were all the rage here, the park's founder, Big Bendt, set out to make Sweden's first western film. He built an old frontier town film set, complete with a general store, a saloon and an old bank on a dirt road.
EMIL ERLANDSSON: And he built up this Main Street that is still the Main Street today, and they filmed this movie and it turned out to be a complete flop.
MICAH LOEWINGER: Emil Erlandsson is Big Bendt's grandson and the current owner of High Chaparral, which has since expanded into a bona fide amusement park. Like his late grandfather, Emil lives and breathes this stuff. He goes everywhere dressed up as a frontier patriarch, with a 10-gallon hat and a sheriff's badge.
[MUSIC UP & UNDER]
The theme park gets its name from an American TV show from the 1970s, which follows the Cannon family as they fend off hostile tribes and rough it out on their frontier ranch.
[CLIP]:
"BIG JOHN" CANNON: We came here to settle this Arizona territory. We're staying!
LIEUTENANT ELLIS: Mr. Cannon, you don't seem to understand. We've got a major Indian uprising on our hands.
[END CLIP]
PROFESSOR DAG BLANCK: High Chaparral became incredibly popular here in Sweden. Everybody watched it, probably more popular here than in the United States.
MICAH LOEWINGER: Dag Blanck teaches North American Studies at Uppsala University.
PROFESSOR DAG BLANCK: In particular, one character, Manolito, [LAUGHS] the Mexican guy in, in the show who was a heartbreaker here. There was even a Swedish song written about him by one of the most well-known and beloved singers in Sweden, Lill-Babs.
[CLIP]:
LILL-BABS, SINGING In SWEDISH:
Var gång jag ser High Chaparall
Manolito, när jag ser Manolito.
[END CLIP]
MICAH LOEWINGER: I went to High Chaparral in the summer of 2016 because I had heard that Emil had invited Syrian refugees to live at the park. That refugees would find sanctuary in a Swedish western theme park actually makes quite a bit of sense, as you'll soon see. During my visit, I met Abood Alghzzawi, a curious Syrian guy. He had just arrived, so we toured the park together with some insight provided by a passing cowboy enthusiast, Johan Hellström.
JOHAN HELLSTRÖM: I have a gun belt with cartridges in. I have my holster back on my [CHUCKLES] rump, so to speak, because when I work I don't want the gun to get it the way.
ABOOD ALGHZZAWI: I just want to ask you some questions about history.
JOHAN HELLSTRÖM: Yeah.
ABOOD ALGHZZAWI: We are from Syria, yes, and when we see movies about cowboy, we just say…
MICAH LOEWINGER: Abood asks Johan if the real cowboys were as violent as they seem in the movies.
JOHAN HELLSTRÖM: Between the towns, it was generally lawless. There were bandits, people who wanted to rob you, kill you, take your stuff. It was just after the Civil War and it was unrest in the entire country. Like in Syria, everybody is unsafe, but what we see in the movies, I think, that's a misrepresentation of the cowboy, that you should shoot anyone on sight that you don't like. Not what we know about cowboy.
MICAH LOEWINGER: Next, we stopped at the open-air theater, home of the famous High Chaparral Wild West Gun Show, offering epic battles between heroic lawmen and dastardly outlaws.
[SOUND OF FIGHTING/MUSIC]
ABOOD ALGHZZAWI: In Syria, we have more explosions. That's so little for us. [LAUGHS] Yeah, we have bombS from the sky, oh, that's normal. [LAUGHS]
MICAH LOEWINGER: I mean, you're coming from a real war.
ABOOD ALGHZZAWI: Yeah.
MICAH LOEWINGER: And then here we have tourists who are paying money to see a fake war. What do you think about that?
ABOOD ALGHZZAWI: It's bull [BEEP], really.
MICAH LOEWINGER: Abood arrived here as a refugee in 2015, the year Sweden, along with Germany, asserted itself as the preeminent safe haven of Europe.
[CLIPS]:
MALE CORRESPONDENT: Yesterday, Sweden became the first European country to announce they will give permanent resident status to all Syrian refugees who apply and their families.
FEMALE CORRESPONDENT: Sweden takes in the highest number of refugees per capita in Europe.
MALE CORRESPONDENT: A hundred and sixty-three thousand (163,000) individuals applied for asylum here in Sweden, a country of 9.8 million people.
[END CLIP]
MICAH LOEWINGER: That's 163,000 people, in 2015 alone, 50,000 from Syria. In the last five years, the US has accepted less than 20,000 Syrians, and that number will likely plunge, thanks to the President's travel ban. How did small homogenous Sweden come to bear the weight of the refugee crisis, while the US, the melting pot, shrugged it off? One answer perhaps lies in our competing depictions of the old West.
[SOUND EFFECTS AND MUSIC UP & UNDER]
To most Americans, a glorification of the visceral, brutal masculinity of the cowboy -- think John Wayne or Gary Cooper -- gritty men who expressed themselves not with fancy prose but 38-caliber bullets from Revolvers Akimbo.
[SOUND OF SHOTS/MUSIC]
America's self-image owes much to the pop culture archetypes and imagery of the old West, defined by saloon brawls, clashes with the Native Americans and epic journeys across the frontier, the virtues of rugged individualism, the belief that every man best look out for himself.
[THE SEARCHERS CLIP]:
JOHN WAYNE AS ETHAN EDWARDS: …now on, you stay out of this. All of ya. I don't want you with me. I don't need ya for what I got to do.
[END CLIP]
MICAH LOEWINGER: Sometimes our hero is portrayed as a poet or a crooner, but he's still a nation of one. Here's Roy Rogers singing a cowboy ballad in 1940's The Border Legion.
[CLIP/ROY ROGERS SINGING]:
Yippee Ti Yi Yo, get along little dogies
It's your misfortune and none of my own
Yippee Ti Yi Yo get along little dogies…
[MUSIC UP & UNDER]
MICAH LOEWINGER: That we rise and fall on our own determination, our own grit jibes with the idea that the poor fail because of their own bad judgment or shoddy work ethic.
Reagan, who rose to fame as a western actor, artfully fused the old West with this political M.O. early in this presidency.
[CLIPS]:
PRESIDENT RONALD REAGAN: I've been looking forward to coming home to the great American West.
MICAH LOEWINGER: It was 1982 and he was campaigning for Wyoming Senator Malcolm Wallop, as his White House was dismantling many of the nation's social welfare programs.
PRESIDENT REAGAN: You and your forebears, as Malcolm said, tamed a wild frontier. And, believe it or not, you did it without an area redevelopment program or urban renewal.
[AUDIENCE APPLAUSE]
Individual freedom, individual integrity and individual ingenuity made us the greatest country the world has ever known.
[END CLIP]
MICAH LOEWINGER: Meanwhile, I met Swedes at High Chaparral who had drawn a different lesson from the old West. Emil's grandfather, Big Bendt, was inspired to start the park because of the history of Swedish emigration to the US. Back in the 19th century, a devastating wave of poverty and famine swept Sweden, particularly the region where High Chaparral resides today.
EMIL ERLANDSSON: If you were living here in the early 1800s, you would be a very, very, very poor man.
MICAH LOEWINGER: So over a quarter of Sweden's population picked up and left for the US. The Emigrants by author Vilhelm Moberg, voted the most influential Swedish novel series of the 20th century, helped define the Swedish trek into the American West. Two films based on the novels detailed the perilous ocean crossing and the cruelty of the pioneer's life.
[SOUNDTRACK UP & UNDER]
After staking out property in what would become Minnesota, the film's heroes work with other pioneers to stave off starvation and survive the harsh winter. The story shows none of the Hollywood cowboys' fantastical feats, instead focusing on the conditions that many American pioneers actually faced.
Western Historian Frederick Jackson Turner wrote in 1893 that American democracy was formed by the American frontier, that, in fact, it was the root of American egalitarianism because it took collective effort to survive hardships so severe.
Here's Professor Dag Blanck again.
PROFESSOR DAG BLANCK: Because the frontier is the great equalizer, there it doesn't matter who you are or what background you're from. There what counts is if you can work and if you can contribute. You needed to work together [LAUGHS] in a way to build up a new society.
MICAH LOEWINGER: Historians estimate that a third of cowboys in Texas were Black or Latino. Ranch work was among the few jobs available to minorities following the Civil War. But people of color are rarely depicted as good guys in the classic westerns.
In 1964, when president Lyndon Johnson, a Texan, struggled to end poverty and expand voting rights, his view of the old West would have been familiar to the Swedes.
[CLIP]:
PRESIDENT LYNDON JOHNSON: WE didn't build this nation by everyone scratching and clawing for himself. We build it like we built the West, by pitching in together.
[END CLIP]
MICAH LOEWINGER: Johnson had just signed the Economic Opportunity Act, the centerpiece of his War on Poverty, and he was looking to continue the flow of funds into other Great Society programs, like Medicare and Medicaid. However, after Reagan flipped the script 18 years later, the political references to the West turned from blue to red.
[CLIP/SOUND EFFECTS UP & UNDER]:
SENATOR JOHN McCAIN: I've been called a maverick, someone who, who marches to the beat of his own drum.
[END CLIP]
MICAH LOEWINGER: John McCaIn has always defined himself as a righteous nonconformist. By calling himself a "Maverick," cowboy slang for a calf that roamed from the herd.
[CLIPS]:
PRESIDENT DONALD TRUMP: But we're getting them out. They're going to jails, and then they're going back to their country.
MICAH LOEWINGER: And President Donald Trump invoked the frontier to dramatize his campaign of using police against
MS-13, the American gang associated with El Salvador.
PRESIDENT TRUMP: This is like I'd see in a movie. They're liberating the town, like in the old Wild West, right?
[END CLIP]
MICAH LOEWINGER: Of course, these political touchstones feature little mention of the public infrastructure that powered industry in the West, the tribes murdered or forcefully removed from their land or the federal programs that spurred Western growth, in the first place. No, our rugged heroes succeeded all on their own, and today we can too.
As for Abood, the Syrian asylum seeker from the start of this story, he could not have made his epic journey to the Wild West of High Chaparral without the help of other people. In the year since I visited the park, Abood's English has weakened as he took Swedish classes, so he told me the story through a Swedish translator.
[INTERPRETER SPEAKING IN SWEDISH/UP & UNDER]
He dropped out of college and emptied his bank account in the fall of 2015, when the violence in Damascus became unbearable. His father and sister stayed home with Abood's mother, who was suffering from cancer. He and his friend Ayman managed to make it to Izmir in Turkey before the worst of their trouble began. A smuggler agreed to take them across the Mediterranean to Greece in the middle of the night. They were crammed onto a boat with around 75 other refugees. Abood heard people praying, reading from the Koran, children crying. Ninety minutes later, when the boat was far from the coast, they heard a chilling sound.
INTERPRETER: They heard the -- a voice, a sound, bah!
MICAH LOEWINGER: The boat had burst a hole. It was sinking. Ayman yelled to Abood to take off his lifejacket and jump in the water. It would be easier to swim that way.
INTERPRETER: [ ? ] a little light.
MICAH LOEWINGER: They swam toward a tiny light on the horizon. They couldn't tell if it was Turkey, Greece, another boat, but they kept going. Three hours later, they washed up on the Greek island Chios. They still had their phones, wallets and passports, which they had wrapped in plastic. A week later, they reached the border of Macedonia and Serbia at sunset. They had heard that Serbian cabs were dangerous but, exhausted from walking as the sun went down, they decided to take the risk with four of their friends they had made along the way. They split into two cars. Abood's driver, Sadiq, seemed trustworthy.
[ABOOD SPEAKING IN ARABIC LANGUAGE]
He was Muslim and he spoke Arabic. "Sadiq" literally means innocent in Arabic. After a couple of hours on the highway, the two cabs detoured into the woods. Then the driver Sadiq began making phone calls in Serbian, which freaked out Abood.
[MUSIC UP & UNDER]
Where are you taking us, he asked. Sadiq and the other cabbies stopped in the woods and ordered them to get out. Save for the headlights, it was pitch black. Two large Serbian men with knives were standing at the side of the road.
[ABOOD SPEAKING IN ARABIC]
Give us all your stuff, they said. Luckily, Ayman had been Syria's number-one kickboxer for his age group four years in a row, so Ayman fought three at once.
ABOOD ALGHZZAWI: Ayman was a monster.
MICAH LOEWINGER: They shook off the assailants long enough to begin a sprint through the pitch black woods. Soon they were stopped by a flashlight.
INTERPRETER: Police, stop!
MICAH LOEWINGER: It was a policeman. They begged for help. But the Serbian thieves bribed the cop. Abood and Ayman successfully offered their own bribe, 200 euros each for a ride to a nearby city. As they drove out of the woods, Abood saw their four friends running on the side of the road. Abood gave the cop 200 euros for each of them and they all drove off to safety.
Once in Sweden, Abood bounced around a couple of refugee parks before he arrived at High Chaparral, the park originally built in honor of Sweden's new beginning in the old West. And Emil opened up High Chaparral to Syrian refugees because he was inspired by his grandfather, Big Bendt, who, during the Balkan Wars of the '90s, turned the park's vacant hotels into a refugee camp.
EMIL ERLANDSSON: Because you can't do anything by yourself. You have to help.
MICAH LOEWINGER: Emil did not pay out of pocket to run the refugee camp last year. The Swedish government offset much of the cost. It was a shared responsibility, which Emil believes will bear fruit for Sweden.
EMIL ERLANDSSON: You have to be like a visionary. You have to be very driven to actually take the trip because it's a dangerous trip for you and your family. It's often very good people who wants to make an effort to get a better life.
MICAH LOEWINGER: A year after High Chaparral took in the Syrians, the Swedish Parliament pulled back the reins on its immigration policy, deporting tens of thousands of refugees. But Abood was granted asylum and the Swedish government began paying for his housing and Swedish language classes, as he prepares to start medical school.
This past summer, as the park closed its refugee camp, Abood worked at High Chaparral as a janitor, dressed in full cowboy getup. Between shifts, he was instructed to sneak up behind Swedish children and pretend to rob them at gunpoint,
shouting --
[ABOOD SPEAKS IN ARABIC]
Put 'em up, little cowboy.
MICAH LOEWINGER: You, you identify as a cowboy?
ABOOD ALGHZZAWI: Absolute, man. [LAUGHS]
MICAH LOEWINGER: If the image of a cowboy Syrian refugee is a perplexing association for you, then my point is made. The individualistic and, at times, ruthless portrayal of the old West by Hollywood and American politicians feeds a cold and lonely worldview. And who exactly does that narrative serve? As James Baldwin once noted, "It's just one of many fantastical stories that wallpapered over a shameful history."
[CLIP]:
JAMES BALDWIN: It comes as a great shock to discover that Gary Cooper killing off the Indians, when you were rooting for Gary Cooper, that the Indians were you.
[END CLIP][MUSIC UP & UNDER]
MICAH LOEWINGER: The Hollywood ideal of the West that shapes America's identity obstructs our ability to see ourselves in the struggles of others, to empathize at a moment when millions of people need a new beginning.
For On the Media, I'm Micah Loewinger.
BOB GARFIELD: That's it for this week's show. On the Media is produced by Alana Casanova—Burgess, Jesse Brenneman, Micah Loewinger and Leah Feder. We had more help from Monique Laborde, Jon Hanrahan, Kate Brown and Sarah Chadwick Gibson. And our show was edited, this week, by our Executive Producer Katya Rogers. Our technical director is Jennifer Munson. Our engineers this week were Sam Bair and Terence Bernardo. Brooke Gladstone will be back next week. I'm Bob Garfield.
* [FUNDING CREDITS] *